Before the Ford Transit debuted in 2015, Ford had another series of vans on the road: the trusty Ford Econoline. Ford Econoline (later renamed E-Series) vans were cargo and passenger vans in production from 1991-2014, and still in production today as a cutaway model for box trucks, ambulances, shuttle buses, and work vehicles. Older generations date back to the 1960s, so you could even say Econolines were the original camper vans, before anyone coined the term "van life."
Even though these vans are no longer in production, the Ford Econoline is a great option for a DIY camper conversion. There are many of them still on the road today, and they can be had for less money than the newer, flashier vans that Ford makes.
You can find Econolines with short bodies, long bodies, and aftermarket high tops. They come in a variety of stylings and engine types, and most mechanics can work on them. There are aftermarket 4×4 conversion kits available. They have plenty of space for a camper conversion, while still be able to fit in a standard parking space. And they're so common that you'll be able to maintain stealth while on the road.
There are tradeoffs to using an Econoline as the base for a van build. These vans are older, so you should be ready for the possibility of shelling out for more in-depth mechanical repairs along the way compared to a newer vehicle. Econolines are low roof vans by default, unless you buy one with a high top. And they get worse gas mileage than the Ford Transit.
There are many great Ford Econoline van conversions on the road that offer an abundance of awesome build ideas. Check out some of our favorites below.
Build Your Van
The Ultimate Van Build Guide
Planning a van build? Read our free guide. We cover just about everything you need to know – from planning, to insulation, to solar and electrical, to picking appliances, to essential tools. Get started today so you can get out there on the road!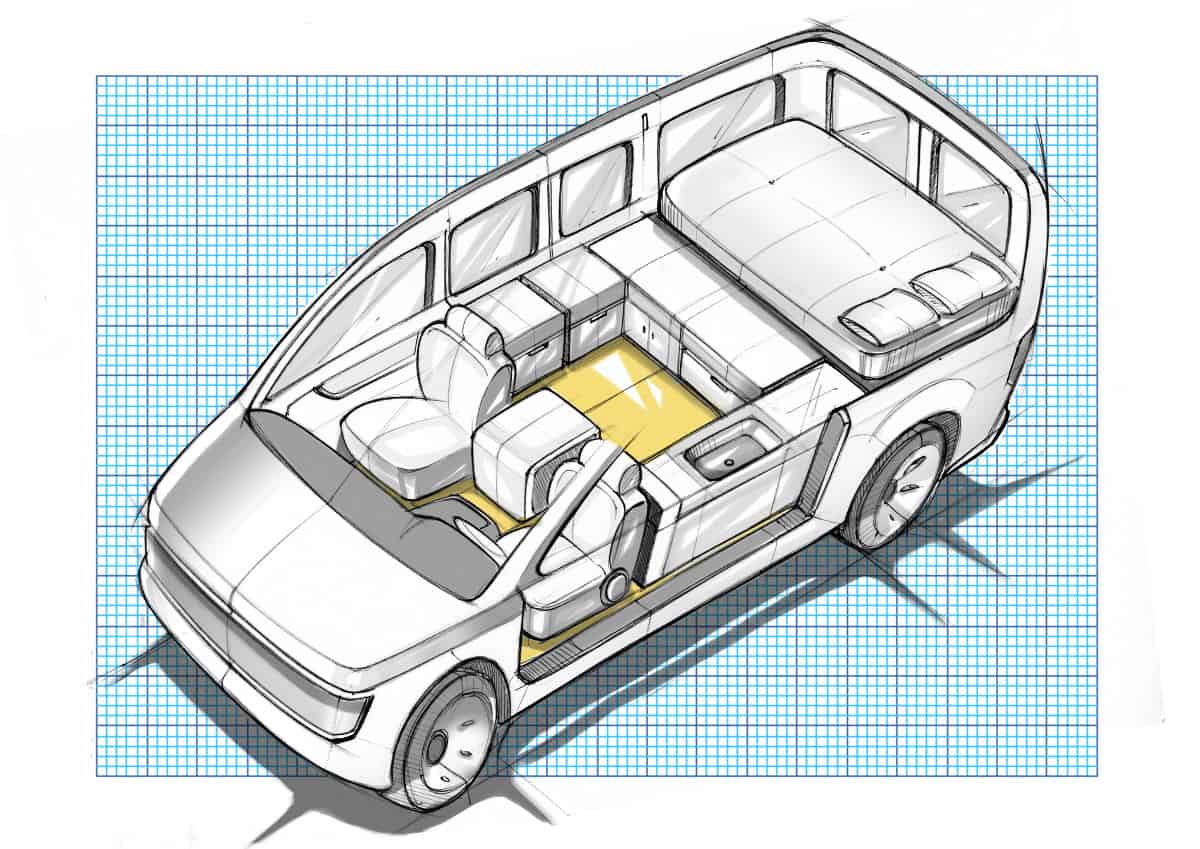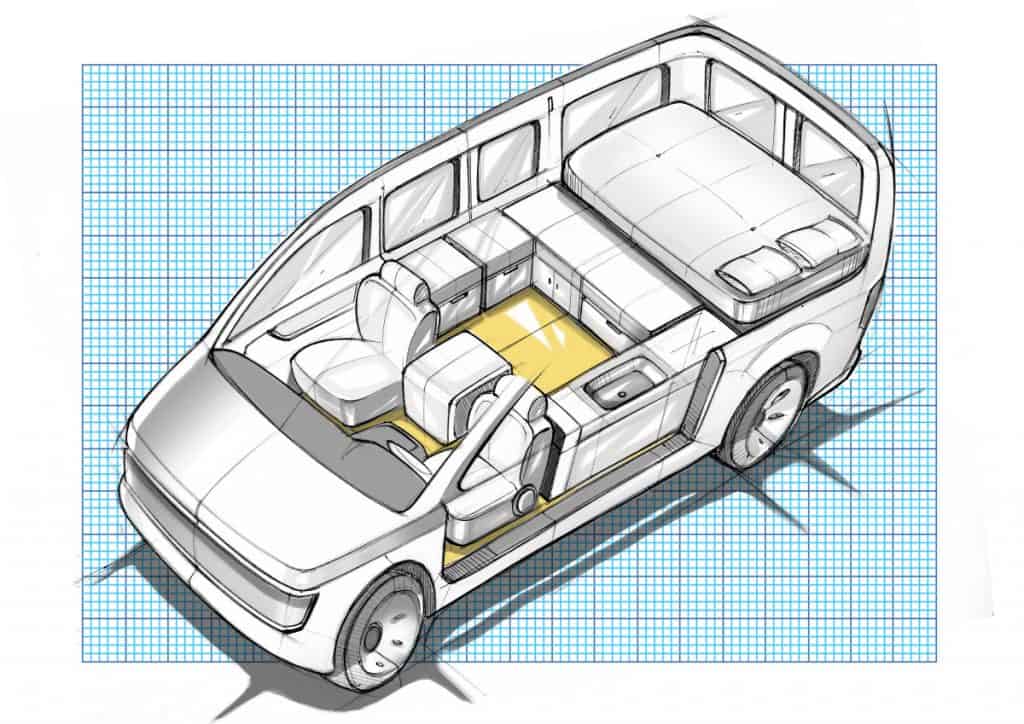 1. This winterized Ford Econoline camper van build by @nate_n_niko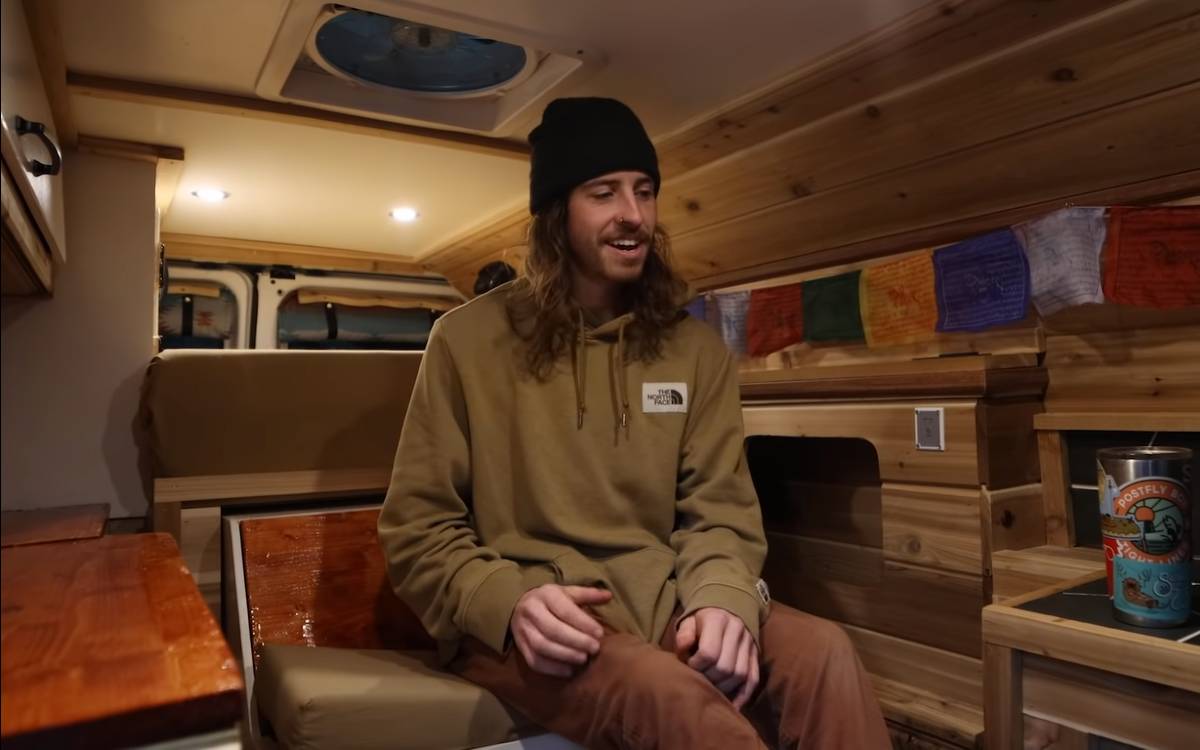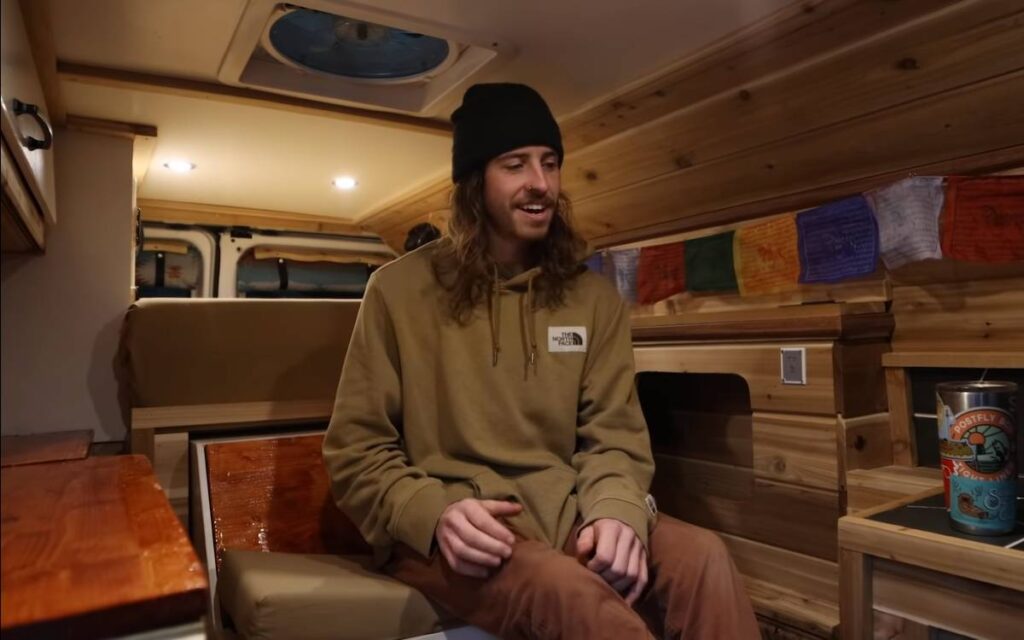 Nate converted a 2006 Ford Econoline E-350 camper van for winter vanlife. He had skiing and snowboarding in mind when building this E-Series camper van, so properly insulating his van was essential. The whole camper van has heavy-duty insulation, with everything mylar-wrapped with polystyrene foam. He filled every nook and cranny of flooring with spray foam.
For heating during his winter van life adventure trips, Nate installed a Mr. Buddy propane heater connected to a 5-pound propane tans. He also plans to install a wood stove in the future.
Cedar wall paneling give this van's interior a wood cabin feel and smell. Cedar also resists moisture pretty well, which is vital in cold environments where condensation builds up.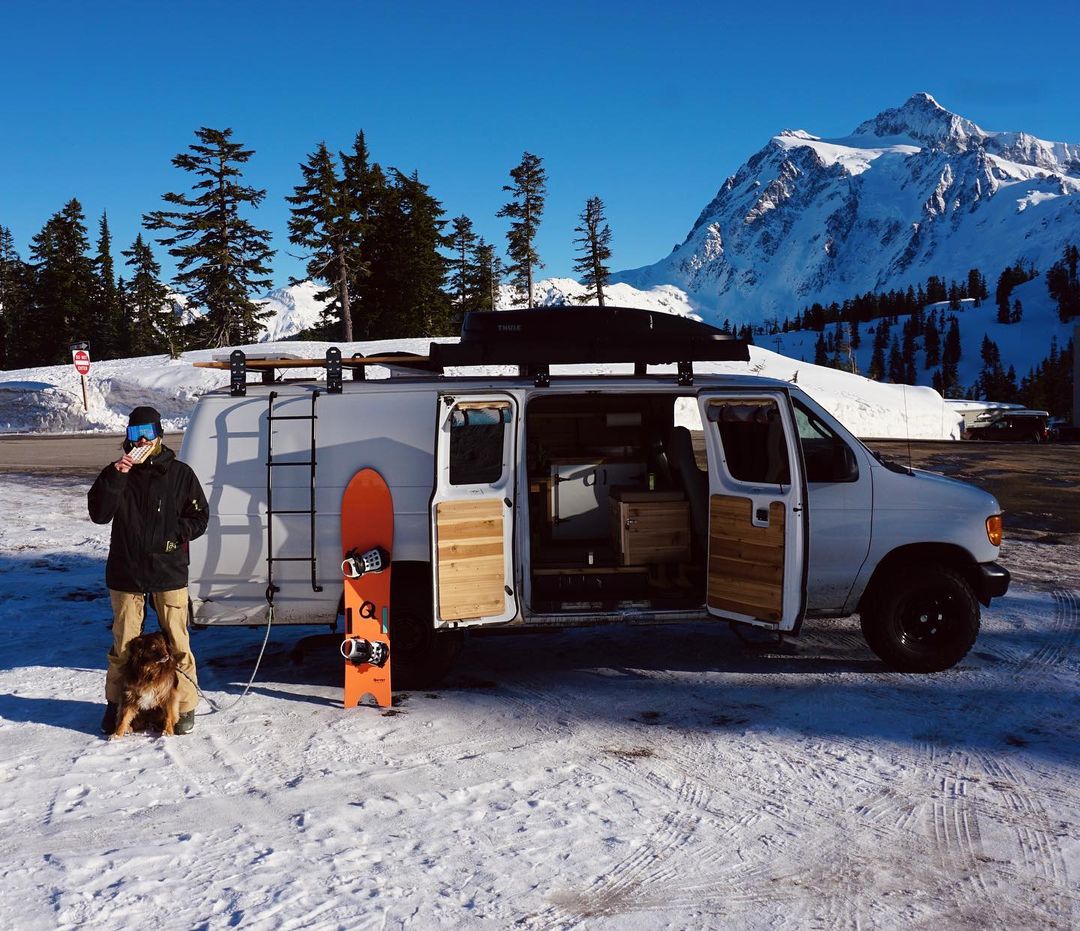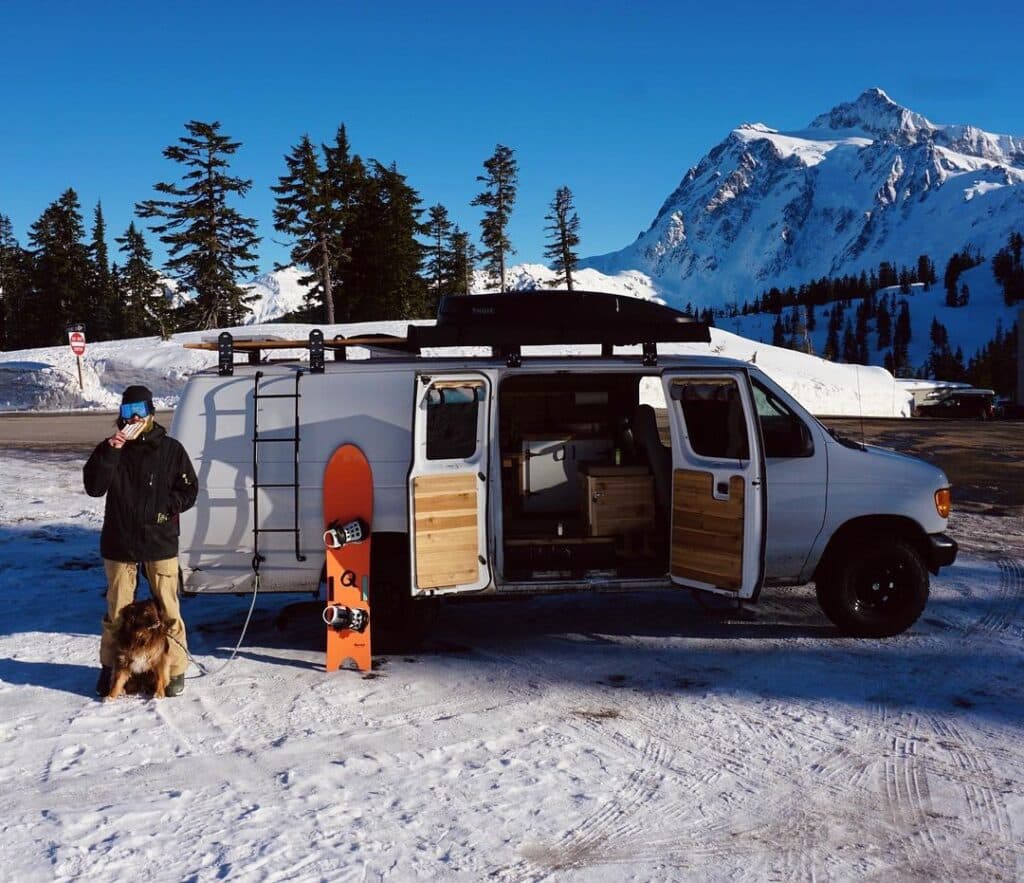 Because Nate was building out a smaller van, it was essential that elements of his camper van build were removable and dual-purpose to maximize comfort and efficiency. The toilet is stored in a bench drawer that doubles as seating, with the bench being easily removable from the camper van. The same can be said for the Yeti cooler stored between the driver and passenger seats.
The campervan bed design in this rig is a twin-size mattress with a frame that pulls out over the bench and extends lengthwise, which helps save space during the day. A long bench in front of the bed houses a handy storage compartment.
2. This stealth Ford Econoline camper conversion by Kaia Fox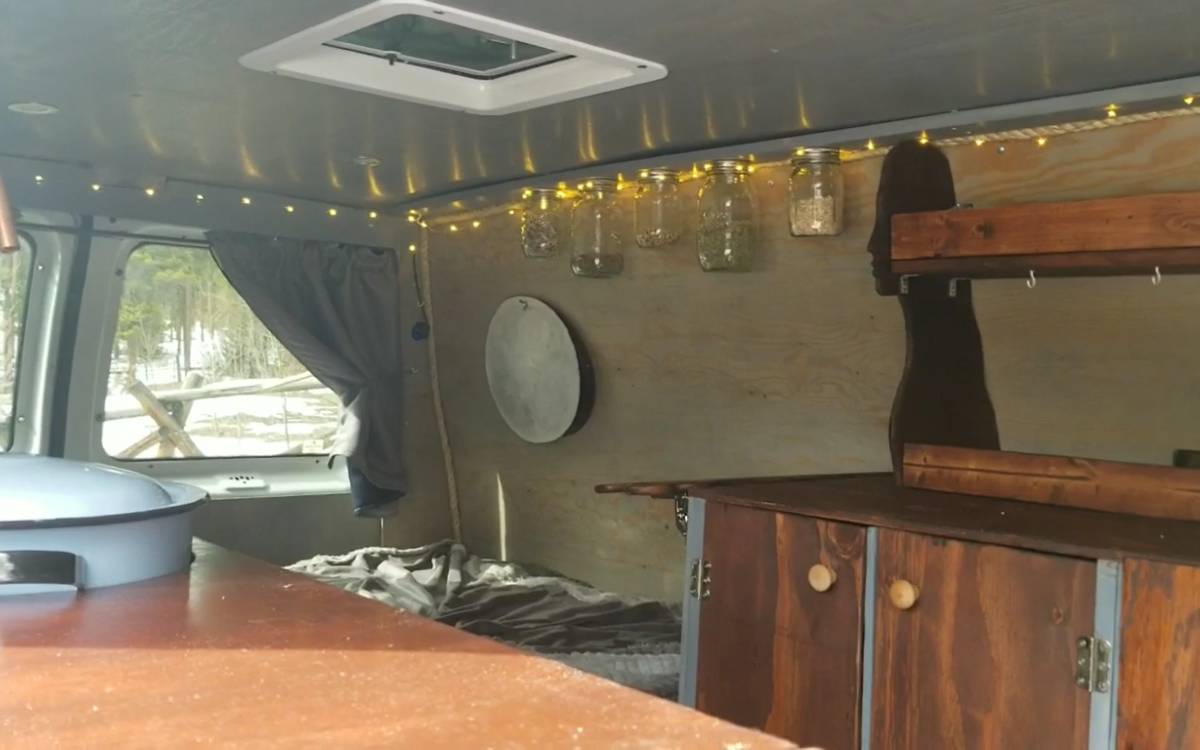 Kaia converted a 2002 Ford Econoline E-250 into a stealth camper van for city camping. The cab of this E-250 camper van is very low-profile, and a gray blackout curtain behind the front seats creates privacy. There is no way to tell that the van is a camper conversion from looking into the cab. If you move the curtain, you will find a bulkhead door between the seats that shuts off access to the living space. The door locks from the front for added security.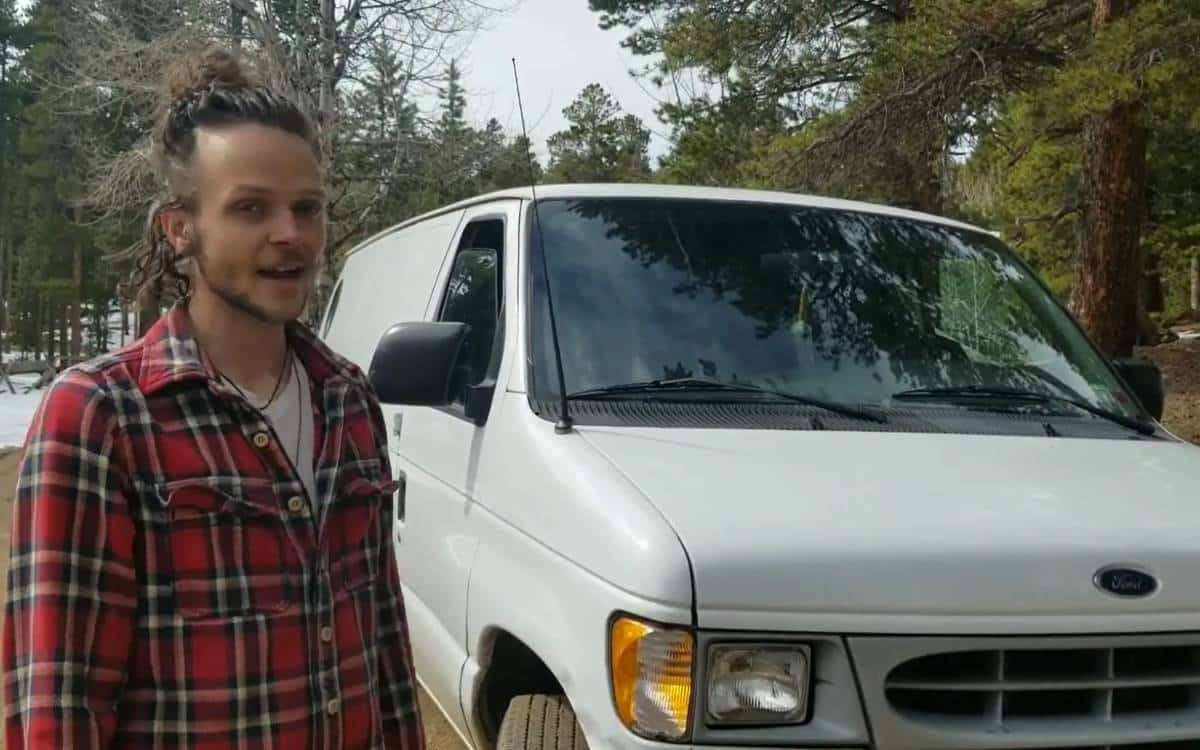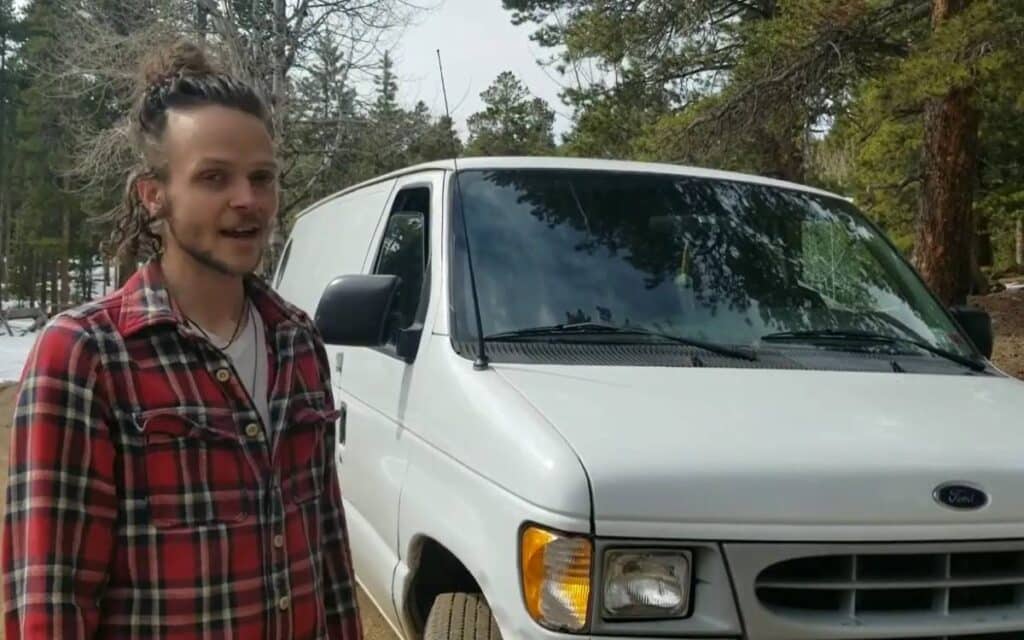 Behind the driver's seat are cabinets and counter space with a slide-out drawer that holds a camp stove. A bookshelf over the counter holds an impressive amount of books.
On the other side of this Econoline camper van, there is a counter with a sink. Water runs from the sink with a foot pump. Instead of having a gray water tank, they opted for more freshwater storage with two 6-gallon freshwater jugs. Gray water sits in the sink until it is removed from the van and disposed of manually, which helps with water conservation.
3. This eco-friendly E-Series campervan by @wander.green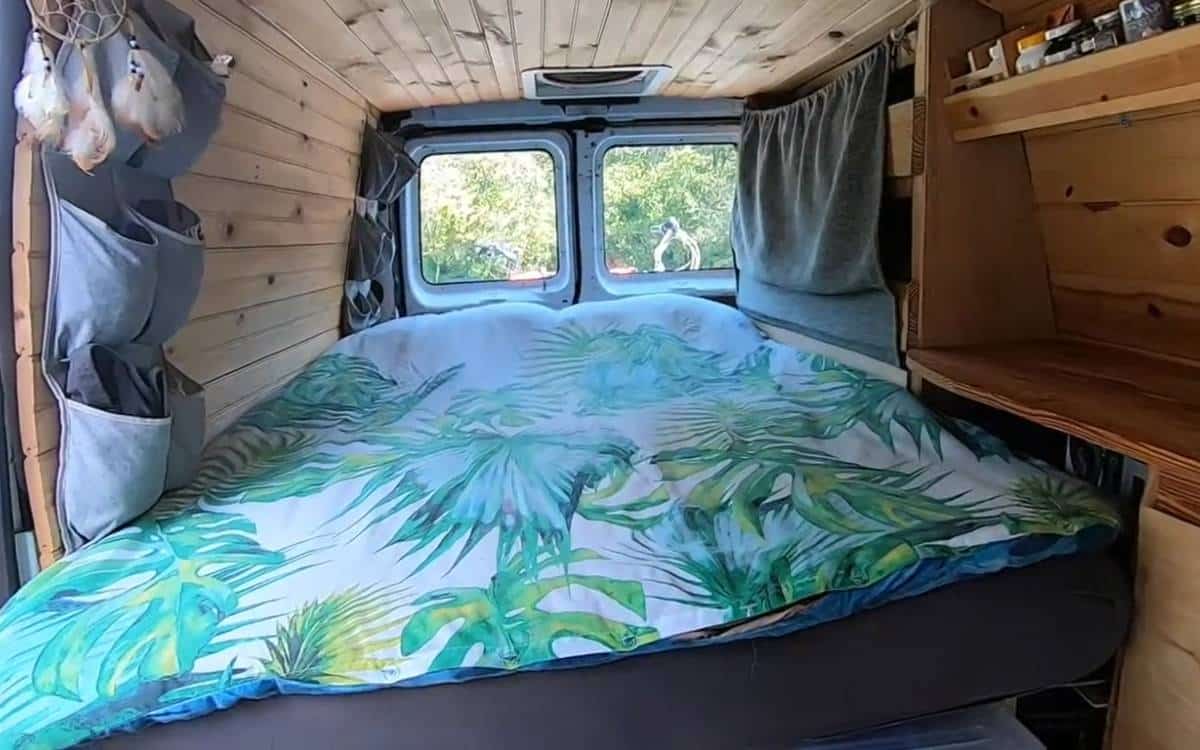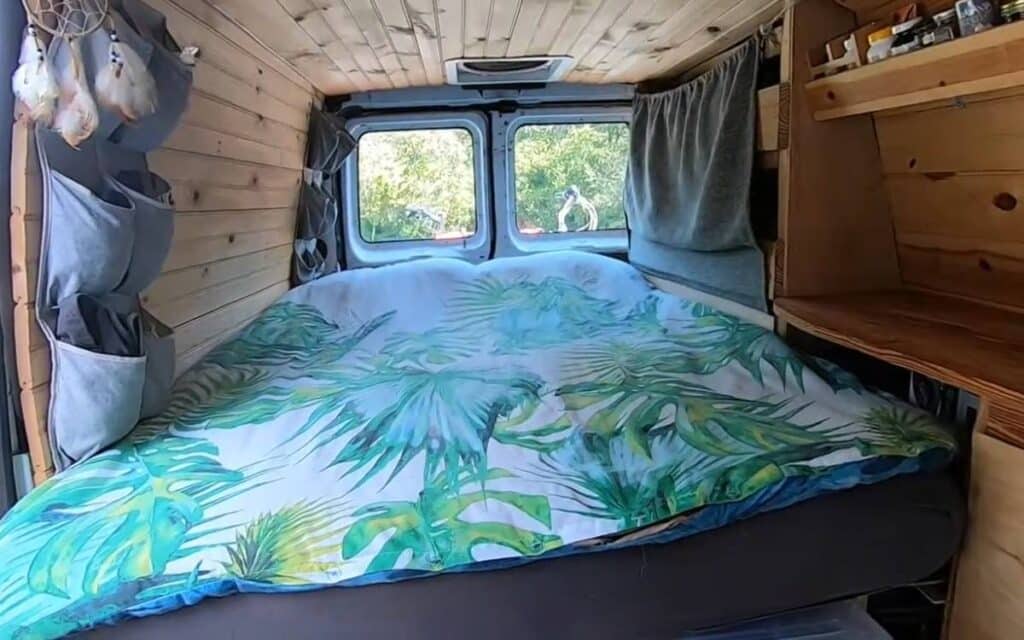 Eliane and Damian converted a 2011 Ford E-250 van to live in full-time most of the year. They made their E-Series camper van build as eco-friendly as possible, with sheep's wool insulation, natural pine wood walls and ceiling, and a campervan electrical system with 300 watts of solar.
The driver and passenger seats are on swivel mounts, opening up the living space and acting as the van's main seating area. A blackout curtain separates the cab from the living space at night. During the day, it is rolled up and out of the way. Window covers provide insulation and privacy.
The sink is a repurposed steamer pan with a hand pump faucet. 5-gallon fresh and gray water tanks are in the cabinet beneath the sink. Above the sink is a long shelf with smaller items like spices and seasonings. The couple has a camp stove for easy cooking inside and outside the van.
The bed is a full-size mattress fixed lengthwise in the back of the van, creating plenty of storage space underneath it. In the living space, Eliane and Damian can access food storage. From the back of the camper van, a foldable kayak, life vests, biking gear, a tent, and camp chairs are all within reach.
4. This budget Ford Econoline conversion van build by @Izsauce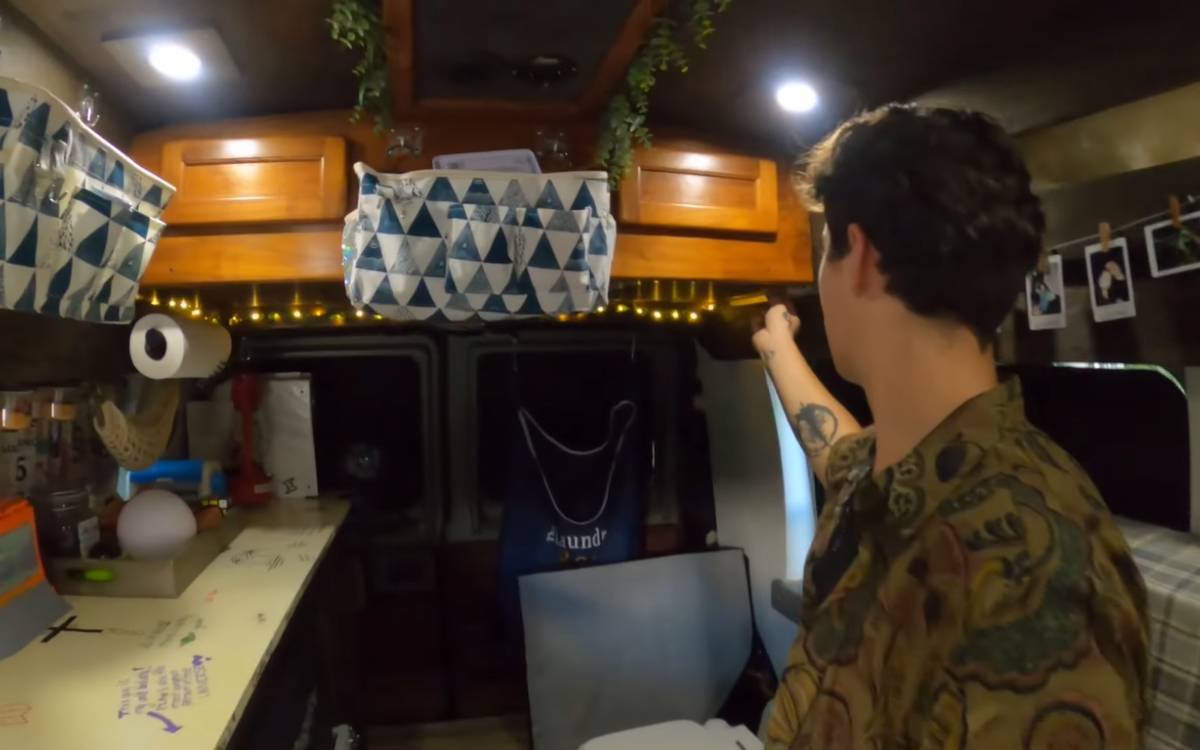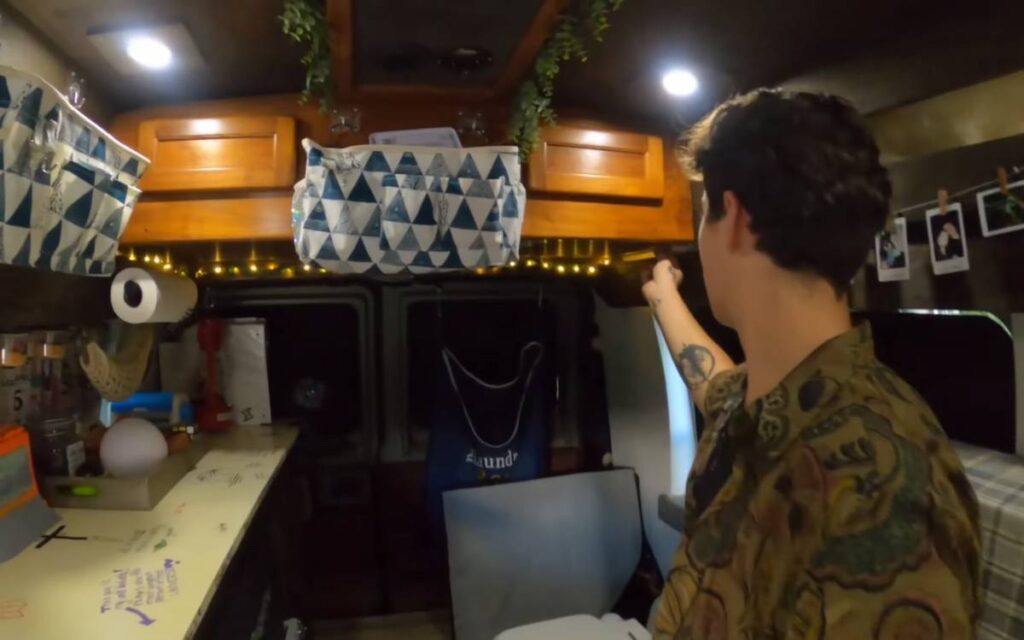 Rex and Kenzie converted their 2004 Ford E-250 conversion van for van life travel. So they could get on the road as quickly as possible, they built their Ford Econoline van conversion on a budget. They repurposed items they already had and shopped for the most affordable options for different parts of the build.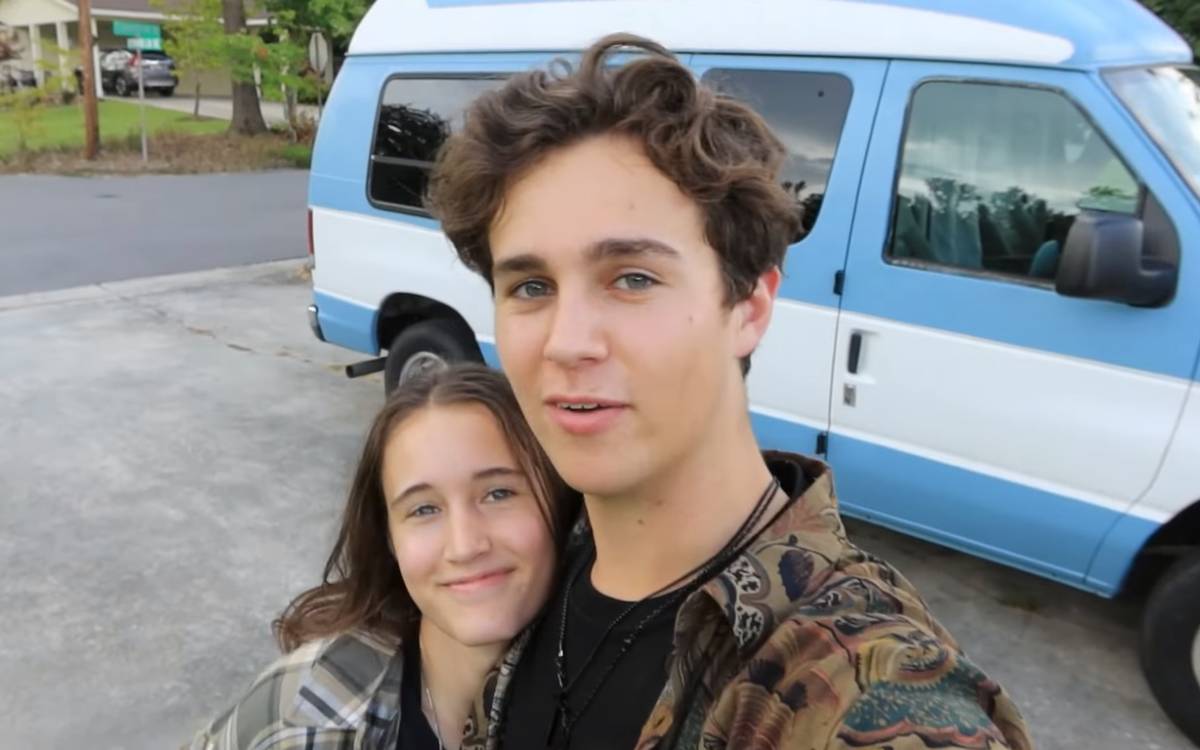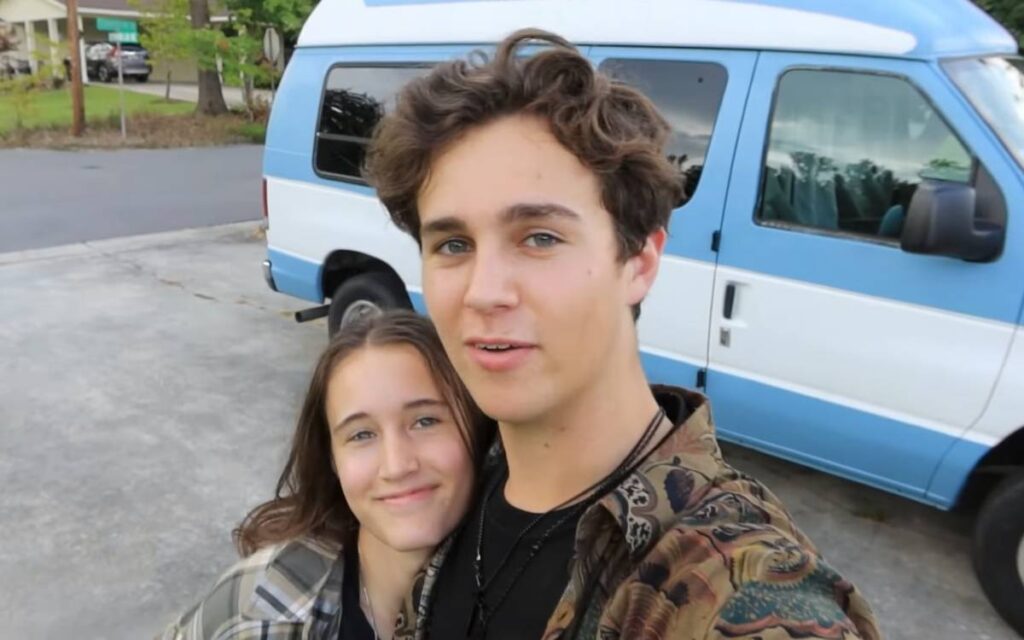 The couple converted a desk from their house into a countertop. The counter has drawings and handwritten inspirational messages – one of the many aspects of creativity included in the decor of this Econoline campervan. The interior has photo boards with little photographs clipped up. Faux plants and patterned curtains are on display as well.
The bed has a futon-style frame that slides out beside the campervan kitchen unit to create an almost-queen-sized sleeping space that runs lengthwise behind the driver's seat. There is some storage space underneath the bed for clothes and other items. 
5. This thrifty Ford Econoline cargo van conversion by @andrewcranston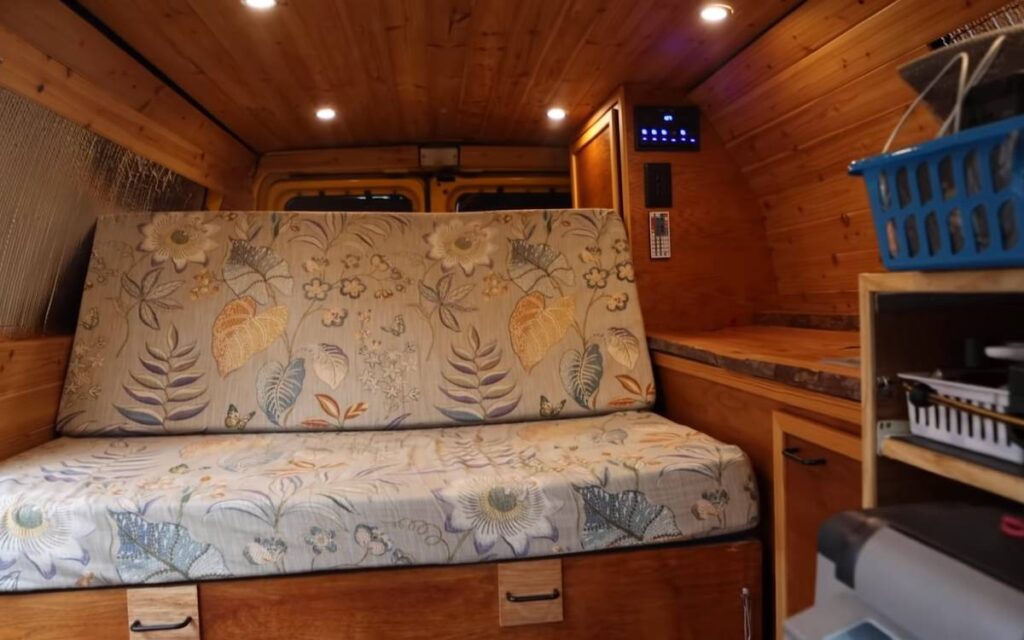 Andrew converted a Ford E-250 from a Stanley Steamer work vehicle to a DIY camper van. He completed this can conversion over three years while working and going to school. He incorporated many second-hand items from sites like OfferUp and Facebook Marketplace.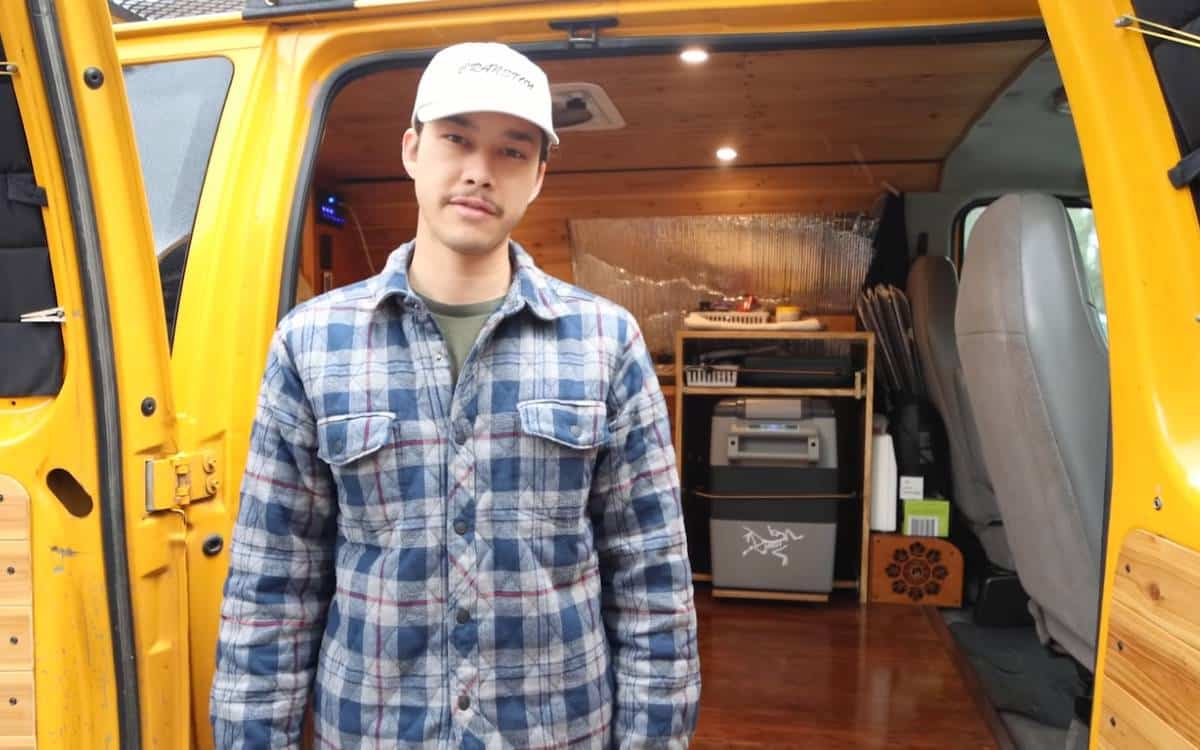 The bed is on a futon-style frame that slides out toward the cab to extend fully. The mattress is about the size of a queen, running lengthwise on the passenger side from the back of the camper van, leaving room for cabinets and counter space to run along the driver's side. Under the bed, Andrew stores clothes and food in containers.
The fridge sits on drawer slides in a cabinet behind the driver's seat. It slides out toward the side door for access and stays in place with a bungee cord. There is another drawer slide above the fridge that holds a camp stove. A rubber mat is on top of the cabinet and does a great job of keeping the items on it in place.
The van has a roof rack that can be accessed using the ladder attached to the back of the van. The roof rack holds a storage box where Andrew stores outdoor gear.
6. This practical Econoline conversion van build by @commonground_travels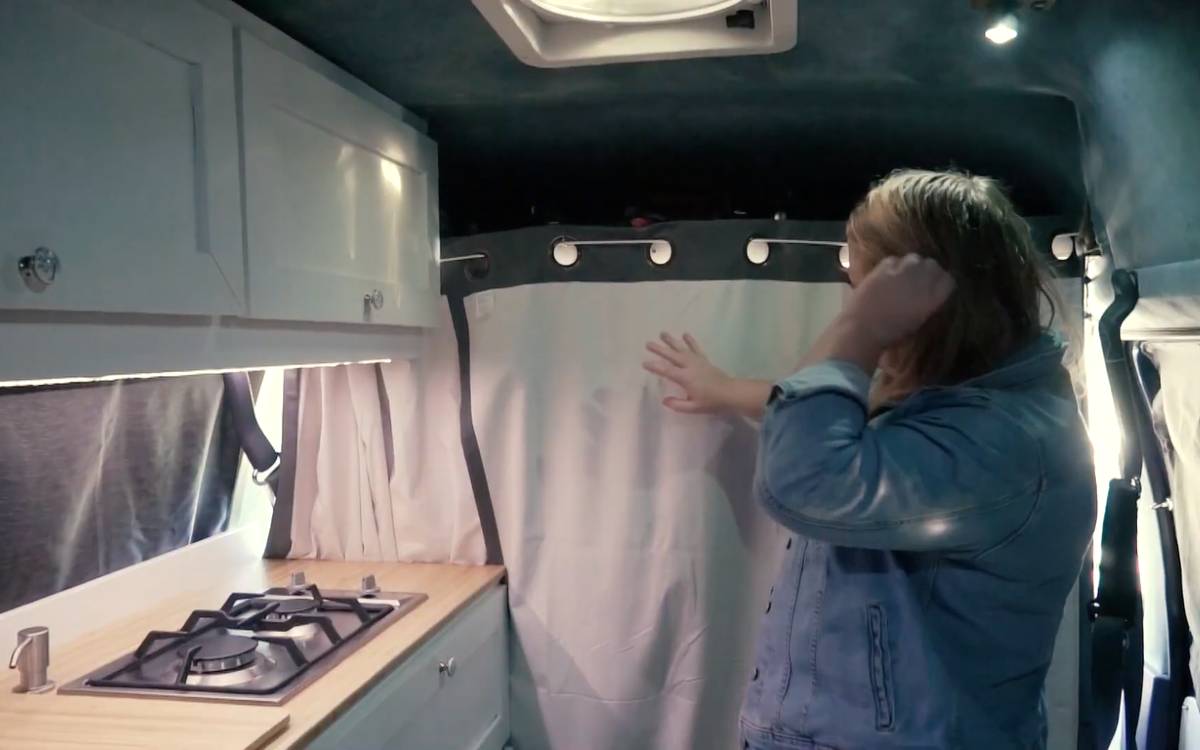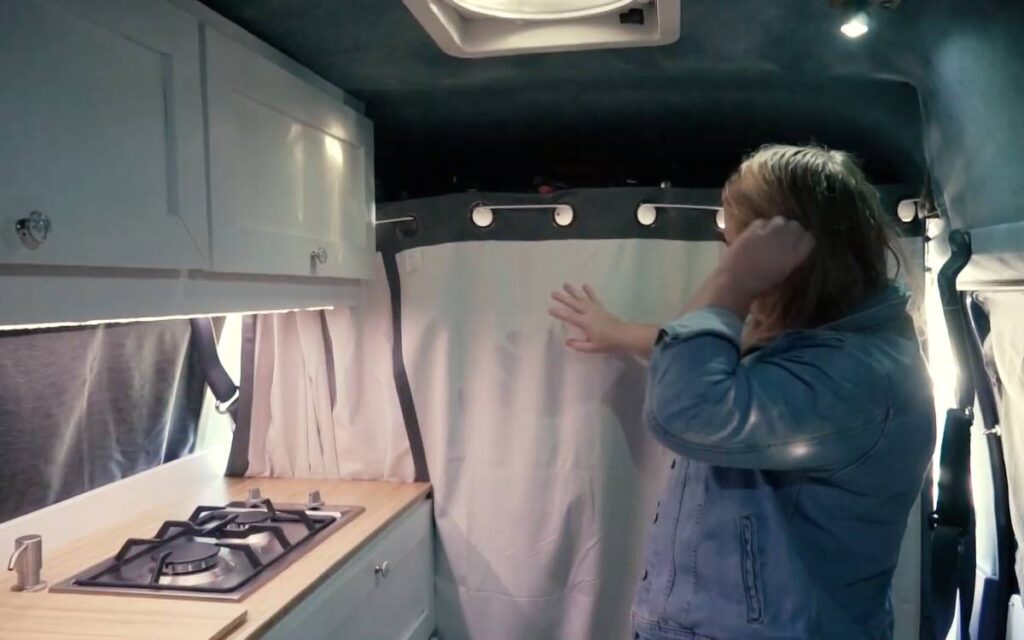 Sean and Justyn converted a 1992 Ford Econoline E-150 van to live in while traveling. In the cab, they added upgrades like a new Bluetooth stereo system and a rear backup camera to modernize their rig and assist with backing into parking spaces.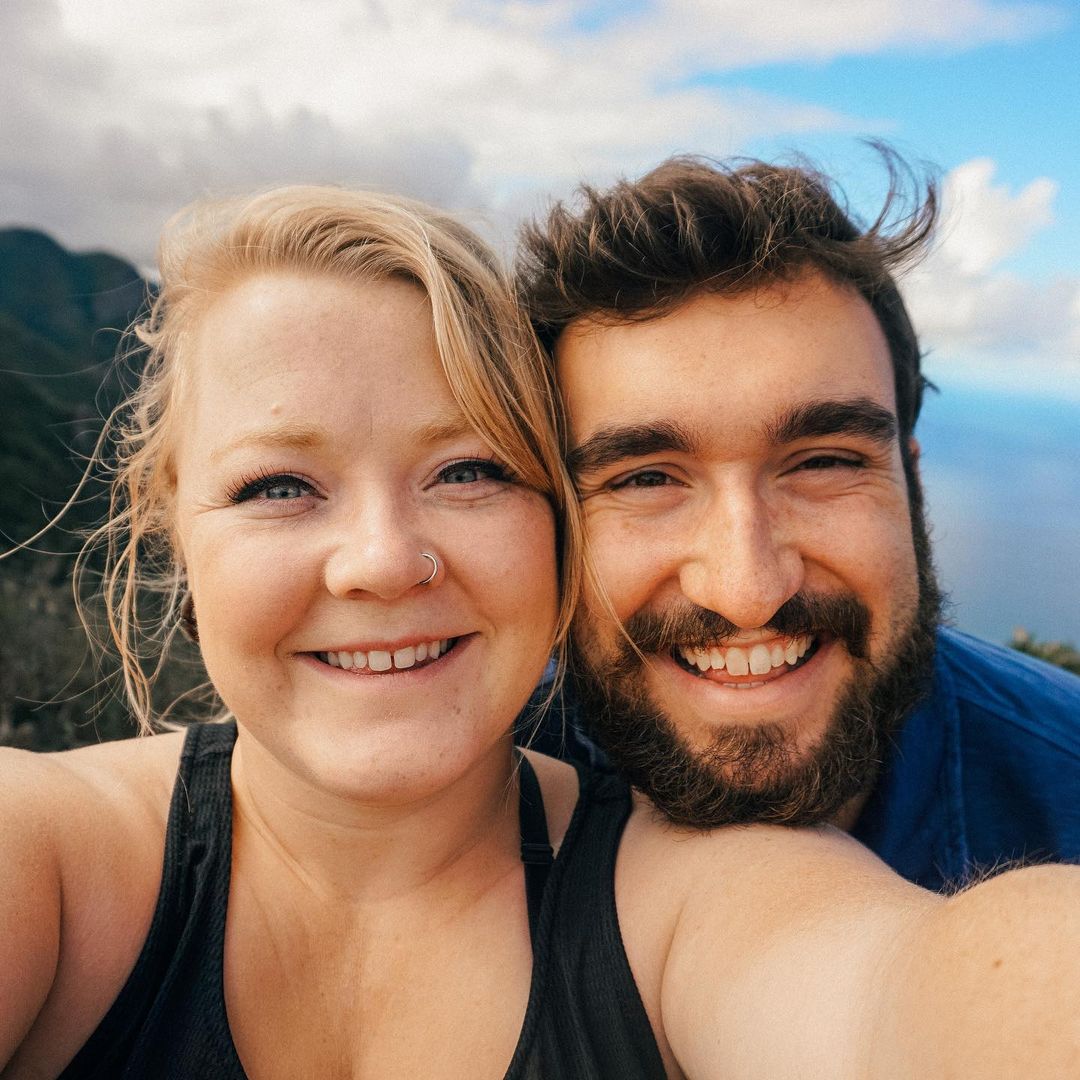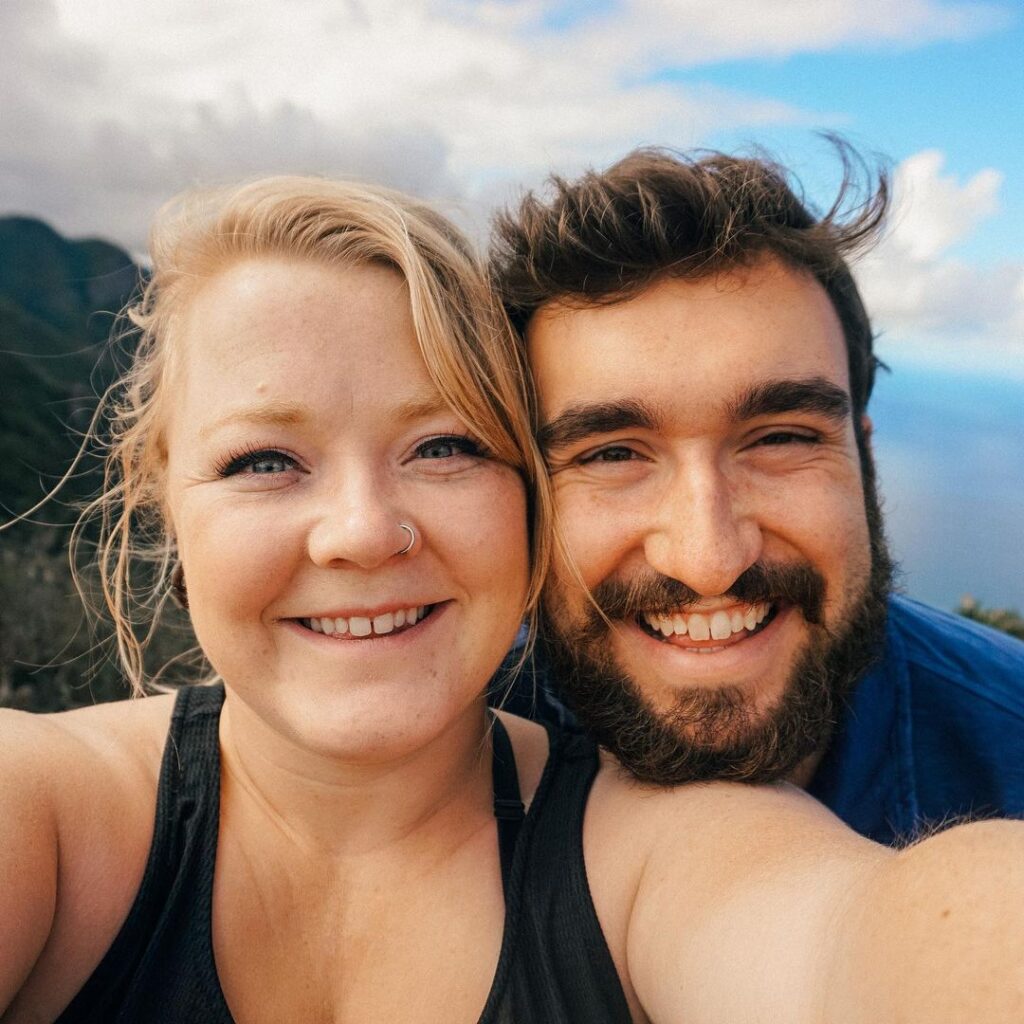 A curtain separates the cab from the living area. Not only does it provide stealth and privacy, it also doubles as a movie screen. Sean and Justyn have a projector they use to watch movies on the curtain by connecting the projector to a laptop. This is a fun and easy solution if you want a TV in your camper van but don't have the space.
Behind the driver's seat is the van's kitchen, which includes a built-in 2-burner propane stove, a Dometic fridge on drawer slides, a sink with a foot pump, and a gray water tank. A cabinet above the kitchen counter stores makeup, toiletries, plates, bowls, and kitchen utensils.
7. This two-week Ford Econoline van life camper conversion by @jupiterhikes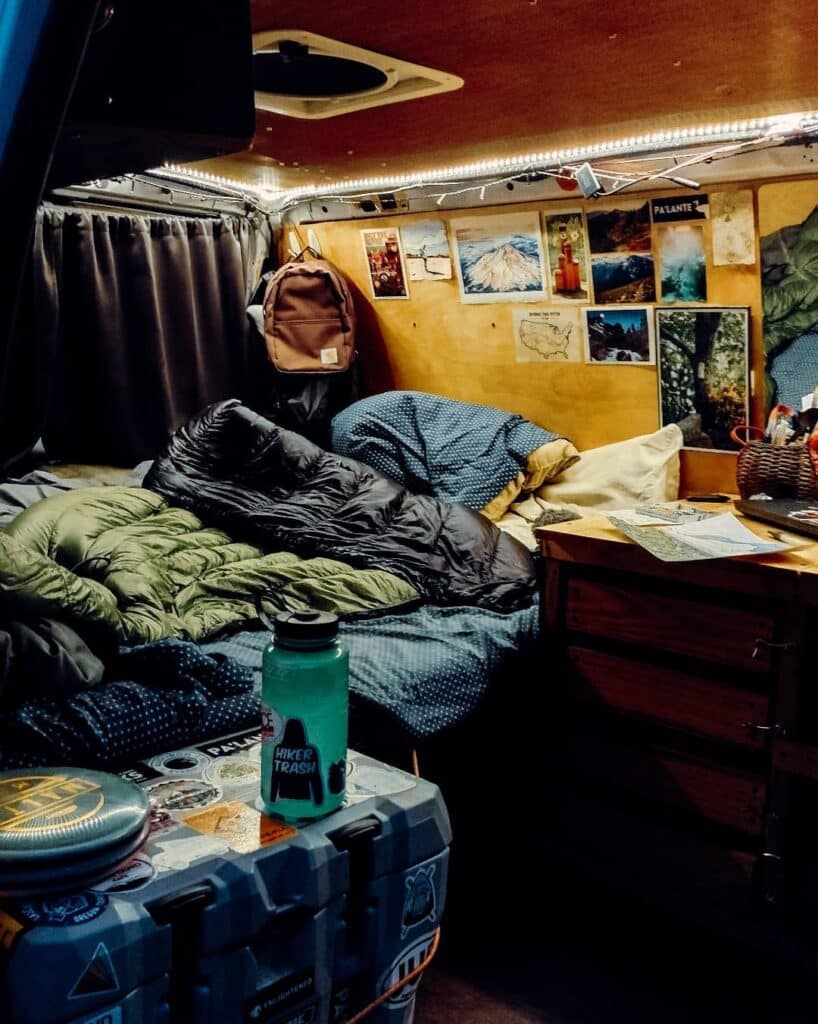 Jupiter is a long-distance hiker that bought and converted a 2008 Ford E-150 in two weeks to live in while traveling and hiking. Though this was a quick, budget build, Jupiter put a lot of effort into making this camper van a home. Photos and art are displayed on the walls to add decor and personality to the space.
Open cabinets run along the passenger side of the interior, storing Jupiter's clothes. The bed is fixed width-wise in the back of the van. The mattress is full-size and trimmed to fit into the space.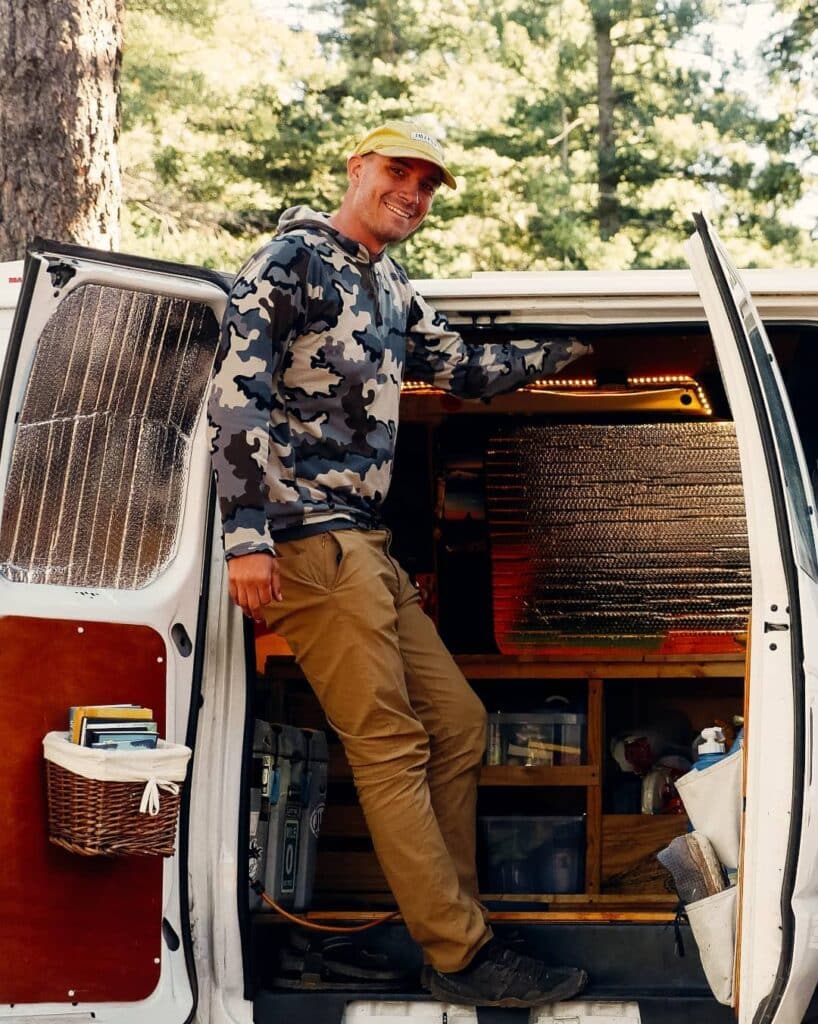 The kitchen has two 6-gallon water jugs, a camp stove, and a cooler. Jupiter opted not to put in a sink and gray water system. In the handbuilt cabinets, there is storage for painting supplies, pots and pans, and kitchen utensils.
Under the bed is where non-perishable food, hiking gear, and dirty laundry is stored. Even with all of that, there's still plenty of space under the bed. Jupiter believes backpacking has helped him minimize his necessities while traveling.
8. This mobile office conversion in a Ford Econoline van by Tim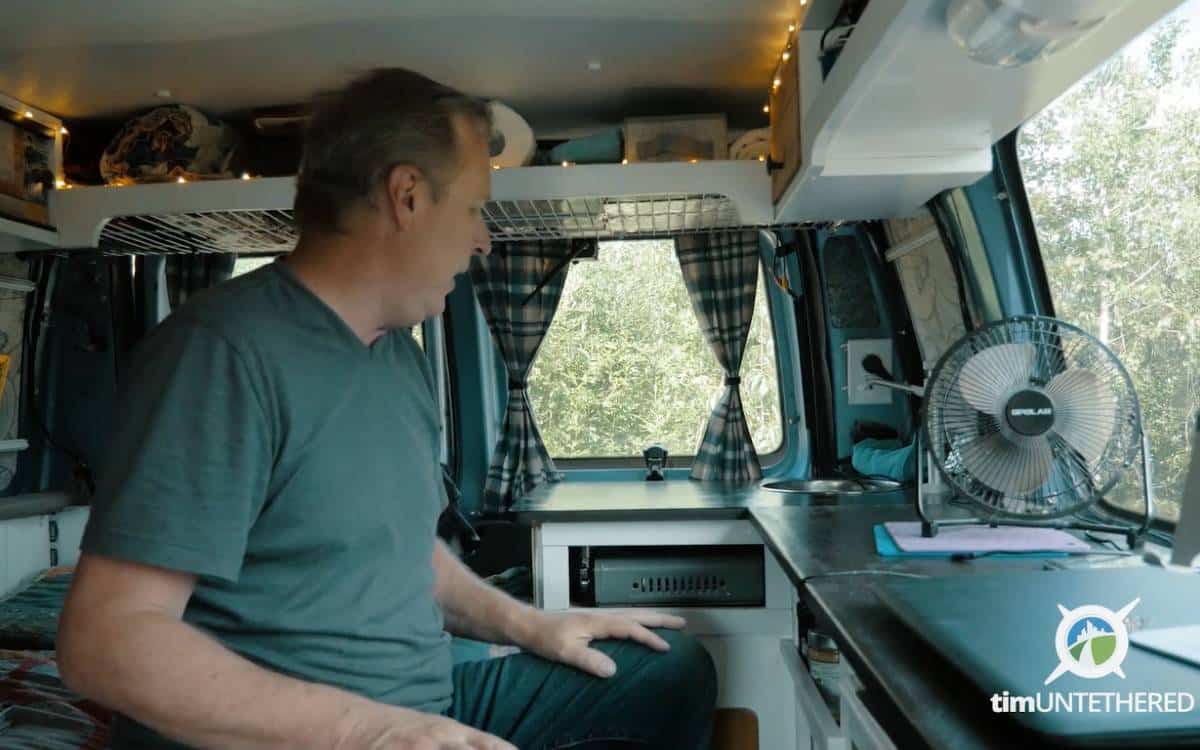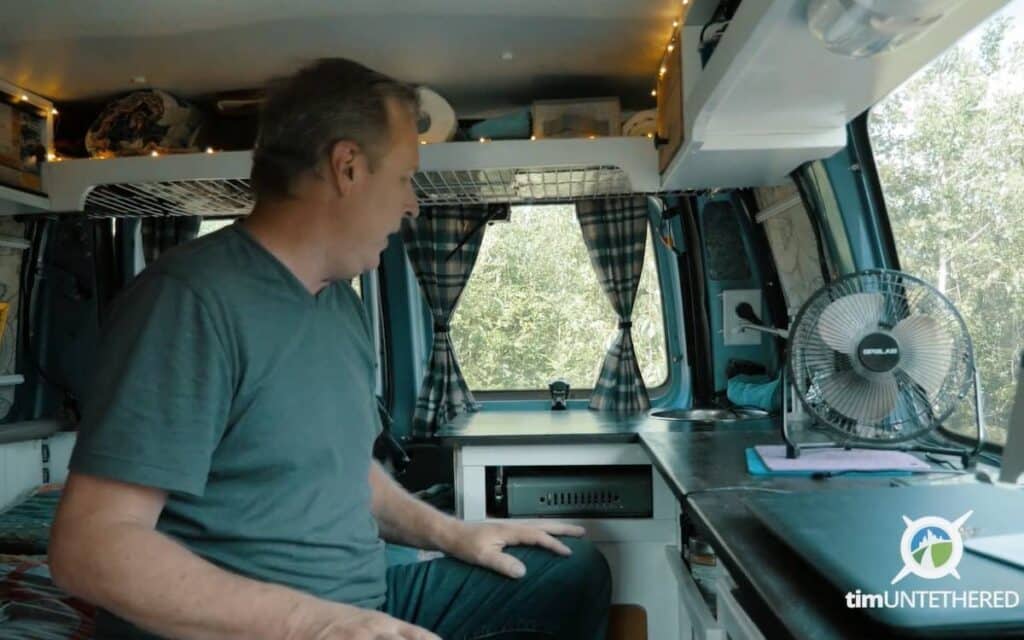 Tim purchased his 1995 Ford Econoline E-350 van with an extended wheelbase for $800.
He wanted to build out the Econoline for boondocking on road trips while still being able to work. Over two years, Tim built aspects of his camper van, took it out for camping trips, and brought it back home to continue building. He recommends this method to anyone with the time and space. Testing his rig like this helped him hone in on creating the perfect layout for his primary purpose – working from his van.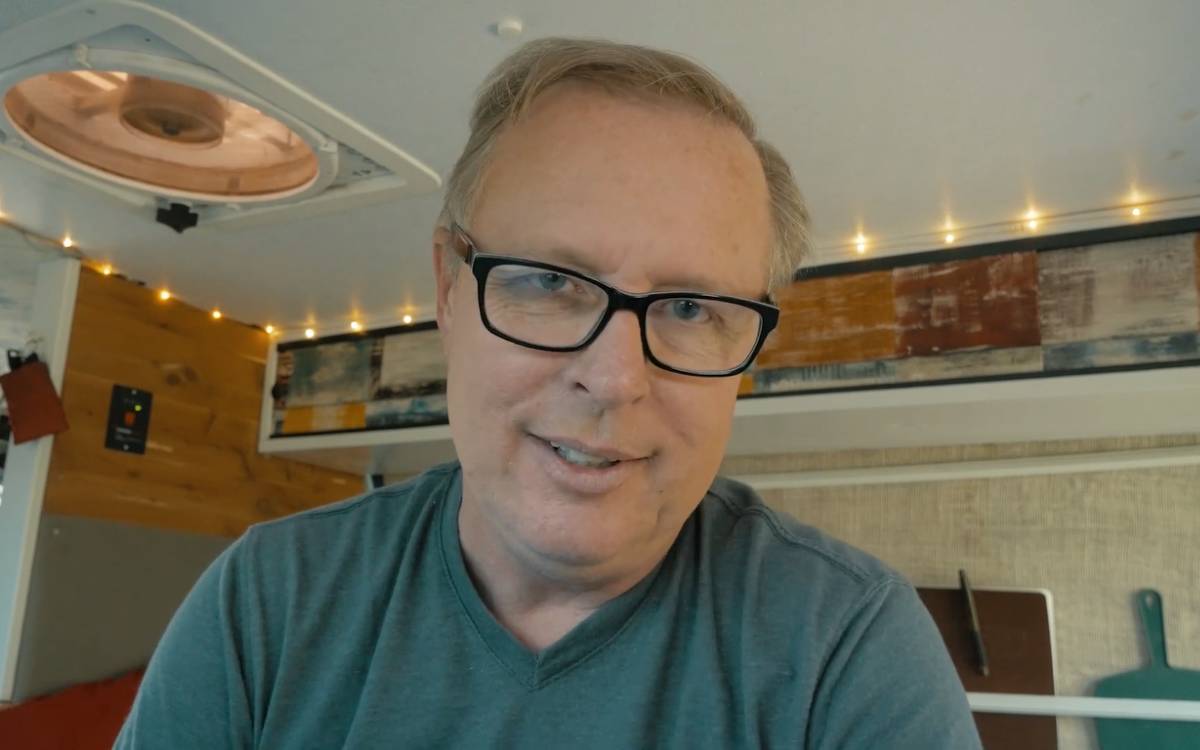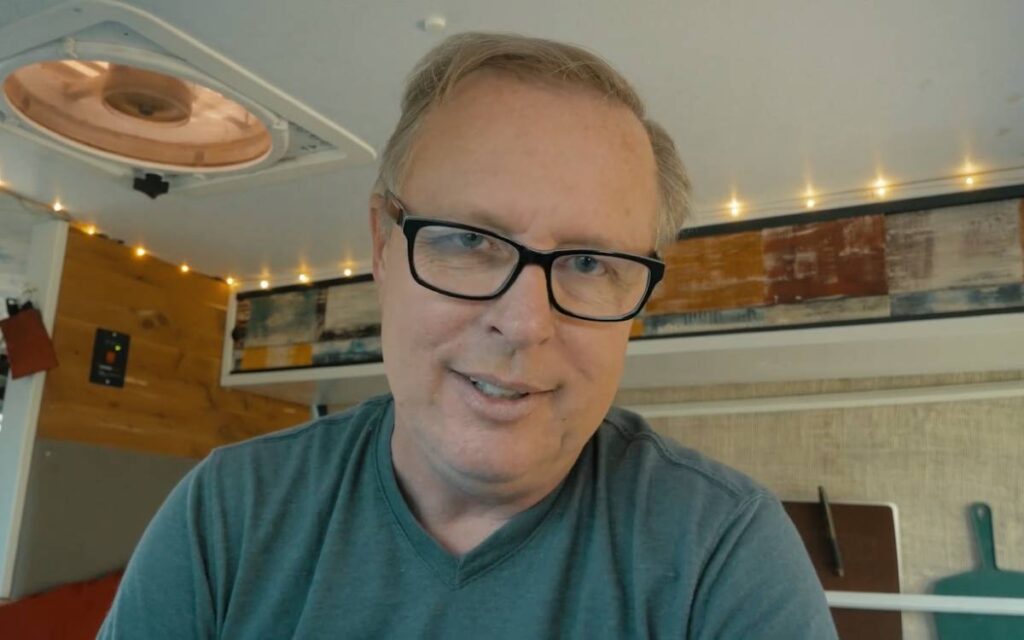 Since being able to work from his camper van was one of Tim's priorities for this build, he made sure to include counter space for his laptop and a slide-out keyboard shelf. There are charging ports in this workstation area, with a shelf on top to store other tech gear. Tim's Econoline has a van life power system capable of keeping everything charged.
9. This pop-top Econoline camper van build by Glippie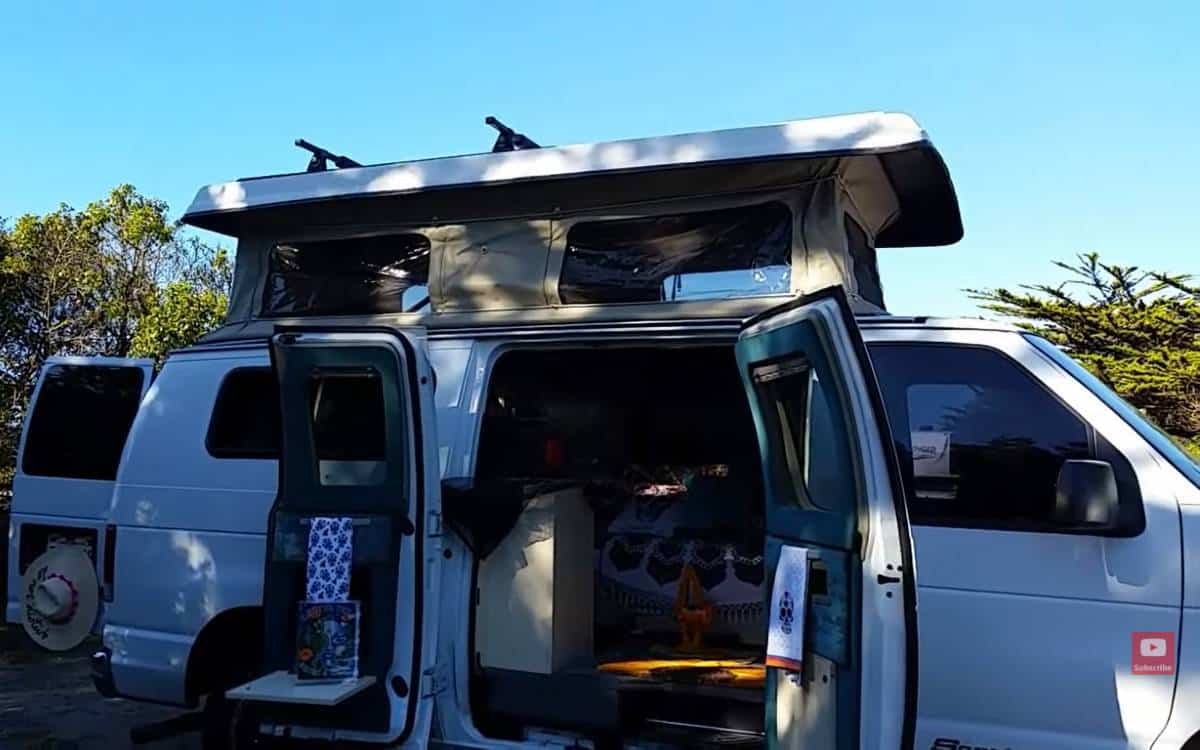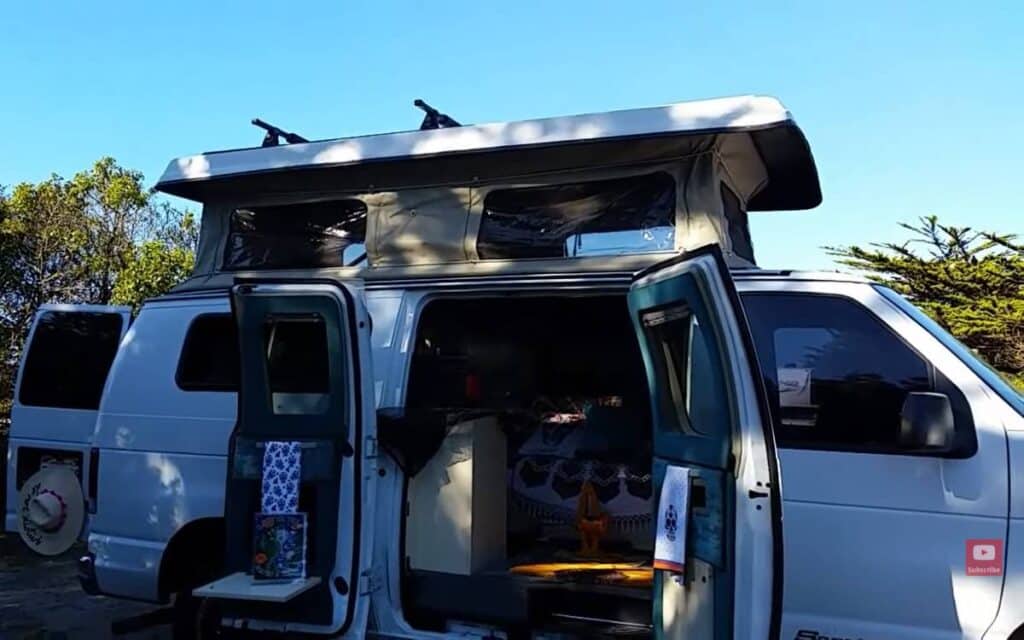 Glippie camps in a 1997 Ford Econoline camper van. She wanted to be able to stand up in her van and found this pop-top conversion that was perfect for her. The pop-top provides enough room to stand and allows space for a couple of bunks for sleeping and storage.
Glippie can raise the pop-top by herself using PVC pipes and an electric jack. The pop-top has screened windows that provide lots of natural light. The windows can be opened for airflow, and there are curtains for privacy.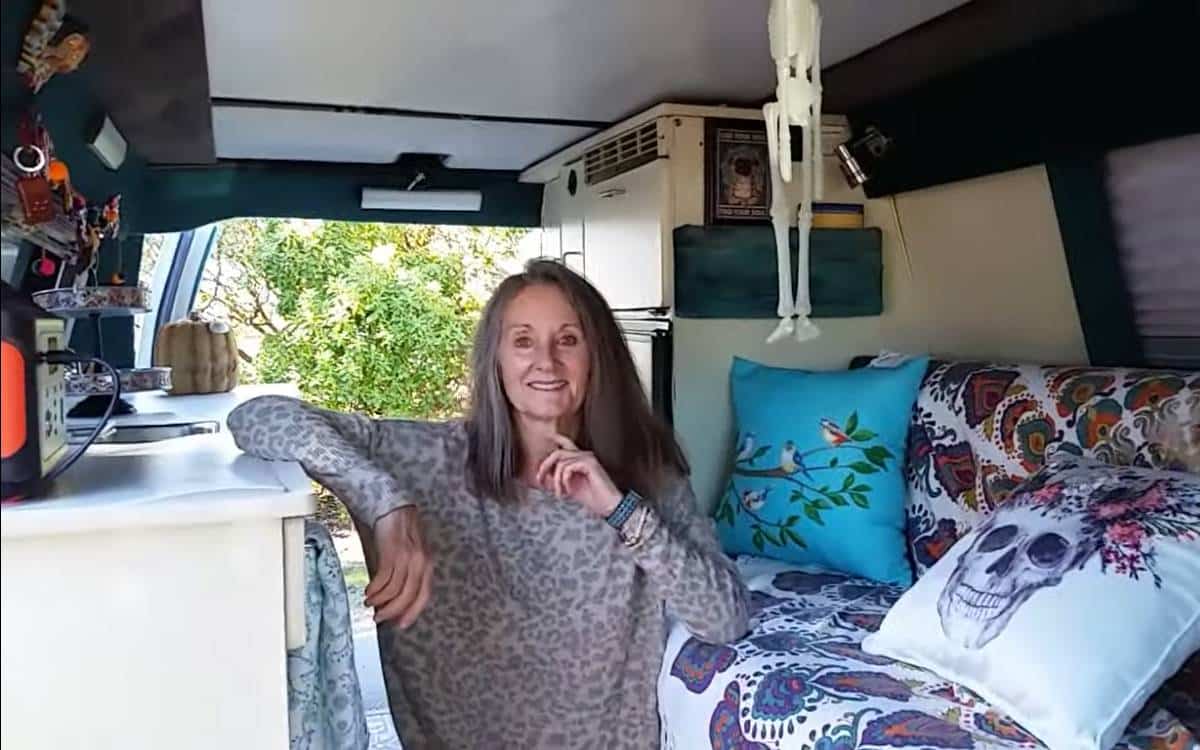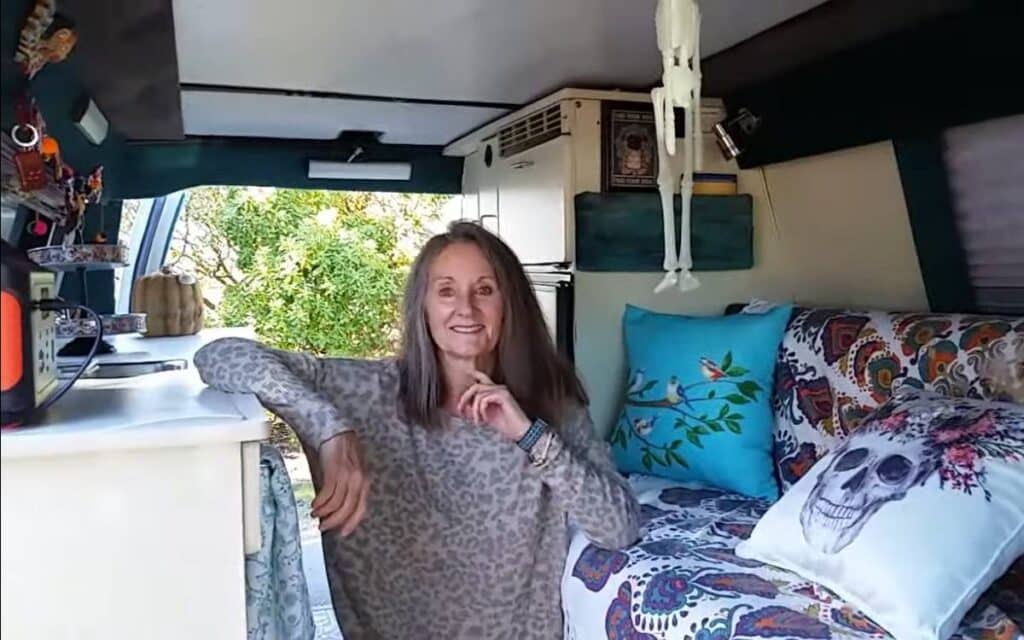 A bench seat behind the driver's seat stores the vanlife electrical system. It also pulls out into a bed about the size of a full-size bed.
She has a large kitchen that utilizes a lot of the living space. A portable toilet sits in a cabinet in the back of the van. This Ford Econoline camper van build also includes a closet to hang clothes in and a pantry that slides out with plenty of space for food storage.
10. This Ford E-Series tiny house van conversion by @theroadthroughmyeyes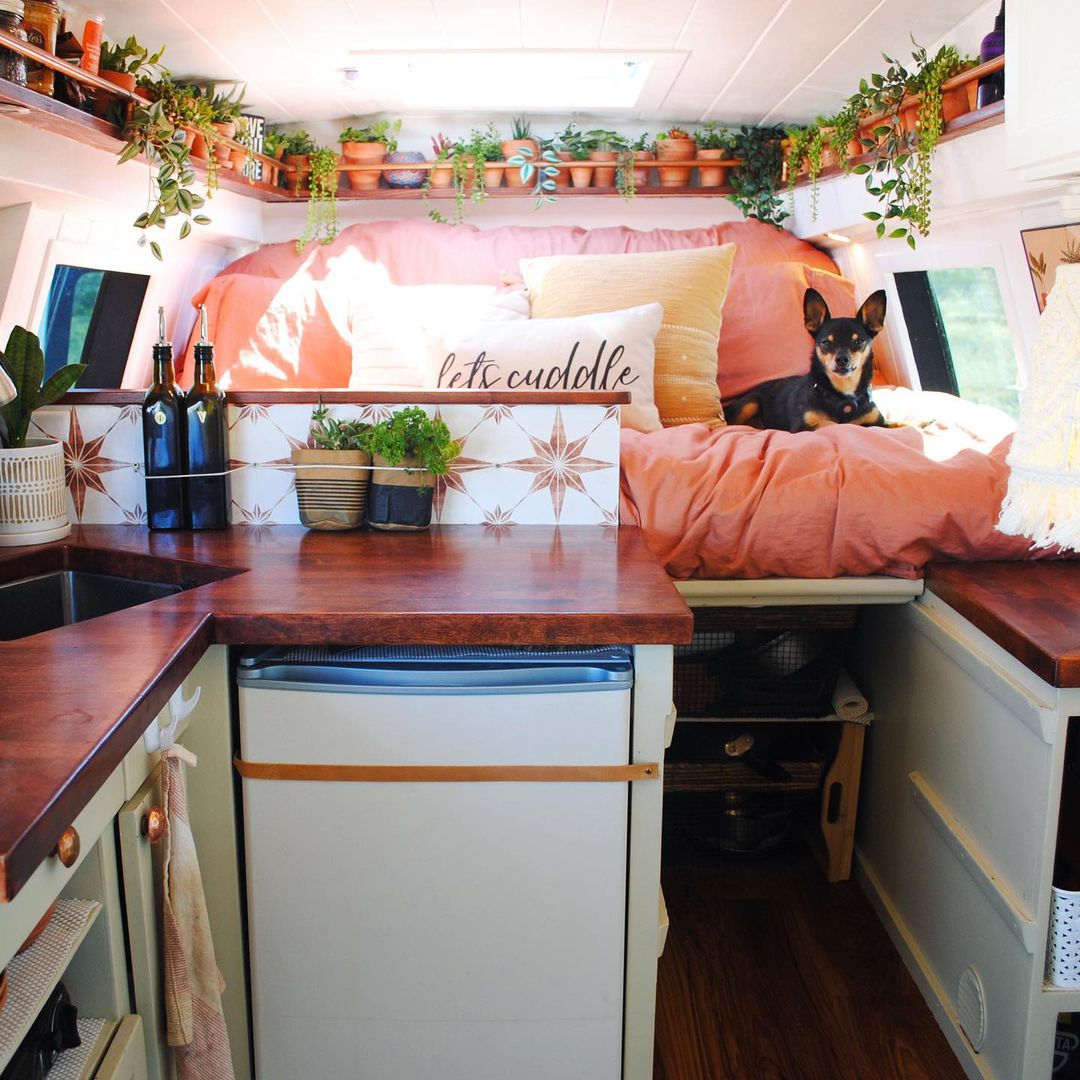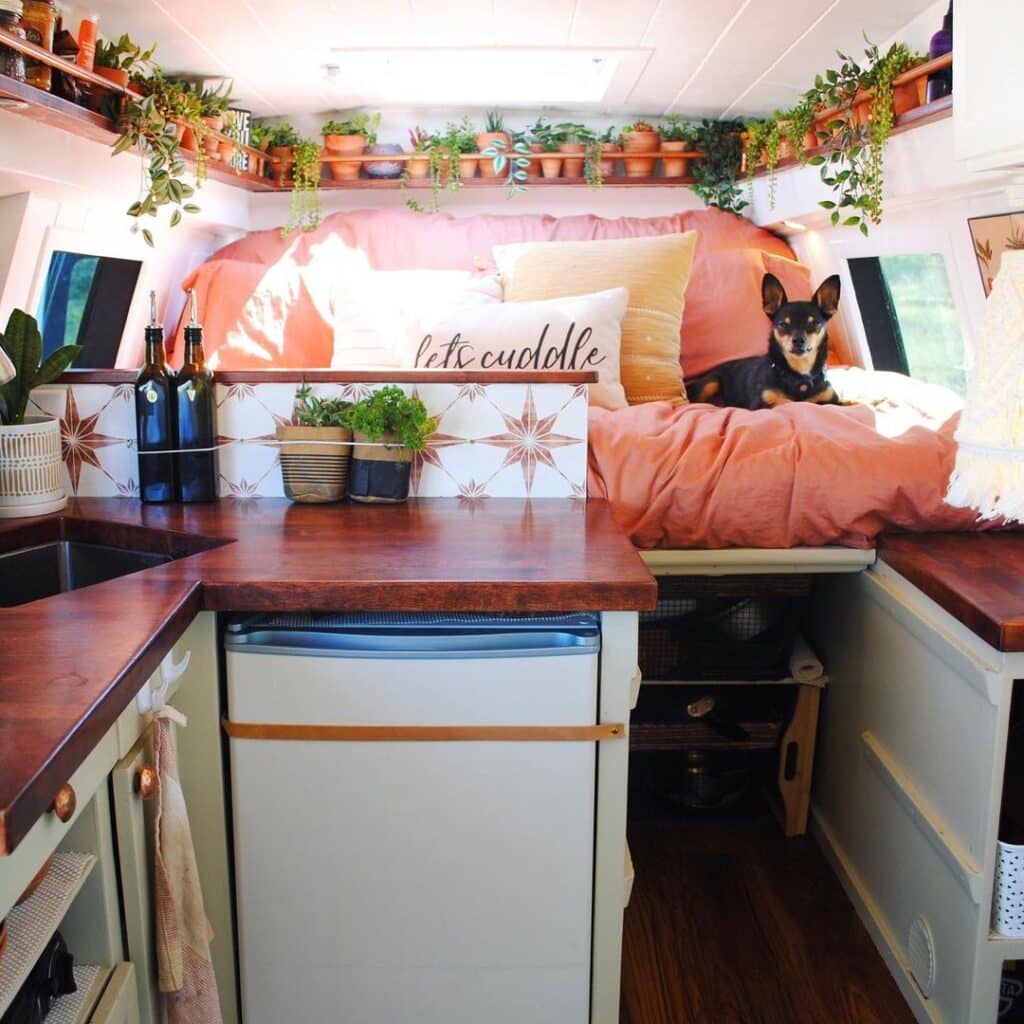 Brenda converted a 2012 Ford E-350 van into a DIY RV conversion in 42 days with help from her dad so that she could van life in it with her dog, Ranger. She has some unique features in this Ford E-Series van build, such as a pocket door, hammock, and an L-shaped kitchen. There was a lot of thought put into the interior design, with plants, wallpaper, and copper accents that make it feel like a home for Brenda.
The pocket door helps the living space feel homey while providing access to the cab. Behind the driver's side, Brenda has a hammock seat and a table that act as her workstation.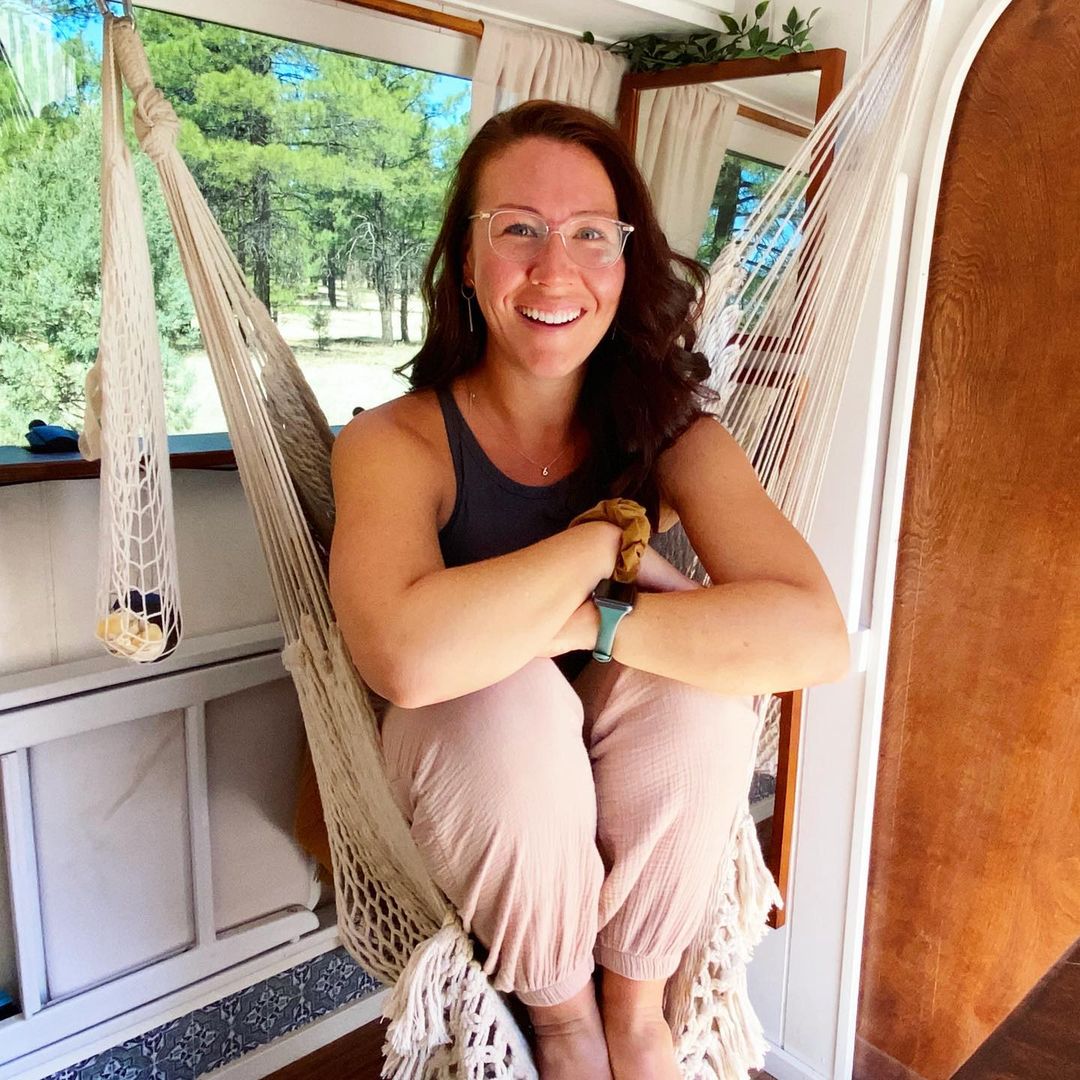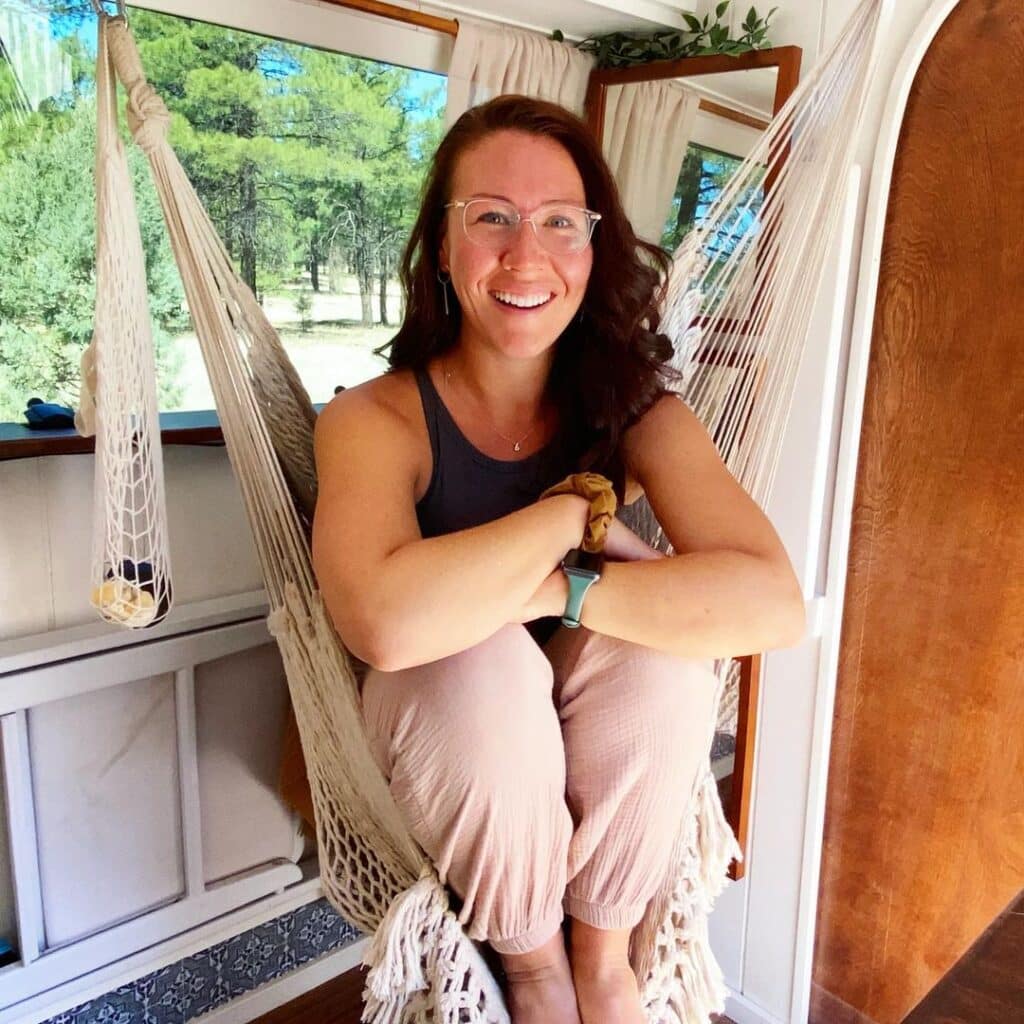 An L-shaped kitchen starts by the side door of the campervan conversion and curves around the bedroom area. The bottom cabinets in the kitchen store an oven, fridge, and portable toilet. The corner sink has a faucet that can be swiveled outside the camper van.
Ranger has his own kennel space beneath the bed, which is fixed width-wise in the back with the option to extend it to sleep lengthwise. A skylight above the bed doubles as a hatch allowing roof access.
Build Your Van
The Ultimate Van Build Guide
Planning a van build? Read our free guide. We cover just about everything you need to know – from planning, to insulation, to solar and electrical, to picking appliances, to essential tools. Get started today so you can get out there on the road!