If you are looking for a unique #vanlife vehicle that maximizes living space, look no further than a box truck. Box trucks are commercial vehicles with a rectangular cargo box mounted on a chassis, with a cutaway cab and engine of a standard van up front
Box trucks are some of the most spacious options for a DIY camper conversion. Their shape provides straight surfaces to install insulation, walls, and ceiling. They are often taller and wider than regular cargo vans, so you'll have plenty of headroom for standing and overhead storage.
And box truck conversions are stealthier than most vans because it's harder to see those roof vent fans and campervan solar panels. Not only that, box truck campers just aren't as common as cargo vans, so the average person won't expect someone to be living in it.
Box trucks come in various base vehicles like Chevy Express, Ford E-Series, and the newer Ford Transit. You can even find vehicles with truck or cabover bases. These vehicles are all super common, so you'll be able to find mechanics and parts on the road.
If you're considering converting a box truck to a camper van, we've gathered some of our favorite DIY box truck camper conversions to give you ideas and inspiration.
Build Your Van
The Ultimate Van Build Guide
Planning a van build? Read our free guide. We cover just about everything you need to know – from planning, to insulation, to solar and electrical, to picking appliances, to essential tools. Get started today so you can get out there on the road!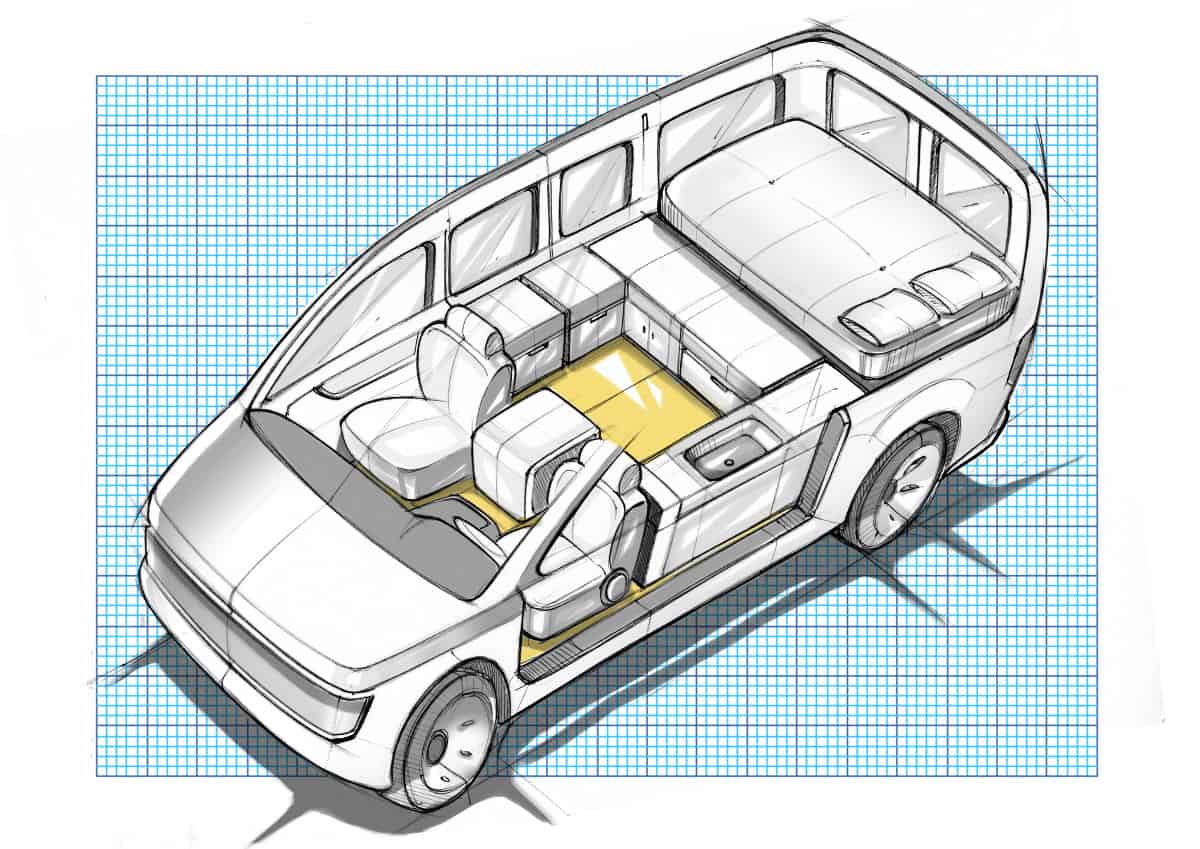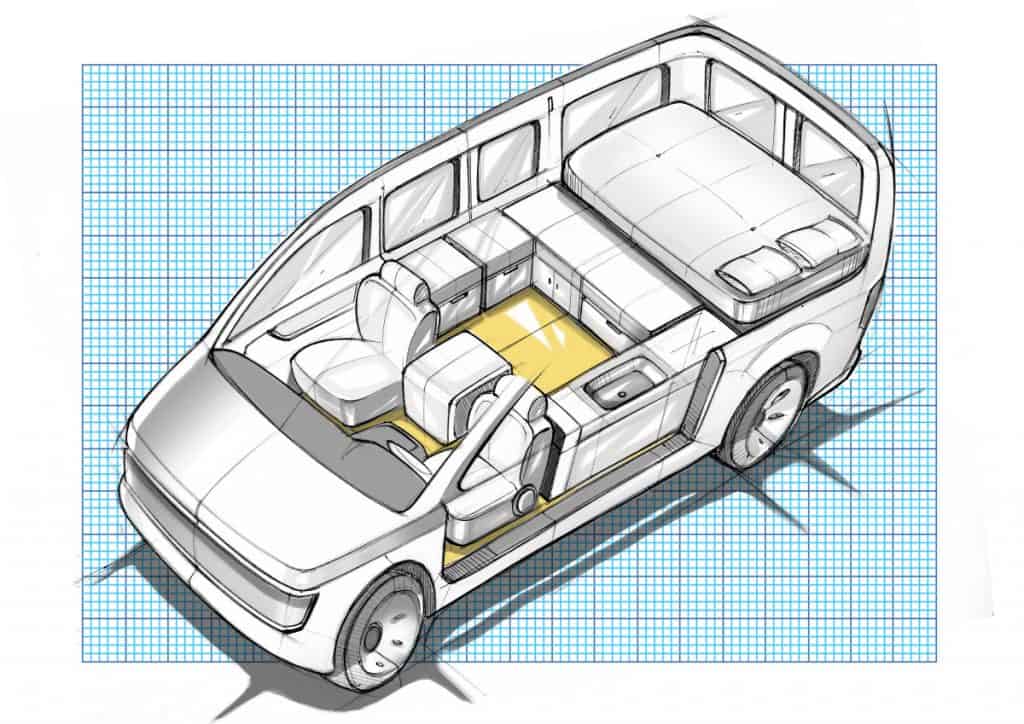 1. This custom box truck camper conversion from @canadianstealth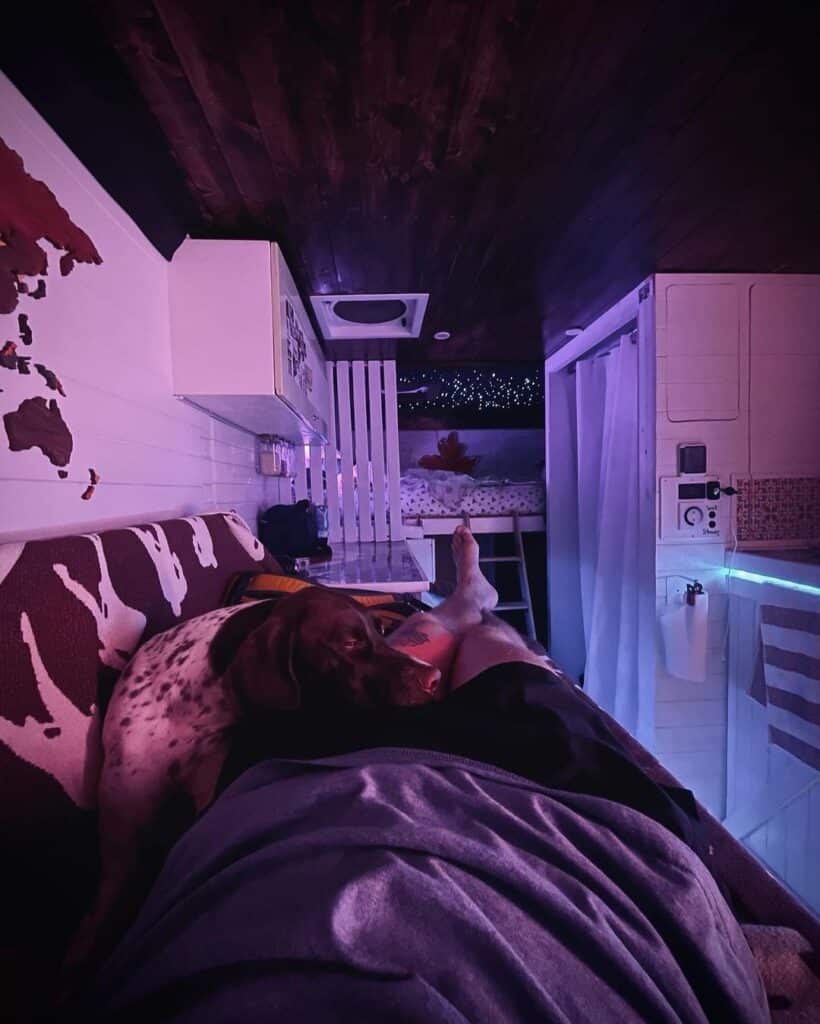 Roberts and Ash built out a 2003 GMC Savana box truck conversion with a 16-foot box to travel in with their dog, Yuki.
The interior has many unique features like custom-built countertops, neon light strips, and star lights over the bed that add personality to the living space.
The entrance is at the back of the box truck camper. Roberts left a lot of open space in the entryway so that it doesn't feel crowded when entering the box van camper. A small, open storage closet by the entry door stores seasonal sports and camping gear.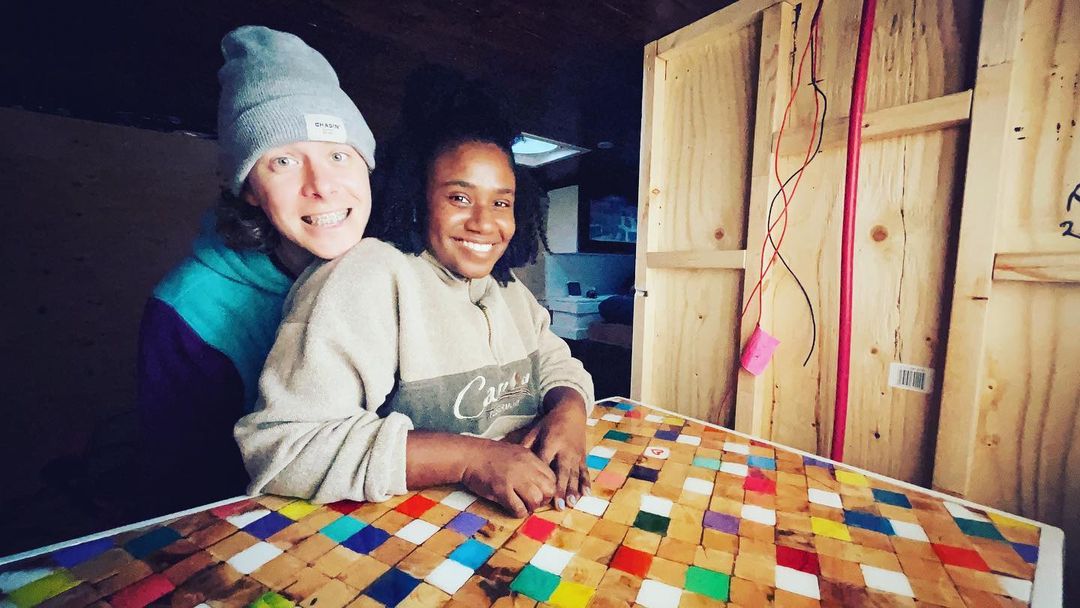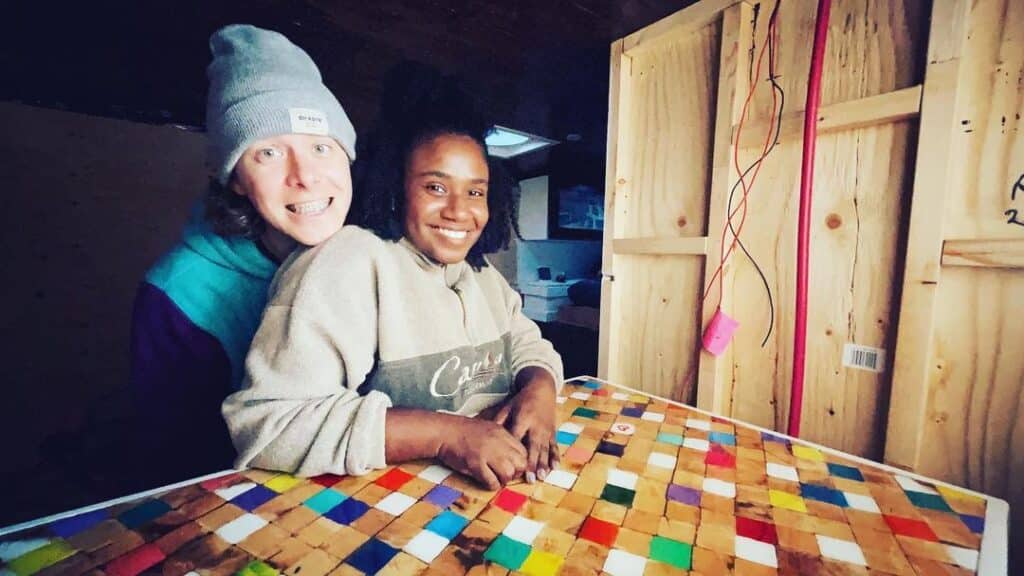 Over the sink, they installed a window that lets in natural light.
The couch is near the entryway and high enough for their dog to have a room beneath it, with storage for pet supplies. The couch is L-shaped, with a pull-out frame that converts the space into a guest bed.
A raised ladder allows access to the bedroom area. This area has usb charging stations, control switches for interior lighting and heaters, and pockets for small items. Under the bed, there is a little hallway with storage and a door to access the cab.
2. This stealth conversion from @arstrauss1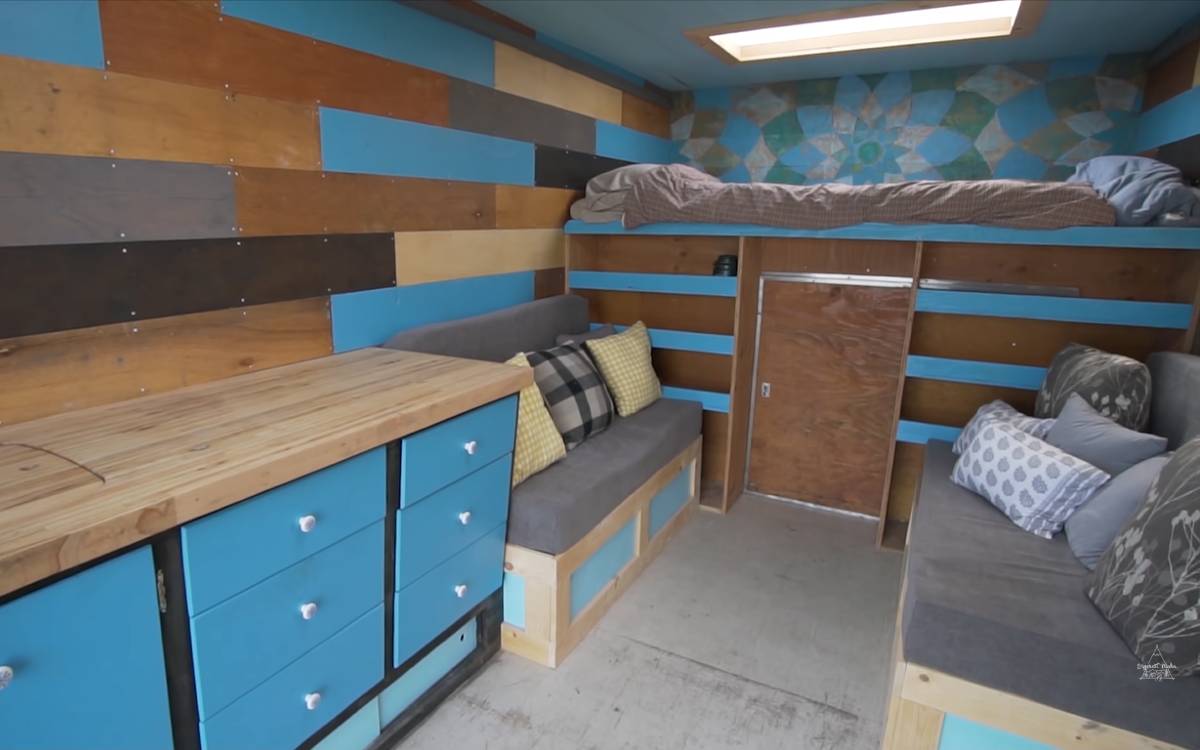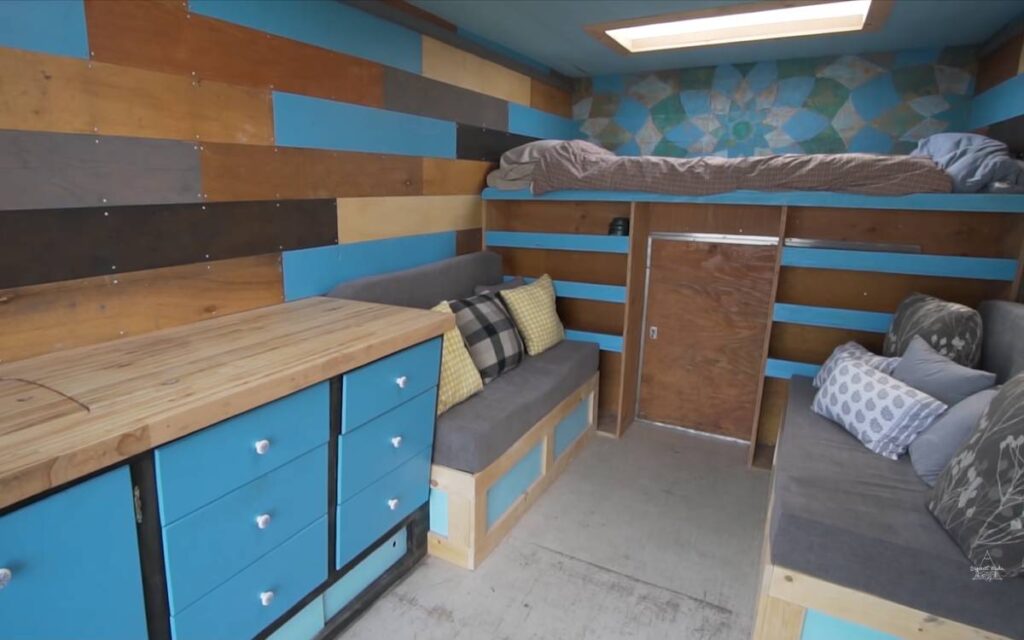 Andrew converted his 1995 Ford E-350 box van into a stealth box truck camper conversion with a minimal and open floor plan.
This box truck camper started as an empty shell and gradually filled in throughout the build process with Andrew's hand-built furniture. A twin-size bed sits behind the cab, with two nearby bench seats that provide plenty of storage. The smaller bed and lack of a bathroom make the interior feel open and spacious. Underneath the bed, there is a door to access the cab.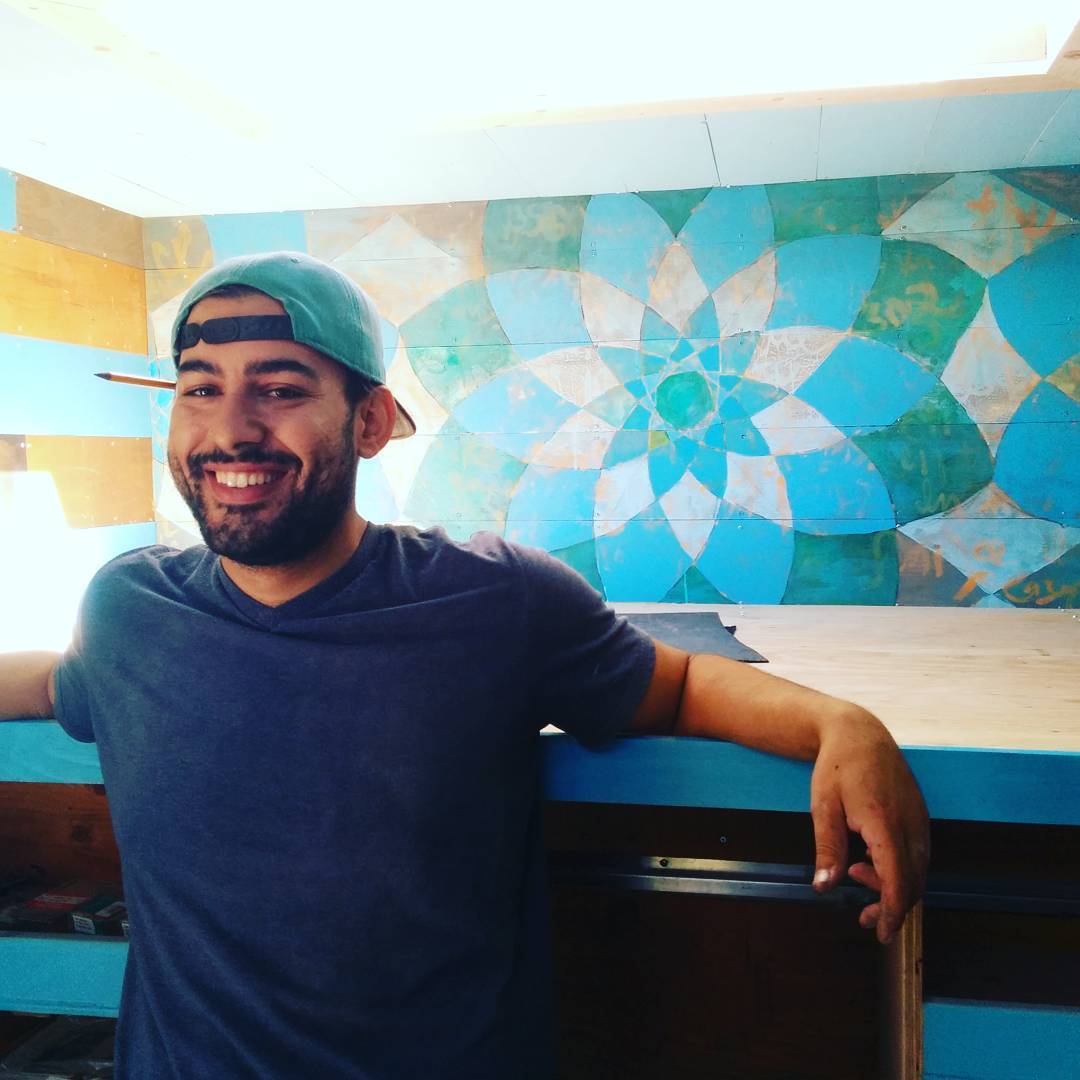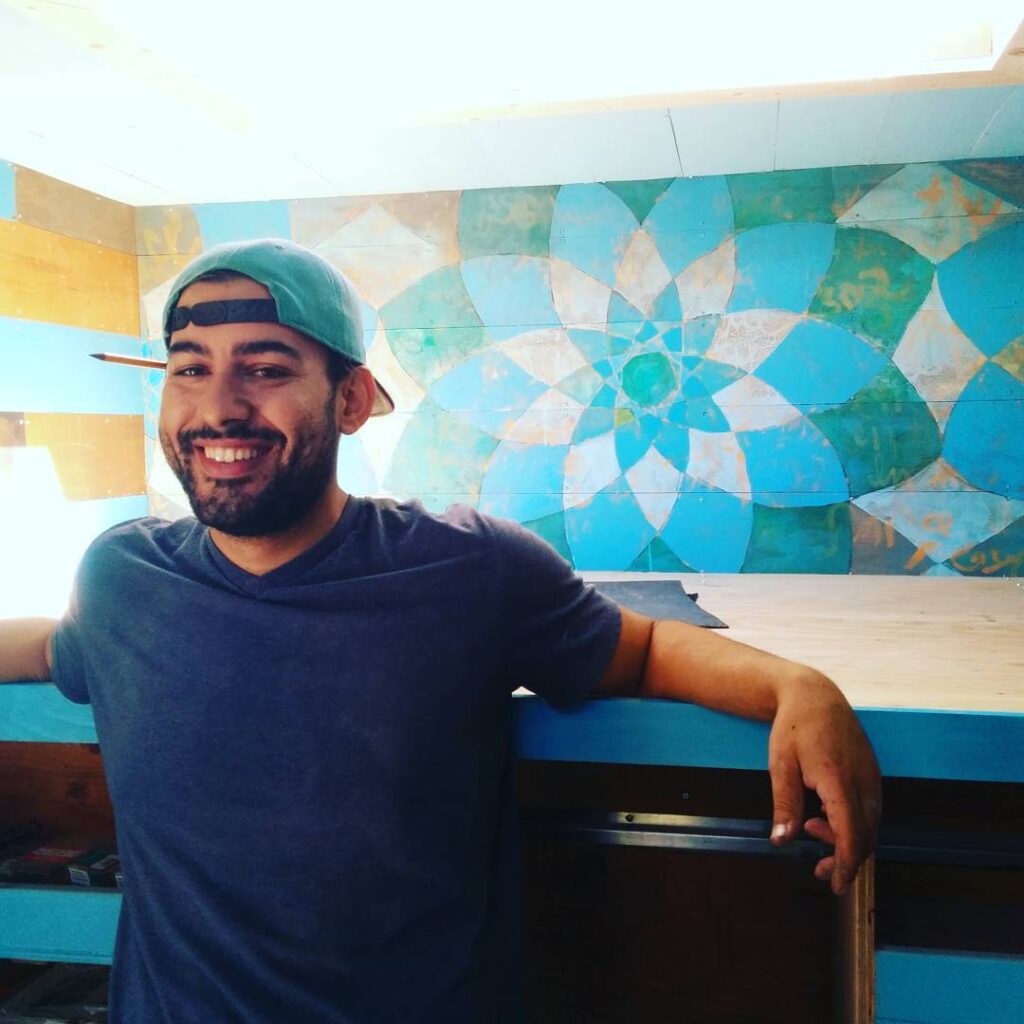 The kitchen has plenty of counter space, with a cover for the sink to further maximize available counter space. There is shelving and plenty of storage available in the cabinets and drawers. Andrew didn't need to install overhead cabinets because of all the storage space already available, which added to the camper's spaciousness.
Stealth was a priority for his box truck conversion, so Andrew opted to install a couple of skylights instead of cutting windows in the side. The skylights bring lots of natural light into the van while keeping the truck's exterior inconspicuous.
3. This budget box truck camper build by Eric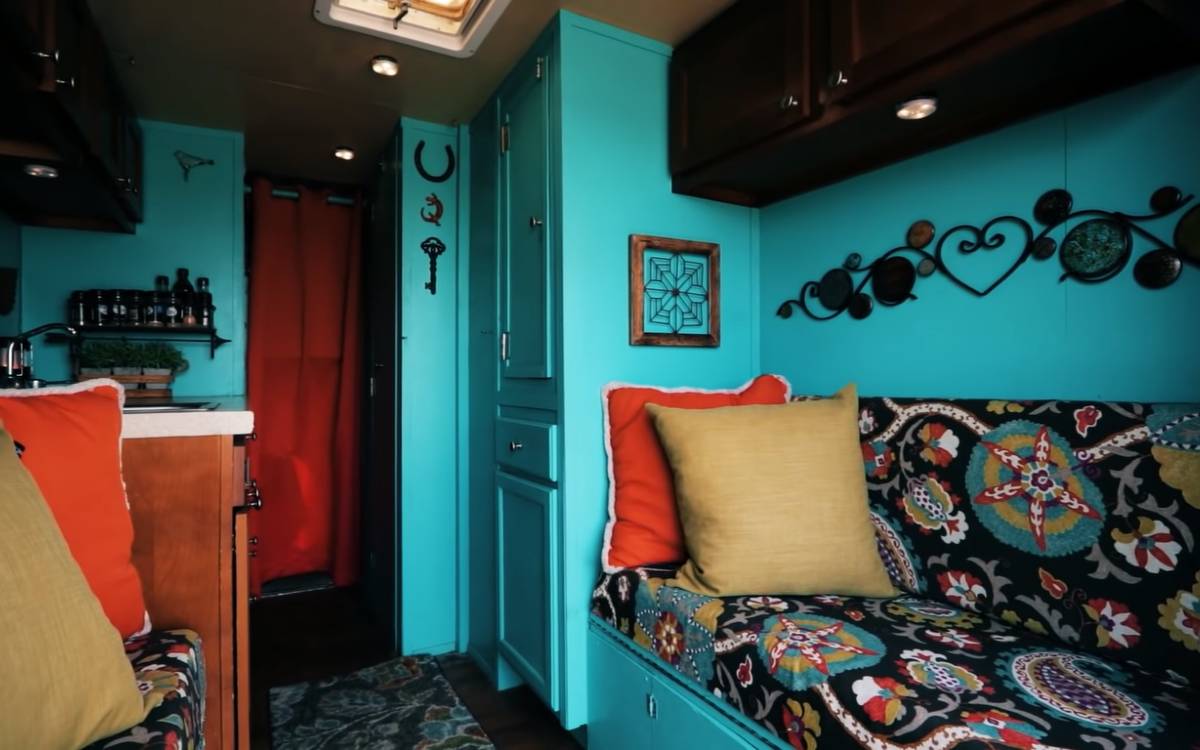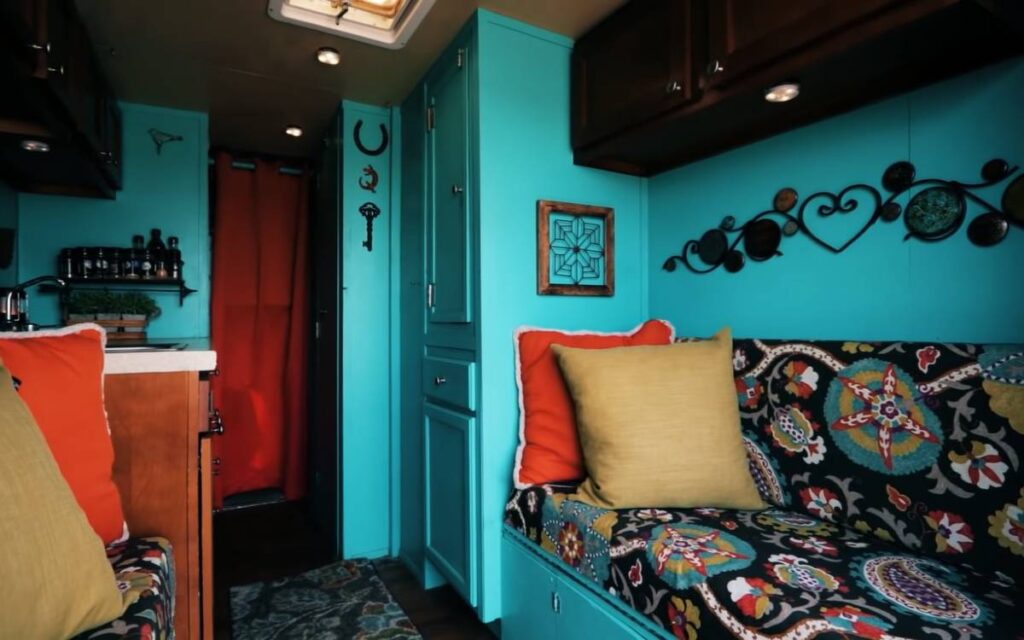 Eric took a 2000 Ford box truck he bought for $1500 and turned it into an RV conversion. The box shape made it very easy for him to install store-bought cabinets and furniture as fixed pieces built into the living space – an excellent option for people who don't want to DIY their cabinetry.
In his box truck conversion, Eric installed an air deflector for storage and to help with gas mileage. The deflector provides space for propane tanks, a heater, a portable shower, and other equipment. To help with stealth, he added signage for a fake business that he made up to make it look like a work vehicle. He even stores a safety vest and hard hat in the cab to fool casual passersby.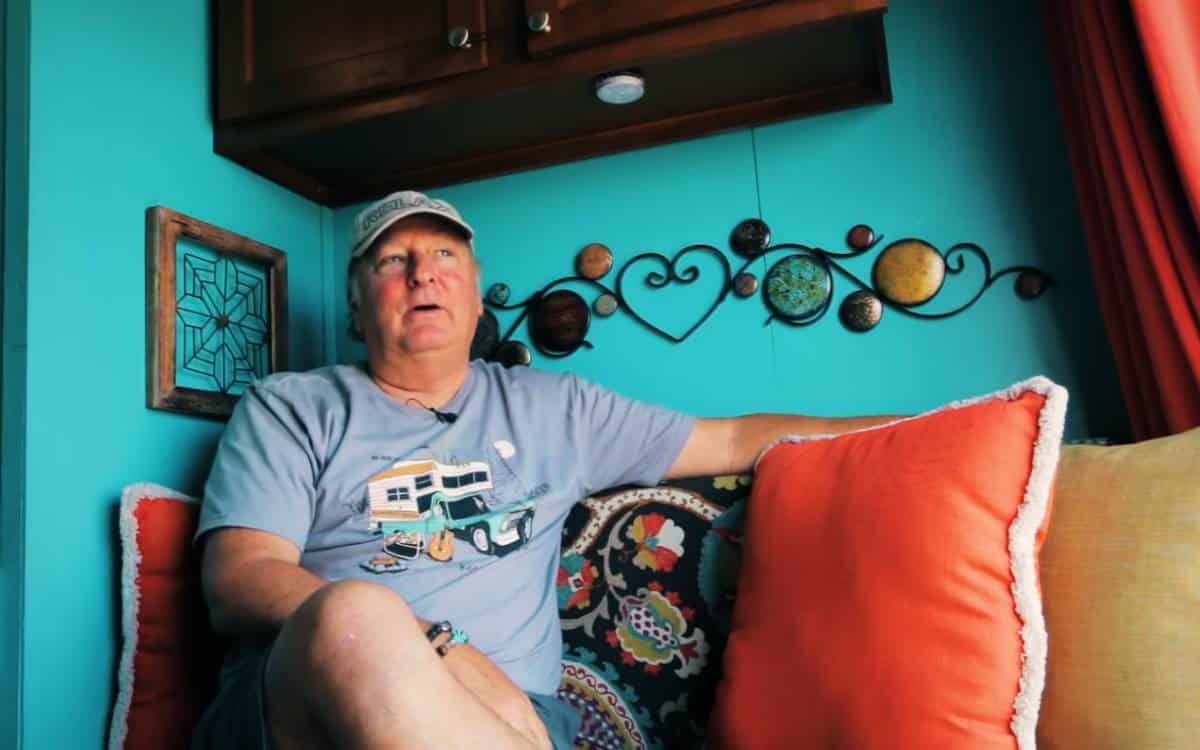 Rather than opting for a simple-looking interior, Eric infused tons of personality into the living space with bright blue walls and dark wood cabinets.
A bathroom in his box truck camper conversion was a must for Eric. He made it big enough to feel comfortable in, with a sink, toilet, and shower.
A couple of bench seats in the back of the truck provide storage and convert into a sleeping platform roughly the size of a full-size bed.
4. This DIY box truck conversion from @roadtopitches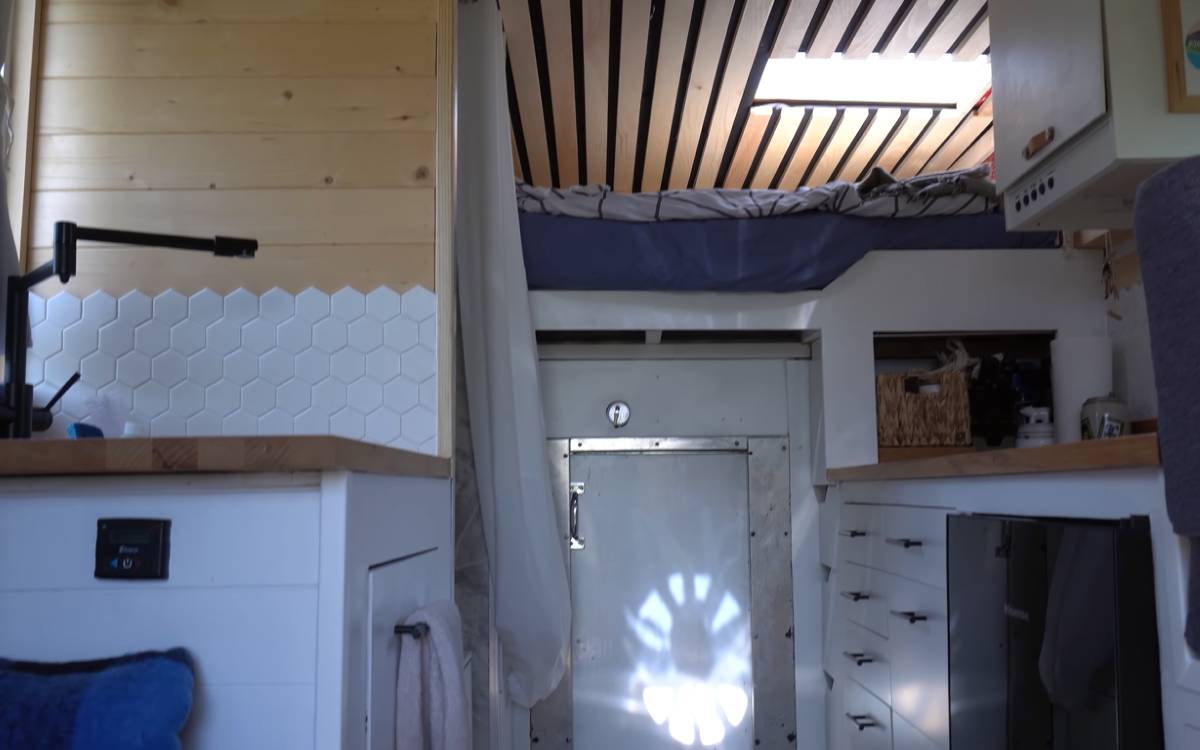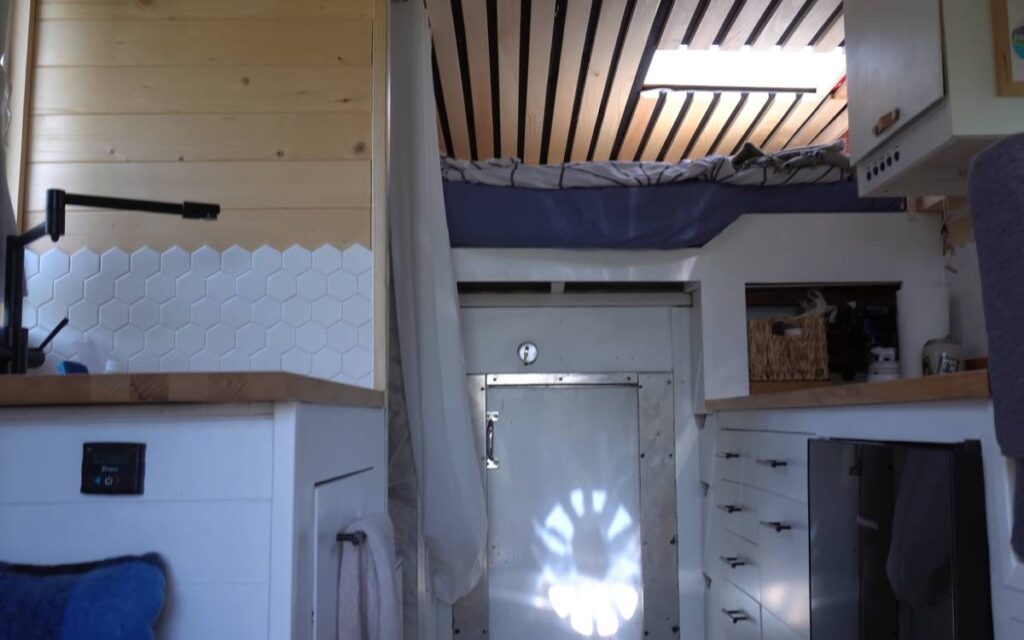 Moritz and Chiko built out a 2009 GMC Savana box truck conversion to live and travel in. Their unique camper conversion includes lots of DIY features that make great use of space while on a budget.
They opted for a fixed bed in the alcove above the cab. This area includes USB outlets, a small bookshelf, and a skylight. Underneath the bed are storage drawers that the couple built to maximize the use of each bit of space. Next to the bed is the bathroom, which includes a low-flow showerhead, DIY shower pan, and DIY composting toilet.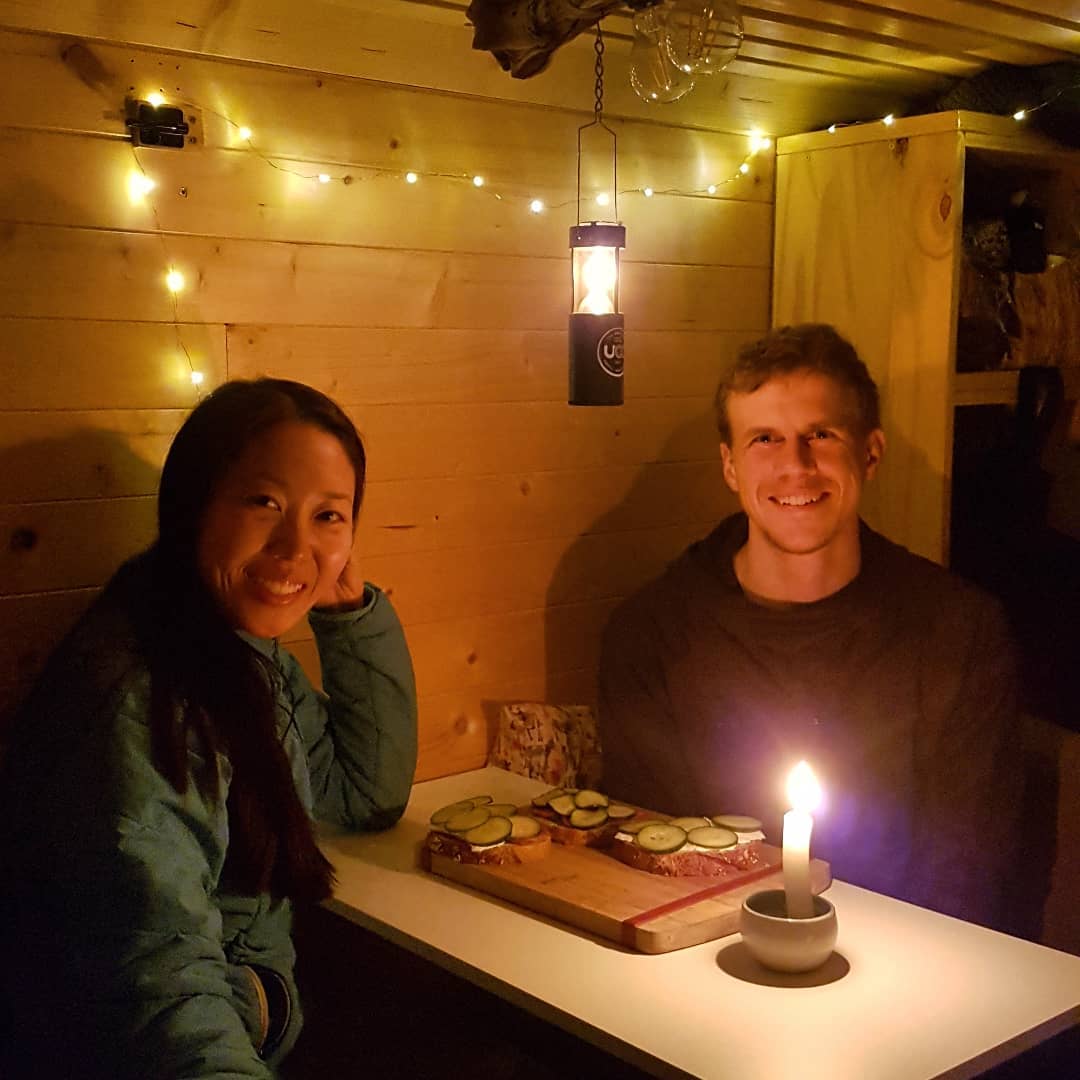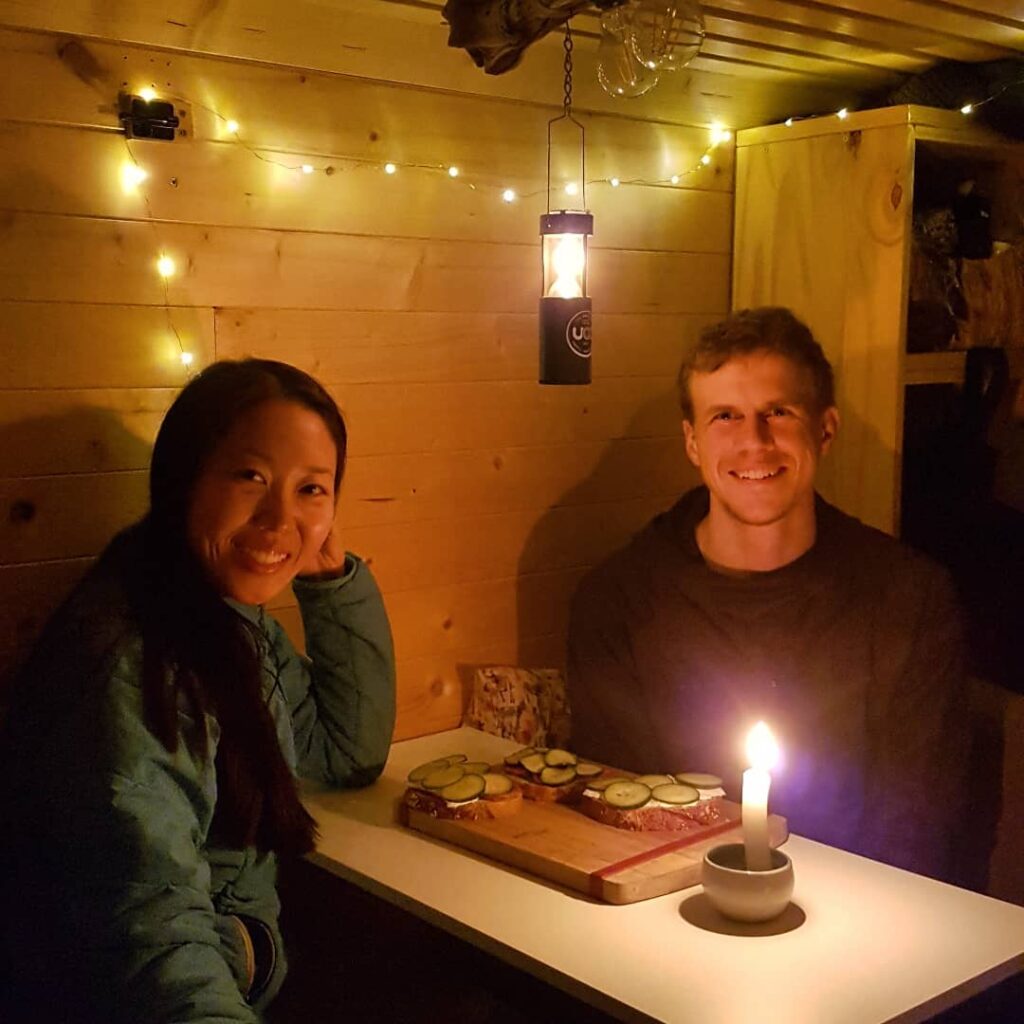 The kitchen features IKEA cabinets and a butcher block countertop. There is a van life refrigerator, a portable camp stove, and a sink with a faucet and filtered waterspout. A large window located above the sink helps open up the space.
There is a dinette space with two seats and a murphy-style table where Moritz and Chiko work and eat, with outlets to charge electronics. The dinette space also converts into a couch.
5. This thrifty box truck conversion from Marcia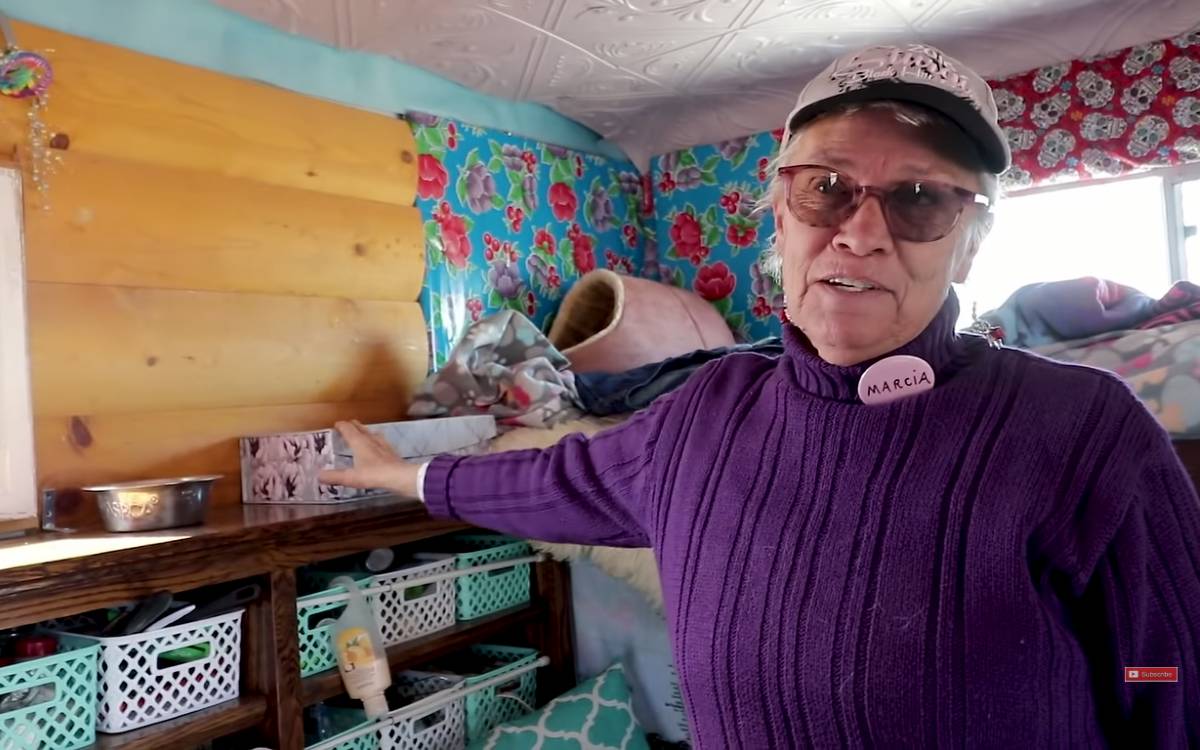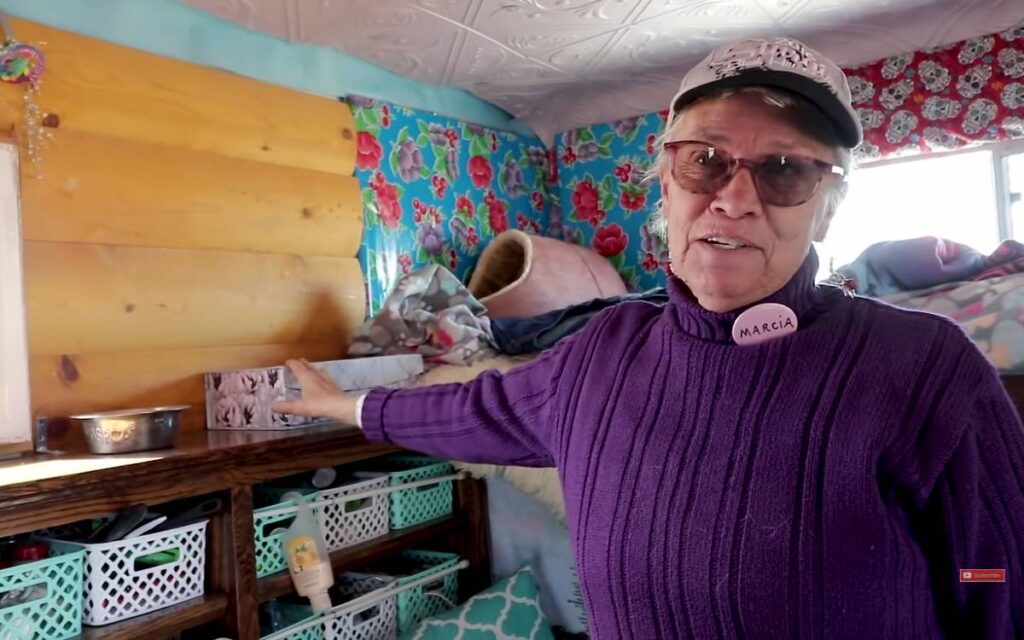 Marcia is a retired woman who built out a 1996 Ford U-Haul box truck conversion to travel in. The box truck cost her about $1500, and she put an estimated $1700 into the camper conversion. Much of the stuff she used in this build, like her windows and generator, she acquired for free or cheap, making this one of the thriftier box truck conversions we've seen.
Not only is Marcia's box truck conversion thrifty, but it has a unique layout. Repurposed old cabinets and drawers serve as storage. An open shower occupies one corner of the living space. The shower curtain holder is above the space, with a gravity-feed showerhead.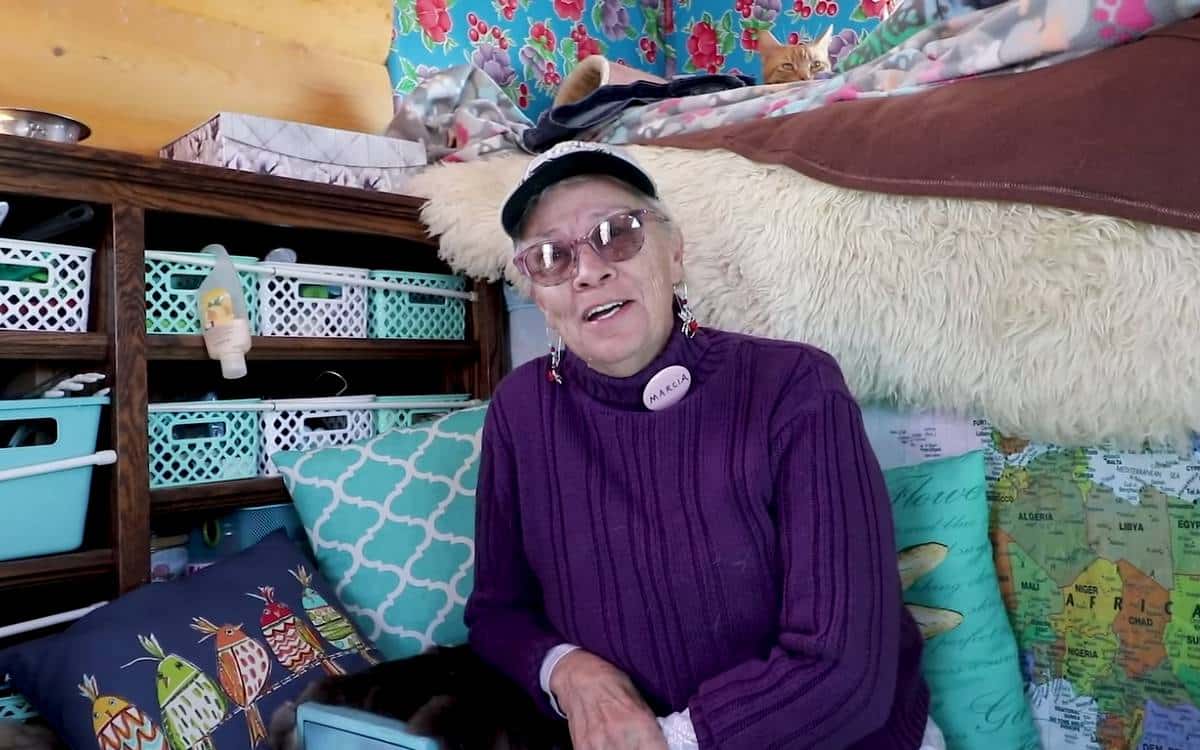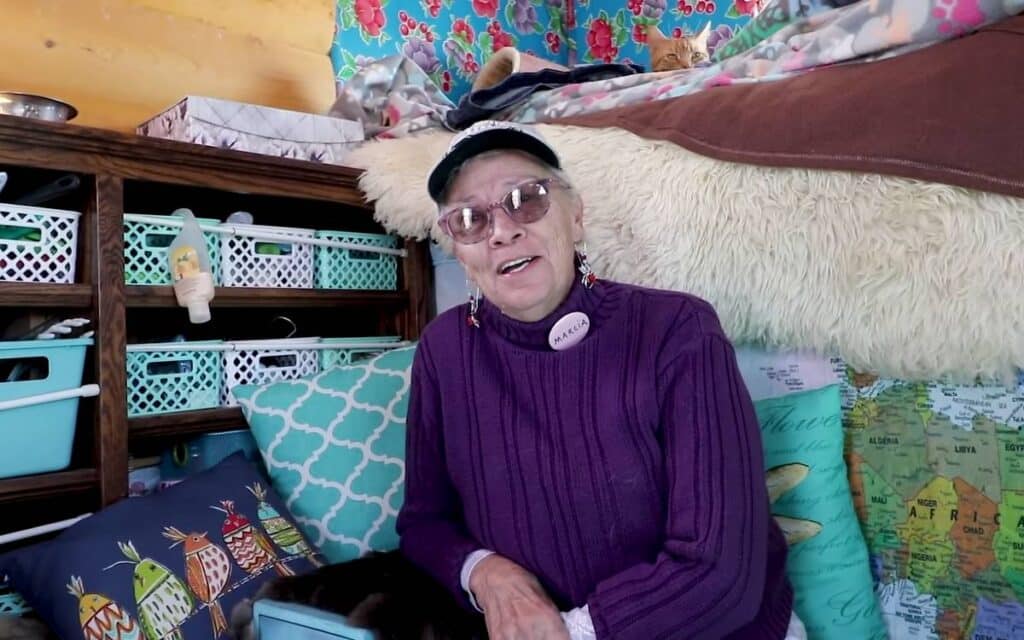 Marcia has a fixed bed in the alcove above the cab, with a view out over the truck. The windows and door she installed for this build provide a homey feel in the box van. The windows provide lots of light, and the custom purple door adds personality. A screen door also allows for more airflow when the box truck is parked.
6. This box truck conversion with a murphy bed from @tinyhometruck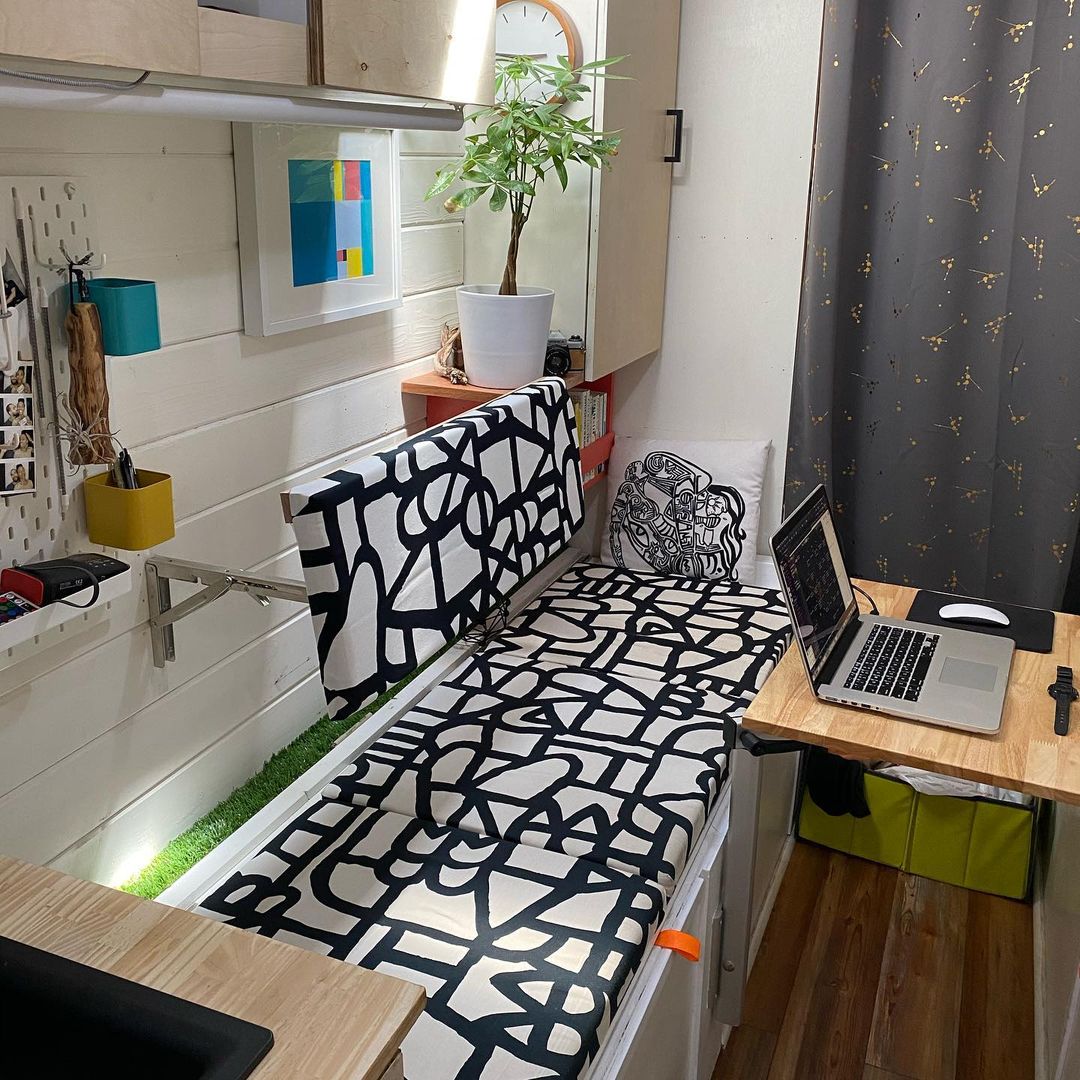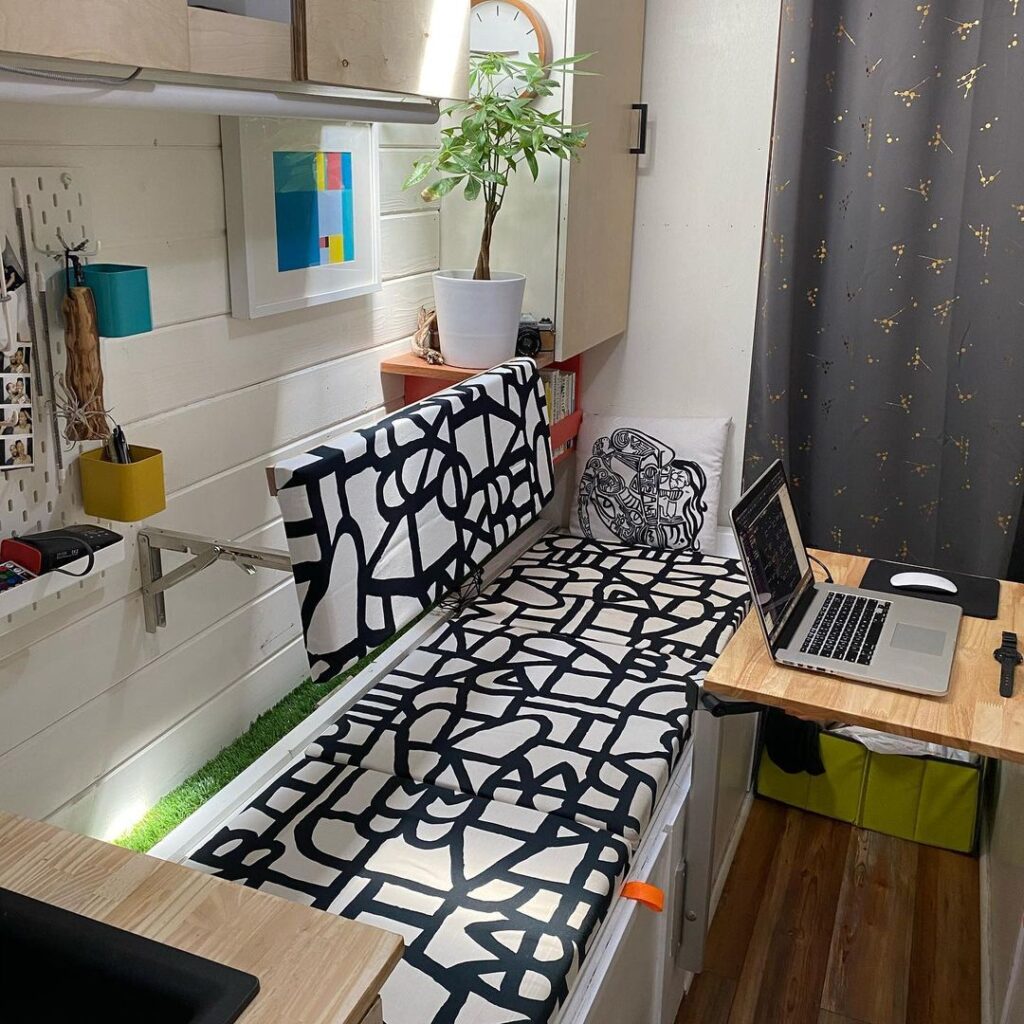 Vaughn from @tinyhometruck converted his own box truck tiny house camper. He built his truck out entirely by himself over the course of a year, with DIY cabinetry and furniture.
The living space has a large dinette area with bench seats and a swivel table where Vaughn works, eats, and entertains guests. A projector screen on one side quickly transforms the area into an outdoor theater for watching movies and shows.
The benches have gas struts and provide plenty of storage space. When it is time for bed, Vaughn lowers his full-size murphy bed into the dinette space.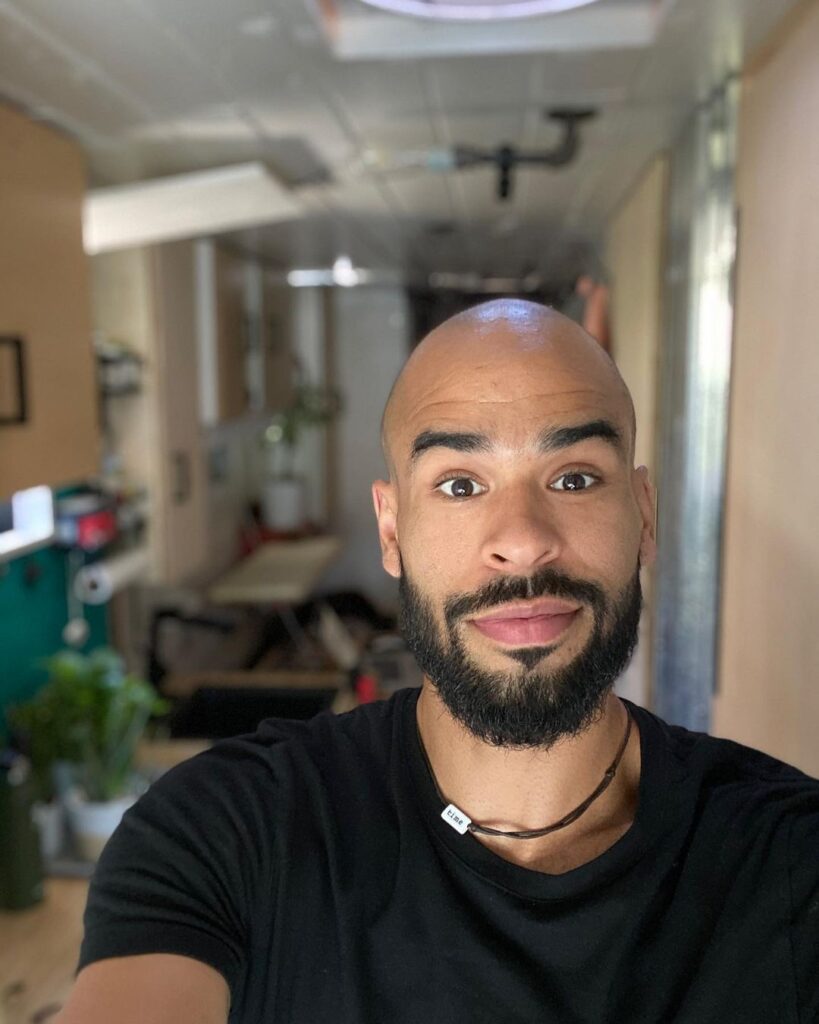 This box truck camper features built-in storage cabinets and shelving throughout. Because Vaughn built everything himself, he used every square inch of the interior space.
Vaughn has a bathroom with a showerhead, skylight, vent fan, light, and dry-flush toilet.
The kitchen has a 5-foot long countertop, soft-close drawers, a sink, fresh water tank, and a portable induction cooktop. A window with a plant, custom-built open shelving for spices, and a pop of color make the space very inviting.
7. This practical box truck camper build from @boonboxers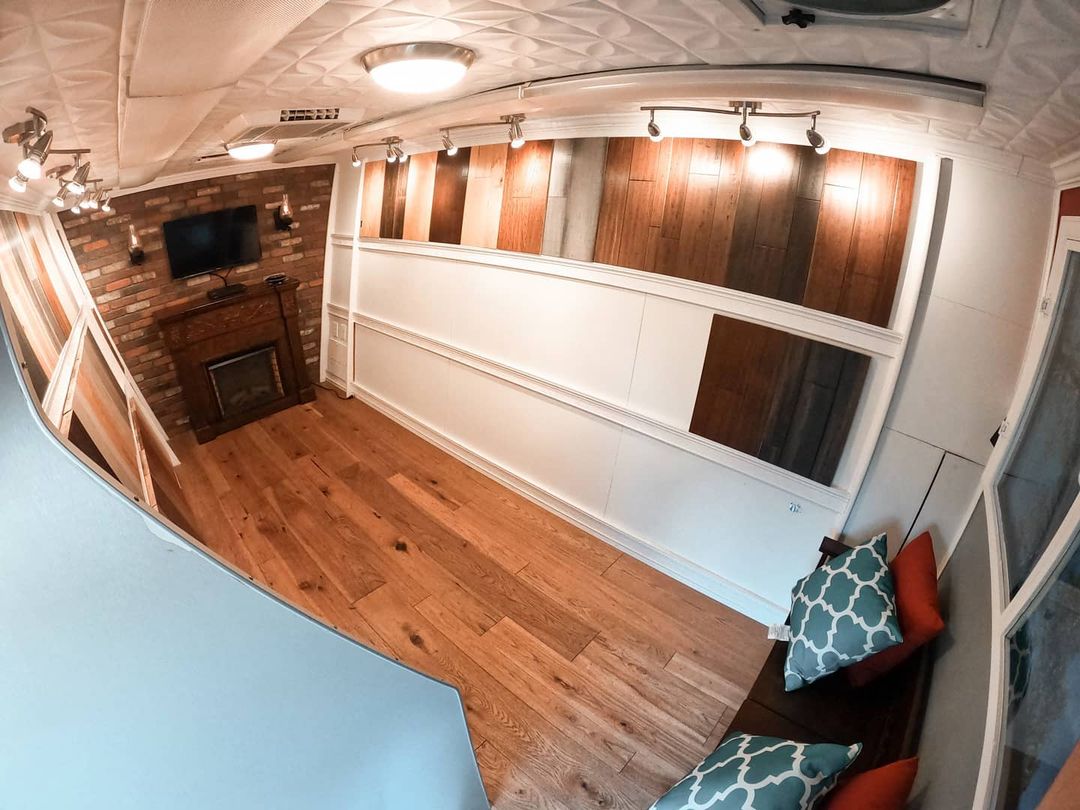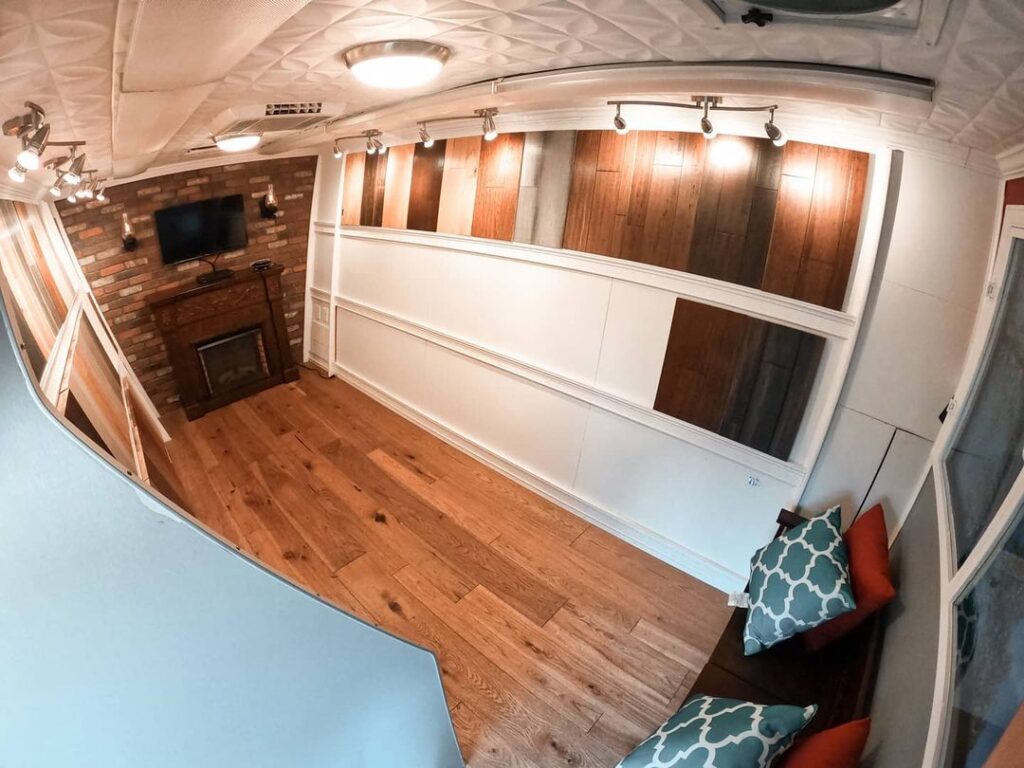 Kurt and Mel converted a 2003 Ford E-450 box truck into a camper to live and travel in.
They made some useful additions to the cab, including an inverter for charging electronics, a camera, and an OBD2 scanner to monitor vehicle conditions. On the exterior of the box truck conversion, they installed driving lights and sensor lights. There are exterior storage boxes that hold propane, tools, and sports gear.
Entryway steps lead into the living space. Kurt and Mel have a doormat, shoe storage, hooks, and shelving in this area. Beside it is a gear closet for skis, skateboards, and other outdoor equipment.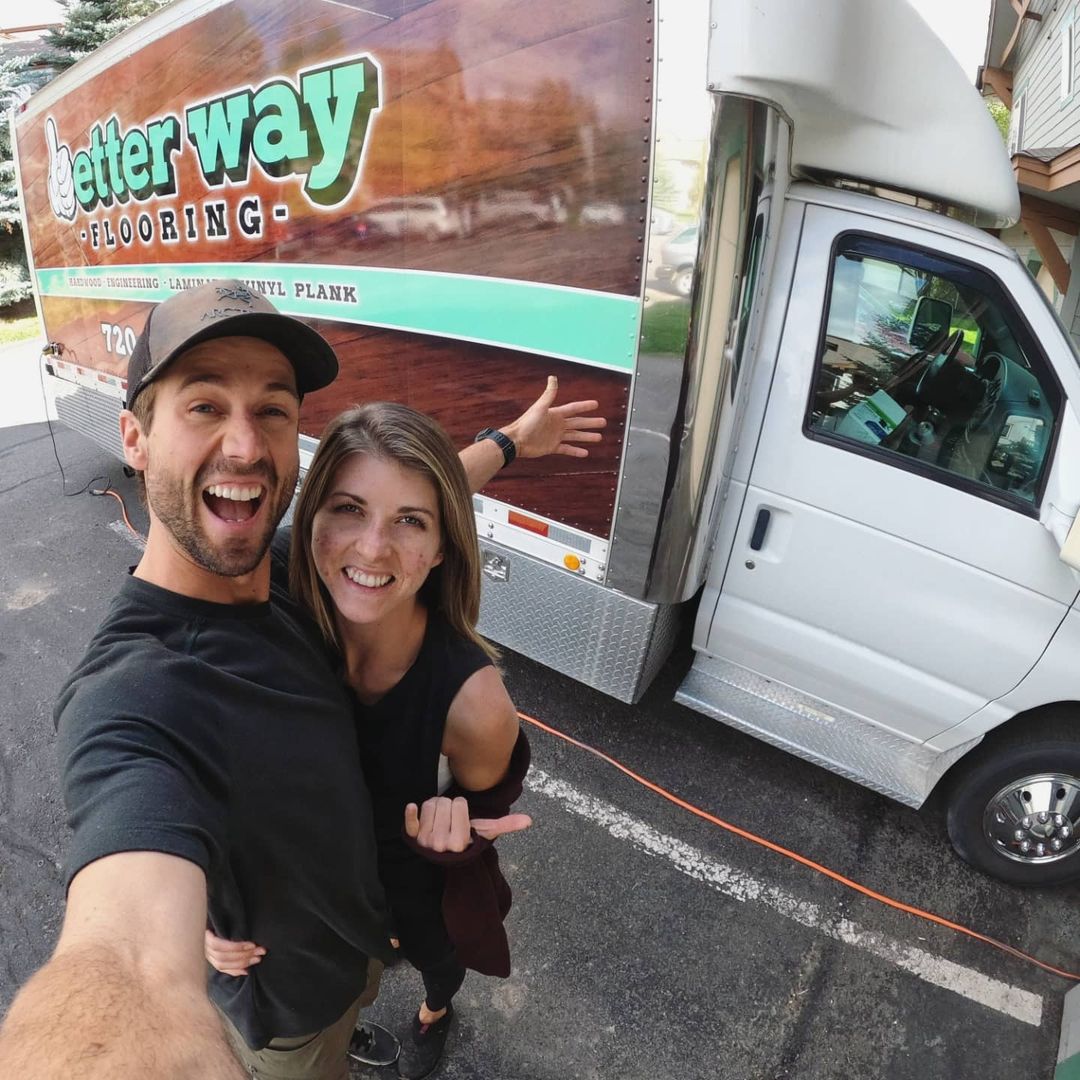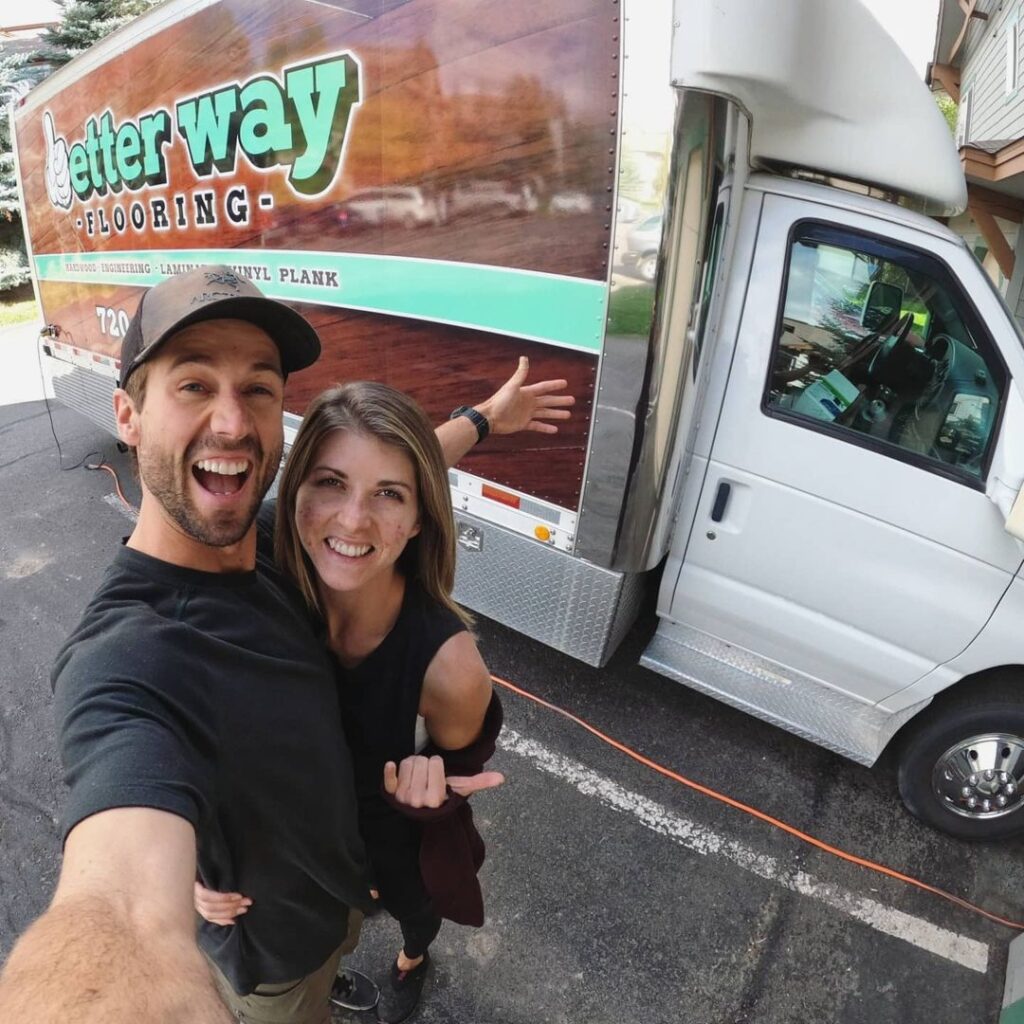 The living room has an L-shaped couch with drawers that provide storage for snacks and toiletries. When the couple is going to work or eat, there is a folding table they set up in this space that can be stored away when not in use.
The kitchen has a two-burner propane stove, fridge, sink, LED strip lighting, and open shelving for spices and produce.
Kurt and Mel have a fixed queen-size bed on shocks that allow it to lift to access the storage spaces beneath it. There is also access to the cab in the doorway under the bed.
8. This simple box truck conversion from @tisha.talks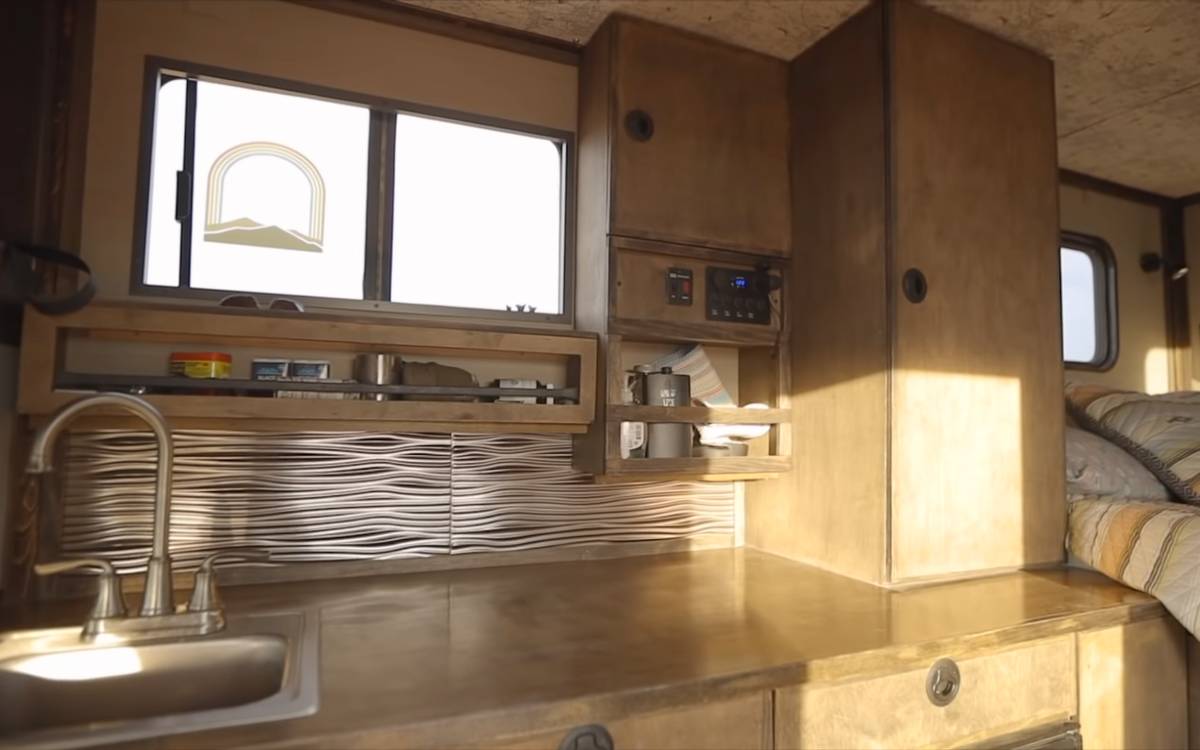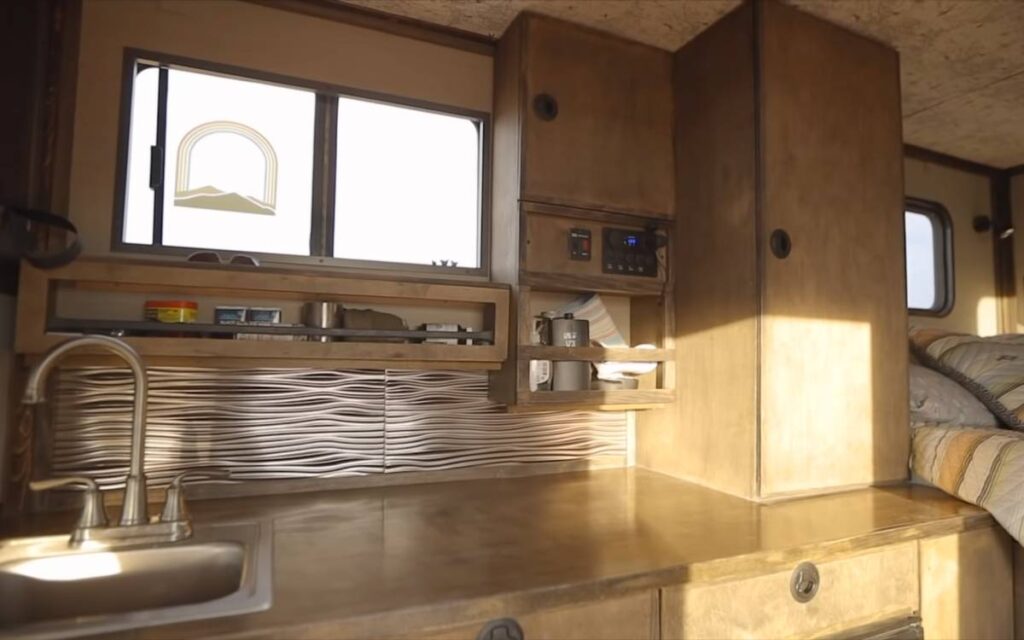 Tisha first experienced van life with a friend and loved it. Once she tasted the lifestyle, she began car camping and eventually bought a box truck conversion to travel in.
The kitchen includes a sink, a portable camp stove, and a fridge. The cabinetry has locks that keep everything secure when closed, and one cabinet hides a portable toilet. Tisha uses a pee hose and a heated outdoor shower as space-saving bathroom solutions.
There is a bench seat across from the kitchen, with a slide out table located next to it which Tisha uses as a workspace and dining area.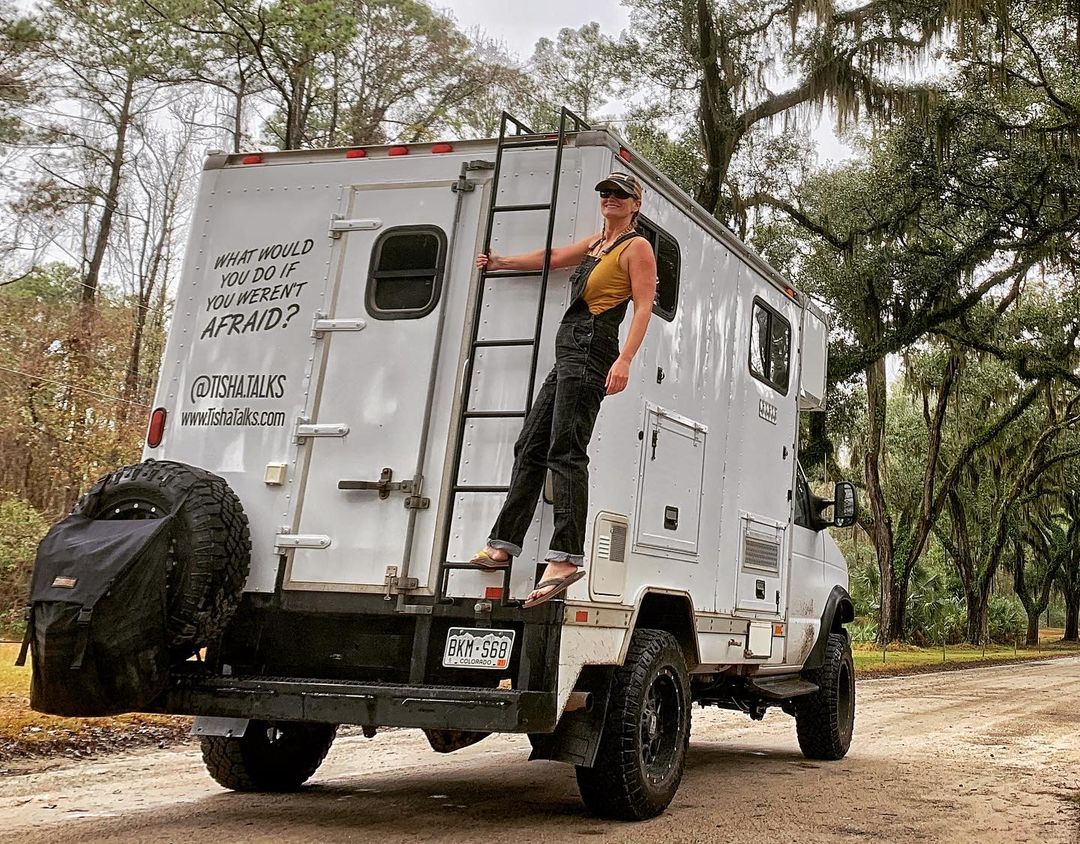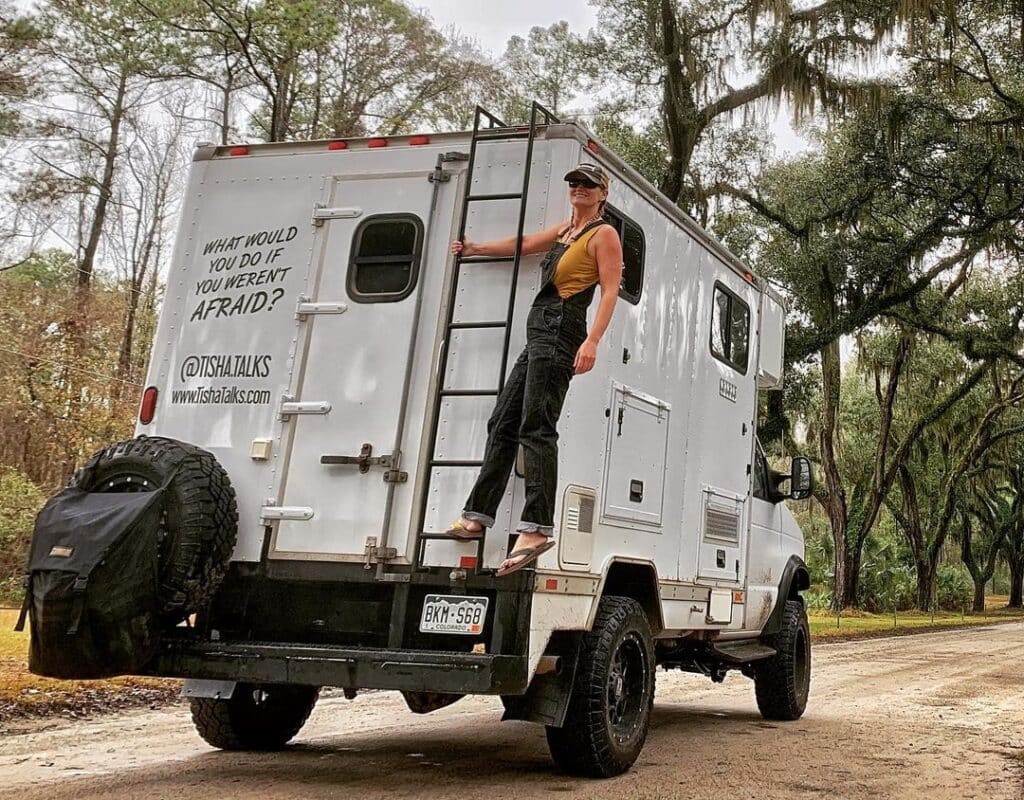 The bed is a custom size, almost as wide as a queen. There are reading lights installed over the bed. In addition to the windows on either side, the bedroom area gets plenty of light.
One of the unique aspects of this box truck RV conversion is fabric that depicts old flight patterns that Tisha has installed in the ceiling. Over the truck cab, there is ample storage that can hold oversized items or act as a guest bed for when Tisha has company.
9. This box truck RV conversion with vertical storage from @lamontzenki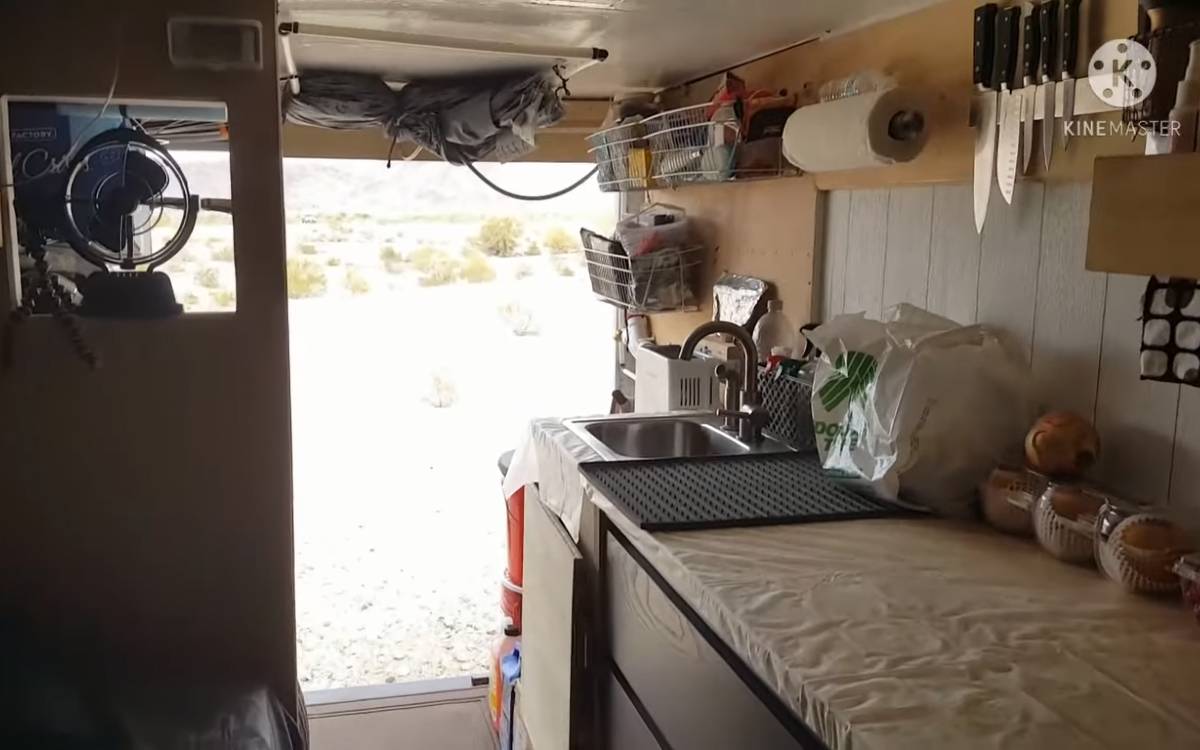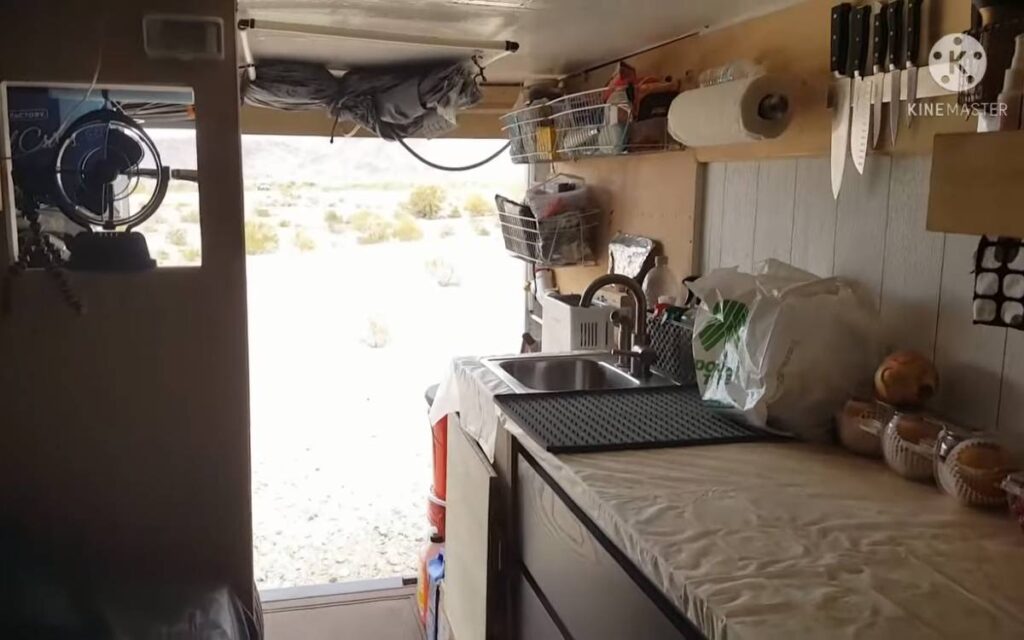 Lamont built out a 2014 Ford E-350 box truck conversion to travel in.
This box truck camper conversion features electrical boxes and components to a full campervan electrical system on the wall behind the passenger seat. Wire racks mounted on the wall across from it serve as pantry storage. Both the electrical system and the pantry fully use the truck's vertical space, and there are solar panels mounted on the roof.
Lamont uses baskets to organize the overhead storage. Four containers secured to a shelf above the bed hold his clothes. The bed is a twin-sized mattress fixed length-wise across the back of the passenger side.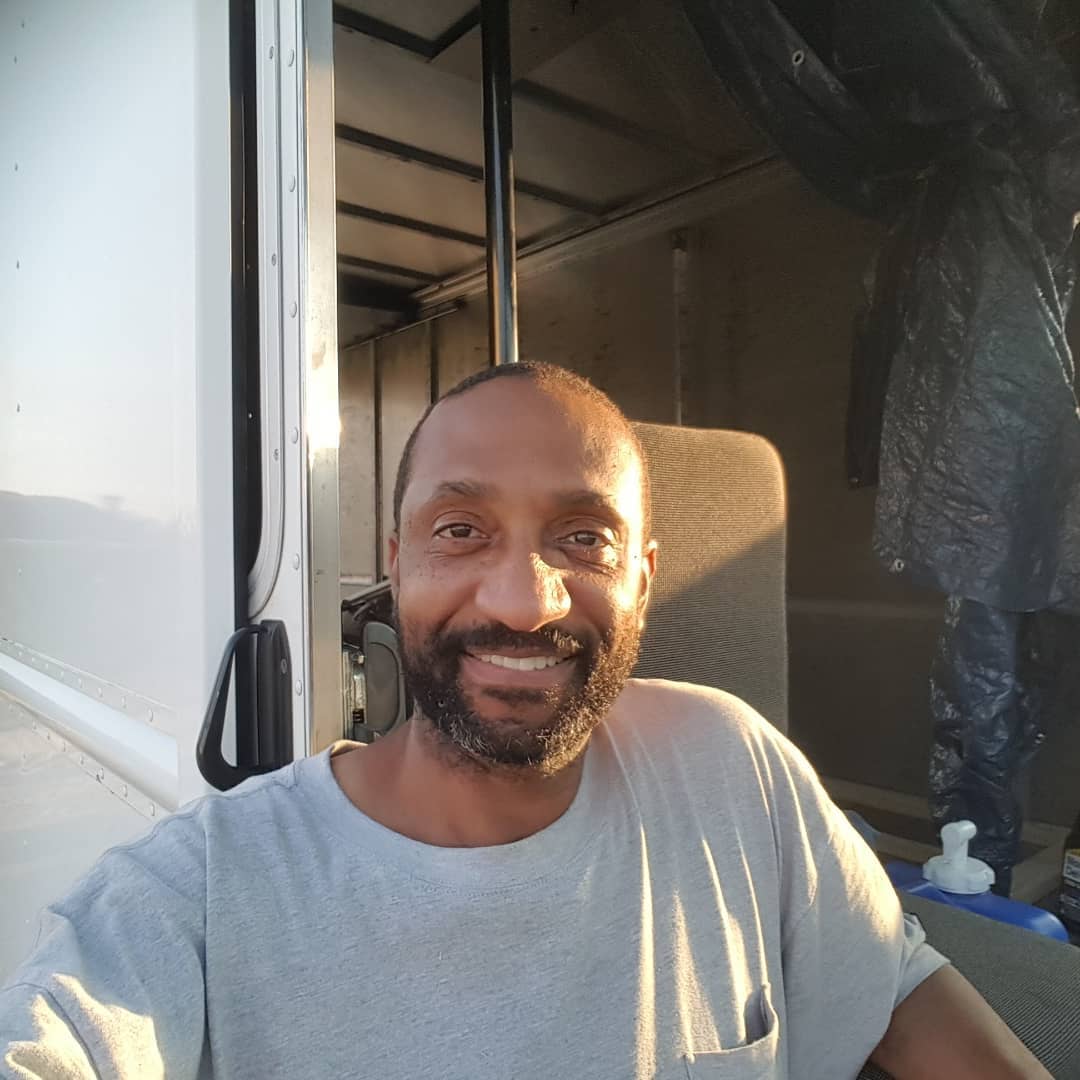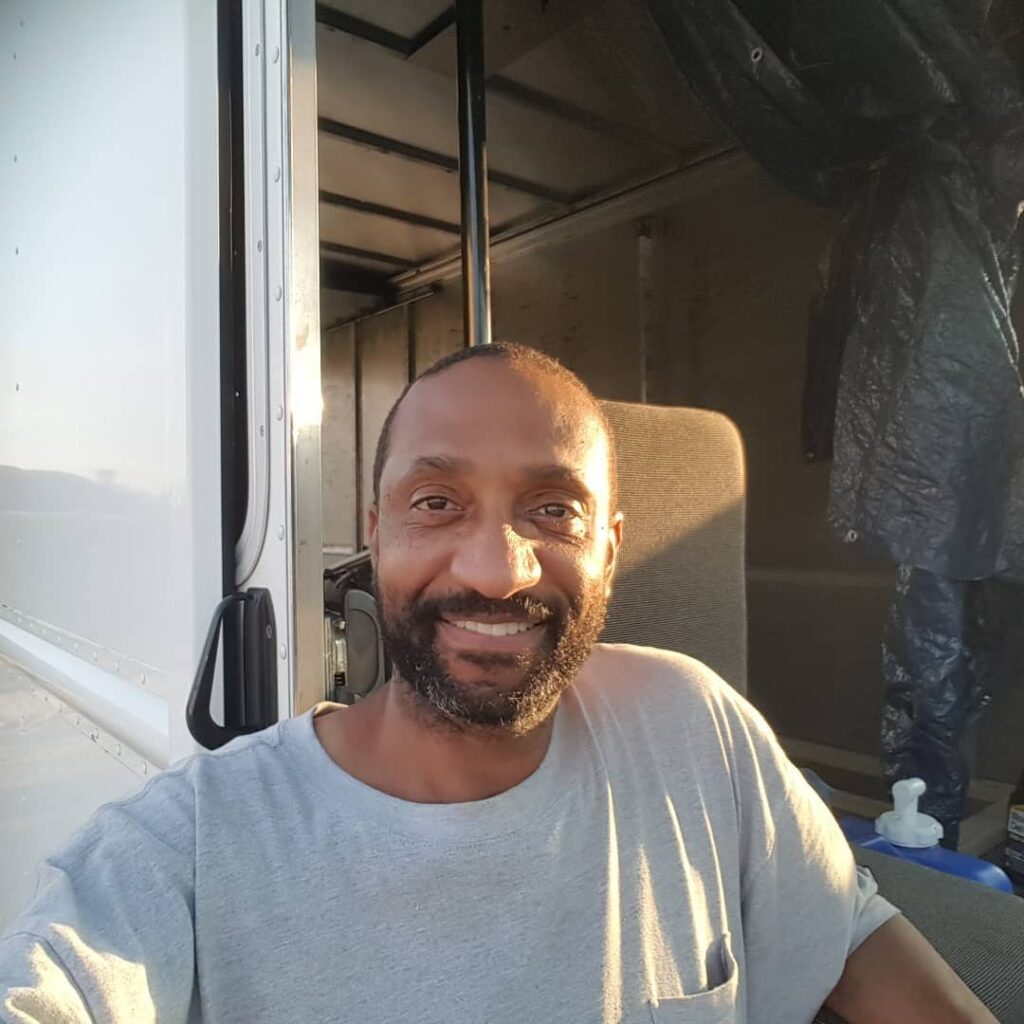 Lamont opted to create a vertical garage in the back of the truck on the passenger side, using more wire racks to hold smaller items. The garage is where tools, a ladder, a spare tire, and a bike are stored.
A shower sits across from the garage. Lamont used lightweight pipes to create an overhead shower curtain rod for a budget indoor shower solution.
10. This cat-friendly box truck camper conversion from @box.car.child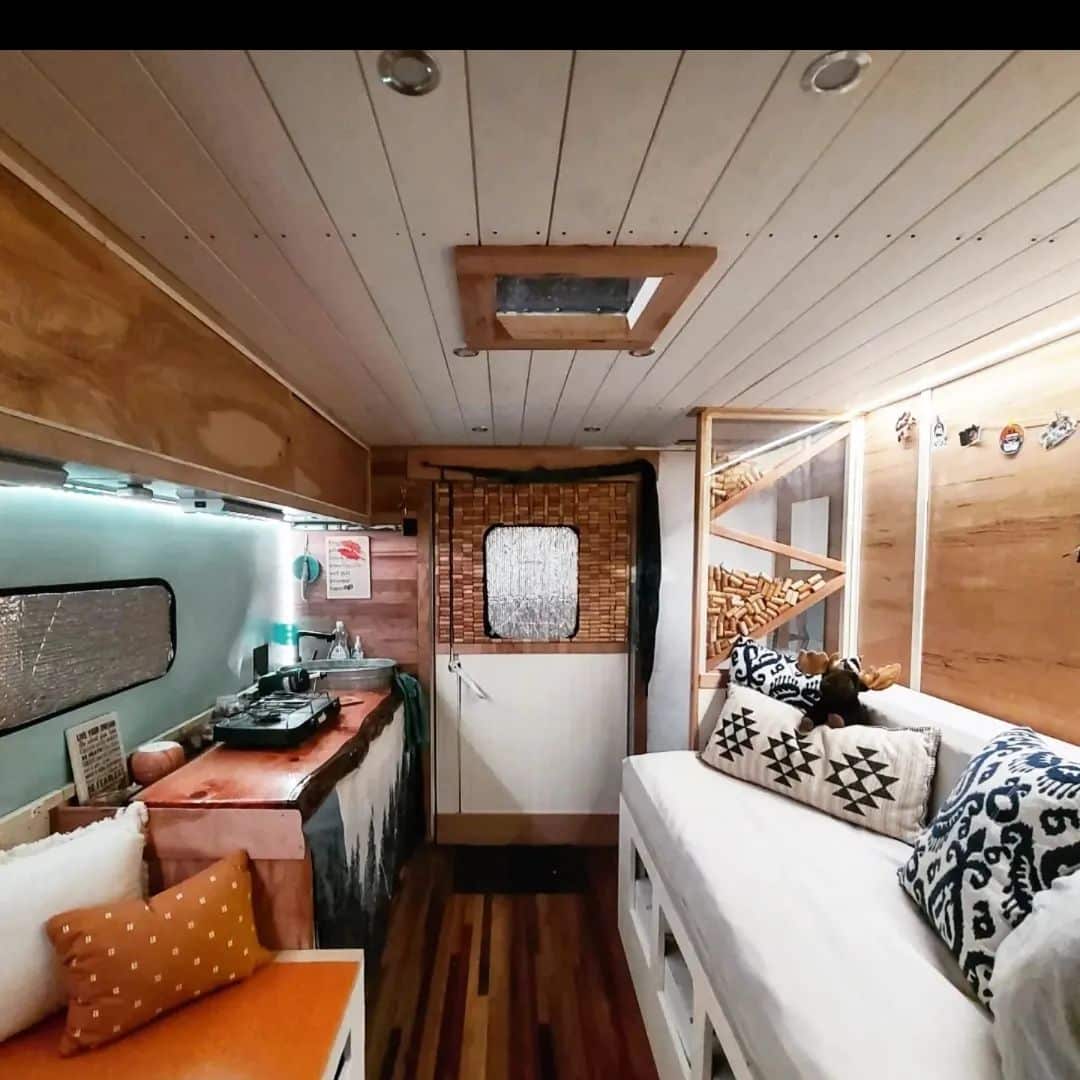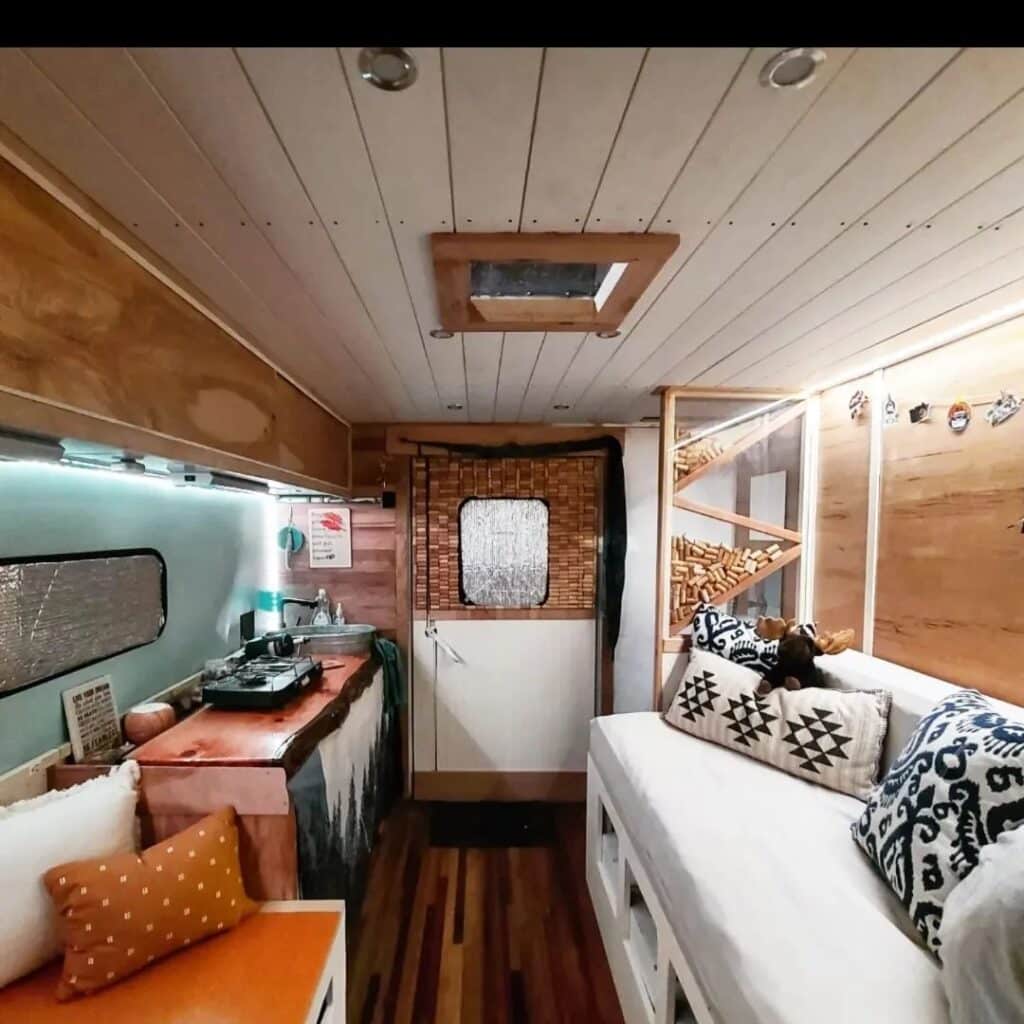 Bronte built out a 2001 Chevy Express box truck conversion herself to live in full-time with her cats.
The living room has a couch that pulls out into a full-size bed. Underneath the couch is built-in storage with cutouts that allow easy access. Partitions on both sides of the couch make it feel like its own separate room.
Bronte has a fixed desk with shelving and a window view near the cab on the passenger side. The desk also doubles as a dining area, with a bench seat beside it that can accommodate another person. The wall by the desk has outlets and photos on display.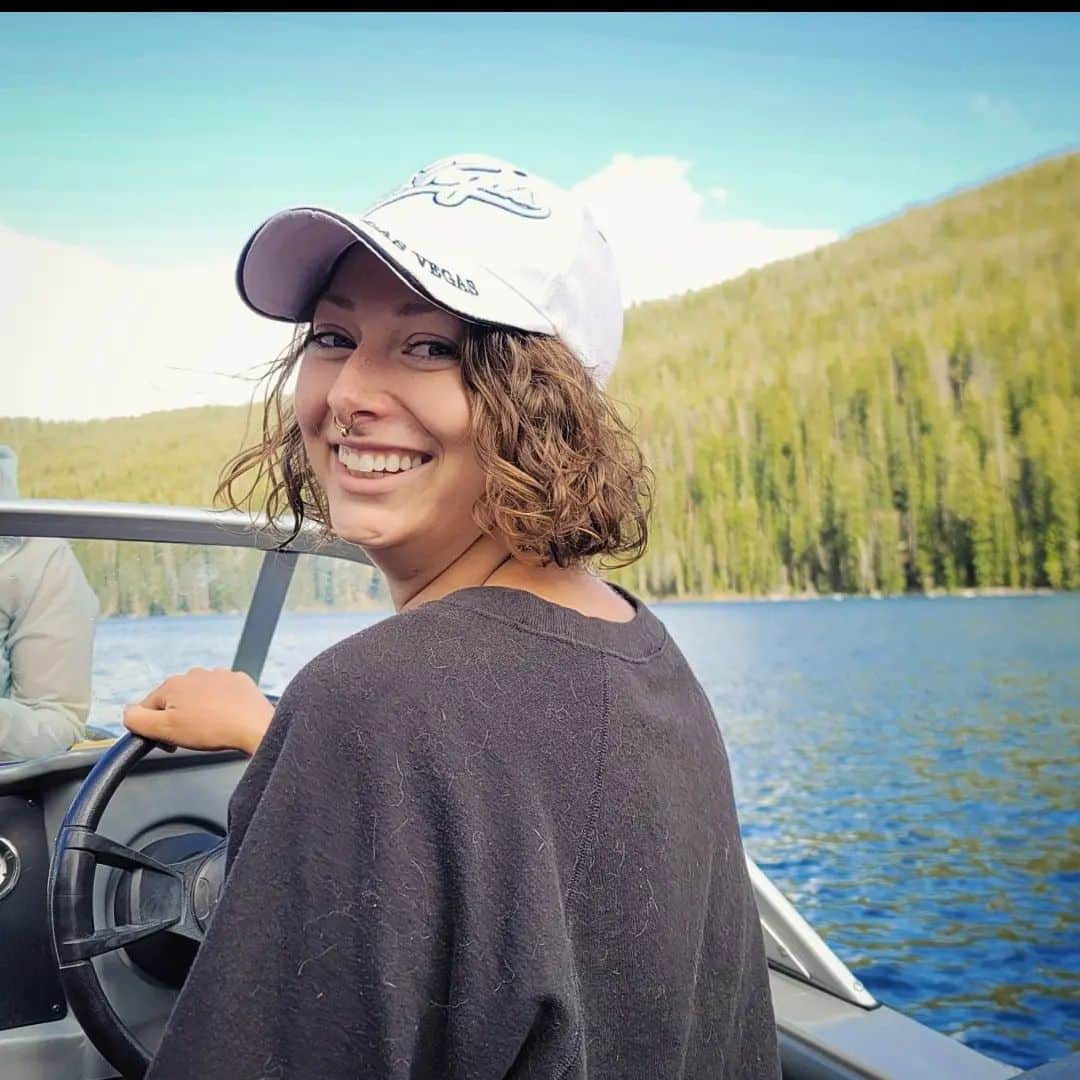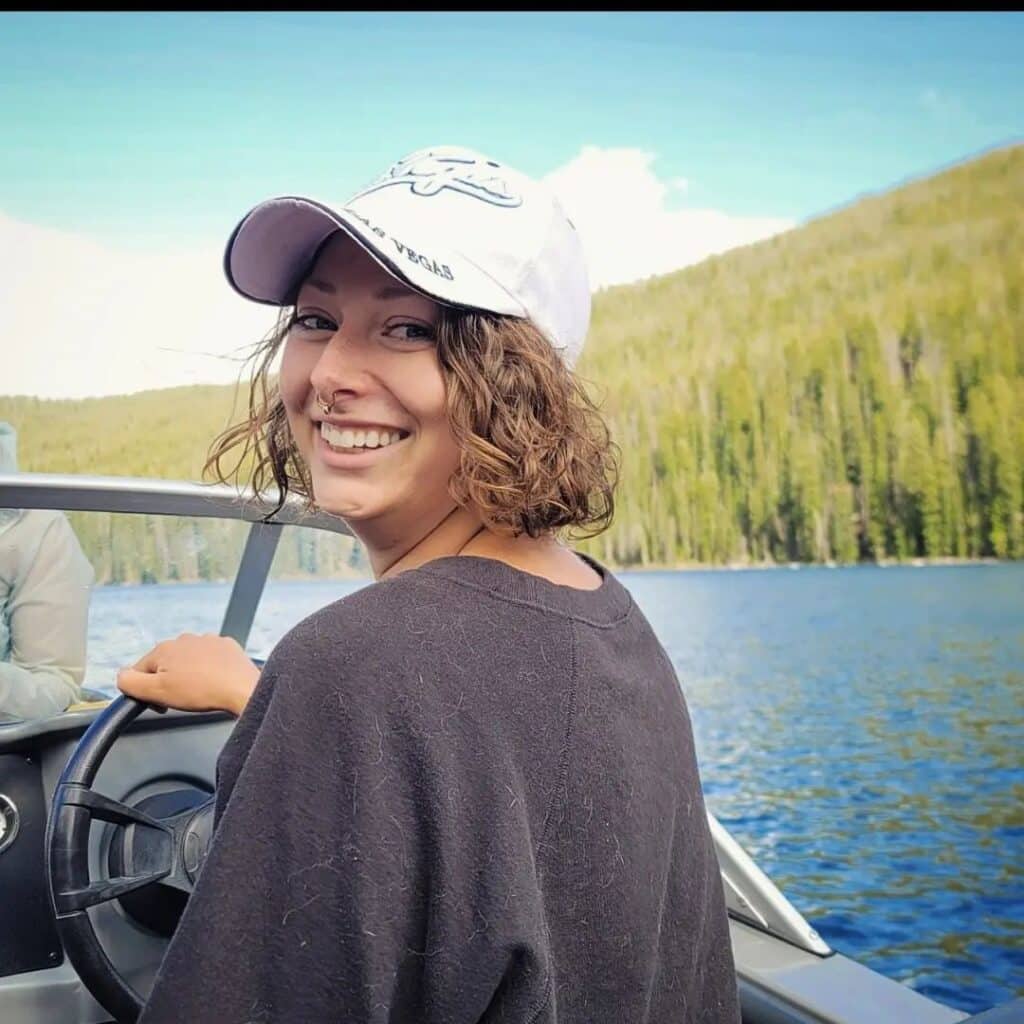 Across from the desk is a hanging closet with space-saving hangers and storage for jewelry, hats, socks, and underwear.
The kitchen has a long, live-edge cedar countertop, sink with running water, fridge, and overhead cabinets for kitchen supplies and pantry storage.
11. This box truck tiny house camper conversion by Cole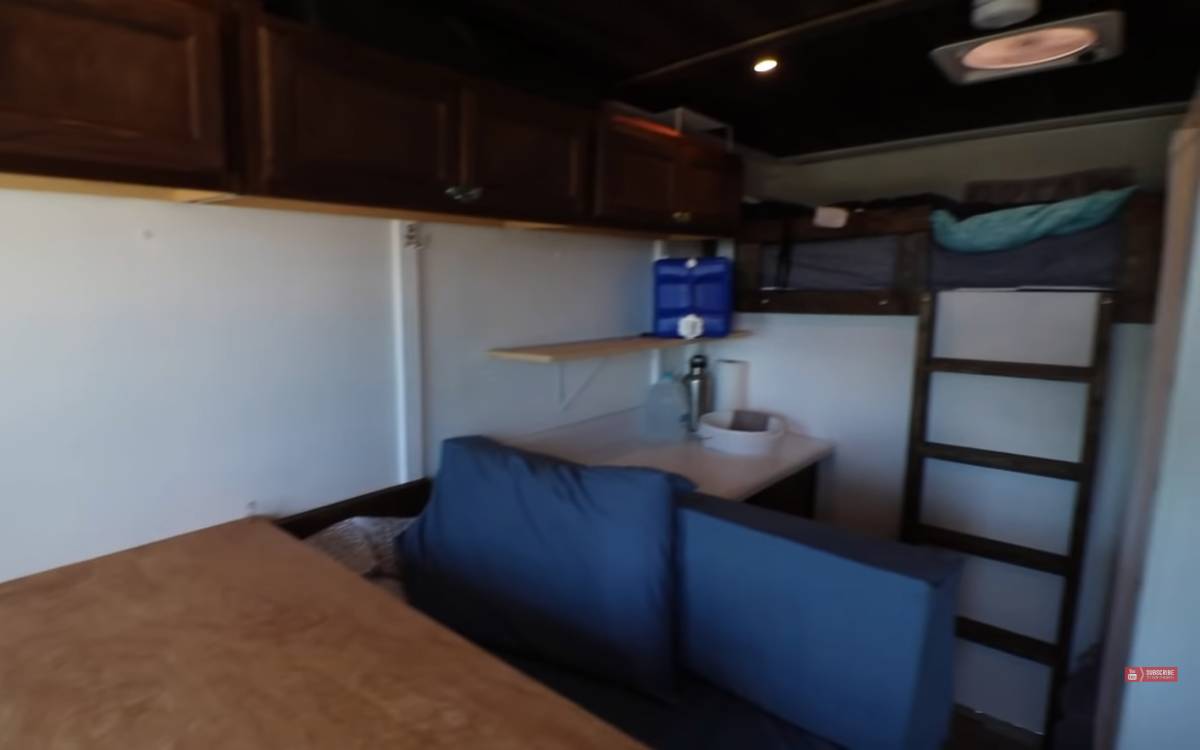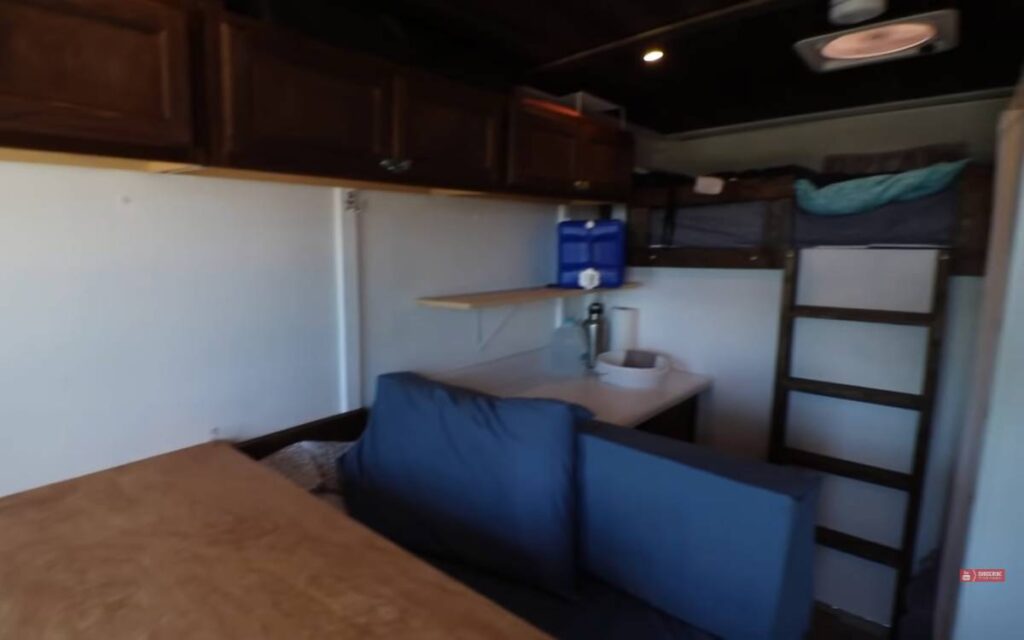 Cole converted a 2006 Ford E-350 box truck into a tiny home to live and travel in. Between purchasing the vehicle and doing the RV conversion, the total cost was about $9000. The camper sleeps his family of four and their dog.
One of the unique features of this box truck conversion is the entryway, designed to look like a tiny house with a door and window. Cole removed the roll-up door and created an exterior wall in its place with the door and a window.
On the inside of the entryway, there is a doormat, shoe rack, and hooks to hang closets. Across from that is a dinette table with two bench seats and a table. The dinette setup converts into a bed, and there is storage in the bench seat for bedding and clothes.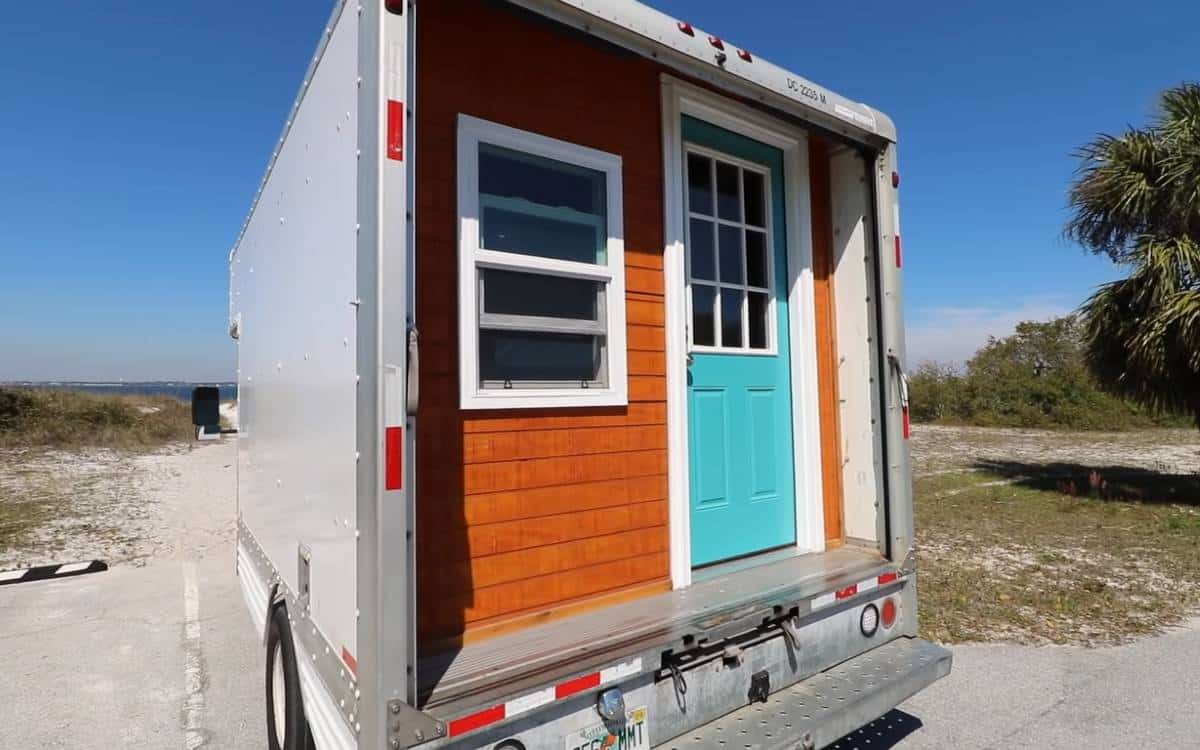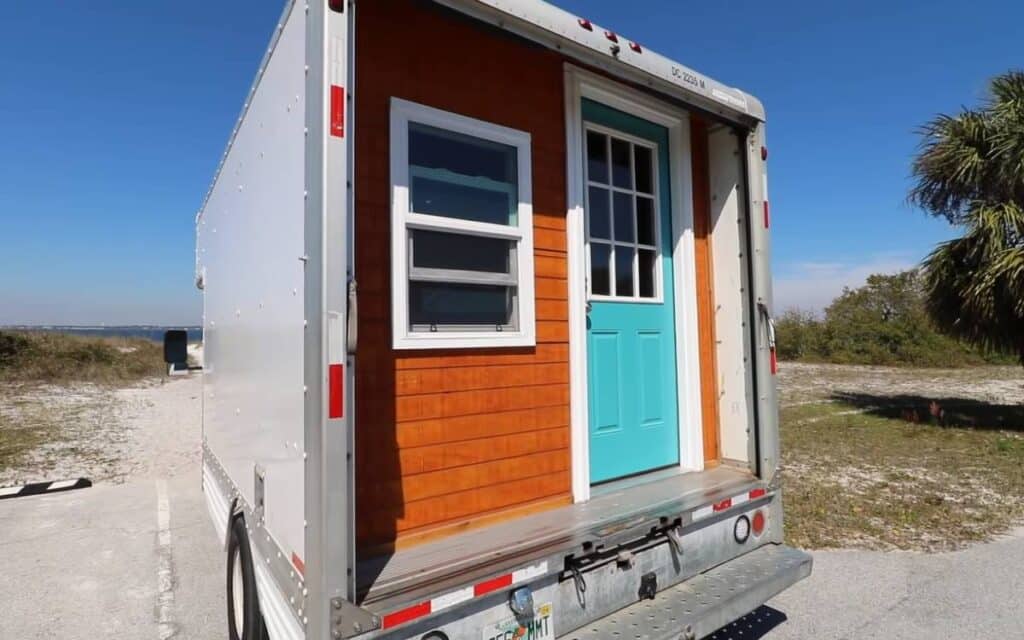 The kitchen includes a portable camp stove and bucket sink with a water jug above it. Cole opted not to include running water in this build. For their bathroom, he bought a shower stall that accommodates the water jug and has a drain that drains directly beneath the truck.
There is a fixed bed on the truck's cab side where the kids sleep. Underneath the mattress, there is space for more clothes storage.
Build Your Van
The Ultimate Van Build Guide
Planning a van build? Read our free guide. We cover just about everything you need to know – from planning, to insulation, to solar and electrical, to picking appliances, to essential tools. Get started today so you can get out there on the road!