It turns out you don't need a van to do #vanlife. Turning an SUV into a camper is a great option that allows you to use your daily driver for a camper conversion, and even for full time nomadic living. SUVs are also much easier to find than full-sized vans, so an SUV camper is an easier and cheaper way to get out there on the road.
SUV conversions have more interior space than sedan campers while providing greater stealth and fuel efficiency than most camper vans. And unlike minivan campers or even full-sized vans, SUVs are easier to find with all-wheel drive or 4×4, which is perfect if you want to adventure off road or down rugged forest trails.
Despite the smaller space, there are a wide range of options for turning an SUV into a camper. From no frills DIY build outs, to overlanding rooftop tents, to going for a pre-built SUV camper conversion kit – few vehicles offer the range of creativity and flexibility as the humble SUV.
If you are thinking about building out your minimalist van life rig but don't know where to start, checking out SUV camper ideas is a great source of inspiration. clever hacks, and budget build concepts. Whether you're taking your rig out for a weekend camping trip or full-time living, these inventive SUV campers will have you itching to get on the road.
Build Your Van
The Ultimate Van Build Guide
Planning a van build? Read our free guide. We cover just about everything you need to know – from planning, to insulation, to solar and electrical, to picking appliances, to essential tools. Get started today so you can get out there on the road!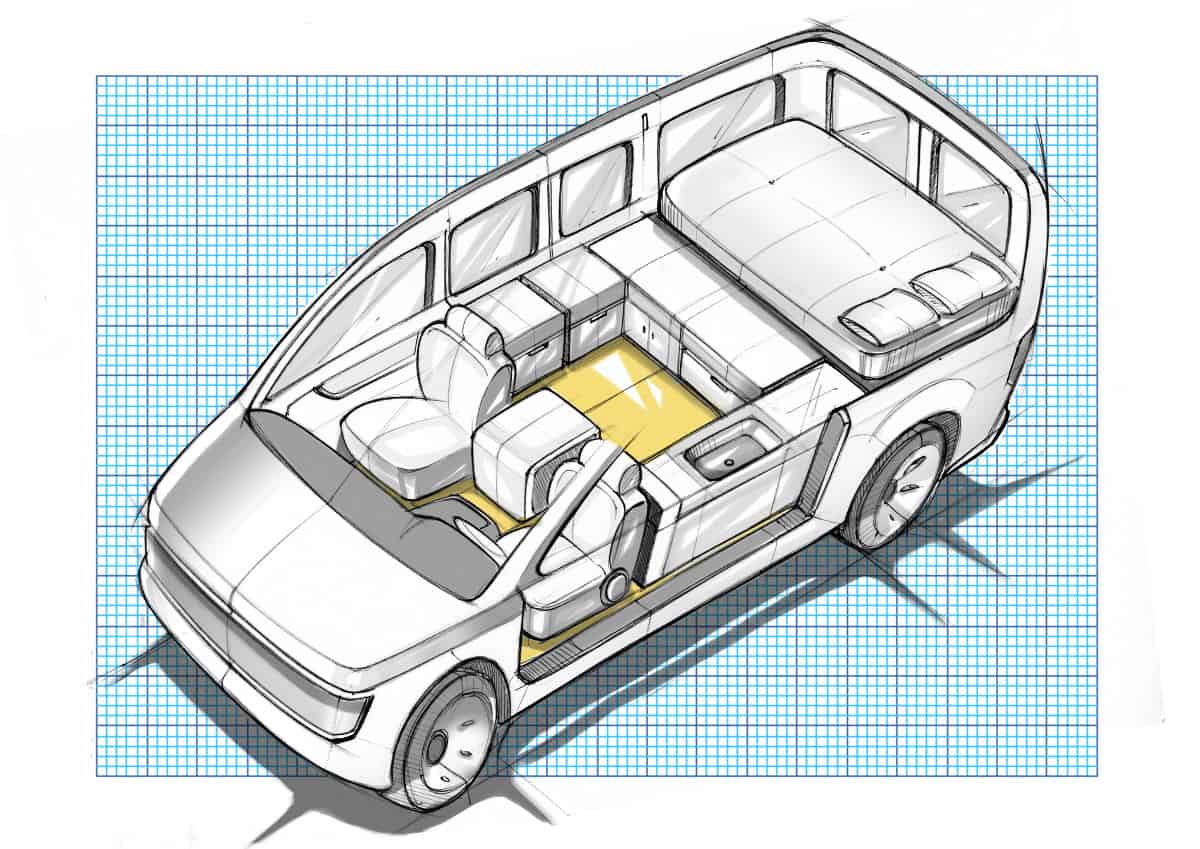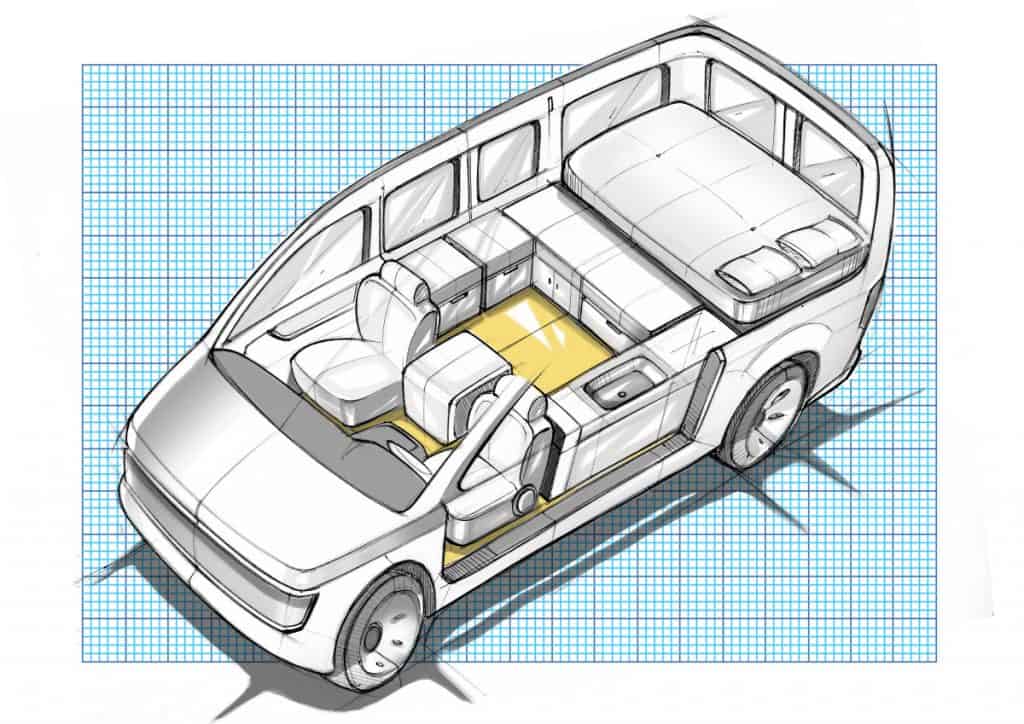 1. This Toyota 4Runner SUV camper conversion from @romanandjulia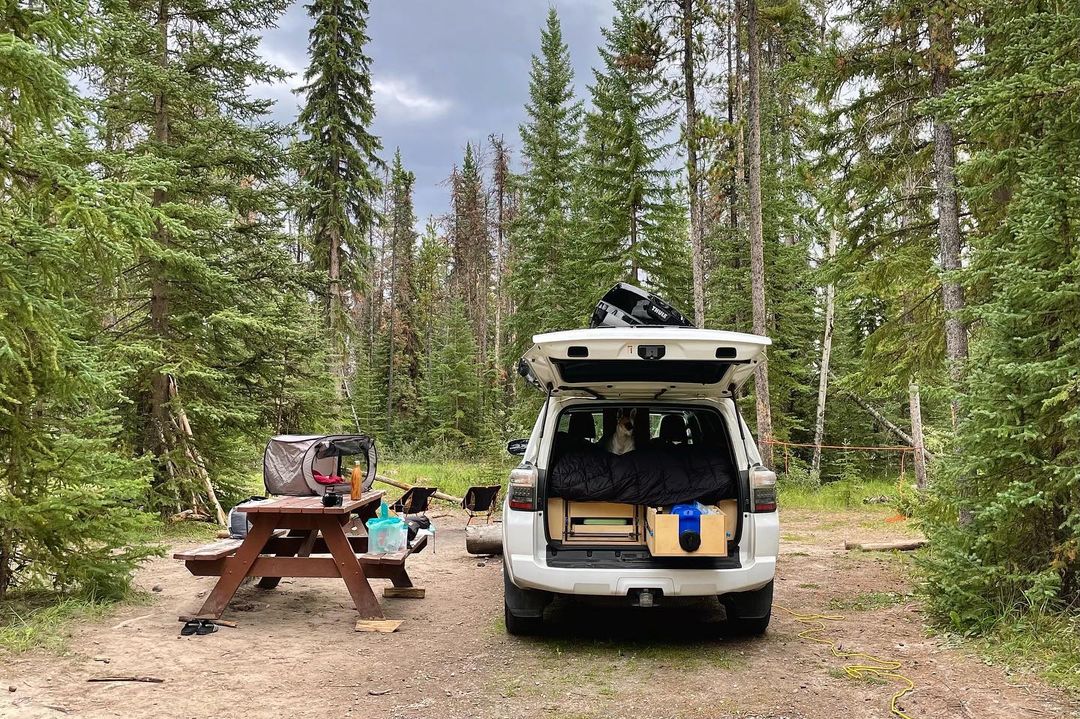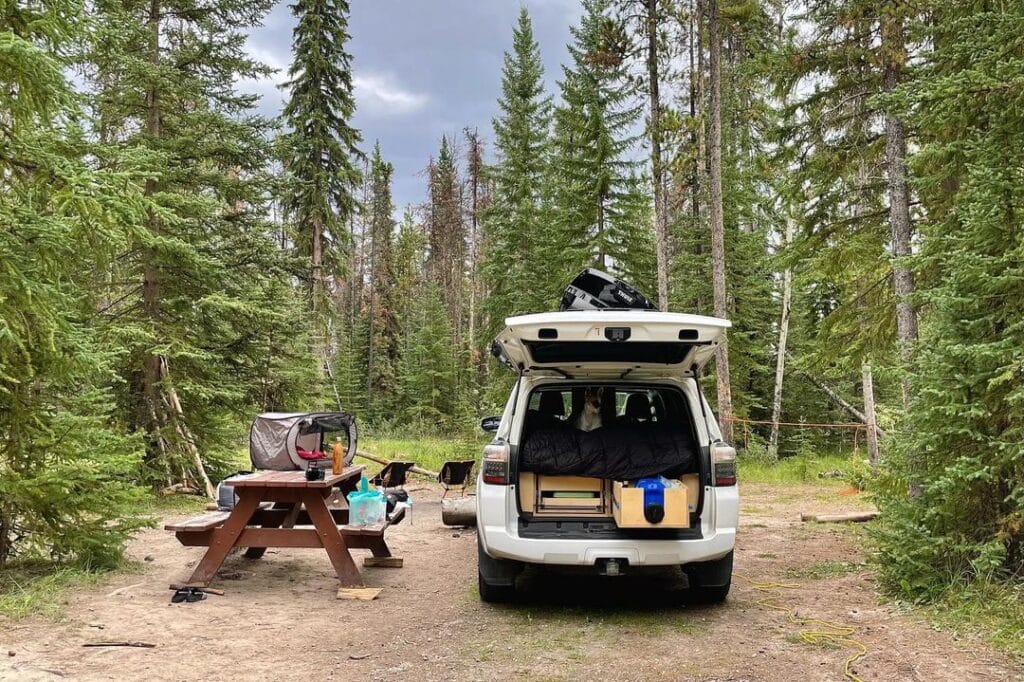 Roman and Julia worked with a contractor to turn their 2021 Toyota 4Runner into an SUV camper conversion they could live in full-time.
This practical SUV conversion has an awning attached to the roof rack, which creates an extended shaded space beside the camper. On the other side of the roof rack is a pressurized solar shower system holding about 15 liters of water. They use their tire pressure pump to pressurize the shower. A Thule storage box on the roof of the SUV camper acts as the couple's closet and garage.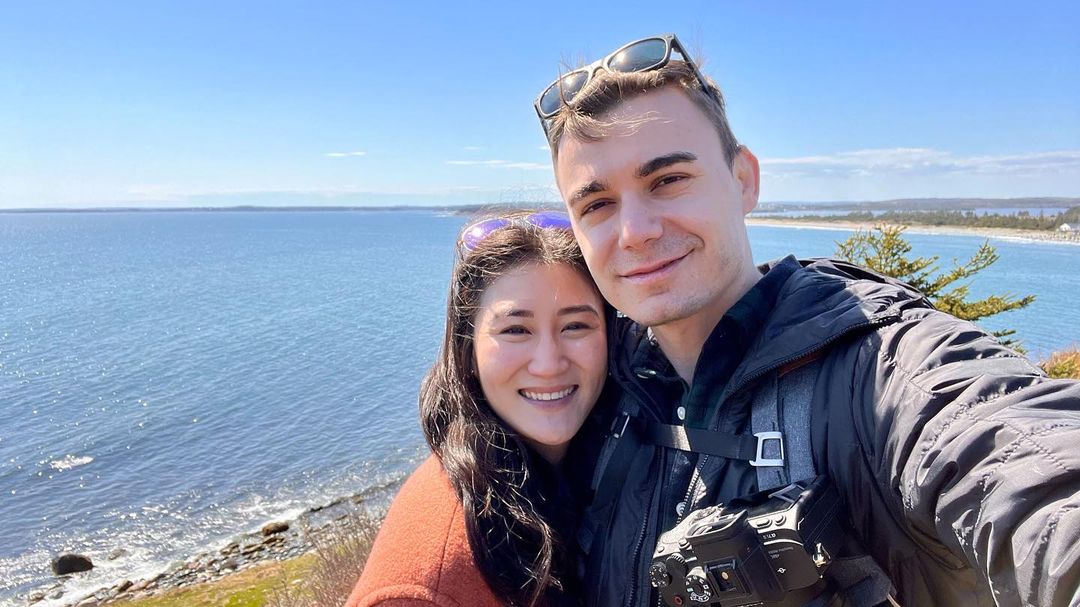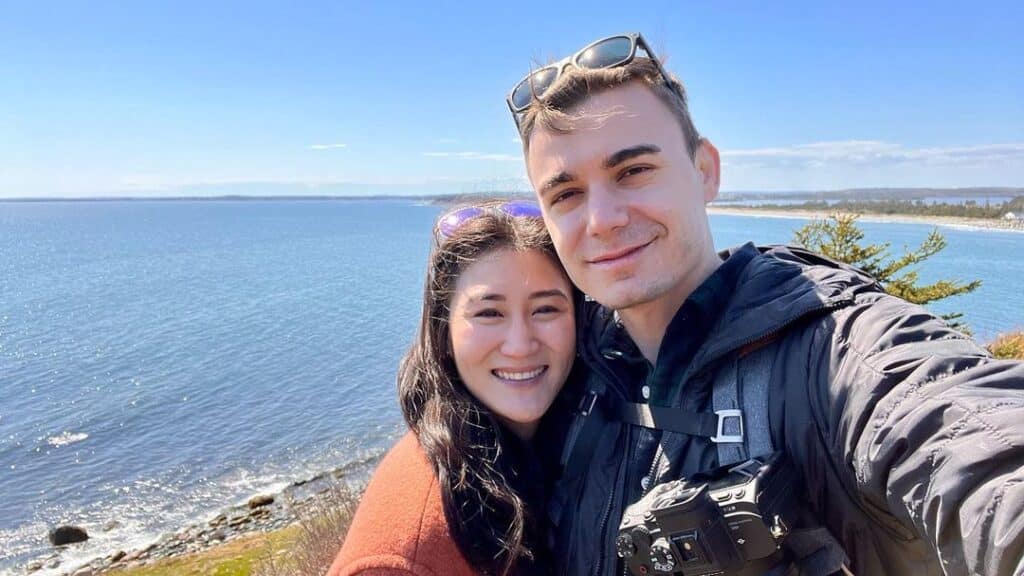 A storage area beneath the rear bed has cubbies and drawers that hold more frequently-needed items. One drawer acts as storage for drinking water and a food pantry. Another drawer contains a kitchen setup that holds plates, bowls, and utensils. It also provides counter space for cooking.
Their 12V portable fridge and flexible solar panels are stored behind the driver's seat. The couple sleeps on a full-size tri-fold mattress that rests on a bed platform in the back of the vehicle.
2. This no-build weekender SUV camping rig from @citygirlunplugged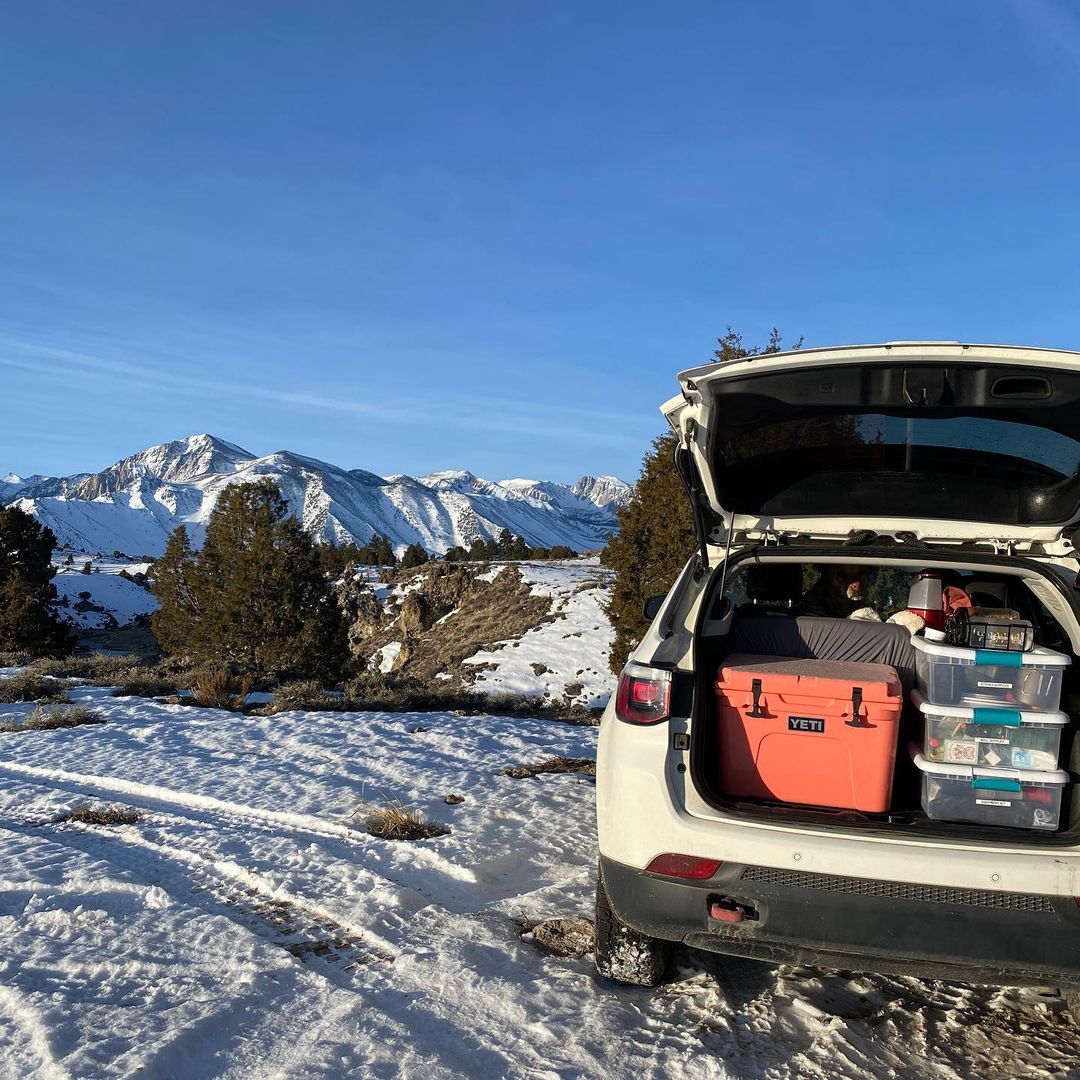 Courtney has a 2017 Jeep Compass SUV conversion that she travels in on the weekends with her dog, Luna. This is a no-build SUV camper that is easy to convert for SUV camping trips while remaining her daily driver. With out-of-sight storage options and window coverings, she can maintain stealth while parked at trailheads.
The comfortable bed is a tri-fold single mattress that runs lengthwise behind the driver's seat and is easy to store when Courtney is not camping. Luna's bed sits beside the mattress. She lays here secured with a seatbelt when Courtney is driving. She has a sleeping bag to stay warm at night during colder weather.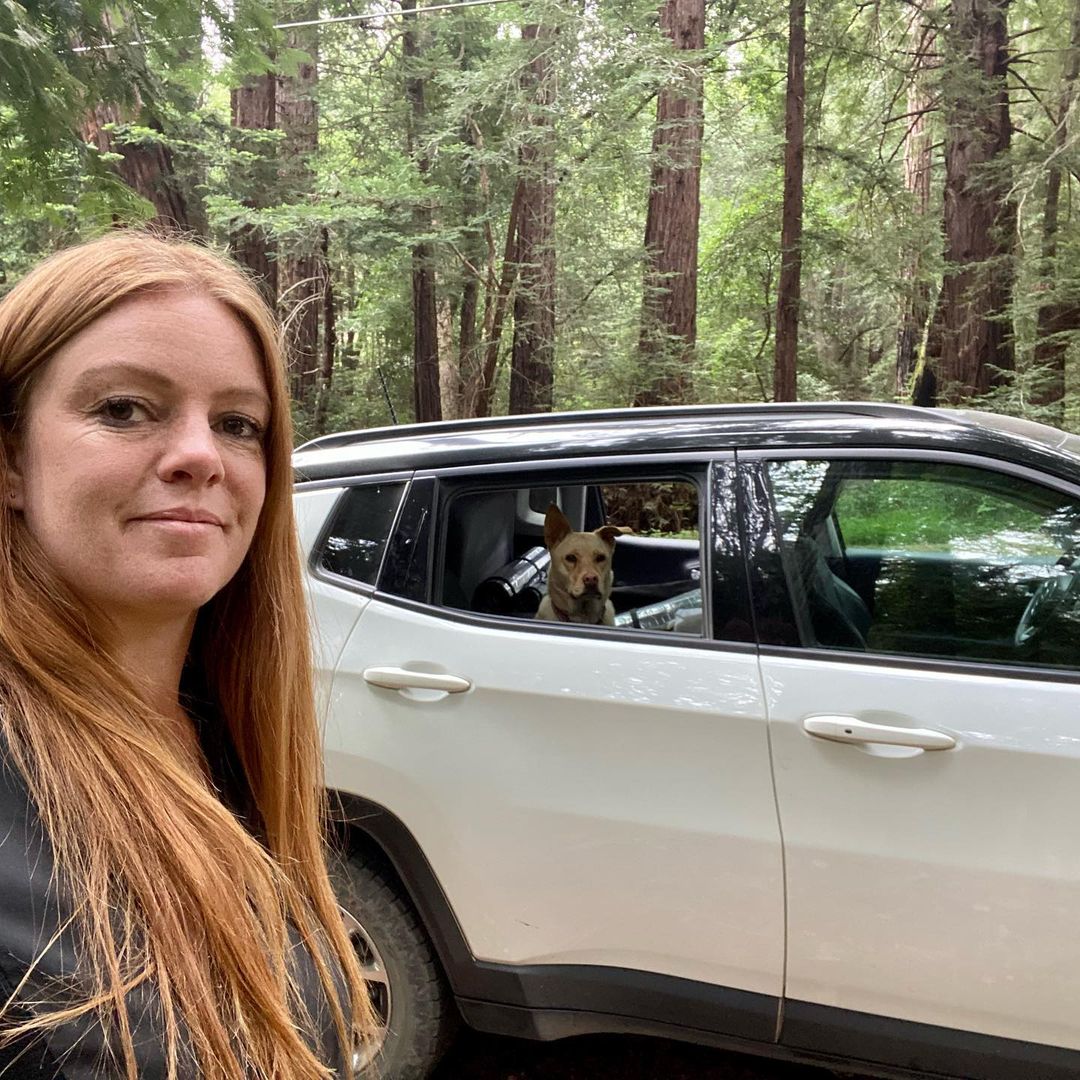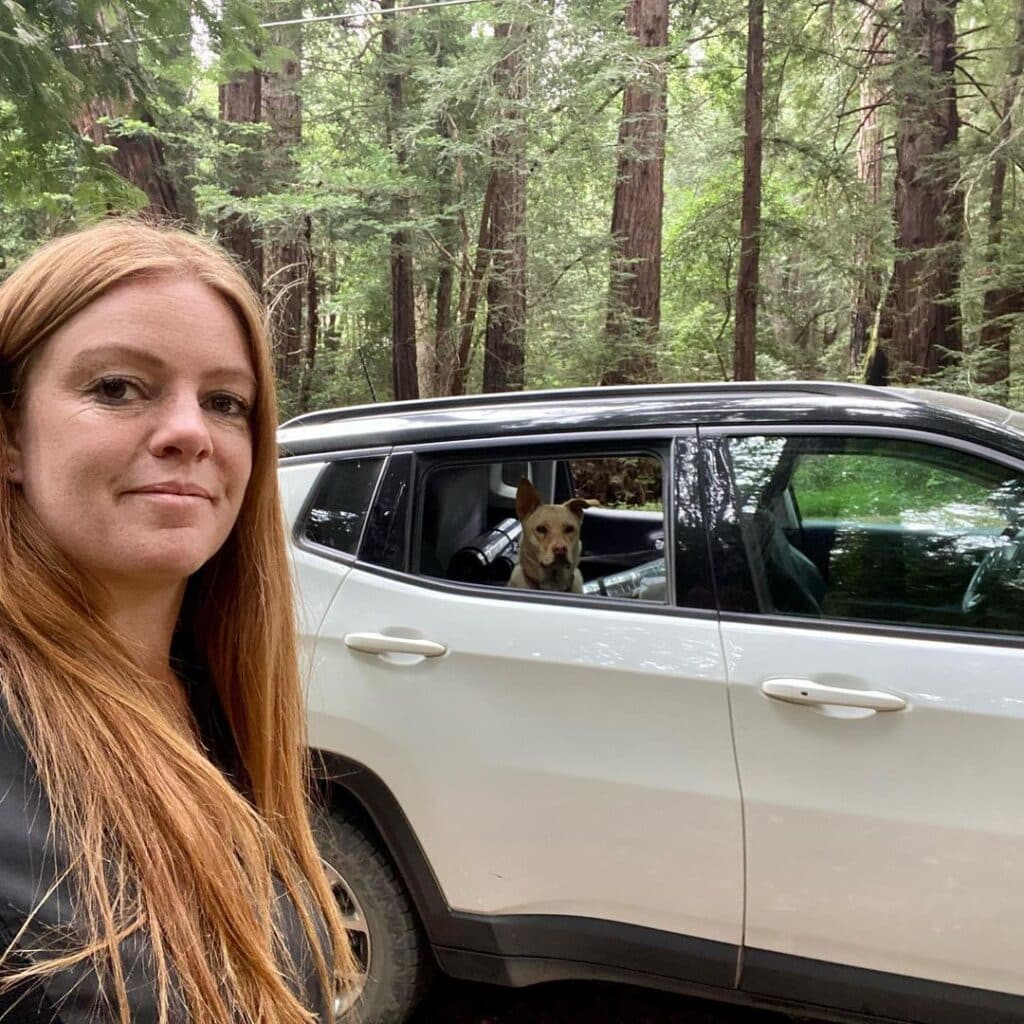 Three plastic bins are the SUV's primary storage – one bin for kitchen equipment, one for miscellaneous gear like cleaning wipes and nets for the Jeep's windows, and one for lights and safety gear.
Because Courtney usually camps on public land, having plenty of food and water with her is crucial. There is room in the vehicle for a cooler and a large water jug.
3. This Honda CRV SUV camper conversion from Clara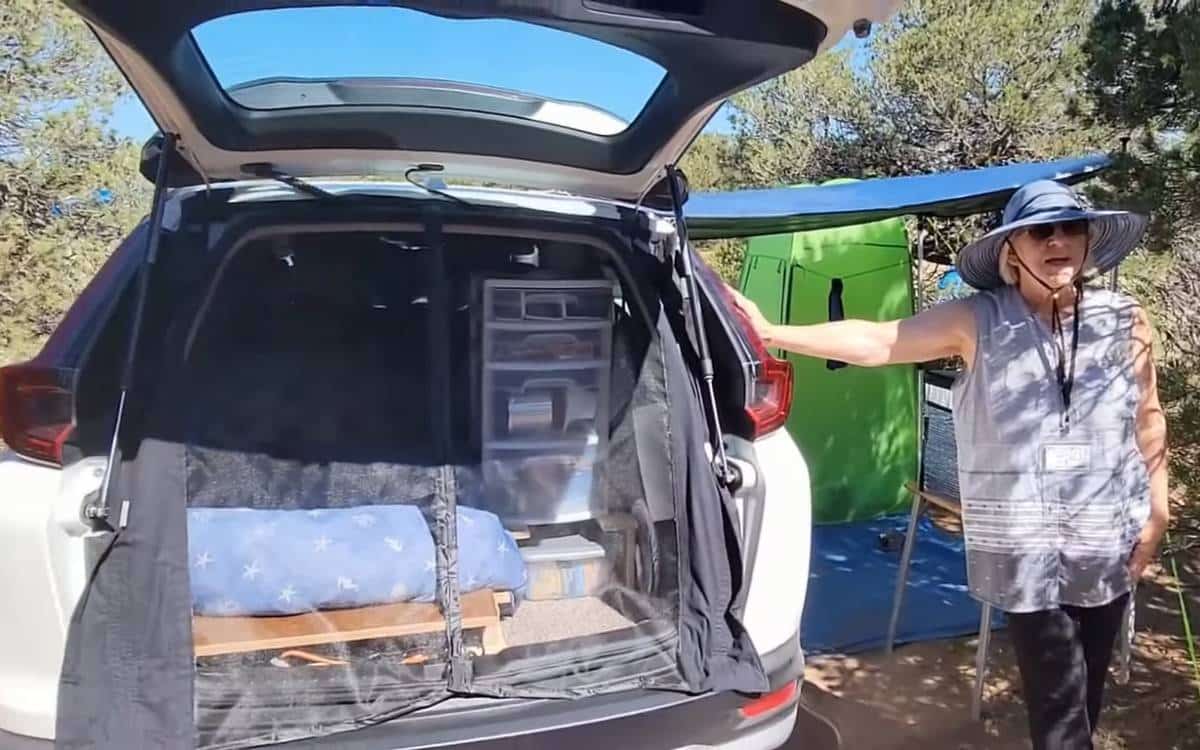 Clara is a solo senior with a 2020 Honda CRV camper SUV. When she became interested in doing a camper conversion, Clara looked at van and minivan campers before deciding to start with the vehicle she had, which was a CRV. Before beginning her build, Clara watched many van tour videos to get ideas and inspiration. With the help of her husband, she was able to able to outfit her CRV with handy features for her SUV camping trips.
There is a single mattress running lengthwise behind the driver's seat on a platform with storage beneath. In the back of the SUV beside the mattress, Clara has a 4-drawer plastic dresser that she uses to store her kitchen supplies.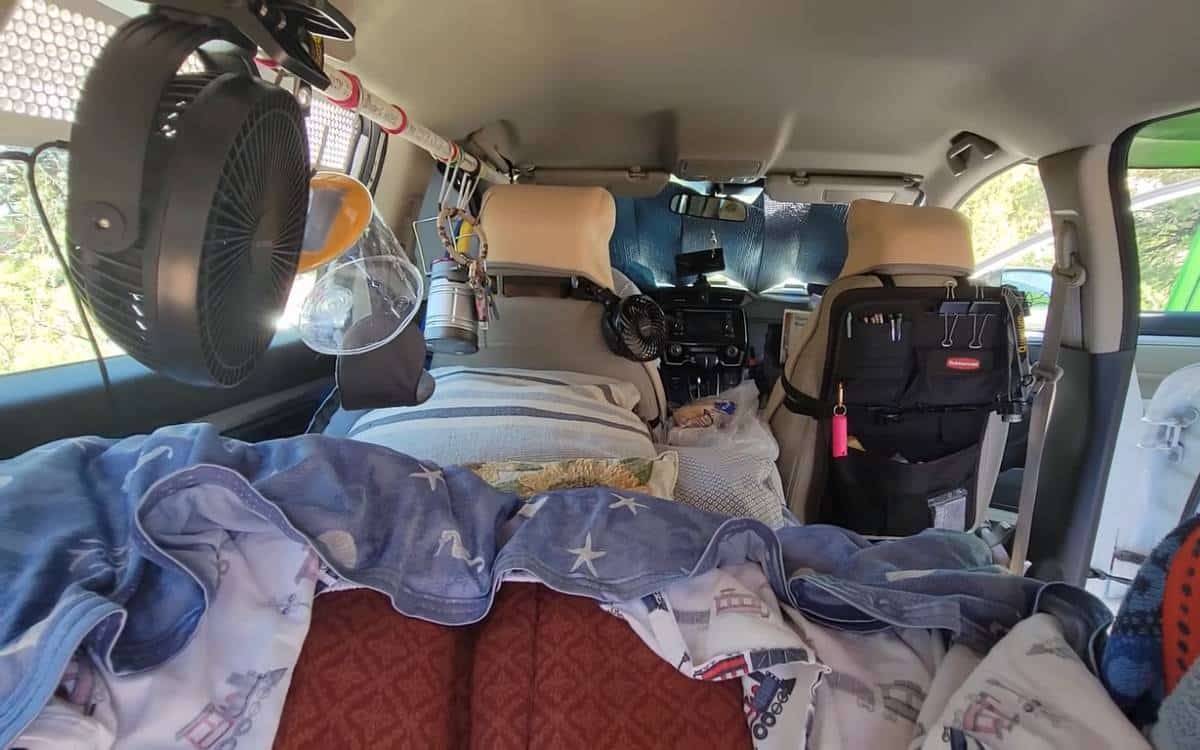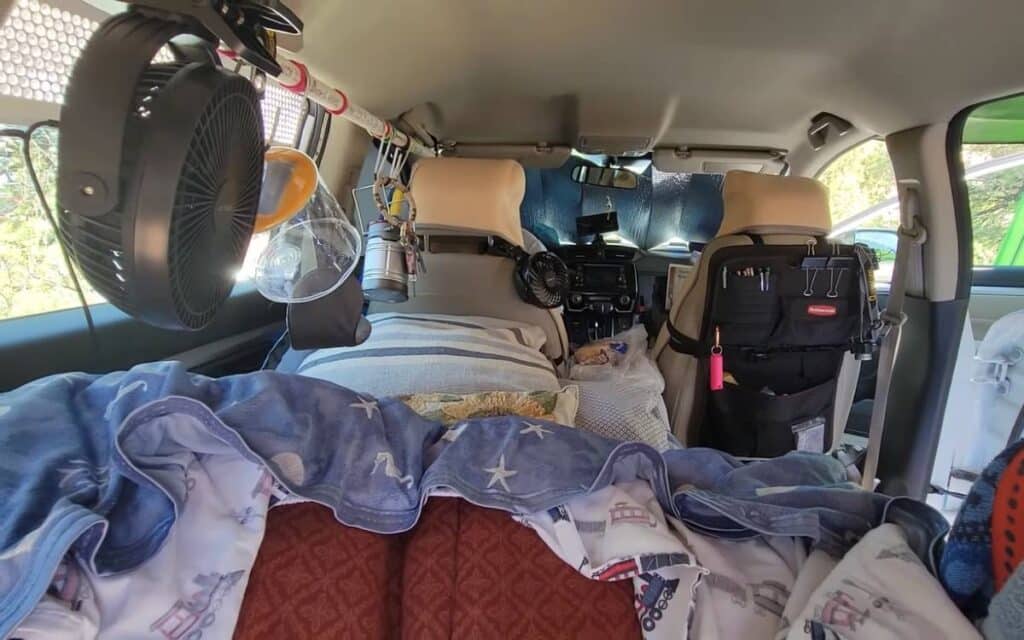 Her husband assisted with this SUV camper conversion by building helpful features like window screens from gutter fixtures, a rod with hooks to hang miscellaneous items, and a small cutting board for cooking. The rod adheres to the SUV's grab handles with Velcro straps for an easy, non-permanent hanging solution.
Clara likes to keep the rear hatch open for airflow, so she installed a mosquito net. An awning provides shaded space on the passenger side. Beside it is a popup tent that stores a bucket and cleaning supplies.
4. This DIY SUV camper build from @meganclaarke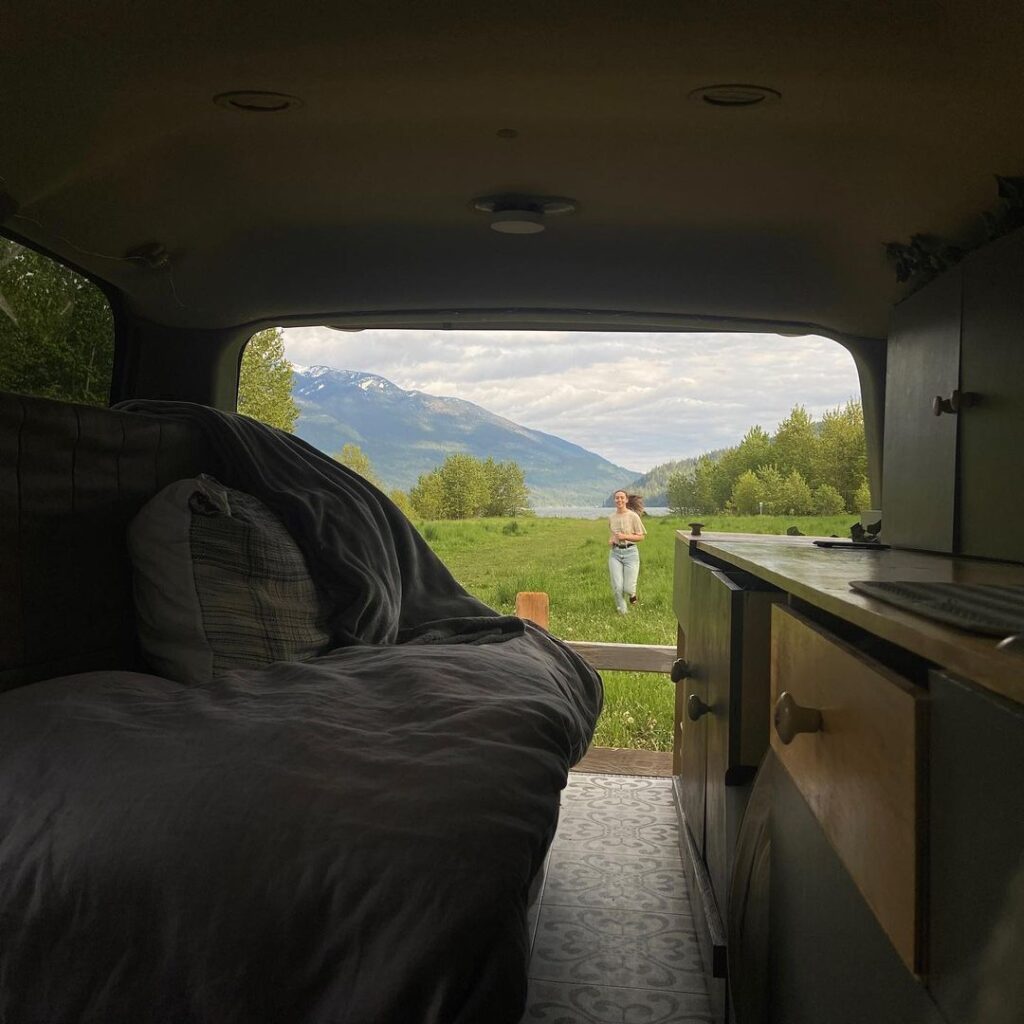 Megan built out her 2006 GMC Yukon camper vehicle herself to live in while traveling. She fit a bed, toilet, kitchen, running water, and an off grid camper electrical system – complete with solar panels, house battery, and 12V inverter – into this impressive DIY conversion.
Her bed is on a futon-style frame behind the passenger seat that runs lengthwise to the back of the SUV. Storage underneath the bed on drawer slides makes it easy to pull out and access when the back of the Yukon is open. The frame can slide out further to extend the sleeping area.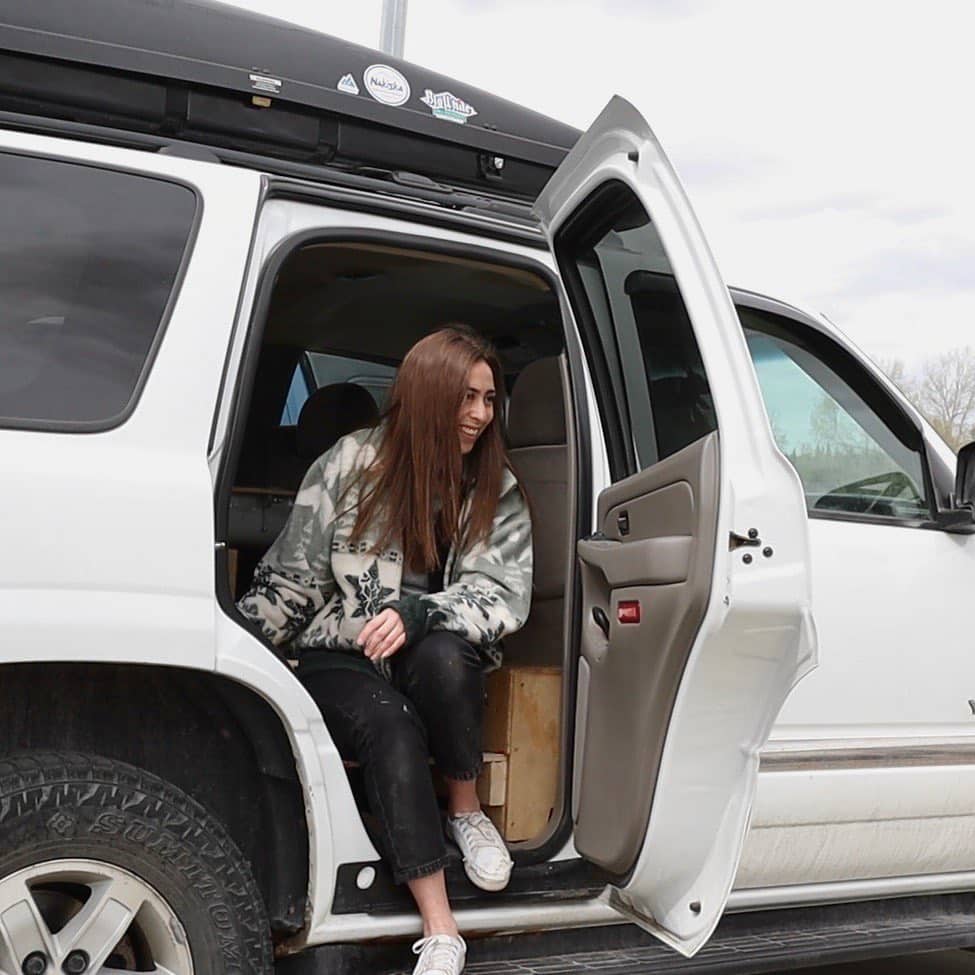 Behind the driver's side is a set of cabinets and a countertop that runs parallel to the futon. In one of the cabinets, Megan stores her portable toilet. Other sections store her clothes, kitchen tools, and craft supplies.
There is a sink with running water powered by a USB rechargeable pump behind the driver's seat, with water storage that can be accessed from the side door. A top-load fridge sits between the driver and passenger seats.
5. This Jeep camper conversion with a rooftop tent from @drew.simms
Drew built out his 2013 4-door Jeep Wrangler to live in full-time while van life traveling. This SUV camper conversion is a great example of using an SUV tent to expand the livable area. SUV tents permanently attach to the vehicle's roof. They stow underneath a tent cover while driving, and easily pop up to create covered sleeping space when setting up camp.
The roof of Drew's Jeep camper also features a pressurized solar shower, solar panel, and awning. When setting up for SUV camping, the awning and tent take about 5-10 minutes each to set up. The rooftop tent has enough headroom to sit up comfortably, and the queen mattress sleeps two people.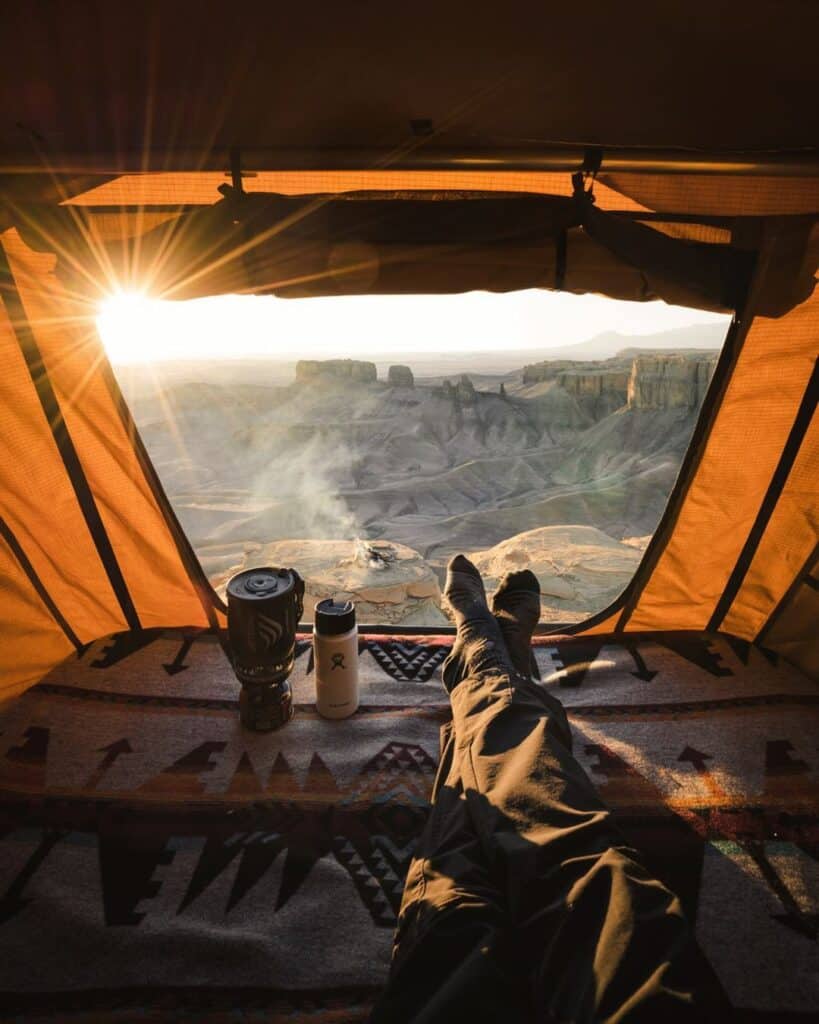 Inside the Jeep, Drew used plywood to create drawers and an additional sleeping platform. Attachments create counter space for an outdoor kitchen from the back of the camper, with room for a camp stove. We love how easily the kitchen setup packs into the drawers and slides back into place. This area is also where the SUV's fridge and main water supply are stored.
For Drew, it's essential to have the option of sleeping in the Jeep during bad weather. For sleeping inside the vehicle, a bed made from a queen-size memory foam mattress topper cut in two pieces runs lengthwise behind the passenger seat.
6. This kitchen-focused SUV camper conversion from Sawyer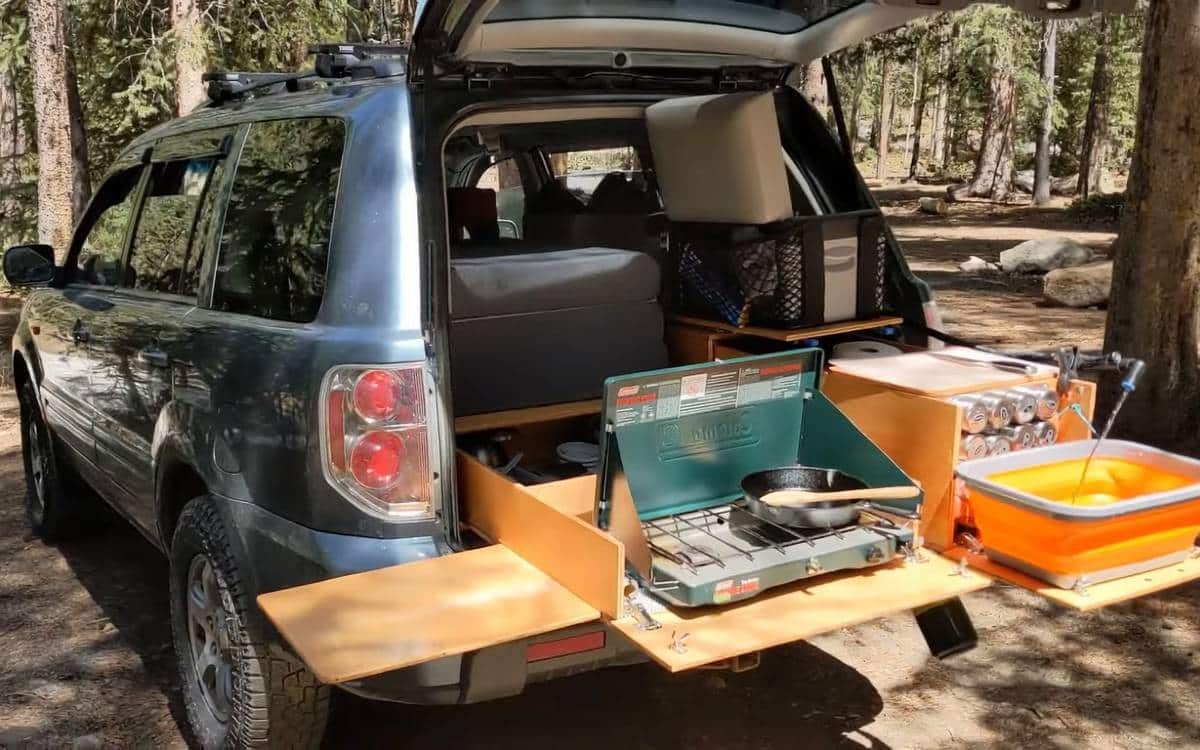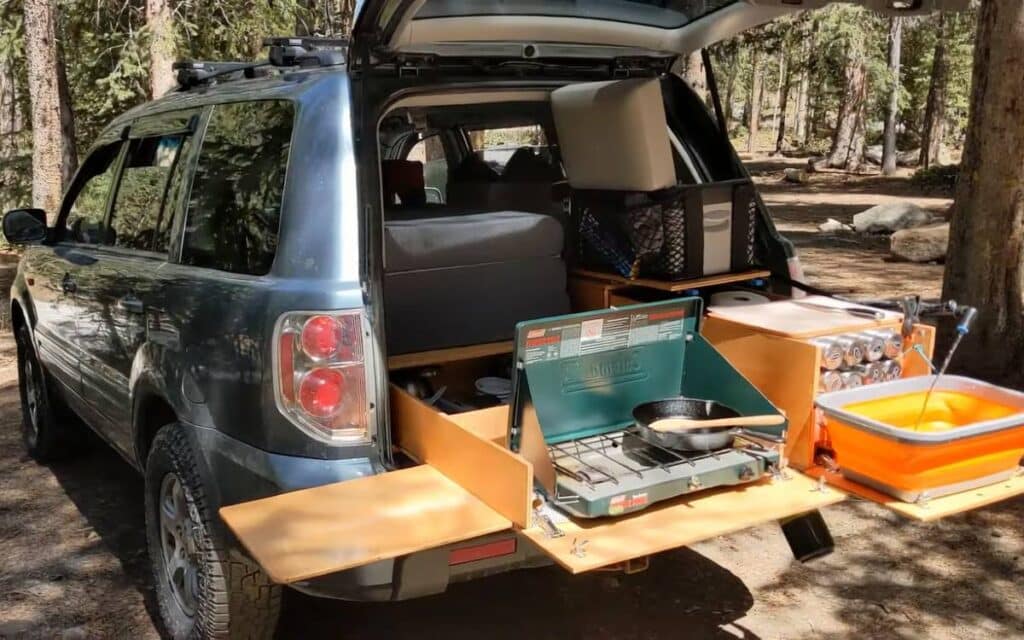 Sawyer built out his 2006 Honda Pilot with a well-conceived outdoor kitchen area with room for cooking prep, a camp stove, and a collapsible sink with running water.
For his SUV camping setup, three different slides extend out the back when the hatch is open. The fridge is on locking drawer slides that keep it in place when Sawyer is driving and secure when extended out of the SUV. The other two drawers have latches to stay in place.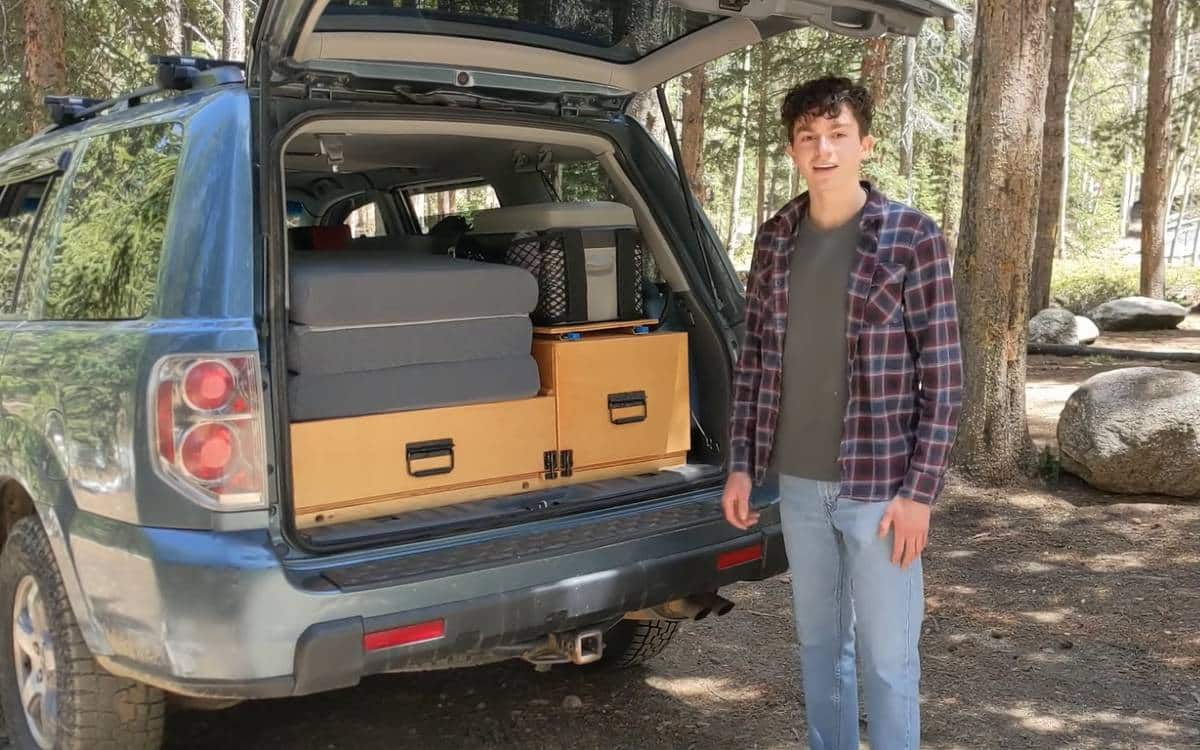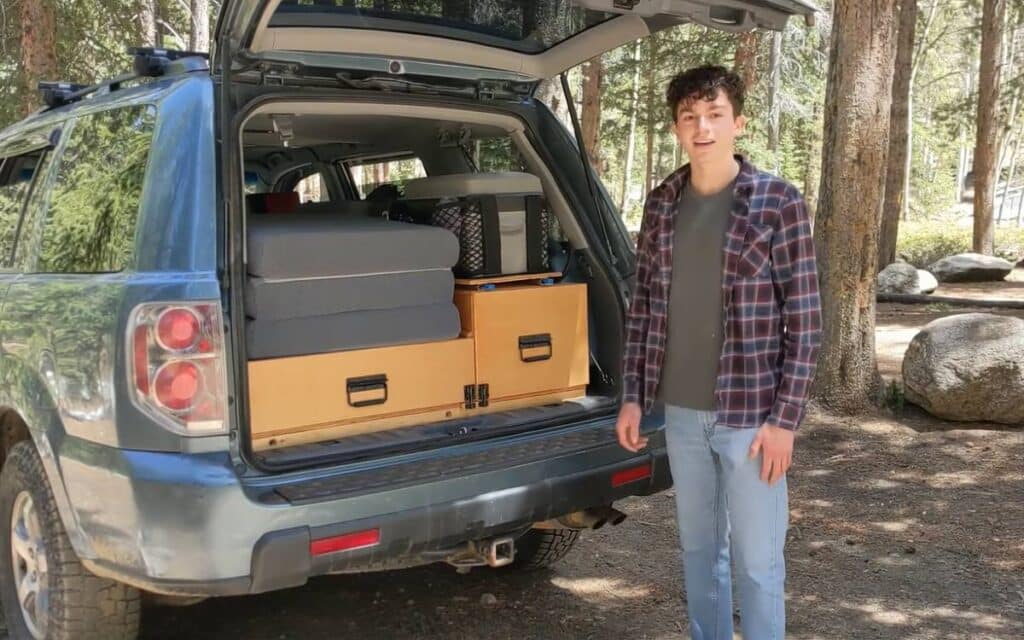 Sawyer uses fabric bins within the primary storage drawer to keep things separated and organized. The front of this drawer can be unlatched and lowered to create counter space. The kitchen drawer beside it is structured similarly, though it is wider and shorter. It stores pots, pans, and utensils in one section and Sawyer's camp stove in another.
On the side of the kitchen drawer, additional countertop space can be extended. The collapsible sink can be placed on any available counter space, with a hose running through the back that is connected to a water jug.
7. This unique SUV camper conversion with low bed platform and side storage space from Steve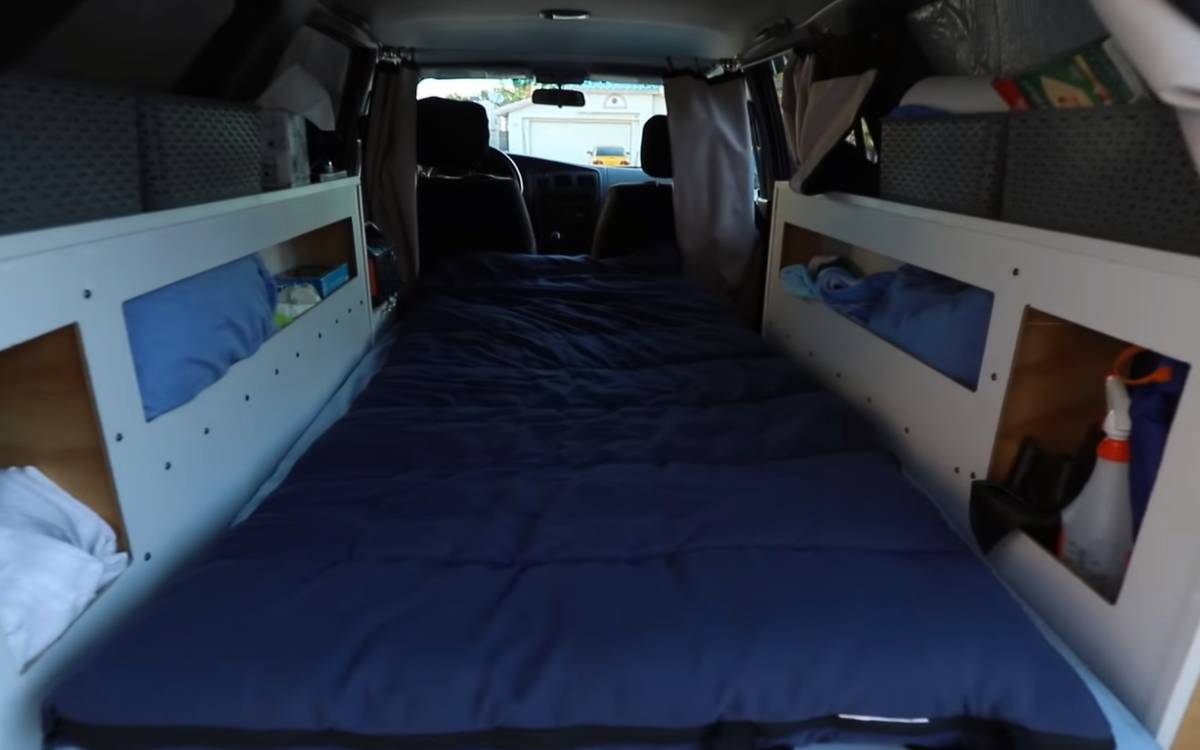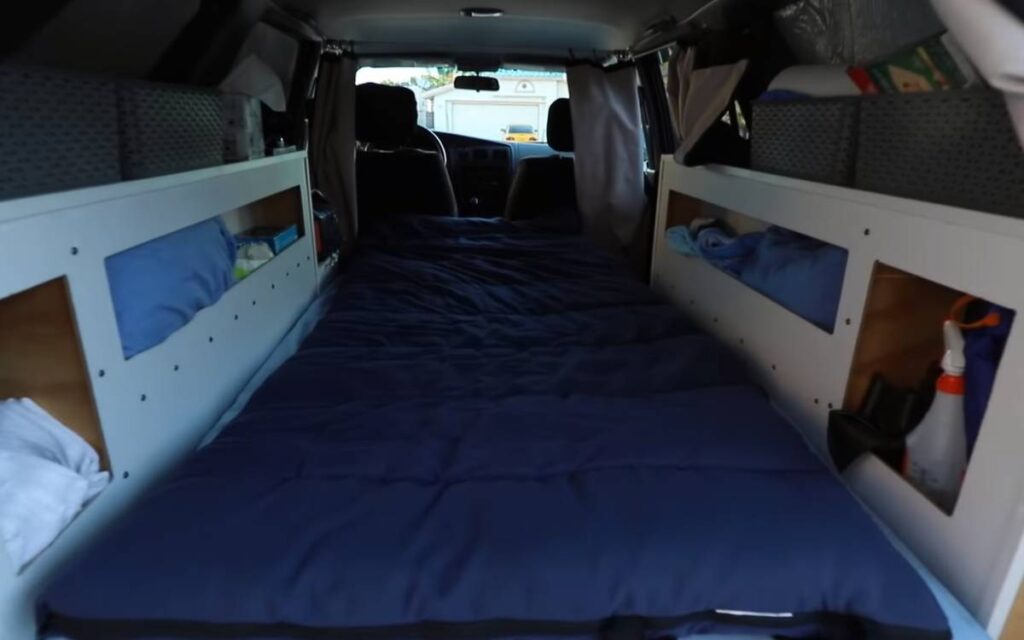 Steve decided to take an alternate approach from the typical SUV camper layout in his 1996 Toyota 4Runner. Rather than building a high bed platform with storage underneath, he opted to put his bed close to the floor, with storage solutions on either side. This gives the living space much more headroom and makes it far easier to sit up and spend time comfortably within the SUV camper. He also has a roof box for extra storage.
More space and most of the storage accessible from within the vehicle make changing clothes and other everyday tasks much easier than with a higher platform build. Steve has curtains along all the windows, providing him with stealth and privacy.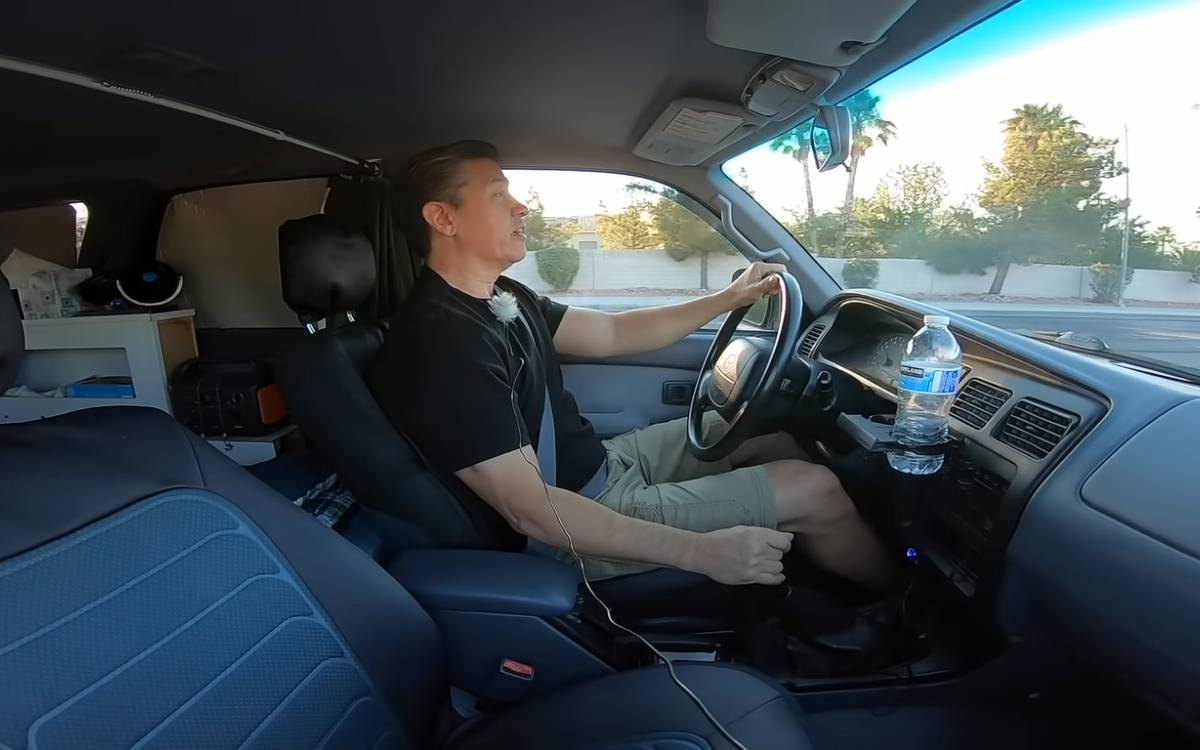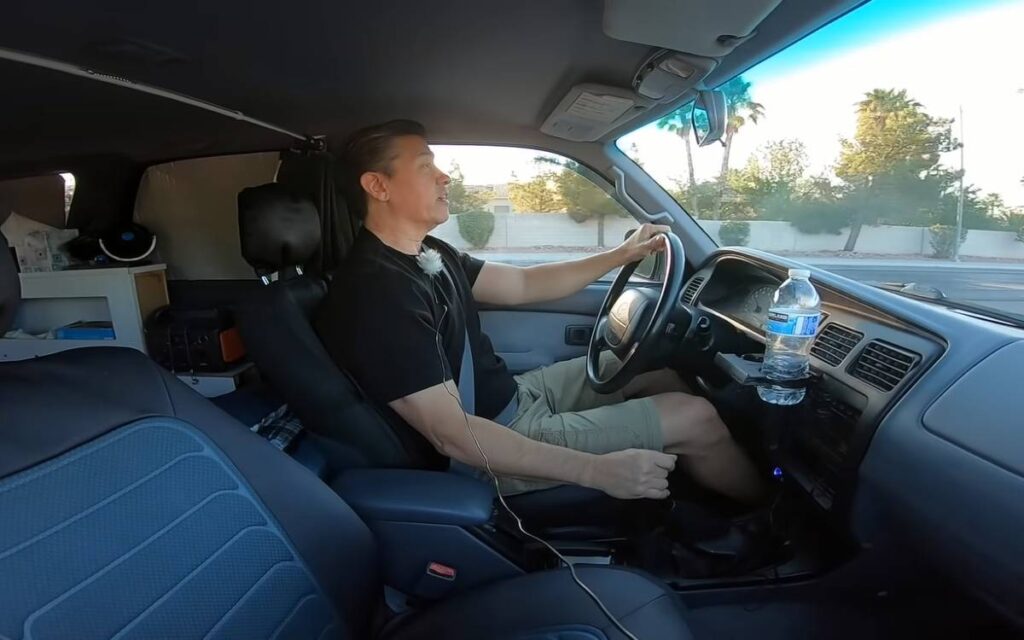 For showering, Steve has a small pressurized shower jug with a shower head. He stores it with a popup shower tent in the rooftop storage box.
On the passenger seat, he keeps a cooler, and on the floor beside it, a 7-gallon water jug. He has a collapsible table, a camping chair, and a camp stove that take up minimal space while allowing him all the SUV camping essentials for his trips.
8. This minimal SUV camper conversion from @dani_lintravels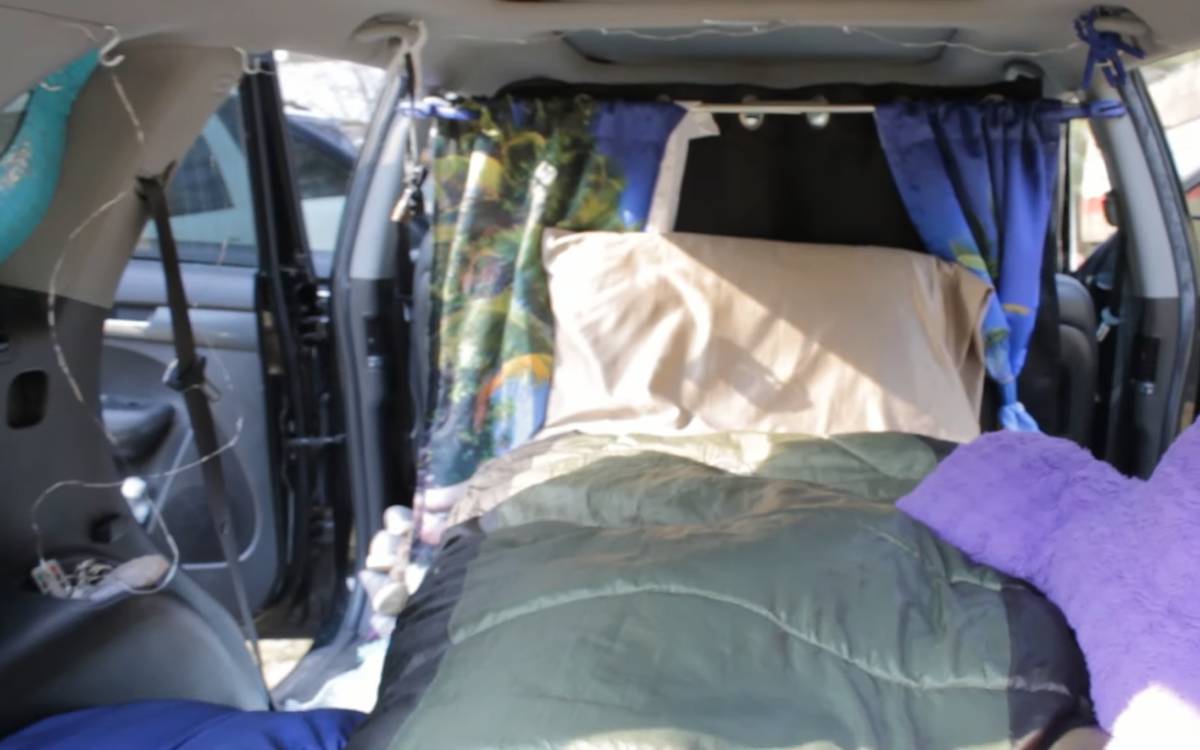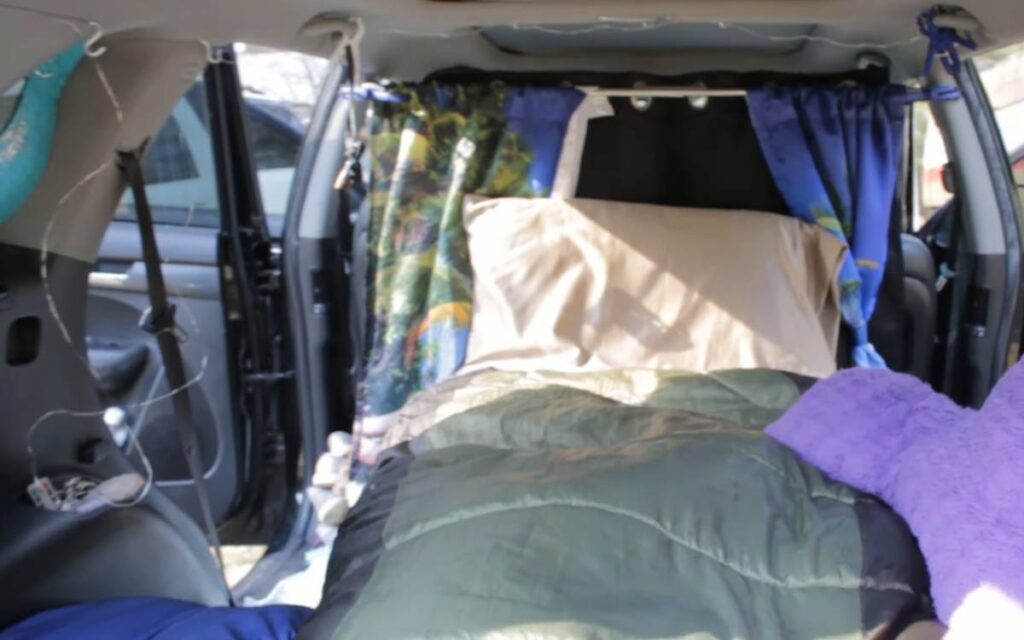 Dani did a minimal setup for her SUV camper conversion. None of her camper build is permanently fixed to her vehicle. She utilizes the SUV's storage pockets and baskets for storing her belongings.
There are LED battery-powered twinkle lights strung along the ceiling of the SUV as an easy, power-friendly lighting solution. She also has a headlamp and solar-powered lanterns for portable options.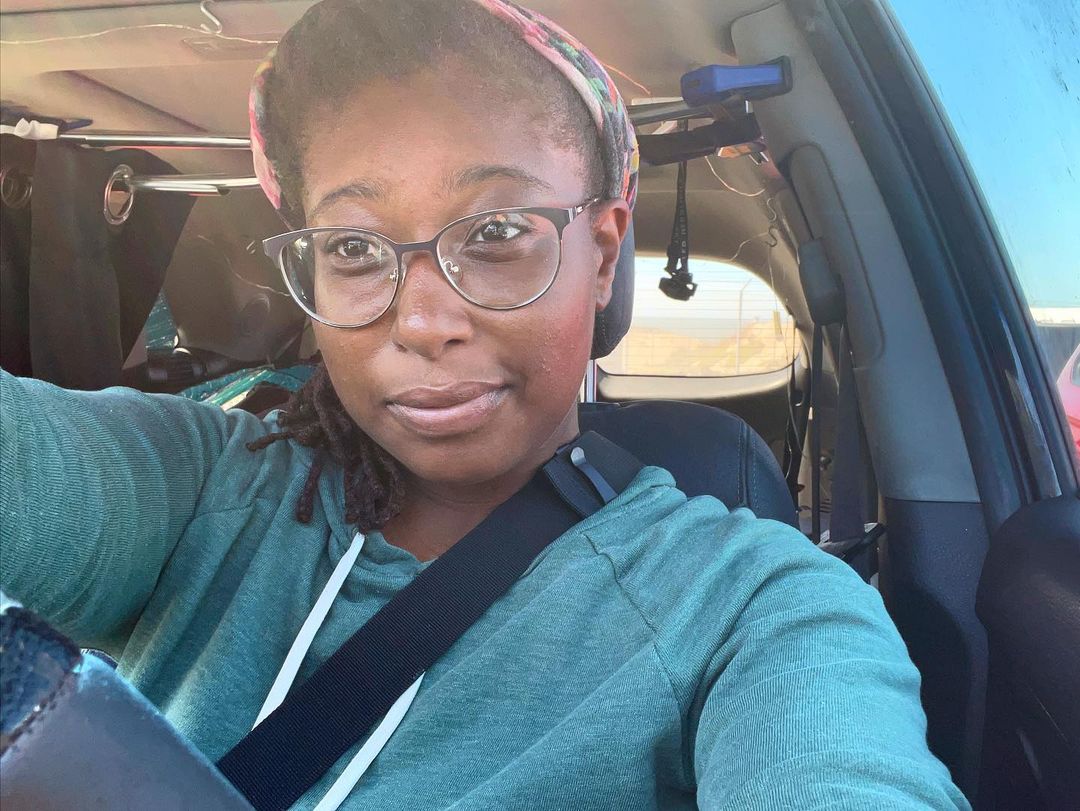 To pad her bed platform, Dani cut a couple of foam mattress toppers and covered them with a fitted sheet. On top of that, she sleeps in a sleeping bag. Her bed runs lengthwise along the SUV and is about the size of a twin.
Dani has a curtain to separate the cab from the living space. She also made window covers that provide insulation and privacy.
9. This dog-friendly SUV build from @roamingreckless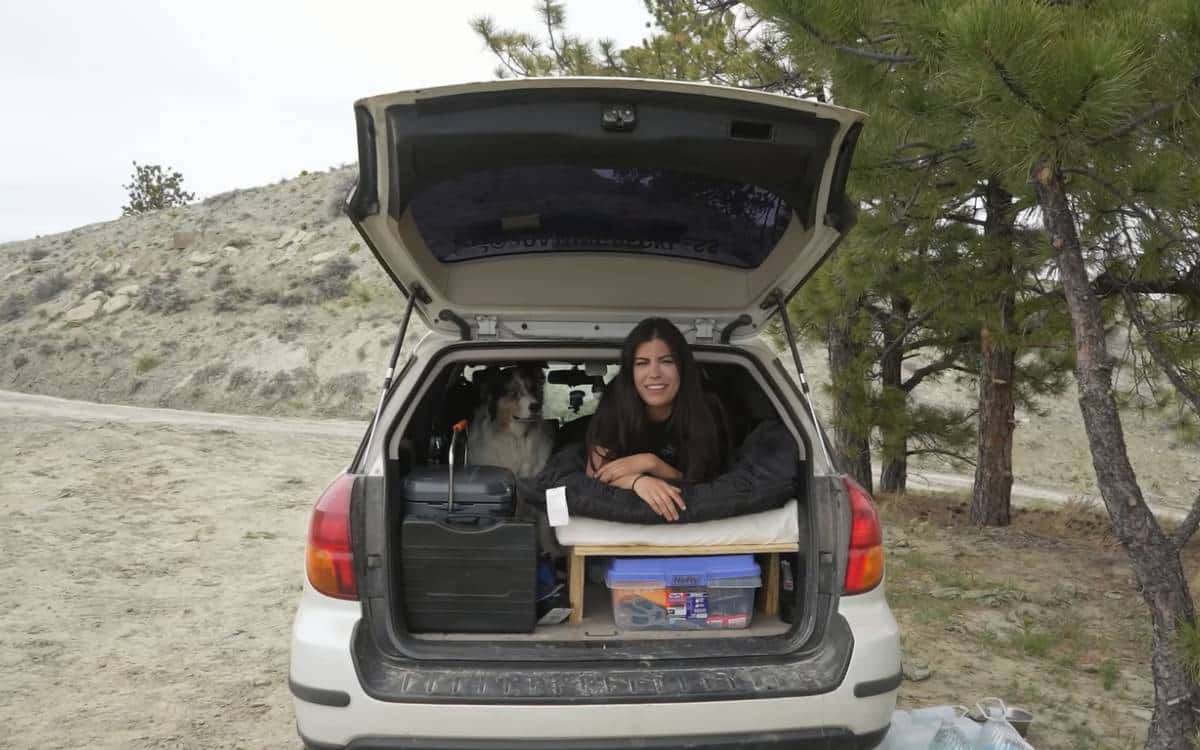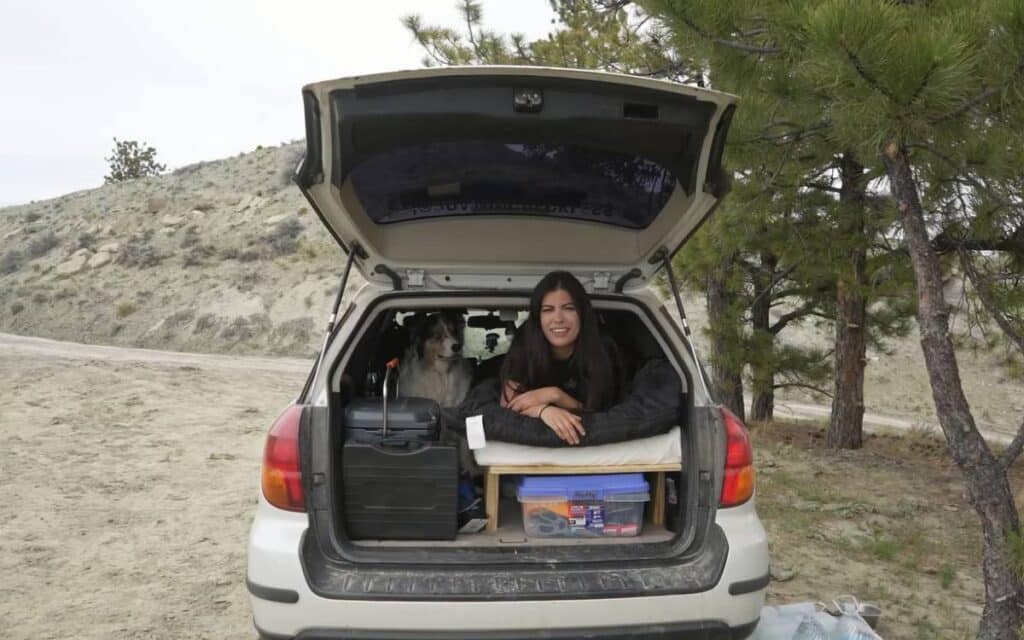 Maria and her dog, Blue, travel full time in her 2007 Subaru Outback camper conversion. They've lived in their SUV camper for almost five years, so the layout has evolved with a lot of time and experience on the road.
The bed is on a platform behind the passenger seat that runs lengthwise. Blue's bed is located beside it behind the driver's seat.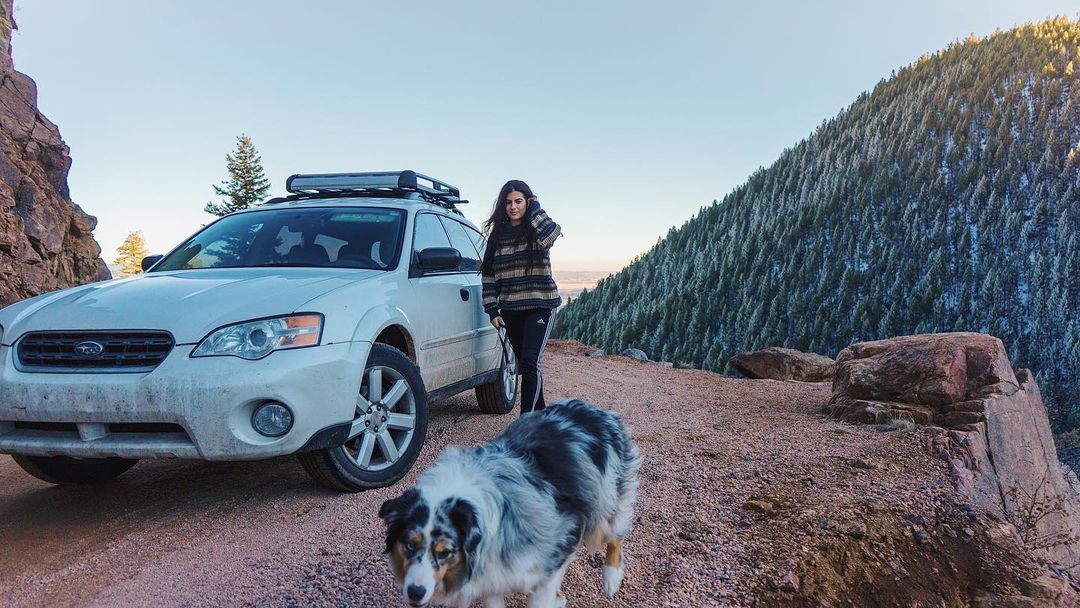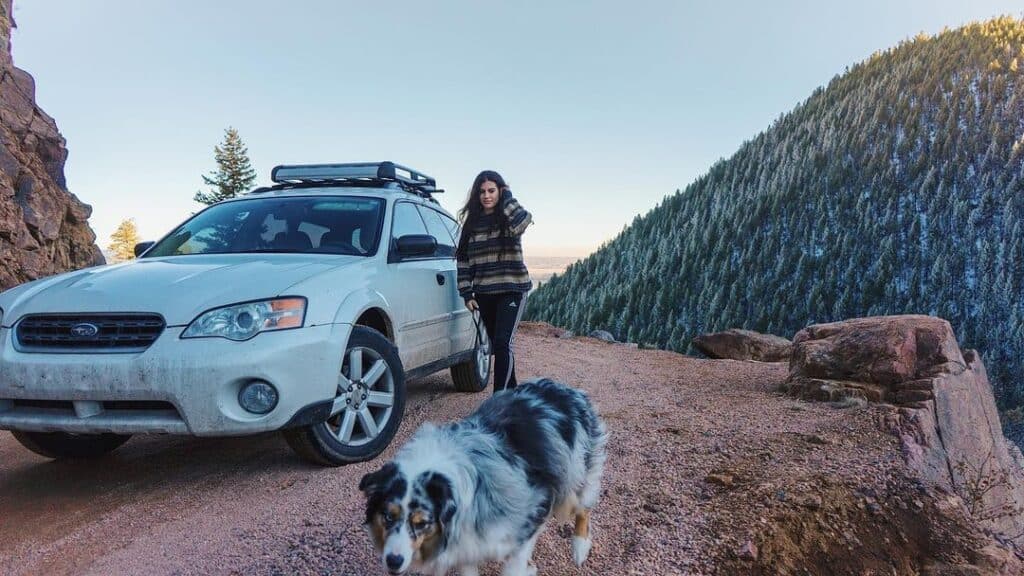 For cooking, Maria lifts her mattress up from the back of the SUV, and the plywood platform that holds it becomes a kitchen area. There is a nook beside it for storing coffee equipment. A cooler and camp stove sit on the other side of the bed. Underneath the bed platform is the main interior storage space. Maria uses large plastic containers to store her clothes and other everyday items.
On the roof, there are plastic bins that hold hiking equipment, winter gear, dirty laundry, and other miscellaneous items.
10. This tiny home-inspired SUV camper conversion from Tracy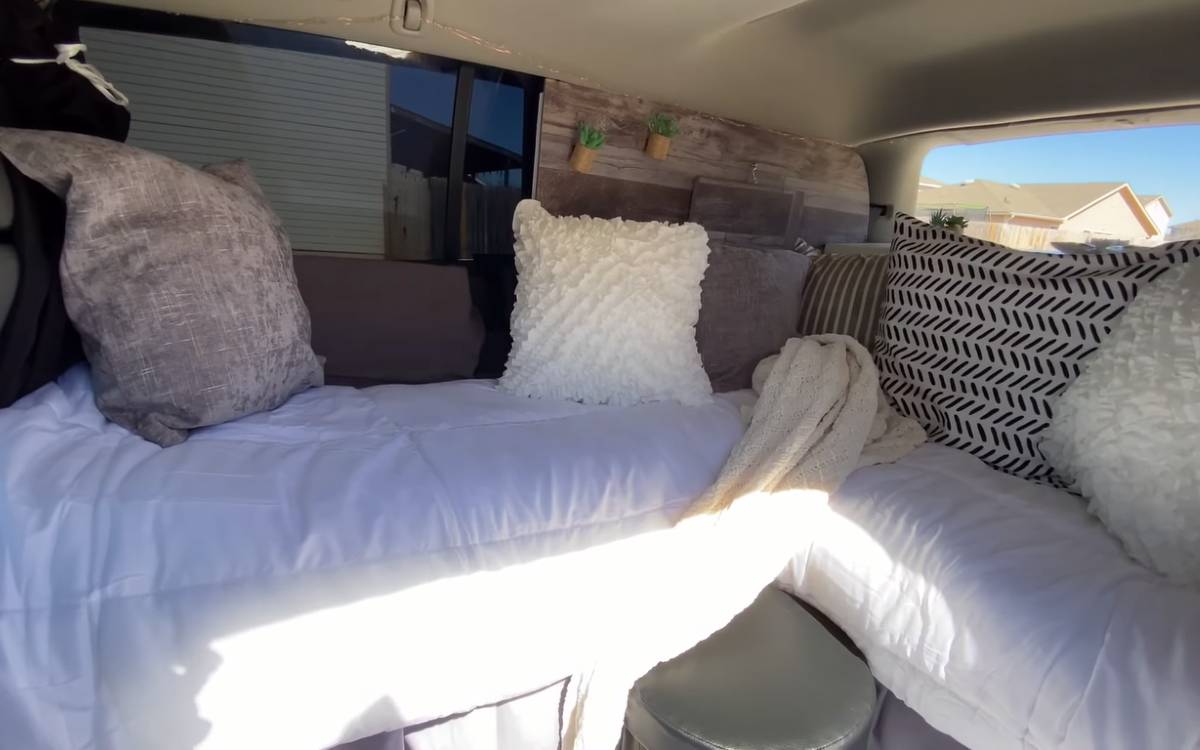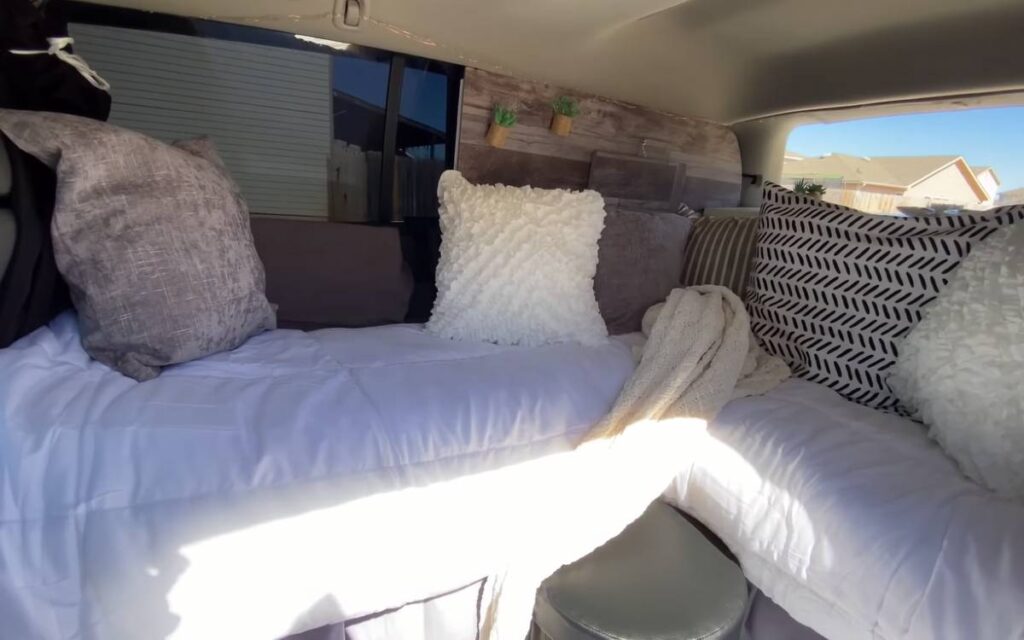 Tracy built out a 2007 Dodge Durango for weekend camping, either solo or with her husband. She wanted to do a basic build that would be comfortable and practical for various car camping trips.
The living space in the build has an L-shaped sitting area with storage underneath for clothes and a tabletop. The tabletop can be placed onto a bin to create a dining and work area. The section that runs lengthwise behind the passenger side is a single bed. When Tracy's husband joins her, an extension converts the space into a double bed.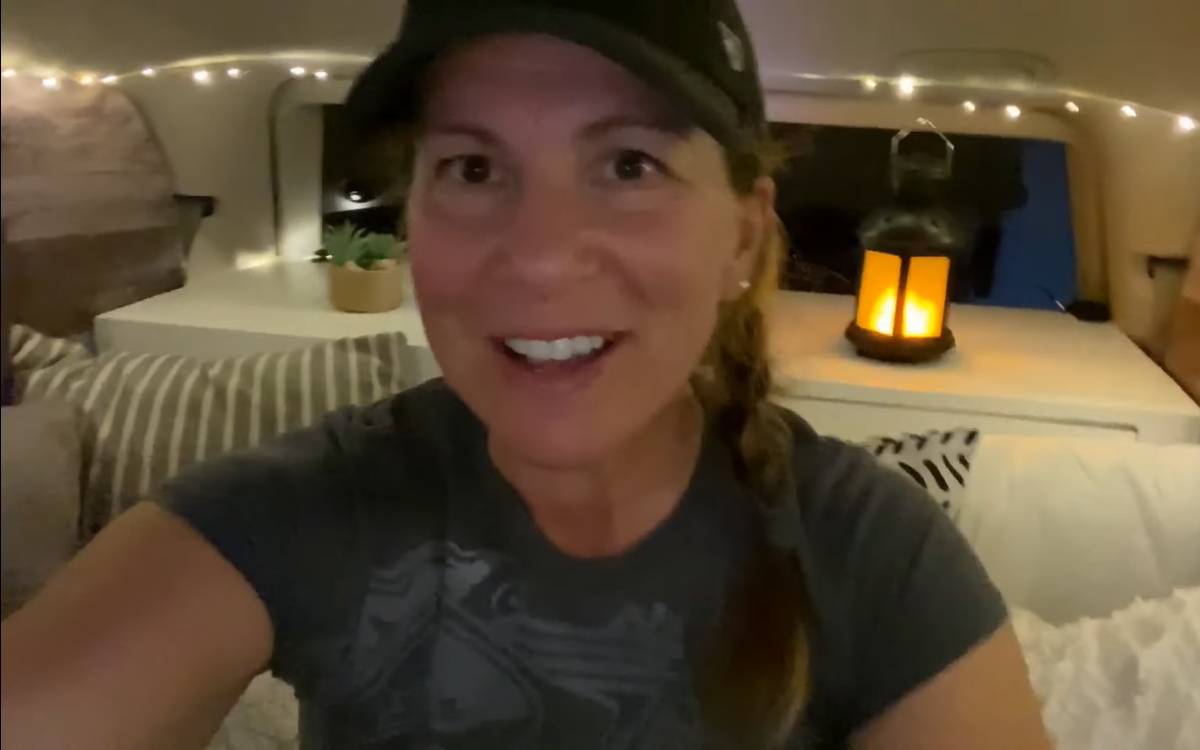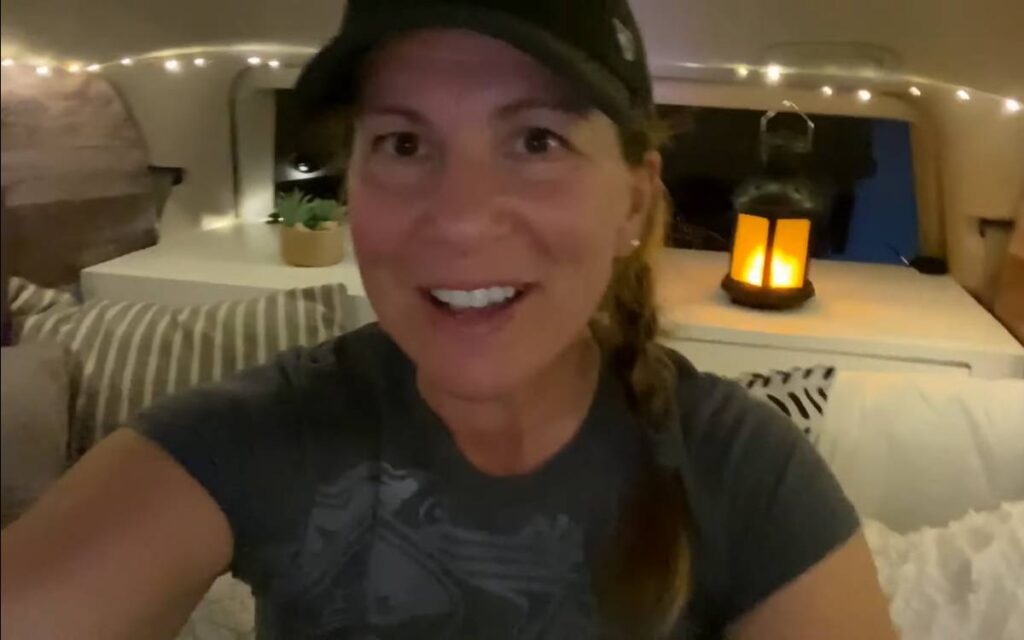 For décor, Tracy included walls with a shiplap wallpaper and fairy lights for a warm, cozy feel to the interior. To avoid losing space between the walls and the windows, she created little hatches that provide storage for smaller items. The walls provide insulation and privacy while making the interior SUV feel more like a home than a vehicle.
The kitchen is set up outside the back of the van, with room for a cooler, pantry, and water. There is a pull-out table that provides ample outdoor cooking space.
11. This DIY conversion for solo SUV camping from Brad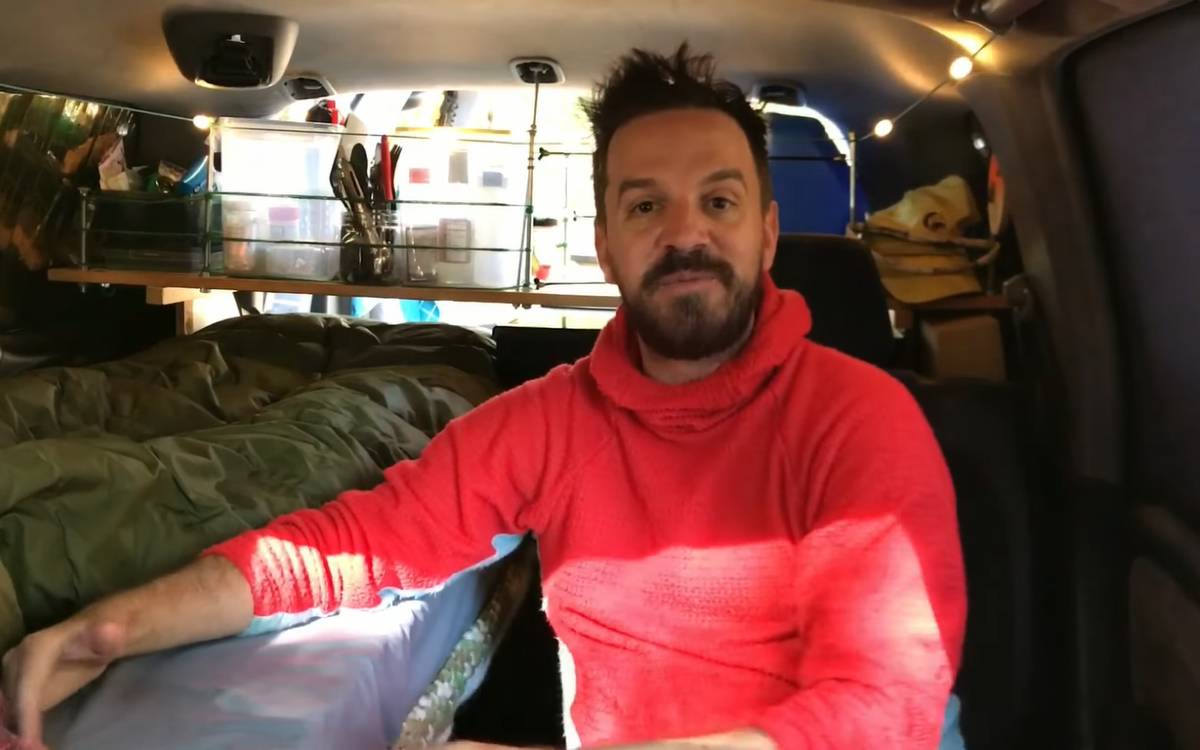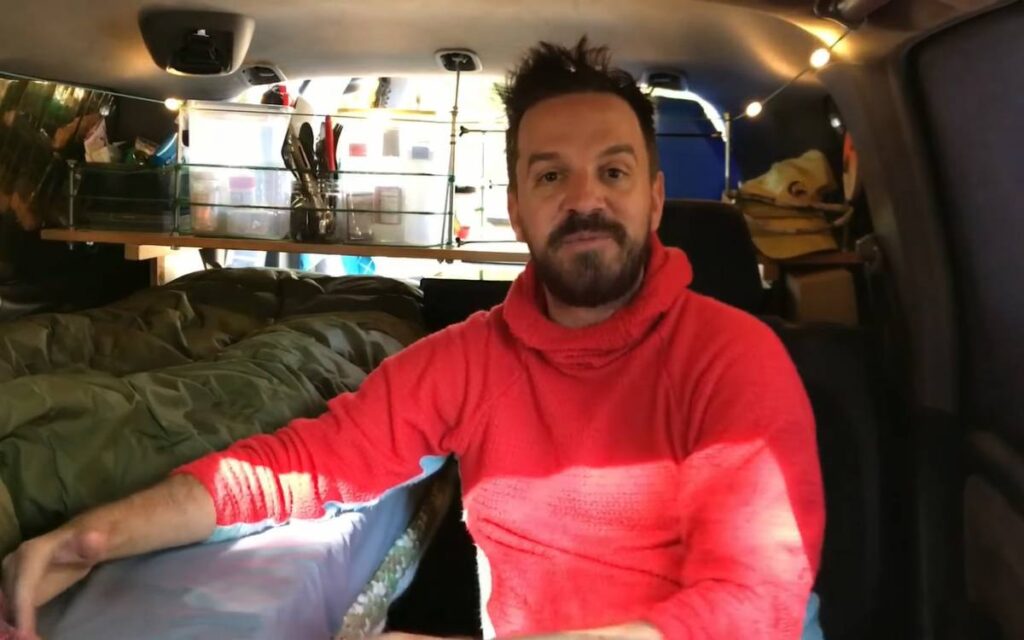 Brad opted to build out his 2004 Honda CRV differently from a standard SUV camper conversion with a platform bed. He travels solo, so he removed the rear passenger and middle seats to make room for a single bed.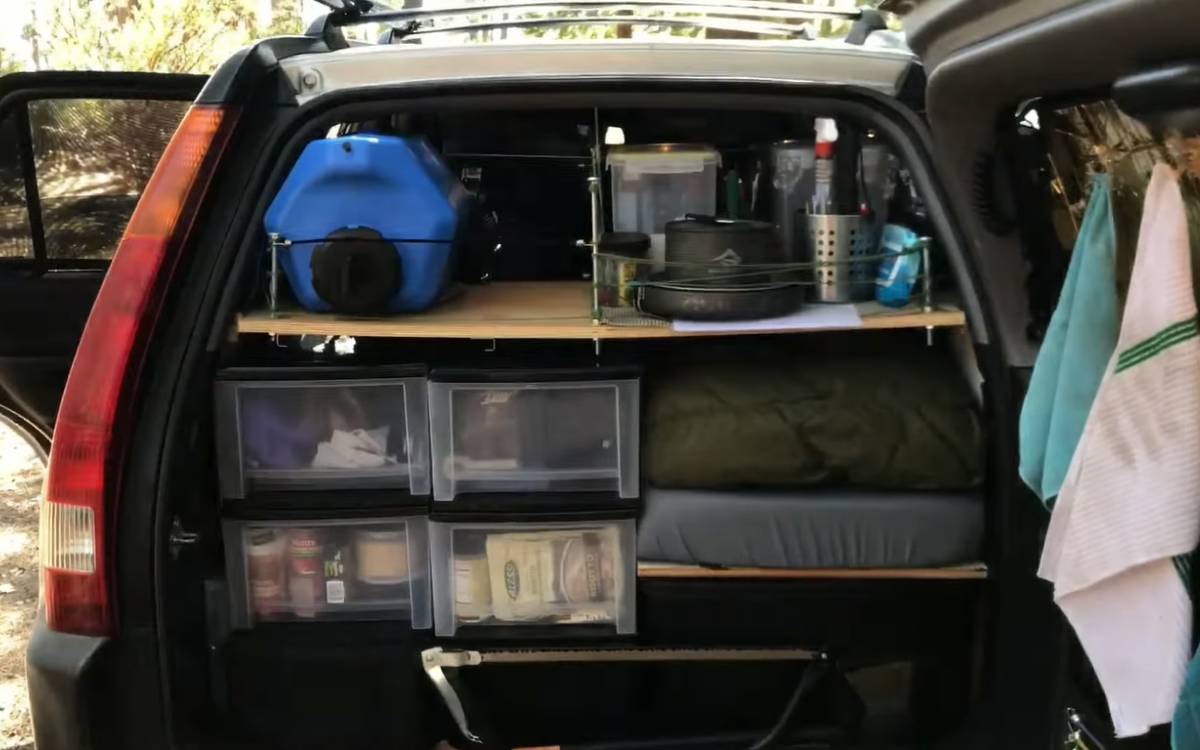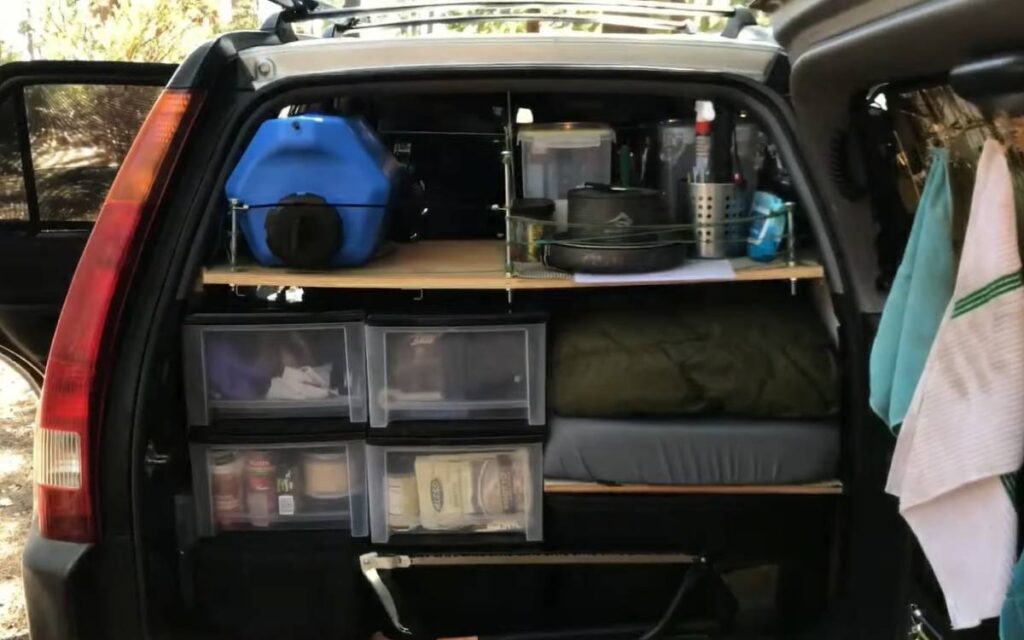 The bed runs lengthwise from the passenger seat to the back of the SUV. Beside it, the rear seat behind the driver's seat remains in place for a sitting/lounge area. The seat easily folds and can be stored behind the driver's seat for more floor space beside the bed.
The primary storage and kitchen space are stacked in the back of the SUV, making it easier to access many items while inside, unlike with a platform build. All of Brad's clothing and food are stored in this rear space. He used plastic drawers for a lightweight solution that optimizes vertical space.
12. This versatile SUV conversion from @losborisontheroad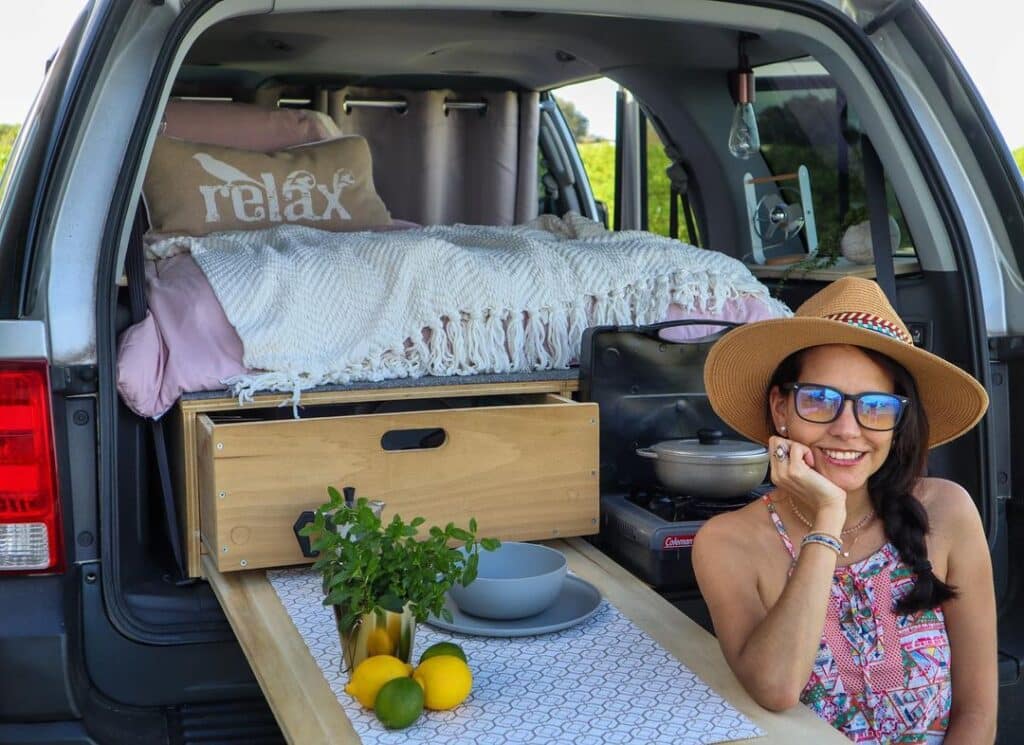 Shey and L.A built their SUV camper to include a lot of everyday conveniences like a toilet and desk that can be used inside the SUV.
They created bug screens for their windows by repurposing gutter covers, and they can put up privacy/insulating window covers when stealth is needed. A shower curtain rod behind the front seats holds a blackout curtain that separates the two spaces. A toilet is located behind the passenger seat.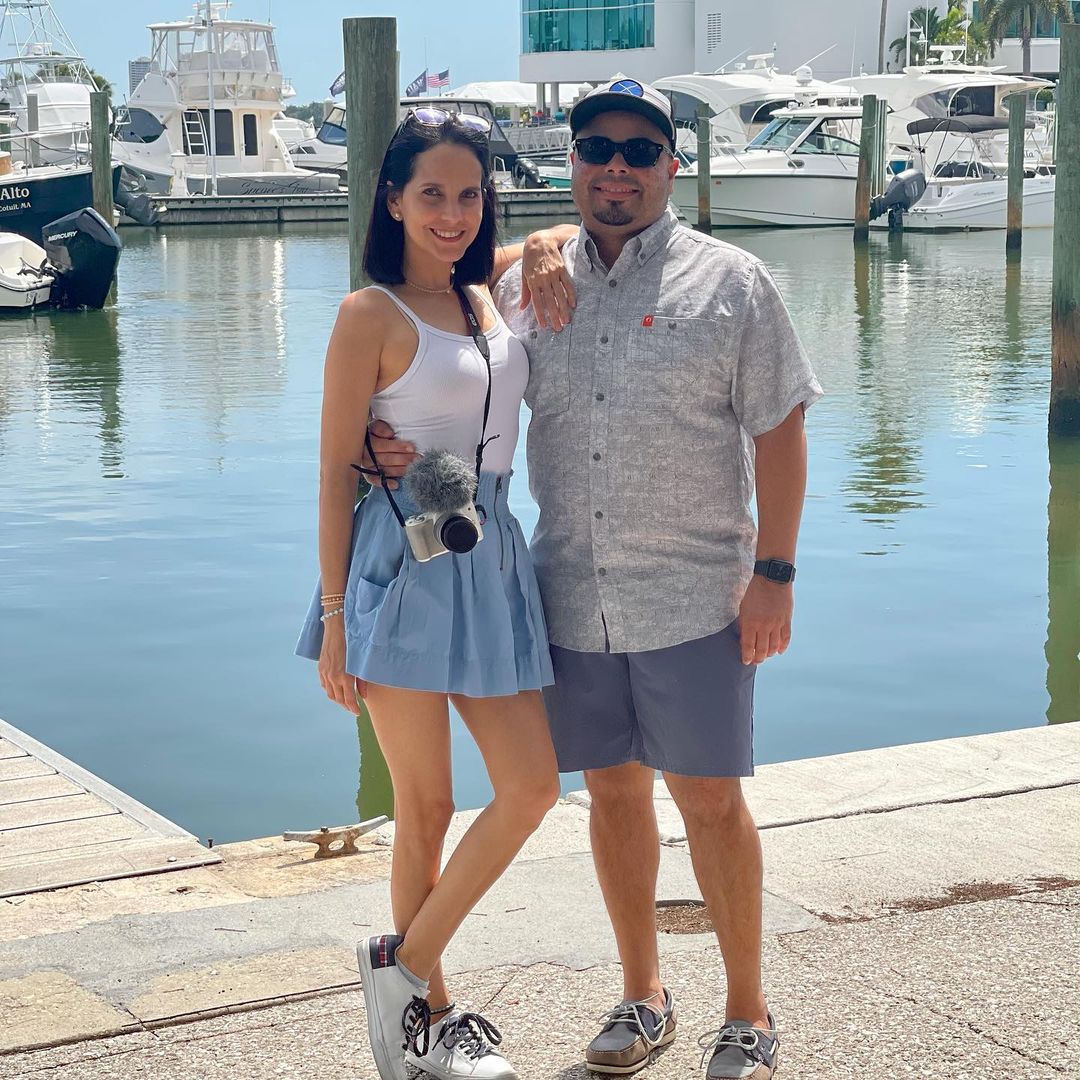 The kitchen is located in the back of the SUV. The bed sits on a platform with two large storage drawers underneath that hold all of their kitchen equipment. There is a pull-out counter space that accommodates the couple's camping stove. From the side of the SUV, they can access additional storage under the bed.
The front of the bed platform folds down to create a desk, which is a fantastic solution for optimizing interior space with a platform bed setup.
13. This Jeep Patriot SUV camper build from @trav_travels_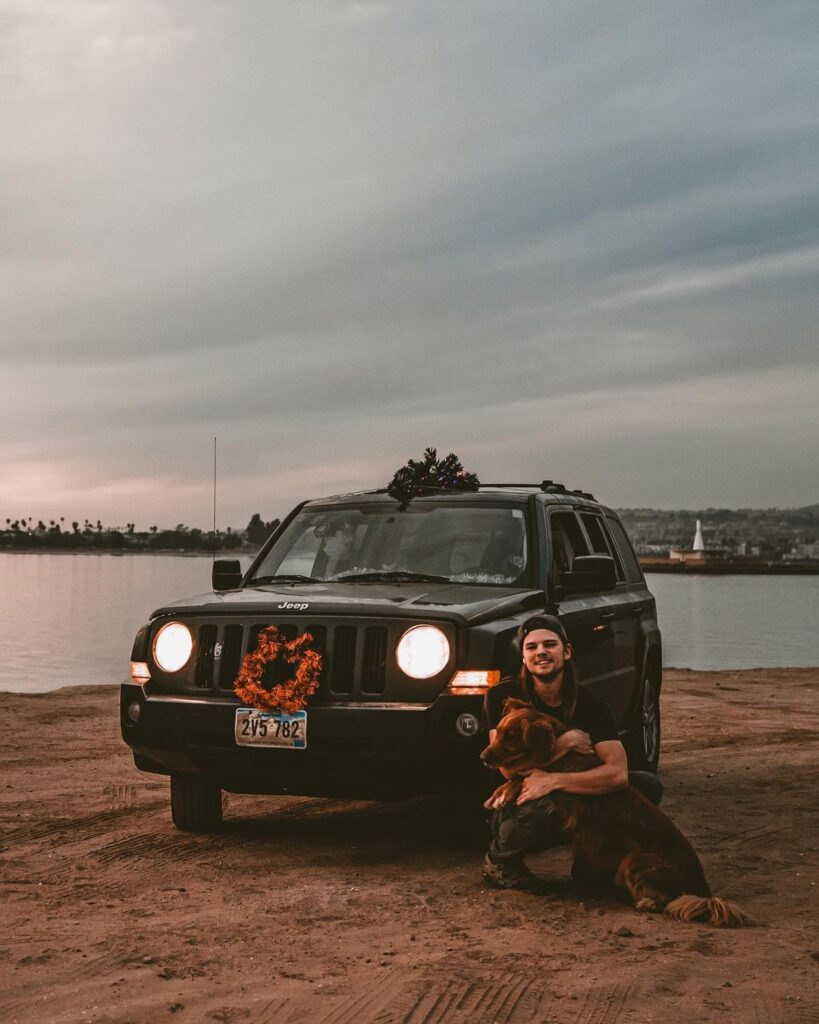 Travis was living in a self-converted camper van with his dog, Sam, when he decided to sell his van and downsize to a Jeep Patriot to alleviate much of his debt. Travis and Sam live in the Patriot full-time. Coming from a larger vehicle, Travis did what he could to fit van life conveniences into his SUV conversion.
There is a single bed running lengthwise along the passenger side. Sam's dog bed is right beside it. Travis stores his water, camp equipment, and clothes in the back of the SUV. He bought little baskets with suction cups to attach to the back windows and store smaller items.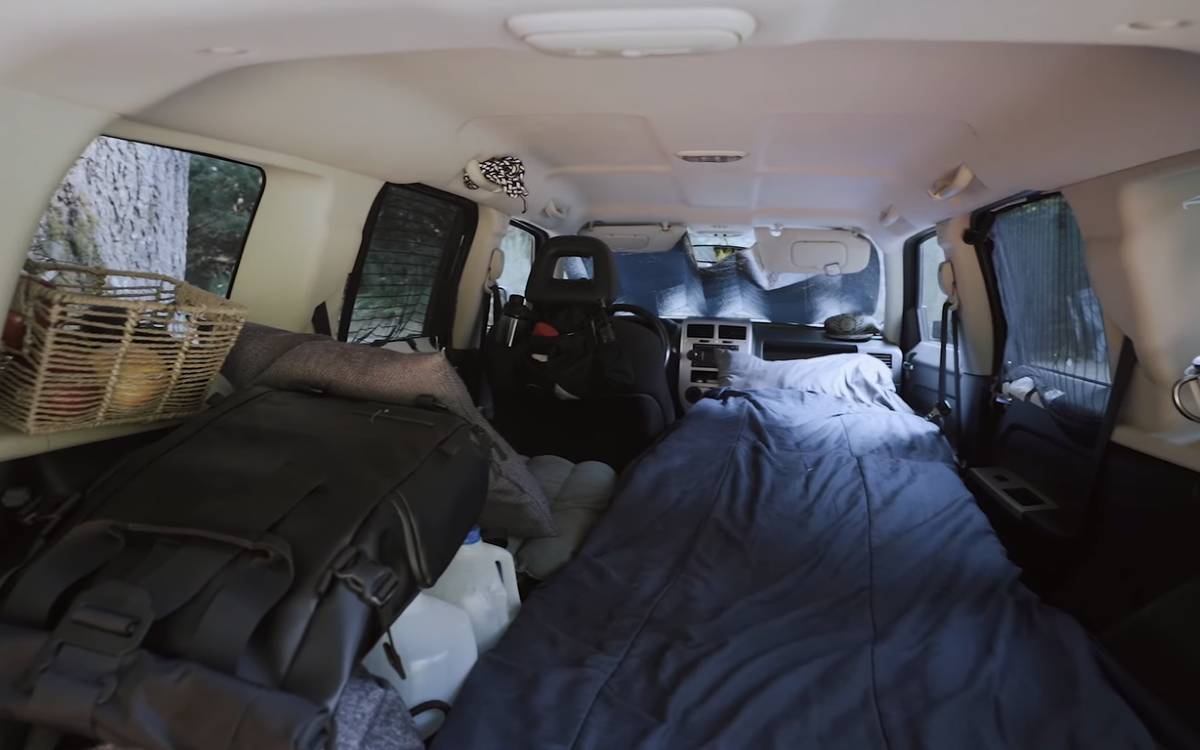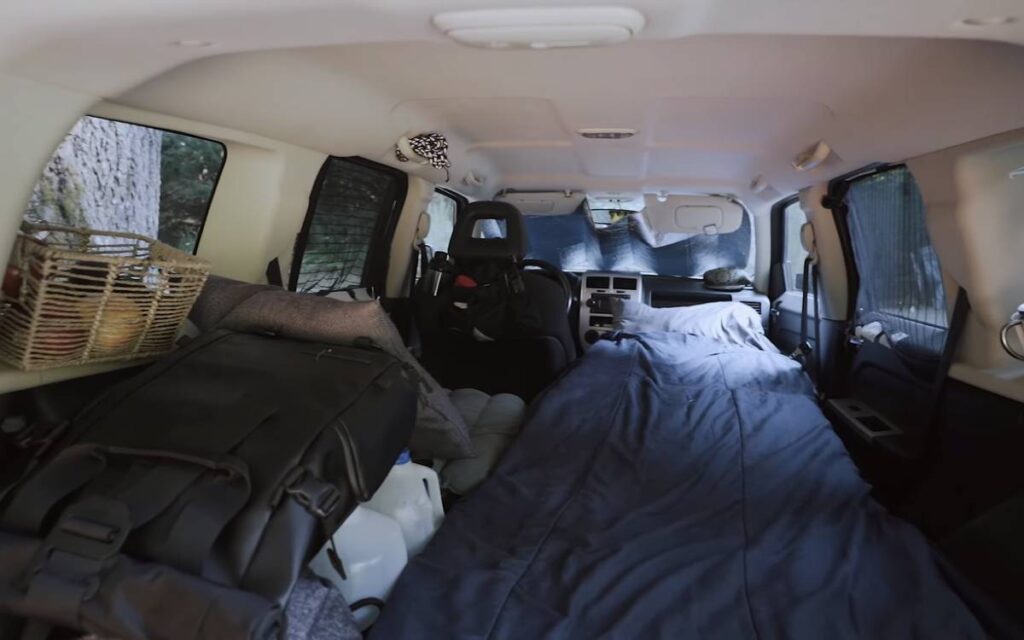 Travis has a minimalist kitchen setup, opting to use a small portable folding table to hold his stove, which he places on his bed from the back of the SUV. Travis attaches the same small table to the steering wheel to create an indoor workstation.
14. This Honda Element conversion from @sarockinthebox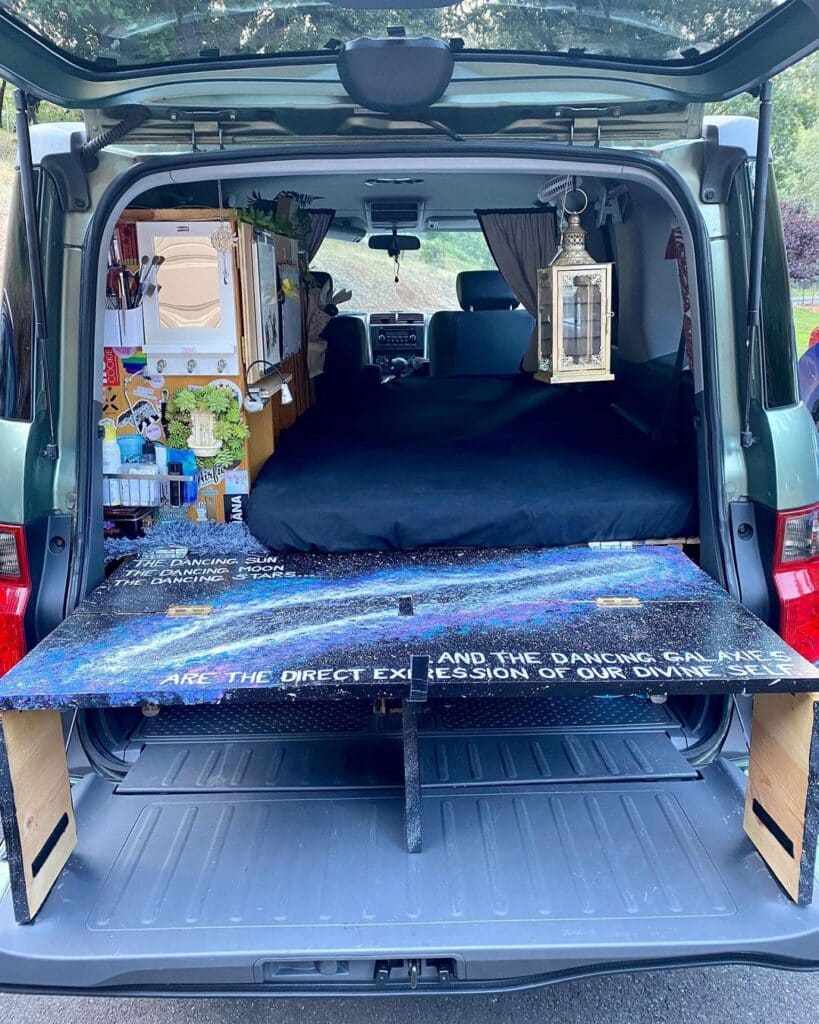 Sarah converted a 2004 Honda Element to live in full-time, and her SUV camper conversion build is an excellent example of a functional van life rig with unique touches.
Read More: 9 Honda Element Camper Conversions You'll Love to Live In
She has a curtain that separates the front and back areas, with string lights attached to the ceiling in the back for soft lighting at night. Window covers in the back provide stealth when the SUV is parked.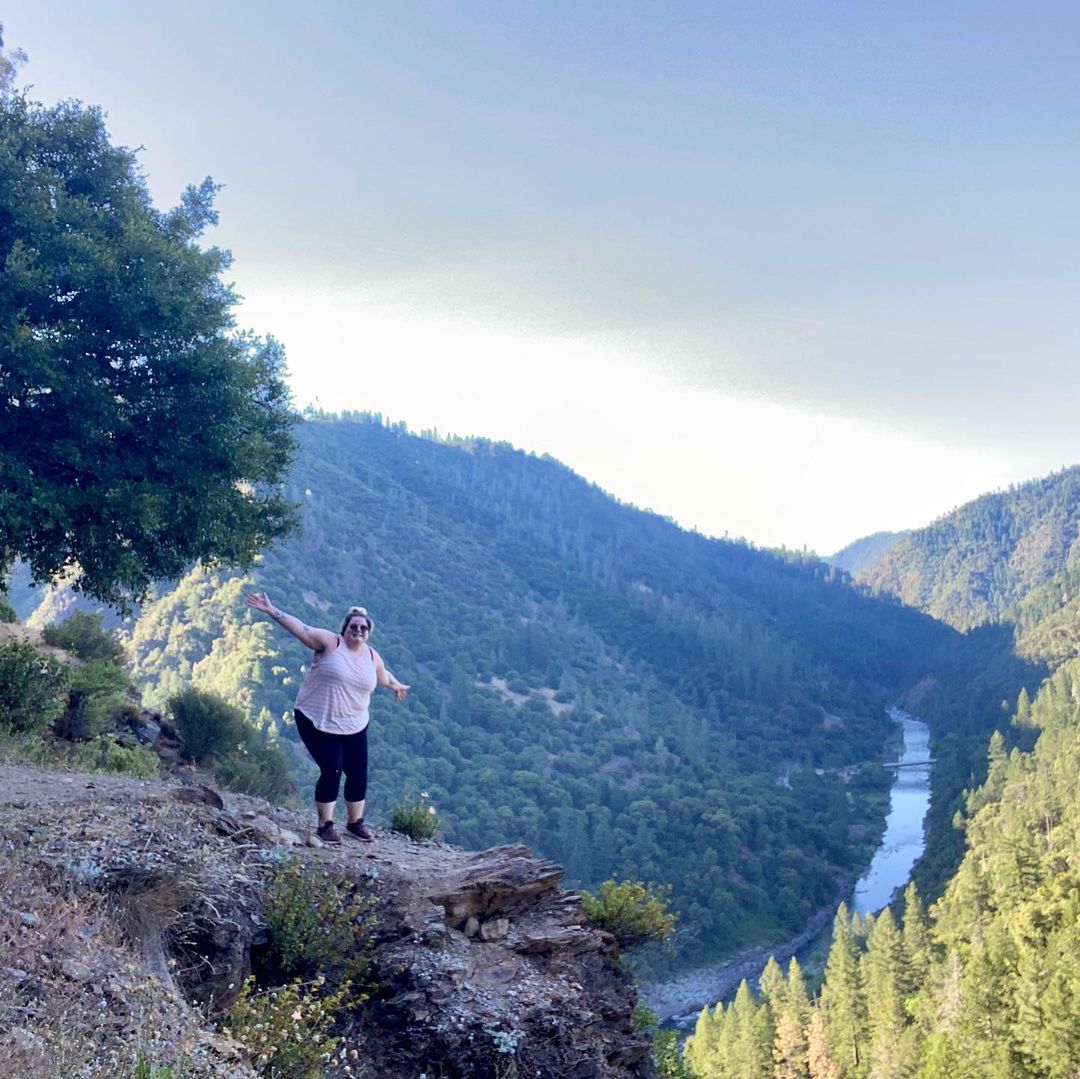 The living space in the SUV camper includes a twin-size bed that runs lengthwise behind the passenger seat. A storage cabinet that holds Sarah's daily items like her clothes runs parallel to the bed on the driver's side. There is a cooler behind the driver's seat.
Beneath the platform is space to store larger items, and Sarah built a wood table that covers the access to this area. Hinges and Velcro allow the wood table to open up in the back, supported with wood pieces against the bottom hatch door of the Honda Element. This creates ample counter space for cooking.
15. This organized SUV camper conversion from @noperfectplan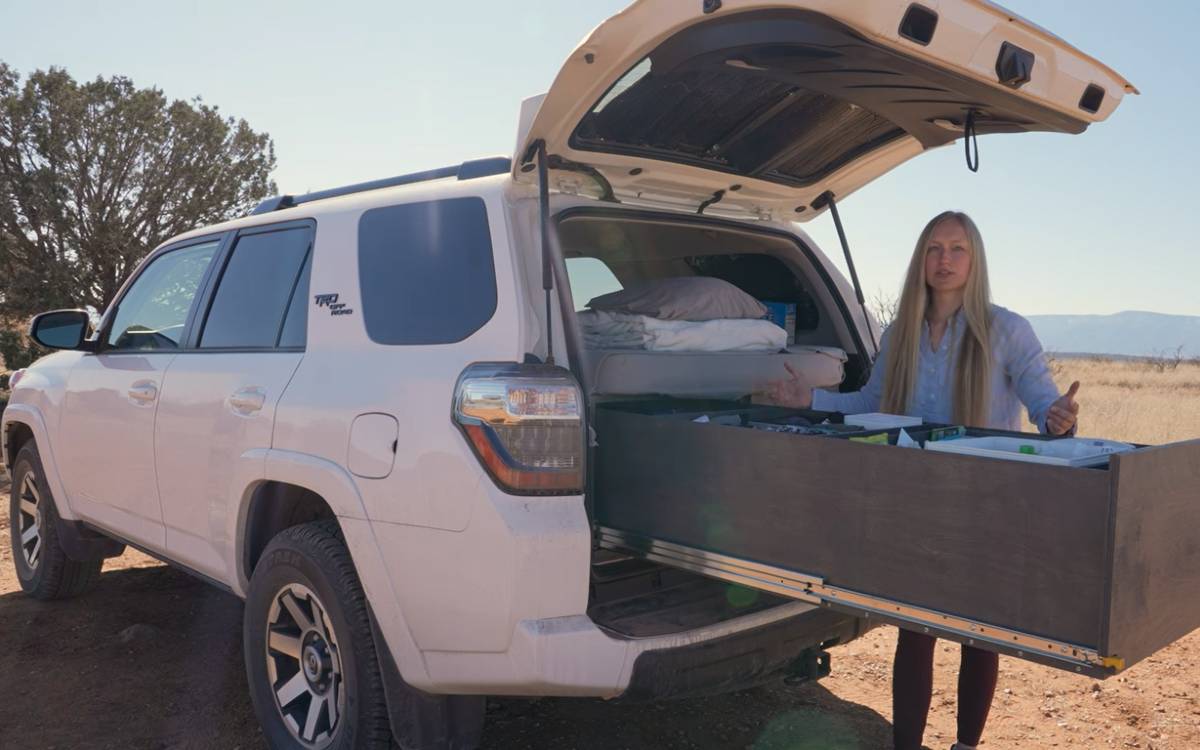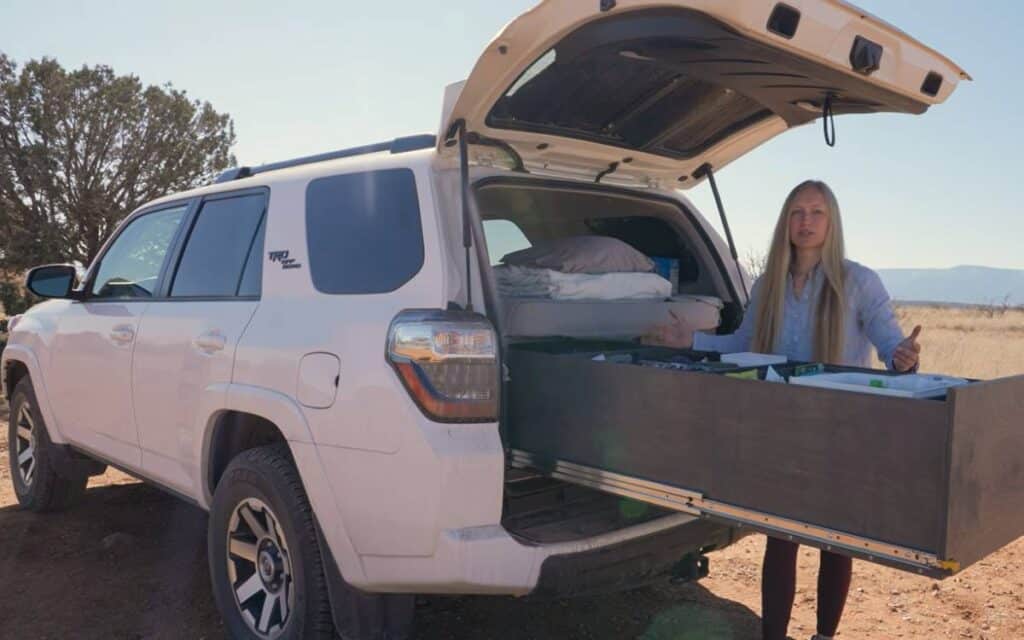 Grace travels full-time in her 2021 Toyota 4Runner, which she converted into a DIY SUV camper.
In the front of the SUV, Grace keeps it pretty simple, storing items that she needs quick access to, like pepper spray and a first aid kit. Behind the driver's seat, she stores her shoes and her water jugs.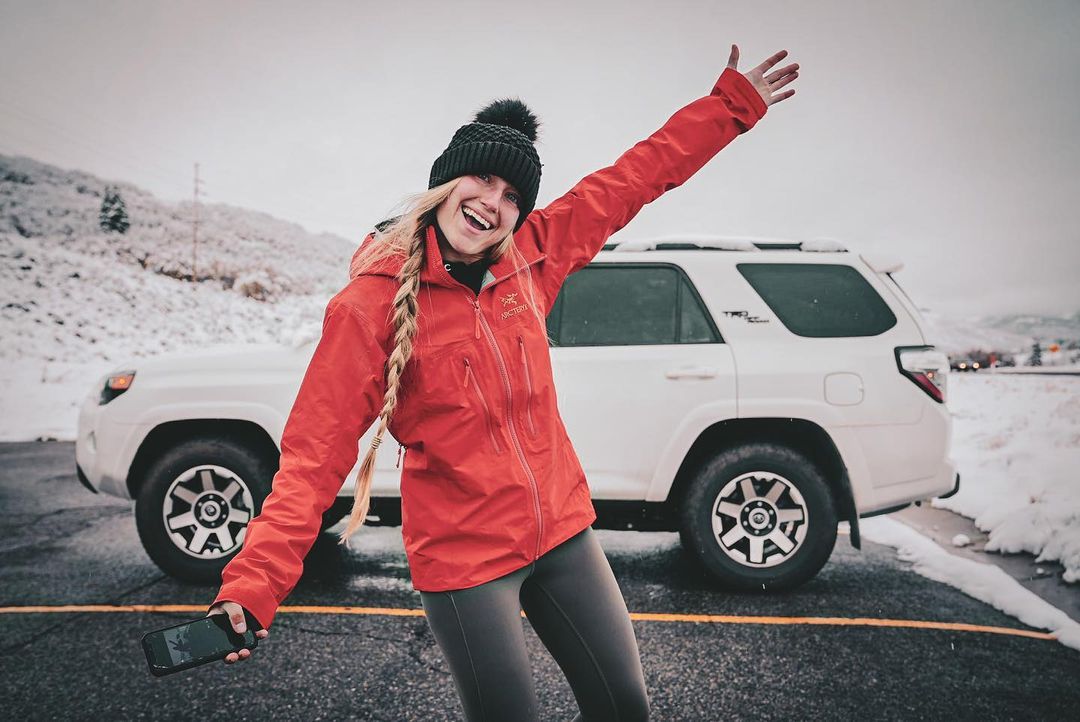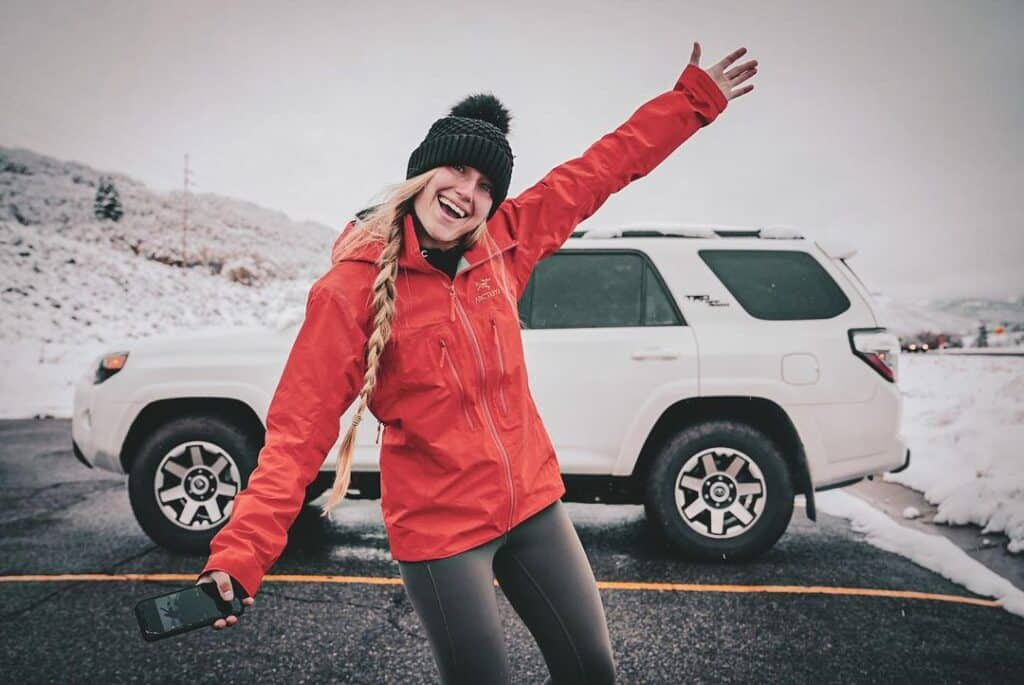 Her main storage space is a 5-foot-long drawer that slides out of the back of the 4Runner on locking drawer slides. The drawer has false drawers on top that can be slid out of the way and dividers and packing cubes to keep the large area efficient and organized. A shorter drawer slides out beside it and stores kitchen gear and dry food.
For her bed, Grace has a mattress on a platform in the back, layered with flannel sheets, a fleece blanket, and a sleeping quilt to stay warm at night.
Build Your Van
The Ultimate Van Build Guide
Planning a van build? Read our free guide. We cover just about everything you need to know – from planning, to insulation, to solar and electrical, to picking appliances, to essential tools. Get started today so you can get out there on the road!