If you bought a brand-new-to-you conversion van for #vanlife, you're probably wondering what to do with the rear AC air handler taking up valuable space.
The rear air handler is a unit that's installed in some conversion vans, and it's usually located in the corner to one side of the rear doors. This unit pushes AC (and heat) from the main compressor up to the overhead AC vents in the back of the van.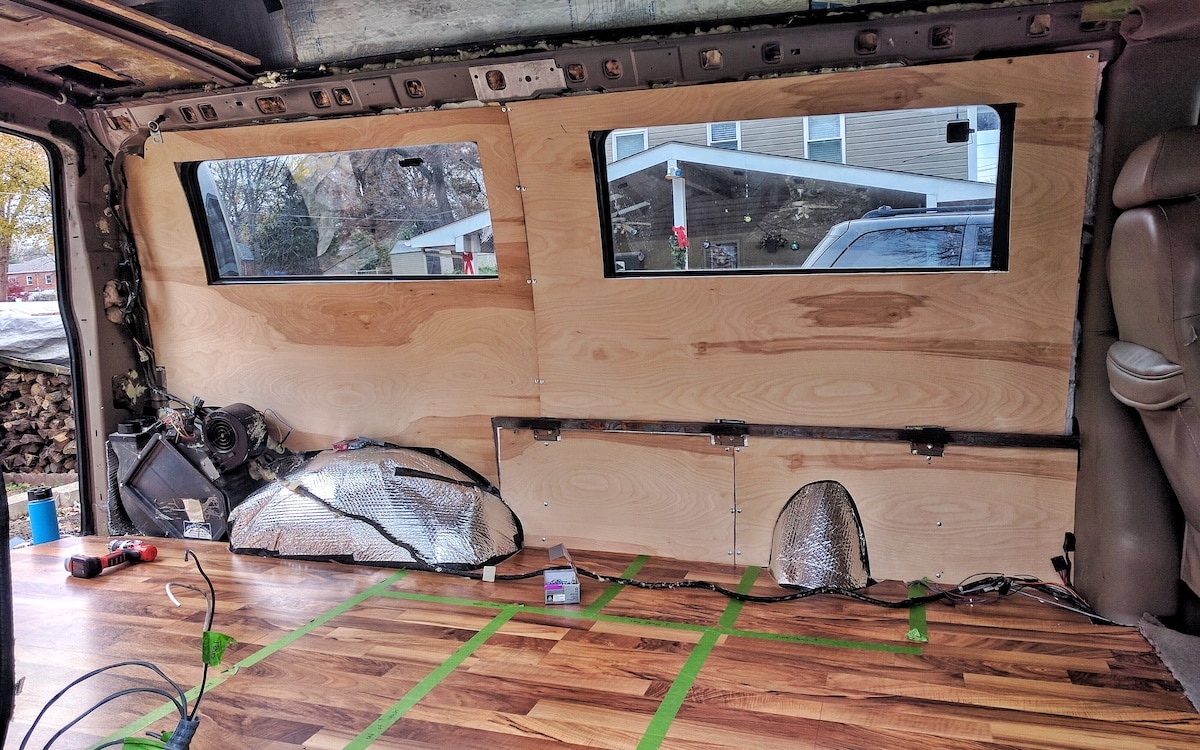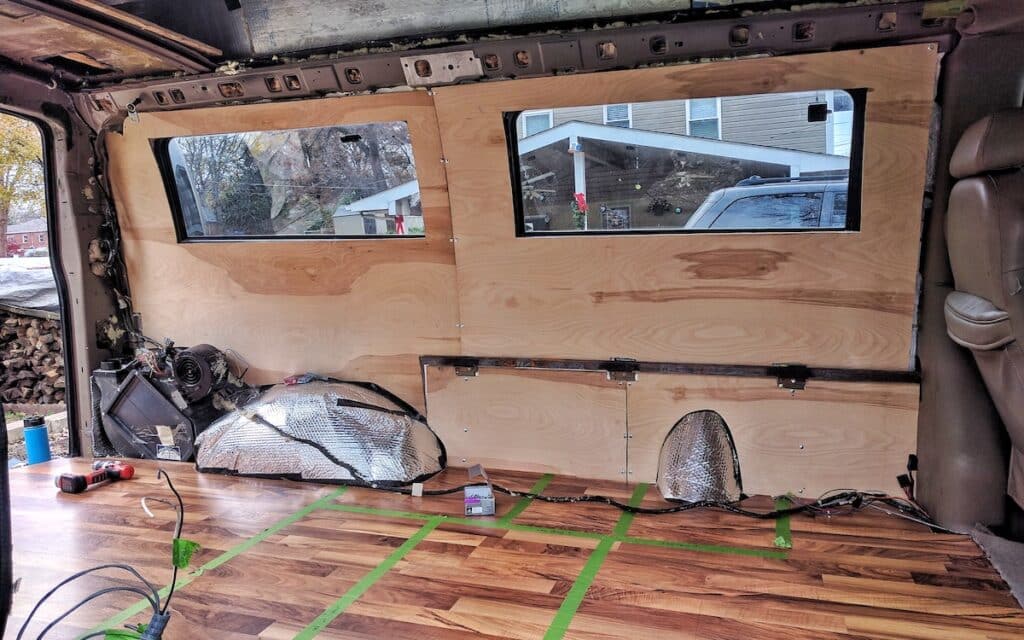 This kind of setup is great to have for passenger vans. But if you're gutting your conversion van for a DIY van build you're removing all the vents and ducts anyway, so the rear air handler becomes useless. Not only that, it takes up a bunch of space you could use for gear storage or for your campervan electrical system.
This post covers rear AC air handlers in conversion vans, what to do with them, and exactly what we did with ours. If you're building out your conversion van and struggling with this question, this is the post you want to read.
Read More: Why We Chose a High Top Conversion Van for Van Life
Note: For years, one of our most frequently asked questions has been "what did you do with the rear AC unit in your van?" And for years, we gave each person a detailed answer while thinking, "man, we get asked this all the time, we should really write an post about this." Well, we finally did it!
What the $&*% Should I Do With This Rear AC Unit in My Van?
When it comes to dealing with a rear air handler unit in a conversion van, there are really only two options.
Building around it is a decent option – that's what we did at first. Because there are pressurized AC lines involved, removing the air handler isn't a simple DIY project and it can cost a few hundred dollars to get it done. If you're on a tight budget, you can safely skip it.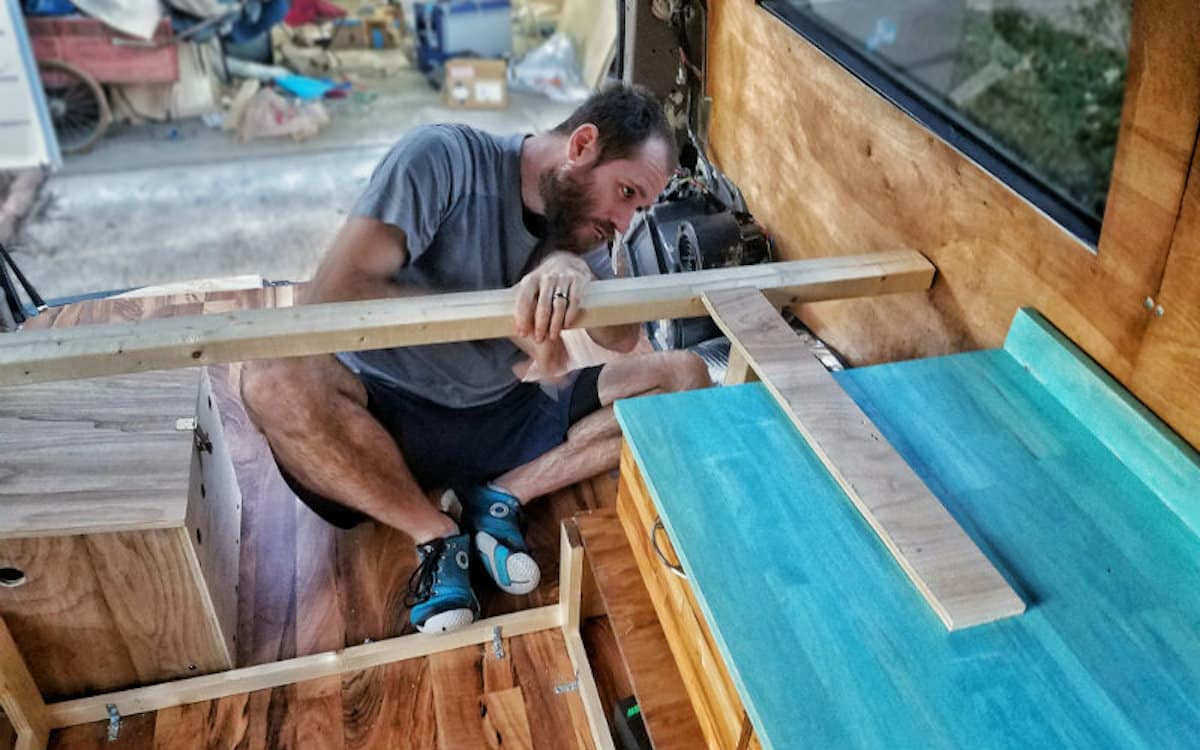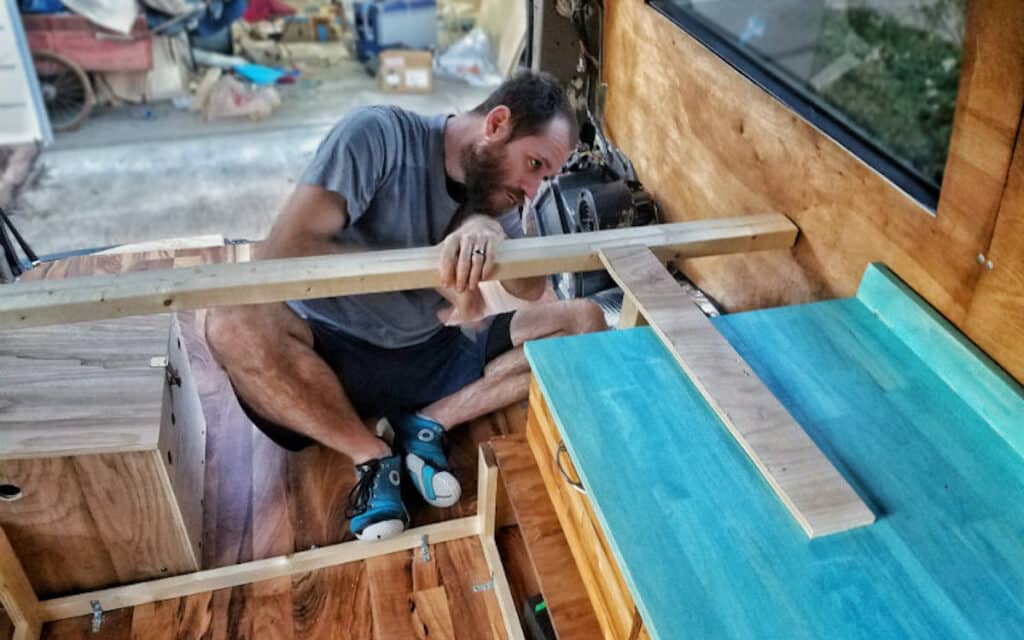 But if you have the funds and the inclination, you can remove your rear AC and free up some build space.
Here's what removing a van rear AC unit entails:
Have a licensed mechanic evacuate the freon from the AC system
Cut the AC line going to the rear air handler, and cap it off (may require custom welding). Alternatively, on some vans you may be able to swap out the part inside the engine bay that connects to the rear AC line with a part from a vehicle with no rear AC.
Have a licensed mechanic recharge the AC system.
Cut the heater line going to the rear air handler, and clamp it off (this can be DIY'ed).
Unbolt and remove the rear air handler unit.
Patch the huge hole in your van's floor.
Note: We highly recommend dealing with a licensed mechanic for at least the AC lines. Working with pressurized lines can be dangerous, and there are serious environmental concerns with inadvertently releasing freon into the atmosphere.
Living With Our Van's Rear Air Handler
After we gutted our conversion van and discovered the rear air handler, our first impulse was to take it out. I even unbolted it and tried to pull it out (I had no idea what I was doing), but it was held in by the AC and heater lines attached to it. So I put the bolts back and asked our mechanic about it.
Our mechanic told us it would probably cost hundreds of dollars to take our the rear AC unit. We were trying to conserve funds for the road, so we decided to leave it in and build around it.
That worked out just fine, and this is always an option if you're on a budget or don't feel like messing with it. It's a low cost, low effort solution.
Even so, removing our van's rear AC unit was on our list of things to do someday down the road. It nagged at us in the backs of our minds, especially when thinking about the extra 2 square feet of storage space we'd score if we just took the damn thing out.
Deciding to Ditch Our Van's Rear AC Unit
Not long into our vanlife journey, our AC went out.
We were camped out near Taos, NM at the time, and were facing a summer in our van with two dogs and no AC. So we decided to take our van in for the spring AC servicing/recharge special at a local mechanic shop.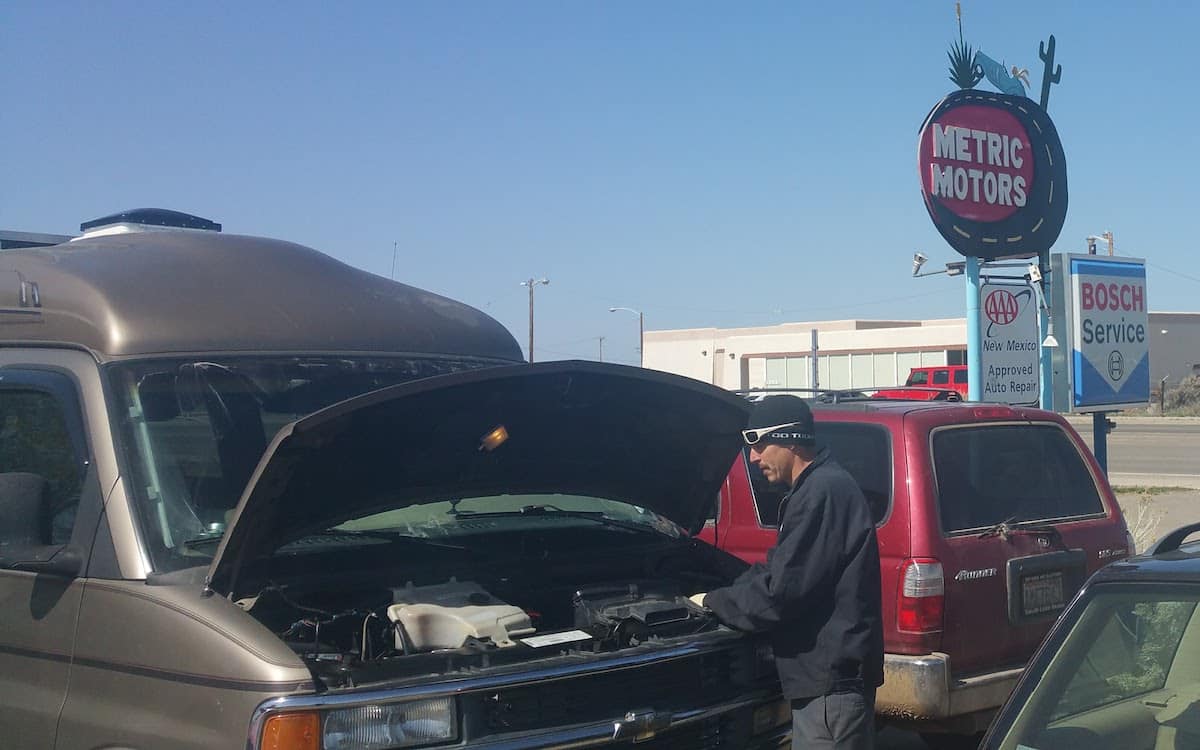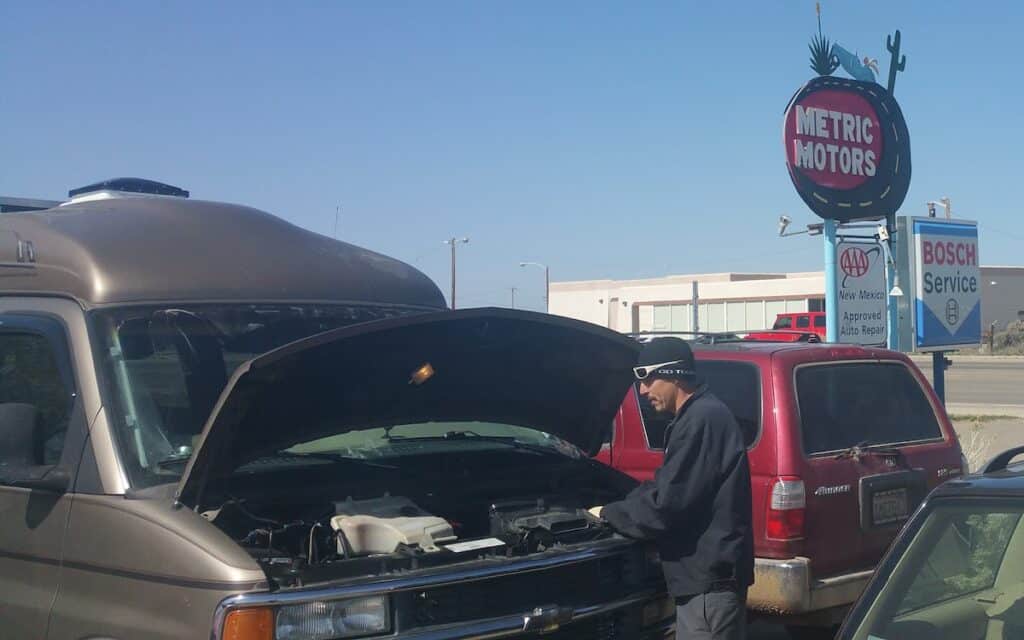 But the van wouldn't hold freon, and it turned out there was a leak in the AC line running under the van to the rear AC unit. Since this line is integrated into the main AC, the leak drained the whole system.
To repair the AC, we would have to replace the line – which was a $500 special order part. Or, we could go to a local welder and have him cut and cap the line.
Capping off the AC would allow us to remove the rear air handler, so this became our excuse to get it done. We popped over to the welder and left the van with him for a couple hours. Then we took it back to the mechanic to have the system recharged.
All in all, evacuating/recharging the AC and cutting/capping the AC line cost us about $300 (this cost can vary depending on your specific vehicle, where you're getting the work done, and who's doing it).
Removing the Rear Air Handler and Patching the Hole
We didn't actually remove the rear air handler until almost a year later, when we were taking a break from the road to do some van modifications.
Capping off the AC line was the first (and most complicated) step. But we also had to clamp off the heater line coming from the front of the van. Unlike the AC line, this is a simple DIY project or a few bucks at a shop. Once all the lines were taken care of, the rear air handler unbolted and came right out.
This left us with a gaping 4" round hole in the floor where the rear air handler had been. We needed to patch this hole.
First, we sprayed some paint on the edges of the hole to protect against rust, then we patched it with a Bondo fiberglass patch kit. Once the hole was patched, we covered it up with subfloor and flooring, since we were redoing our van flooring anyway.
More Space in Our Van!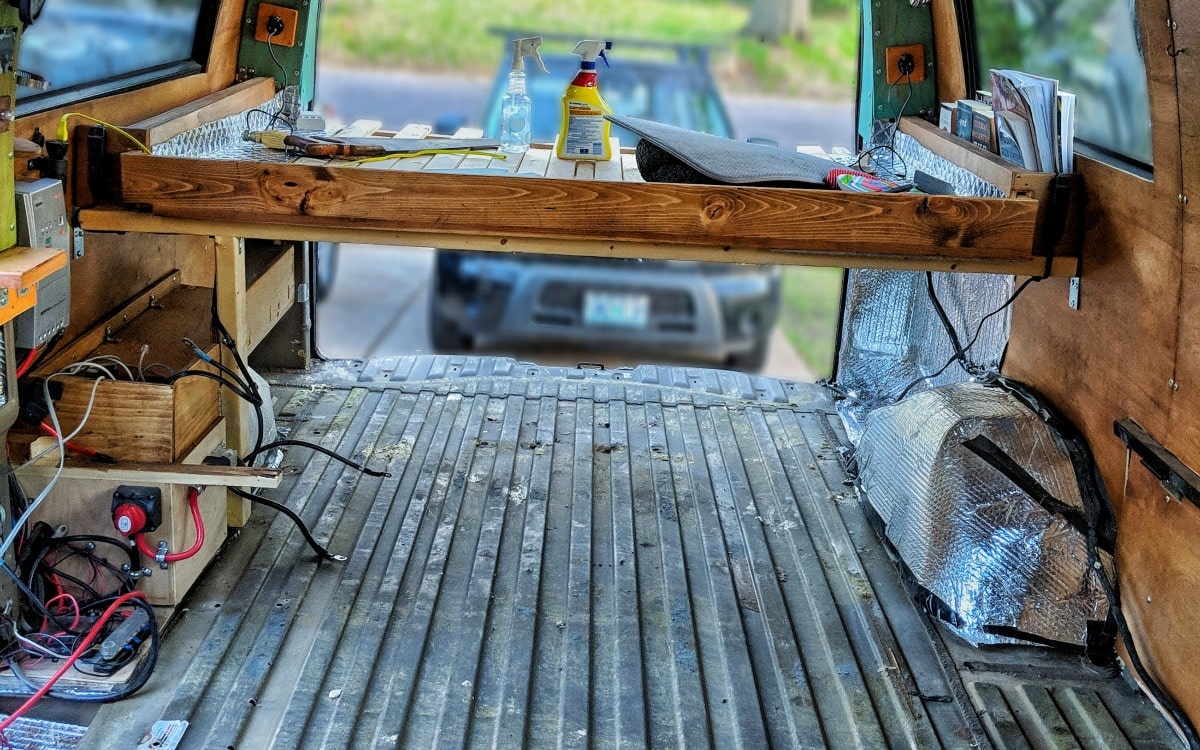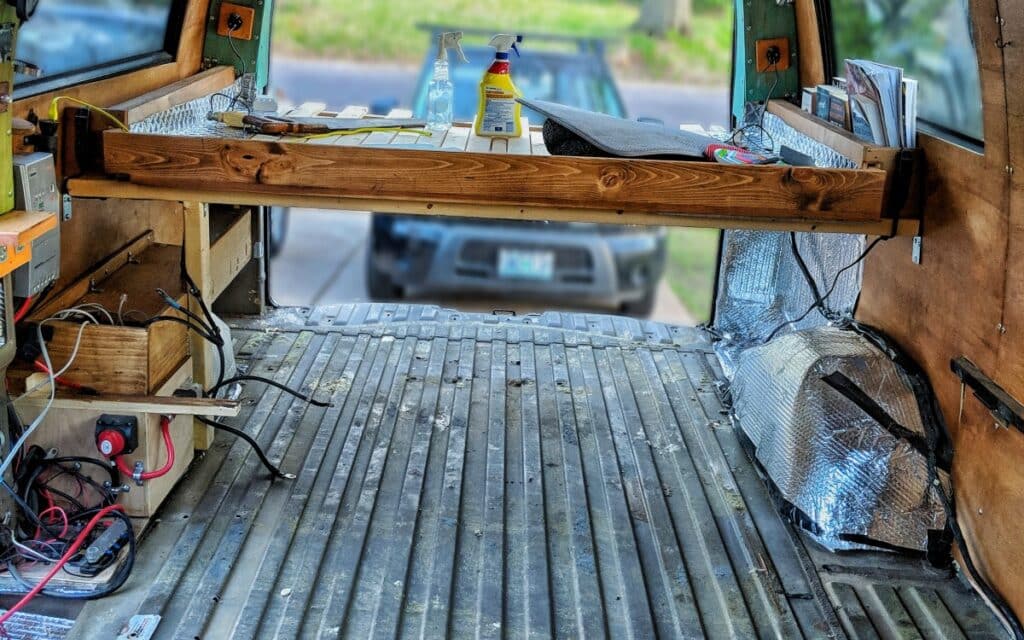 We're definitely glad that we took out the air handler. Removing our van's rear AC unit freed up some much-needed space in the cargo area, which we used to store our oil pan, shop towels, and a spare quart of oil. That being said, we probably wouldn't have taken it out if we weren't forced to cap off our leaking AC line.
That little bit of extra space is great, but if you're short on cash or don't want to mess with it, you can just build around your rear air handler.