Chevy Express vans are a popular option for van life due to their relative affordability, availability, and unassuming nature.
Often used as a fleet vehicle, cargo van, or work van, the Express has barely changed its design in decades and features a near-bulletproof and battle-tested drive train that gets surprisingly decent gas mileage. (The Express is made by General Motors, and the GMC Savannah is essentially the same vehicle with a different badge).
Like Ford Econolines and Dodge vans, parts are widely available and it's easy to find mechanics that will work on them while you're on the road. Unlike modern high roof vans like Ford Transits, Ram Promasters, and Mercedes Sprinters, the Chevy Express/GMV Savannah comes stock as a low roof van, which can be an excellent option for a stealth conversion. However, if you really want to stand up your rig, it's possible to add an aftermarket high top.
Even though it's not as flashy as newer vans, the longevity and reliability of the Chevy Express means it's still an excellent base for a DIY van build, and there's a robust used van market. GM even offered an AWD van for a time, and it's possible to find rigs with aftermarket 4×4 conversions for the ultimate adventure platform. And if you just want the GM drive train with a bigger living space, you can find cutaway box truck campers, retired ambulance campers, or shuttle bus conversions built from a Chevy Express base.
Note: The Express is getting a refresh as an electric van for the 2026 model year.
If you're searching for some ideas for your van build, we've gathered some interesting and innovative Chevy Express camper conversions that will inspire you for your next project.
Read More: Why I Chose a Chevy Express for Vanlife
Build Your Van
The Ultimate Van Build Guide
Planning a van build? Read our free guide. We cover just about everything you need to know – from planning, to insulation, to solar and electrical, to picking appliances, to essential tools. Get started today so you can get out there on the road!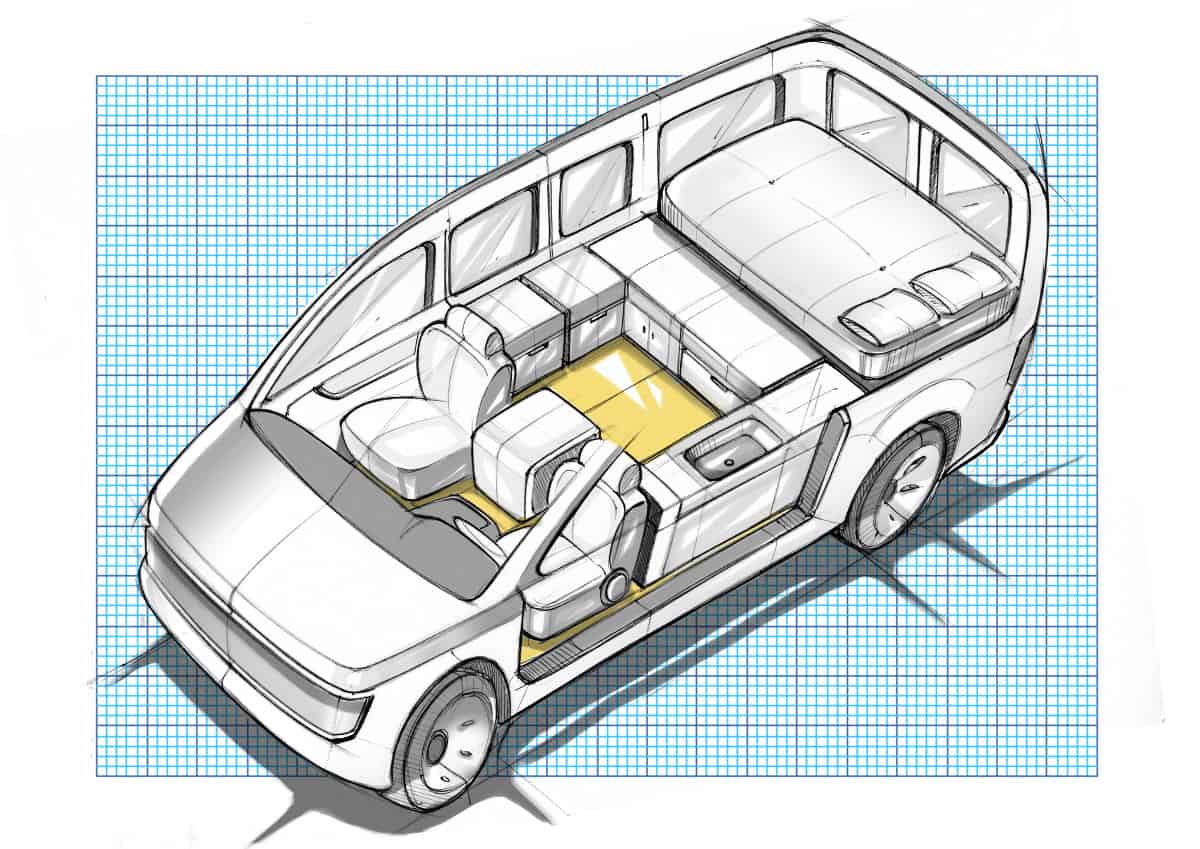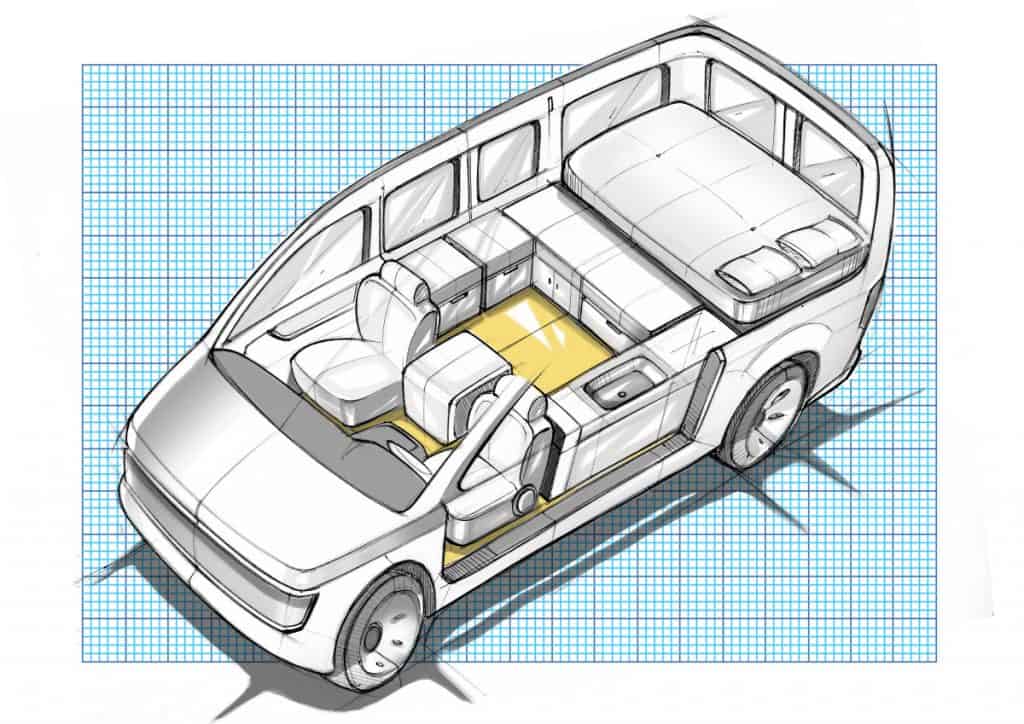 This clean Chevy Express van conversion from @r.m.travels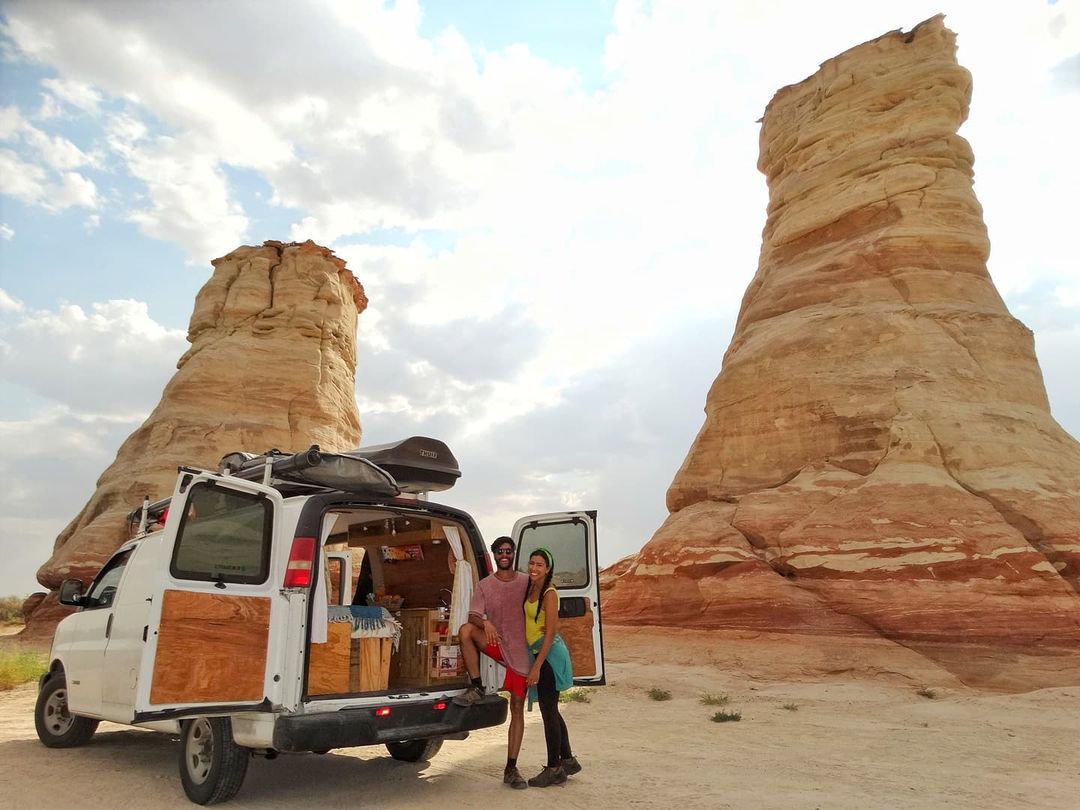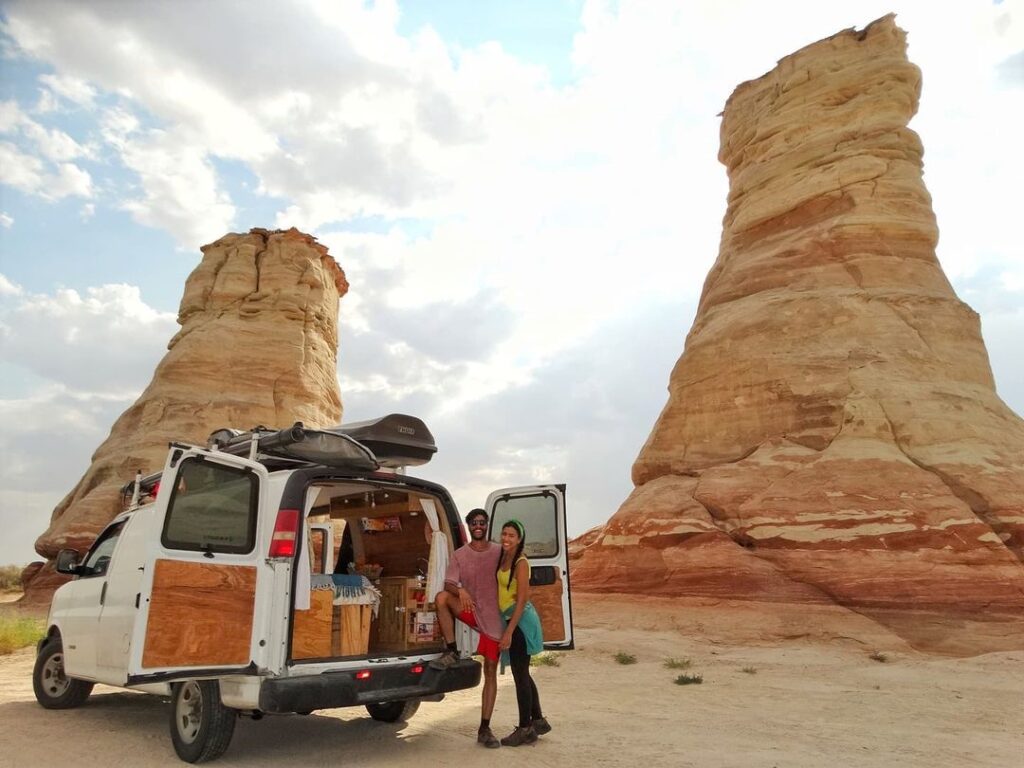 Roger and Mayra converted a 2003 Chevy Express campervan for full time van life travel in North America.
They store their 12V refrigerator between the front seats, and the fridge plugs into a cigarette lighter to stay powered up while driving.
The van build has a 10-gallon solar shower installed on the roof rack. It has an attached shower hose so that the couple can comfortably shower outside of the van.
A curtain separates the cab and the living space. Near the curtain is a small fan that's used to pull air from the van. The fan runs off a power system based around a Goal Zero Yeti portable power station, which charges from the camper van solar panel on the roof.
For storage, Roger and Mayra have a wooden dresser located near the cab that stores clothes, electronics, cables, and chargers. The dresser has a pin latch system that keeps the drawers shut while the van is on the road.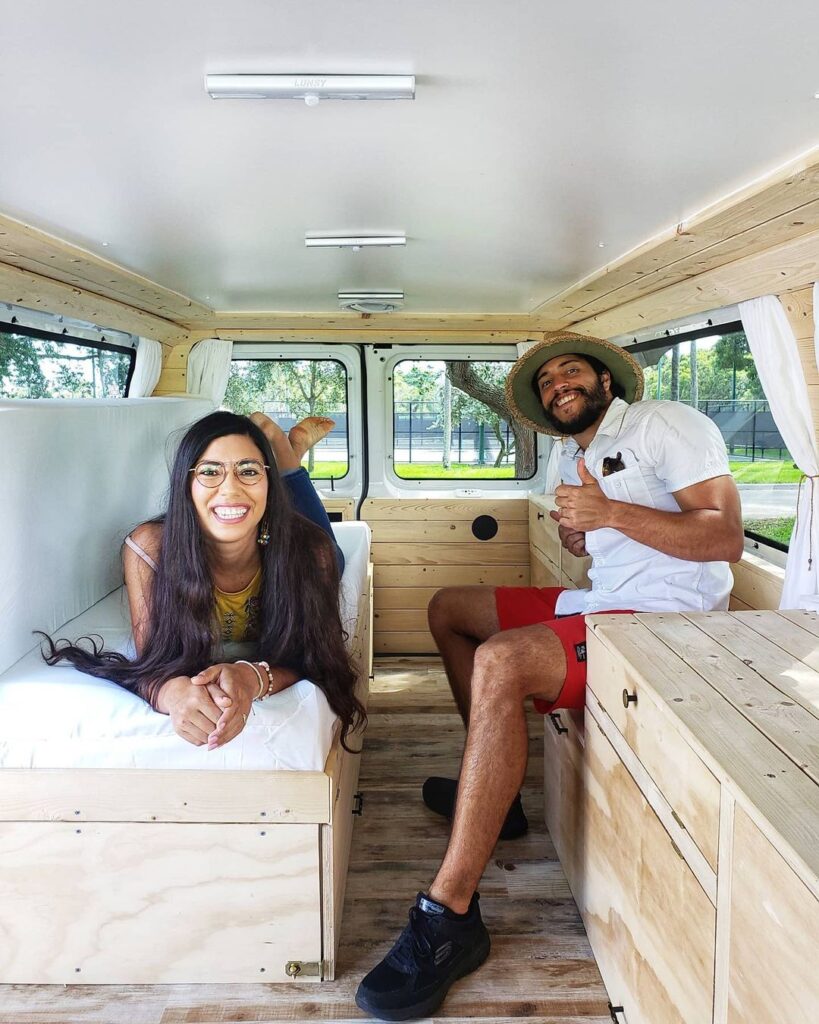 Above the drawer is a board with a map and photos from the couple's journeys, adding a bit of personalization and décor to the van's interior. LED battery-powered lights are strung around the van and can be controlled with a remote for soft, cozy lighting at night.
The kitchen includes a sink with a hand pump that is located near the back of the van.
Most of the van's storage space is located underneath the bed. The bed itself is a futon-style couch with a frame that pulls out to expand into a bed. Curtains in the back of the van allow for privacy while the back doors are open.
Wood and burlap finishes add a clean, cozy look and feel to the interior of the van.
This weekender Chevy Express van build from Graham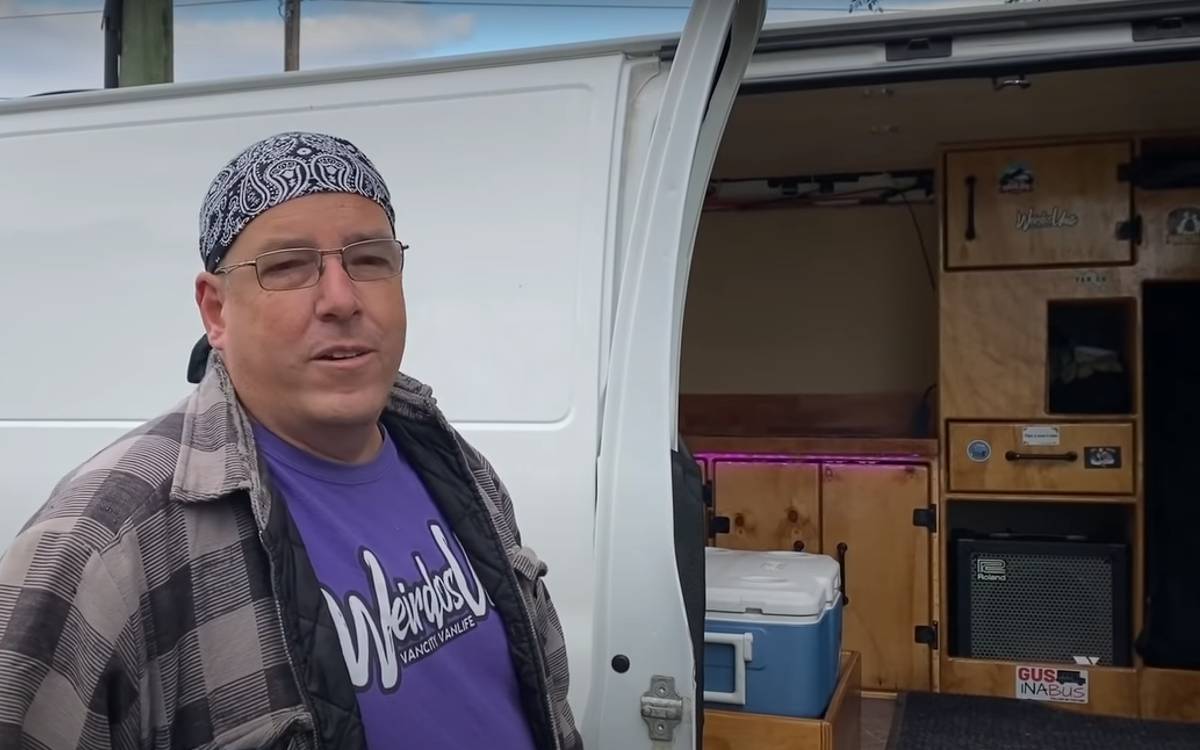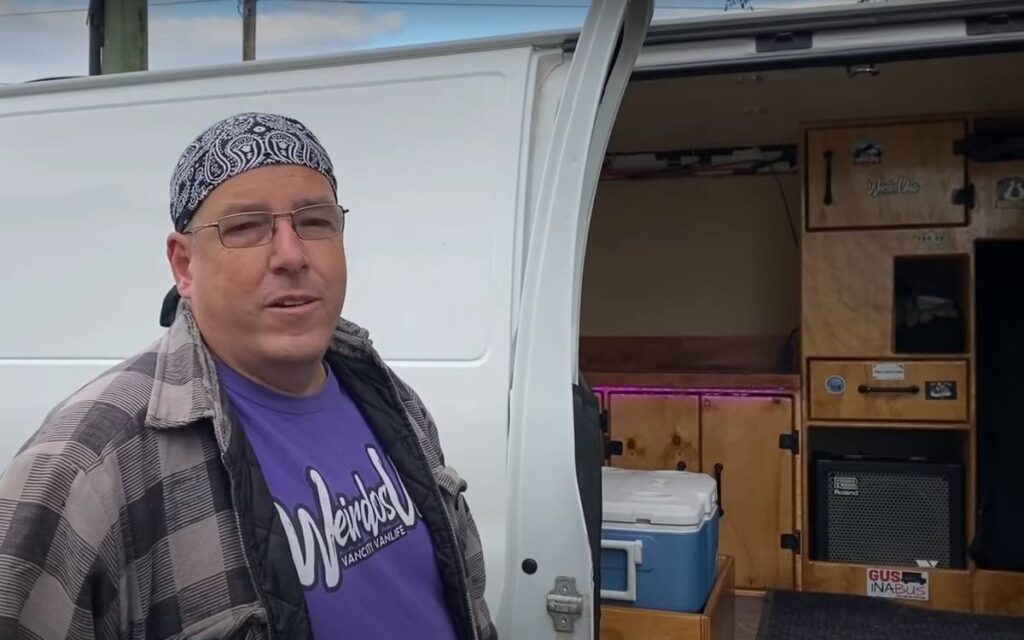 Graham worked on a Chevy Express van conversion so that he could go camping on the weekends. He spent about a year building it out during his free time. He loves camping and music and made sure that his camper van conveys that with a closet built to store his guitars and amplifier.
He built his cabinetry around what he knew he needed for his camping trips. There is a cabinet for water storage, one for his bathroom supplies, and miscellaneous cubbies to store other items like first aid supplies. He drilled holes into the sides of the cabinets to allow airflow and avoid moisture buildup.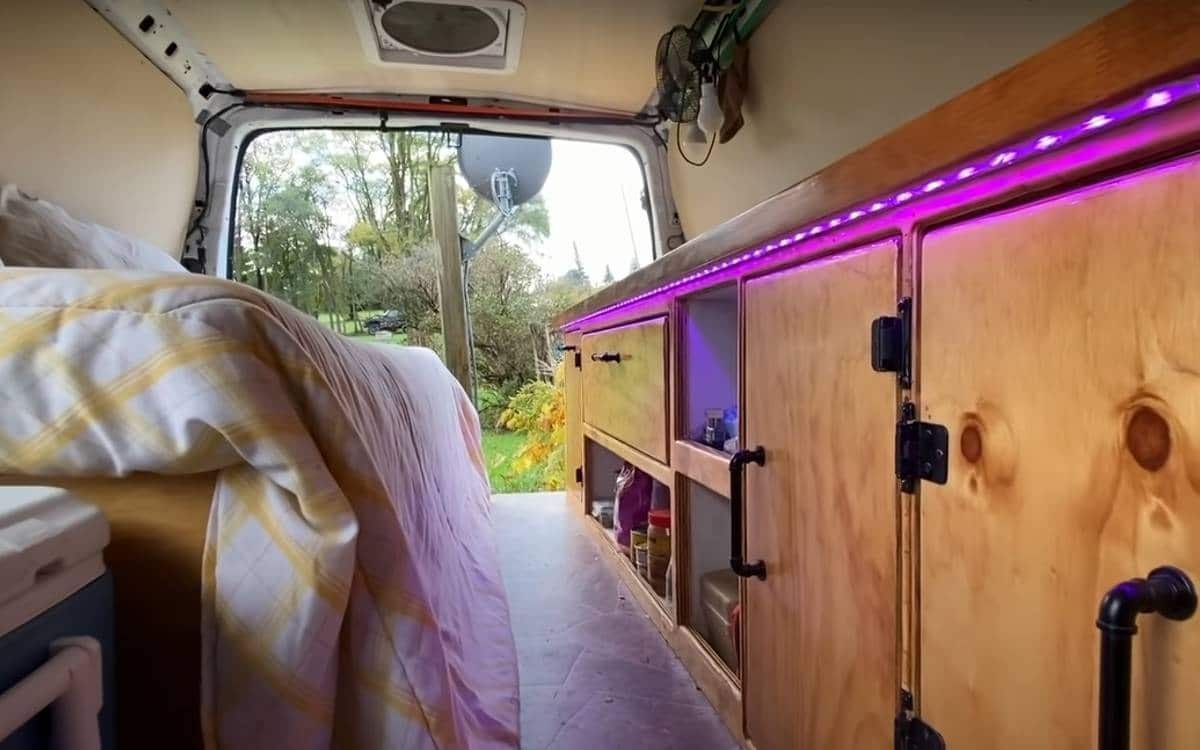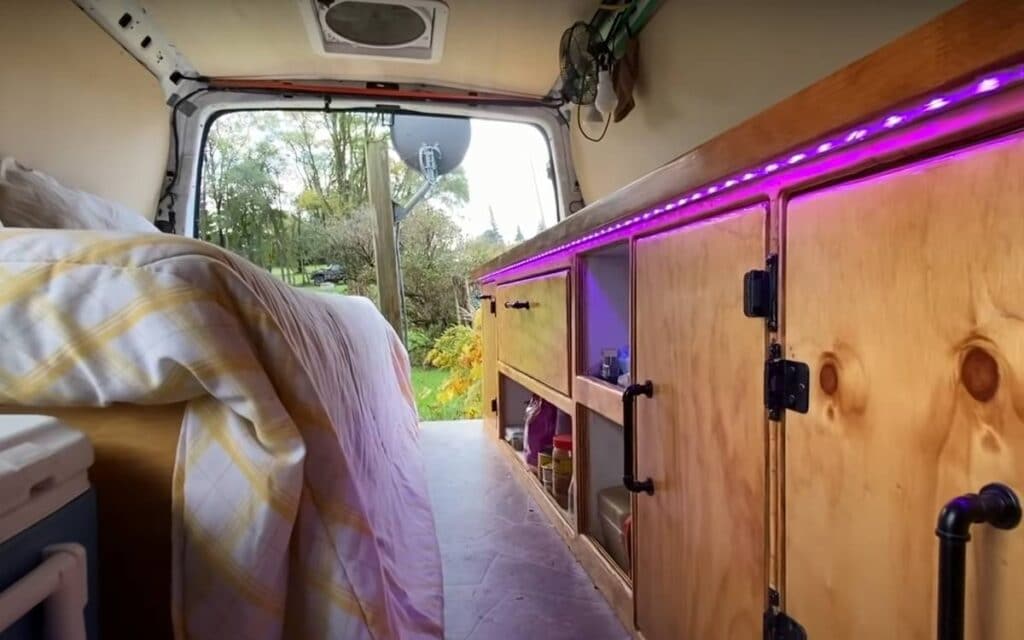 A Maxxair vantilation fan is installed in the ceiling near the back of the van conversion. USB-charged lights are clipped into the van and provide a portable and energy-efficient lighting solution.
Graham also has a lighting strip under his cabinets that he controls using an app on his phone. He can set the colors of the light strip to his preference or set them to react to music. The lights help him see the contents of the drawer storage underneath, and the red color setting assists in providing light at night while still maintaining stealth mode. Graham also created DIY window with cardboard, Reflectix, and magnets for stealth and privacy.
Graham knows that he could live in a van without much, but he decided to take his time with the van conversion process to make sure he was building it right. He relied on help from friends along with some patience and hard work to get his Chevy Express camper conversion floor plan exactly how he wanted and needed it for his van life trips.
This Chevy Express camper van with IKEA hacks from @paddlethepnw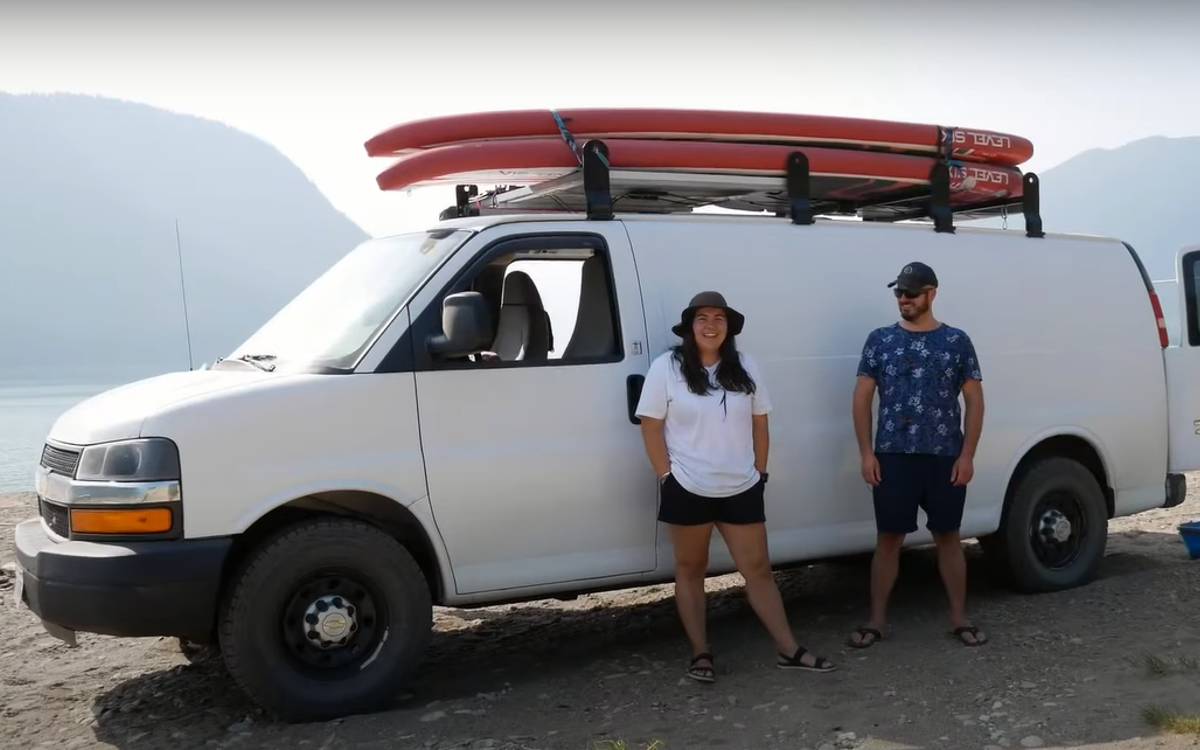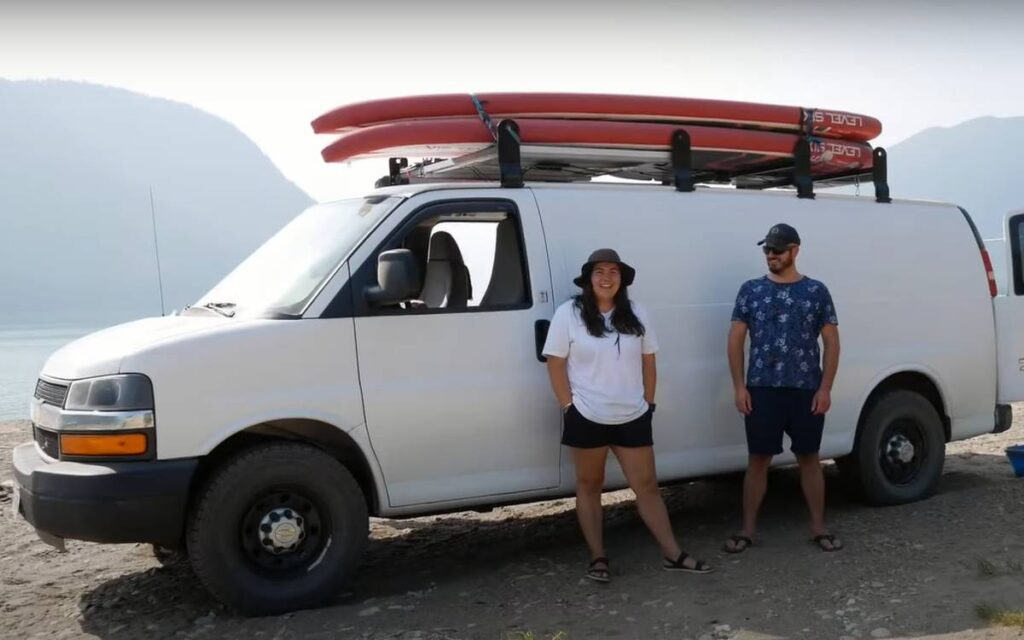 Paddle the PNW built a 2010 Chevy Express into a mobile tiny home in order to travel the Pacific Northwest in search of paddle boarding spots. This Chevy Express camper van conversion has a low roof, long wheelbase, and rugged all-terrain tires to make it the ultimate van life home.
On the roof of the van, there is a storage box for firewood and an awning to extend the shaded area around the campervan when parked. The couple has two solar panels to charge their van life electrical system when they are parked for a few days. They have their paddleboards strapped to the roof, and since this is a low-roof van they're easy to access.
For the kitchen area, they wanted everything to be accessible from the inside and outside. The fridge is on drawer slides that keep it stored when not in use. It slides out along the side door for easy access whether they are inside or outside. It has a latch that keeps that drawer locked in place when the van is moving.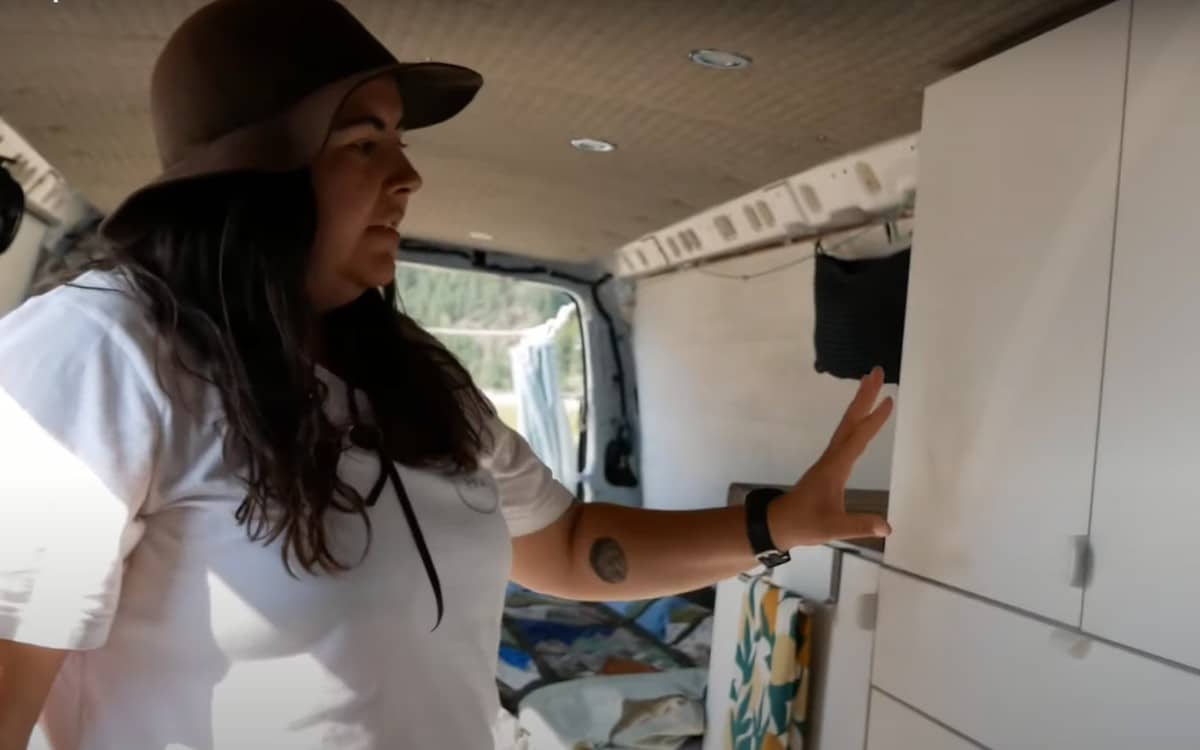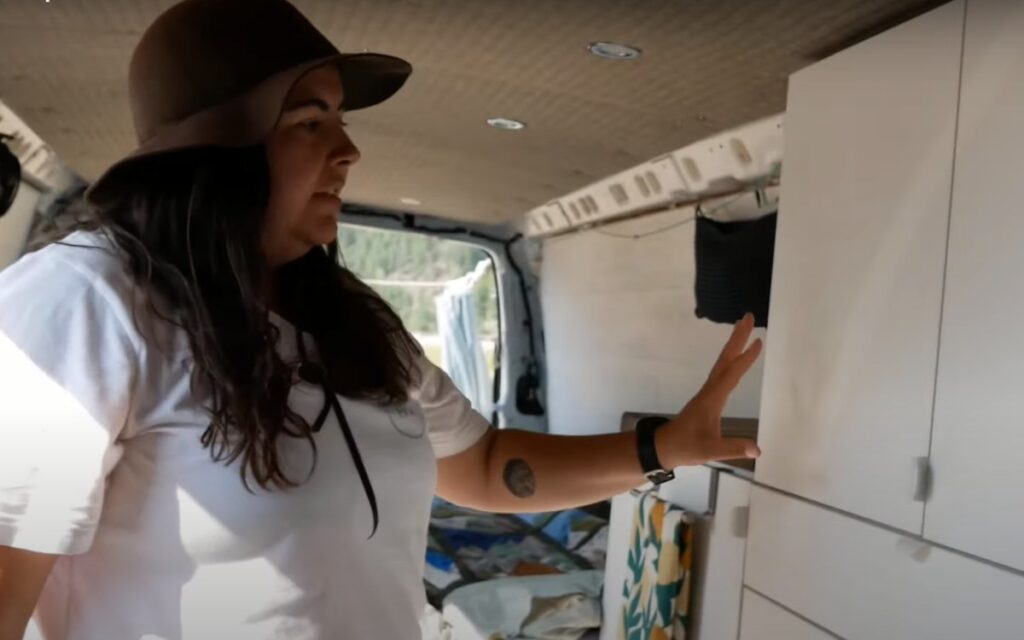 There is a cabinet behind the passenger seat that stores the van's water supply. They opted not to have a permanent sink. Instead, they used a drawer front from IKEA cut to fit the size of the cabinet. The drawer front is on brackets that prop and lock the table into place by the side door. A collapsible sink and USB-charge faucet provide an efficient water system.
IKEA doors and drawers make up the majority of the van's storage system, which houses clothes, food, kitchen supplies, and tools.
They love that their Chevy Express van camper conversion gives them the opportunity to explore and paddleboard different lakes and beaches in the Pacific Northwest, with enough space to live comfortably.
This budget-friendly Chevy Express conversion from @thedawnofvanlife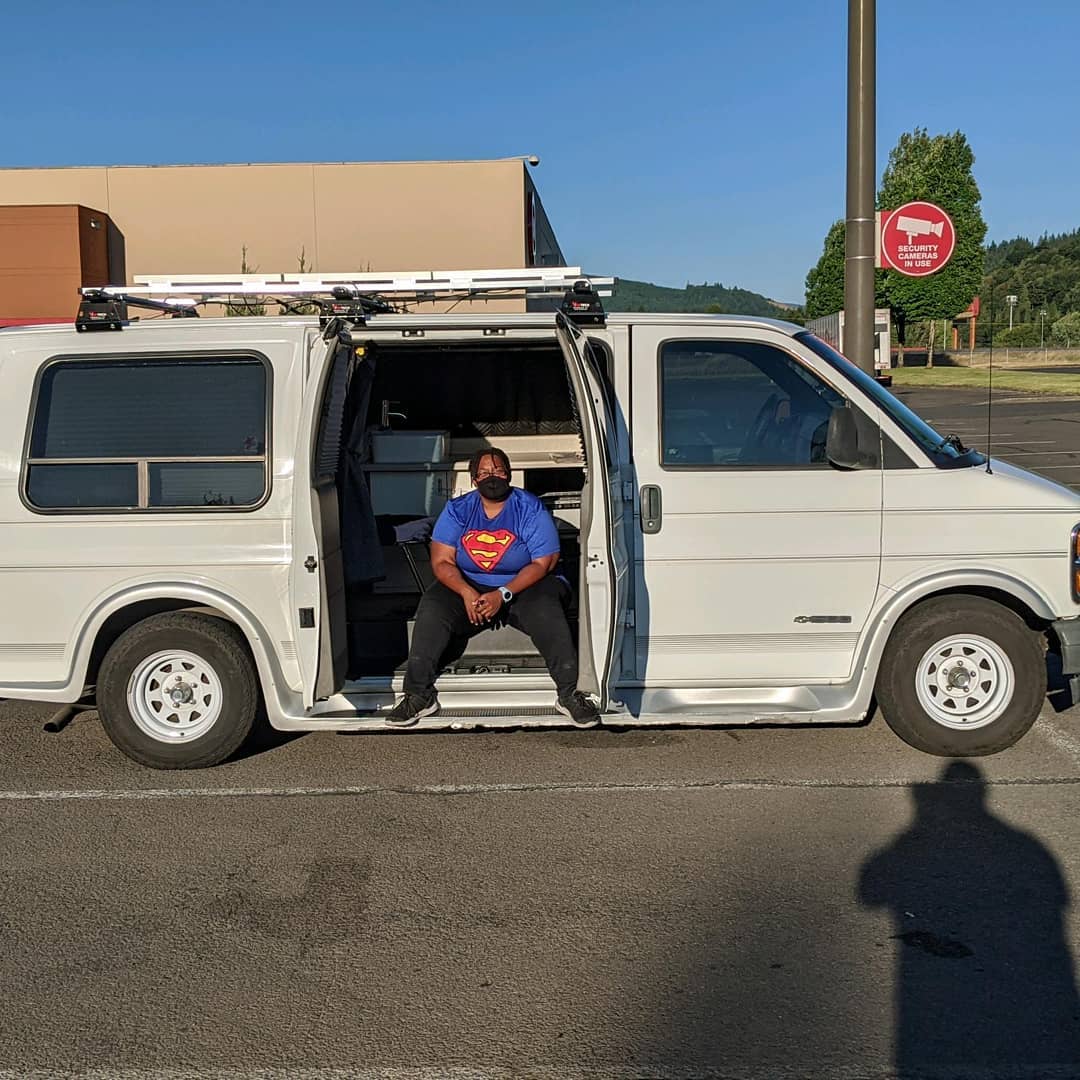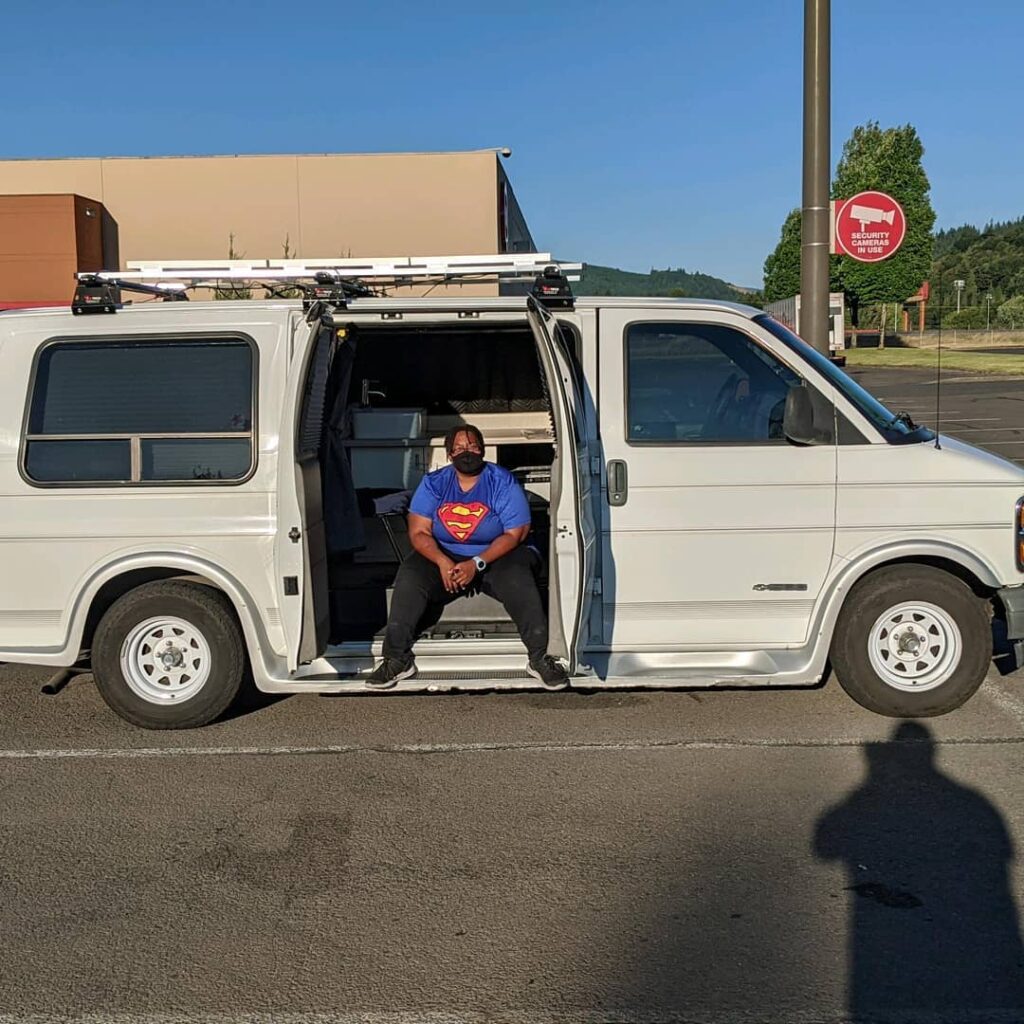 Dawn converted a 2001 Chevy Express into her own camper for full-time van life.
Her kitchen includes a dual-fuel camp stove that uses both butane and propane. The stove isn't fixed to the countertop, making it easy to remove from to use outside. The sink includes a drop-in water pump with low water pressure, which helps Dawn conserve her water supply.
Along the side of the interior, a rod extends across the ceiling. Miscellaneous items and pouches with hooks can be stored there for easy access.
The cabinet under the sink stores trash and recycling bins, as well as a small fire extinguisher, propane, butane, cleaning supplies, and fresh and gray water jugs. There is an open pantry made from storage bins for easy access to food.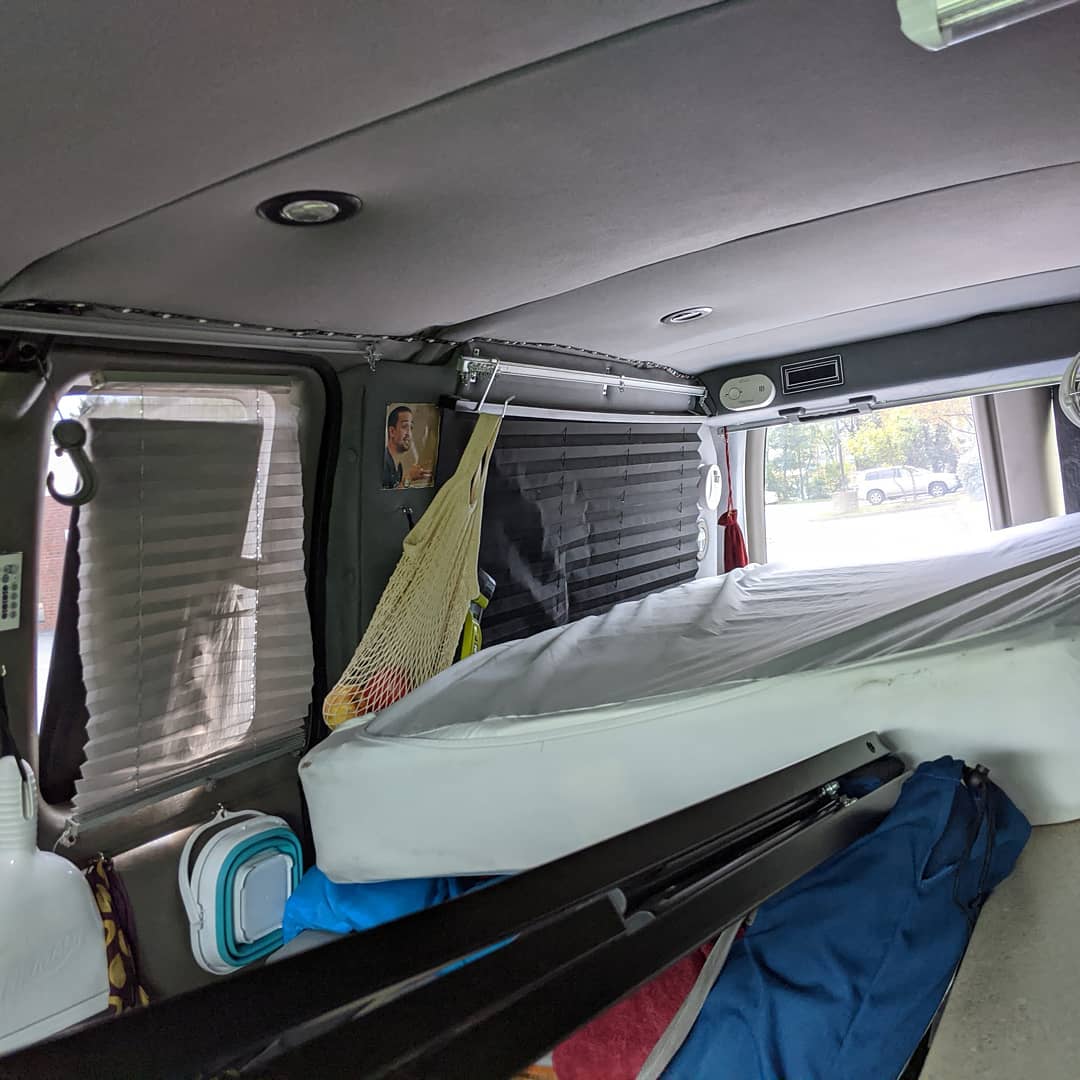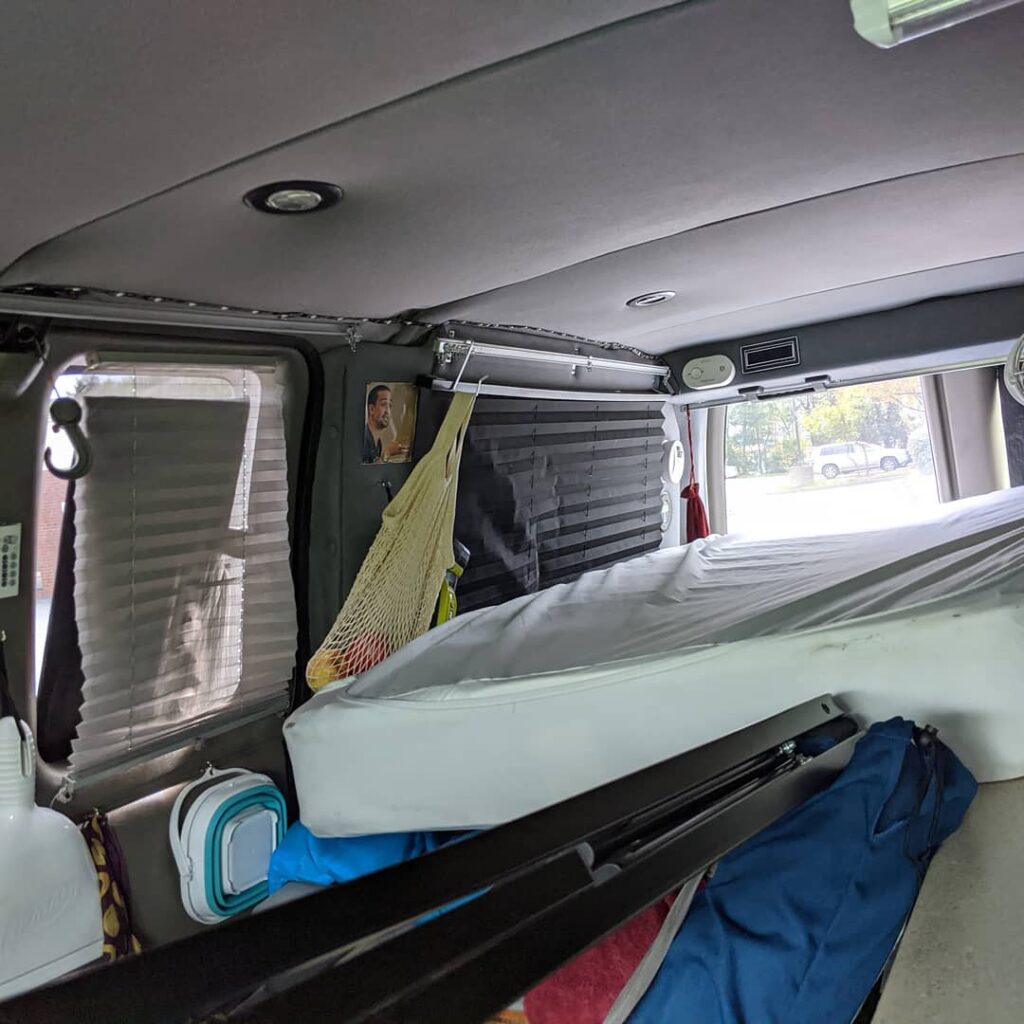 Dawn has a Dometic fridge on a slider so it can be tucked away and latched when not in use to keep it secure when she is driving.
For clothes storage, she uses a 3-drawer plastic dresser. She drilled in bolts that keep the drawers shut while she is on the road.
She uses a collapsible bucket to shower inside her rig, as well as a 12-volt camp shower that she can use outside.
Dawn cut wood to build a frame for her large bed. Under the bed, she stores her larger belongings like her tools.
This 2-day Chevy Express van build from @isaacangel1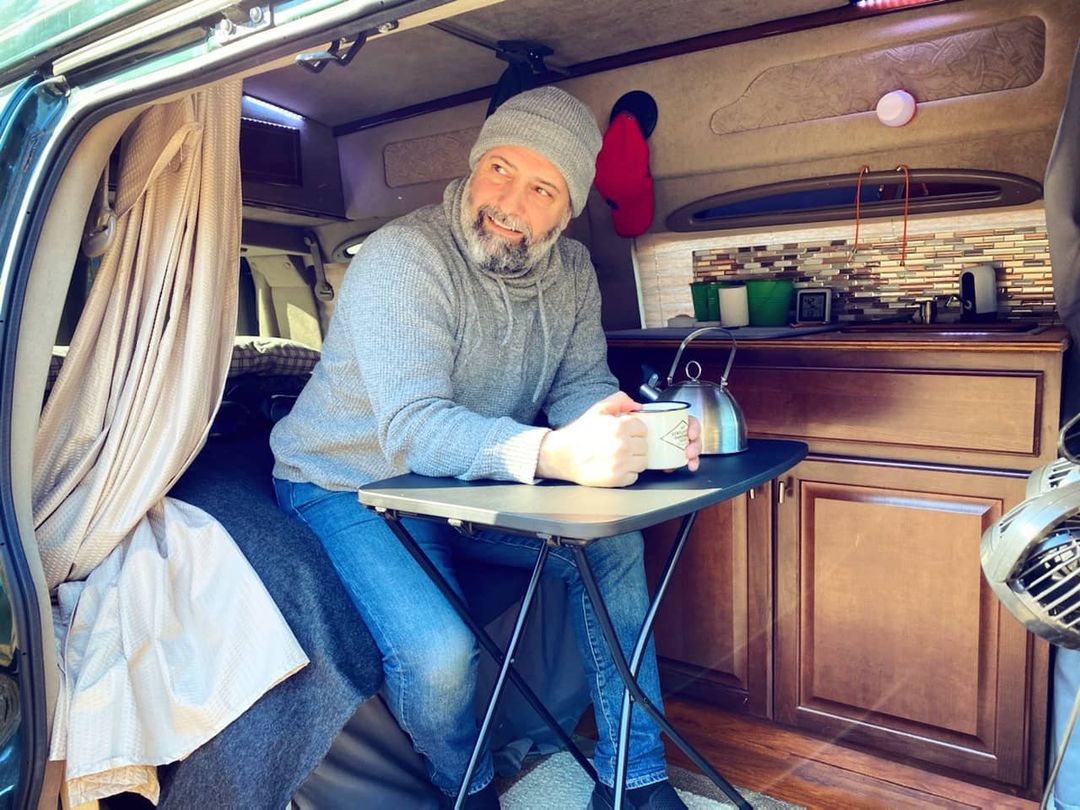 Isaac built a 2002 Chevy Express into a camper van conversion in only two days! It has a kitchen, running water, and a full-size mattress.
The kitchen includes a kitchen cabinet that Isaac purchased from Lowes. He cut out an insert for the sink and used the excess material for a cover that can be placed over the sink when it is not in use, making extra countertop space.
The faucet has a rechargeable electric pump that provides running water and drains into the gray water tank under the sink, where freshwater tank is also stored. Baskets and bins under the sink contain smaller miscellaneous items.
The van's fridge sits between the driver and passenger seats. It is a fridge/freezer combo with a separator that can be removed if he wants to forgo a freezer section.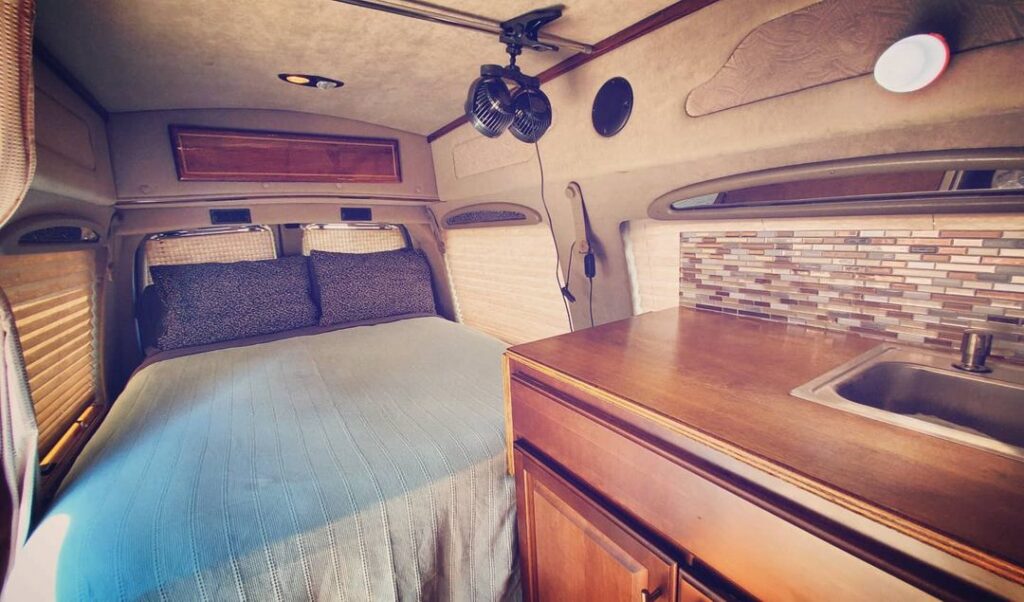 In the back of the van, there is a built-in overhead storage section that holds toiletries and bedding. The front of the van also has overhead storage. It extends through the cab and provides plenty of room to store items.
A folding table stows behind the driver's seat and is a simple and affordable solution for a dining/working area that takes up very little room when not in use.
Isaac was able to blast through the van conversion process rather quickly, and this Chevy van camper has everything he needs for shorter van life trips.
This all-terrain Chevy van conversion from Billy and Sarah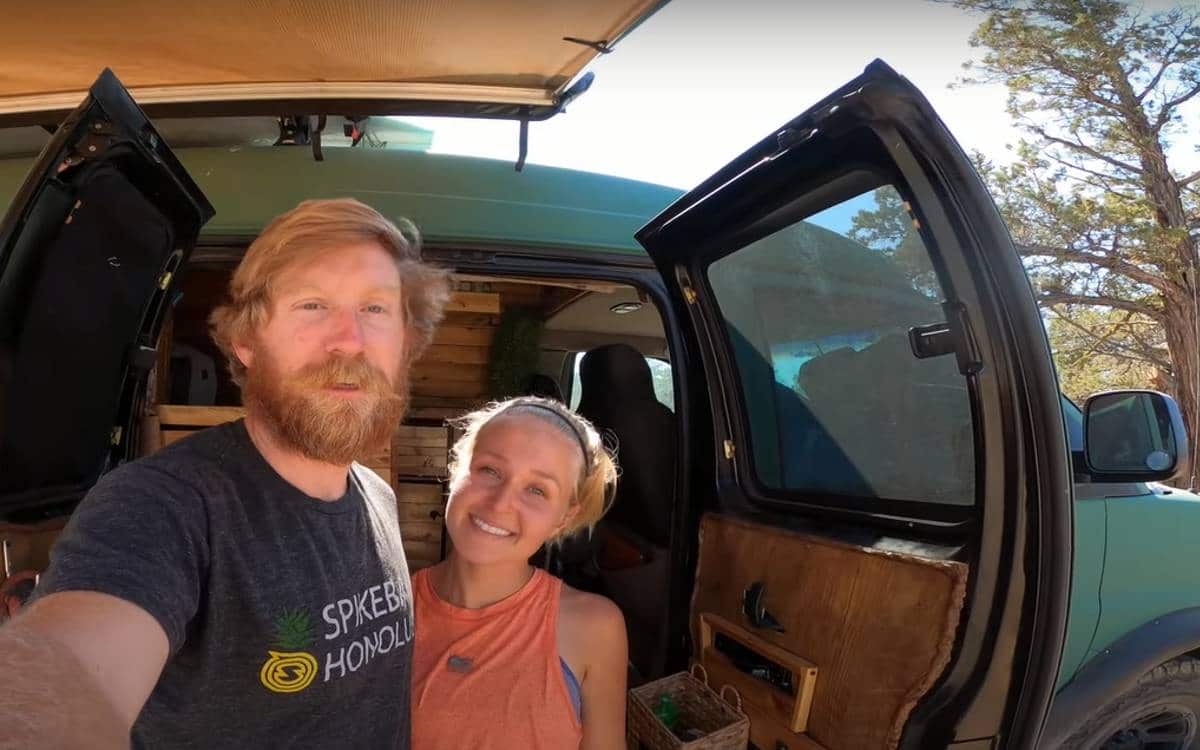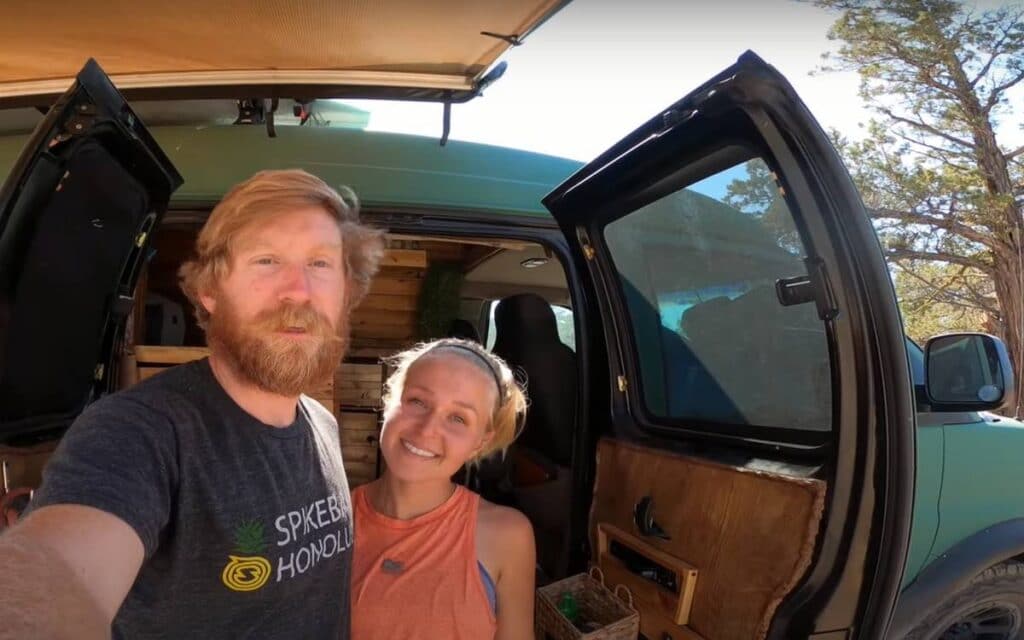 Billy and Sarah converted an AWD Chevy Express with a 2-inch lift and all-terrain tires that allow them to travel just about anywhere. Their efficient floor plan helps them make the most of the small space.
The van build has a roof rack that holds an awning and a storage container for sports gear, and here is a 160-watt flex solar panel mounted on top of the storage container.
A swing arm outside rear doors holds the couple's bikes. Because they are stored on a swing arm, the rear doors are still accessible even when the bikes are on the rack.
In the back, there is a drawer that stores a propane grill. The drawer slides out, and the stove can be placed on top of it, quickly creating an outdoor cooking area. The fridge is behind the driver's seat and holds a week's worth of food.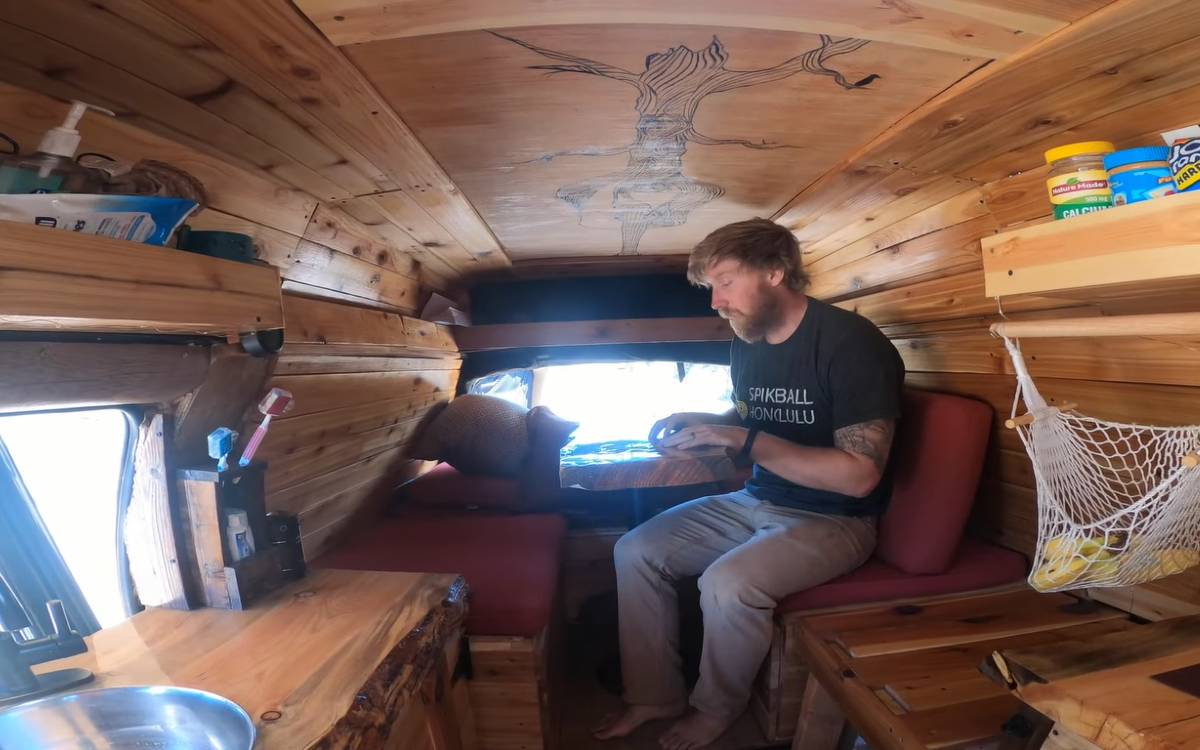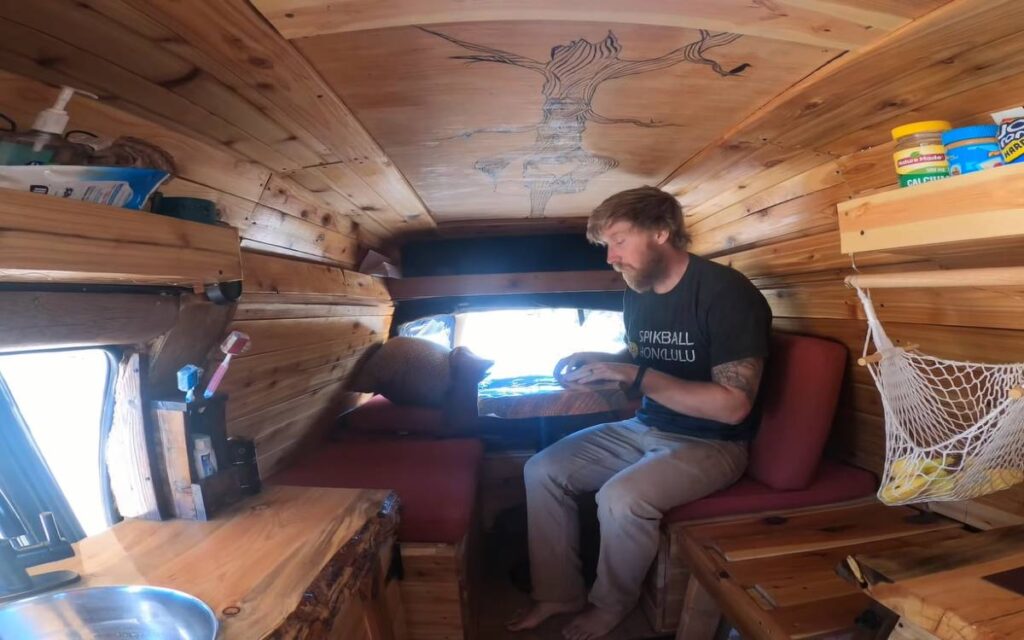 The windows have insulated blackout covers to maintain privacy and a comfortable temperature inside the van. The couple travels with their dog, so they created a station on the side door that stores his leash, water bowl, and cleaning supplies.
The bed frame is located in the back and converts into a dinette setup when not in bed mode. Under the bed, there is storage for plates, pots, and pans. Around the bed, there are shelves that can store smaller items like phones and books. The bench seats in the dinette setup store the couple's clothes. The very back bench stores camping gear and other items that can be accessed from inside or outside from the back.
This hightop Chevy Express van conversion from @dylventures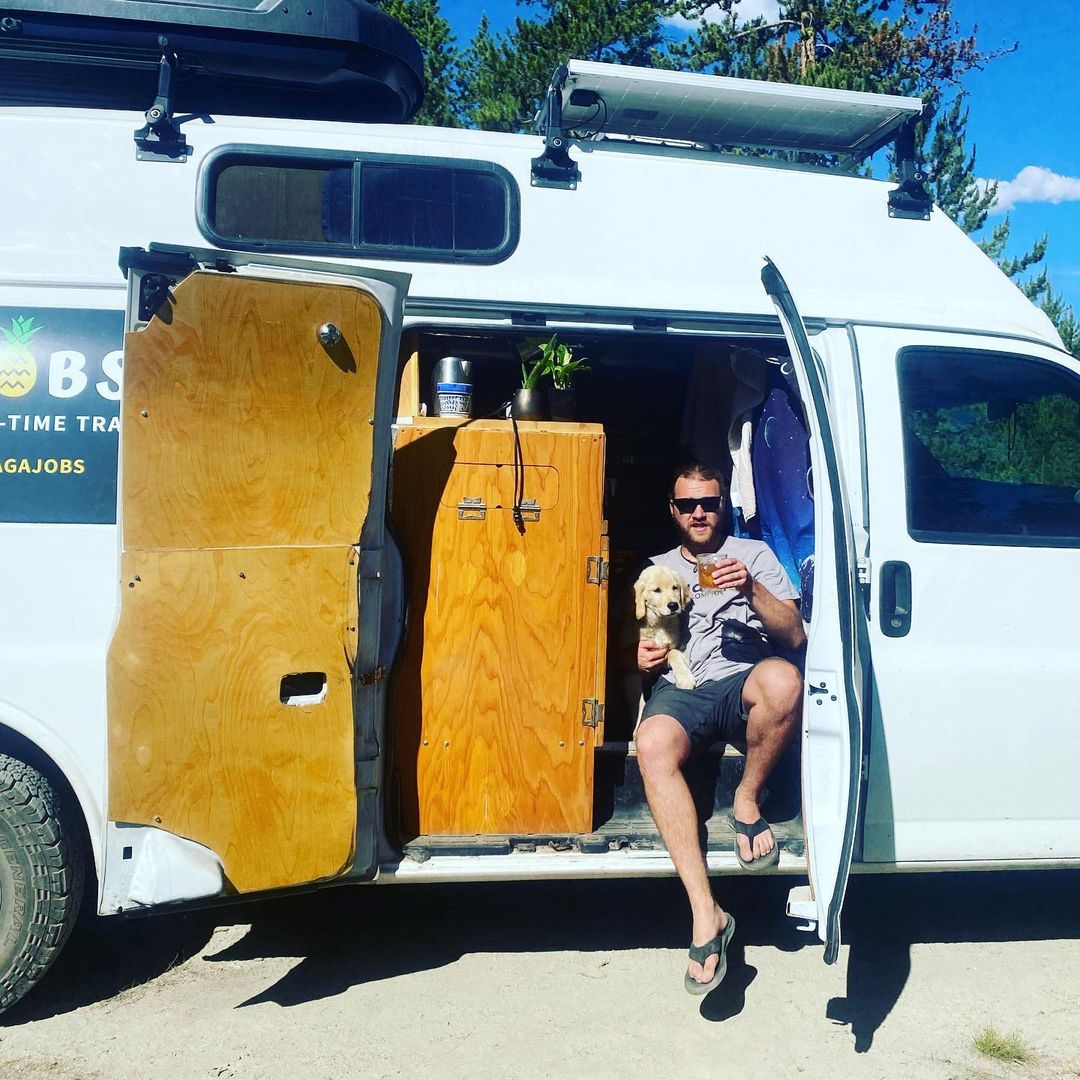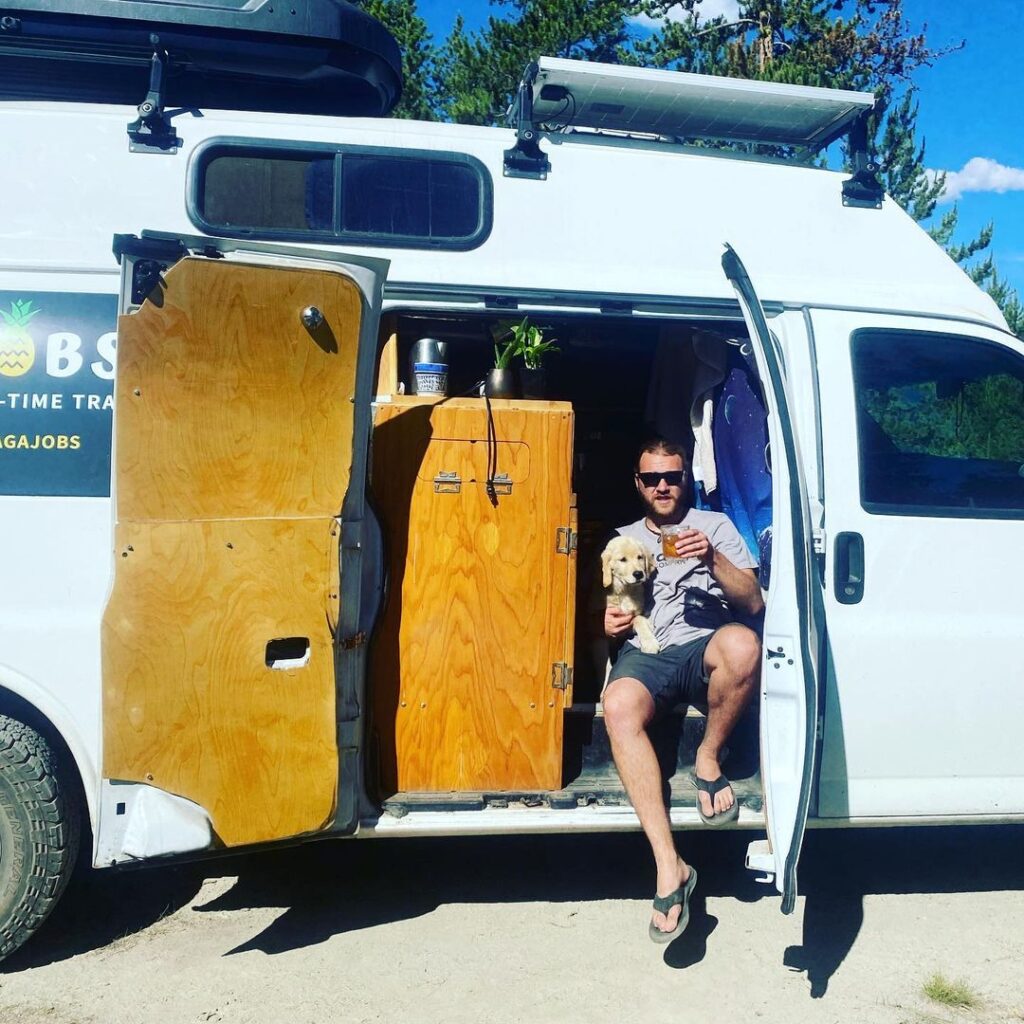 Dylan spent six weeks and $15,000 converting his 2018 Chevy Express extended hightop into a functional camper to live in full-time.
The high roof holds a storage container for backpacking and snowboarding gear, and four solar panels that charge his electrical system.
The kitchen includes a sink with running water and a 33-gallon fresh water supply. The counters are made from lightweight plywood, with a removable cutout to access the two-burner stove and oven combo that runs on propane.
Dylan has a Dometic fridge and freezer on a pullout drawer under the oven that latches shut. There is a small cubby that holds his trash can, broom, and cleaning supplies.
There is a cabinet by the side door that holds his composting toilet. To access the toilet, he slides out the drawer it's on while the cabinet door is open. There is separate storage in the cabinet for his showerhead and pantry items.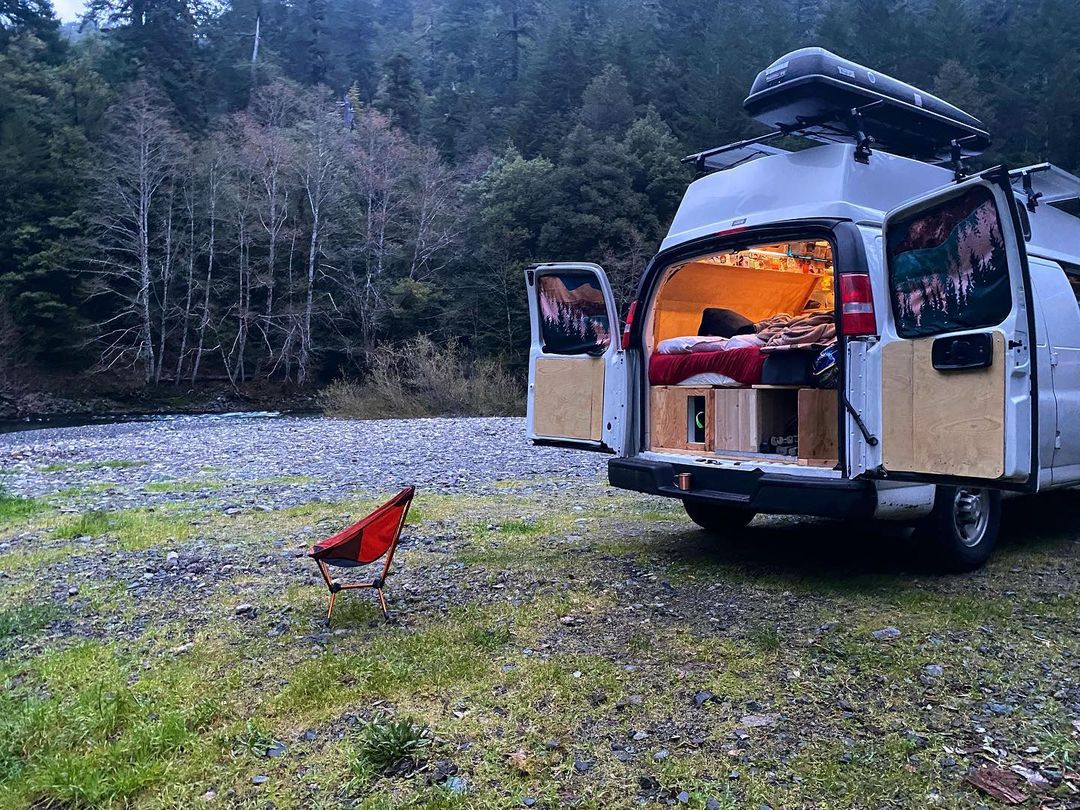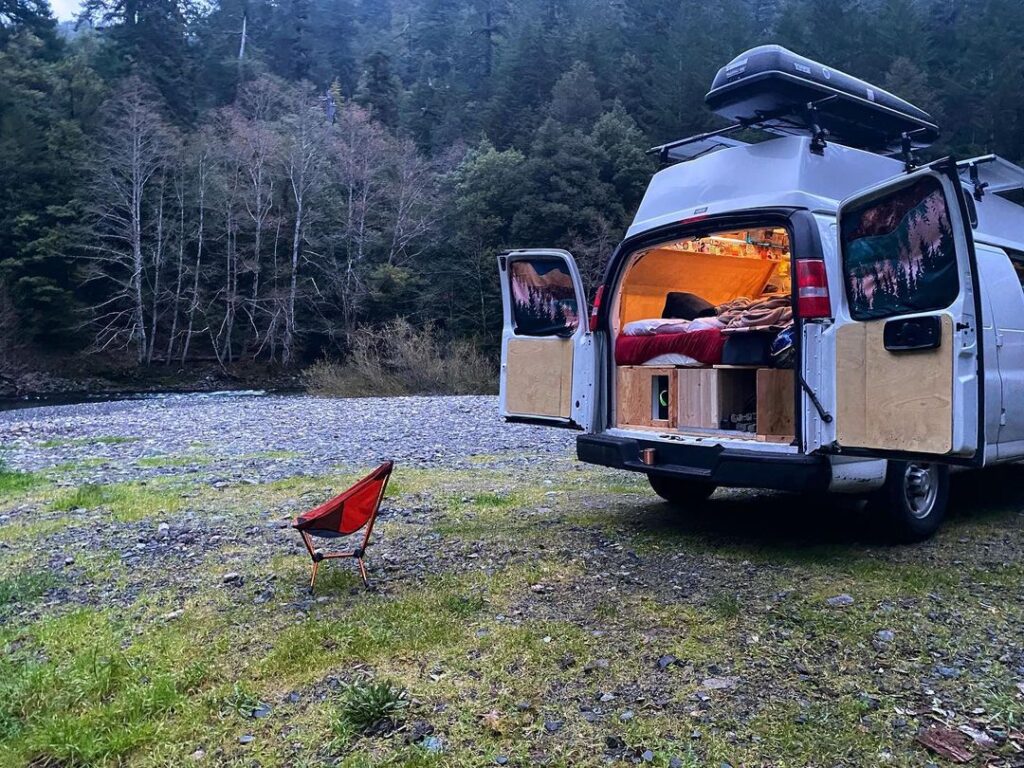 For his double bed, Dylan bought a foam mattress and cut it to size to fit in the back of the van. The bed frame also extends a bit to accommodate an additional person with an extra mattress piece if he has someone traveling with him. Under the bed is where he stores items that don't need to be accessed daily.
Little cubbies beside the bed store all of Dylan's clothes. He considers himself to be a minimalist, so he doesn't need much cargo room for his clothing because he has a lot less than the average person.
Dylan works seasonally. He and his friends created a platform called Vagajobs, which is a job site to help people find seasonal jobs.
This pop-top Express van conversion from @seth__rice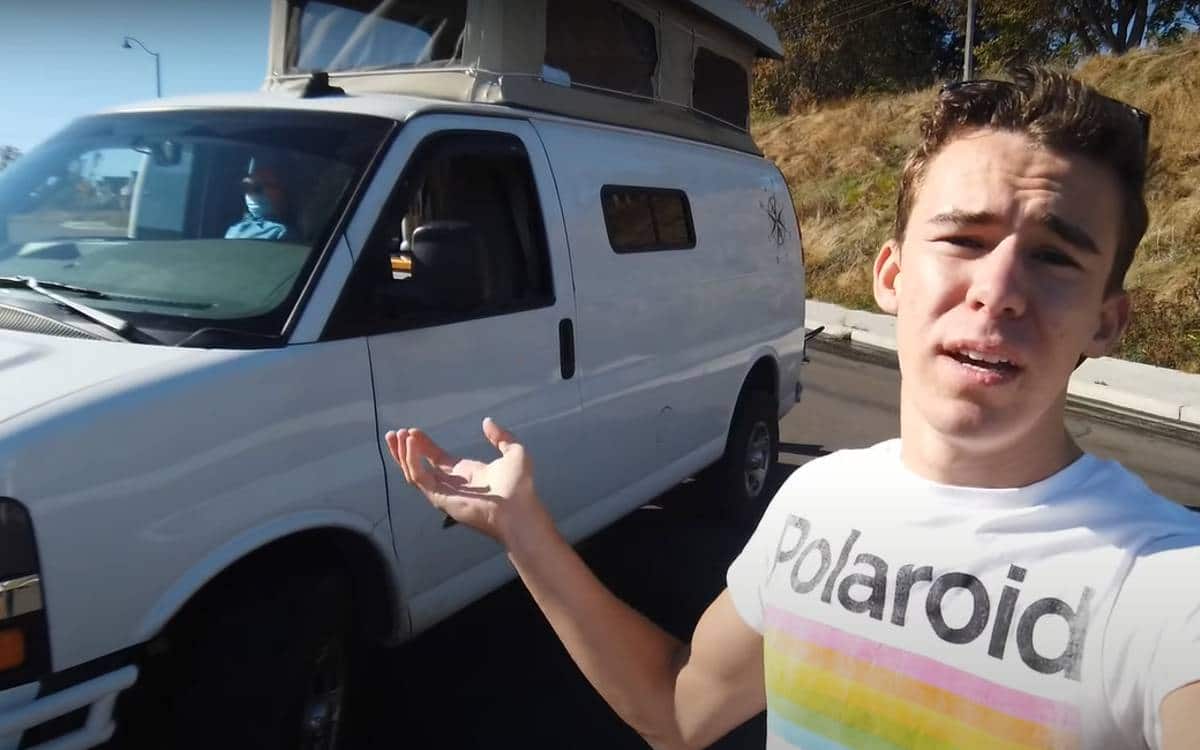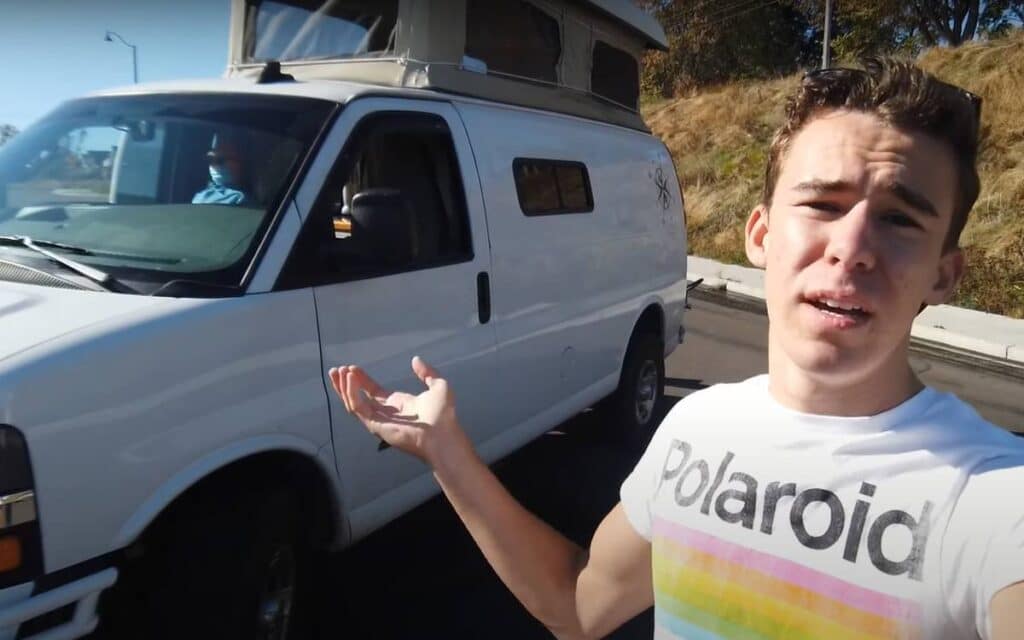 Seth has a converted Chevy Express camper with a diesel engine on a three-inch lift kit and all-terrain tires.
A professional conversion company installed the van's pop-top roof, and Seth completed the rest of the conversion himself, including installing additional windows.
For his electric system, he has four 100-watt solar panels on the roof, which help run the van's air conditioning unit, installed in the back of the van. There is also a Maxxair vent fan located on the roof.
The cab holds a lot of van life gear and roadside emergency supplies, including tools and tie-down straps. The back of the van acts as a garage. The rear compartment has a lot of additional tools, an air conditioning connection, and an inflatable kayak.
The van has a water hose that can be accessed from the side and allows Seth to shower outside.
A curtain separates the cab from the living space. As soon as you enter the back, there are pictures of friends and family hanging by the curtain that separates the cab.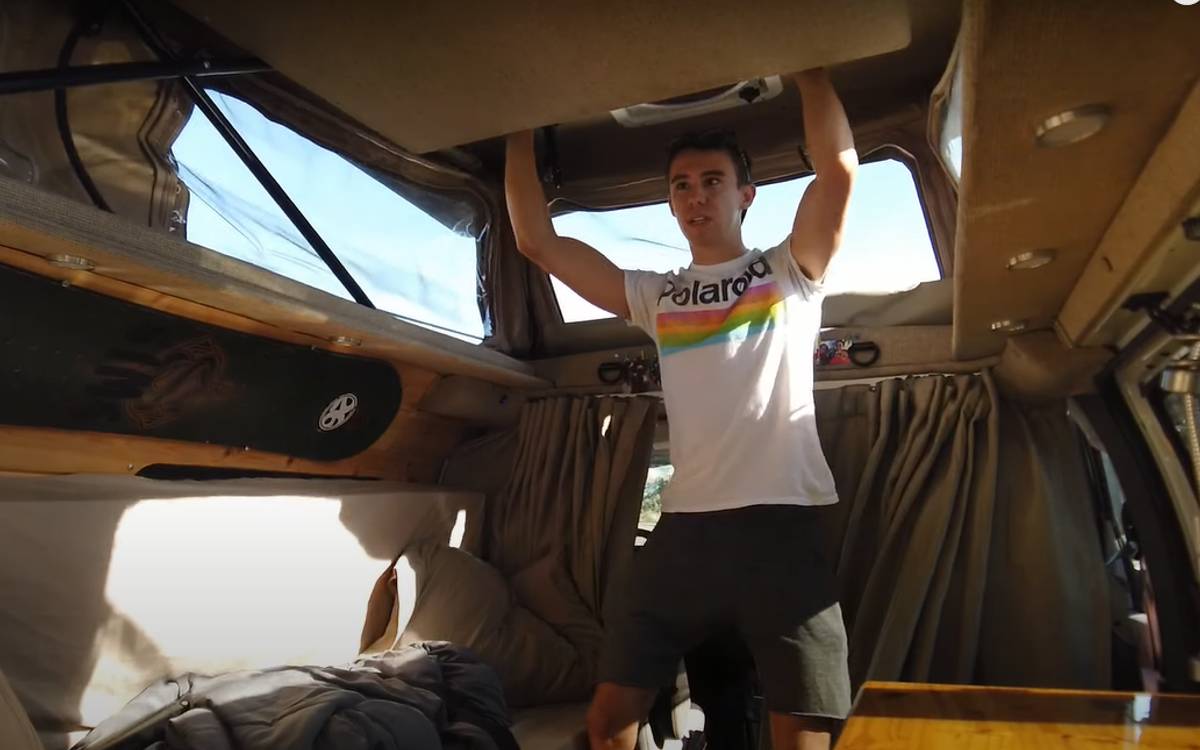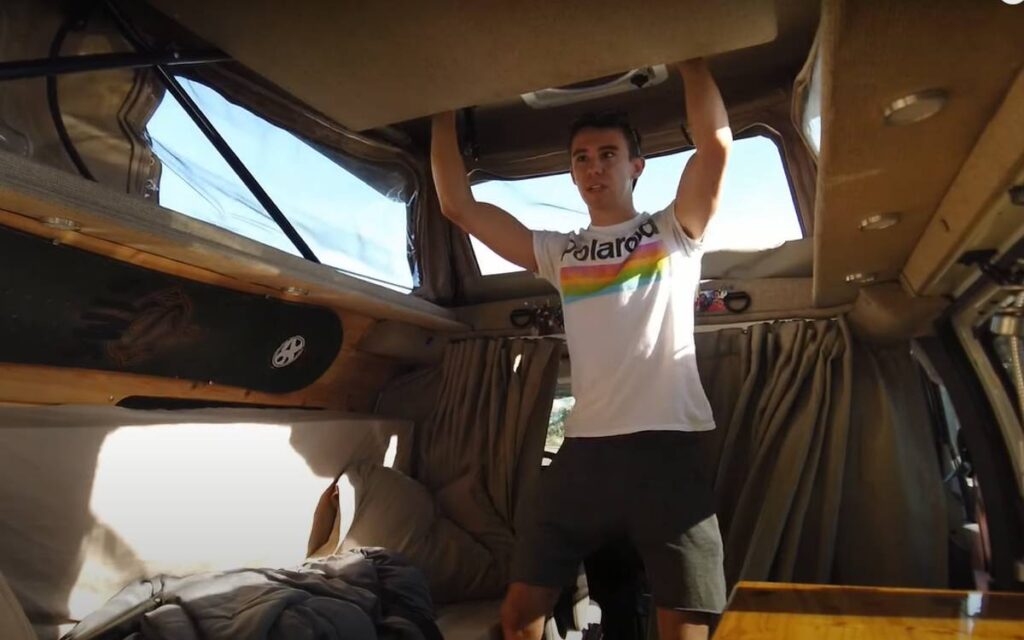 The pop-top has screened windows that can be unzipped. The mattress lowers by undoing a couple of straps and placing the mattress on its slats. The bed can be accessed by stepping on the countertop below it. The pop-top bed is one of Seth's favorite places to hang out when he has a nice view. He also has lights and a fan up there, which maximize comfort.
In the living space, there is a futon-style couch that transforms into a bed, which is Seth's daily sleeper. The rest of the Chevy Express van build also has plenty of storage for a water tank, toilet, and closet.
This quick DIY van build from @emily_mcdo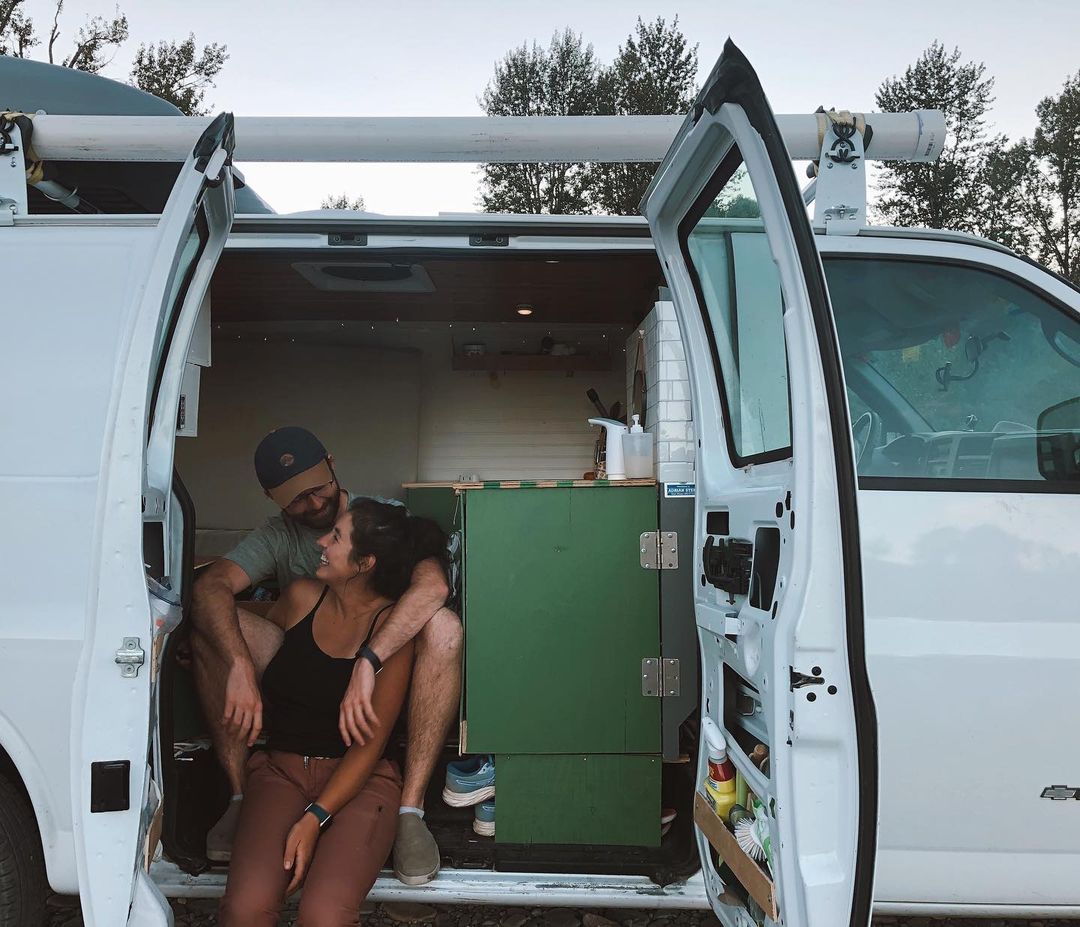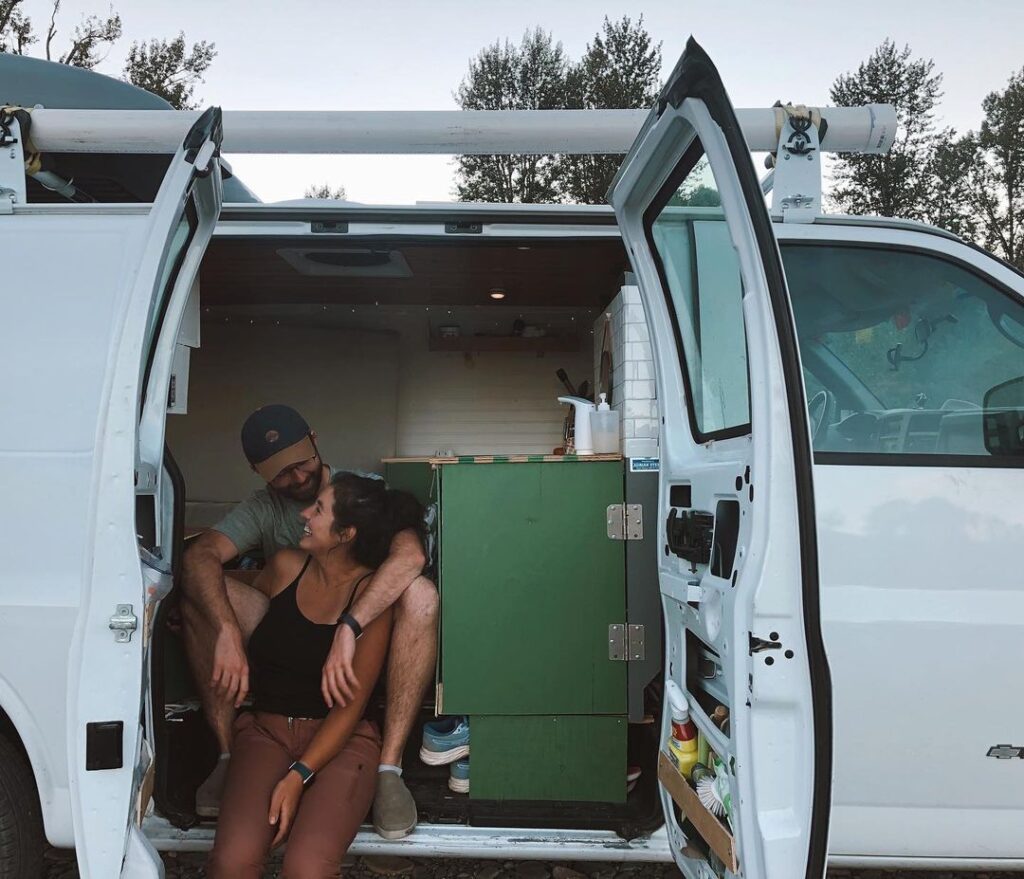 Emily built out her 2005 Chevy Express from an empty van into the perfect van life adventure rig in just 30 days.
She pulled the paneling out of the interior of the side doors and uses the doors to store smaller miscellaneous items.
The sink is made out of a salad bowl and installed on a plywood counter for a lightweight, affordable solution. It is located near the side doors, which provides convenient access to the sink in and out of the van. The storage under it has a cabinet door that opens outside the van and gives Emily easy access to the fresh and gray water tanks.
The counter behind the driver's seat provides ample counter space. Emily used Velcro to secure lightweight items to the counters to keep them in place while she is driving. The fridge is on a slide-out drawer under that counter.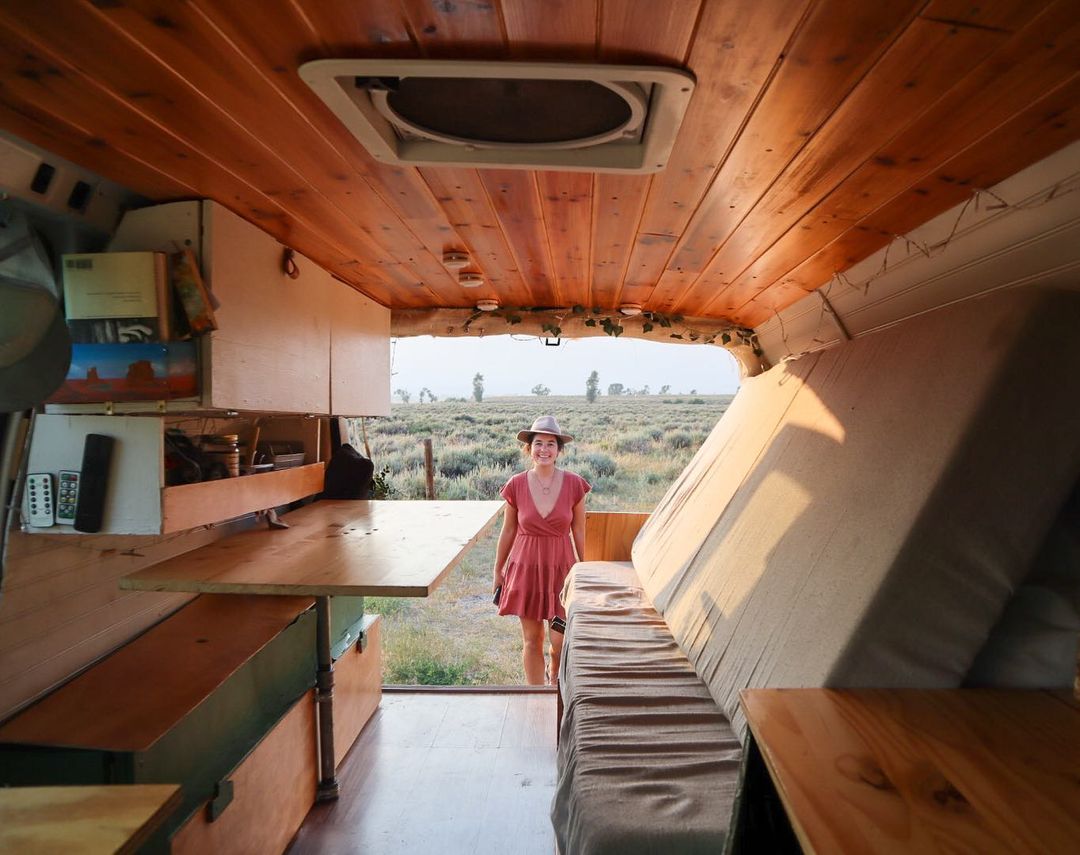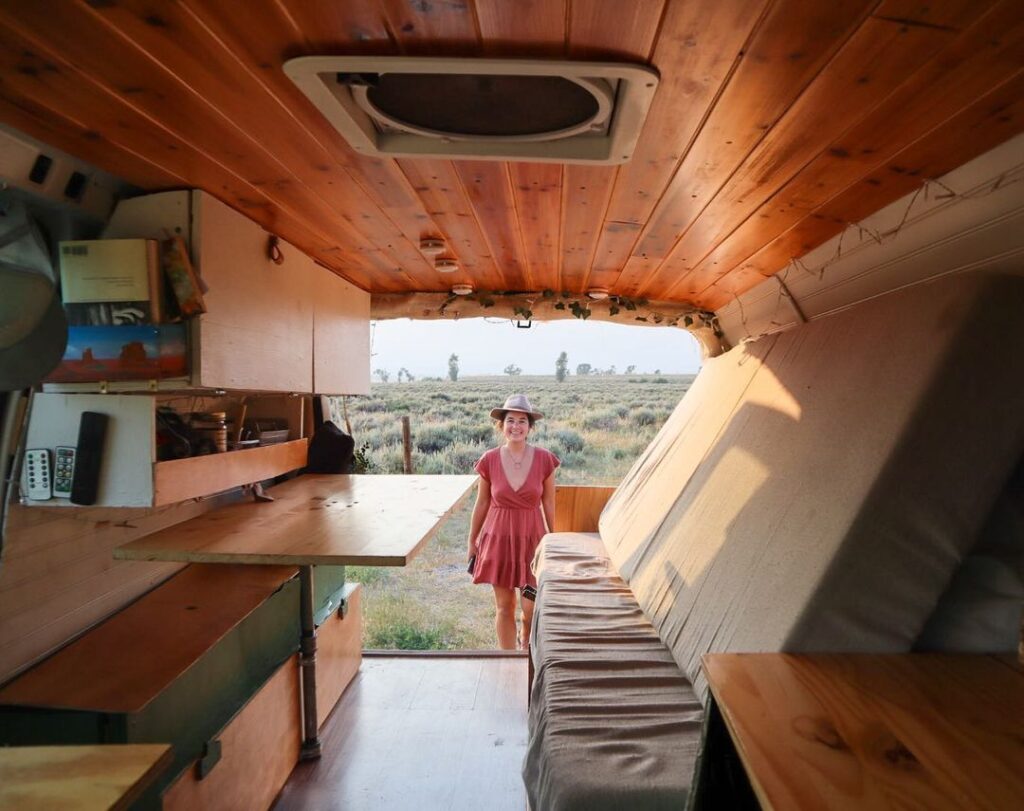 Also behind the driver's seat is a secret area that holds a safe. The safe stores Emily's laptop and other electronics away and out of sight.
The lighting system is connected to a remote which has different settings, including a timer. A blackout curtain snaps in and separates the cab from the rest of the campervan.
The living room and bedroom area includes a dinette setup with a swivel table that can be stored behind the passenger table at night when the bed is set up.
Emily loves that she built her own adventure rig to live in because it has allowed her to customize it as she sees fit to her lifestyle.
10. This stealth Chevy Express camper van conversion from @kyoungtravels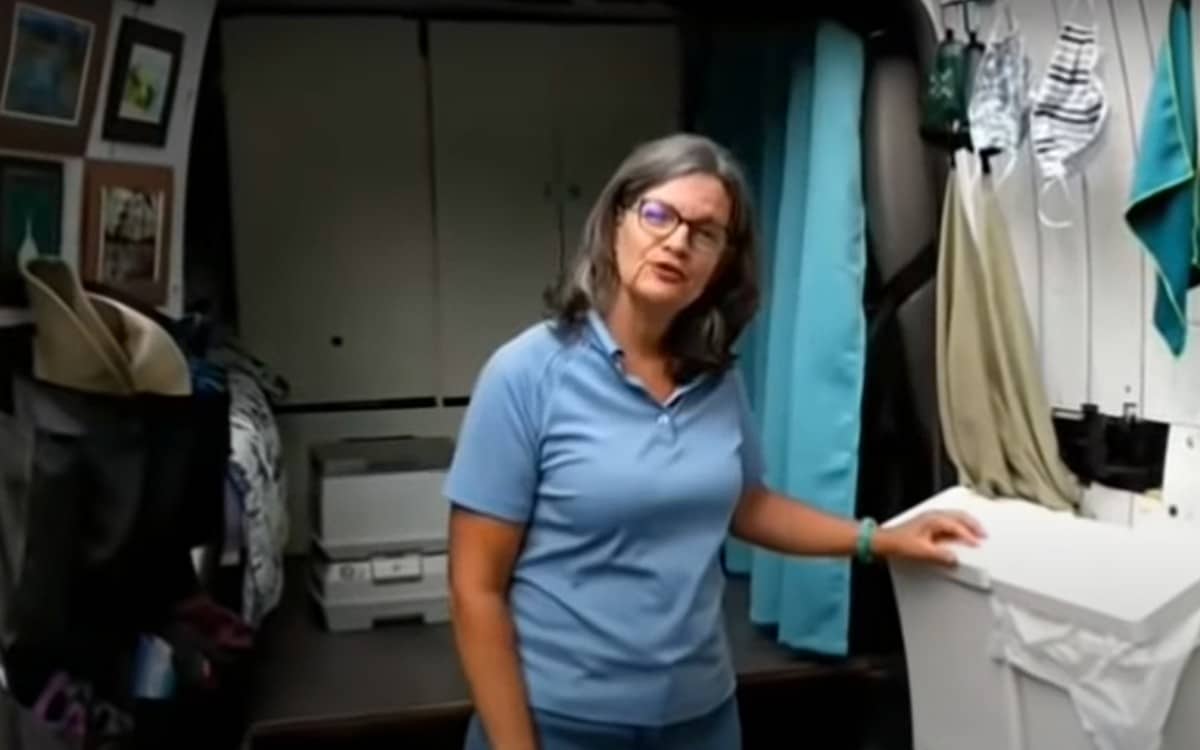 Kathryn and her husband, Bill, are a retired couple who converted a Chevy Express into a do-it-yourself RV to travel Canada and see their kids.
The side doors of the van store garbage and recycling bins, as well as their shoes. The door is also decorated with artwork. There are mosquito curtains installed by the side doors with magnetics that connect for an efficient seal from bugs while also keeping the area easy to get in and out of. The curtains roll up for easy storage.
Blackout curtains separate the living space from the cab and allow for more privacy when the van is parked. There are storage pockets behind the passenger seat that store smaller daily items like hand sanitizer.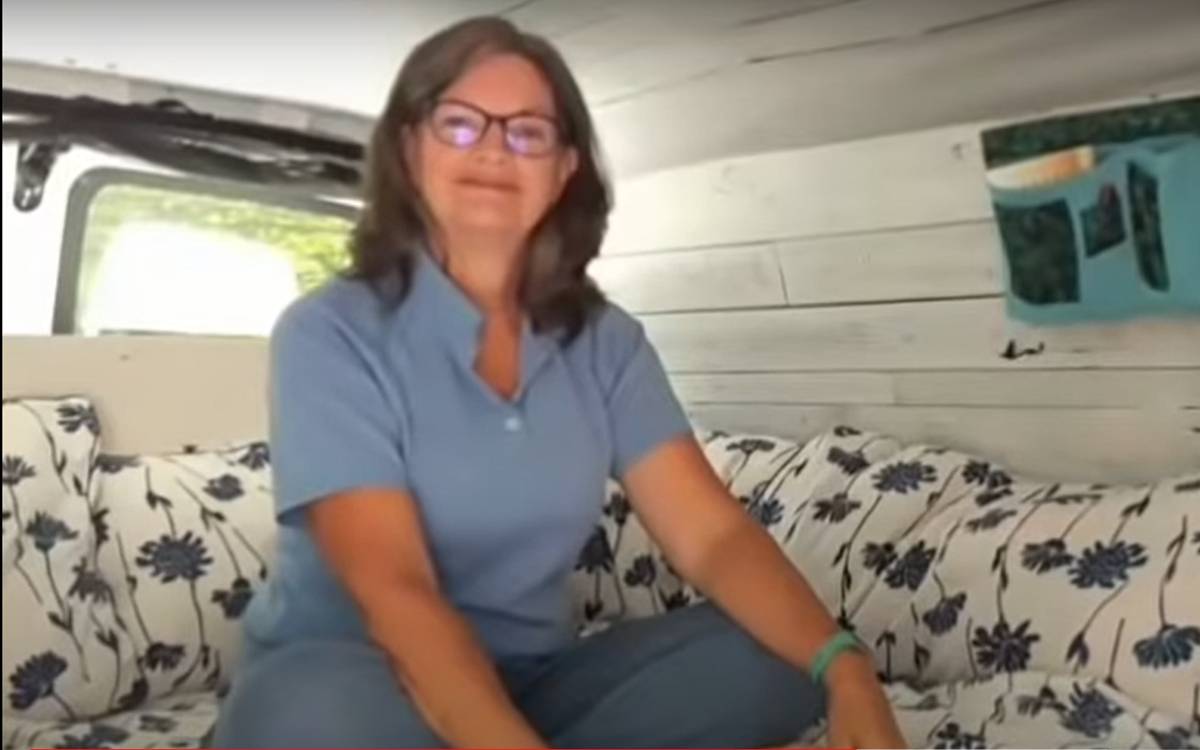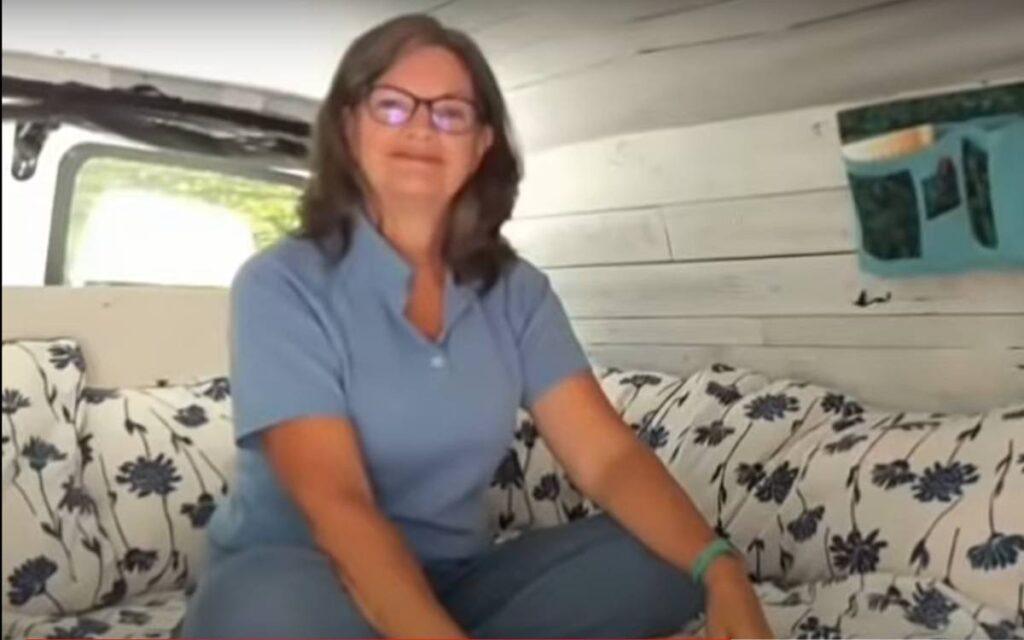 The couple has a small toilet that stows away under the cabinets during the day. The fridge is also stored under the cabinetry. The cabinets above hold hiking poles, extra bedding, and a Jackery portable power station. The main cabinet behind the driver's seat holds photos, books, maps, and toiletries.
The ceiling has a Fantastic fan installed and LED puck lights.
The bed is a memory foam mattress divided into three sections for access to the storage underneath it which stores items that are not frequently used, like winter gear. The bed otherwise stays made and in place.
The garage can be accessed from the back doors. Food, water, and propane are all stored there. One of the back doors also has a fold-down table that is used to hold the couple's camp stove when in use, creating an outdoor kitchen.
Build Your Van
The Ultimate Van Build Guide
Planning a van build? Read our free guide. We cover just about everything you need to know – from planning, to insulation, to solar and electrical, to picking appliances, to essential tools. Get started today so you can get out there on the road!