Rock climbers are a notoriously frugal bunch. They have also taken quite a stance on the inherent crime of vanlife as a way to pursue rock climbing.
There is a reverence for the wandering ascetic climber, who lives with nothing but the clothes on his (always his) back and a rack of cams in his threadbare backpack. Anything more than that is seen as a shocking and reckless expense.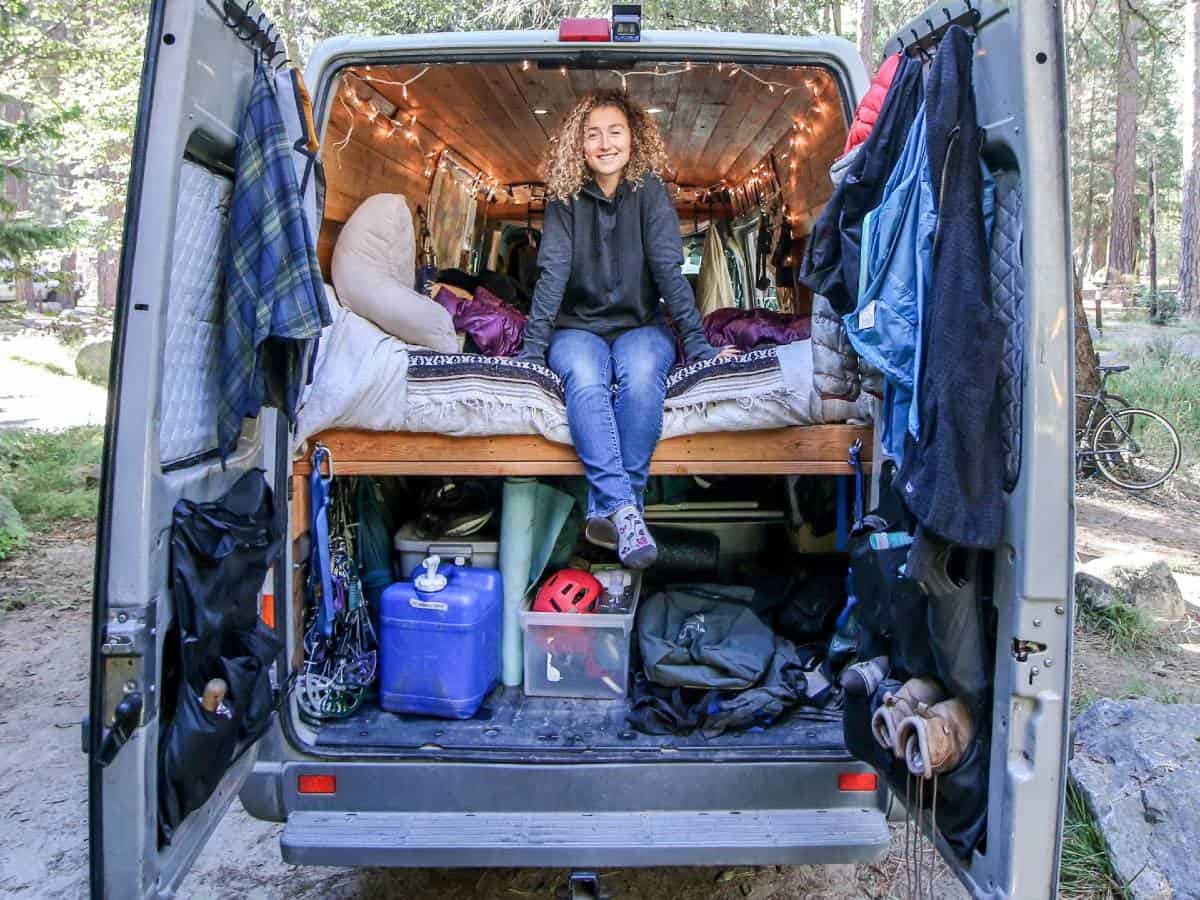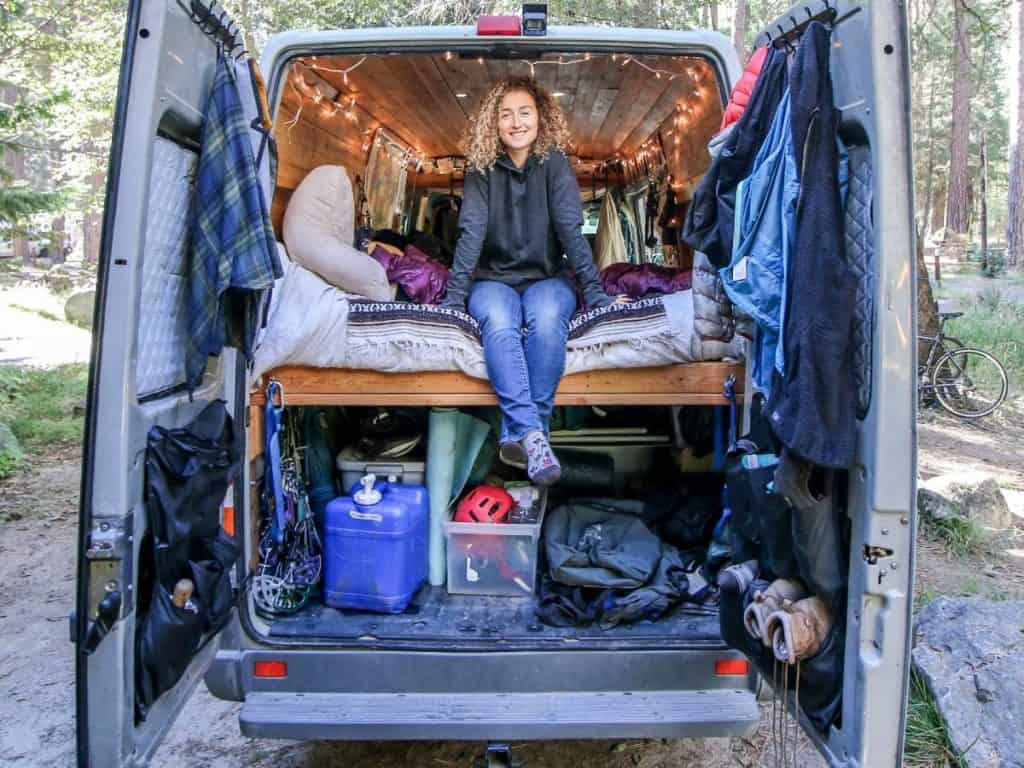 However, if you are able to push past this idealistic vision of rock climbing glory and allow yourself the abhorrent luxury of a vehicle to sleep in while you pursue your craft, then this is the van build for you.
The Best Van for Rock Climbers
The perfect van for rock climbers – in my opinion – is the one that gets you from A to B and can sleep 2 people comfortably. Anything after that is a personal preference. There are plenty of rock climbers who will swear by their Ram Promaster camper van conversions, or their Sprinter van campers, or their Toyota Tacoma with a camper shell on top, or even their Subaru Outback.
Short answer: any type, but ideally one with high clearance or 4WD/AWD.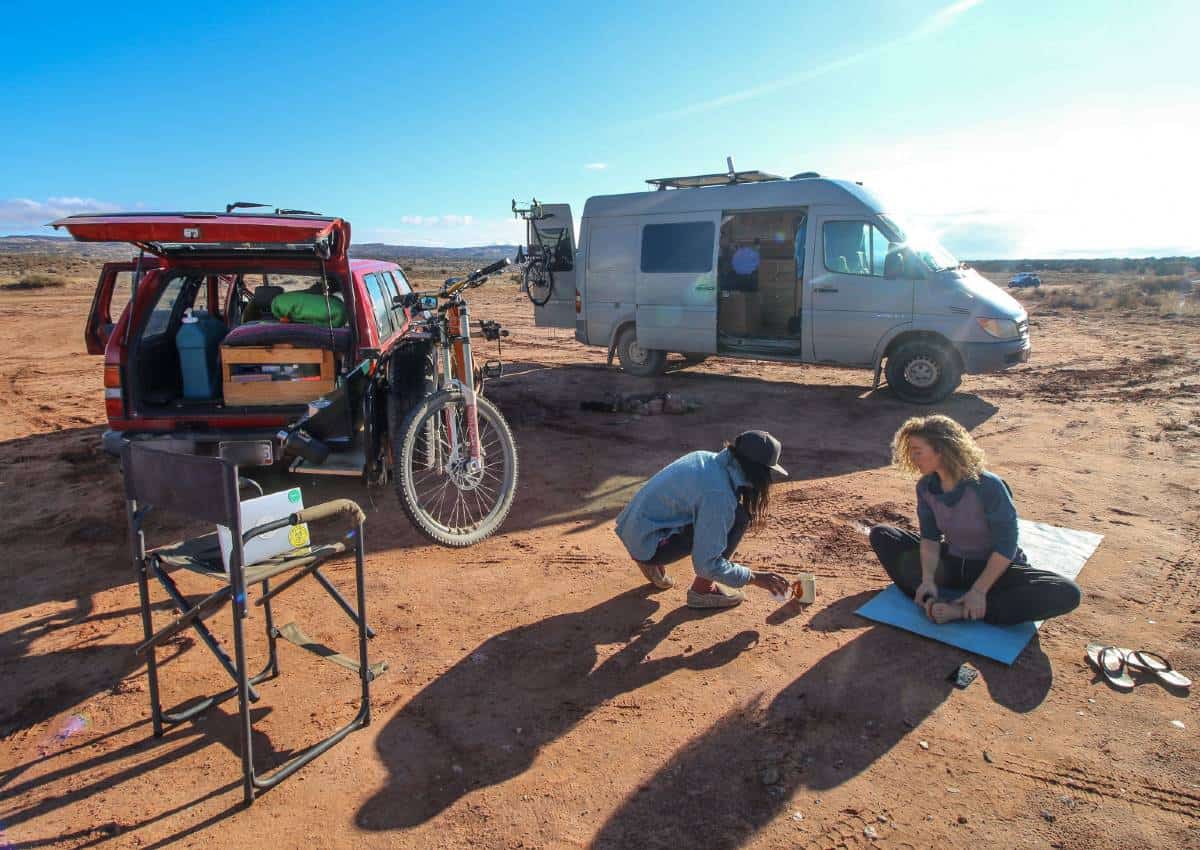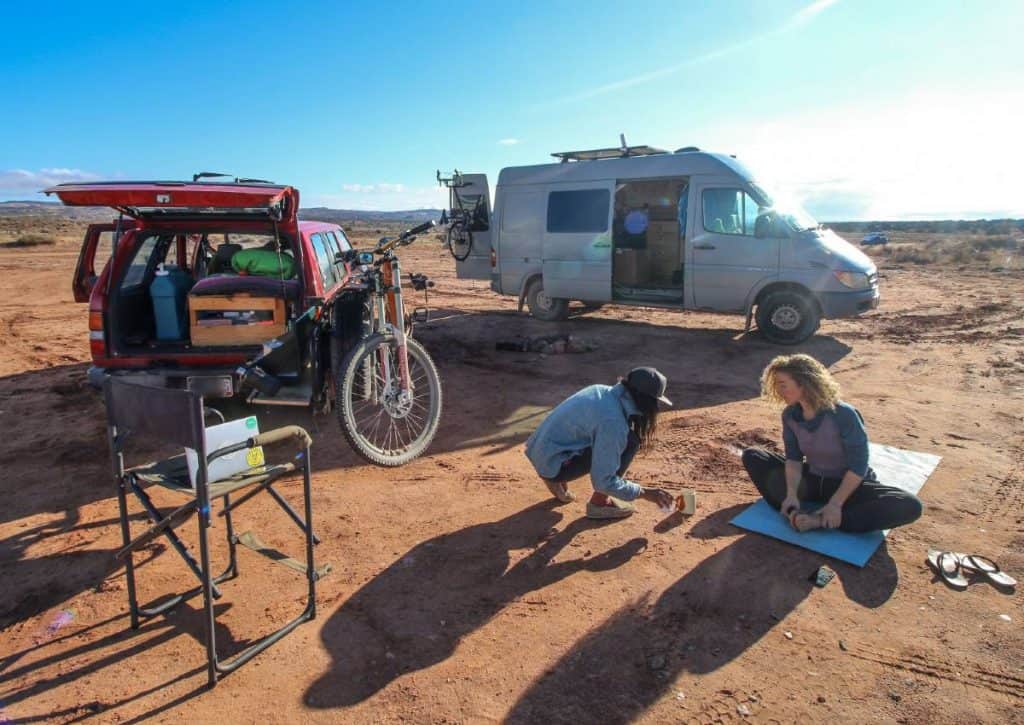 Every vehicle has its perks, but generally, a van with 4WD/AWD and/or high clearance will get you the farthest. Many crags are out of the way and difficult to approach in a small car. It's extremely useful to have one large vehicle that can fit your whole party, drive through small streams, over rocky boulders or through sandy washes safely.
Outfit Your Van with Proper Tires
As long as you have wheels, you'll be able to get around. However, beefing up your tires and suspension system will help any adventurous climber reach their destination.
AT Tires
All-Terrain tires (AT) are great for rock climber vehicles. Having maneuverability on rough terrain is extremely useful for accessing those 'hard-to-reach' crags!
Snow tires
For the ice climbers amongst us, snow tires + AWD is a golden combination for snowy or icy mountain roads.
Make Use of Your Roof Space
A bare van roof is a waste of space! Make sure you use that real estate for something good!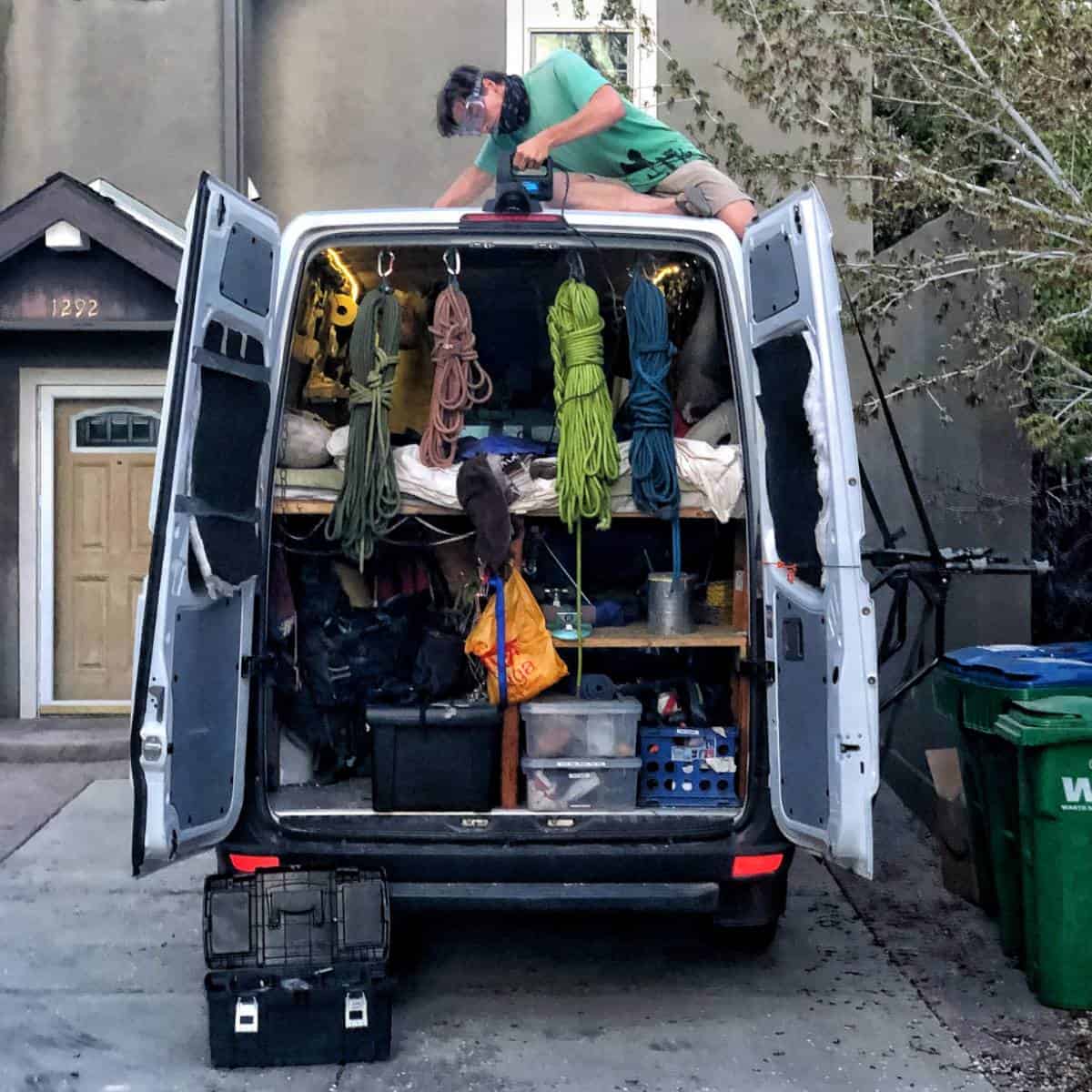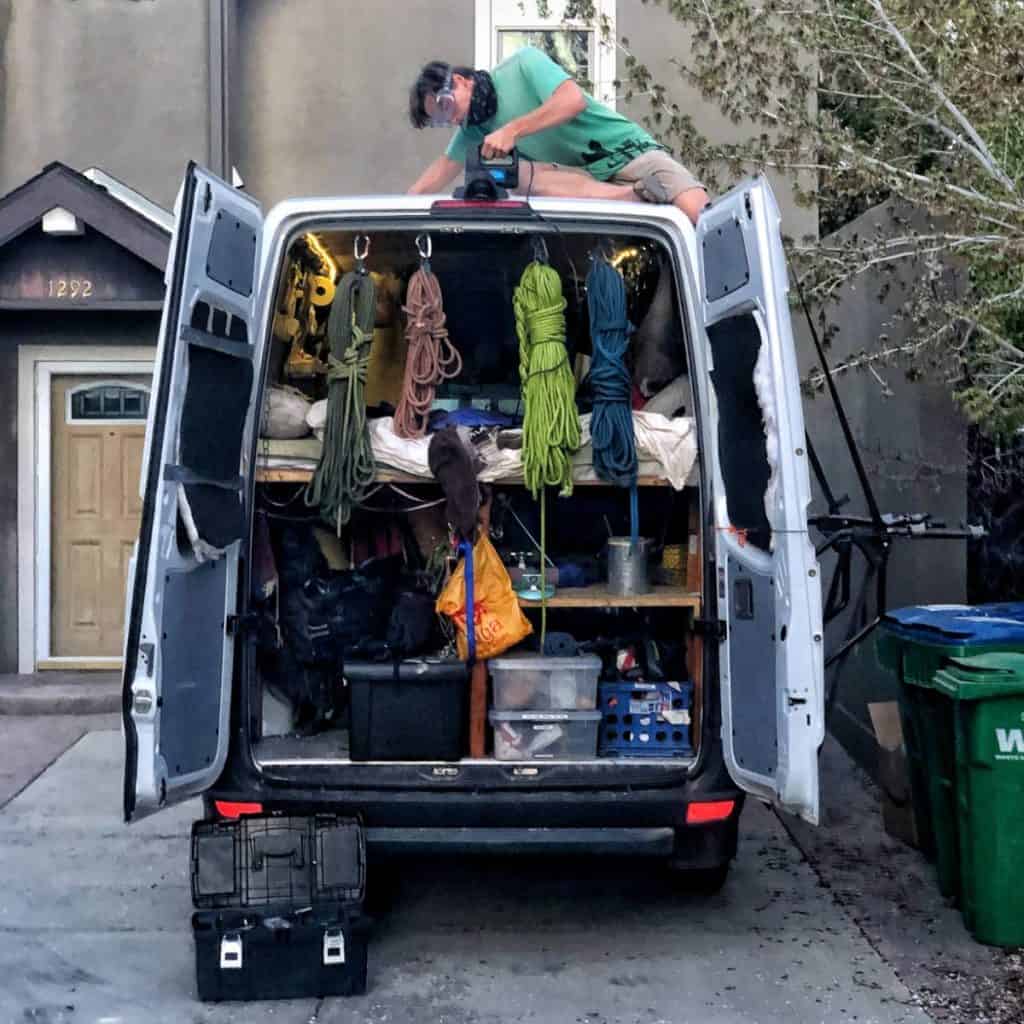 Vent Fan
A vent fan is crucial for ventilating your space. In the winter it helps let condensation out to prevent mold or rust, in the summer it helps bring cool air in, and for any time of year it lets in fresh air while cooking inside.
Best Vent Fan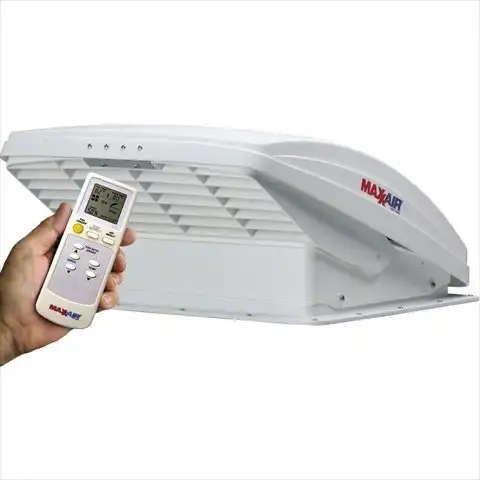 MaxxAir 7000K MaxxFan Deluxe Vent Fan
Powerful 10-speed roof vent fan with thermostat, remote control, and built in rain cover. Easily the best fan option for full-time vanlife.
Buy on Amazon
We earn a commission if you click this link and make a purchase (at no additional cost to you).
Solar Panels
The cheapest and easiest solution is usually the best. The best campervan solar panels are handy for any van, but if you're spending an extended amount of time away from any city or town, you'll need a reliable source of energy. Solar panels (combined with a solar kit and batteries) provide free, unlimited energy in the spring and summertime.
Best Solar Kit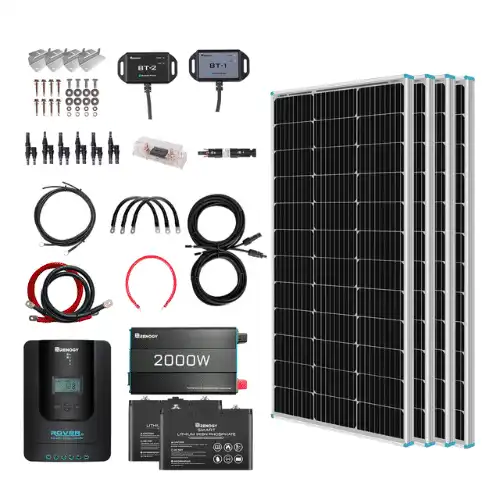 Renogy 400W Complete Solar Kit
Just about everything you need to wire solar in your van.
Unlike most kits, this one includes 200Ah of self-heating LiFePO4 batteries (or AGM), 2000W pure sine inverter, wiring, connectors, and fuses.
Enter discount code GnomadHome for 10% off at Renogy.com
Check Price on Renogy
We earn a commission if you click this link and make a purchase (at no additional cost to you).
(See a further discussion on vanlife electrical needs below).
Keep Your Cockpit Comfortable
Above all, make sure this space is comfortable. You'll spend more time here than almost any other part of your van, except the bed maybe.
Insulated windshield and window covers
Sometimes sleeping in your vehicle means sleeping on the side of the highway, or in a neighborhood. When 'stealth camping' you can give yourself more privacy if you can cover all your windows completely.
Making sure your window coverings are reflective is important for keeping heat out in the summertime.
Badass Upgrade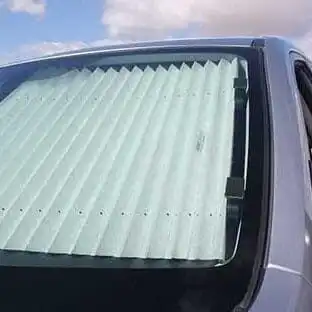 Eclipse Sunshades
One of our favorite van add-ons. Keep your van cool (and private) with these custom-made, permanently installed windshield coverings.
Buy using the button below to get 3% off your order.
Check Price on Eclipse Sunshades
We earn a commission if you click this link and make a purchase (at no additional cost to you).
Having insulated window covers is an added bonus. In wintertime your windshield and windows let tons of heat out, having insulated window covers will help you sleep more comfortably.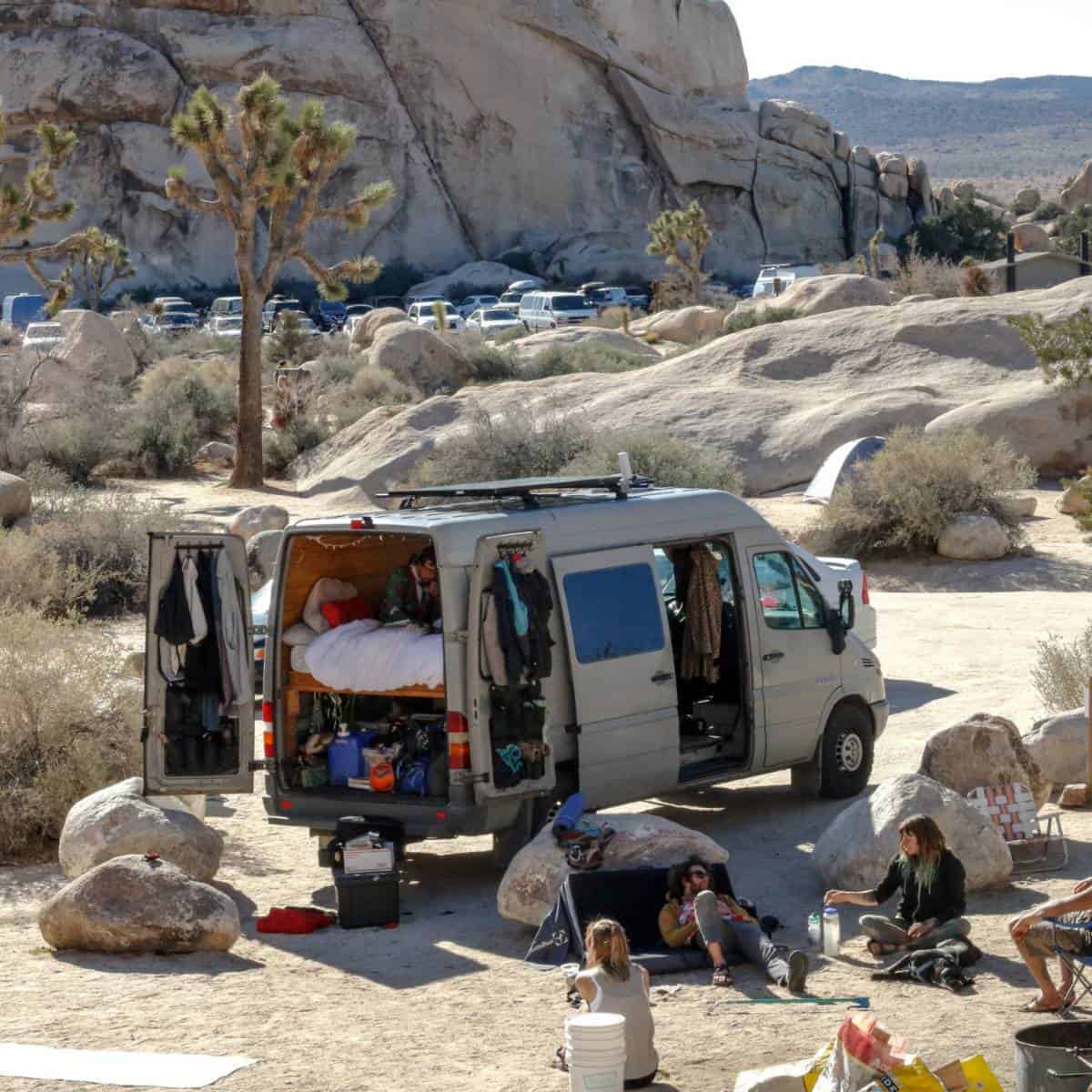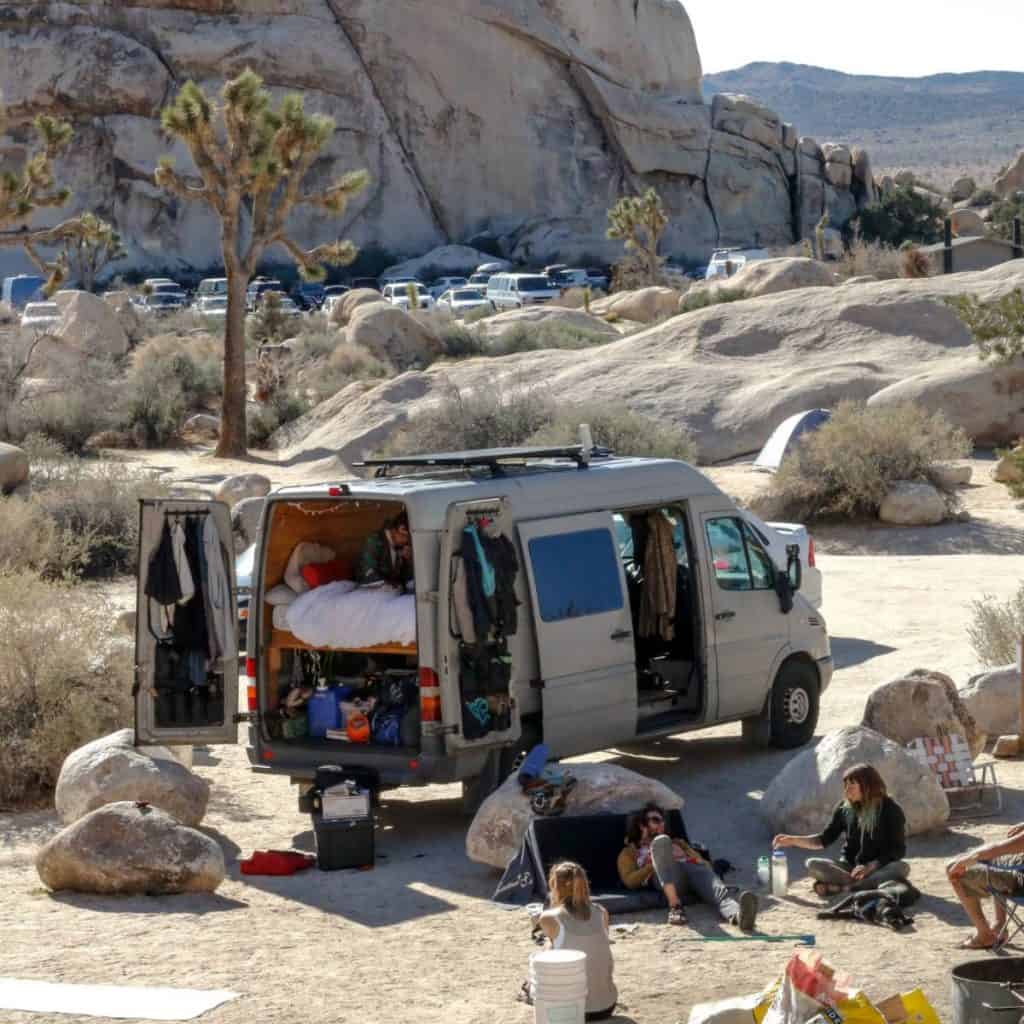 Music system
Whether this is a portable bluetooth speaker or a built-in surround sound system, you'll never send your proj without good music encouraging you on your drive.
Set Up a Legit Bedroom Situation
The second most important part of your van! Make sure you actually enjoy spending time here. You'll be here more than most places in your van.
Make it able to sleep two
Even if you plan to travel alone, it is important to make your bed large enough to sleep two people comfortably. There is nothing worse than finding a cute belay partner who has to sleep on your floor (or outside) for either of you to get a comfortable night's sleep.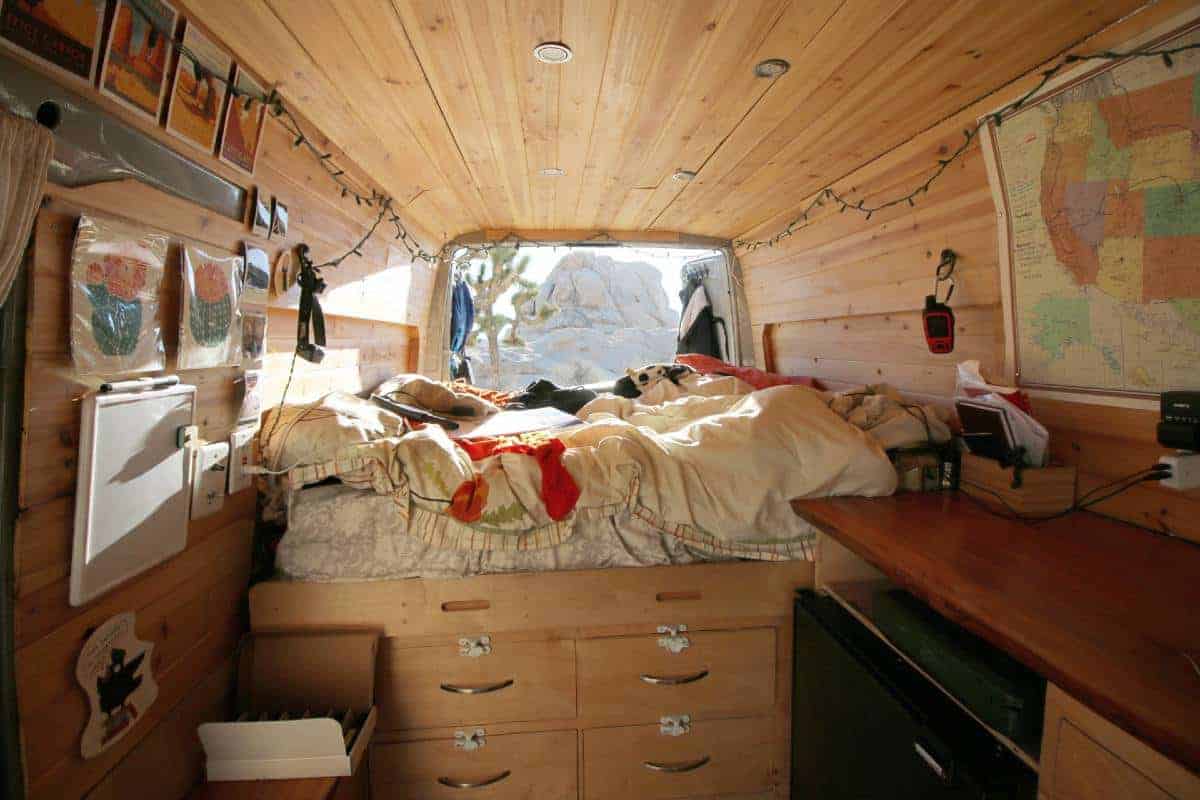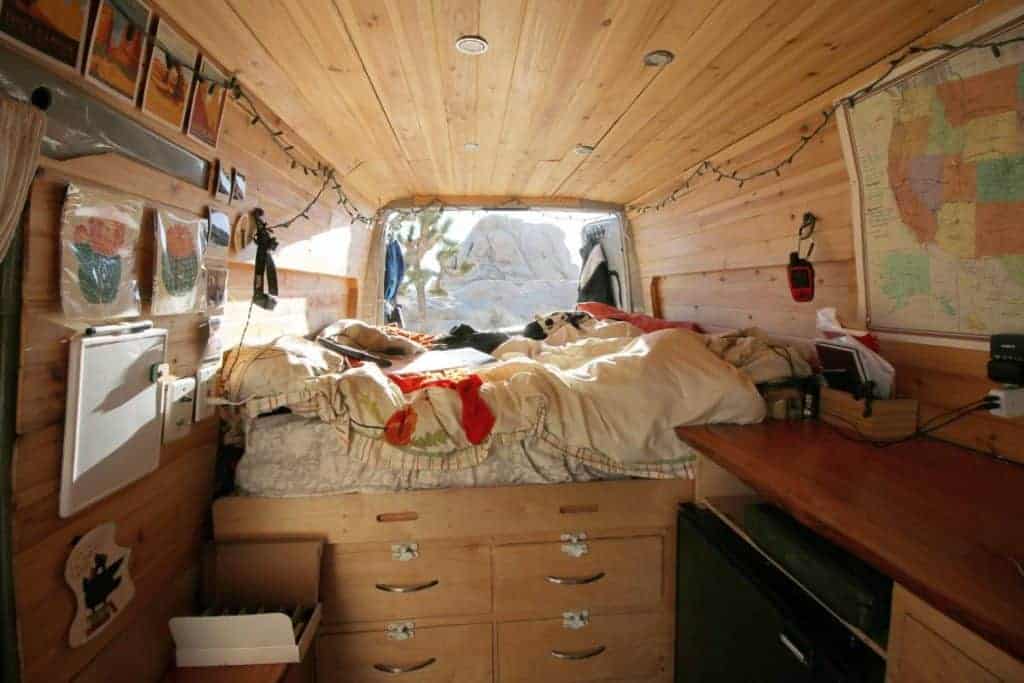 Couch (optional)
While not necessary, it is important to consider how many people you want to comfortably transport from camp to the crag. A couch or some kind of 'back of the van seating' area is important to consider. A 'couch' feature that sits at the front of your bed is a tried and true method.
Things to Keep in Mind for Your Van's Kitchen
A good kitchen is worth it, and in a van this is especially true. Kitchens should be small, efficiently spaced, and – whenever possible – clean!
Sink with grey water storage (LNT!)
Climbers are at the forefront of the Leave No Trace discussion. The sport is growing like crazy and there has historically been very little effort to keep our climbing areas pristine.
This is changing! And in order to keep it on this positive momentum, it is crucial that you store your grey water in your van.
Some will disagree that a sink is necessary, but there are very few other methods where you can brush your teeth, wash your hands, wash your dishes and keep your greywater on board at the same time. Leave No Trace principles ask us to protect delicate ecosystems from harmful chemicals used in dish soap, toothpaste, and other common human waste.
Please be mindful of the places you camp, and install a sink with greywater storage.
Foot/hand pump
A sink requires a water supply and a faucet. The best solution to getting water out of your storage container is a hand or foot pump. Manual water pumps are above all quiet, and it's important to be considerate of your fellow climbers (and wildlife) who may be sleeping nearby. Manual pumps are also energy-friendly. If you have a smaller battery bank, it's important to save power every way you can.
Best Foot Pump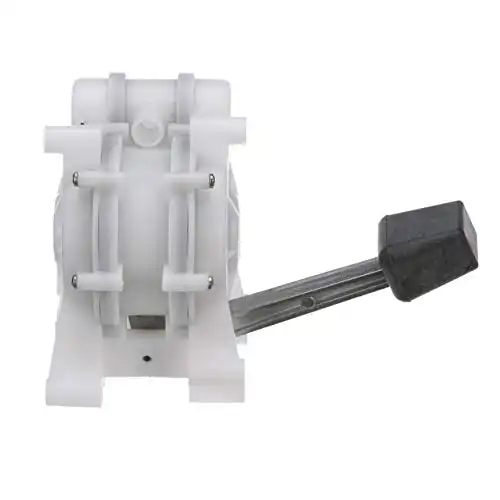 Whale Gusher Galley Mk 3 Foot Pump
The best foot pump out there. High flow rate, saves water, and allows you to do dishes hands free. Possibly our favorite vanlife product of all time.
Check Price on Amazon
We earn a commission if you click this link and make a purchase (at no additional cost to you).
Best Hand Pump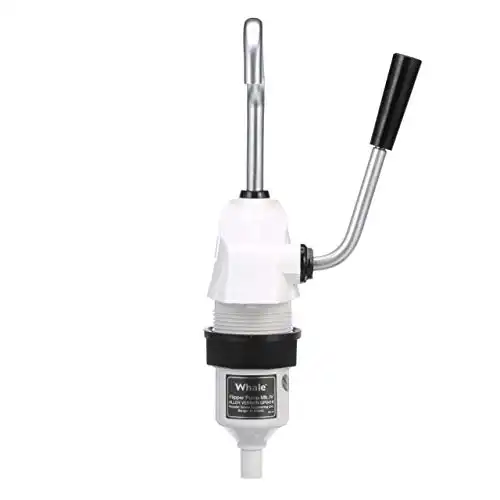 Whale Flipper Pump Mk4 Hand Pump
Whale Systems makes the best galley pumps on the market. The MK4 features a high flow rate, top build quality, and replaceable parts.
Check Price on Amazon
We earn a commission if you click this link and make a purchase (at no additional cost to you).
Food Storage
However you decide to build your food storage, you'll need to consider the following:
A stove
Propane (or other fuel)
Pots & pans
Cooking utensils
Cutlery
Cups, bowls, etc.
Cool food storage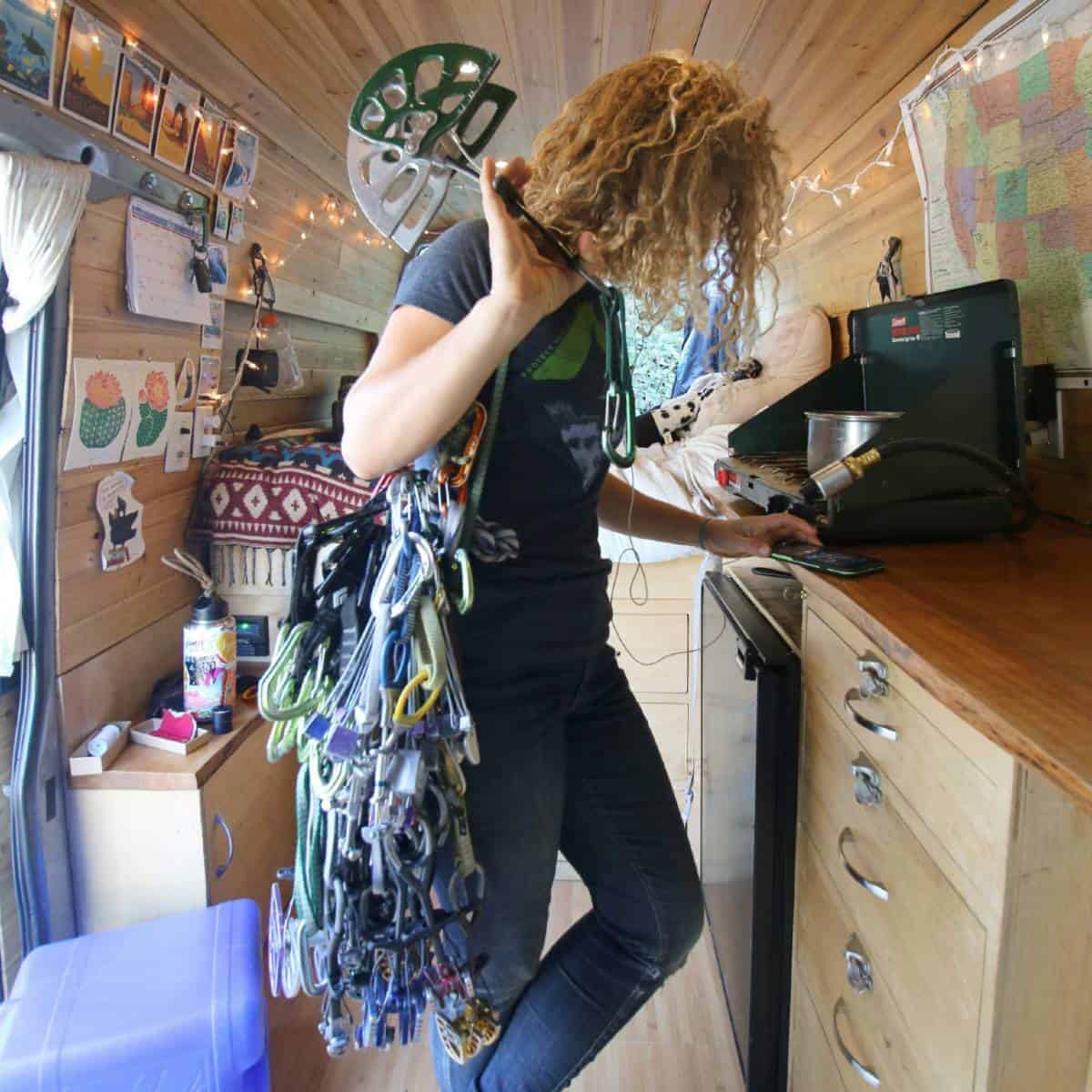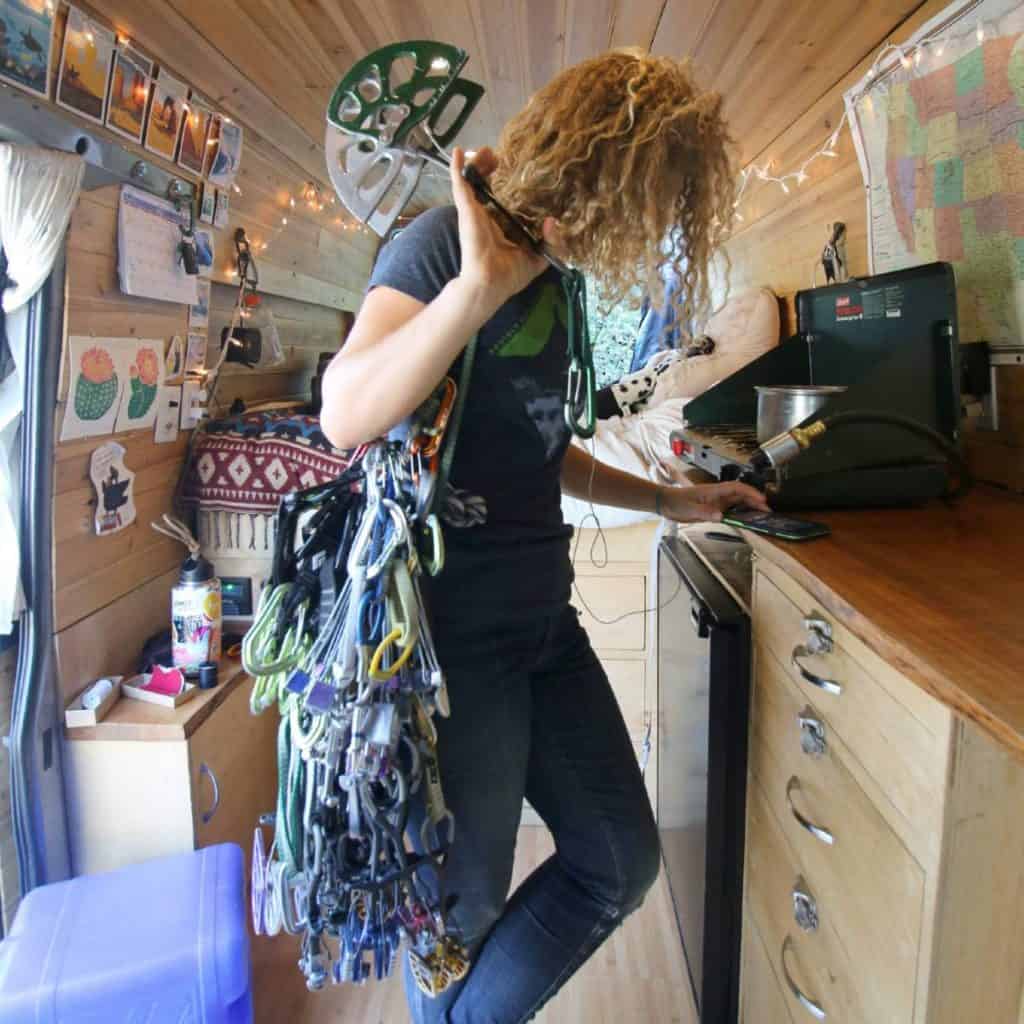 Many climbers are also very invested in keeping beer cold, which could mean a cooler, or a small fridge. There are pros and cons to both. A fridge will keep things consistently cooler and can be built into the build-out seamlessly. However, a fridge will draw power from your battery system which can impact your (potentially) limited power supply.

A cooler will save power, is much cheaper than a fridge, and can be removed from the vehicle at any time for an outdoors camping experience (and it makes a handy seat!). BUT, coolers ARE NOT BEAR PROOF, not even the expensive Yeti ones that say the words 'Bear Resistant' on them.
Important Note on Bear Boxes
If you are climbing in parts of the world where there are bears, you will need to keep your cooler in a bear box at all times. Coolers can also be a bit frustrating to deal with on a recurring basis, especially if you can't go to a store to buy ice. You'll also have to find a safe place to dump the water that accumulates at the bottom of them.
Storage Options for All Your Climbing Gear
Your storage needs will vary depending on the style of climbing you do. In the following section, I'm going to layout storage for Boulderers, Sport/Trad Climbers, Aid Climbers, and Ice Climbers. All of these can be combined with minor adjustments.
Boulderer Storage
Crashpad
The most convenient place to store a crash pad is on the roof, but if you have solar panels and a roof vent that will prove difficult. The second best place to store a crash pad is under your bed either stacked sideways along one wall or stored flat under the bed. Both are fine storage solutions, but if your bed is short, then it will be easier to store your crash pad flat and low to the ground.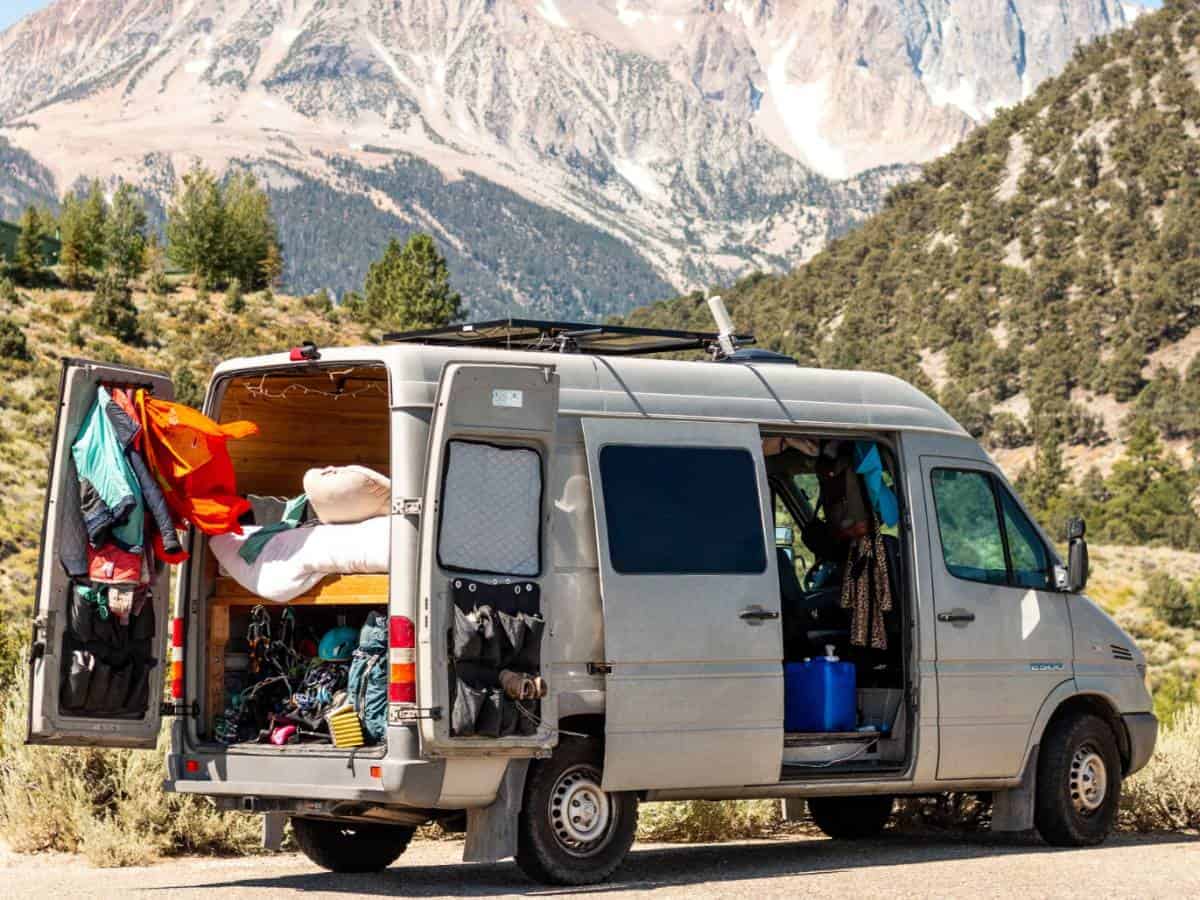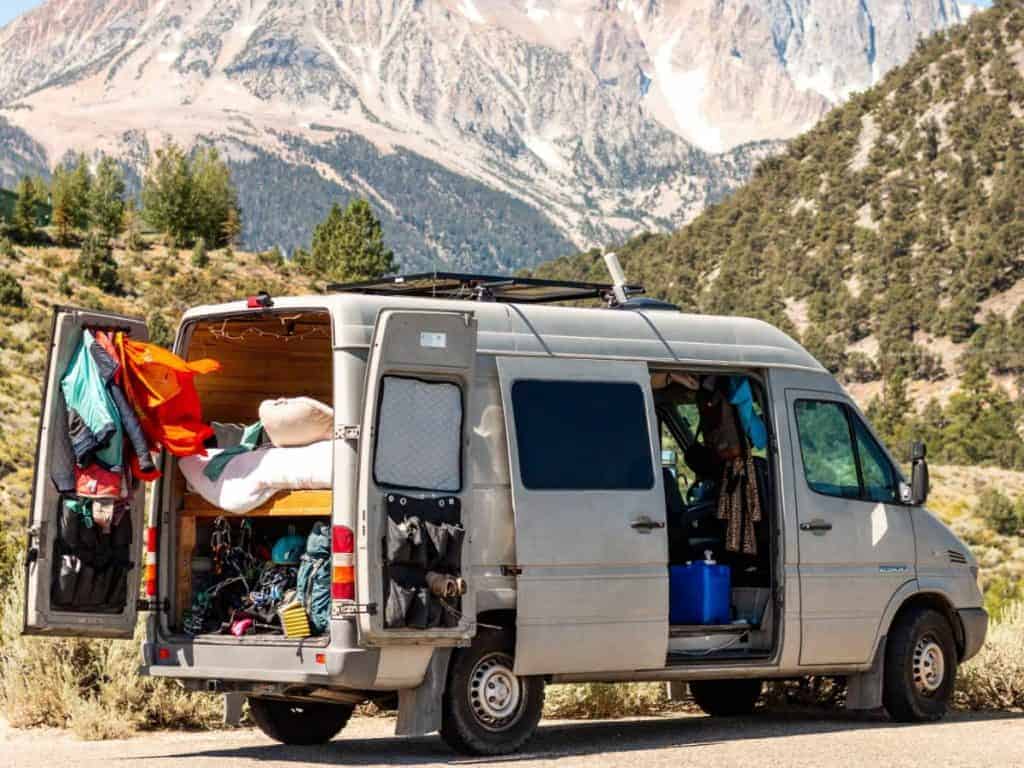 Sport/Trad Climber Storage
A place to hang your gear
Where to store your gear will be the biggest defining characteristic in setting your van apart from other types of vans. Depending on how much gear you have, the storage will vary widely.

If all you're carrying with you is a set of quickdraws, then you could probably put those in a backpack and store your backpack under the bed in the back. However, if you have a large rack of cams or otherwise a lot of climbing gear, then you will want to dedicate a space in your van to its storage.

There are a lot of options for this, but they boil down to two main methods of storage, the bin method, and the hanging method.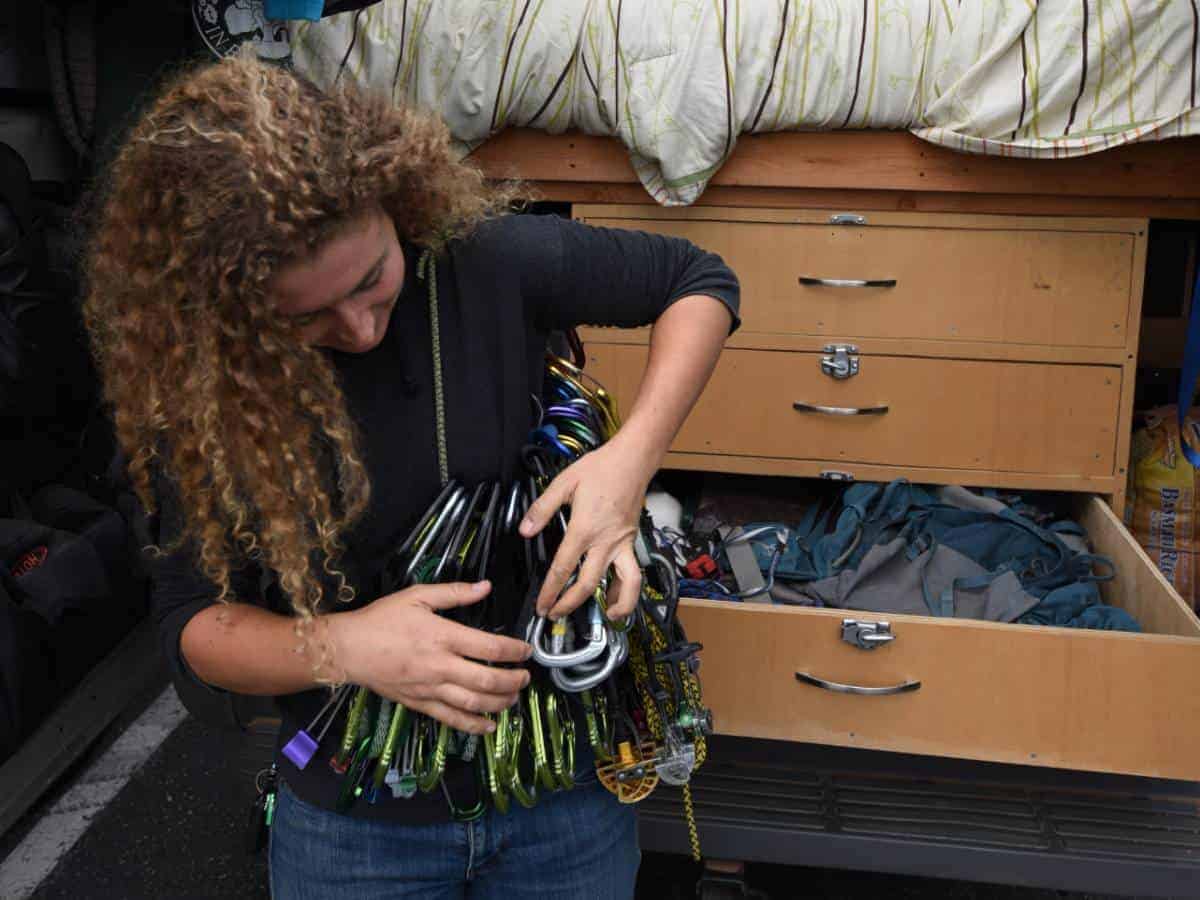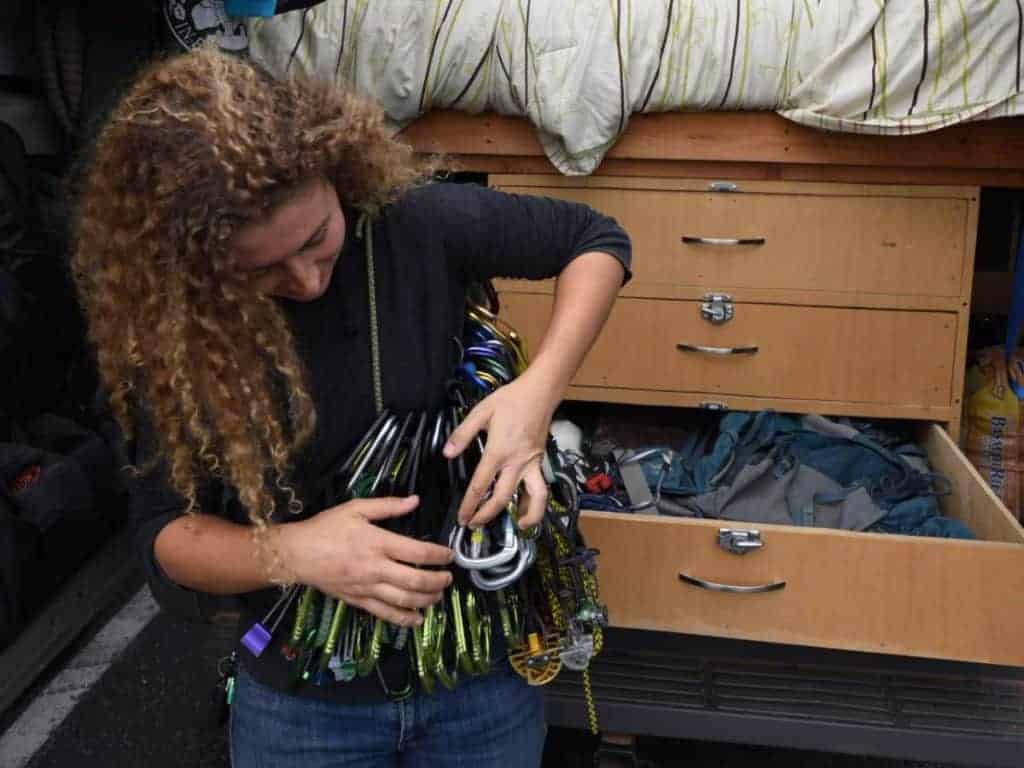 Hanging your gear has the added benefit of showing it off. There is a fun aesthetic of looking into the back of your van and seeing your ropes and rack dangling from their hooks, ready to go at a moment's notice.
However, the bin method is more practical. Storing gear by hanging it means you have to hang it back up once you take it down, and it's much easier to throw everything into a bin or a drawer.

The most common places for storing gear is in the back of your vehicle, or under the bed.
Ropes (Dynamic and static)
Another item to consider will be your ropes. The best storage solution for ropes is to hang them on large hooks either in the back of your vehicle or in the 'living room' area if there is space on your walls. Hanging your ropes in a backpack coil keeps them out of the way, but makes it easy to grab them and go.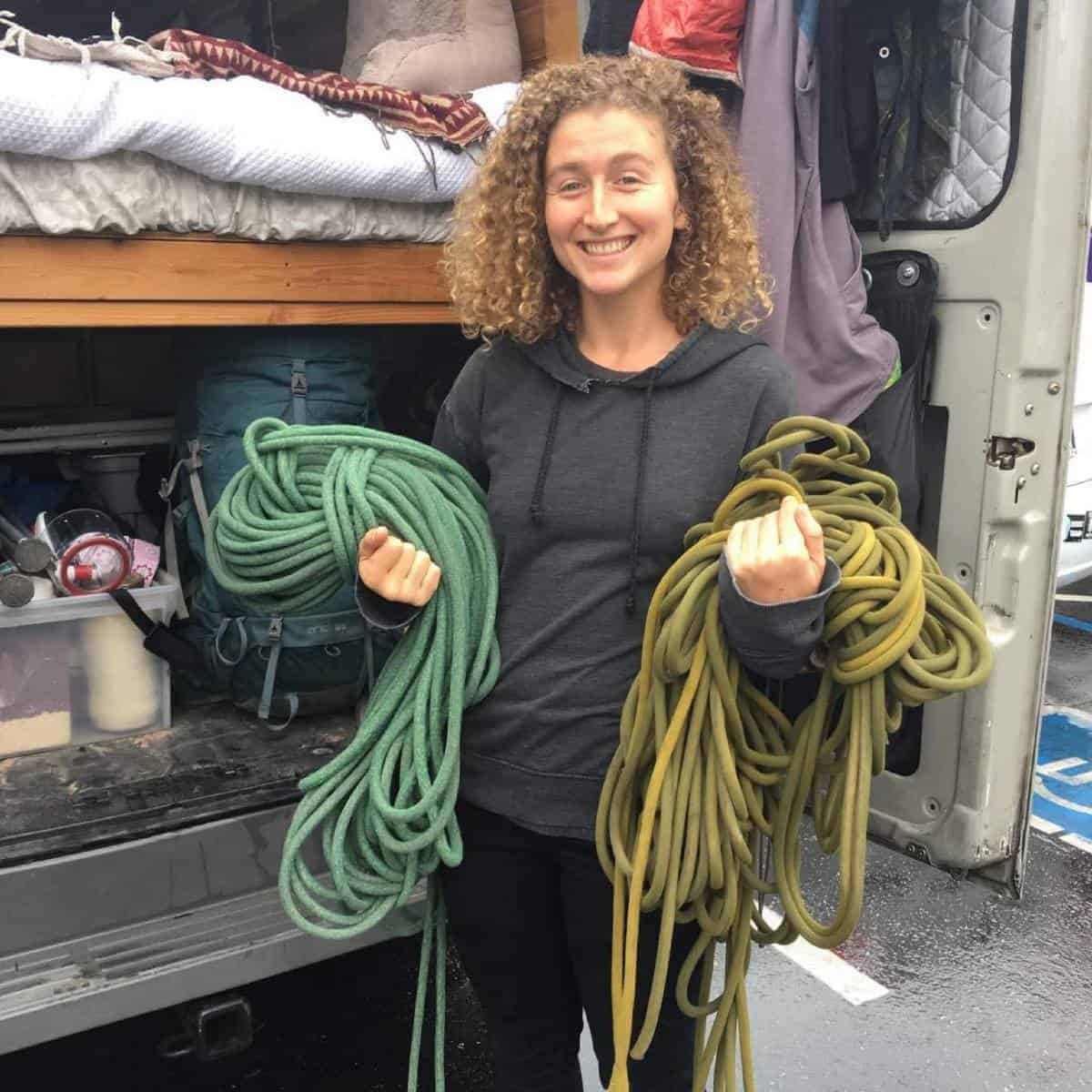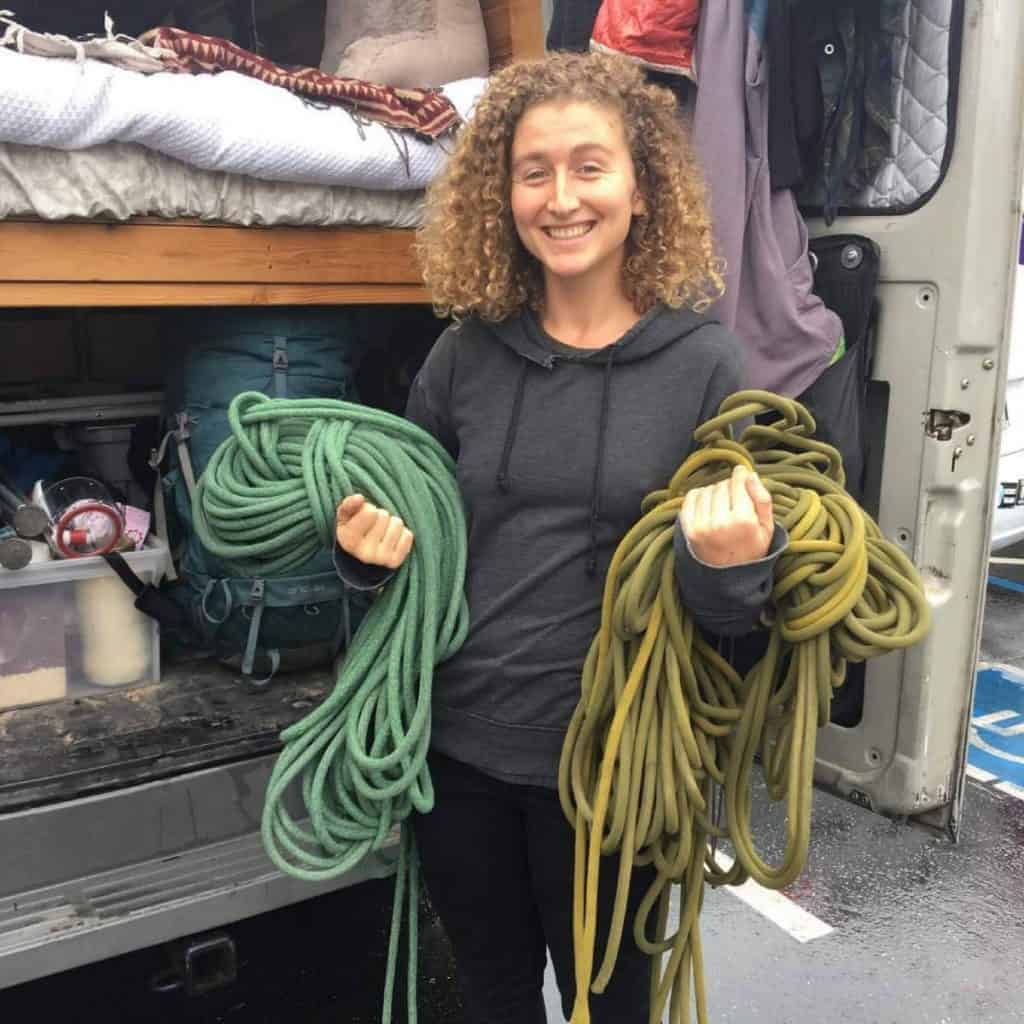 Harness + anchor kit(s) + helmet
Keep all these things together. Either hang them on your walls with hooks strong enough to keep them in place, or find a bin to store them in the back.
Aid Climber Storage
If you're aid climbing, you're also likely trad climbing. See above for rope/rack/harness/helmet storage options.
Aid Gear
Ladders, daisy chains, anchor kits, big wall harness, fifi hook, wall gloves, extra carabiners, lower out lines, swivels, pro traxion or micro traxion, iron rack, catspaw etc. Should all be stored in the Haul Bag. And stored under the bed. It's the easiest way to keep everything together without taking up too much space.
Haul Bag
If you're doing a lot of aid climbing, you'll need to make room under your bed for a haul bag. Similar to a crash pad in its awkward size, I recommend storing it flat under your bed and off to one side.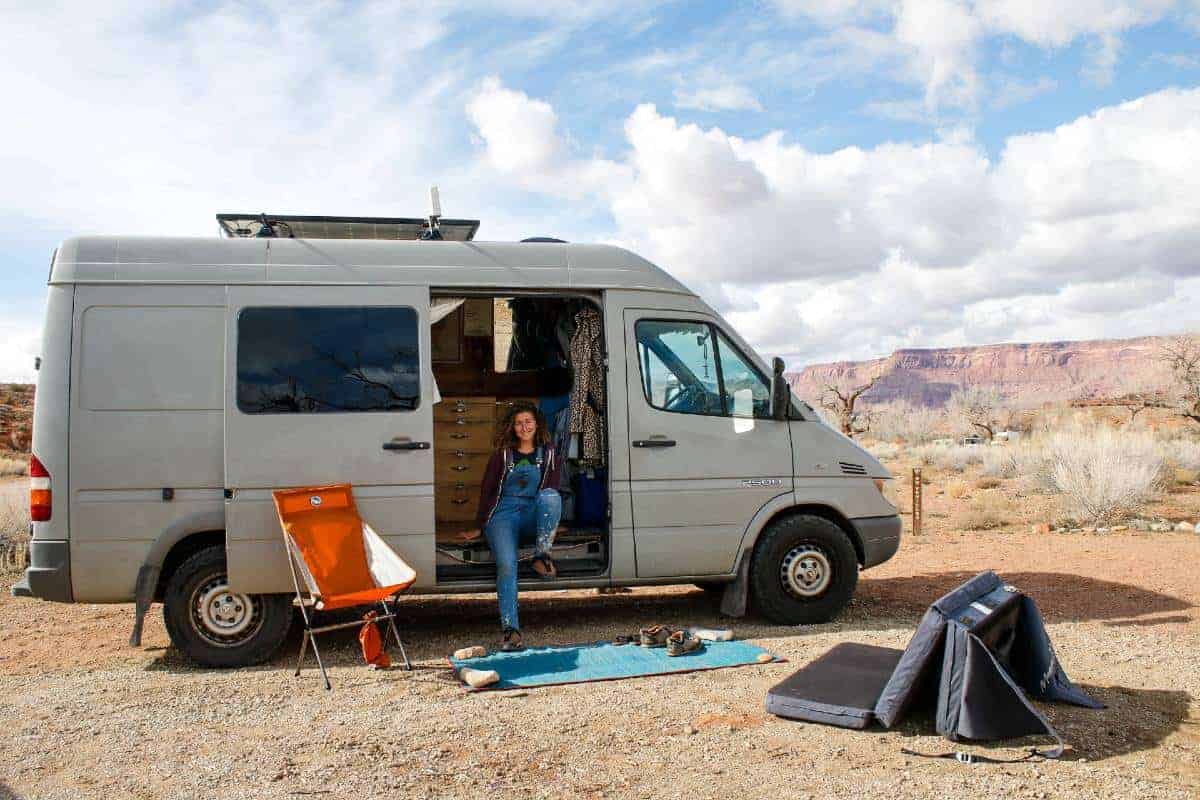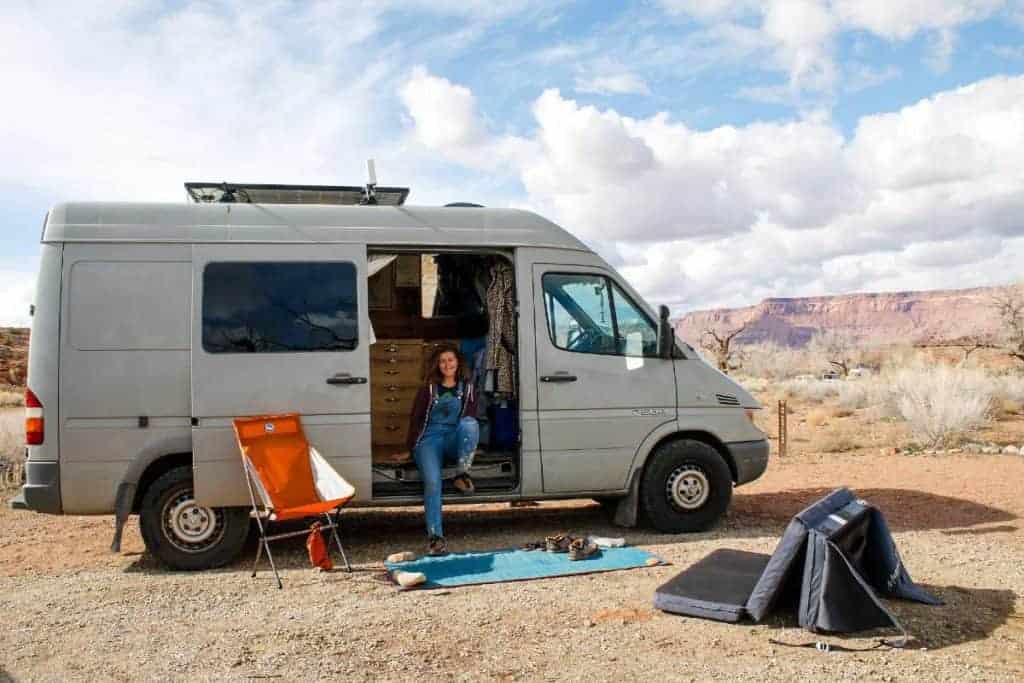 Port-a-ledge
Another awkwardly shaped item. I would recommend storing this alongside your haul bag full of gear.
Ice Climber Storage
Ice Axes
Ice Axes look badass, so why not show them off and hang them somewhere conspicuous?
Crampons
Crampons should be stored in a bin with your other misc climbing equipment. Possibly with your other shoes.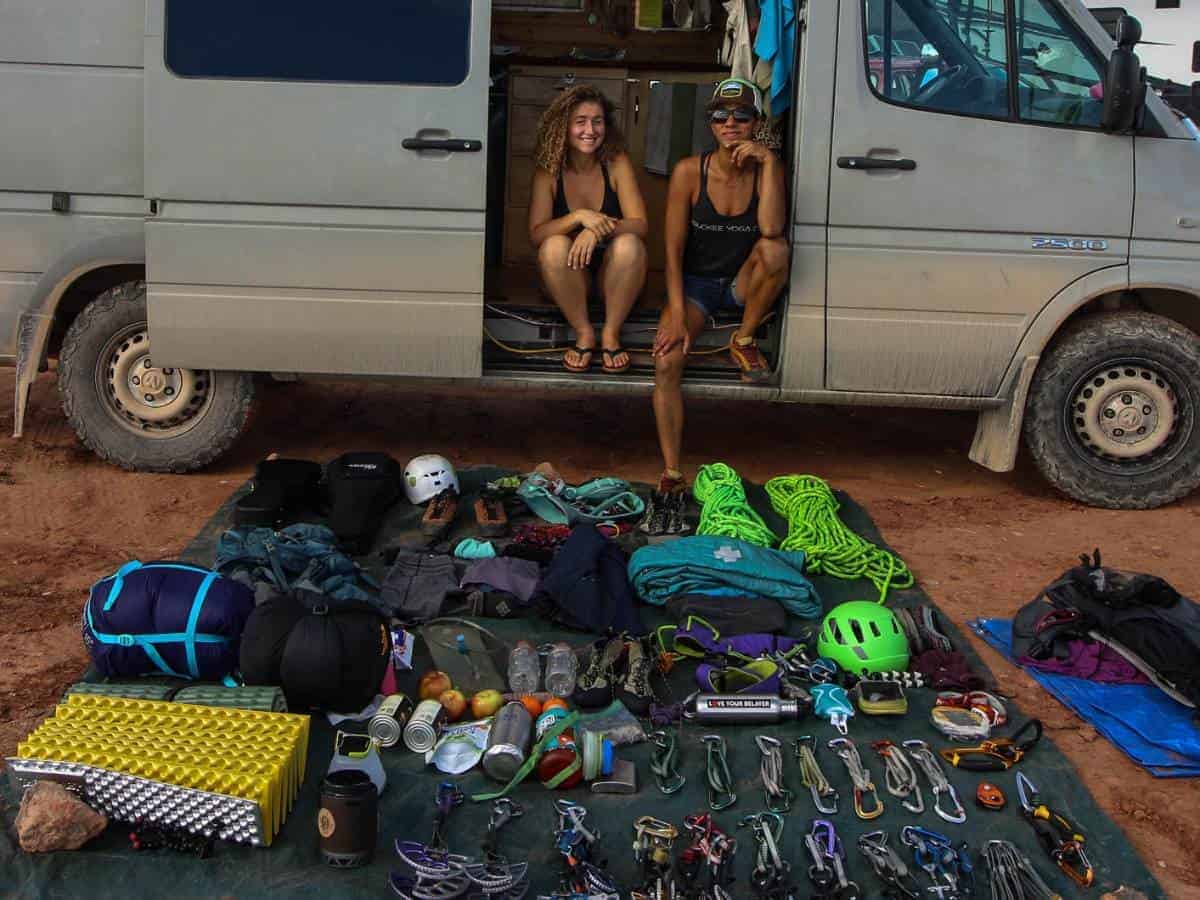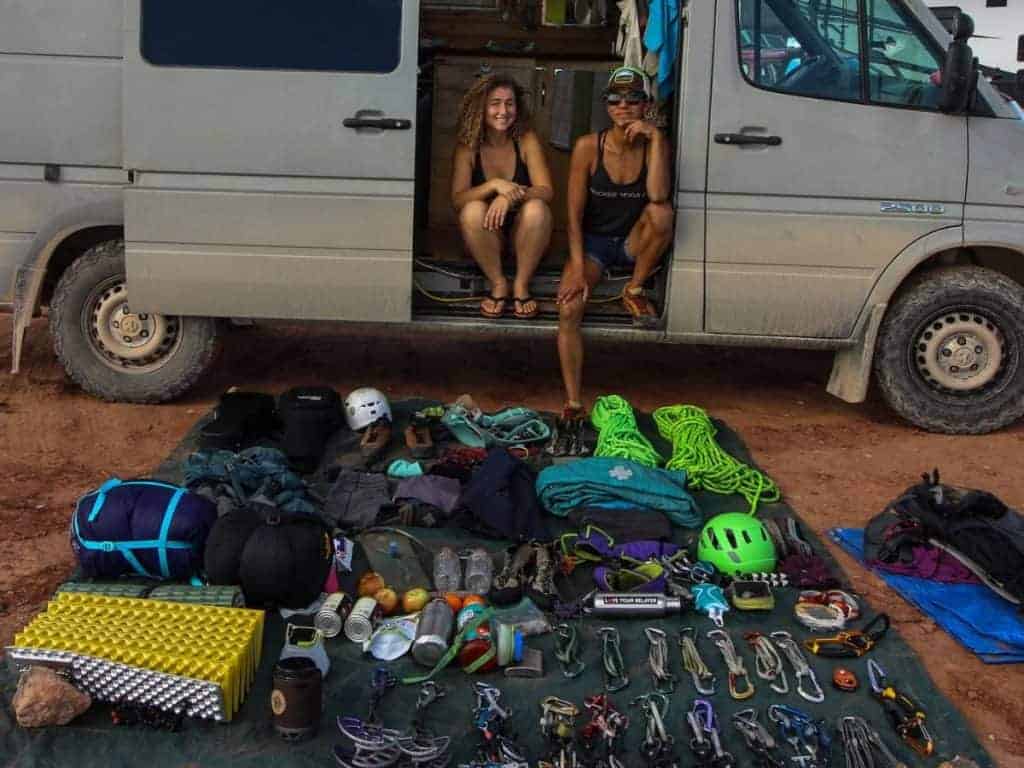 Van Storage for all Climbers
Chalk bag
I like hanging my chalk bag and shoes off the back of my passenger seat. It lets them air out and they're right by the door when I want to go climbing.
Shoes (trad, sport, boulder, Ice, and approach)
Shoes are always a tough one for some reason. I've seen a few solutions that work, like hanging a shoe rack from the back doors, or keeping a bin of shoes under your bed.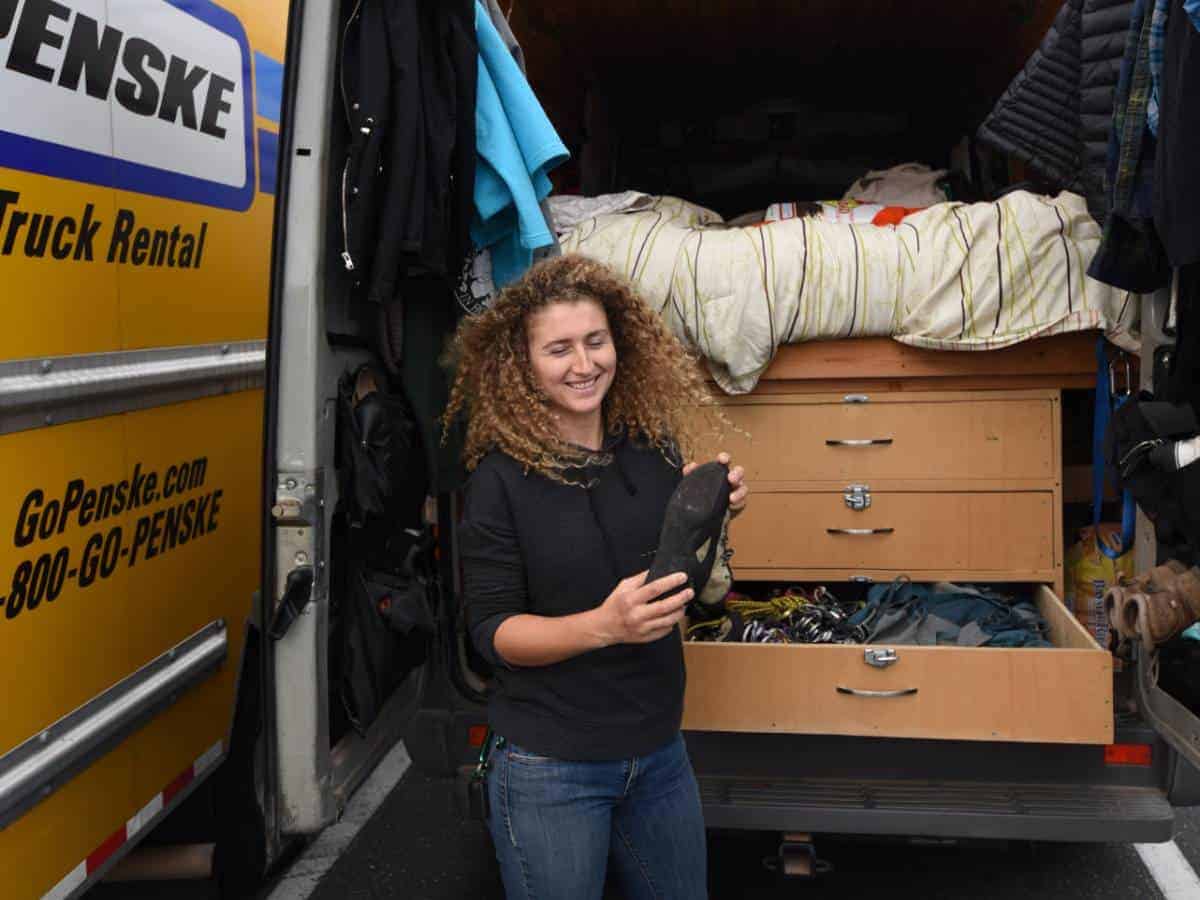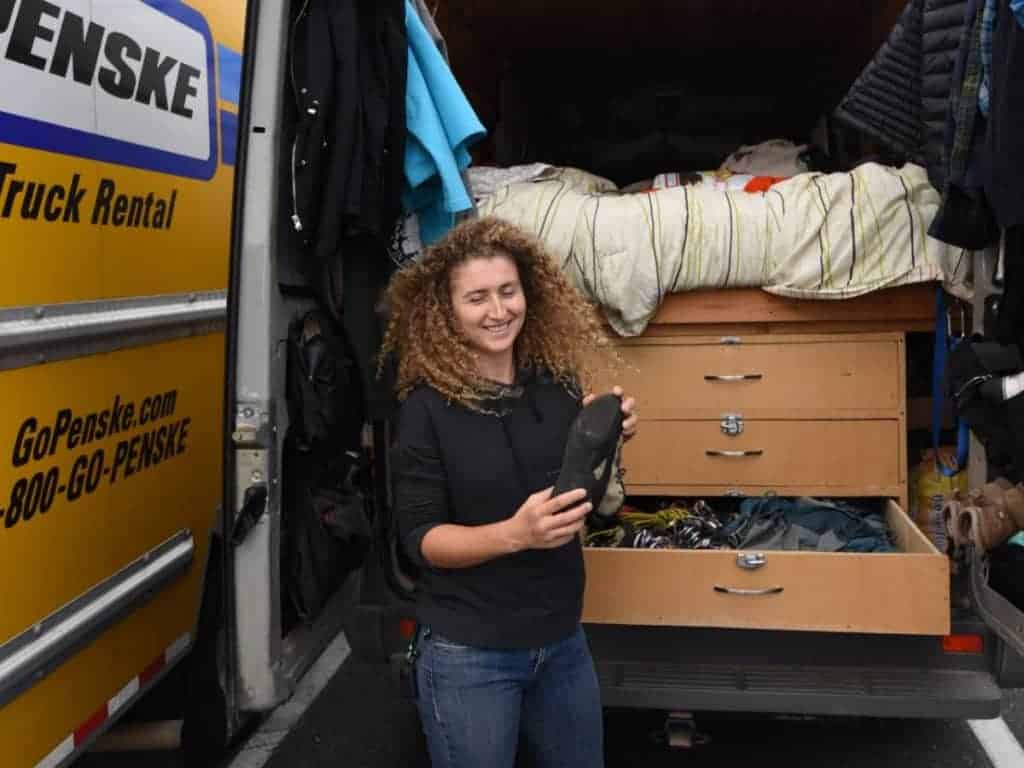 Personally, I keep my 'currently using' climbing shoes hanging off the back of the passenger seat chair, and my 'to be used later' climbing shoes hanging on hooks under my bed. However, I think bins work pretty well for most climbing shoes. You can keep them with your harness and other misc climbing equipment.
Climbing shoes need *some* airflow to keep them from getting too musty, so get creative.
Headlamp
A small item like a headlamp should be easy to access at a moment's notice. Hanging a (rechargeable) headlamp from a hook on your wall, or on the back of your driver's seat is a good storage solution for something you'll need a lot.
Backpacks
This one's tough. The easiest way to store a backpack is when it's full of stuff. I often leave my backpacks full of the things they are most often used to carry. My day bag has a full water bladder in it with my sunscreen, chapstick, and sunglasses. Then I hang it on the wall under my bed on a hook so I can grab it and leave.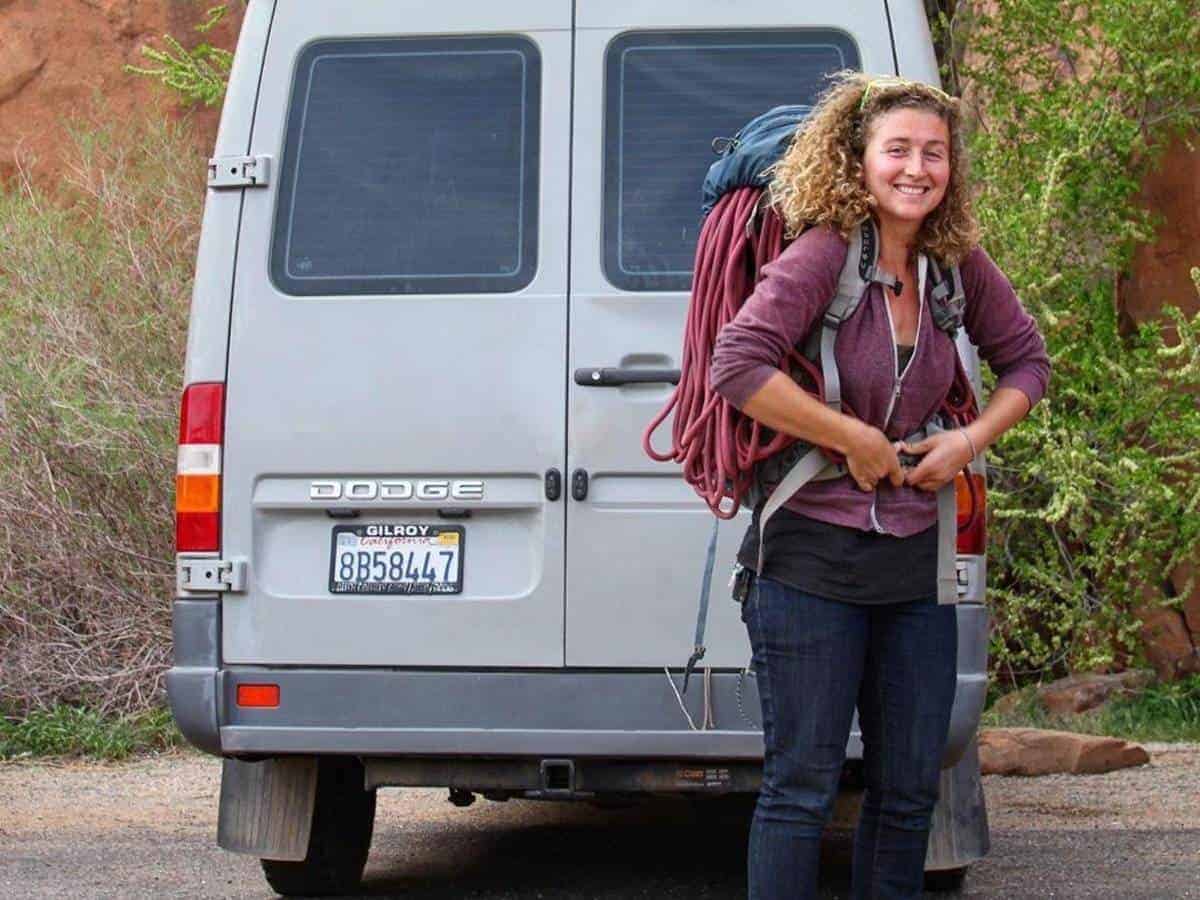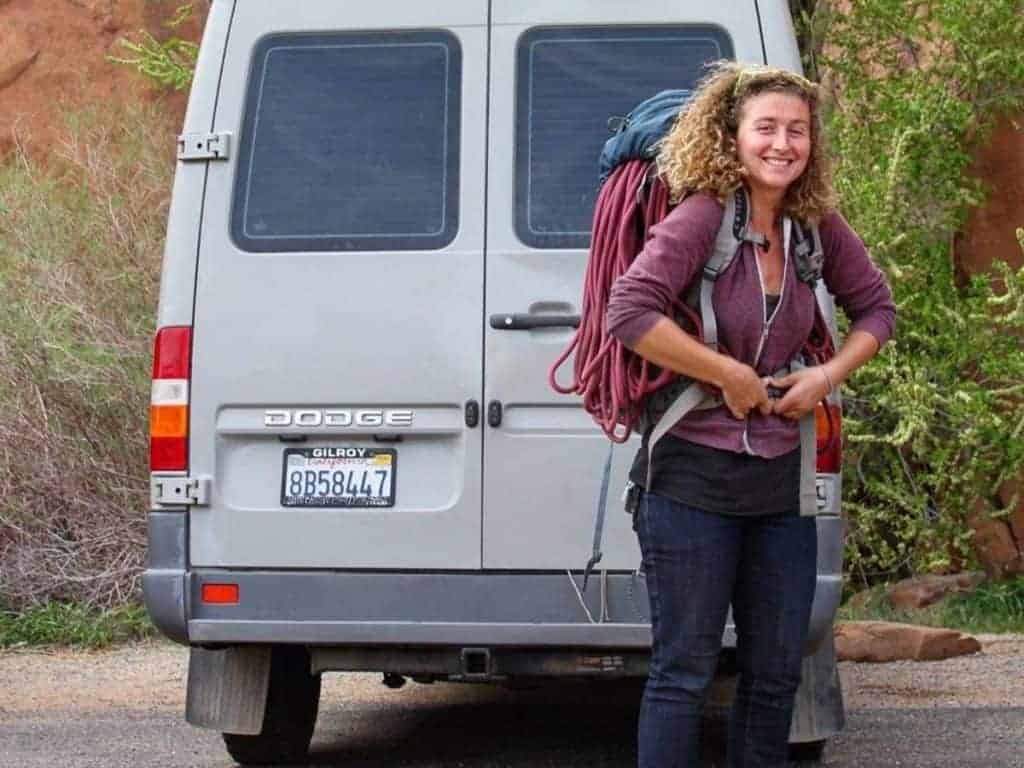 For my backpacking bag I keep my sleeping pad, sleeping bag, tent, tarp, and stove equipment inside it and shove it to the deepest crevices of my van. I want to be able to reach this bag, but also keep it out of the way since I only use it occasionally.

My crag bag (when it doesn't have climbing gear in it) has another full water bladder, tape, crack gloves, chapstick, sunscreen, relevant guidebook and a few Cliff bars in it for good measure.
First Aid Kit
You should always have two first aid kits. One for the van which you can leave in your toiletries storage area, and one left in your backpack that you're most likely to use.
Top Backcountry Medical Kit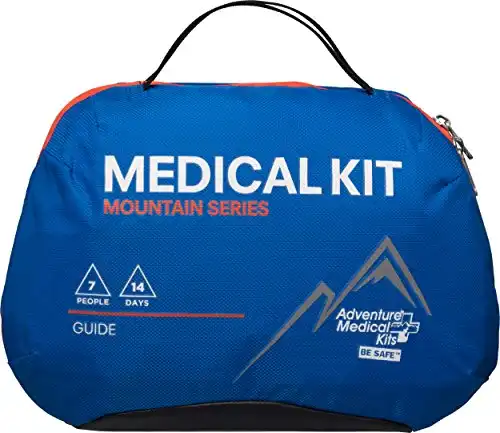 Jackets
For whatever reason, climbers have a lot of jackets. Rain jackets, activewear jackets, windbreakers, three different sizes of puffy jackets, vests, sweaters, mid-layers of various thicknesses, etc.

Jacket storage is a pain in a vehicle, but the easiest solution I've found is to hang your 'current' jacket on the back of your drivers or passenger seat and then store your other jackets in 'deep storage' until you need them.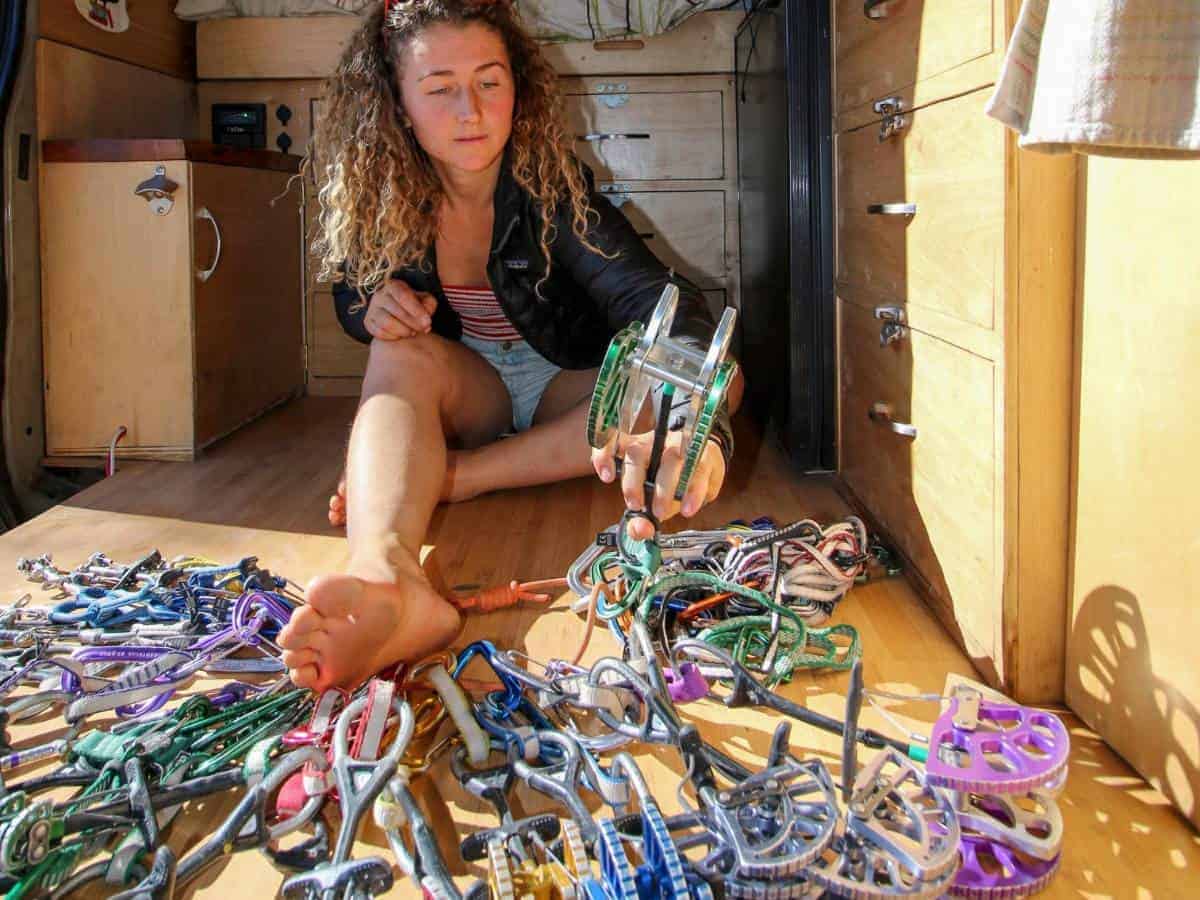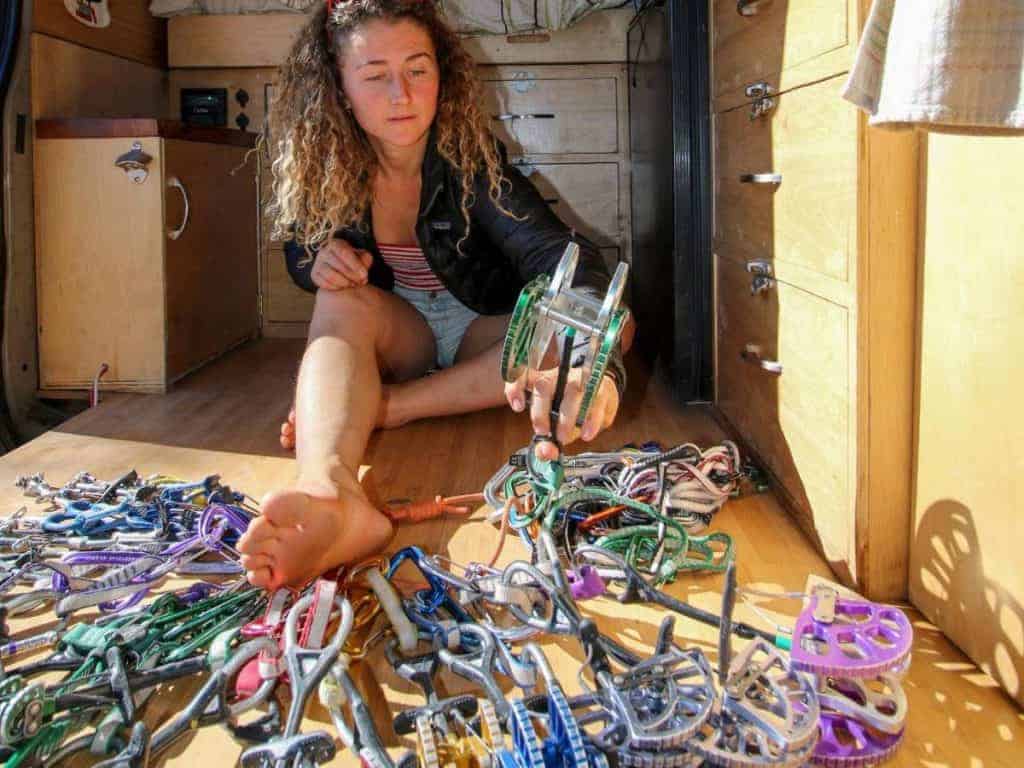 Installing Electrical in Your Van
Everyone's vanlife electrical needs are different. Some people prefer headlamps to overhead lights, and some people prefer strobe lights to mood lights. Whatever you prefer, remember that you'll be spending a lot of time losing small important items in the cracks in your build, and you will want to illuminate your space to find them easily!
Bright overhead lights
Bright lights for dark nights and mornings. There are a lot of alpine starts depending on where you are climbing and what season it is, so you'll want to be able to fully illuminate your space easily.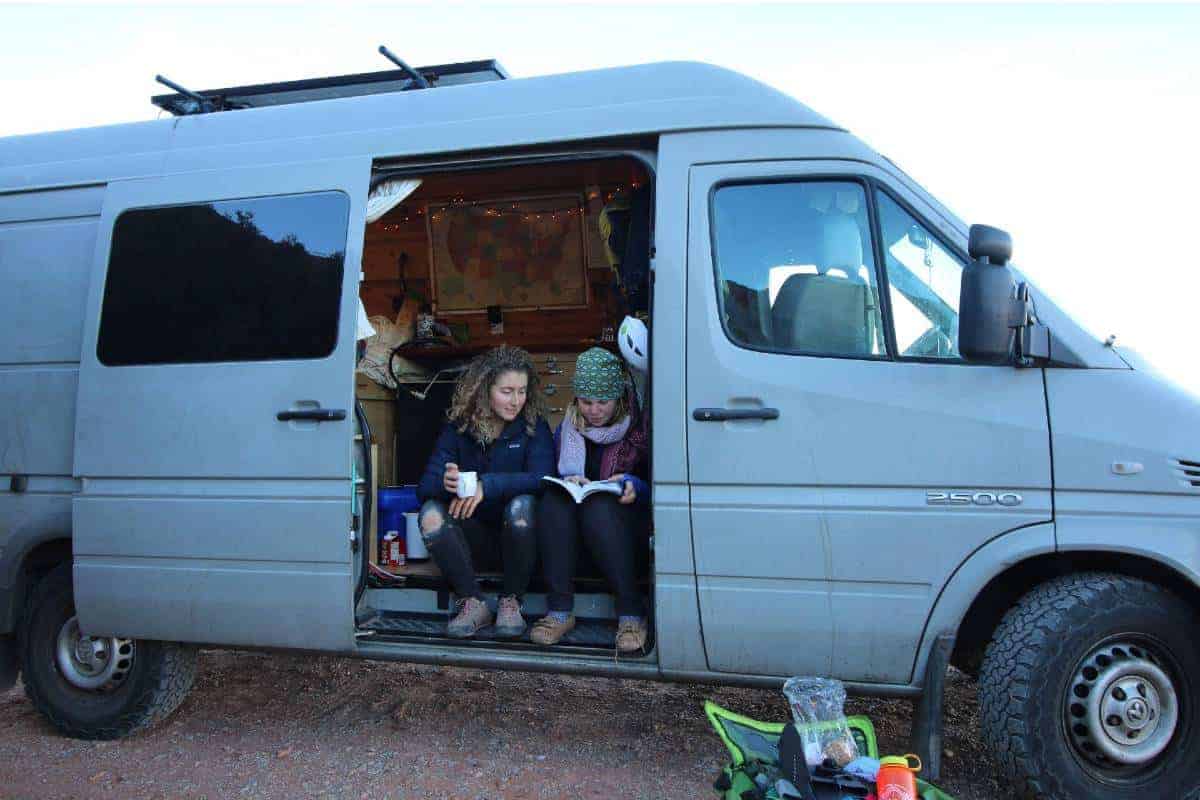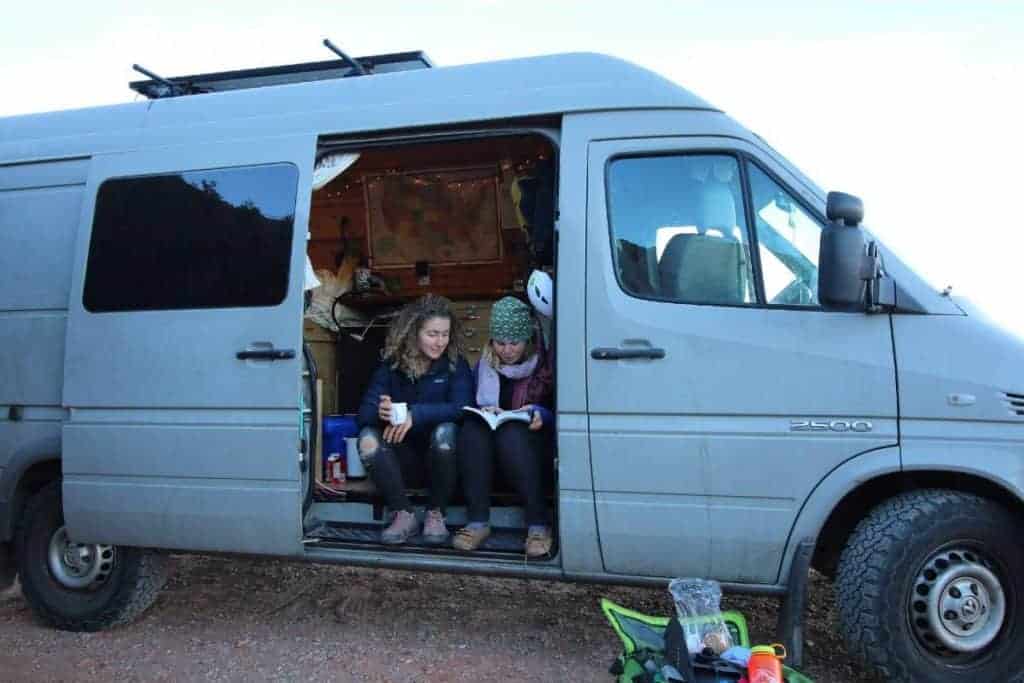 Smaller, softer, less harsh lighting for reading + evening vibes
It will drive you insane if you live with extremely bright lights all the time. Make sure you incorporate some kind of reading light or mood lighting (or dimmer switch!) for when you want to stay up after dark but don't want to feel like you're in a classroom.
Battery for charging phone + laptop
We all need power. From charging headlamps to InReach's to cell phones to laptops to kindles, we all need to charge some kind of device. Not to mention illuminate your van with light and possibly run a refrigerator. Some people make do without any power, but it will make your life easier if you have a reliable battery bank.
Extra Additions to Your Rock Climbing Rig
Included here are a few things that are not necessary for rock climbing van dwellers, but are pretty nice to have. If you're looking to add a few things on and have the time/budget to do so, this list is for you!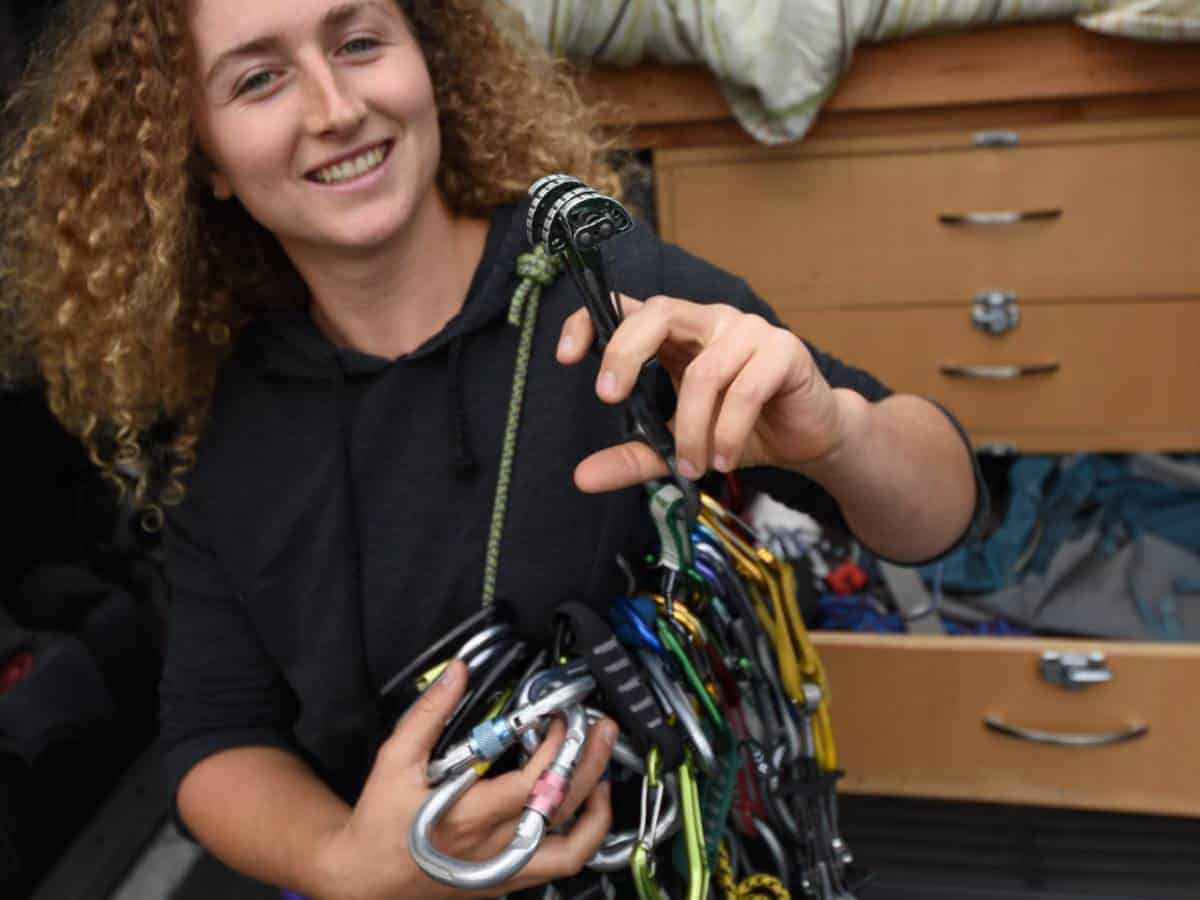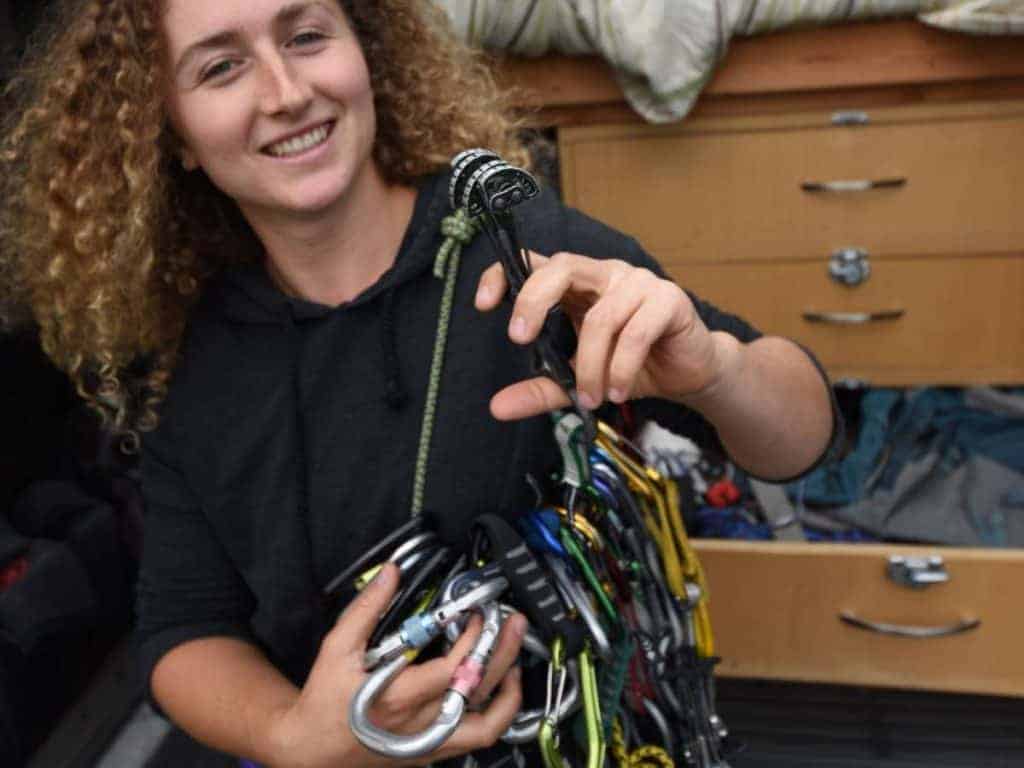 Hang board
Having a hang board that is compatible with your vehicle or compatible with nearby trees is really useful for rest days.
Bike rack
You don't always want to drive! Having a bike for getting around town is great. There's an added bonus for not losing your parking spot when you go to the store.
Swivel Chairs
Swivel chairs for the front two seats are great to create more space in your vehicle. It opens up the small space and allows for extra seats when you have friends over.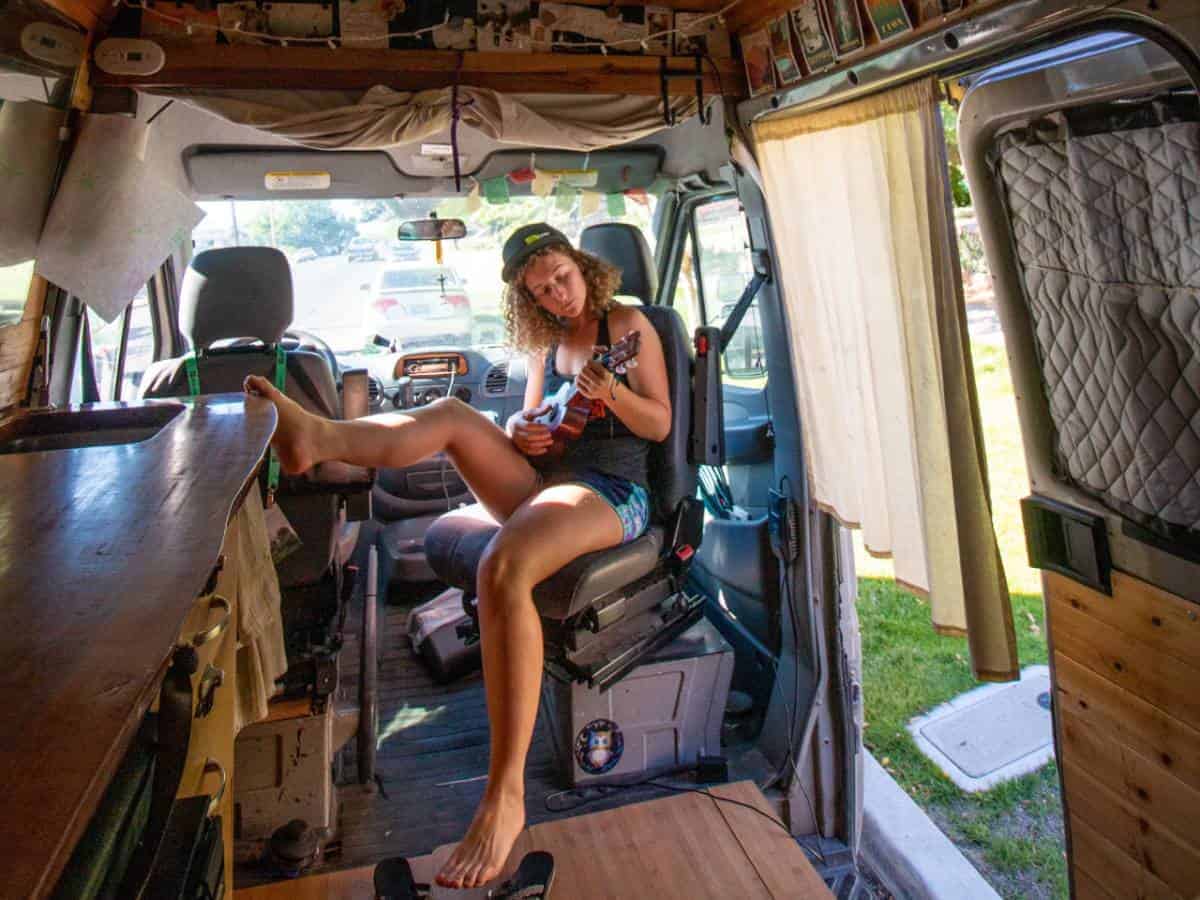 Battery Isolator / DC-DC Charger
This allows you to charge up your auxiliary batteries from your van's alternator. Charging your batteries while you drive is obviously the ideal solution to battery power shortages. It's especially useful when you travel in heavily wooded areas or in places where sunlight is otherwise difficult to come by.
Best DC-DC Charger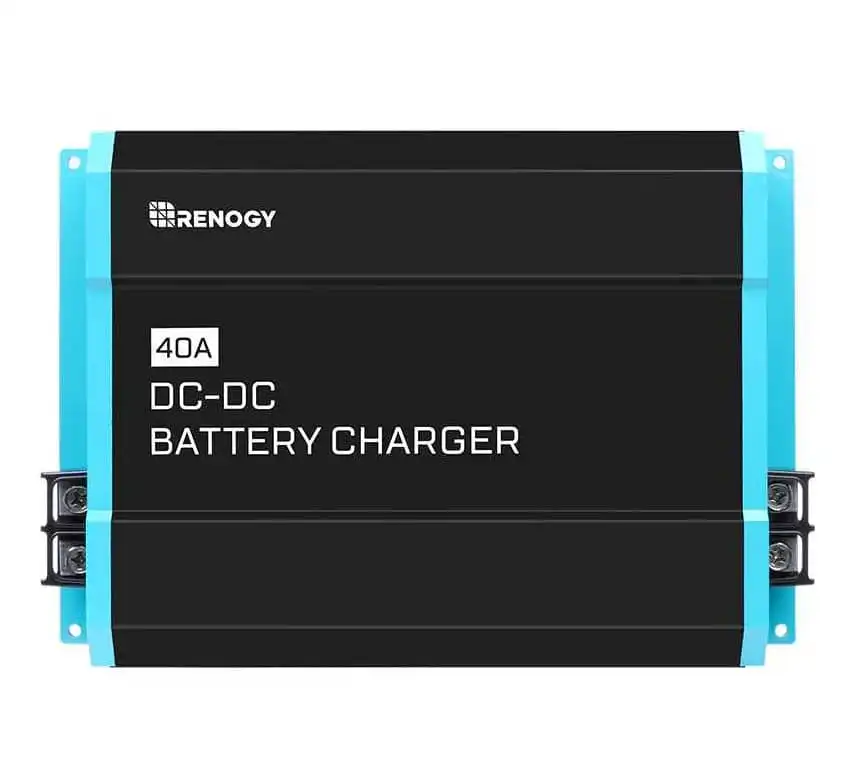 Renogy 40A DC-DC Charger
Charges your auxiliary batteries from your alternator. Also available in 20A and 60A sizes.
20A size is best for 40Ah+ LFP or 100Ah+ AGM batteries
40A size is best for 100Ah+ LFP or 200Ah+ AGM batteries
60A size is best for 120Ah+ LFP or 300Ah+ AGM batteries
Enter discount code GnomadHome for 10% off at Renogy.com
Check Price on Renogy
Check Price on Amazon
We earn a commission if you click this link and make a purchase (at no additional cost to you).
Vented heater
Pure luxury, but it's so *so* nice. Winter climbing destinations can get really, really cold. So having a built-in heater will make it much easier to recover after a long day of climbing, as well as prepare for another long day ahead. There are many options out there, and if you have a diesel vehicle there are a few diesel specific heaters that will run off your fuel tank. Having the ability to create that kind of instant warmth is a huge upgrade that will make your winter climbing much more pleasant.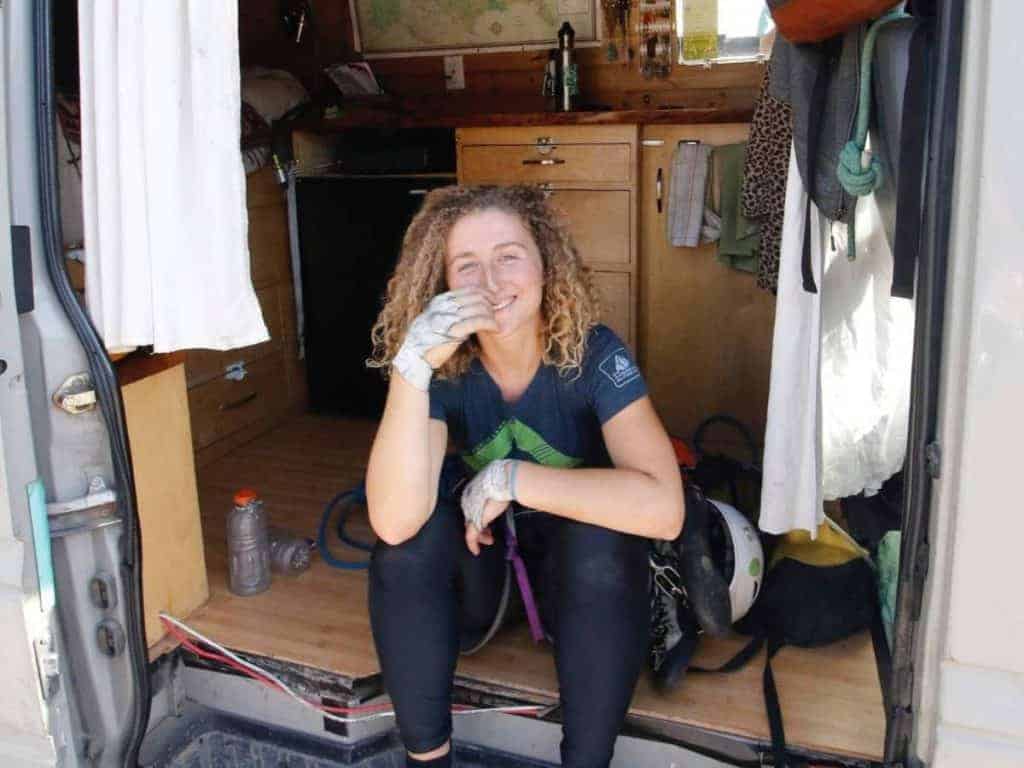 The Perfect Rock Climbing Rig for Vanlife
Building out a van to live and travel in is an adventure in its own right. There are many needs to consider that are unique to you and your priorities, and rock climbers have a unique set of needs.
There are many ways rock climbers can truly make a van a home while also making sure all of their gear is accessible and has a safe place to be tucked away. What does your rock climbing van set up look like?