Bigger doesn't always mean better. That's the whole point of the van life movement, right? And anyway, "big" and "small" are relative terms. Some might consider my current camper van­—a high-roof, regular-length Ford Transit camper—cramped. But it feels palatial compared to my previous lodgings (a Toyota Sienna minivan).
Although I love my new, larger van, I can't help but feel nostalgic for my trusty Sienna. The little van embodied the minimalism and adventure I craved when I first moved into a van. It was reliable, stealthy, fuel-efficient, and easy to drive. It made it simple and affordable to experience life off the beaten path.
Part of me still sees my big honkin' Transit as incongruous with the values that first got me out on the road. Its ungainly profile is harder to deal with in almost every possible scenario than a small camper van. Also, it feels like the amount of material clutter in my life has grown in proportion to the extra storage space the big camper van provides.
If you're just getting into life on the road, don't assume a big, high-roof cargo van is the only way to go about it. Small vans have many advantages over big ones, not least that they're cheaper to buy and maintain, and easier to convert into a campervan.
Here are 11 of our favorite vehicles that make the best small camper vans.
The Best Small Camper Vans for Van Life
1. Chevy Astro / GMC Safari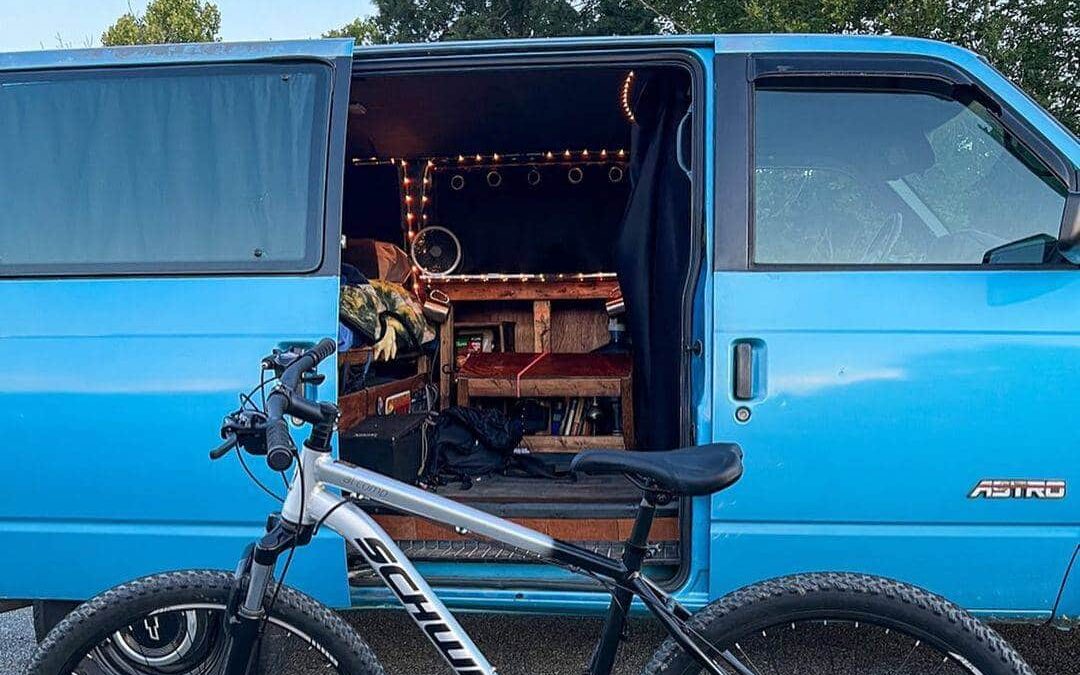 Exterior Length: 189.8 inches
Exterior Height: 75 inches
Exterior Width: 78 inches
Cargo Volume: 170 cubic feet
Estimated Combined MPG: 15
The Chevy Astro and GMC Safari are the same van sold under two different brands. General Motors discontinued these vans after 2005, but they are still abundant in the used car market.
The Astro/Safari is shaped like a cargo van, but its size is more in line with a minivan. The boxy shape makes the Astro much easier to work with than your typical minivan, and makes it an excellent vehicle for a small camper van.
The Astro is essentially a mini Chevy Express. Its 111-inch wheelbase is shorter than the Express's 135-inch wheelbase, and the vehicle height is about 10 inches lower. However, it's somewhat larger than most small camper vans on this list, making it an excellent option for those who want a small camper van but not too small.
The Astro/Safari is a popular, budget-friendly choice for van life. Although it's discontinued, there are plenty of them floating around the used van market for a reasonable price. The Astro is also available as an all-wheel drive van, which makes the perfect rig for off-road adventuring.
2. Ford Transit Connect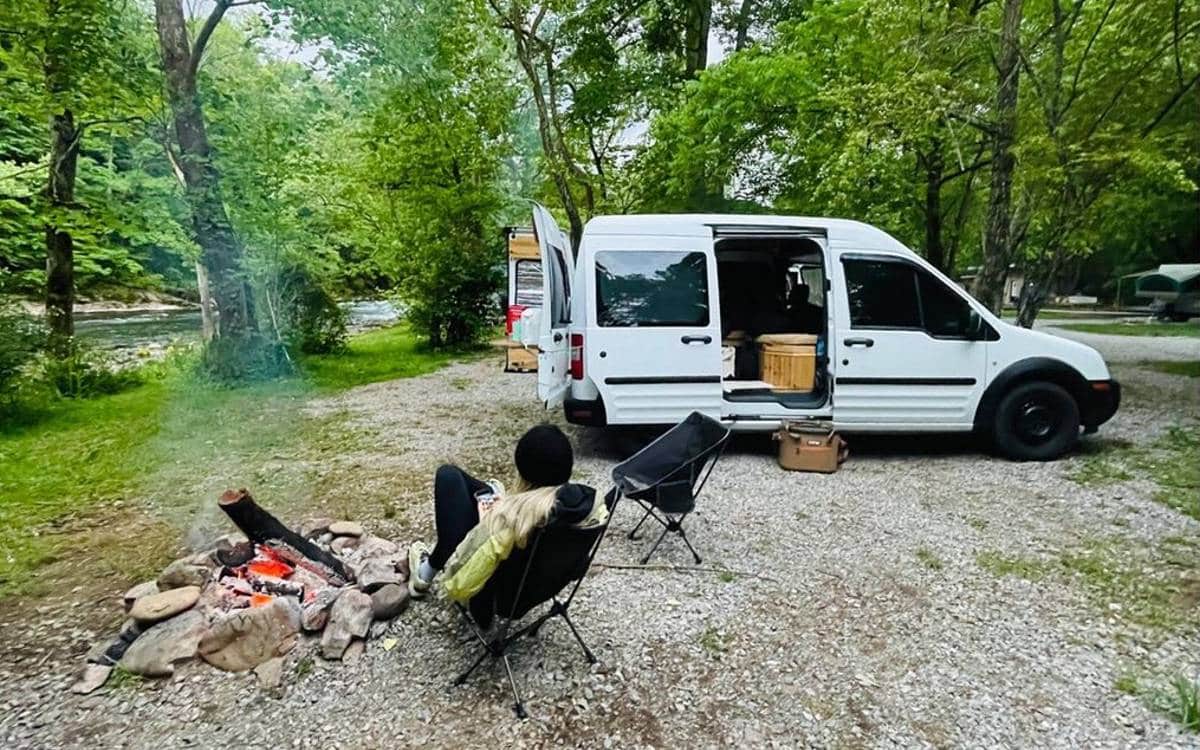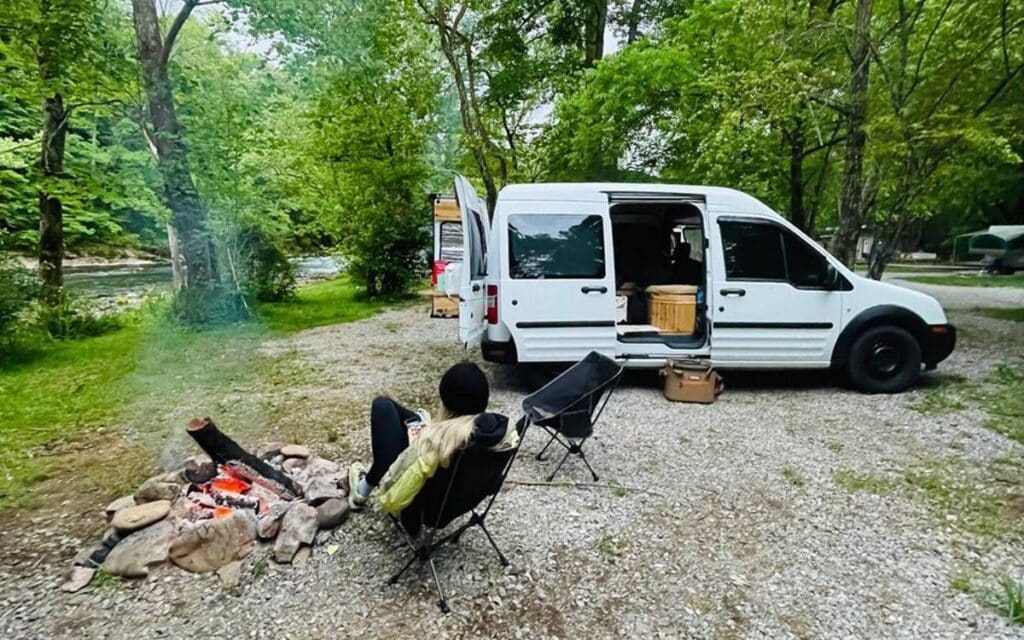 Exterior Length: 174.2 inches
Exterior Height: 72 inches
Exterior Width: 72 inches
Cargo Volume: 104 cubic feet
Estimated Combined MPG: 25
The Ford Transit Connect is another excellent choice for van builders who want the compactness of a minivan but the easy conversion of a cargo van.
Although the Connect is the mini version of the full-size Ford Transit cargo van, it actually predates the full-size van by several years (the full-size has only been sold in the US market since 2015, compared to 2010 for the Transit Connect).
If you need just a little more space, the Transit Connect is also available with a longer wheelbase, bringing the total length of the van from tip to tailpipe to 190 inches. Sadly, Ford discontinued the Transit Connect after 2022, but most of us prefer to convert used vans anyway, and you should be able to find these little cuties secondhand for years to come.
With just 104 cubic feet of cargo volume behind the front seats, this is the smallest van on our list. However, many people have successfully converted and lived in Transit Connects and swear by the merits of a smaller footprint.
Savvy van dwellers who don't have a lot of stuff will do best with this compact rig.
3. Ram Promaster City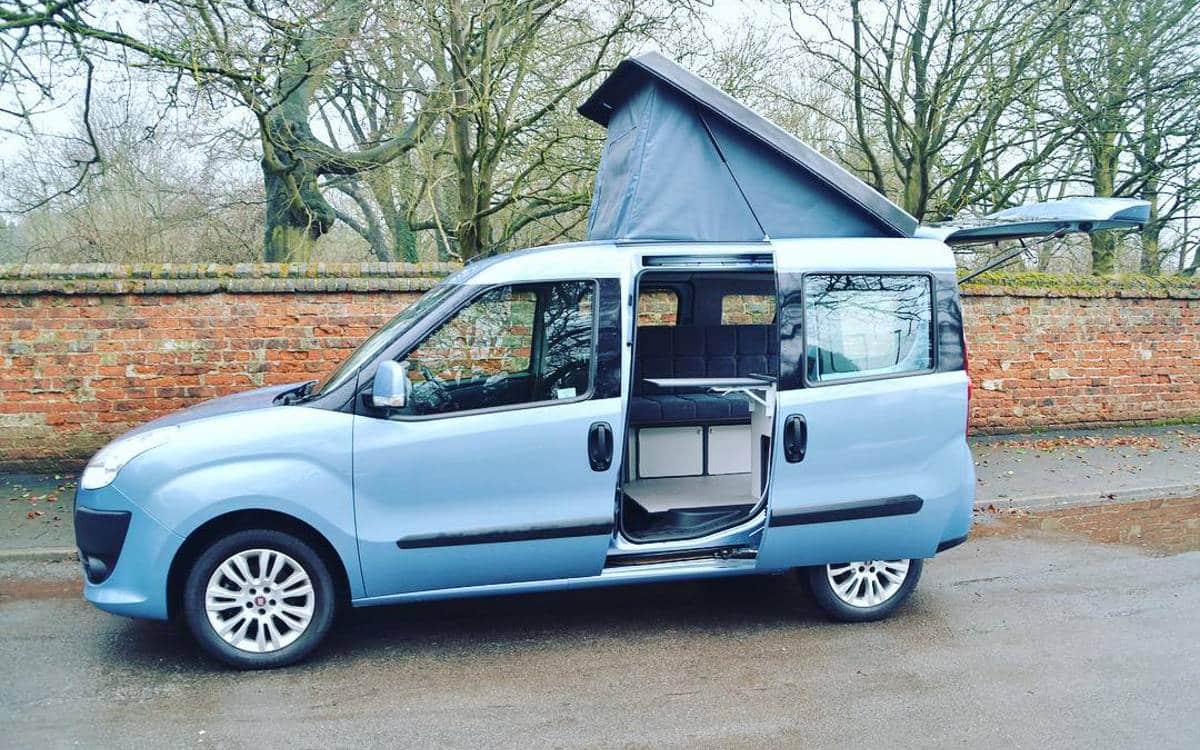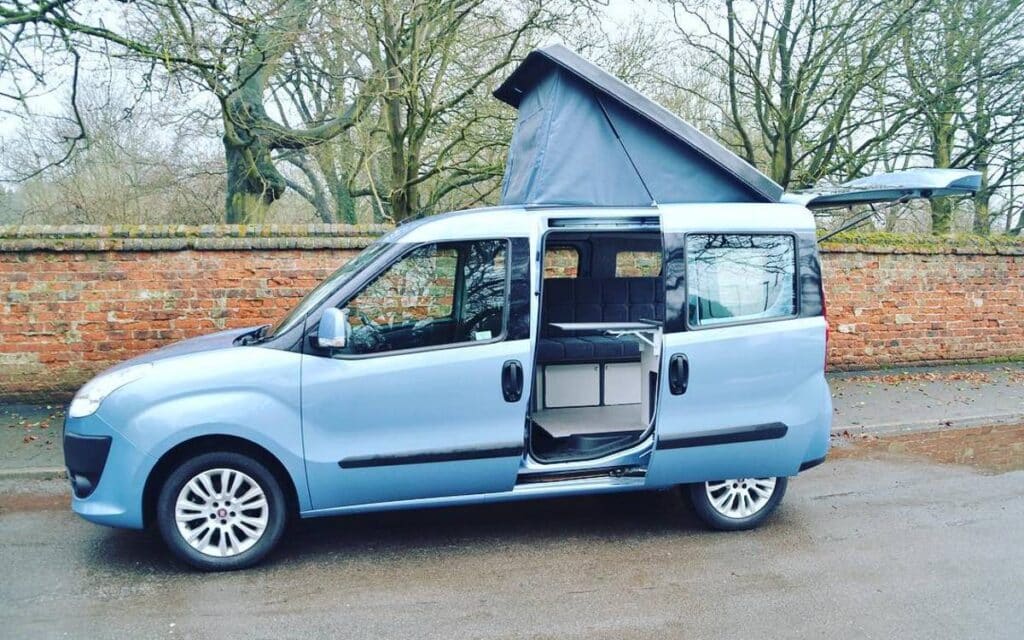 Exterior Length: 188 inches
Exterior Height: 74 inches
Exterior Width: 74 inches
Cargo volume: 132 cubic feet
Estimated Combined MPG: 24
Van lifers love the Ram Promaster because its cargo hold is the boxiest of any van on the US market. Near-vertical sidewalls (as opposed to the gently curving walls of most vehicles) provide more usable living space. They also make van conversions easier because the walls form almost right angles with the ceiling and floor, meaning measurements are more consistent throughout.
Many van dwellers choose the Promaster because it's wide enough for people of average height to sleep sideways, freeing up more space for non-bed applications.
The Promaster City is a mini version of the full Promaster and has the same benefits: it's got a nice, boxy cargo hold that should be easy to work with for a van build. However, it's eight inches narrower than the full-size van (just 72 inches across rather than 80), so you lose the width advantage by sizing down.
Like the Transit Connect, the Promaster City was discontinued after the 2022 model year. Apparently, small vans are not the thing anymore.
4. Nissan NV200 / Chevy City Express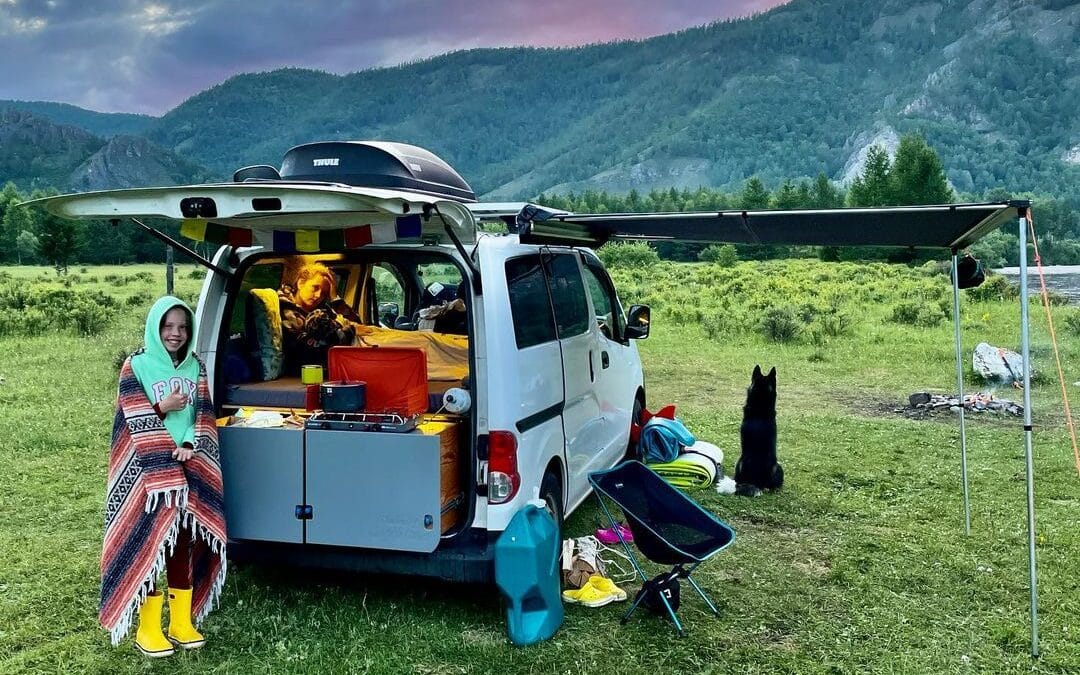 Exterior Length: 186 inches
Exterior Height: 74 inches
Exterior Width: 68 inches
Cargo Volume: 122 cubic feet
Estimated Combined MPG: 25
The Transit Connect, Promaster City, and Nissan NV200 are similar vans in many respects. At 68 inches, the NV is narrower than most of the vans on this list, which could be a good thing or bad thing depending on how small you want to go. (It still has more cargo volume than the Transit Connect, though).
The short-and-slender NV200 (aka the Chevy City Express) is another great choice for those looking for a miniature version of a cargo van to convert. Although discontinued in 2021, this workhorse van is still widely available on used car marketplaces. The miniature version of this van is also far less hideous than the full-sized Nissan NV.
With the Mercedes Metris and Honda Element, it's one of the few small vans that can accommodate a swivel seat base. Swivel seats make a small space feel much bigger and add incredible functionality to any camper conversion.
The NV200 is less expensive than other vans in its class, making it a better choice for budget travelers. However, ‌the van is underpowered with a piddly 130-horsepower engine.
5. Mercedes Metris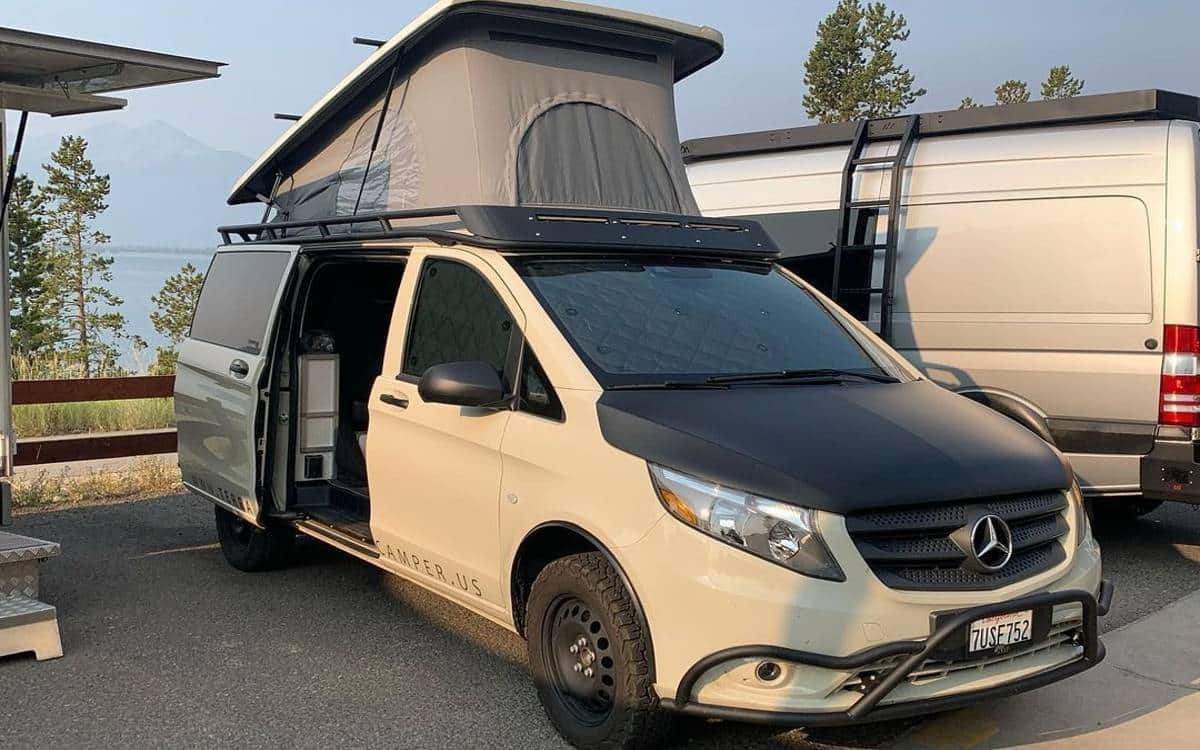 Exterior Length: 202 inches
Exterior Height: 74 – 75 inches
Exterior Width: 76 inches
Cargo Volume: 199 cubic feet
Estimated Combined MPG: 19
The Mercedes Metris is larger than the vans listed above, but it's still smaller than Mercedes' wildly popular Sprinter van. Although the van has been around for decades, it debuted in North America with the 2016 model year. It's available in both passenger and cargo versions.
With 199 cubic feet of cargo volume, the Metris has more living space than any other van on this list. Also, unlike most small vans, the Metris's driver and passenger chairs can convert to swivel seats, increasing the functional space even more. Swivel seats can make a small space feel much larger than it is. They're a game changer in terms of livability.
It's a Mercedes, so on the one hand the build quality is excellent and it's very reliable, but on the other, routine maintenance and any repairs that do come up will murder your bank account.
Go with a Metris if you want the reliability and style points of a Mercedes van and‌ a bit more living space than most small vans can offer.
6. Toyota Sienna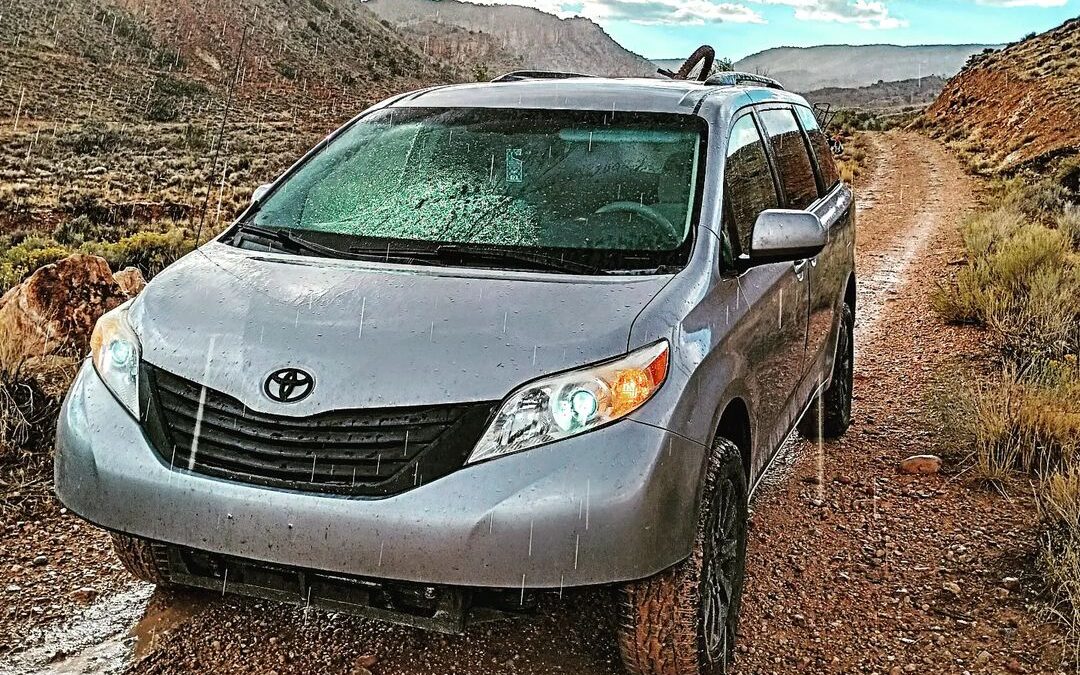 Exterior Length: 204 inches
Exterior Height: 69 – 70 inches
Exterior Width: 79 inches
Cargo Volume: 101 cubic feet
Estimated Combined MPG: 22 (gas) / 35 (hybrid)
Now we move into the world of true minivan campers: the Sienna is only available as a passenger vehicle, which makes van conversions somewhat trickier. It also has less total volume behind the front seats than any other on this list (101 cubic feet, nearly 100 percent less than the Mercedes Metris), so creative and minimalist conversions are essential.
You can turn a Toyota Sienna into a badass off-roading rig if you choose. This minivan has had available all-wheel drive since day one, and you can even buy lift kits and other overlanding accessories specially made for the Sienna. Since 2021, the Sienna has featured a hybrid powertrain for increased fuel economy.
The Sienna is one of only two vans available on the US market as both a hybrid and an AWD vehicle—both features that are rare enough on their own in the world of vans. It's reasonably priced despite all this. Although hybrids are usually more expensive than standard gasoline engines, the 2023 Sienna has a starting MSRP of $36,000, which is on par with most gasoline-powered minivans.
Combined with Toyota's reputation for reliability, that will be enough to sway some van lifers toward the Sienna, despite the space limitations.
7. Honda Odyssey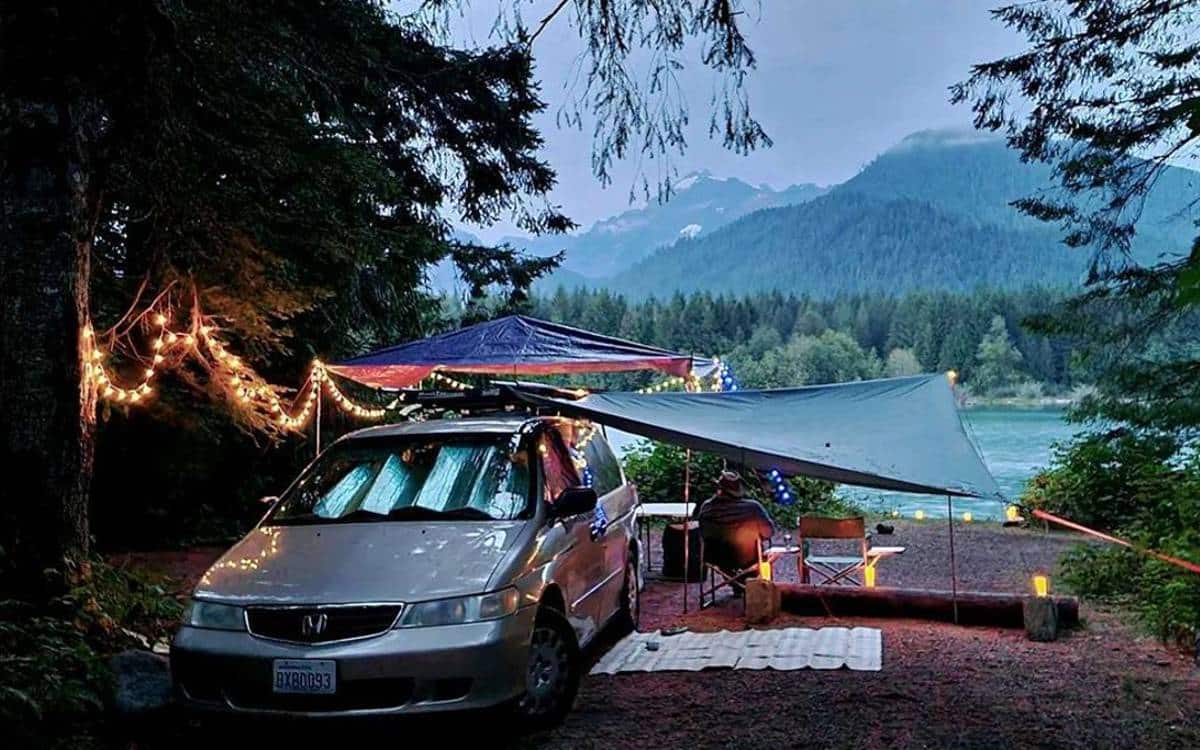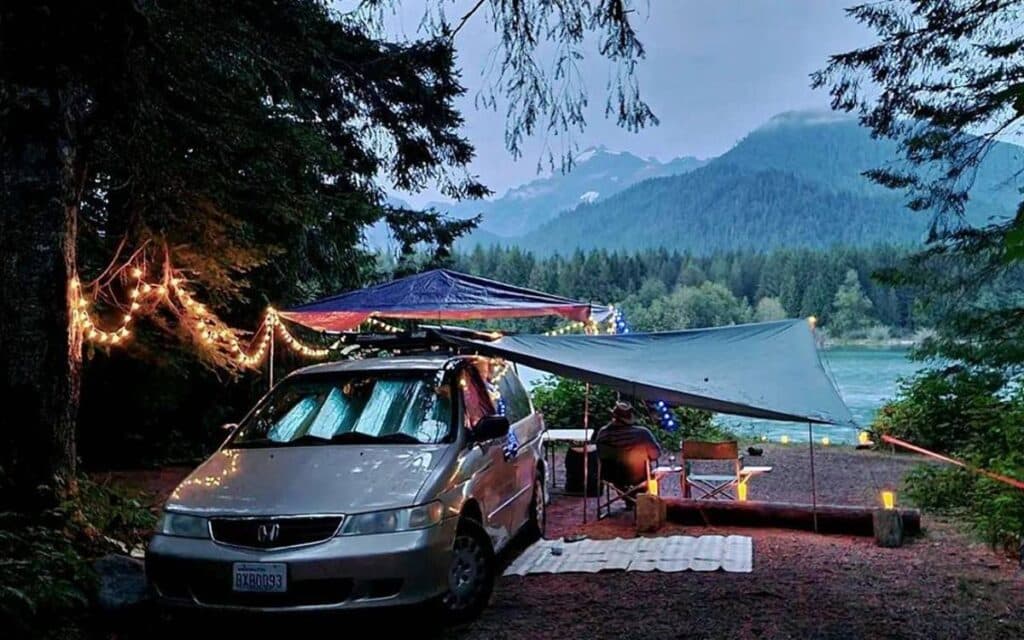 Exterior Length: 205 inches
Exterior Height: 70 inches
Exterior Width: 79 inches
Cargo Volume: 141 cubic feet
Estimated Combined MPG: 22
Like the Toyota Sienna, the Honda Odyssey is beloved by van lifers because it's so dang reliable—even after hundreds of thousands of miles, these bad boys just won't quit. Odysseys have great resale value as a result.
You don't get hybrid or AWD functionality with the Odyssey, but it's a better choice than the Sienna if you want a minivan that maximizes living space without increasing the exterior dimensions of the van.
It also boasts a powerful 280-horsepower engine, which beats the Sienna (245) and many other vans on this list. It can even tow up to 3,500 pounds, so if you find yourself needing a bit more space, a small teardrop trailer isn't out of the question.
The Odyssey also stands out in drivability: it's widely considered to handle better than any other minivan. If you're looking for a small campervan because you value maneuverability and a smooth ride, this is your best bet.
However, ‌the Odyssey sits very low to the ground with just 4.5 inches of clearance—the lowest on this list. So it's not the best choice if your travels will take you down rocky roads.
8. Dodge Grand Caravan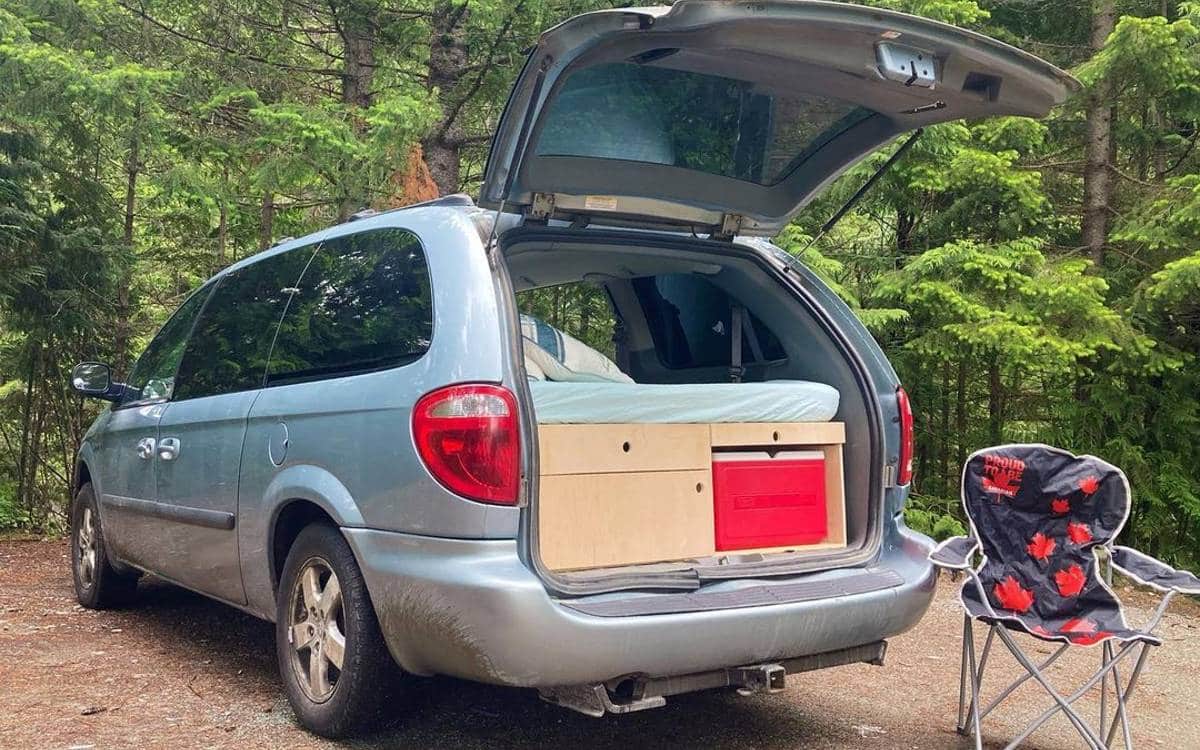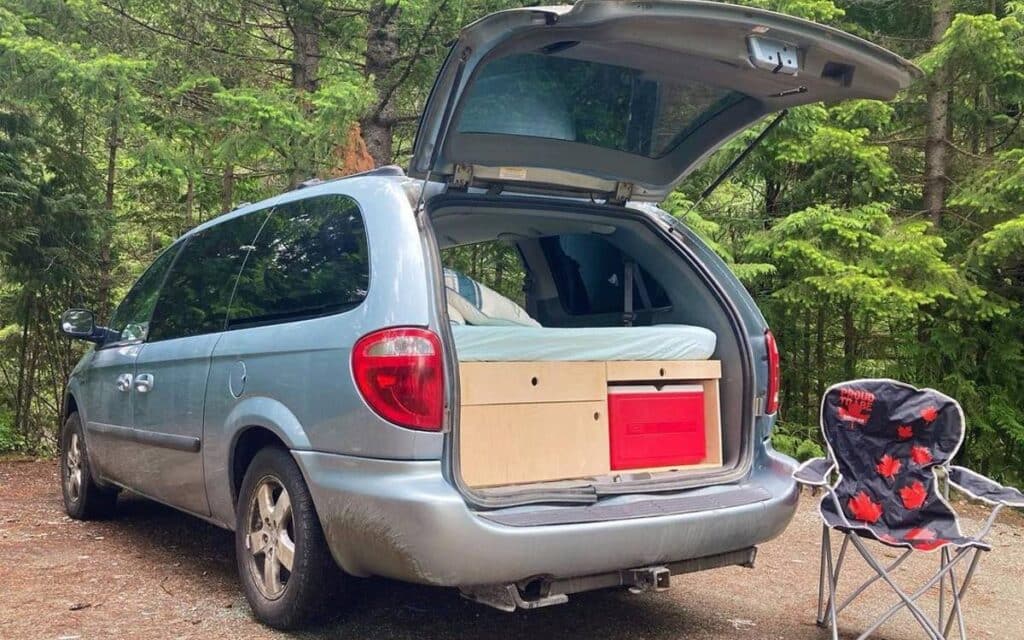 Exterior Length: 189 inches
Exterior Height: 69 inches
Exterior Width: 79 inches
Cargo Volume: 140 cubic feet
Estimated Combined MPG: 20
If you're a part-timer looking for a daily driver that easily converts to a camper on the weekends, the Dodge Grand Caravan fills that niche nicely.
Most passenger minivans have three rows of seating. It's common for the third row to fold down and stow into the trunk cargo area, creating a level floor.
The Grand Caravan is one of only two minivans (along with the Chrysler Pacifica) that have "stow and go" seating for both the second and third rows. That means you can create room for a makeshift conversion without having to pull out the second row of seats. This makes it a great choice for a part-time van lifer who still wants to use their van as a family-hauler in town.
If you want your van to pull double-duty as a camper and an around-town passenger vehicle, the Dodge Grand Caravan is likely your best bet.
They also come in at a lower price than the other minivans on this list (a 2013 Dodge Grand Caravan in my area has a fair purchase price of $7,300 on Kelley Blue Book, compared to $15,000 for the 2013 Sienna).
9. Chrysler Pacifica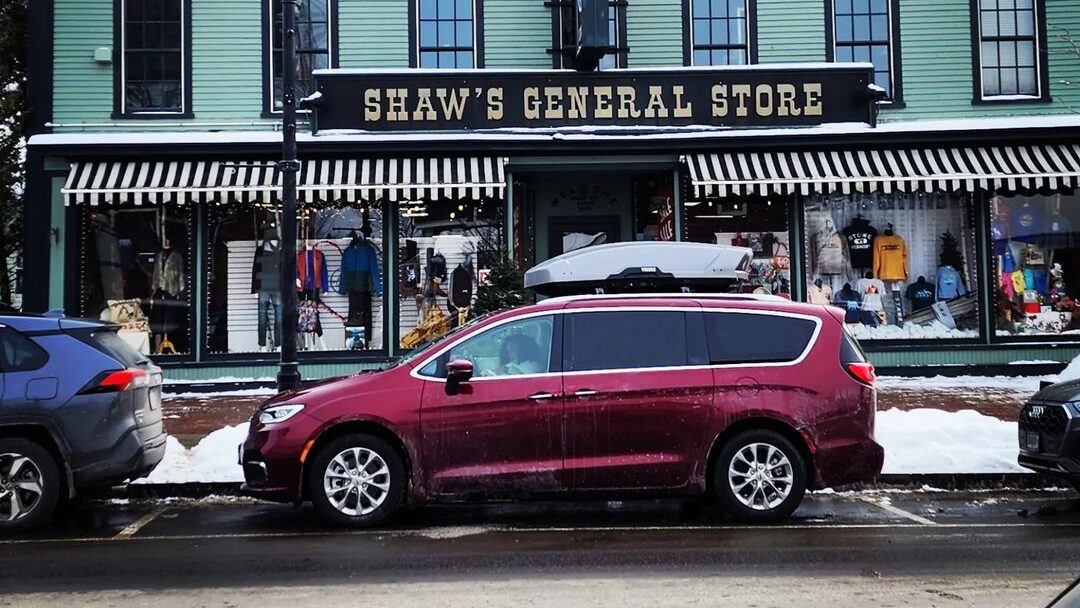 Exterior Length: 204 inches
Exterior Height: 70–71 inches
Exterior Width: 80 inches
Cargo Volume: 140 cubic feet
Estimated Combined MPG: 22
The Chrysler Pacifica (like its predecessor, the Town and Country) is a popular minivan for camper conversions because of its reliability and reasonable price point.
The Pacifica van has also been available as a plug-in hybrid since 2017 and an AWD since 2021. The Toyota Sienna is the only other van to offer those features.
The Pacifica has much more interior space than the Sienna, as well as a more powerful engine (27 horsepower compared to the Sienna's 245). Also, the Pacifica comes with either a hybrid or a standard engine, giving you more choice than the Sienna, which went fully hybrid in 2021.
Finally, it's one of only two minivans (alongside the Dodge Grand Caravan) that have "stow and go" second row seating, meaning you can create room for a makeshift conversion without pulling out the second row seats.
The Chrysler Pacifica sounds like a better vehicle across the board, but the Toyota Sienna is far more reliable, and can often be had for cheaper.
10. Honda Element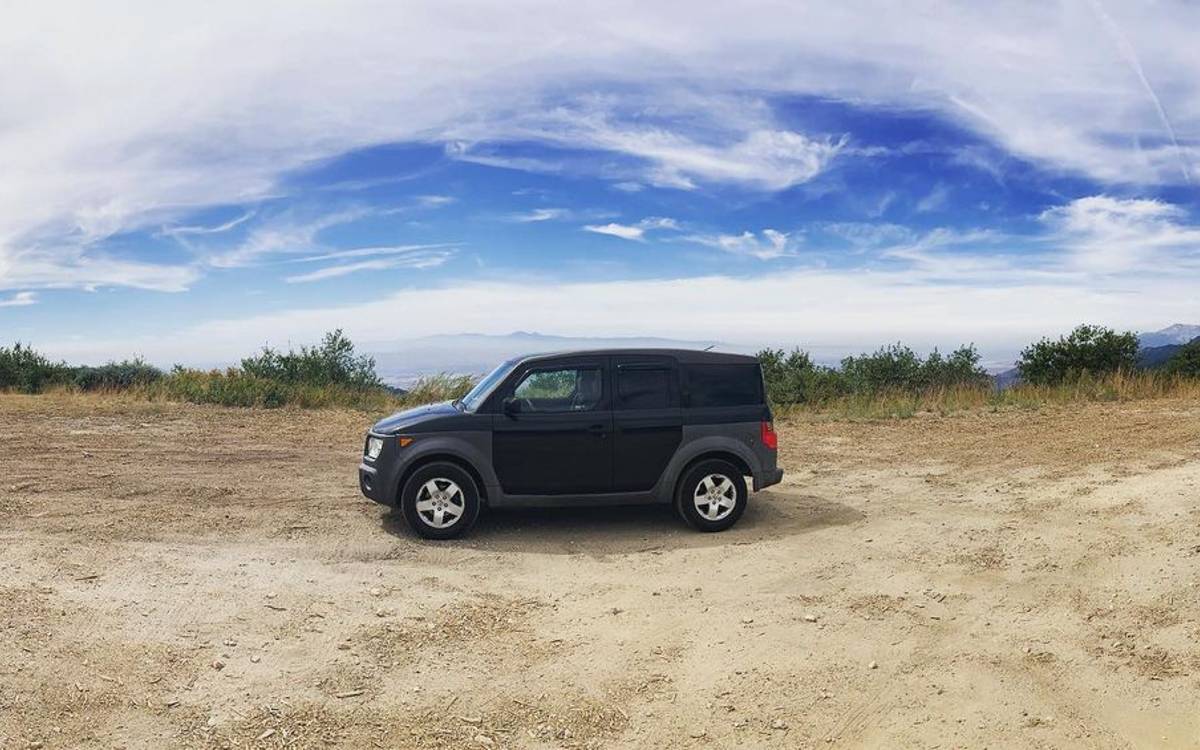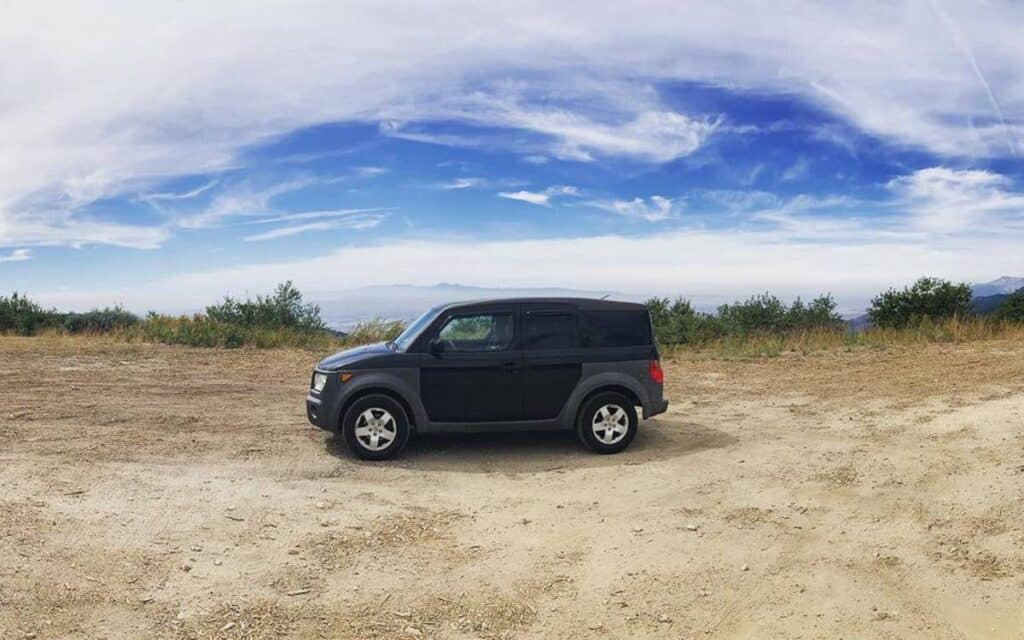 Exterior Length: 170 inches
Exterior Height: 70 inches
Exterior Width: 72 inches
Cargo Volume: 130 cubic feet (with seats removed)
Estimated combined MPG: 22
The Honda Element isn't a van in the strict sense, but it's a popular base vehicle for conversion all the same. The Element ticks a lot of boxes for prospective van lifers: the boxy shape makes conversion easier, it's available in AWD, and it's affordable.
We also love its unique doors. The front and rear side doors open outward like French doors, making loading/unloading easier and creating an unbroken view from the inside. That the Element has hinged, rather than sliding, side doors sets it apart from most small vans and creates more possibilities for conversion.
Similarly, the back of the vehicle features a split tailgate: the top part hinges up like a traditional minivan tailgate, while the bottom folds down flat like a pickup truck tailgate for easy loading and more functional surface area. Options, man. Options.
The Element is shorter and skinnier than most vans on this list; its dimensions are most comparable to the Nissan NV200. With the rear seats stowed, it has just 75 cubic feet of storage space, but you can bump that to 130 cubic feet (about the same as a standard minivan) by removing them altogether.
And at least one company makes an aftermarket swivel seat base for the Element. It's not cheap, but the ability to spin the seats will be worth it to some as it expands the living space dramatically.
Honda discontinued the Element in 2011, so you'll need to watch the used market to snag one.

11. Mitsubishi Delica and Toyota HiAce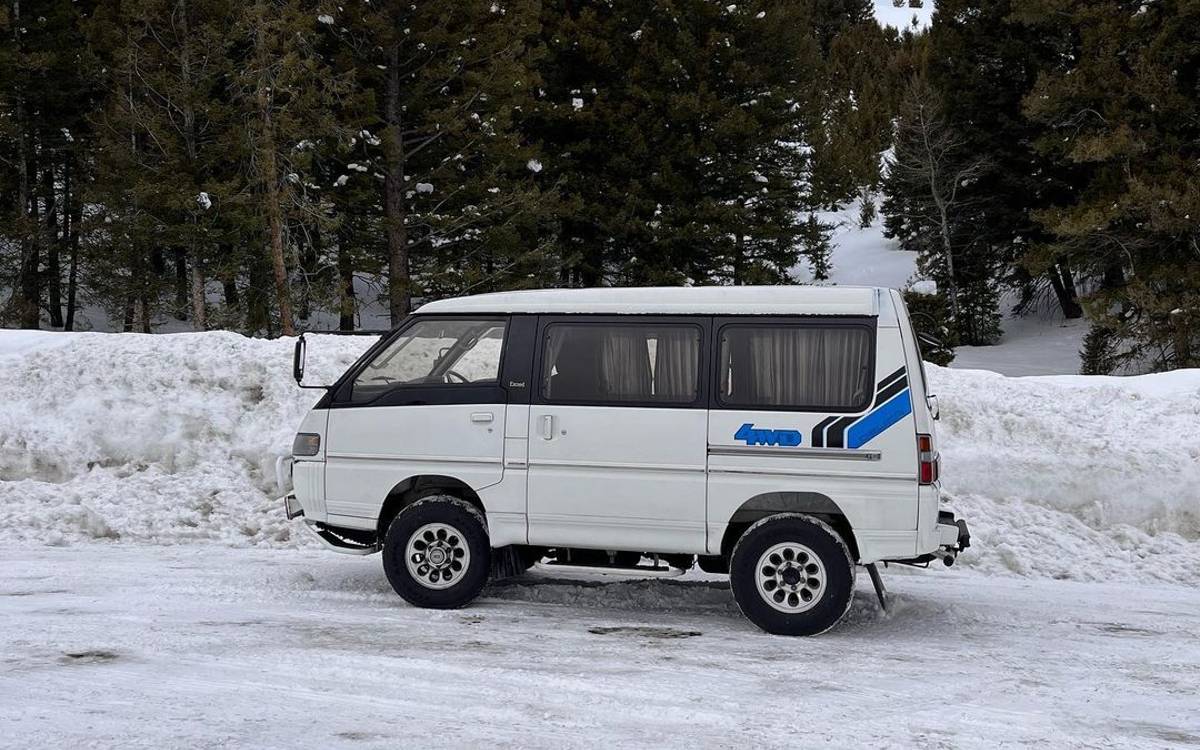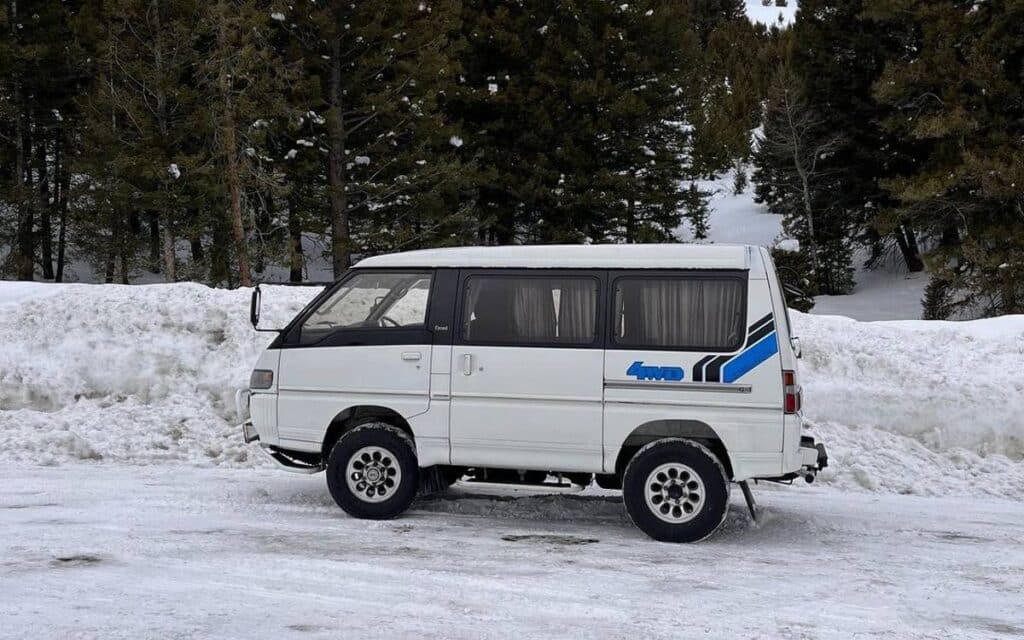 The HiAce and Delica are highly favored by van lifers due to their compact size, rugged 4×4 capabilities, and charismatic appeal. Despite their reliability, those in the US who opt for either of these vans should anticipate dealing with maintenance issues since they will be at least 25 years old.
It's worth noting that these two van models were never officially sold in the United States. While they are still being produced in countries like Japan, US law prohibits the import of vehicles less than 25 years old. However, vintage HiAces and Delicas from the 90s have now surpassed this age restriction, and are slowly entering the US used van market.
Either is an excellent choice if you want to take your small campervan down rough roads. They're both available in true 4-wheel drive and have respectable ground clearance (seven inches for the HiAce and 7.5 for the Delica).
Besides being really old and looking like tanks, both vans have their quirks—especially the Delica. It's only available as a right-hand drive vehicle, which will take some getting used to for US drivers.
Upsides of Small Camper Vans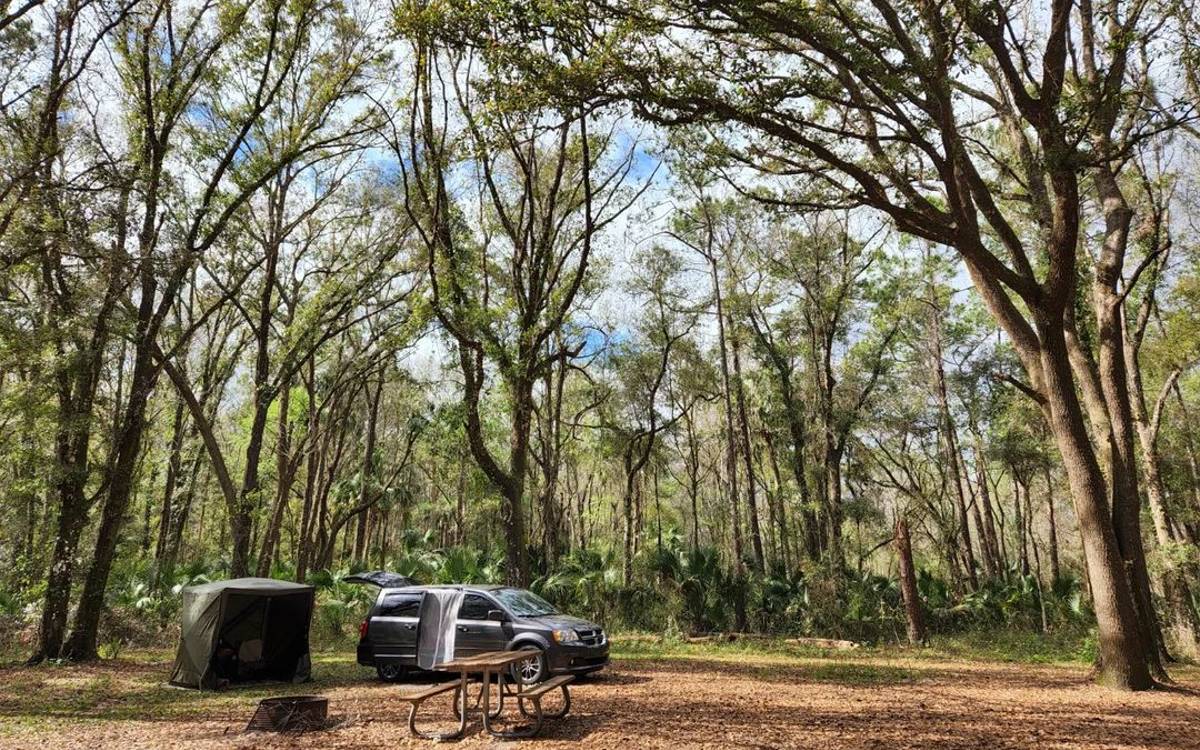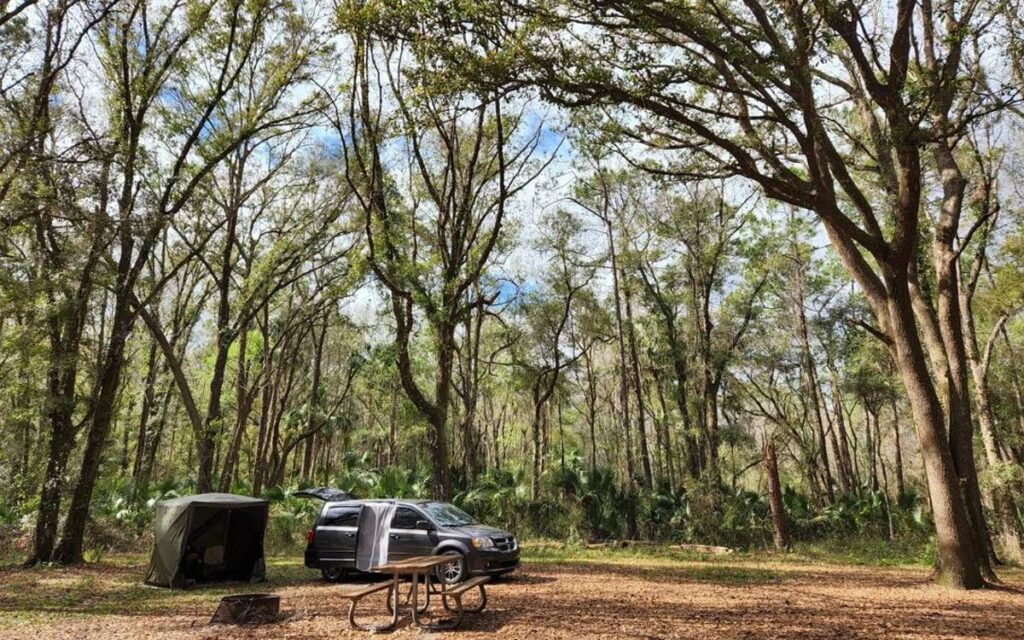 Why bother converting a small campervan when so many larger options are available? Going with a smaller camper van has several advantages.
Size: Smaller vans are much easier to drive. Big cargo vans and RVs don't require special training or licenses to operate, but with so much weight and wind resistance, it does take more skill to handle them. Driving even the smallest RV on a windy day can be downright stressful, and parallel parking a big van on an urban street is a nightmare.
Small campervans are great for solo travelers, but savvy van life couples can make it work too.
Clearance/Length Limitations: High-roof vehicle owners must always be alert for low bridges and tunnels lest disaster strike. You'll be fine if you stick to roads frequented by tractor-trailers, but once you get off the highway and onto narrow city streets and country lanes, all bets are off. Bridges aside, even low-hanging tree branches present a hazard for tall vehicles.
Similarly, some campgrounds, national parks, ferries, etc. won't allow extra-long vehicles. Heck, some cities have parking ordinances restricting extended-length vehicles from street parking. Who needs all that fuss? With a minivan, you'll never have to worry about exceeding height or length limitations.
Better gas mileage: Gas prices lately have been… yikes. Smaller vehicles weigh less and have less wind resistance, thus better gas mileage.
Still usable as an around-town vehicle: You don't have to be on the road full-time to consider yourself a vanlifer. Minivans are functional both as small camper vans for the occasional weekend getaway and as around-town vehicles when you're at your home base.
The rear seats of most minivans fold down into the floor, and you can install a modular, removable camper conversion right on top of them, then pull it all out and redeploy the seats when back in town. And as stated above, minis are a lot more fun to drive around town and get better gas mileage.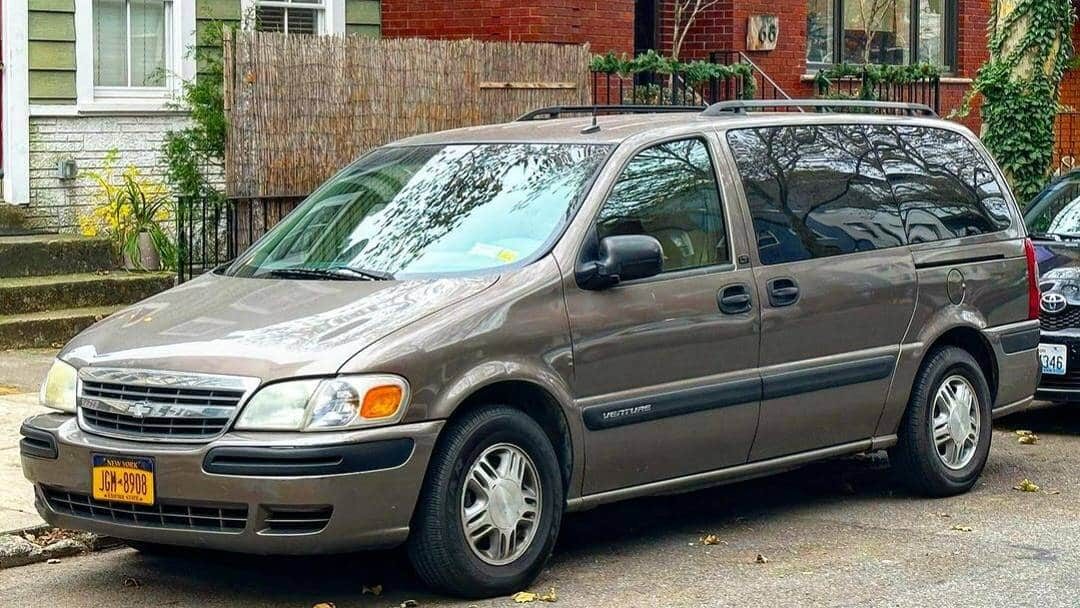 Stealthy: Sometimes, you don't need the whole world to know you're sleeping in your car. It's a matter of privacy, safety, and simple comfort. And occasionally, we all spend a night or two stealth camping in places we probably shouldn't; blending in is a matter of practicality in van life.
High-roof vans draw a lot of attention to themselves in most settings because of their size, to say nothing of boxy RVs with that classic Dixie cup swirly paint job that screams, "I live in here!"
In contrast, most people assume every minivan they pass on the street is mom's soccer van. No one will look twice at you as long as you put in a minimum of effort in being subtle.
Easy conversion: Your minivan camper probably won't have complex plumbing or electrical systems. It probably won't have much stuff in it, period. Minivan campers are much simpler than your average high-roof cargo conversion, making it more attainable for those of us who don't have a lot of prior building experience.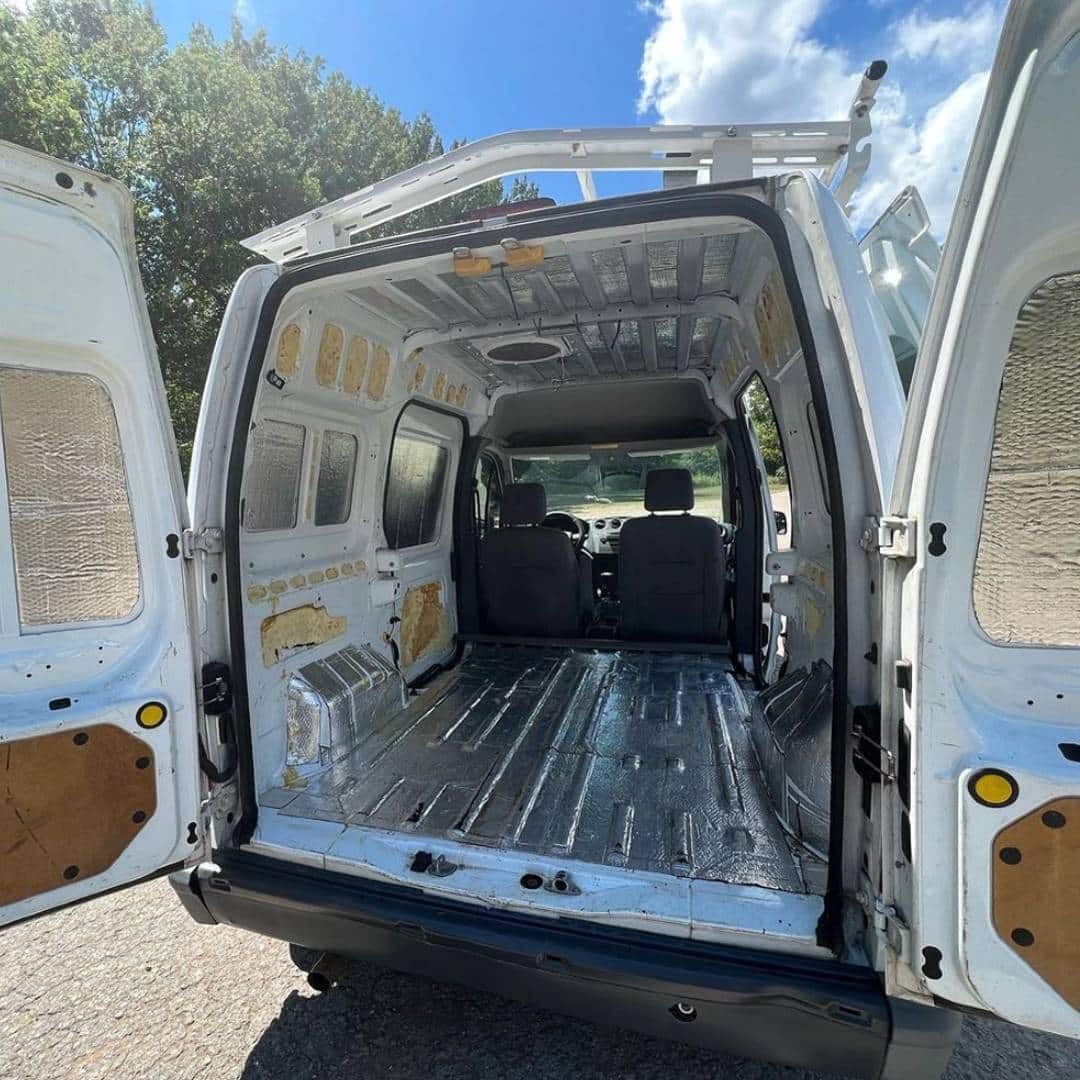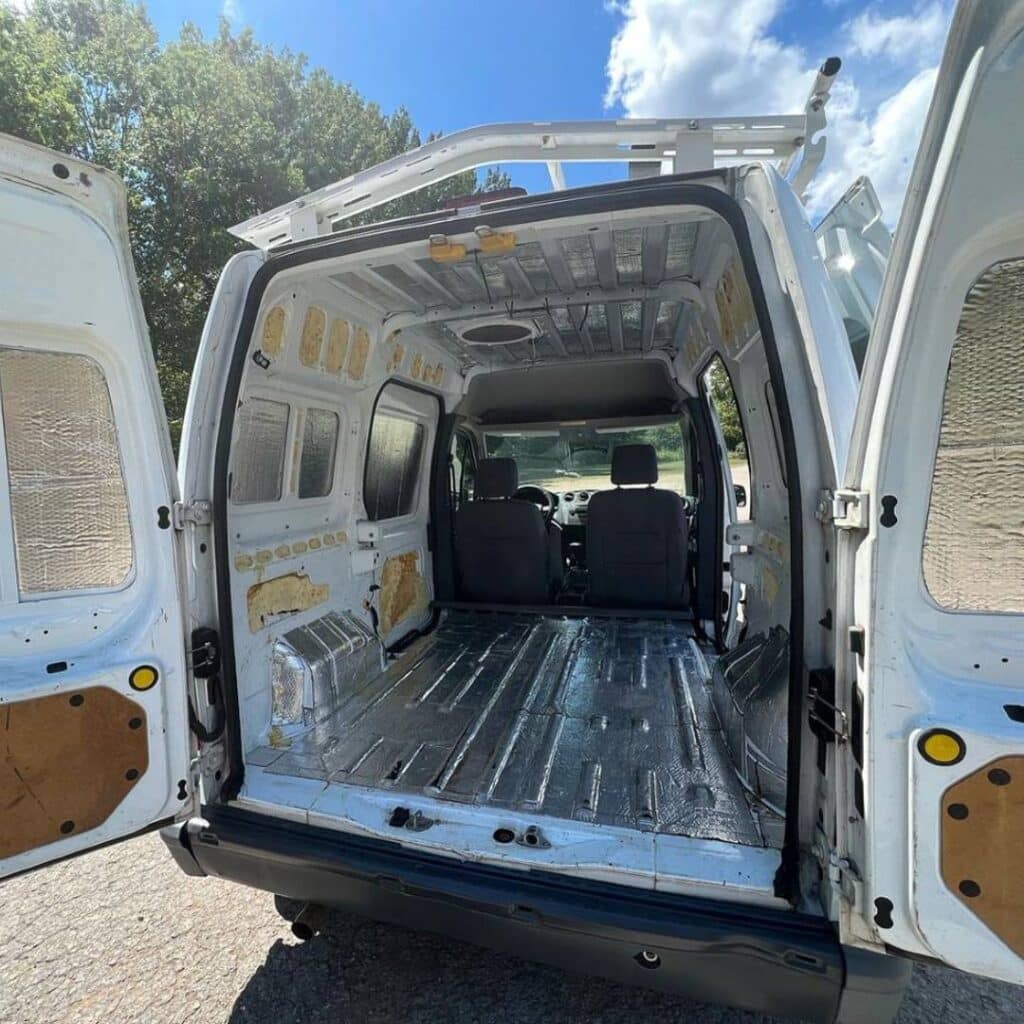 Two rear doors: The dual rear sliding doors on most minivans are such a great feature. I toured a friend's in-progress Honda Odyssey camper conversion recently, and he had both rear doors open to let more light and air pass through the small space while I was looking around. And I was like, "Oh yeah, this is why I loved my minivan."
Big cargo vans and Class B RVs normally have just one side door. It's one of those features that's not a deal-maker or breaker on its own, but if you can get a camper van with dual doors, do it. You won't regret it.
Downsides of Small Camper Vans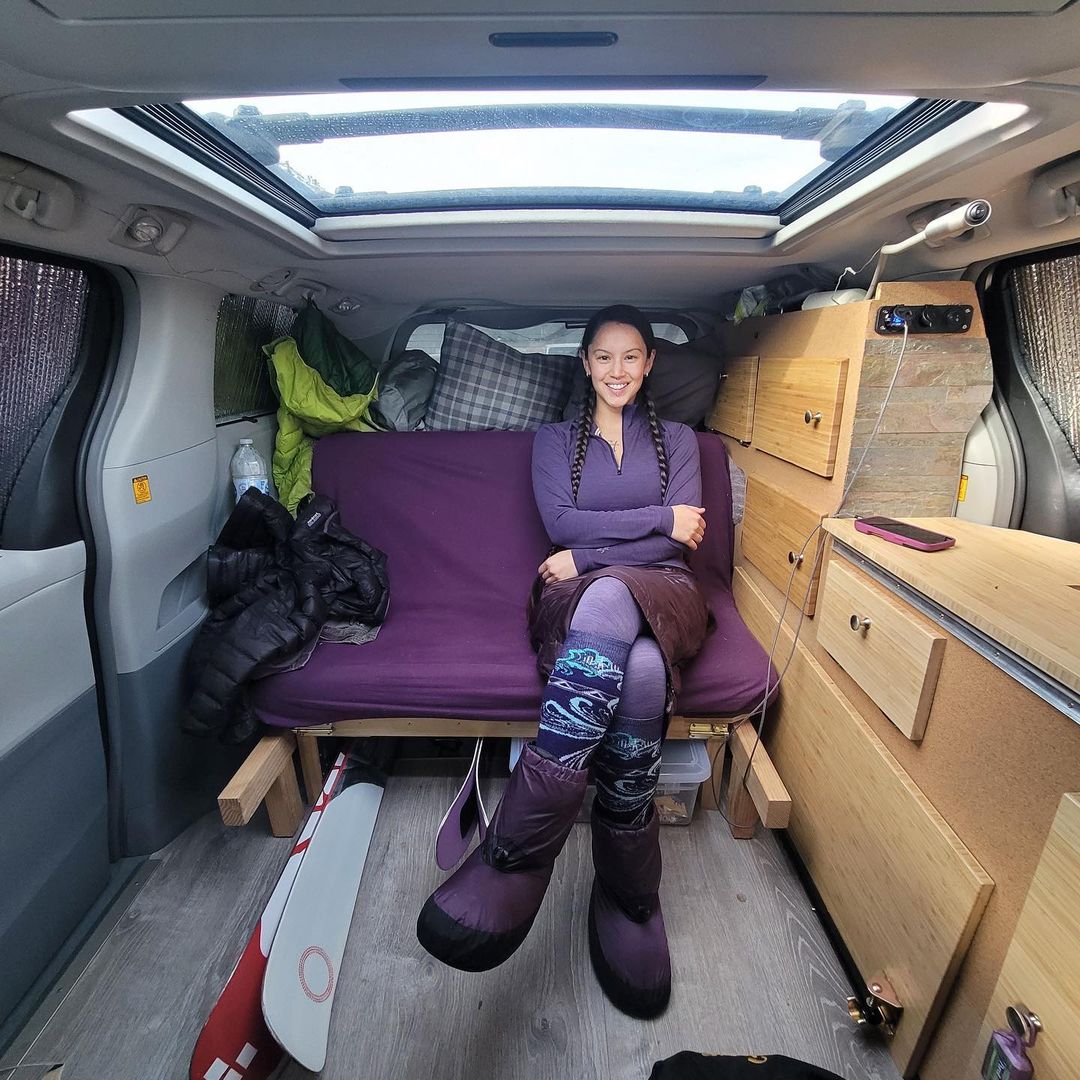 All that is great, but ‌a small campervan is still just that: small.
Limited space: The space limitation is the most obvious and important drawback to small camper vans. There's no standing room, you can't bring as much stuff, and you can't entertain guests inside. You won't have as many layout choices, and you won't have enough space for things like insulation or custom siding.
Hard to work with: Passenger minivans can be difficult as a DIY upfitter. Unlike cargo vans, which are boxy and easy to strip down to base metal, minivans are curvy and full of plastic, airbags, AC ducts, and mysterious wiring harnesses. No minivan has anything even remotely like a right angle. Symmetry? What's that?
Have fun trying to measure the dimensions of your bed, shelving, or anything else you plan to install flush with the camper van itself.
Build Considerations for a Small Camper Van
Set up for outdoor activity: The key to living in a small camper van without going insane is setting up your rig to facilitate outdoor activities. Camp chairs and tables, screens (so you can keep your doors open), an awning or sunshade, and equipment for whatever outdoor activities you love will encourage you to spend more time outside.
Simplicity: The most important thing any small camper van builder can do is resist the urge to get carried away. Stick to the basics: a bed, a cooler, storage space for a few essentials, maybe some shelving where you can set up a makeshift camp kitchen—that sort of thing.
You won't have room for all the amenities in a small camper van, but if you design your space carefully, you'll have room for all the amenities you actually need to enjoy van life.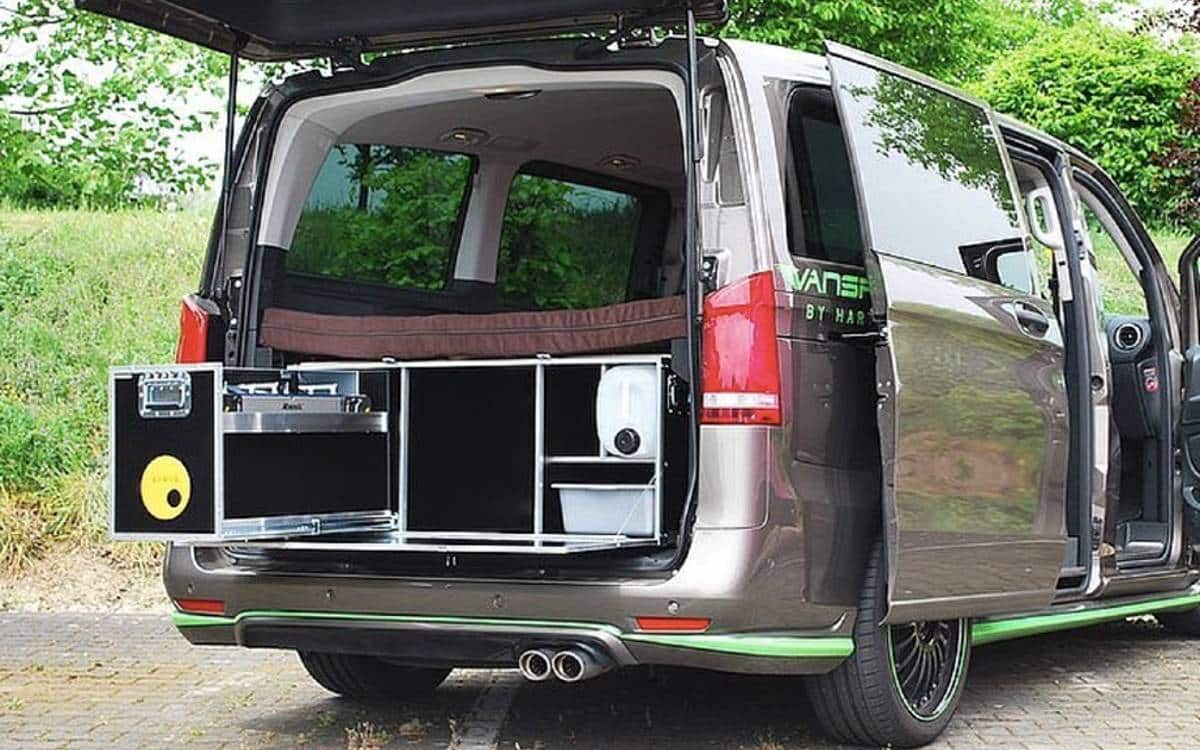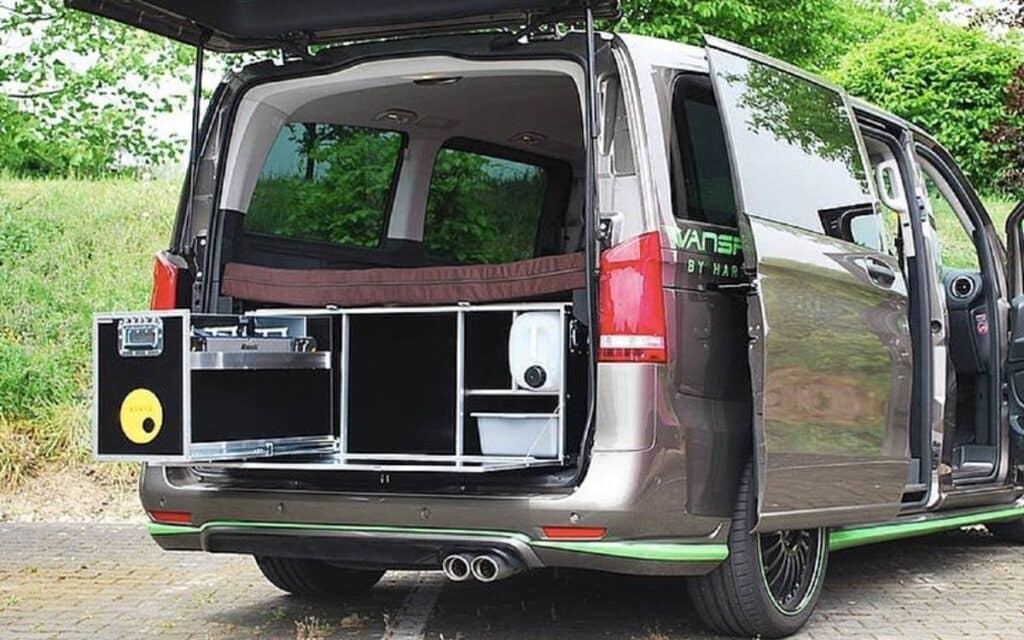 Kitchen: Rear pull-out kitchens are a common feature of small camper vans. A shelf on drawer slides you can pull out of the rear hatch makes it convenient to cook your food outside without having to set up a rickety camp table every time.
Electric: You probably won't have sufficient roof space for large solar panels, much less cargo space for a large battery bank inside, so keep your electrical needs to a minimum. Many van lifers get by with a plug-and-play portable power station, such as the Bluetti AC200P or the Jackery Explorer 1000.
Rear seats: Just because the rear seats of most minivans stow into the floor doesn't mean you have to stow them. If you know you'll never use the camper van as a regular commuter vehicle and are confident you won't be hauling additional passengers, just rip 'em right out: you'll get extra space that way. I stored my seats in a friend's garage and reinstalled them when I sold the van to improve the resale value.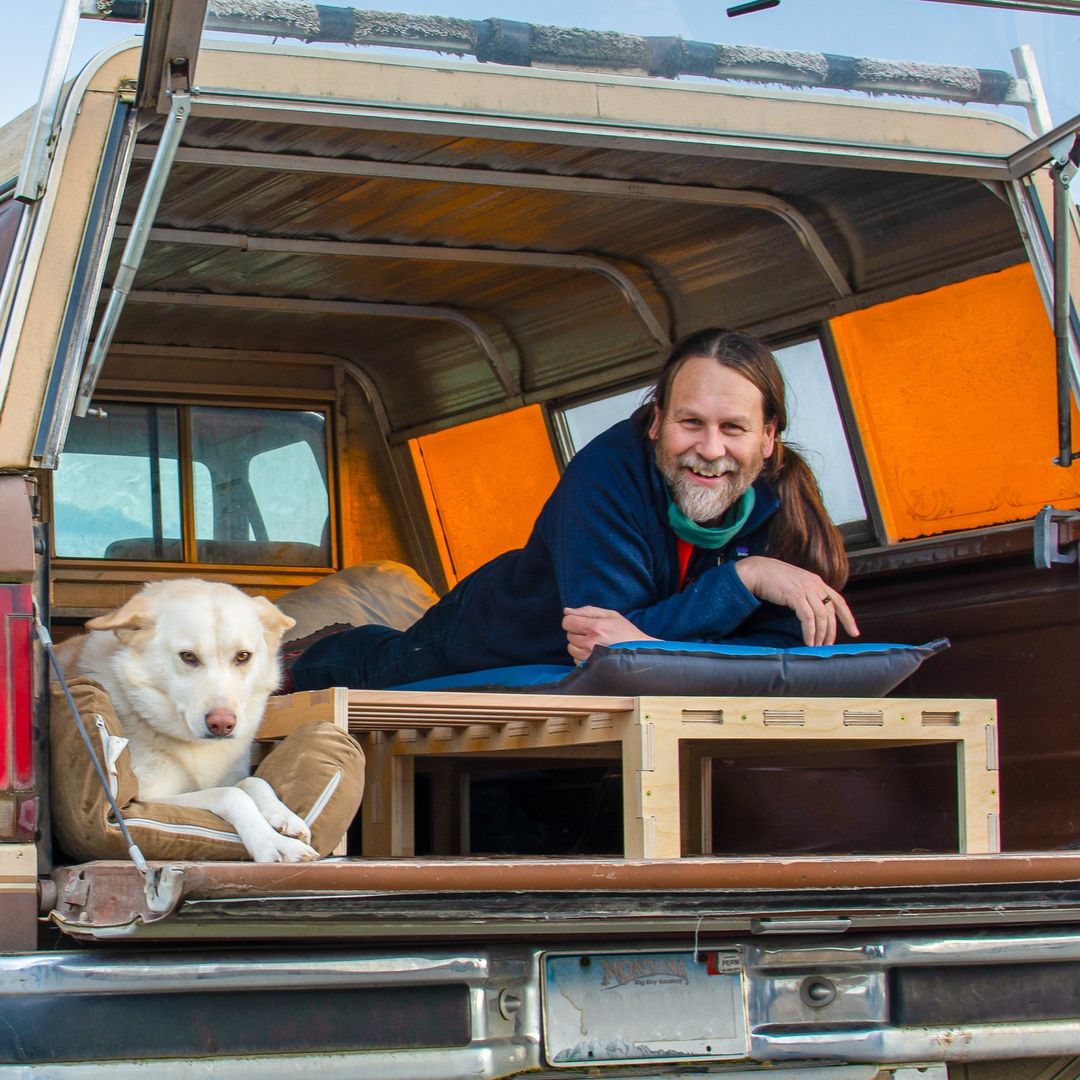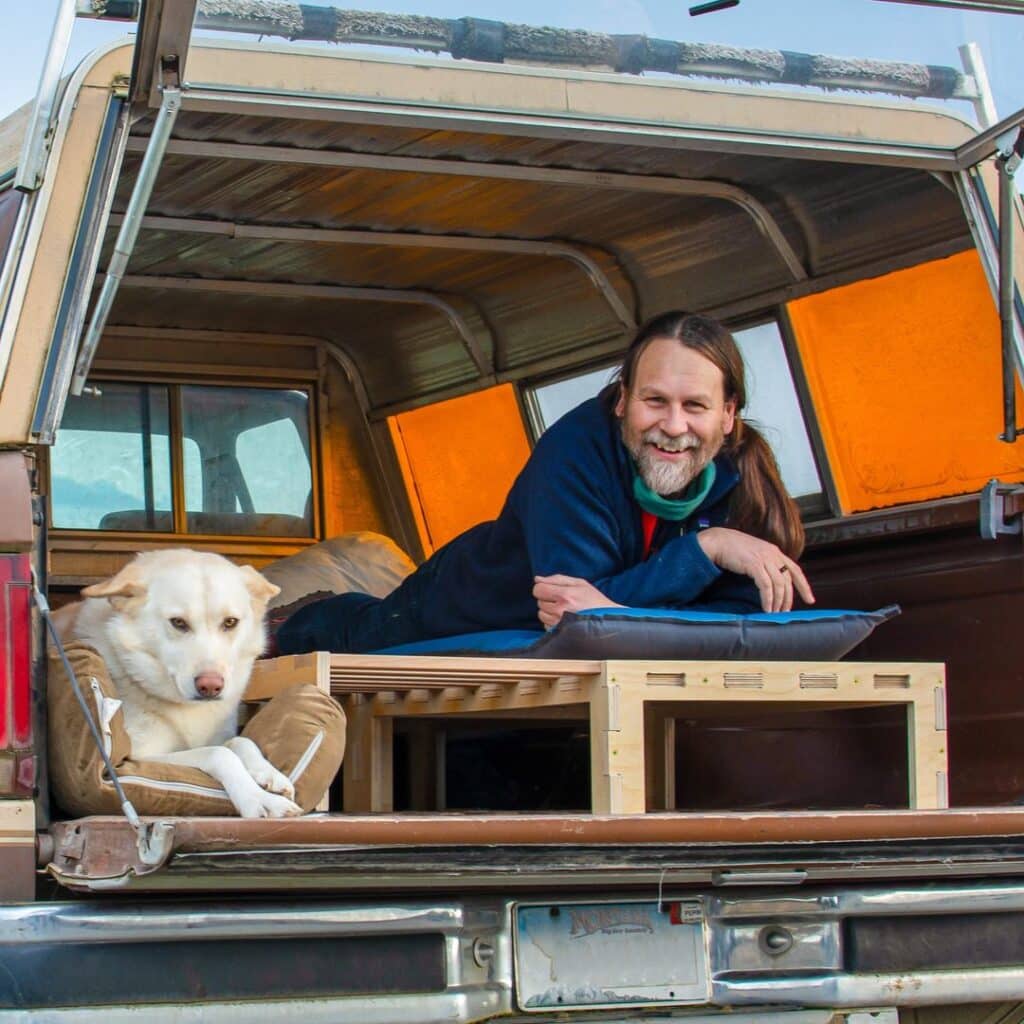 Bed design: My minivan featured a giant bed that took up almost the entire cargo area. However, many van lifers go with a narrow twin-size bed so they'll have some floor space next to it. To get the best of both worlds, consider having a fixed twin-size bed with an additional "leaf" that pulls out at night when it's time to sleep, sort of like a futon sofa.
Window coverings: Curtains to separate the rear from the cab and to block all the windows are a must. Small camper vans are lower to the ground than big ones, and it's all too easy for passersby to look in the windows—you'll feel you're on display all the time if you don't have a way to cover them.
Simple cardboard or Reflectix cutouts will suffice for this purpose—if you can make them black on the outside, it will just look like you have tinted windows to passersby, preserving your van's stealthiness.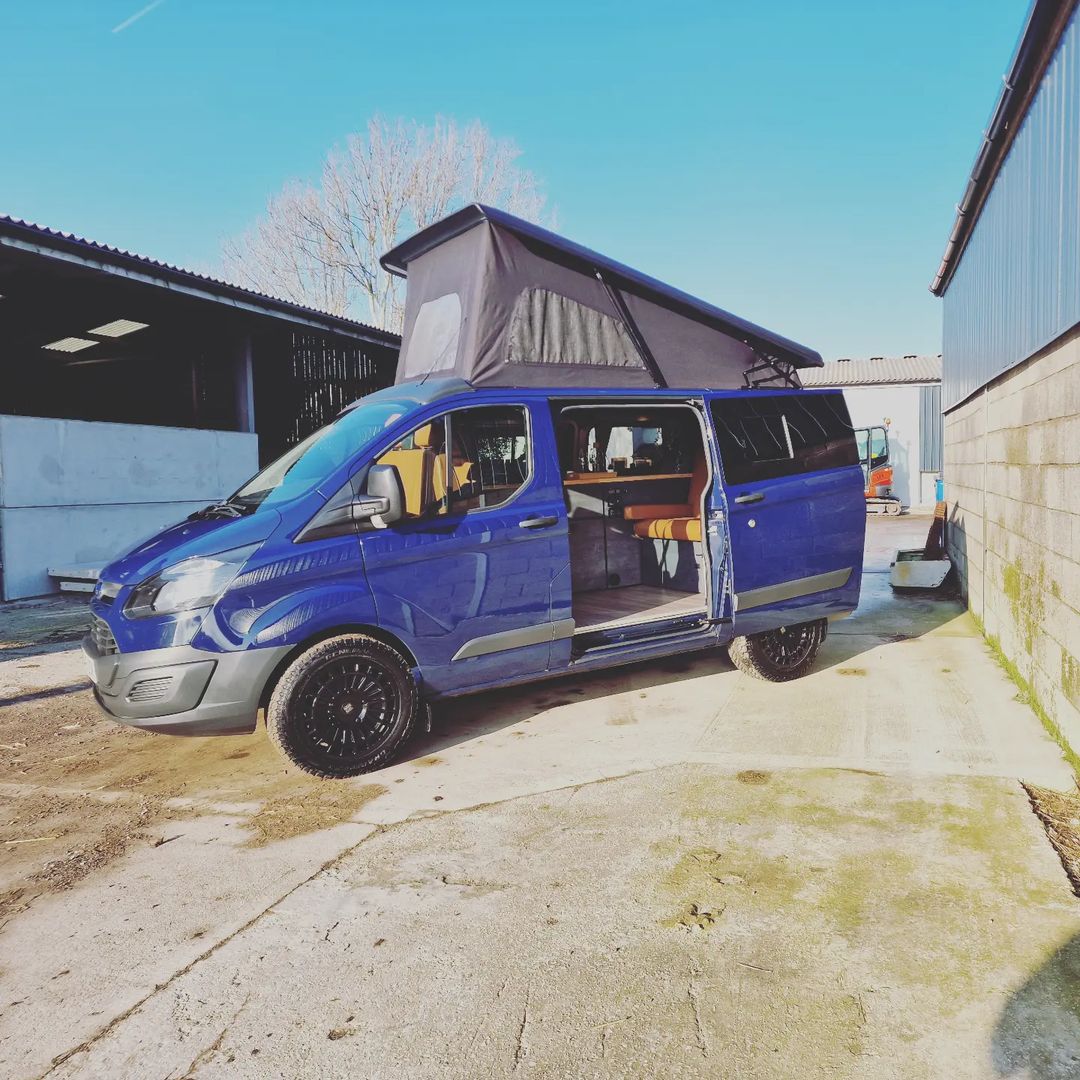 Pop top: Adding a pop top roof to your small camper van isn't exactly in the spirit of minimalism I've been promoting here, but it sure is a great way to add functional space to small campervans. Similarly, a rooftop storage box can expand your storage options.
My Approach
My Sienna camper van featured a giant plywood bed that took up most of the rear. I had space for plenty of bins underneath and a large shelf over the foot of the bed for additional storage.
I had a standard cooler for refrigeration and a Jackery portable power station for electricity. For privacy, I made simple curtains that I hung from a tension rod behind the front seats and Reflectix covers for all the windows that were cut to size and had black felt glued to the outside for stealth purposes.
We carefully measured the bed so that it wedged tightly into the van, and we didn't affix it to the van's superstructure anywhere. The shelf had a couple of screws driven into the plastic to help keep it in place, but we strove to make everything about our build removable so we could eventually sell it as a regular passenger van.
Pre-Converted Small Camper Vans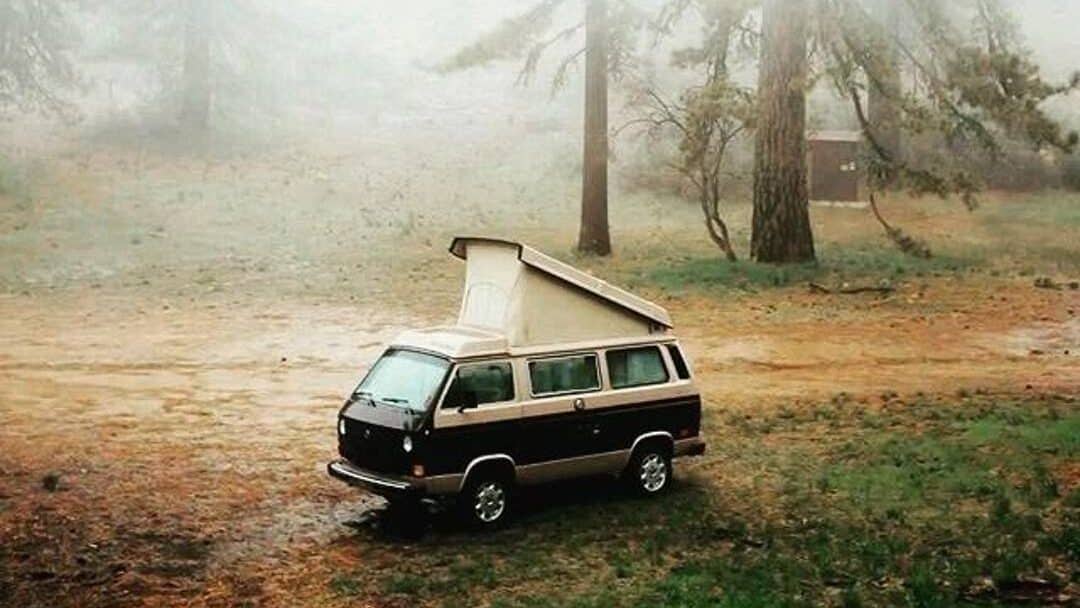 Don't want to convert the camper van yourself? You have several options for getting a pre-converted small campervan.
First, you can look for used vans that are already converted. Small DIY camper van conversions, except for the Chevy Astro/GMC Safari, aren't that common in the used marketplace. If you don't mind vintage, check out old VW buses, which come straight from the factory as campers.
Second, you can purchase a DIY conversion kit. This involves some effort ‌but not as much as designing, sourcing, and building everything from scratch. Here are some of the most popular small campervan conversion kit companies:
12. Roadloft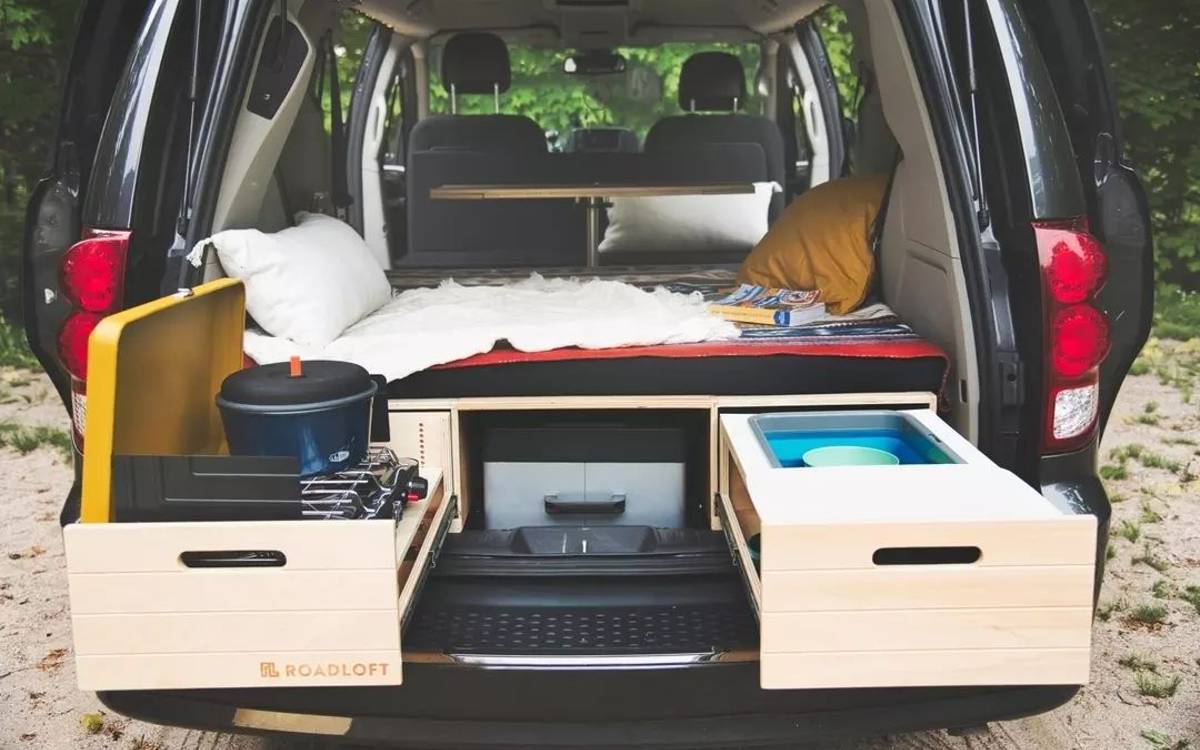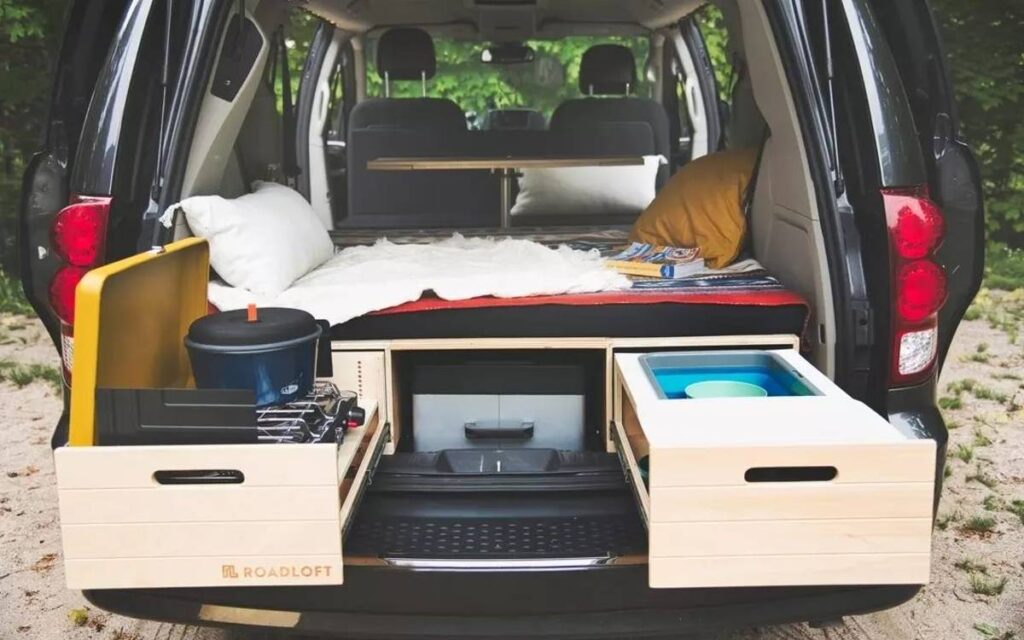 Roadloft's system comprises a set of wooden crates and boxes that nestle together, fitting wall-to-wall in your van so they stay put without fasteners. The top of the boxes forms a flat, ventilated platform on which you can lay your (included) mattress. The crates have pull-off lids or sliding drawers, providing ample storage that's easy to access.
Of the vans on this list, Roadloft kits are compatible with the Ford Transit Connect, Nissan NV200, Dodge Grand Caravan, Chrysler Pacifica and Town & Country, and Honda Odyssey. They also work with the Kia Sedona and several SUVs. Roadloft kits cost $4,800.
13. Freeway 
Freeway kits follow the same basic principle as the Roadloft kits above. At $5,800 per kit, it's more expensive than the Roadloft, but each comes with a small Dometic electric cooler and a portable solar power station. The conversion is more elaborate, featuring a sink, water storage container, a 12V water pump, and overhead cabinet space.
Freeway makes kits for the Toyota Sienna, Ford Transit Connect, Dodge Grand Caravan, Honda Odyssey, and Honda Element, Chrysler Pacifica. It also offers several "universal" models that it says will fit in almost any minivan.
14. Vanpackers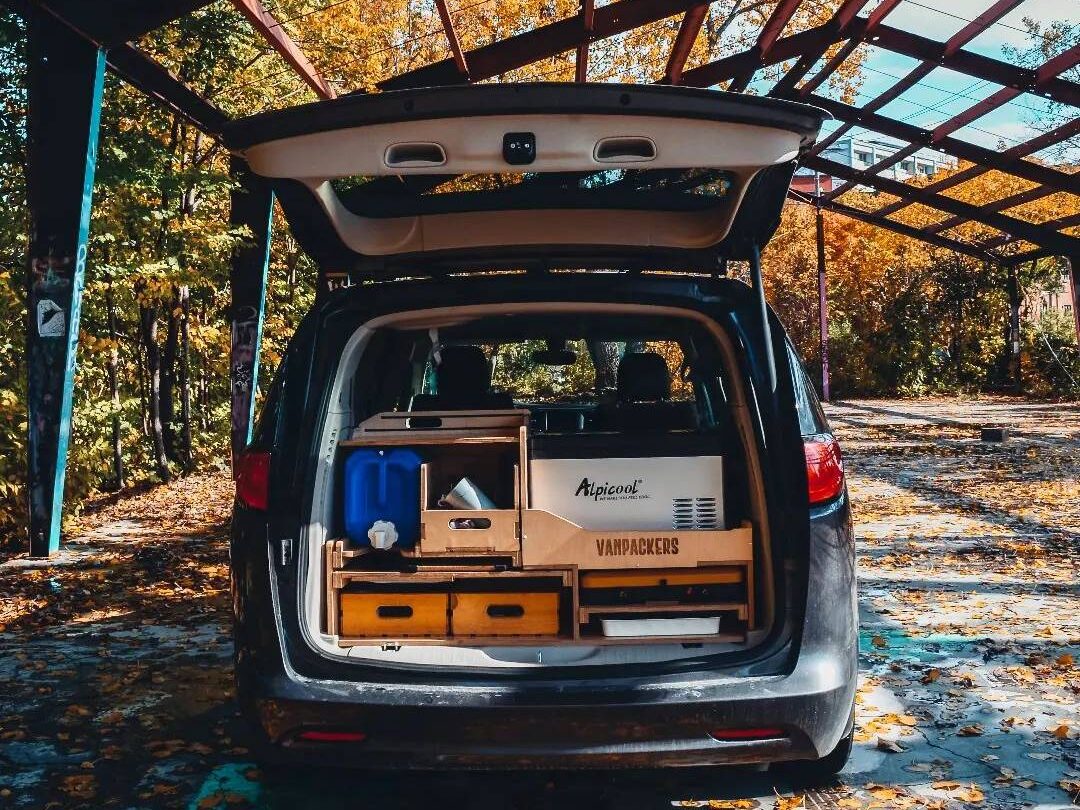 Vanpackers offers a few different kit layouts and a small kitchen trunk kit sold separately if you just want the fancy kitchen, without the bed and everything else. The company somehow incorporated a dinette in their kit, complete with a table, bench seating, and a fold-down couch bed.
Vanpackers kits run anywhere from $3,600 to a skosh over $4,000. They have kits compatible with the Toyota Sienna, Honda Odyssey, Chrysler Pacifica and Town and Country, Dodge Grand Caravan, Kia Carnival, Nissan NV200/Chevy City Express, and Mercedes Metris. Some kits will also work with the Ford Transit Connect and Ram Promaster City with a few manual adjustments.
15. Riverleaf 
Riverleaf currently has two conversion layouts. The first is the Grand Teton, which has a standard fold-down bed and plenty of storage space to accommodate a fridge, portable toilet, sink, and stove.
The second is the Arches, which doesn't have a sink or space for a cooler and bathroom, but it does have a little dinette with plenty of seating around the table.
Riverleaf's kits are among the most affordable on the market. The Grand Teton starts at $2,985, depending on what sort of mattress you order, while the Arches costs about $2,650. Riverleaf kits work with the Dodge Caravan, Chrysler Town and Country, Chrysler Pacifica, Toyota Sienna, Honda Odyssey, Nissan NV200, and Ford Transit Connect.
16. Trail Kitchens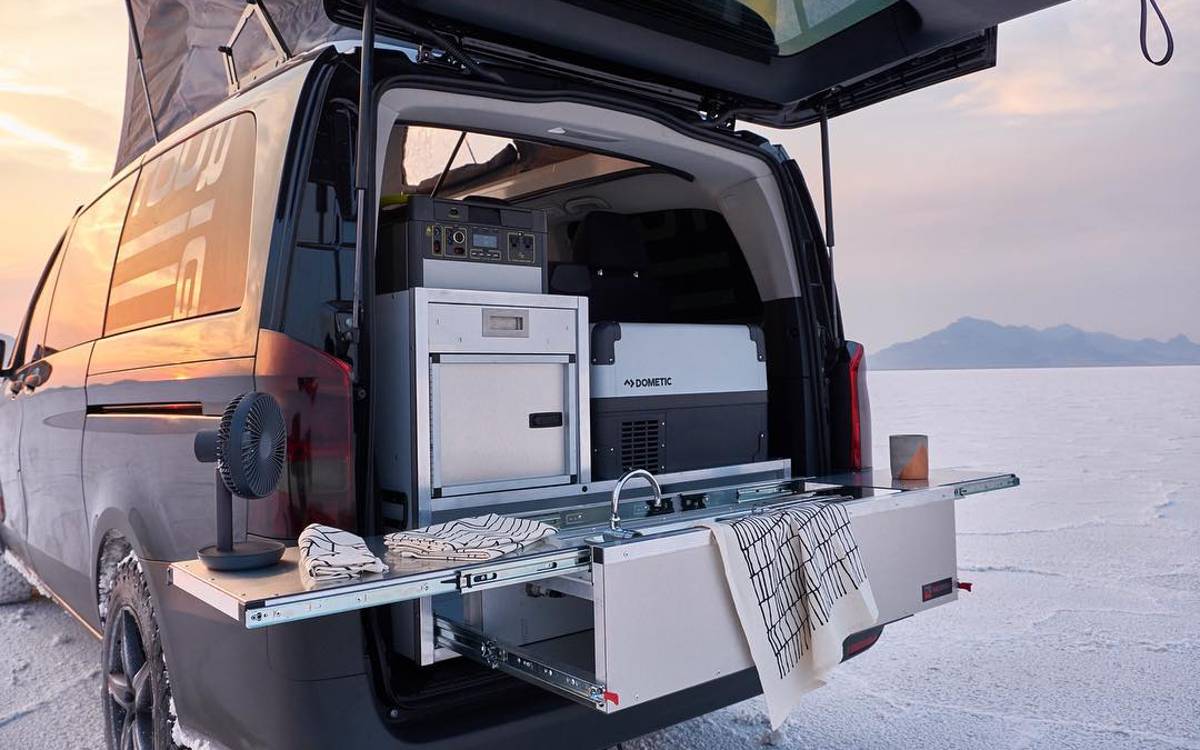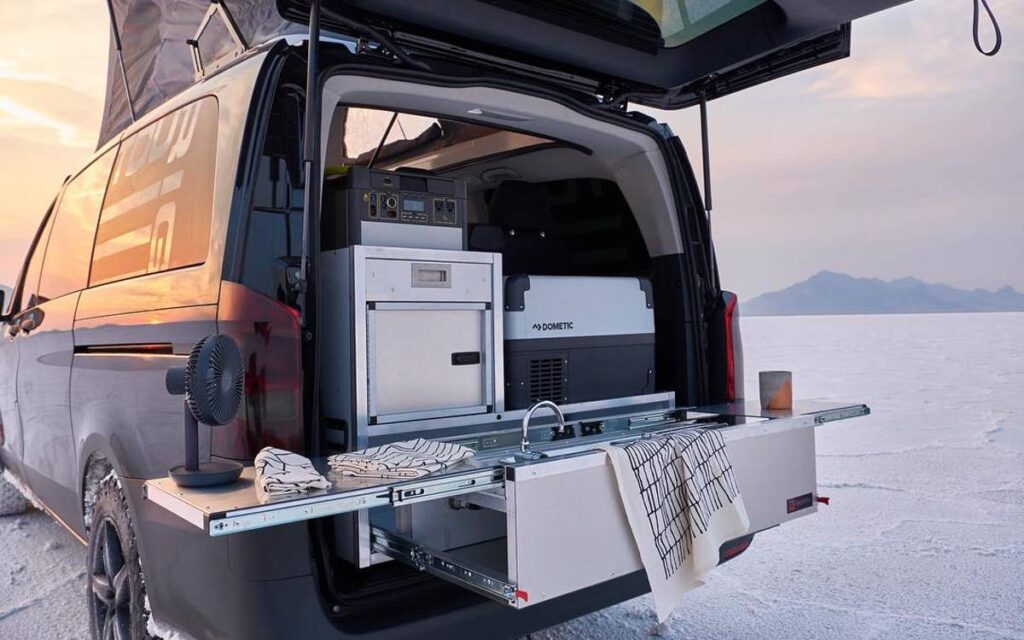 Trail Kitchens specializes in cabinetry and kitchen setups for vans big and small. Their minivan kitchen kit mounts in the trunk and features a propane stove, sink, water system complete with a 12V pump, and pull-out counter space. To clarify, these aren't full minivan conversions: Trail Kitchens just takes care of the kitchen area; you'll have to figure out the rest of the living space on your own.
Trail Kitchens provides several options for customization. You can customize your kitchen with mounting points to secure your fridge (not included) and a slide-out tray to make it more accessible. You can even add an optional on-demand hot water heater.
The company says their minivan kit is compatible with the Mercedes Metris, Vintage VW vans and Eurovans, Chrysler Pacifica, Dodge Grand Caravan, Ford Transit Connect, Ram Promaster City, and Toyota Sienna, and a variety of SUVs. It costs $1995.
17. Vanlab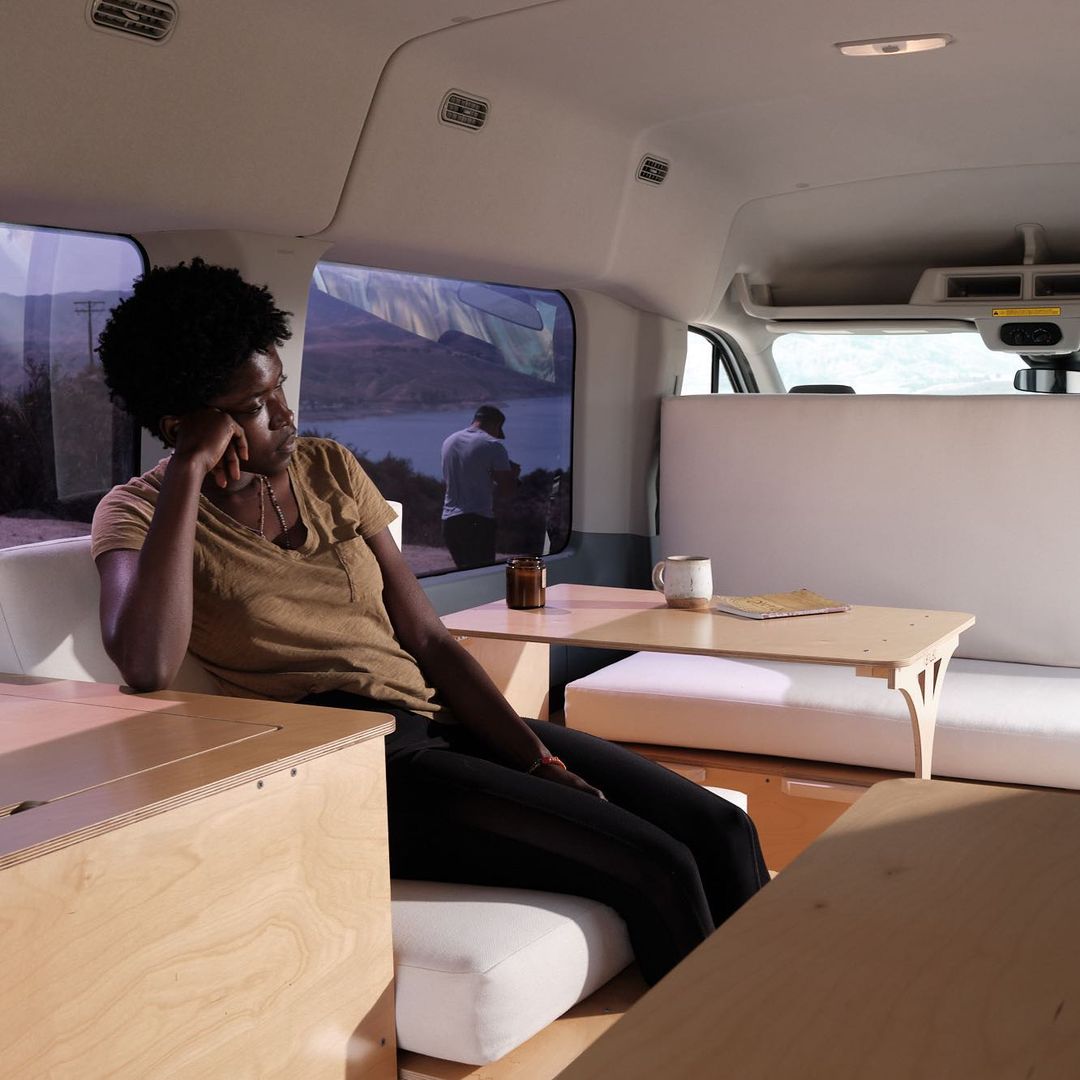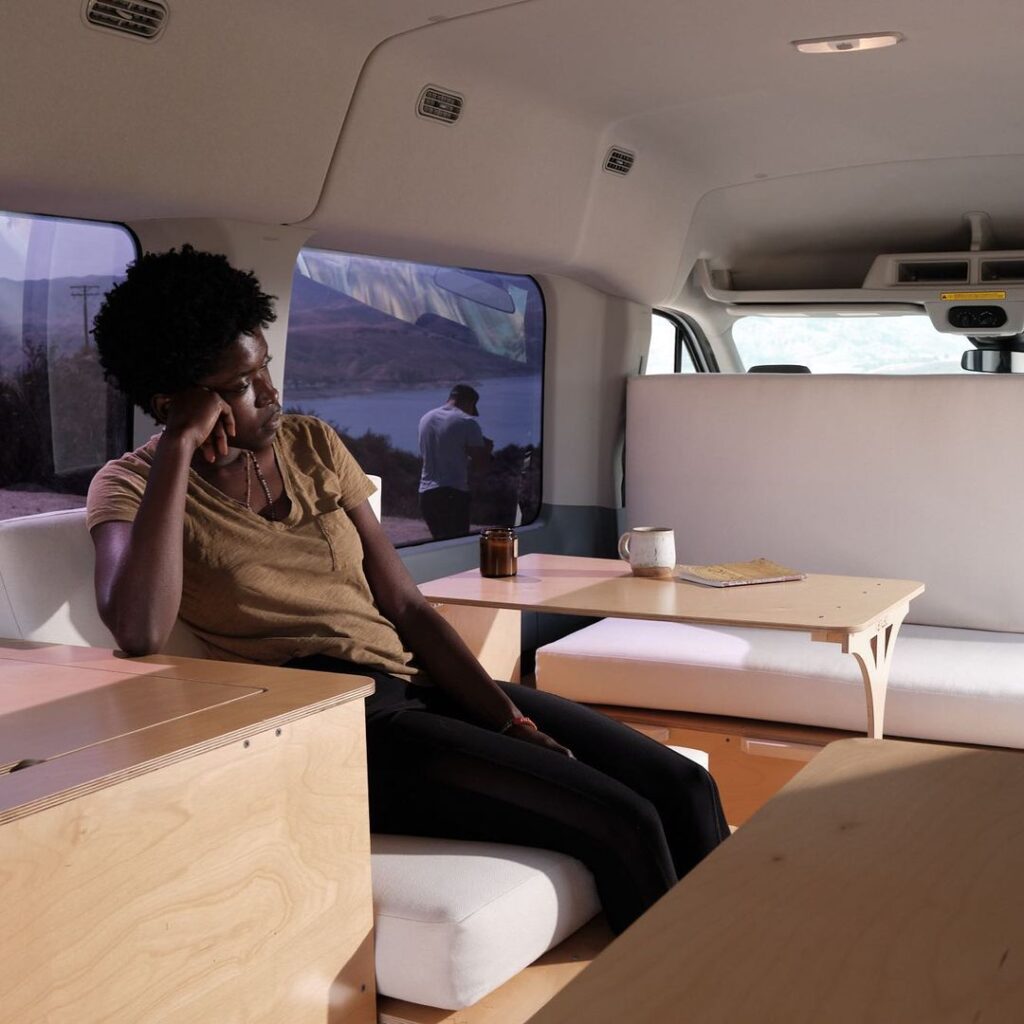 Vanlab makes kits for a range of vans. Their Small kit will work with the Nissan NV200 and Chevy City Express (as a reminder, these two are literally the same van badged and sold by two manufacturers).
This kit looks more like a traditional, full-size camper van conversion‌. It has a floor, kitchen area, two snap-on tables, and two benches with storage under the seat. At night, the two benches reconfigure into a bed while the kitchen remains intact. Vanlab makes everything with clean-looking blonde birch.
The kit costs $4,750, and for an additional $1,250, Vanlab will also install a simple wiring loom and lights.
18. Camp N Car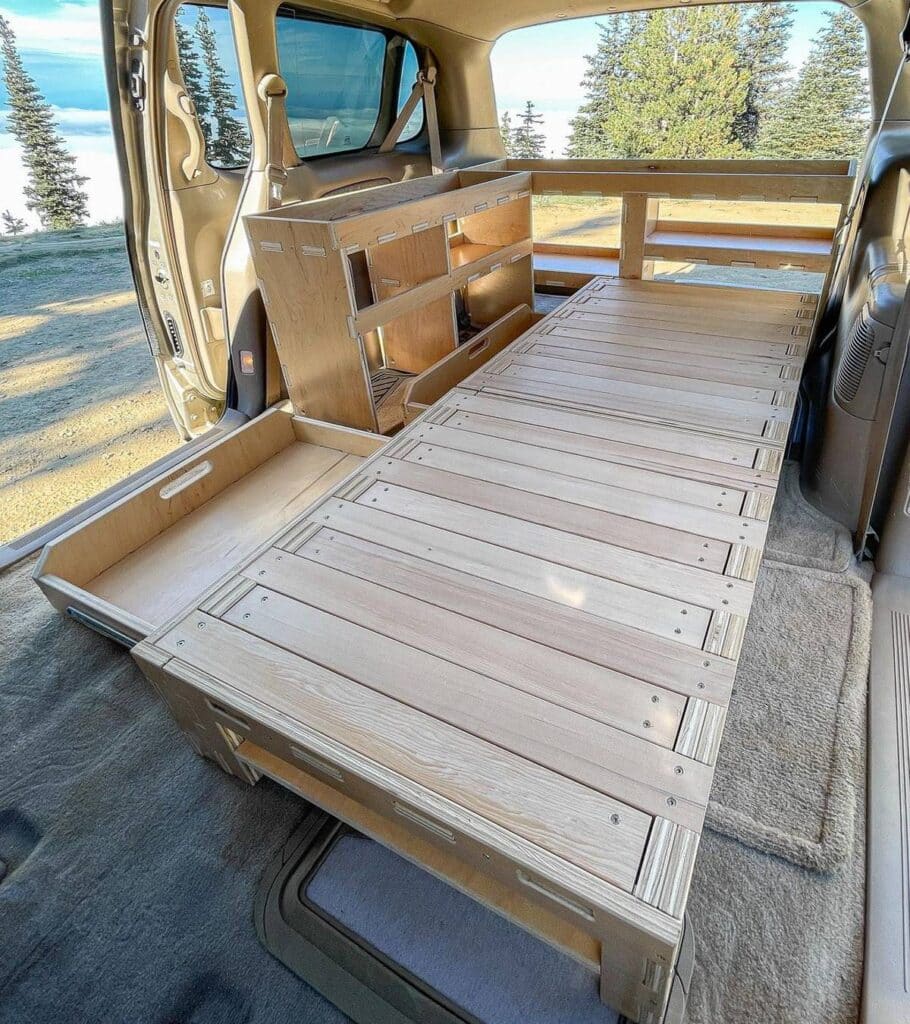 Camp N Car keeps its offering devilishly simple with no bells and whistles. It's more like a small campervan furniture store than a true conversion kit.
They make simple wooden bed frames, shelving, and drawers in various sizes and configurations. Their beds are actually pretty cool: you can get a fixed-width bunk or an expanding version you can pull out to form a double bed.
You can buy these things separately or purchase their $1,394 Home On Wheels kit, which includes a slat bed and two shelving units.
According to Camp N Car's website, they designed this kit "in collaboration with Bob Wells of Cheap RV Living and his nonprofit Home On Wheels Alliance." The equipment is highly adjustable and meant to fit in a wide variety of vans, including mini ones.
19. Fifth Element Camping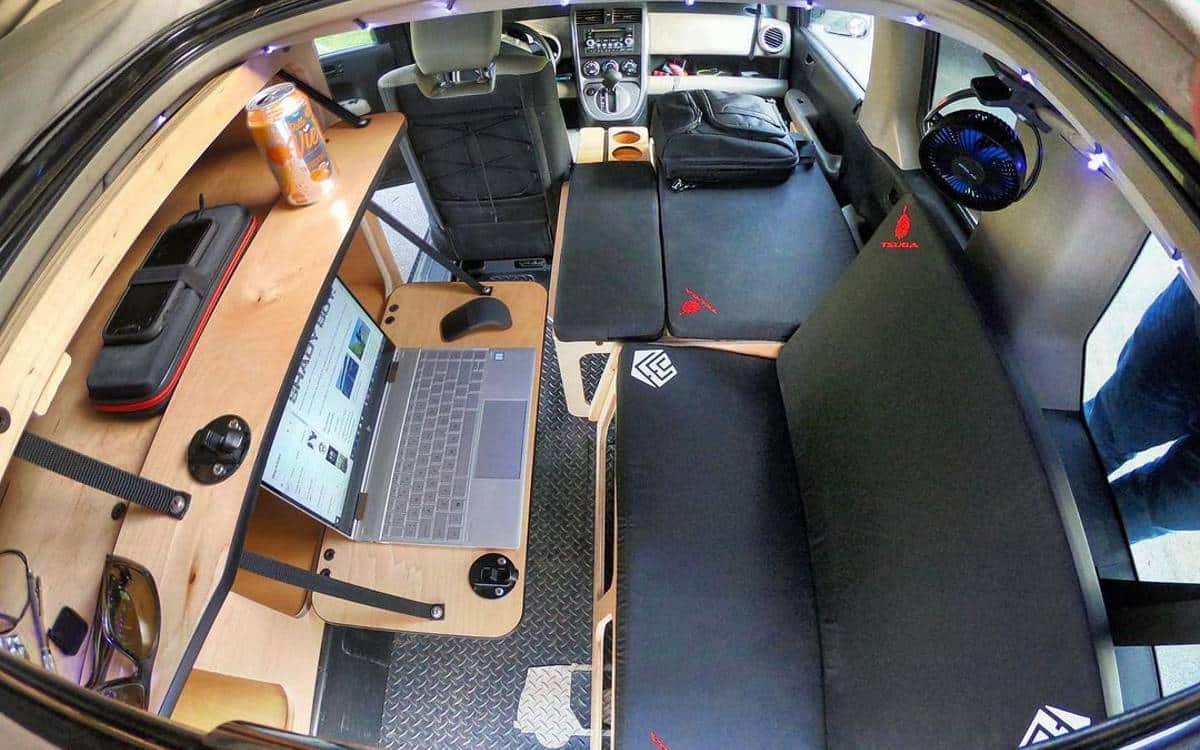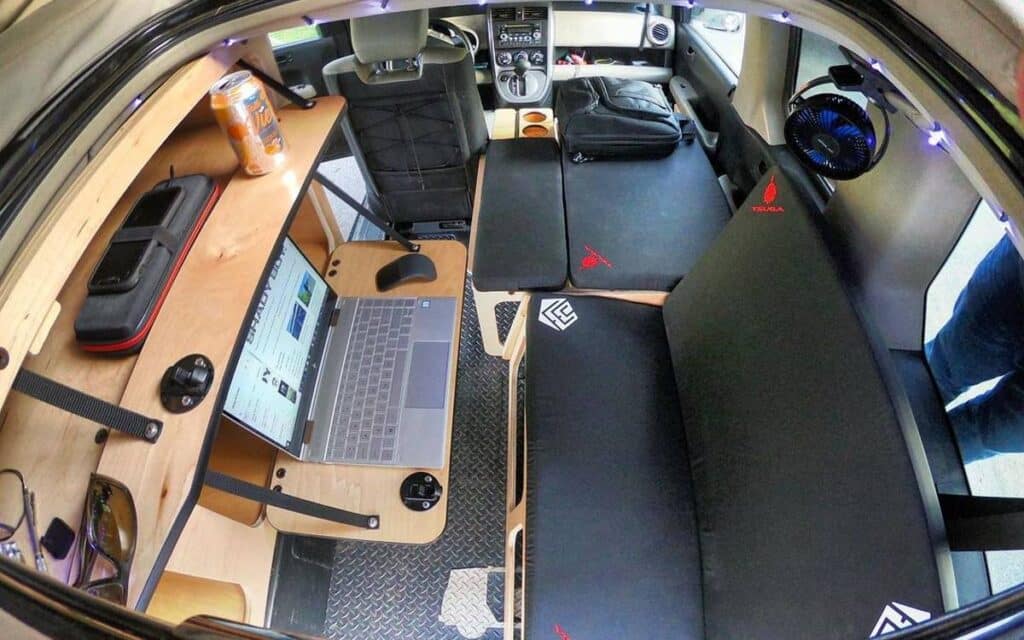 Fifth Element creates kits for the Honda Element. Their build is based on four components you can purchase individually or as a package: a bed, a cabinet, a console/trays, and a kitchen/side table. You can also add an interior bike mount and custom cushions.
Custom Minivan Conversion Companies
Finally, if you're looking to get a small camper van without getting too involved with the build, you can contract the work out to a full-service camper van conversion company.
Remember that many companies (like Denver-based Contravans) that don't specifically work with minis will work with you to create a custom design that fits in your vehicle even if it's not on their standard roster—it's always worth checking.
20. Oasis Campervans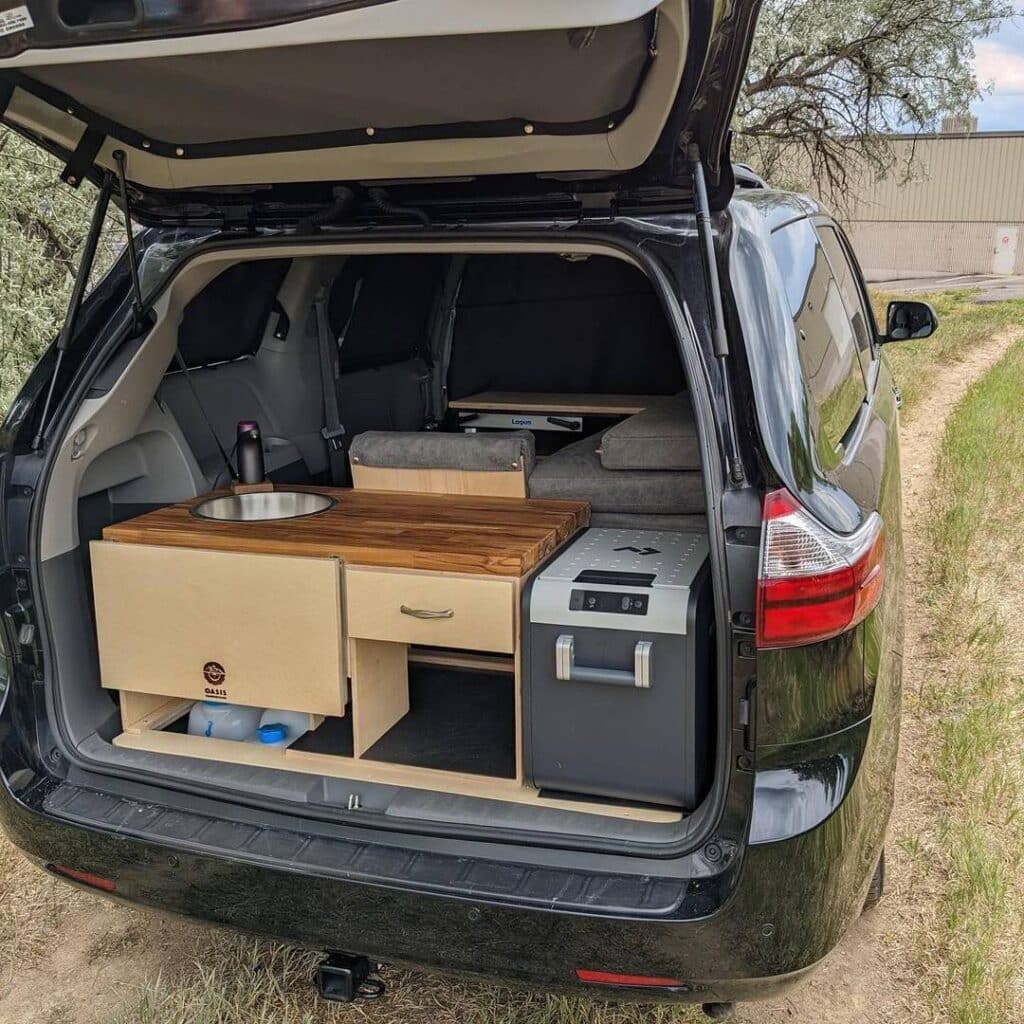 Oasis Campervans is based in Colorado and, in the minivan department, works primarily with the Toyota Sienna, Honda Odyssey, and Chrysler Pacifica. However, they encourage you to inquire even if you own a minivan other than these three.
They have three standard conversion kits that start at $6,500. Oasis Campervans custom builds.
21. Cascade Campers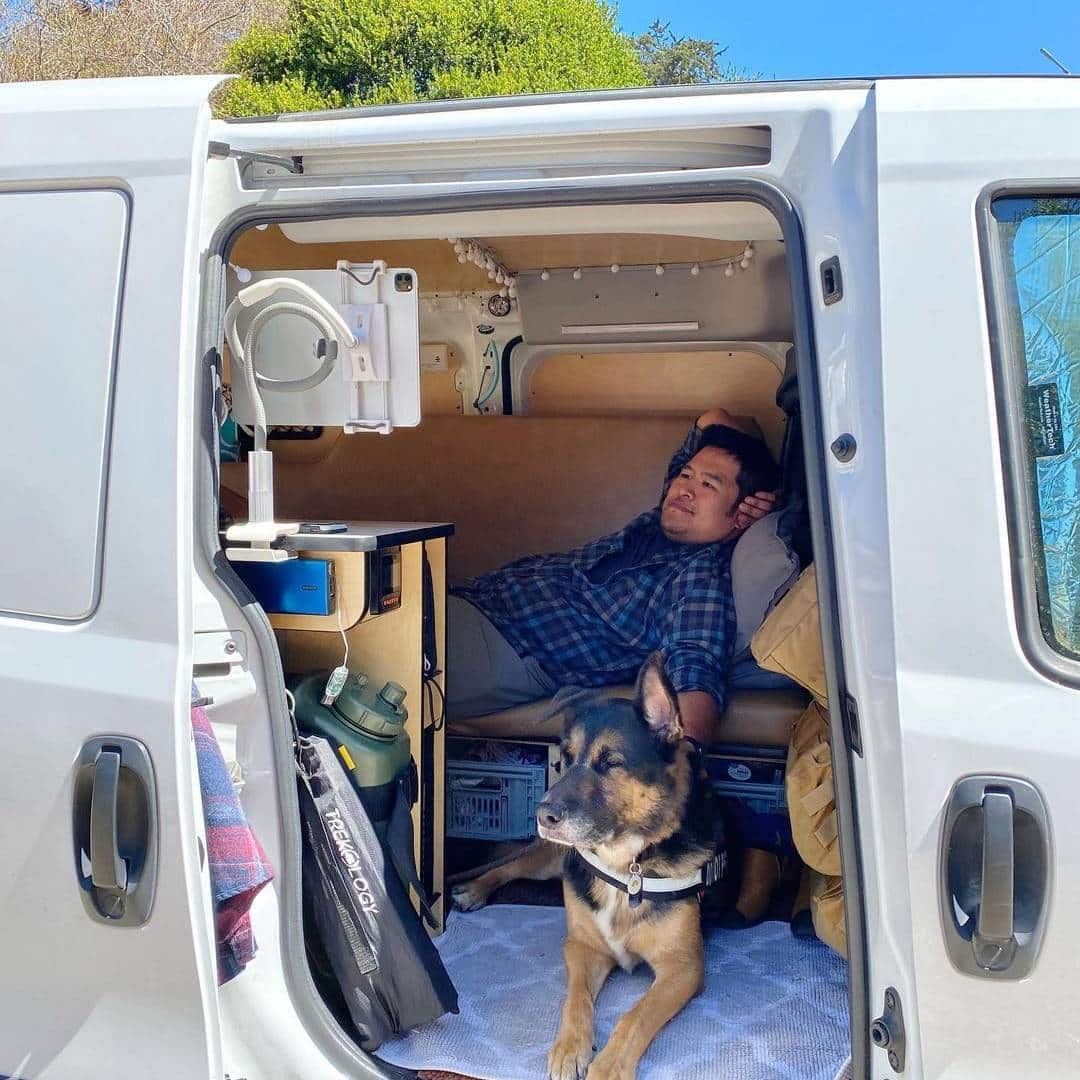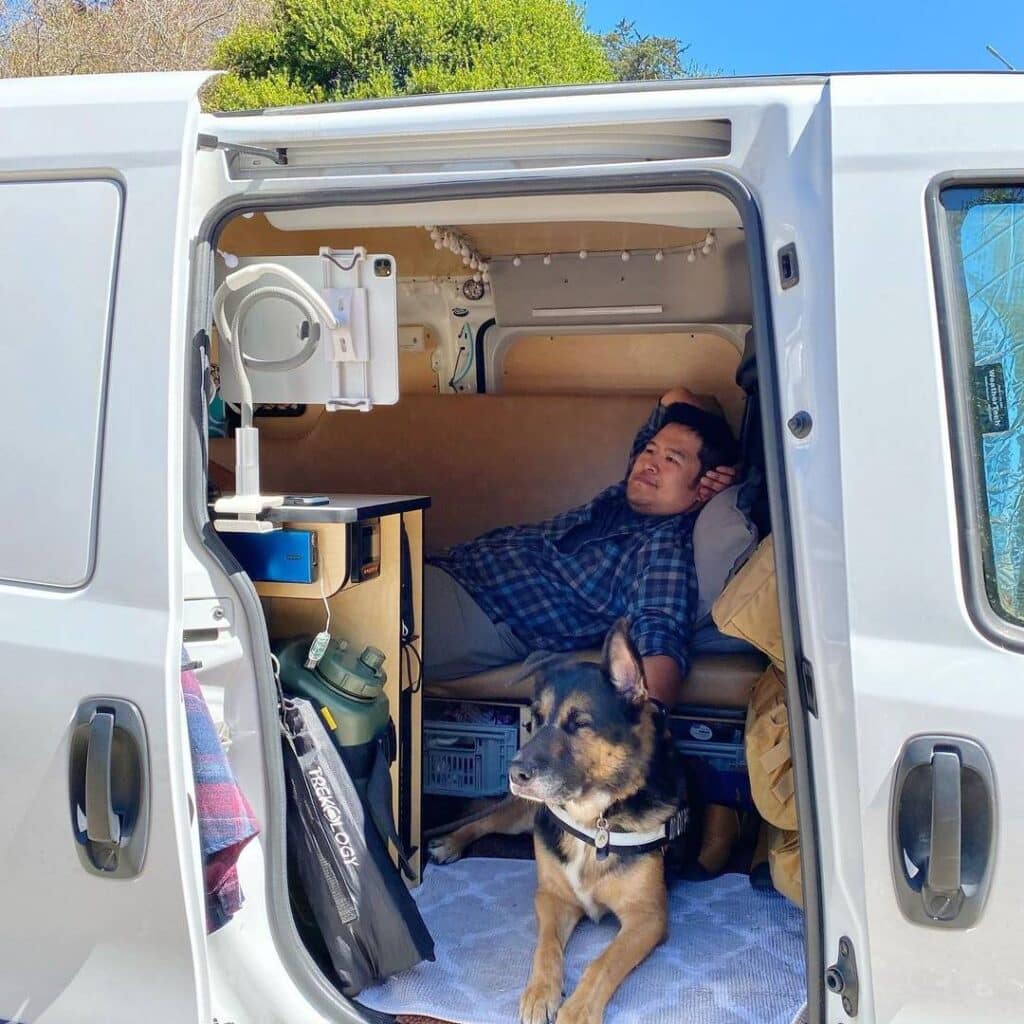 Cascade Campers specializes in Ram Promaster City conversions. Their turnkey vans feature fold-down couch beds, small electric coolers, water systems, shelving, non-slip flooring, and a flexible solar panel on the roof. You can also customize your Promaster with a variety of upgrades, such as an extra solar panel, an inverter, extra insulation, and aftermarket windows.
22. Contravans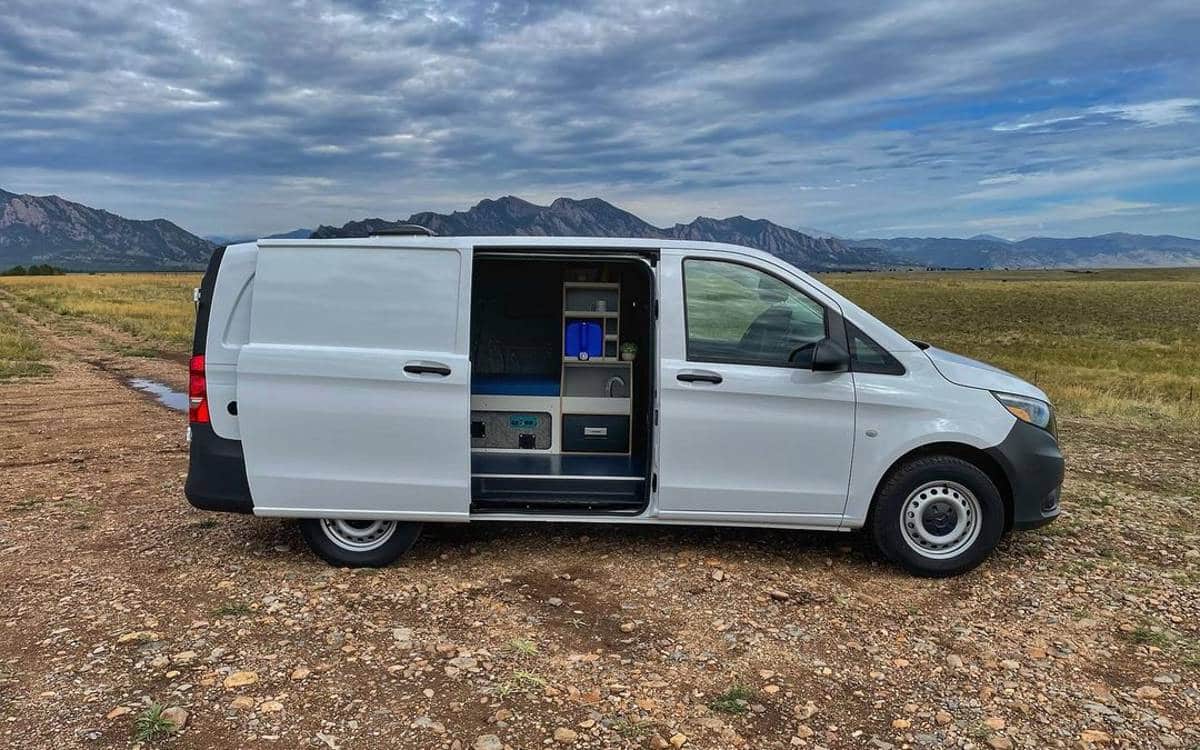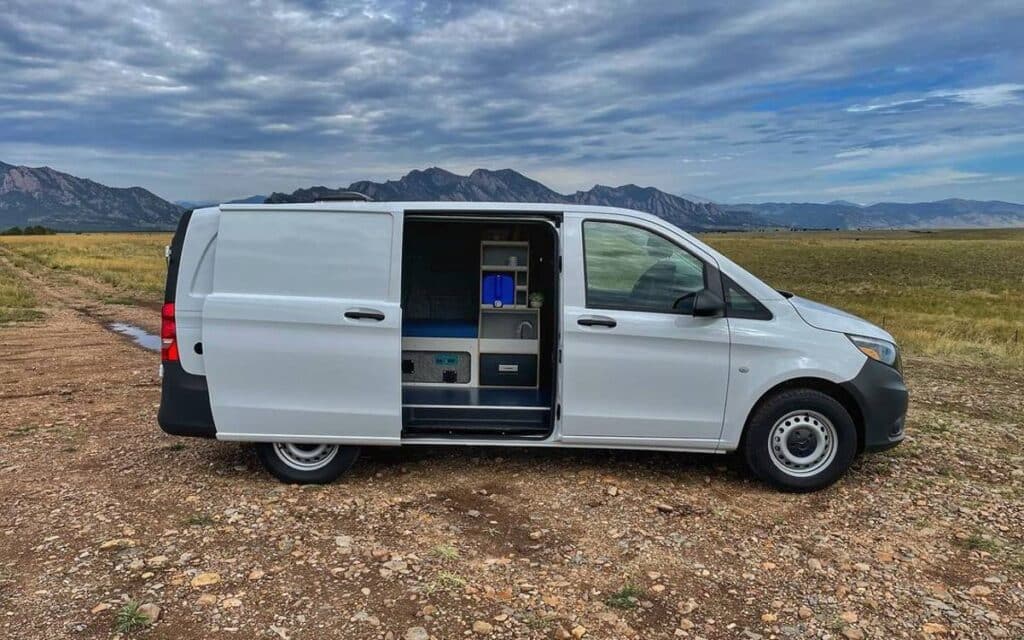 Denver-based Contravans works with vans of all shapes and sizes. In the world of small vans, they specialize in the Toyota Sienna, Mercedes Metris, Nissan NV200, Ford Transit Connect, and Ram Promaster City. They offer a variety of turnkey options, or they'll work with you to design a custom build. If you're able to do most of the conversion yourself but need help with specific aspects of the build (like the electrical system), Contravans also offers partial conversions.
23. Recon Campers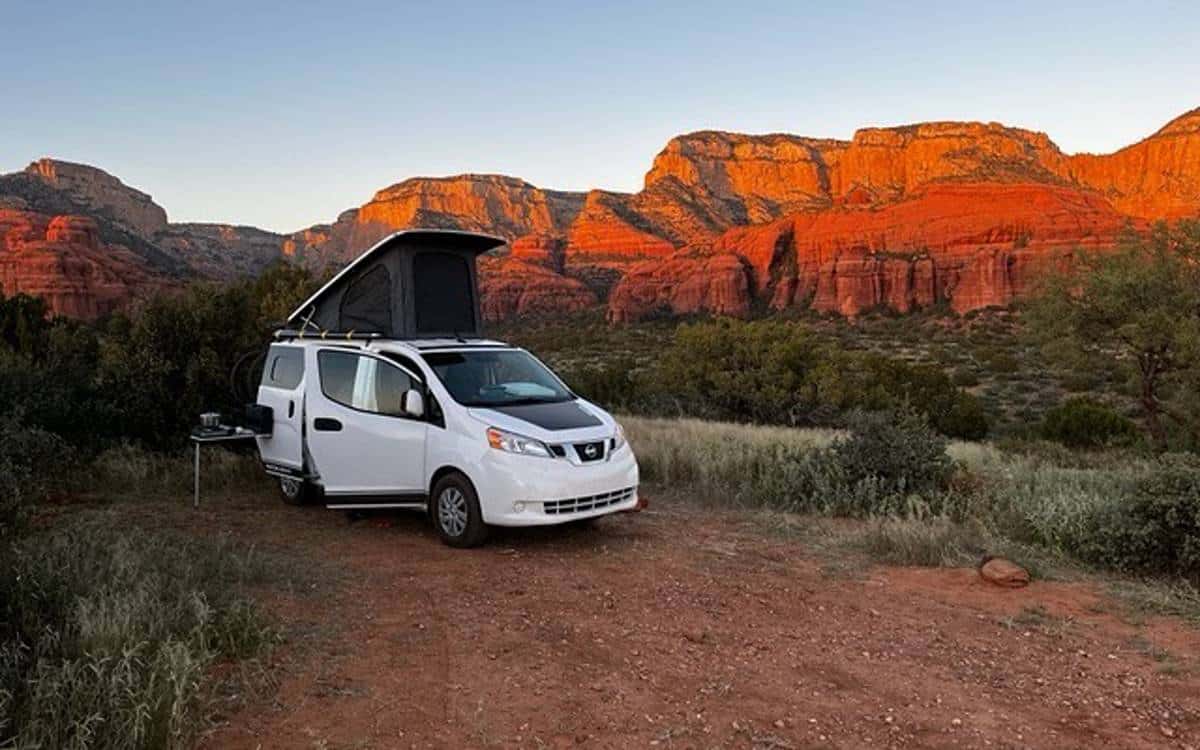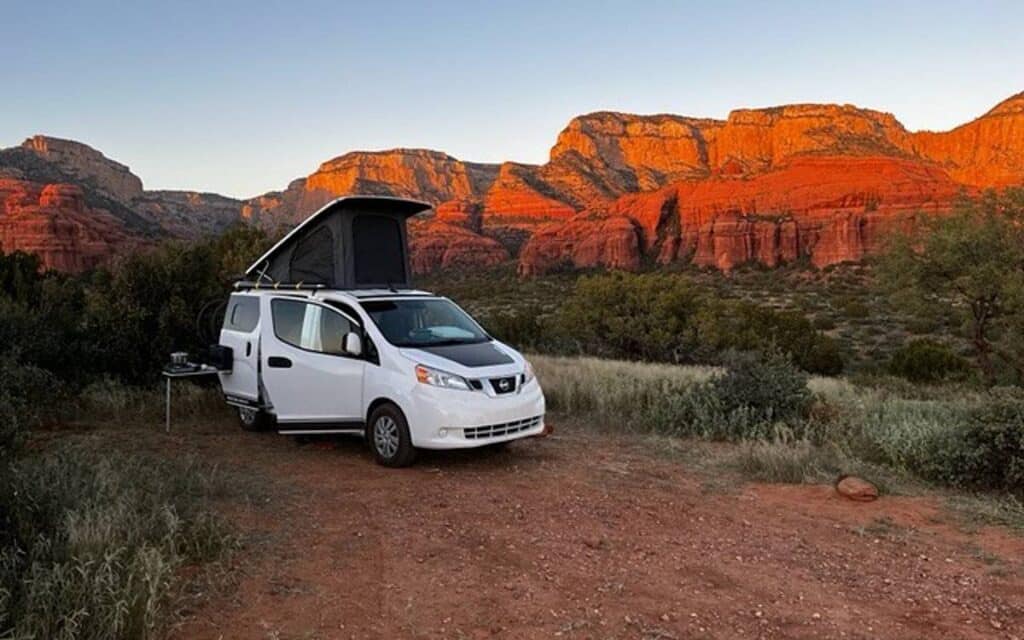 Recon Campers specializes in the Nissan NV200. The company has two base models, the Envy and the Weekender, both of which feature a pop top to create more room for sleeping. You can also choose from a variety of custom add-ons to make the build your own, including rear bike racks, bug screens, and a hybrid awning/projector screen.
24. GTRV
GTRV builds custom campers in many vans, including full-sized, mid-sized, and minivans. They build out anything from Westy-style conversions to convertible weekender rigs. They've even been known to install pop tops for ambitious DIYers. The smaller vans they work with include the Mercedes Metris, Toyota Sienna, and Nissan NV200.