Whether you're a vandweller thinking about adding a furry friend to your nomadic lifestyle or a dog owner considering the leap to vanlife – there's a lot to think about. How we're able to live this lifestyle with two dogs is one of those questions we get all the time.
Vanlife with a dog is a lot of fun, and we recommend it wholeheartedly. There are definitely some tradeoffs that come with living in a vehicle with a dog, and it does increase the cost of van life, but for us the positives far outweigh the challenges. We love adventuring with our two best friends – they always remind us to stay present and embrace the joy in life, they encourage us to get outside and explore, and they're the best cuddle bugs we could possibly hope for.
In this post, we share our tips for embarking on your own vanlife journey with a dog (or two), and things to think about when creating a camper van conversion for travelling with a dog. We also chat with a few of our dog-owning nomad friends about their experiences on the road with their canine companions. If you've ever thought about living vanlife with a dog but aren't sure how to make it work, this post is for you!
Our Vanlife Dog Story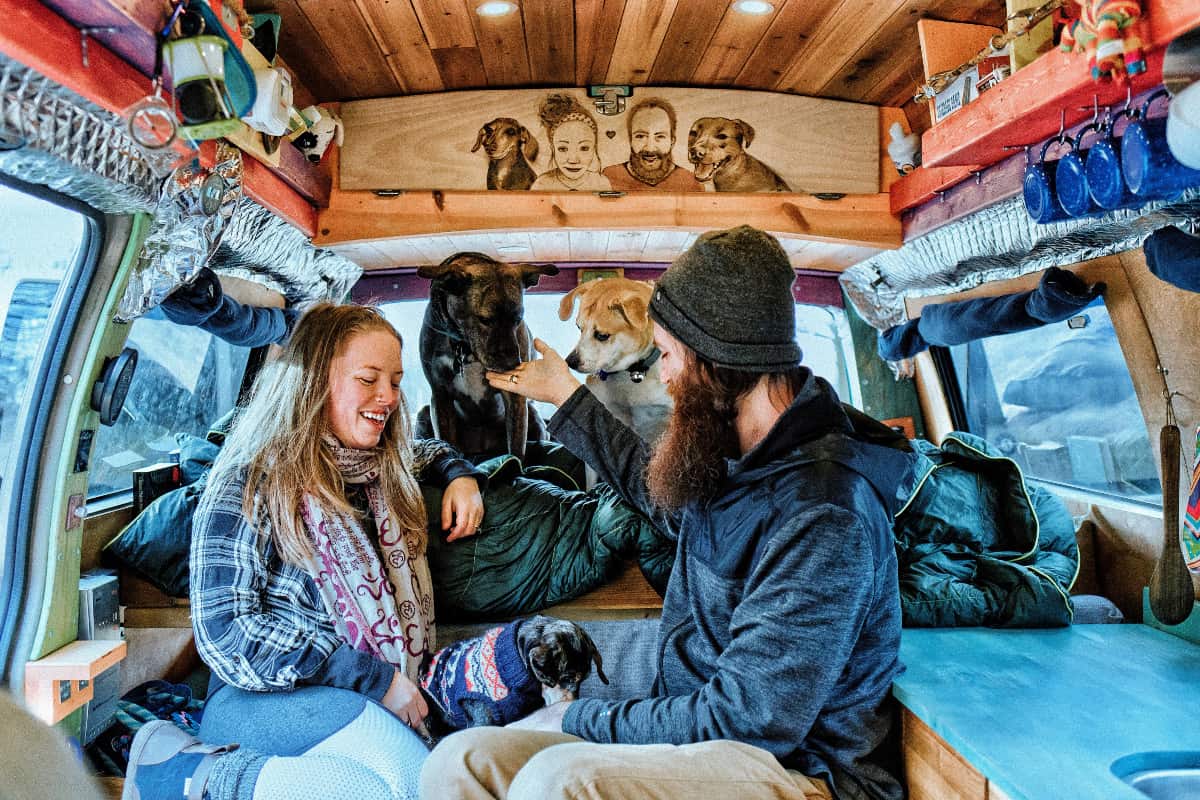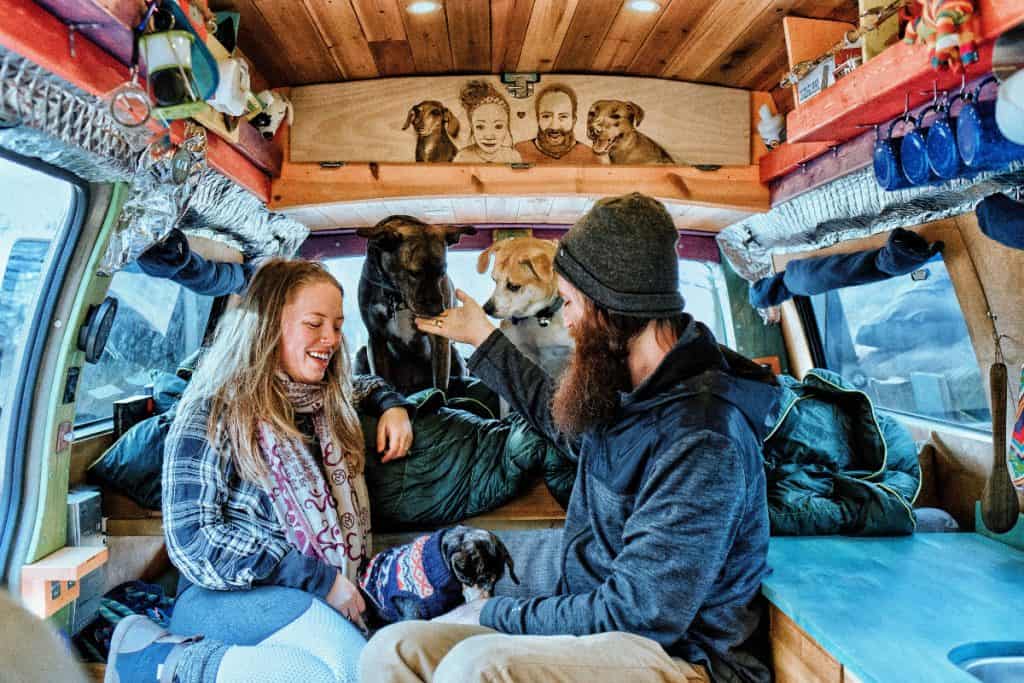 Our decision to adopt a dog and our decision to pursue vanlife went hand-in-hand. We've always been huge dog-lovers, but with both of us working full-time and living in an apartment we felt like we couldn't give a dog the attention and exercise they need.
That all changed when we bought our house and John started working from home, and we quickly got a serious case of pet fever.
But we still thought we didn't have the time to care for a dog, so at first we were looking for a cat (even though we're NOT cat people). That is, until we met our beautiful pup Nymeria at a Stray Rescue of St. Louis adoption event.
Nymeria's foster mom was taking her out to go potty as we were walking in, and there was just something about her that struck us. So we skipped the cats to play with Nymeria and we immediately fell in love. Two days later – after an application, interview, and home visit – she was ours!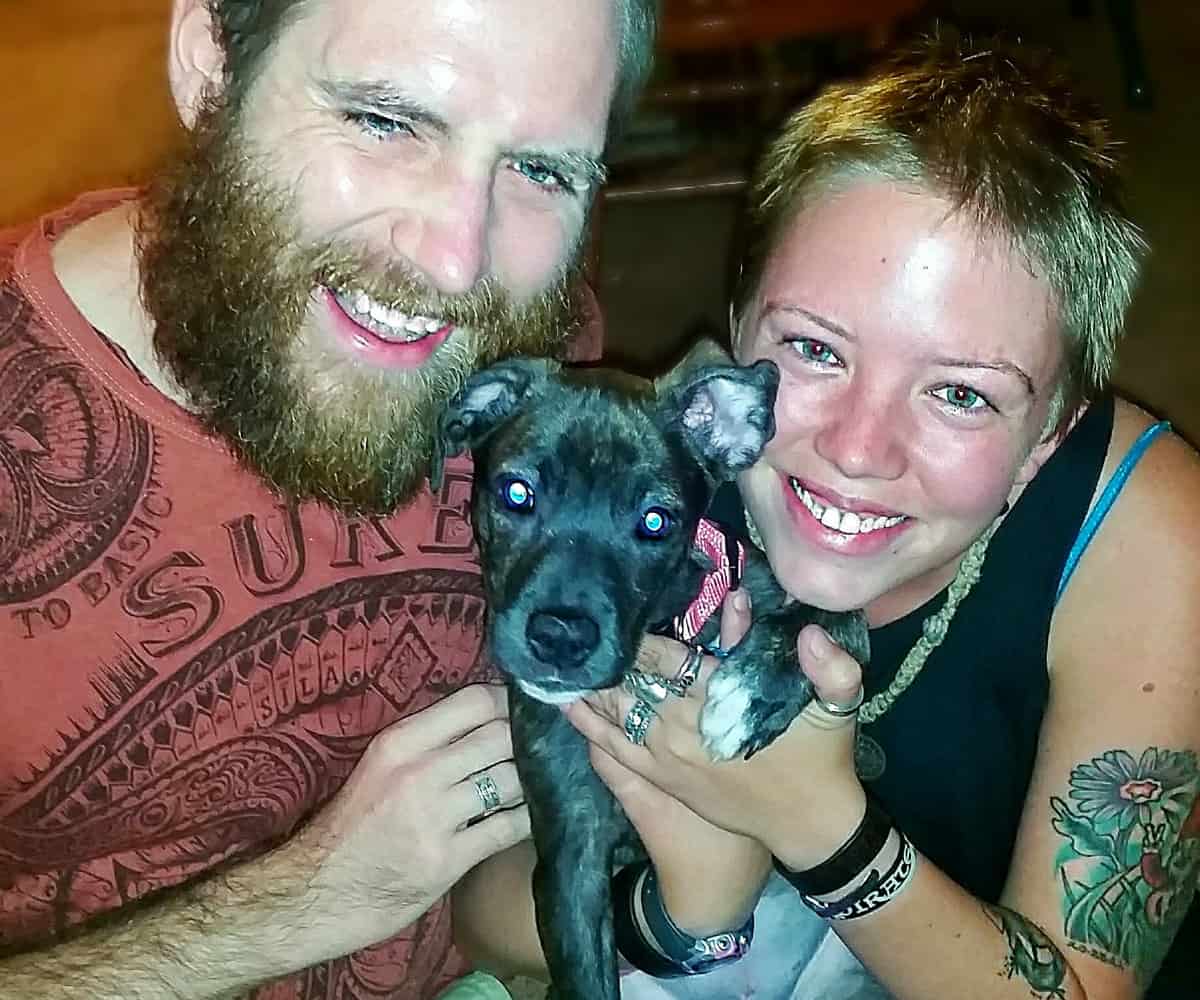 Adopting Nymeria forever changed our lives for the better. Giving a dog the life they deserve is an incredibly enriching experience.
We found ourselves hiking more often and spending more time exploring the woods around St. Louis, all because it was so obvious how much Nymeria loved being outside. Whenever we were cooped up in the house, she was always perched on the back of the couch, staring longingly out the front window.
A few months later we took in Crow, Jayme's childhood dachshund, and we became a family of four.
At the same time, we were dreaming of an escape from our dreary 9-5 suburban hamster wheel. We longed to travel, to see the world and explore ourselves. Having dogs meant that traveling overseas for a year or more was out of the question for us, so we started planning an extended car-and-tent road trip with the dogs around North America.
Then we found out about vanlife, and we knew it was perfect. We bought our van, spent the next six months converting it into a mobile tiny home for our little family, and hit the road.
We wanted to show Nymeria the world beyond the front window. We often joke that we built the van just for her.
We hit the road in April of 2017 and haven't looked back. And the dogs loved it too.
In February 2018, we took in Delilah from a family member. We laid Crow to rest a few months later in May, just shy of her 17th birthday.
Jeff, Rachelle, and Cash of @zeroyearplan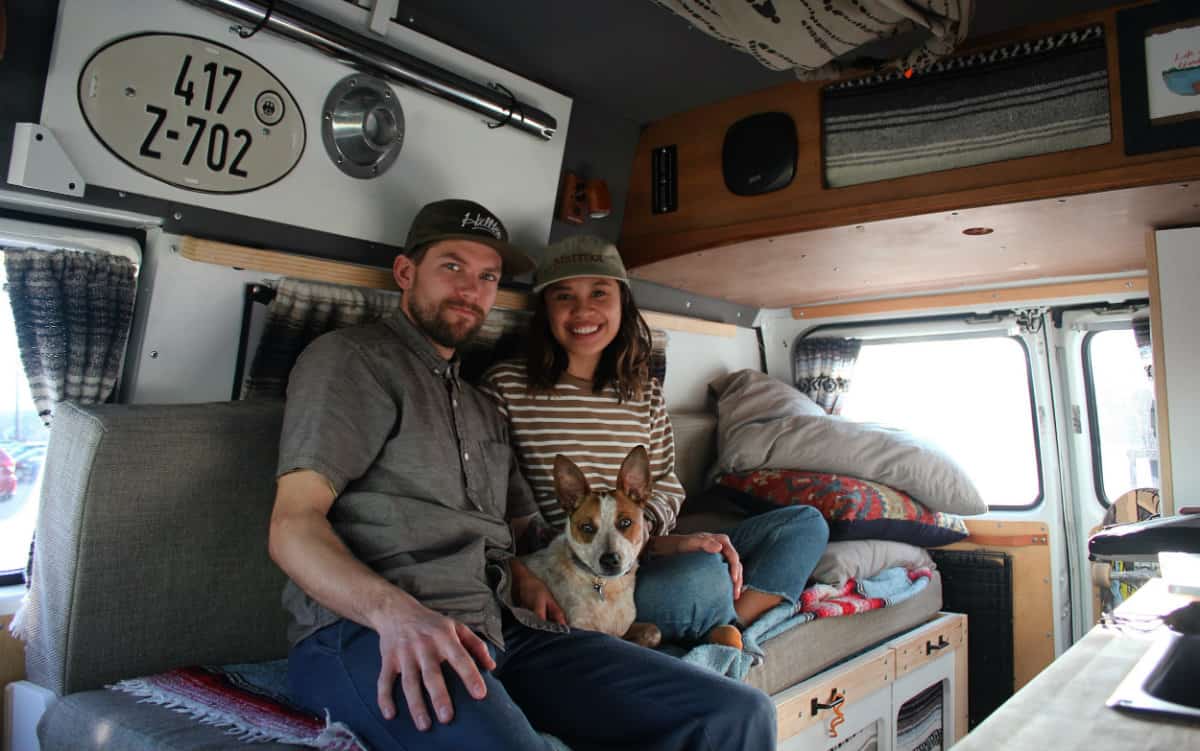 We are Jeff and Rachelle, @zeroyearplan to the Instagram world. Cash is our one year old Red Heeler/Mountain Feist mix and the van is the only home he's ever known. He caught on quickly, settling into his new tiny home happily. He's found his sunny spot on the passenger seat that he especially loves in the winter, soaking up the warmth in his glass enclosed "sun porch."
We took him on a trip to New Hampshire in the first week after rescuing him, and he has since traveled all over the country from Massachusetts to Florida and all the way west to California. One of the challenges of having a road-dog you love to bits is not being able to take them absolutely everywhere with you, but we always lean towards traveling to places he can enjoy too.
He's quite the guard dog which makes stealth camping in cities nearly impossible, but that gives us good reason to bump down the backroads and explore more beautiful natural spaces.
Top Questions We Get About Vanlife With Dogs
We get a lot of questions from people interested in vanlife, and many of those questions revolve around how we care for and live with Nymeria and Delilah on the road. Here are the questions we get most frequently.
What happens if you need to leave your dogs in the van?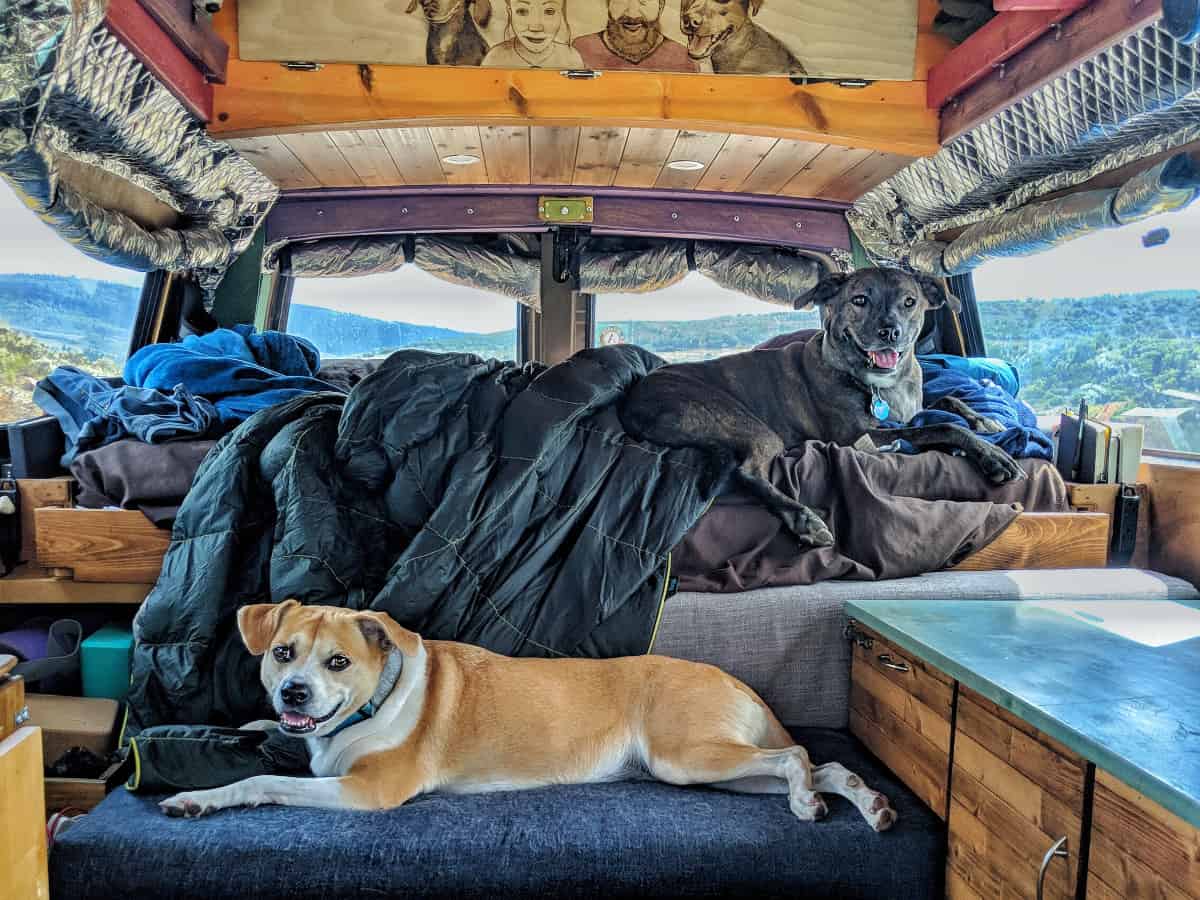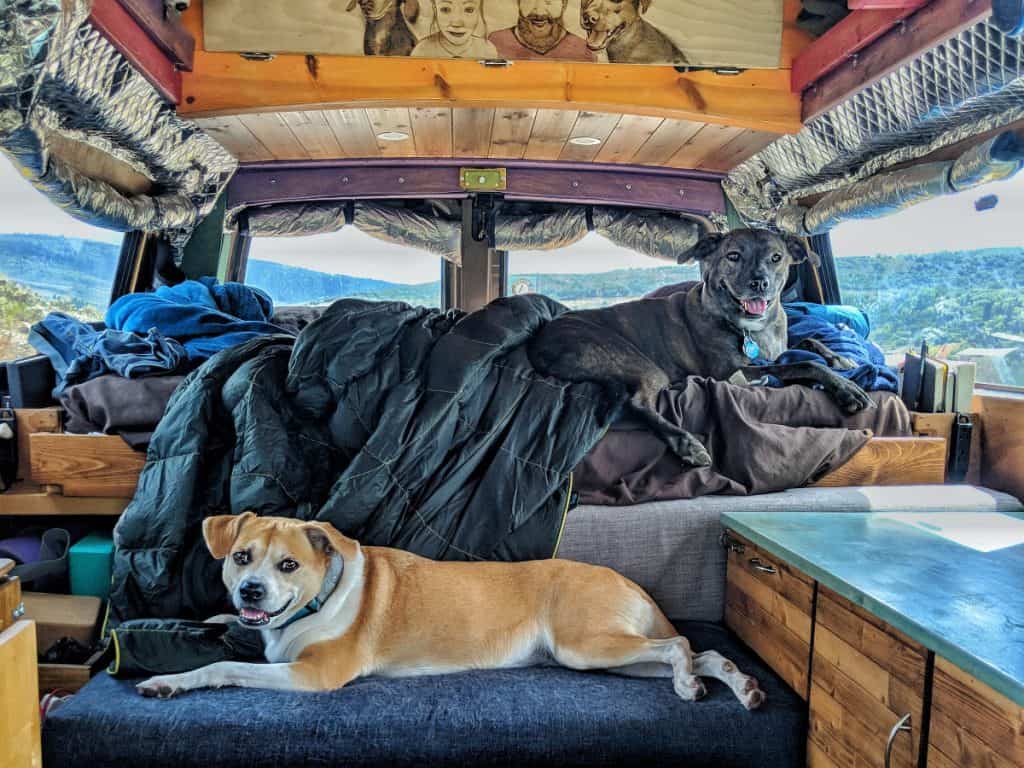 This is probably the number one question we get. And the answer is – we don't. Or, at least, not very frequently, and not for very long. And definitely not in hot temperatures.
We generally prefer to stay outside of towns and cities, so we're not often in situations where we can't be with them. And when we're in a town we either seek out dog-friendly activities (like restaurant patios and dog parks) or put them up with a sitter for the day so we can explore on our own. Rover.com is our go-to resource for finding affordable sitters just about anywhere.
But sometimes we do need to go places they can't go, like grocery stores. What do we do in those cases?
During the summer months when it's hotter, we never leave them in the van unattended. If we need to go grocery shopping, one of us always hangs back to monitor the temperature and make sure the dogs are comfortable. We just don't want to take the risk of something happening to them while we're away, or of a concerned citizen smashing through the window.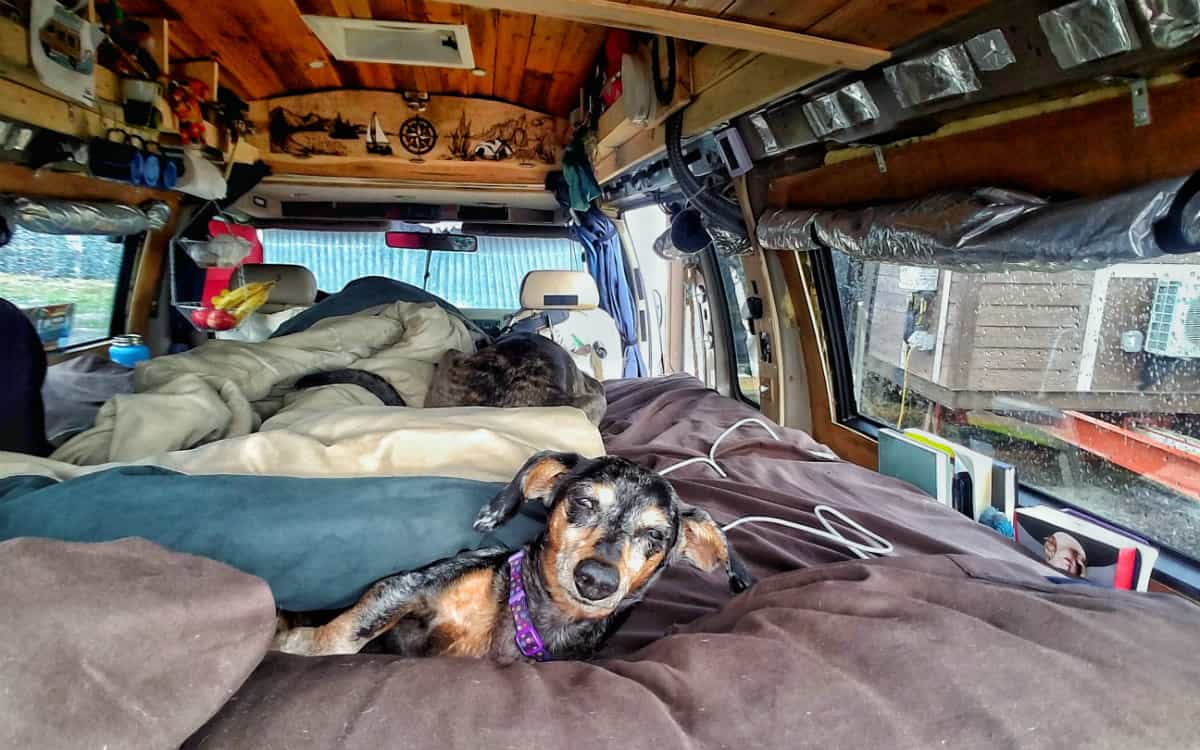 This is definitely a luxury that we have compared to single travellers with dogs, but even if you're by yourself there are several things you can do to make sure your van stays relatively cool while you pop into the grocery store (which we go over in the tips section below).
Since the weather has gotten cooler, we've started occasionally leaving them in the van for short periods so both of us can run into a store or restaurant. The van is their home, it's their comfort zone, and they're comfortable being there.
But overall, our dogs are our family, and if there's somewhere they can't be, we prefer not to go.
It must be crowded having two dogs in such a small space. Where do they sleep?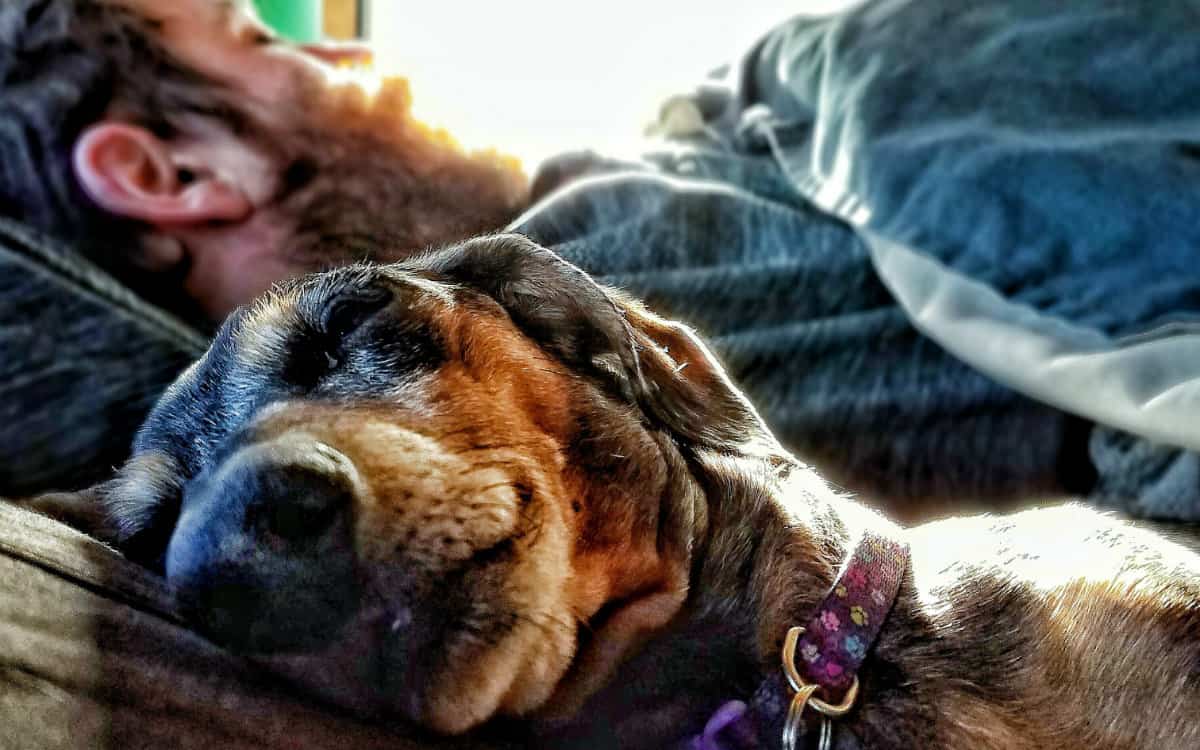 Our van has more than enough room for all four of us to relax comfortably. When we're hanging out in the van, both dogs have their window-side perches on the bed platform. But we try to be outside as much as possible, so the small interior of a van is much less of an issue than you would think.
When building our van, the camper van bed design was incredibly important to get right. Both dogs sleep with us, which is also where they slept when we lived in a house. We just love cuddling with them at night, and this is why we made sure to include a pullout queen-sized bed in our van build.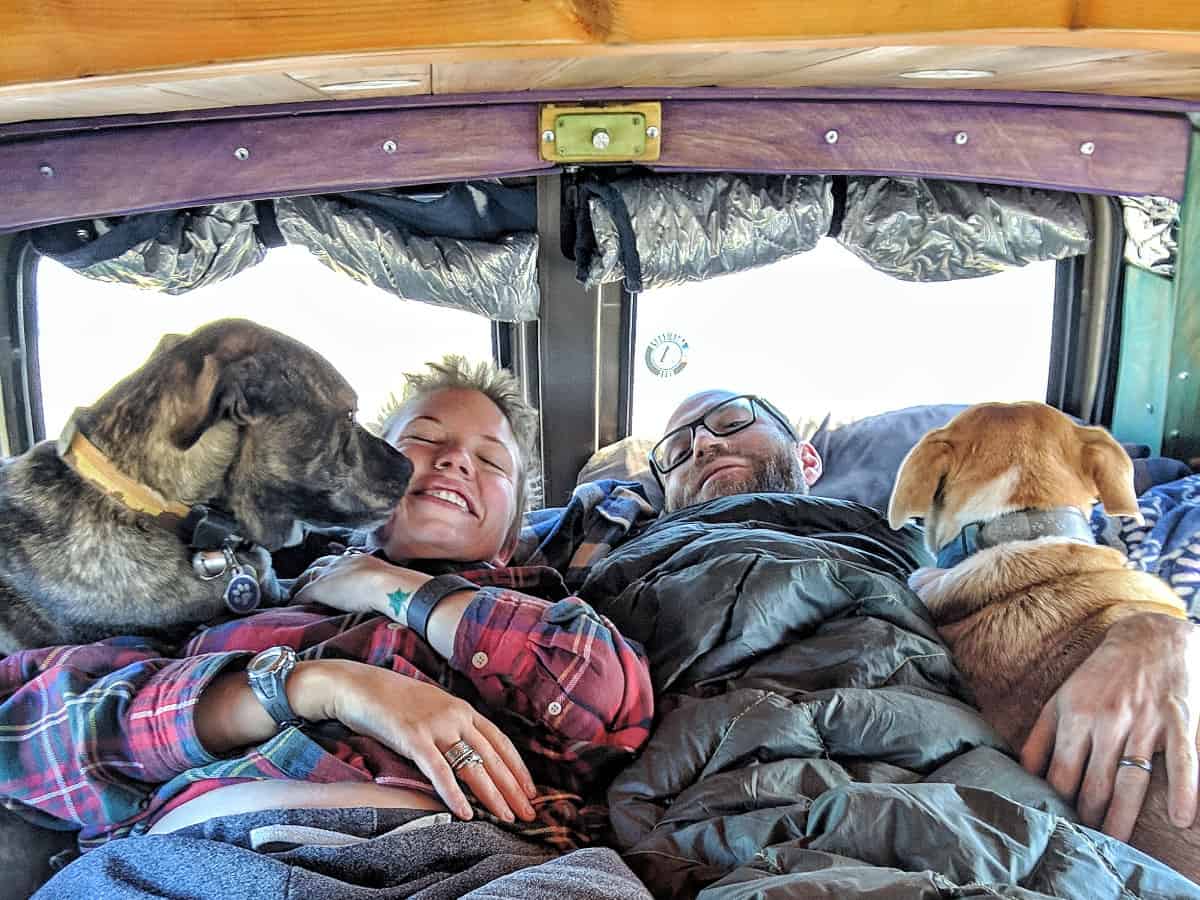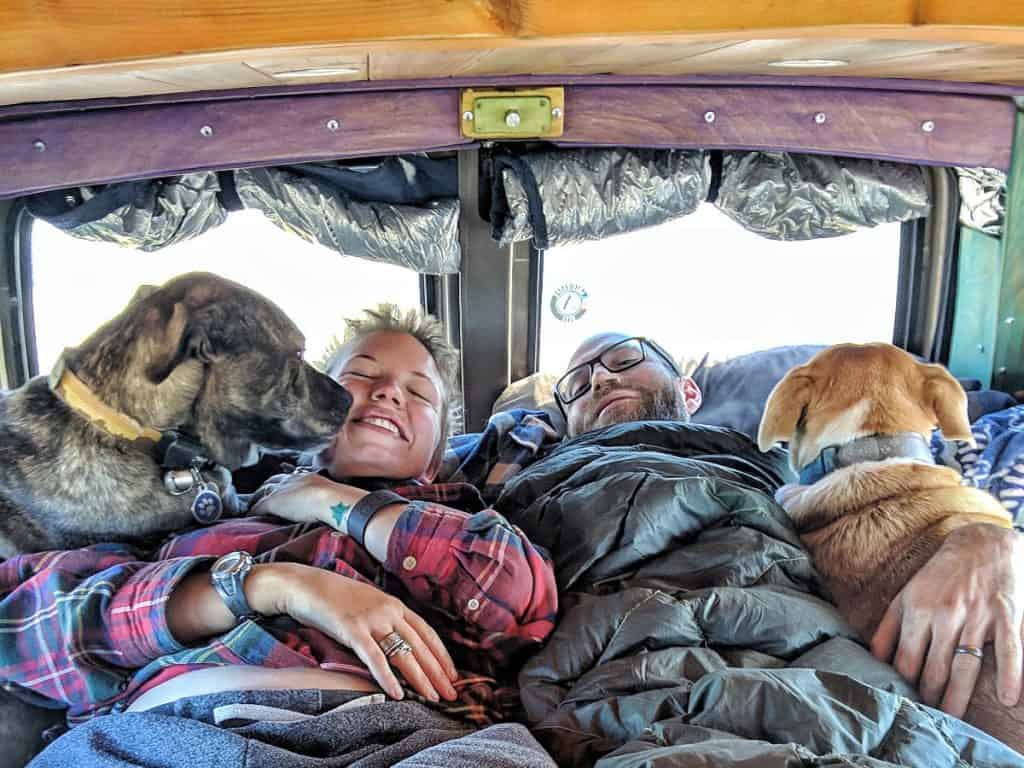 There's plenty of space for all four of us – even with Nymeria sprawled across half the bed.
However, not everyone likes sleeping with their dogs (although we're not sure why… ). If that's you, then your dog could easily curl up on the floor or on one of the front seats.
What about campgrounds and National Parks?
We've rarely come across a campground that doesn't allow dogs (outside of the East Coast, at least).
National Parks are a different story. Most National Parks have very strict regulations regarding pets, and dogs typically are not allowed outside of developed areas – which means they're not allowed on trails or in the backcountry.
But right outside the National Parks are huge stretches of Forest Service and BLM land, which have similar terrain and almost no pet restrictions (not to mention free camping). This is where we try to spend most of our time.
With two dogs, your van must be dirty and smelly all the time.
Actually, no, it's not. One of the perks of living in a small space is that it's easy to clean. We have a small hand broom and dustpan, and once a day we sweep out any dirt, dust, or dog hair that's accumulated. We also have a dedicated "dog towel" for wiping muddy paws before the dogs get in the van, and an awesome doormat that catches a lot of dirt and debris.
We almost always have our vent fan going for airflow, which really helps keep the air fresh. We're also lucky in that our dogs don't shed much, but if your dog sheds making sure to brush them regularly goes a long way to keeping dog hair out of the van.
Kathleen and Peaches for @tinyhousetinyfootprint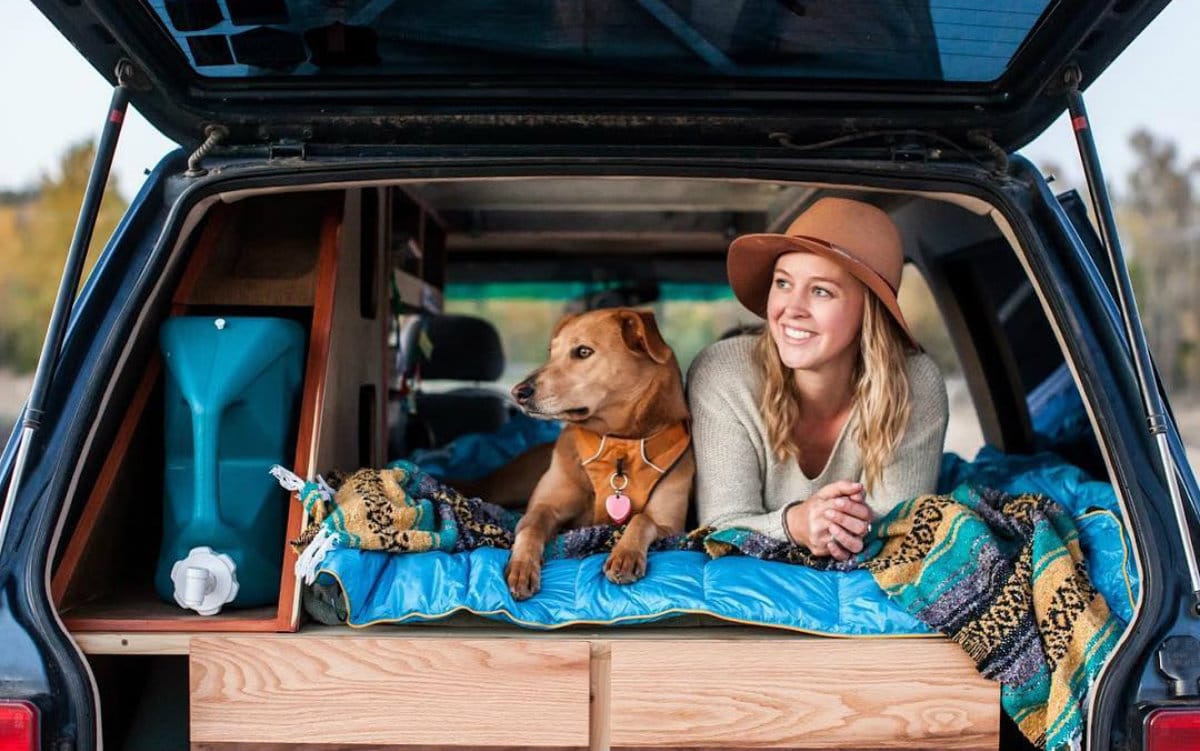 I've been traveling with my dog Peaches for two years now. I've had her since she was a puppy, and she's now two years old. We've been in several different tiny rigs – everything from a camper trailer to a former postal van to an 80's Toyota van.
When we first started off, I was with a partner and he had a dog named Blaize. Traveling with two dogs was a lot of work. They took up a lot of space in our small van, ate twice the food and required lots of attention. It was definitely worth it and they enjoyed having each other as travel companions. But now that I'm on my own, I really enjoy having only one dog to adventure with.
It's hard to get lonely when she's around, and she forces me to go outside to go on a walk or hike. We seek out national forest or BLM land as they are dog friendly and less crowded. These can also be great places to let her be off leash as there's often not other people nearby. We also try to go to cooler temperatures in the summer and warmer ones in the winter so that we don't have to worry as much about being too hot or cold in the van. We like meeting up with other vanlifers who have dogs so she can have another dog to play with.
I'm not sure I would be able to live in a van without my dog Peaches. We are best friends and I love having her with me on this adventure through life together.
Our Top 10 Tips for Successfully Living in a Van with Your Dog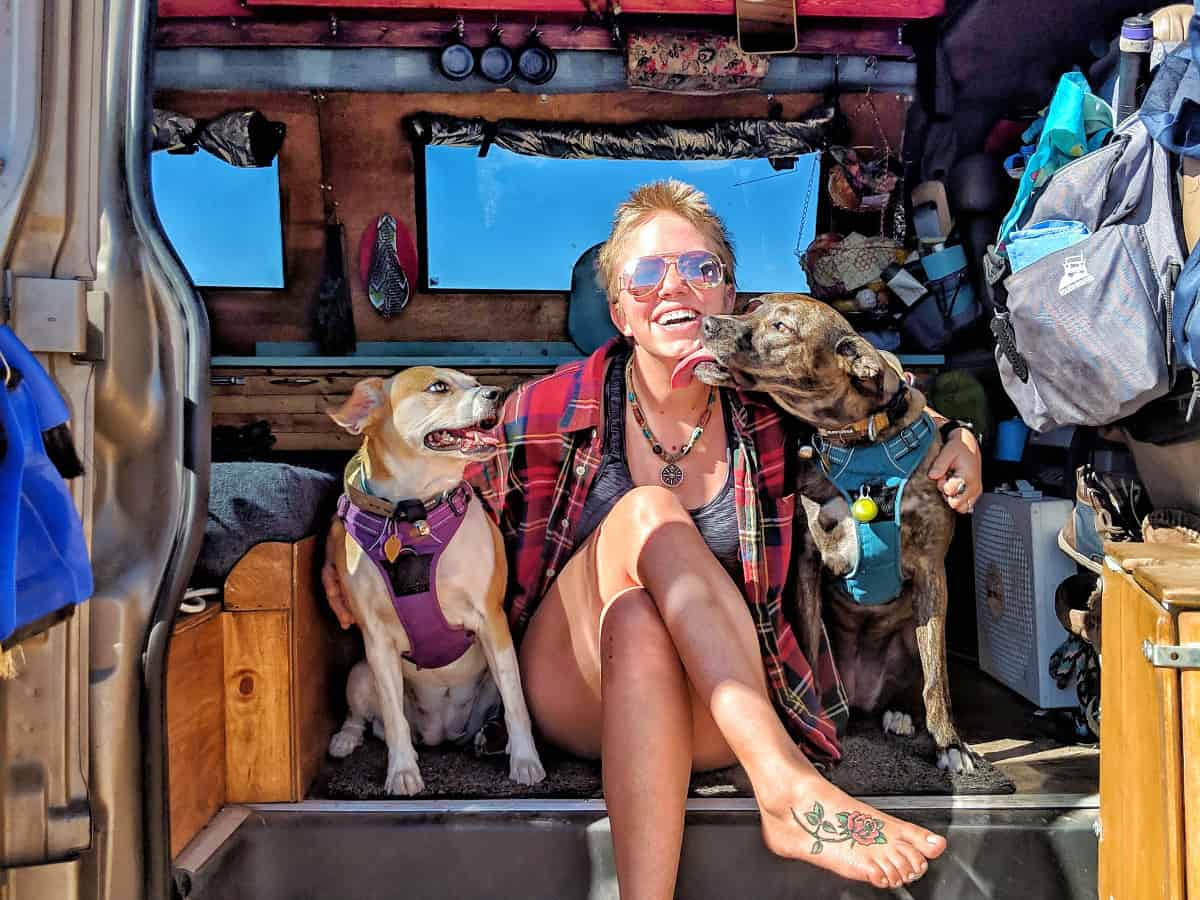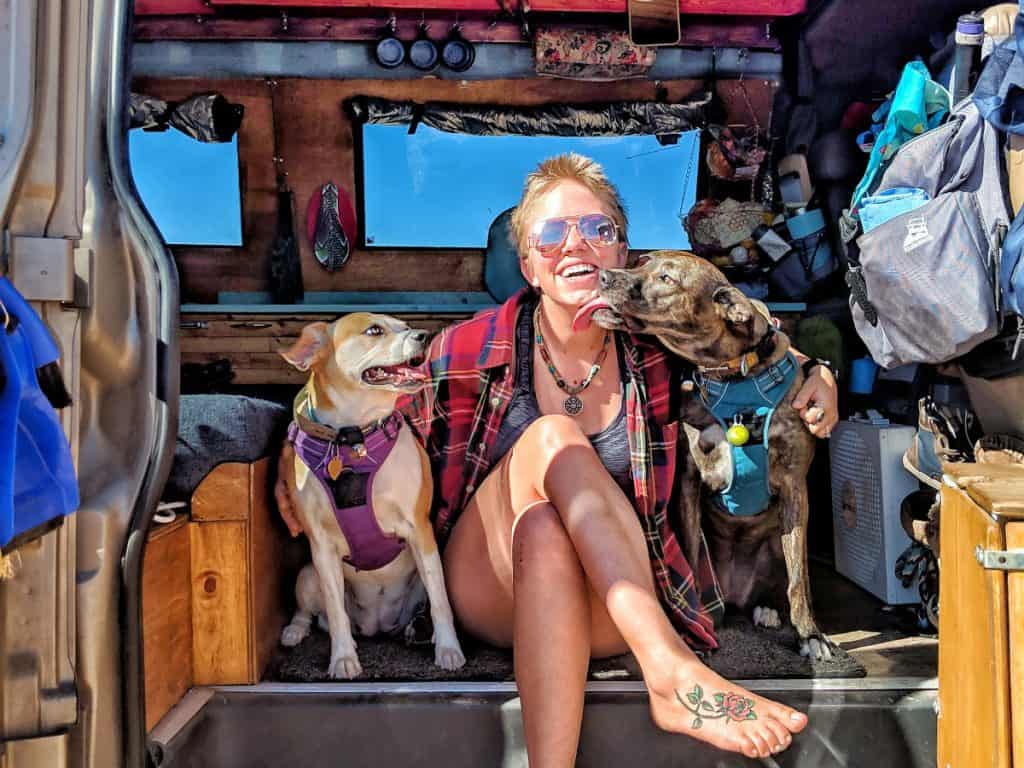 1. Properly Set Up Your Van to Keep Your Dog Cool and Comfortable.
In the summer, the inside of your van can get unbearably hot if you're not careful. But there are a few things you can do to keep things comfortable for you and your dog:
Install a vent fan. This is our number one tip. A vent fan combined with a cracked window will keep air circulating throughout your van, sucking out hot air and pulling cooler air in.
Add reflective window coverings. Most of the heat gets in through your windows. Installing reflective window coverings helps reflect radiant heat away from your van. We have an Eclipse Sunshade for our windshield, and for the rest of the windows Jayme made curtains using Insul-Shine reflective batting and fabric. The window coverings combined with our vent fan helps our van stay 5-10 degrees cooler than the outside temperature.
Invest in a cooling towel. These help keep your dog cool even when it's hot. We use our cooling towels all the time during the summer.
Make sure your dog has plenty of water. Always keep a full water bowl nearby, and encourage your dog to drink every so often.
Again – we never recommend leaving your dog in your van unattended when it's hot out.
2. Plan Your Travel Routes for Your Dog's Comfort.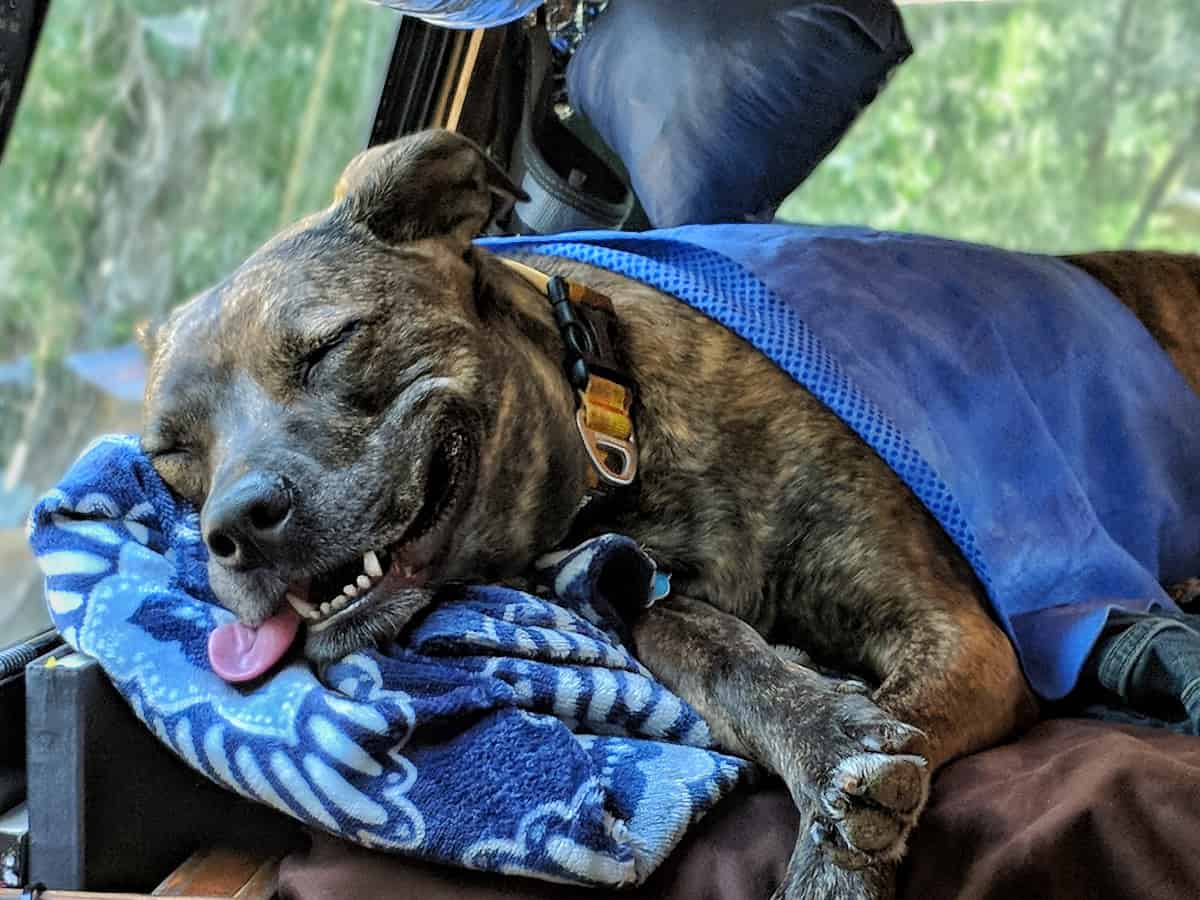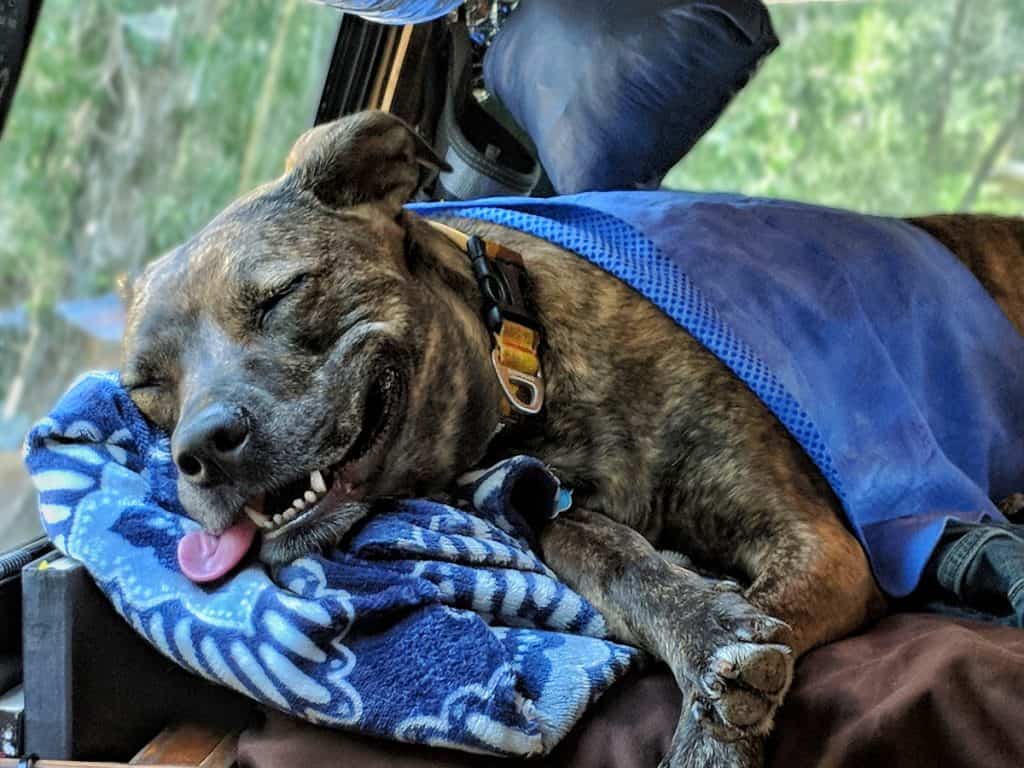 This mostly means sticking to cooler environments during the summer months, but it's also a good idea to avoid extreme cold. We've completely diverted our travel plans before when we saw 100-degree temps along our original route, opting for the cooler mountains and coast instead.
3. Teach Them Useful Commands for Life on the Road.
One of the most important things you can do is invest the time into training your dog really well. When we first got Nymeria, we spent weeks training her to wait for permission before entering or exiting a house, room, or car – and this really comes in handy on the road. At a minimum, we recommend having sit, stay, and come on lockdown, and training your dog to get in the van on command.
4. Build Trust and Get Comfortable with Them Off Leash.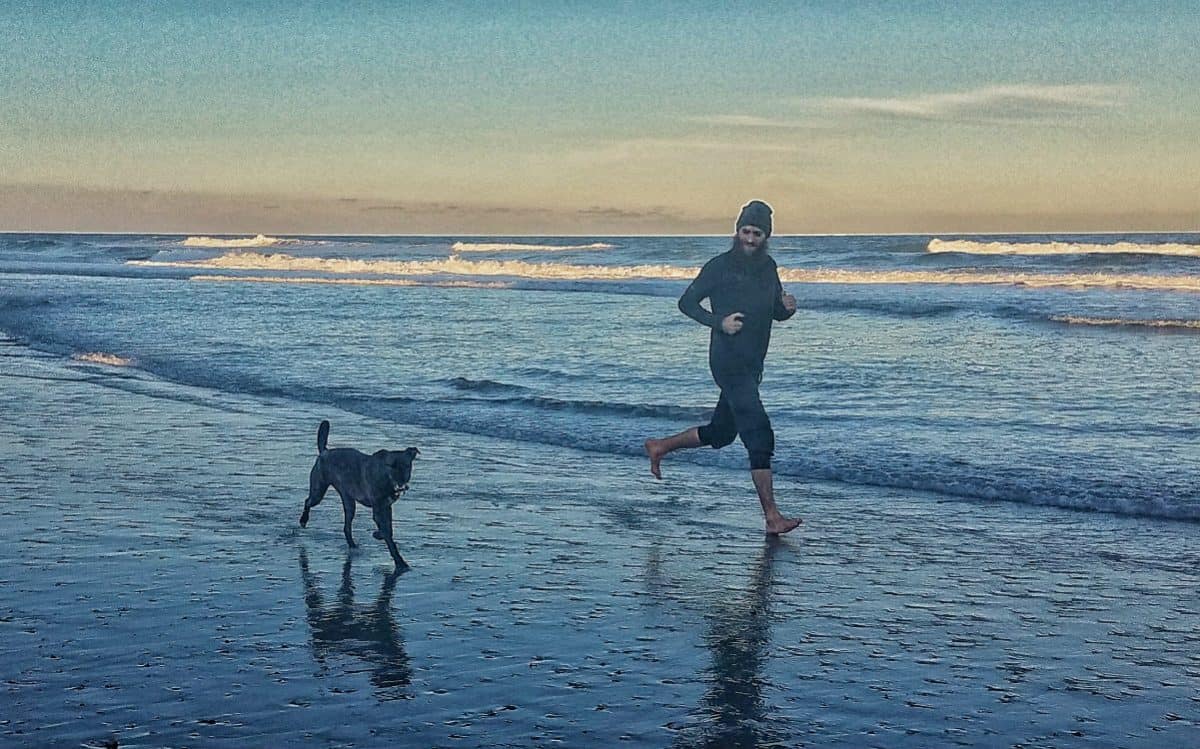 Dogs are happier off leash, but there's definitely some initial trust-building that needs to take place.
Start by letting them off for short periods, and make sure to reward them with treats and praise whenever they come back to you. Soon enough they'll be running happily through the woods and you'll have a big smile on your face watching them.
Dogs need to be dogs, and there's no better way to build an equal and trusting relationship with your best friend than by letting them run free.
Also, never letting them off their leash means they're more likely to misbehave the few times you do let them off.
5. Have a "Dog Towel" for Drying Them Off Before They Get in the Van.
If your dog's been romping through the mud or swimming in a creek, you don't want them getting in the van right away. We have a microfiber camp towel that we use to wipe mud and dry them off before we'll let them in the van.
6. Keep a File with All Vaccination/Vet Records Easily Accessible.
You never know when you're going to need your dog's vaccination records. Make sure to keep them safe, organized, and easily accessible.
7. Make Sure They Get Plenty of Exercise.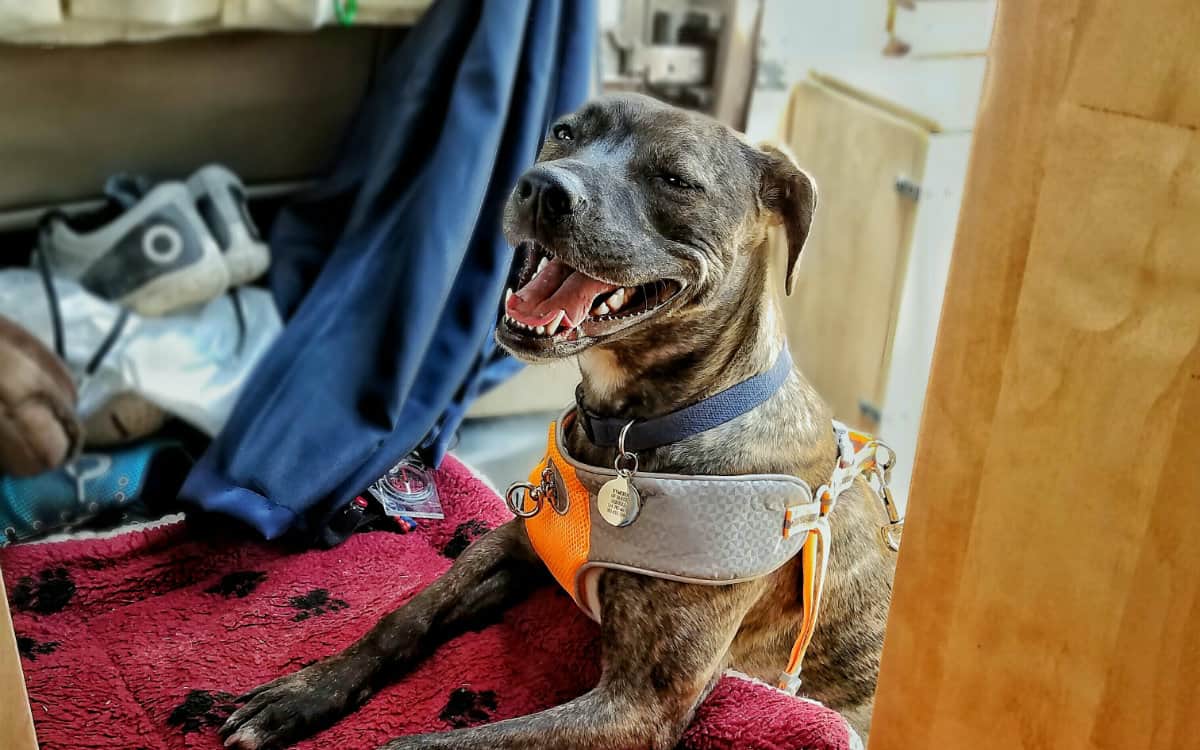 A tired dog is a happy dog, and a happy dog is a well-behaved dog. Take your dog on walks, hikes, or runs. Play fetch, catch, or tug-of-war. Whatever you do to keep your dog exercised, make it a regular, daily habit. Your dog will thank you, you'll develop a closer bond with them, and your life will be a whole lot easier.
8. Seek Out Badass Dog Parks for Exercise and Socialization.
Dog parks are great for exercise, but they're also great for socialization. If you live a nomadic lifestyle, your dog may not be getting the exposure to people and other dogs that they need.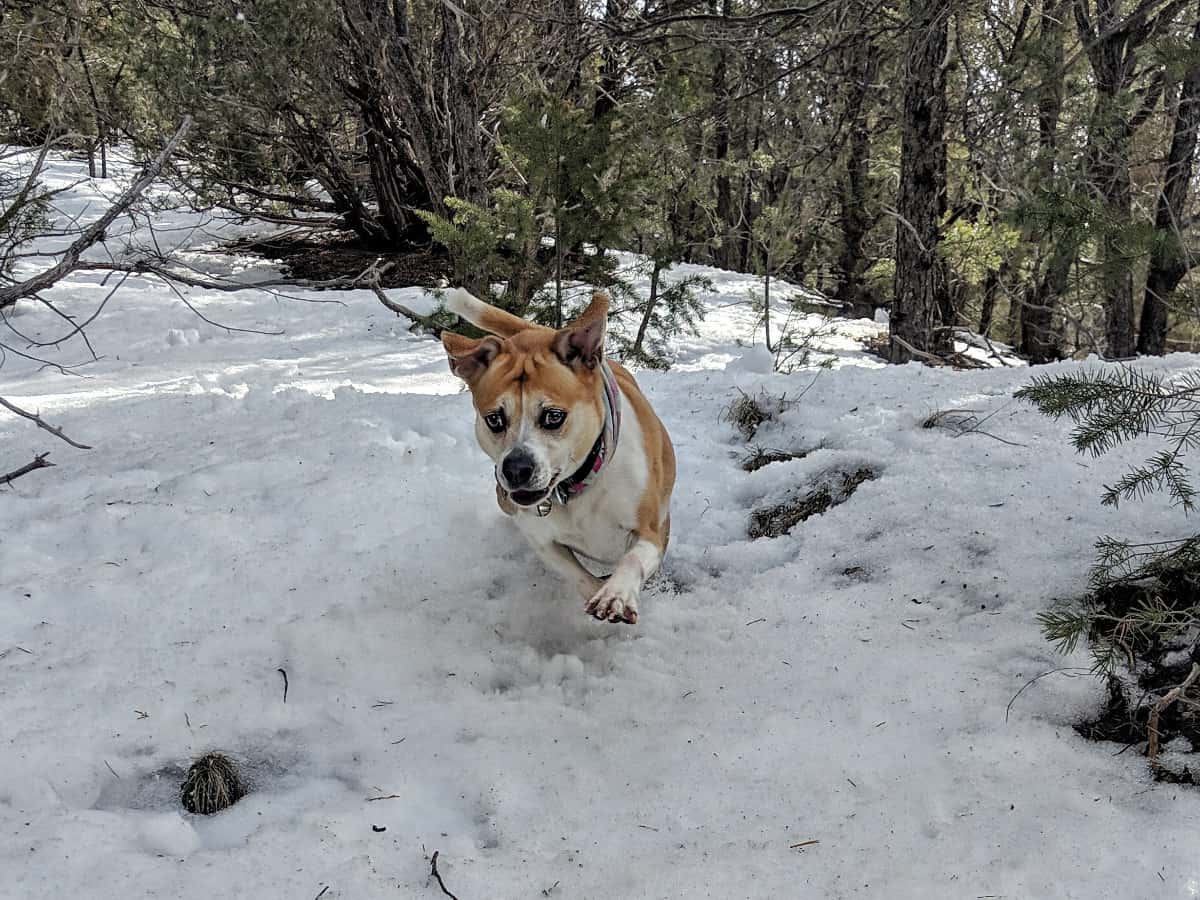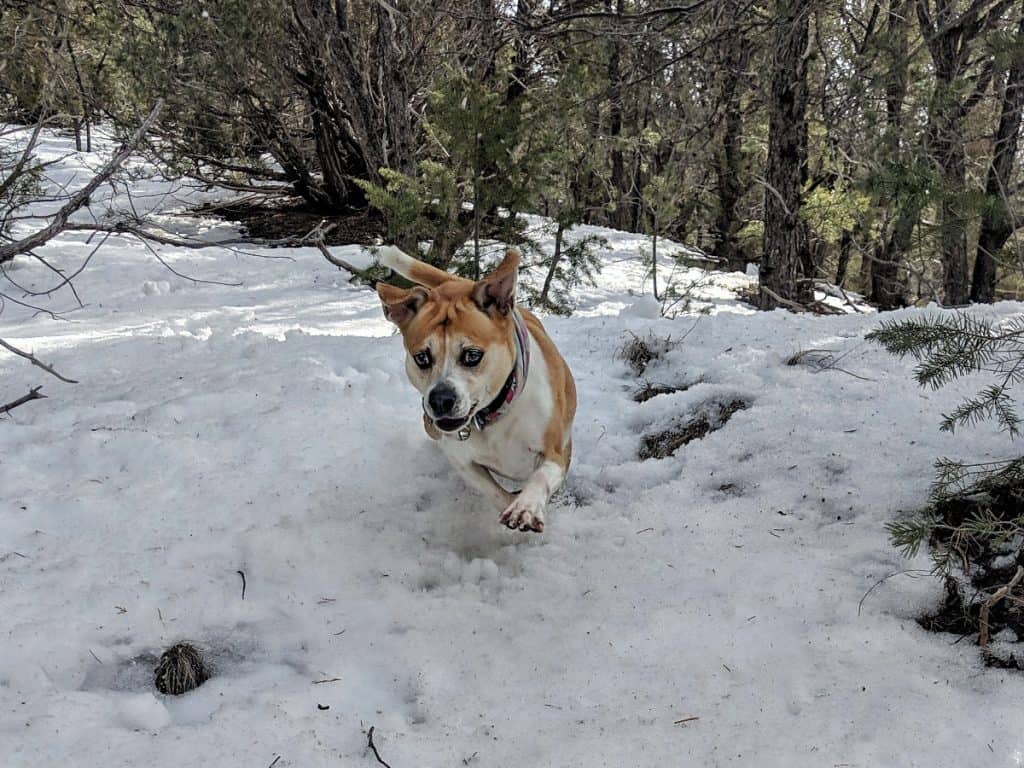 Regularly visiting dog parks will help keep them socialized, which means they'll get along better with everyone.
Plus, there are some EPIC dog parks out there – from the incredible 1,000 Acre Park near Portland, OR, to the 135-acre Frank S. Ortiz Dog Park in Santa Fe, NM – that your dog will love exploring.
9. Have a Designated Storage Area for Dog Stuff.
We cannot emphasize enough how important it is to keep your van organized. And there are many innovative storage solutions you can employ to make sure there's a place for everything, including your dog stuff. We mounted a storage box on our side door that holds our dog food, leashes, toys, meds, and anything else our dogs need.
10. Take Advantage of Rover.com if You Want to Explore a Town or City
In a perfect world, we'd be able to bring our dogs everywhere. But our world is far from perfect, and there are some places and activities that just aren't friendly to dogs.
If we're doing something non-dog-friendly, or if we want to check out a cool city or town, or if we're going to a wedding or other event, we'll find a local dog sitter through Rover.com. Rover is basically the Airbnb of dog-sitting, and you can easily find an affordable sitter for a day, a night, a weekend, or longer.
Hawk, Kenz, and Whiskey from @vanofmydreams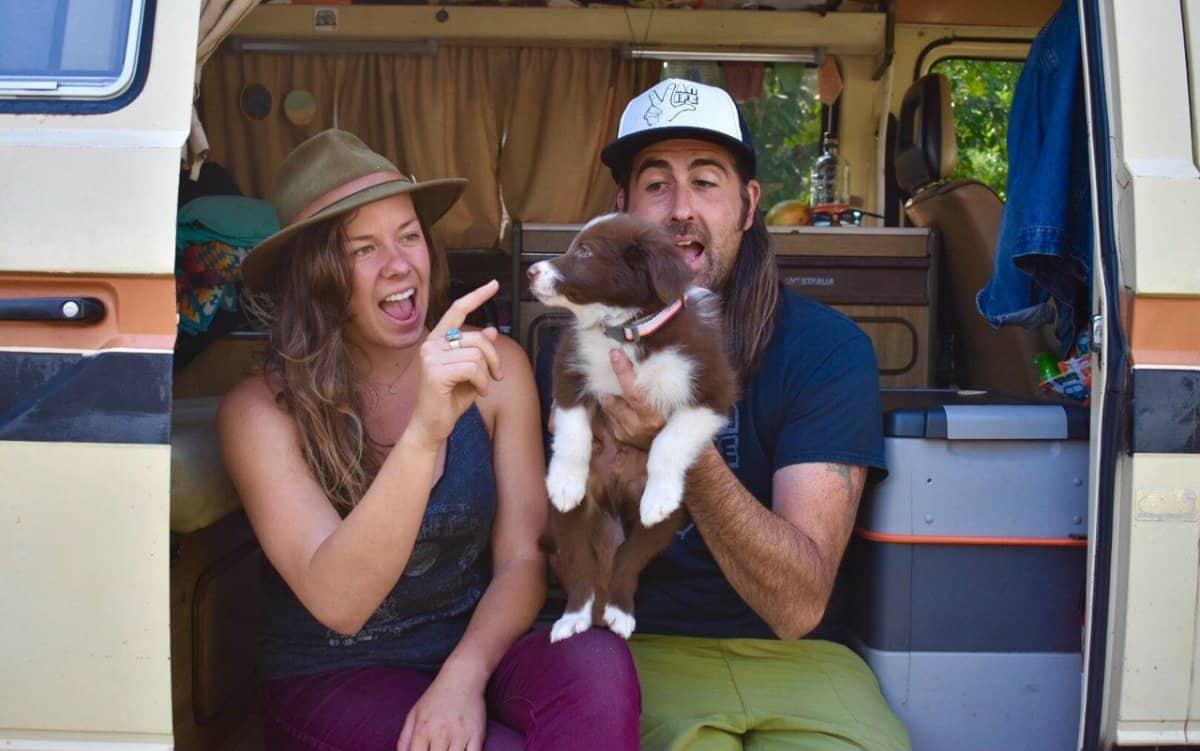 Hello! We're Hawk and Kenz from @vanofmydreams, and we recently added a new member to our pack. We adopted an eight-week-old Border Collie/Australian Shepard mix puppy, and named him Whiskey.
In the 2 months since adopting him we've learned a lot and adjusted our lifestyle to living with a dog on the road. The main things we needed to address were puppy proofing the van, providing him a place of his own in an already-cramped space, and adjusting our daily routine to accommodate a puppy.
When he's not in his crate while we work, we love to take Whiskey on hikes, camping, and to our friends houses and yards. He's an awesome, upbeat buddy, and we look forward to years of fun together – in and out of the van!
Helpful Dog Items For the Road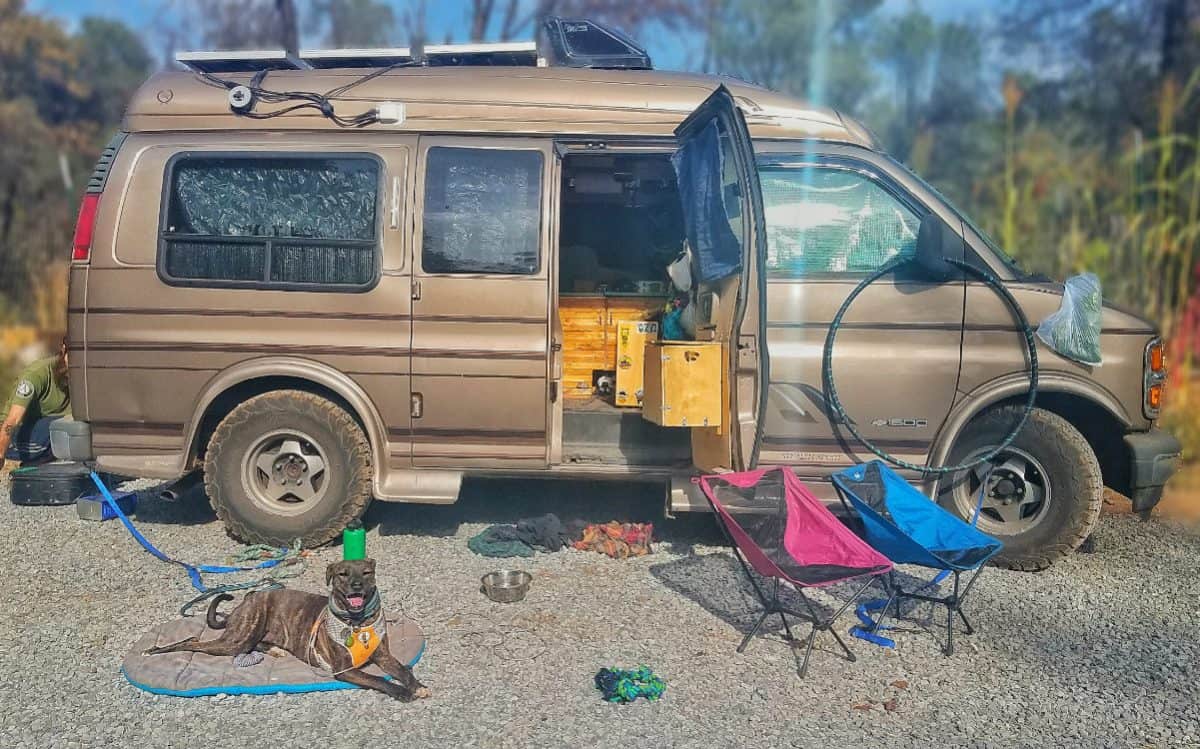 Vanlife With a Dog is Just Plain Awesome!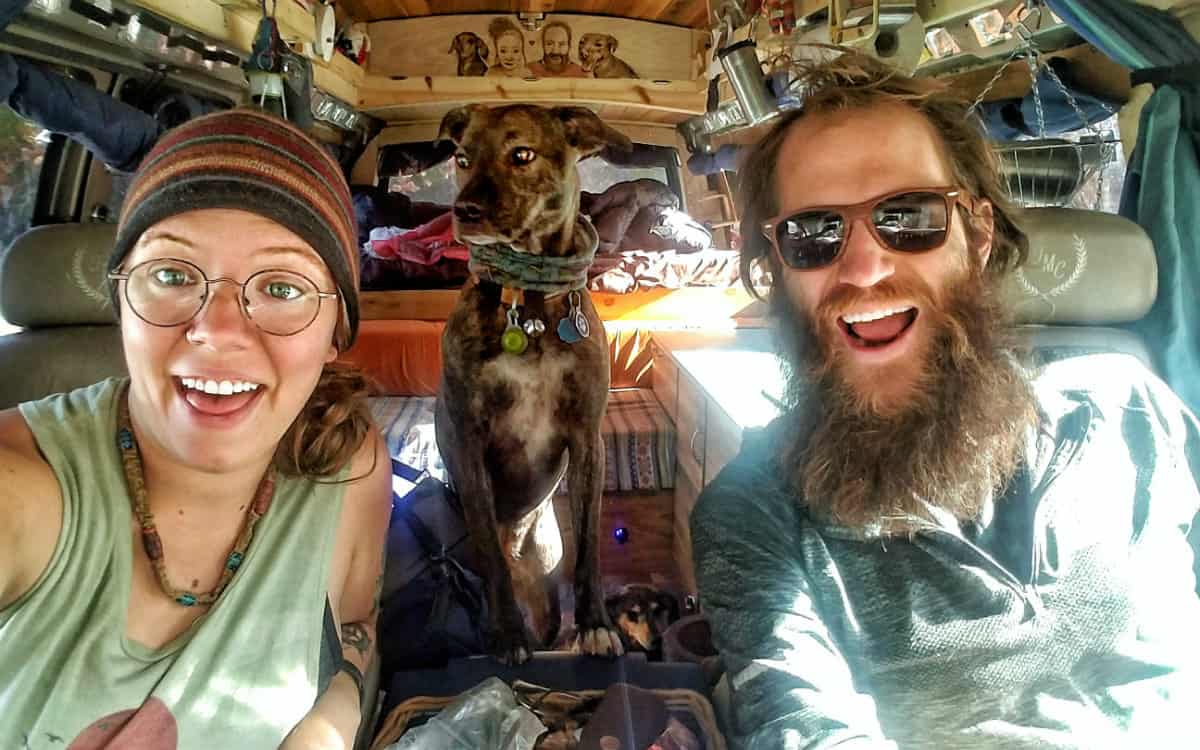 If you're willing to take the time to properly train your dog, keep them exercised, let them be themselves, and pay attention to their needs, then bringing a dog along with you on your vanlife adventure can be a great fit. In return, you'll get a loyal companion who will remind you to laugh and have fun every day, and the wonderful bond of unconditional love that comes with dog ownership.
And dogs just love vanlife – it really is a dog's dream. They get to experience all kinds of new places, sights, and smells, and meet all kinds of new people and dogs. They get to run and frolic through some of the most beautiful natural areas this world has to offer. And they get to spend every day with you, their best friend.
Sure, there may be some places you can't go and things you can't do because you have a dog with you (or those things will be more expensive because you need to find a sitter). But seeing the joy in your dog's eyes while you explore this world together is more than worth any drawbacks.