As a couple looking to live in a vehicle full-time, we bought a 2017 Ram Promaster 2500 with a 159-inch wheelbase and a 3.6 Liter V-6 gasoline engine. We bought the van used—it was previously owned by a car rental company, which is a great place to shop for lightly used vehicles. The van came as an empty shell inside, so our build started from scratch.
Choosing the best van for van life was one of the most difficult decisions. Should we go with a van or RV? Trailer or motorhome? New or used? Gas or diesel? Pre-built conversion van or DIY camper van conversion? High top or low top?
We started by listing our specific goals and priorities, which helped narrow down the rig that would work best for us. This list will be different for every person but it's important to know what your prioritizing and your budget.
Read More: 15 Awesome Ram Promaster Van Conversions to Inspire Your Build
Our List of "Must-Haves" for Our Van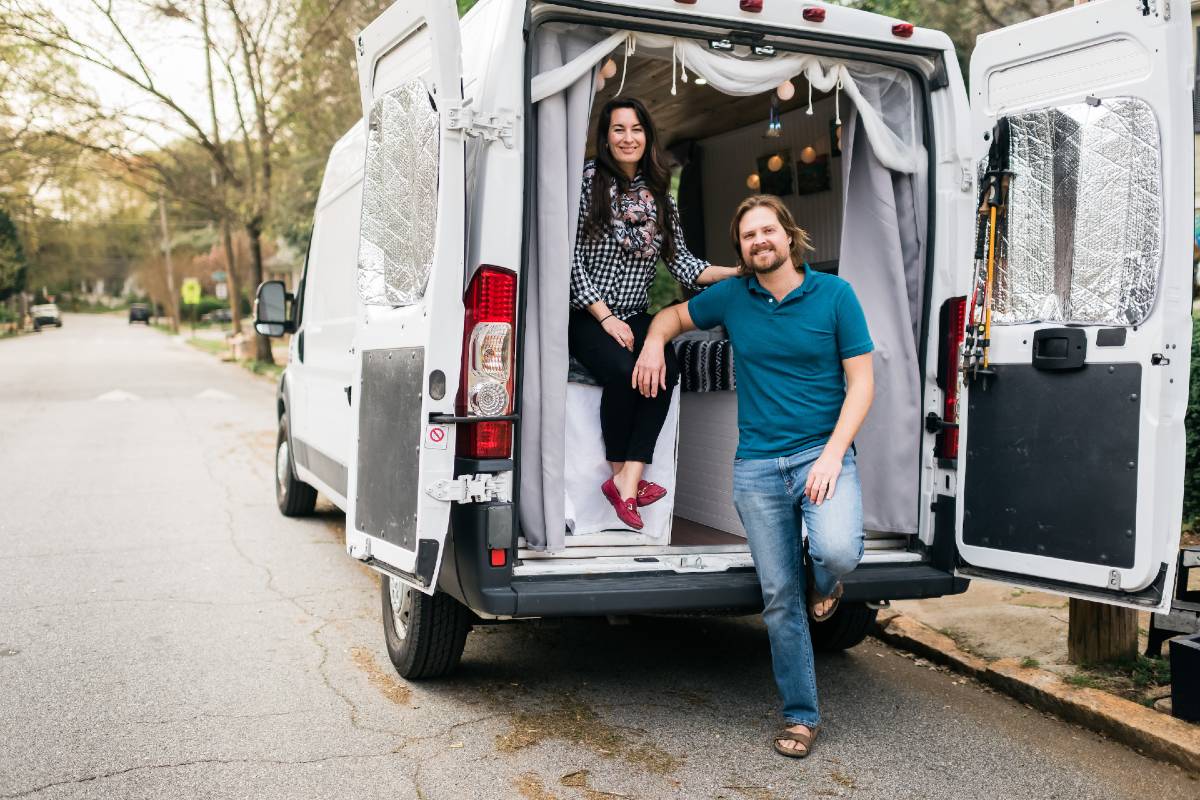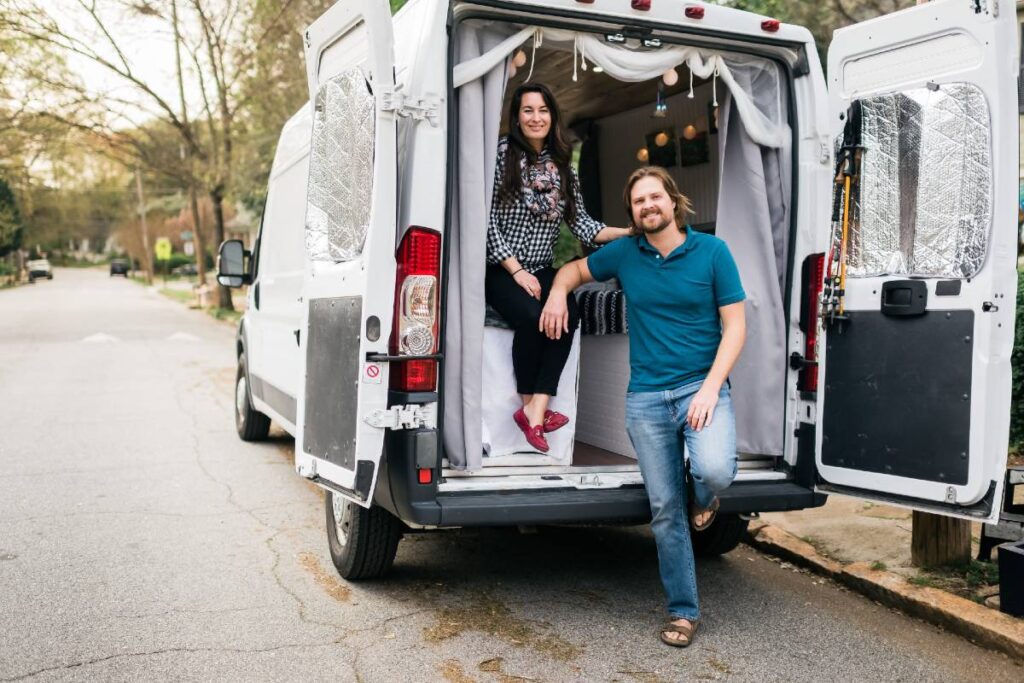 Enough head room to stand up
Crouching is fine for weekend trips, but since we were going to make this our home, we had to be able to stand up. Since Chris is taller than six feet, that would require a high-top roof.
Big enough to live in, but short enough to fit into a parking spot
We wanted something that could fit in almost any parking spot, so our rig needed to be less than 20 feet long. That opens us to more places to explore, and to sleep. (Some park roads don't allow vehicles over a certain length, so keeping it under 20 feet lets us travel and park anywhere.)
Stealth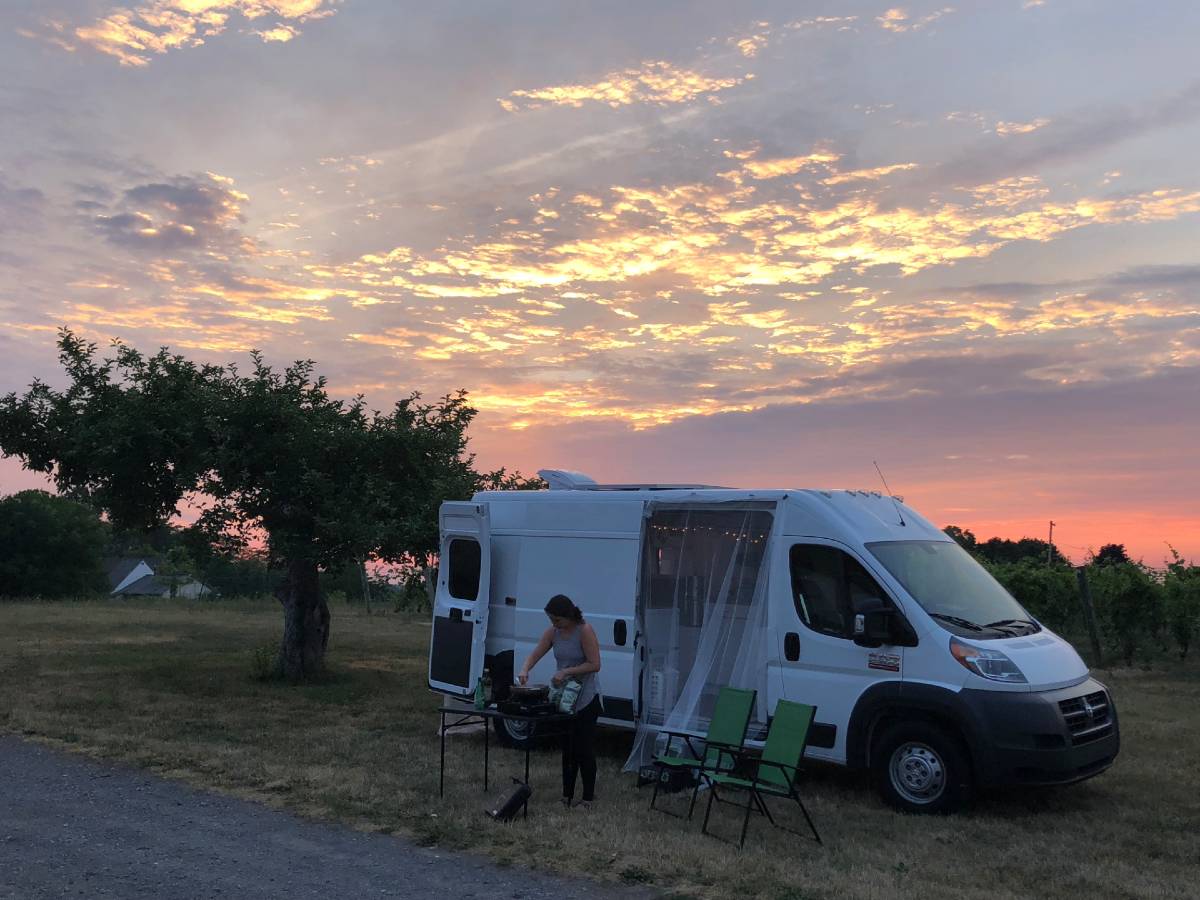 We prefer to boondock, so we didn't want to buy a tricked-out rig that would scream "camper van." We needed something low-key that would blend in and could easily be mistaken for a commercial vehicle from the outside while we're stealth camping. (That meant no RVs or professional build-outs for us.)
Good (enough) gas mileage
We travelled 30,000 miles in our first year. So we needed a rig that could average 15-20 miles-per-gallon. A guzzler with single-digit gas mileage would never work for us.
Low mileage and Dependability
We planned on spending about two years on the road and we didn't want breakdowns and repairs to take up our time. Also, we have spent our adult lives in eastern cities with public transit, so neither of us have owned cars since college. Our under-the-hood knowledge was limited when we started, so we needed something newish and dependable. Older vehicles require more know-how than we had, so the lower the mileage the better. It even came with mileage left on the warranty.
Drawing up that criteria helped us narrow the choices dramatically. We found four vans that fit the bill:
Here's why we chose the Dodge Ram Promaster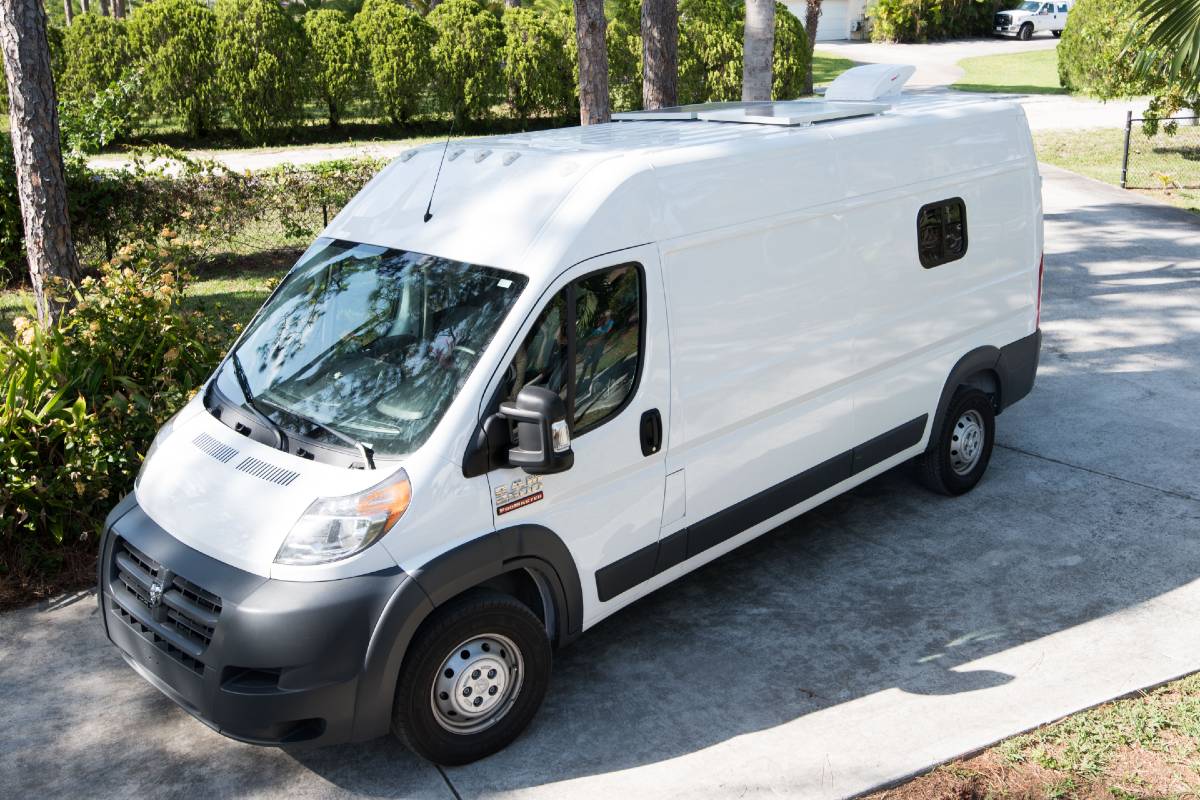 The Ram Promaster might not be as flashy as a Mercedes Sprinter, but if you want a newer model, it is cheaper. A recent-model Sprinter, even a used one, was not in our budget.
In case of breakdown, Promasters are often cheaper to fix than Sprinters and there are more places, especially in rural parts of the country, that can repair Rams vs Mercedes.
While the Ford and the Mercedes are taller, the Promaster is wider, which could allow more options for building your bed.
The Promaster and the Ford Transit are perhaps the closest cousins, but the Promaster provides more space in the cargo area—AKA our house—and cost a little less than the Transit.
For the Nissan NV, we had not seen a lot of buildouts in that vehicle and we weren't sure about the dependability and resale value, so we opted to go with one of the other vehicles on our list.
The Promaster is front wheel drive.
The Promaster comes with a gas or diesel option. We didn't need the power diesel provides, so we went with gas.
In recent years, the U.S. Postal Service has started using Promasters for its fleet, which is a big vote of confidence for the vehicle.
Promasters come in three sizes: 1500, 2500, and 3500. We found the 1500 to be too small for a couple to live full-time and the engine in the 3500 has more power than we needed. The 2500, which has a 159-inch wheelbase and a 3.6L V-6, was just right.
Why We Think the Promaster is Great for Van Life
The Promaster is WIDE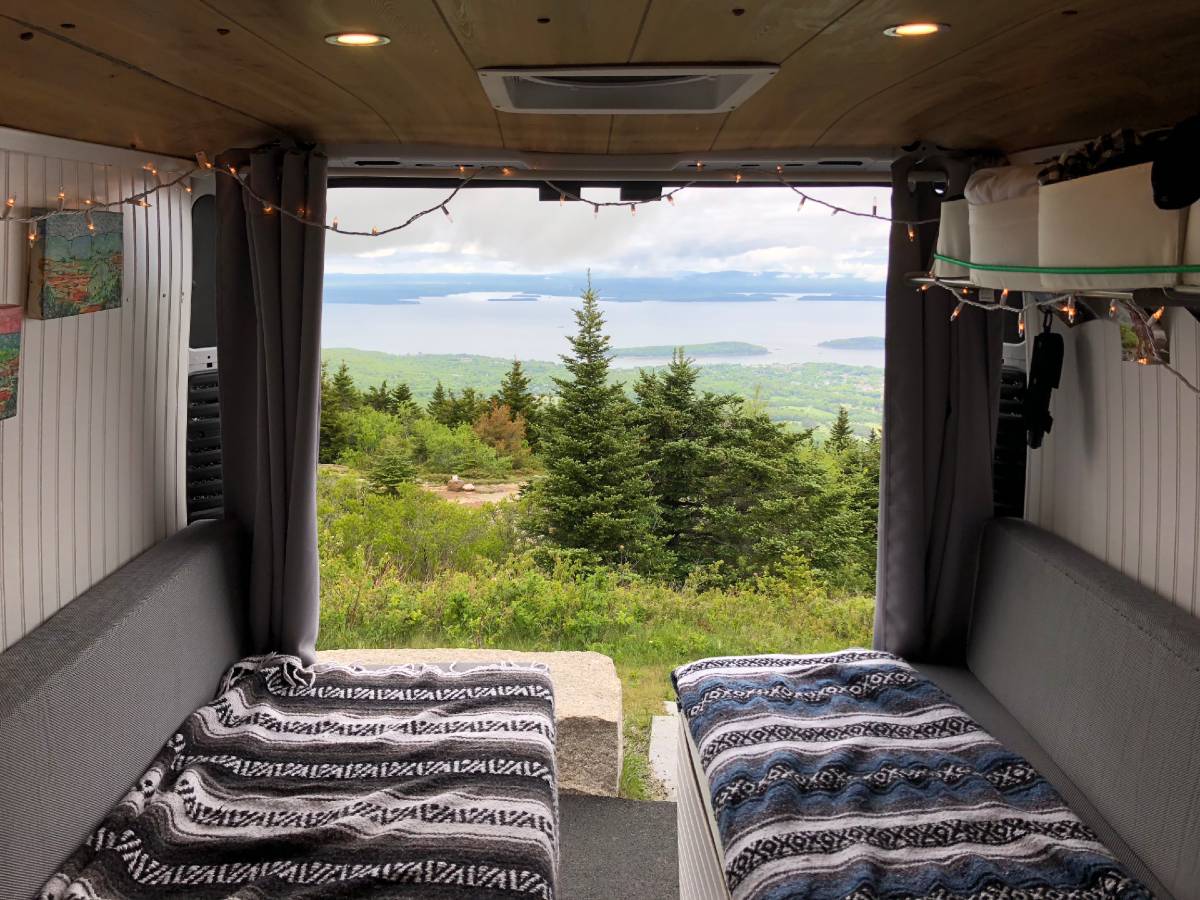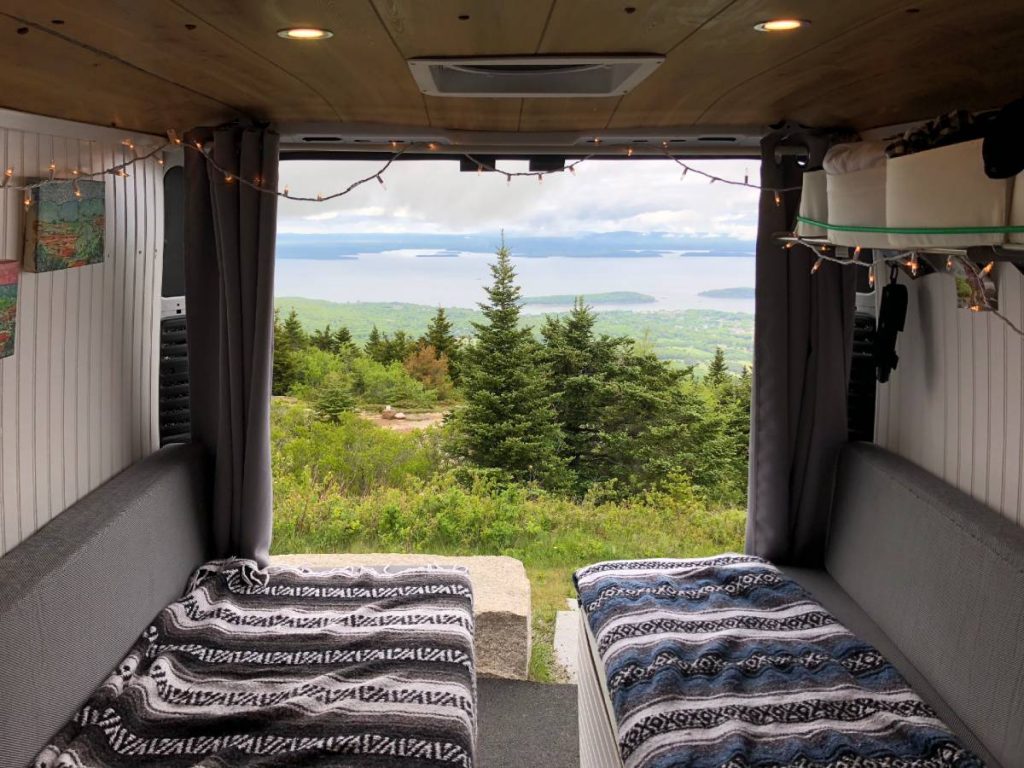 The ProMaster is the widest of the high topped vans, giving you a little over six feet in width. This is great if you are under six feet tall and plan on putting your bed along the width of the van.
Widely Available Dealers and Parts
You can find Ram dealerships all over the country, so if you have a problem on the road, you shouldn't have much trouble finding a specialist who can help. If you don't want to use a dealer for mechanical work, most shops can service the 3.6L engine.
It Drives Really Well
The van doesn't feel like a big rig. It drives like a car, so driving long distances doesn't take too much out of you.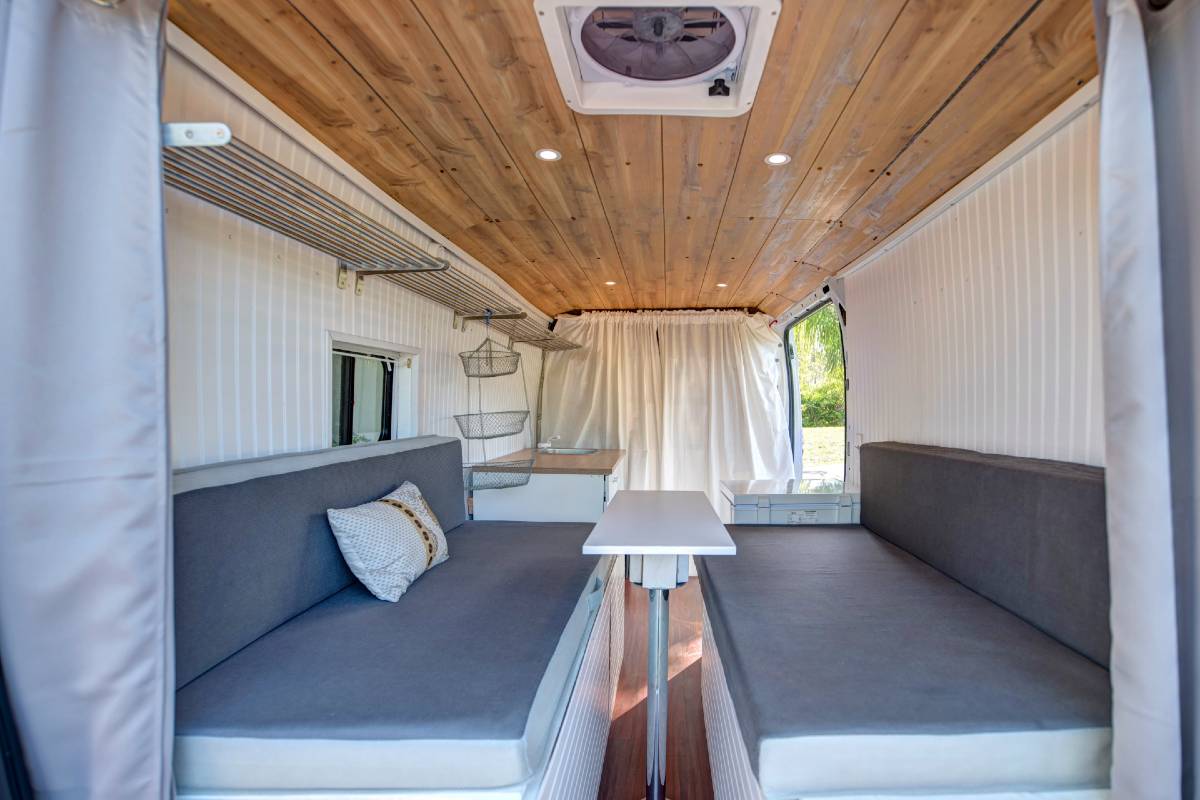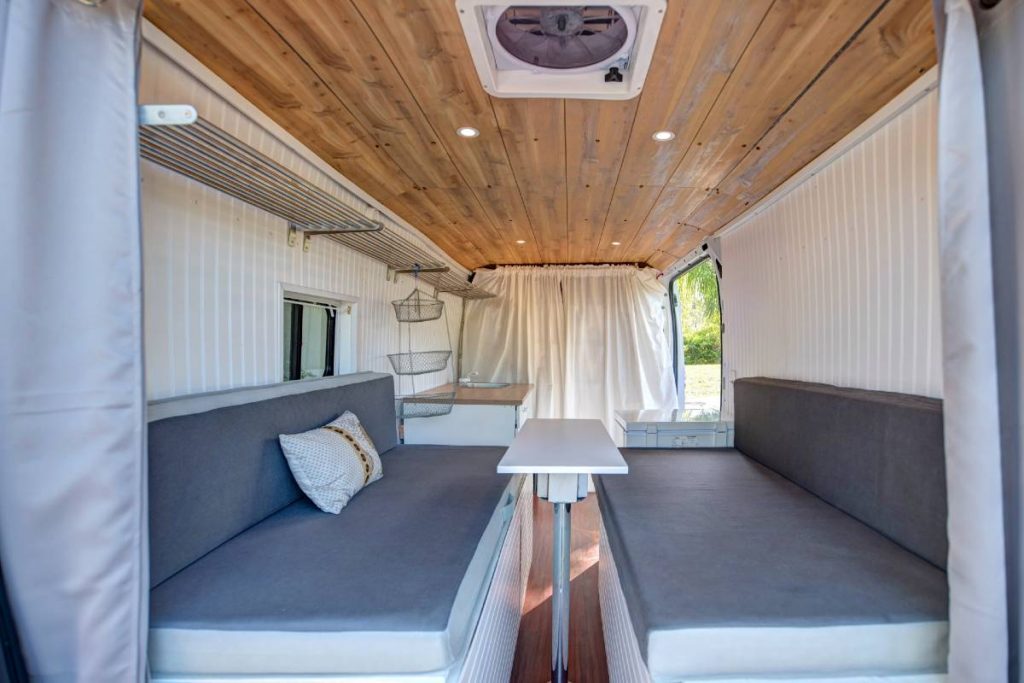 Great Gas Mileage
We average 20 miles per gallon. Not bad for a large vehicle! If your build is lighter, you could do even better.
Super stealth
Companies use these vans all over the country, so it's easy to hide on the streets when boondocking, so long as you don't have too many giveaway signs on the exterior, such as curtains behind the cab, bike racks and too-obvious ventilation fan or solar panels. 
Downsides to the Dodge Promaster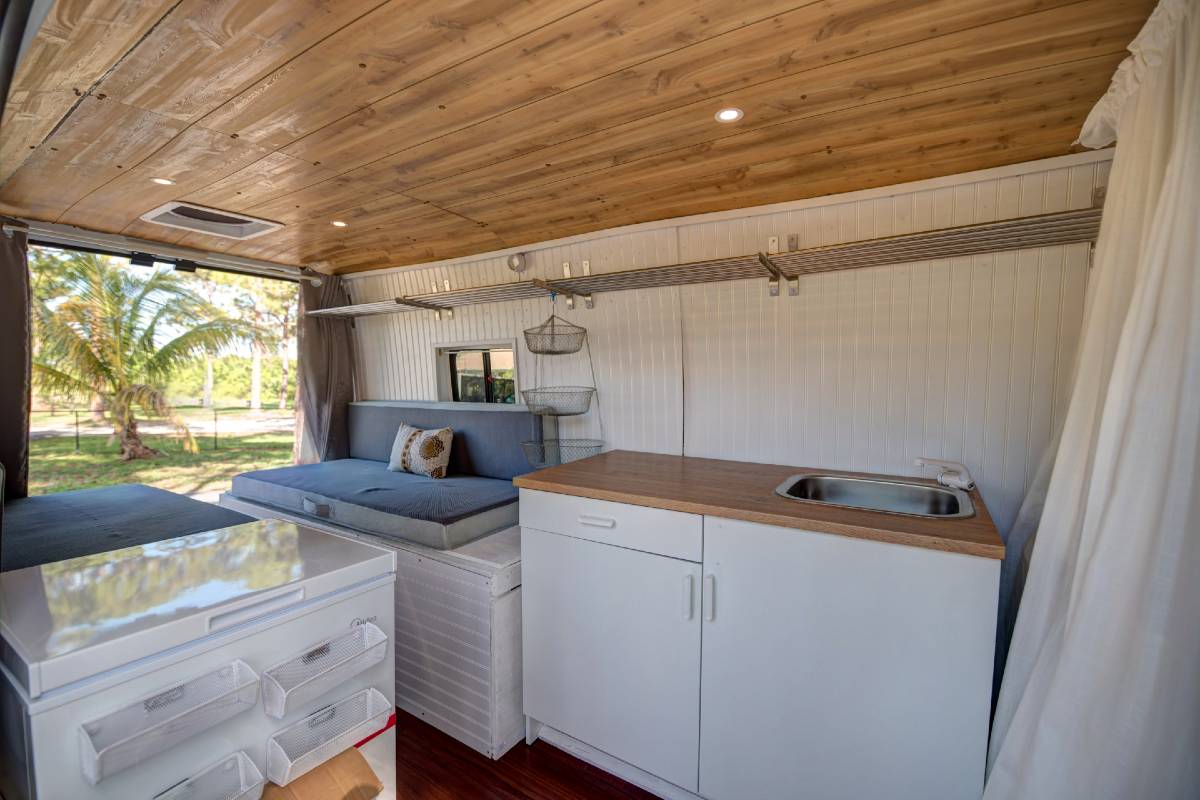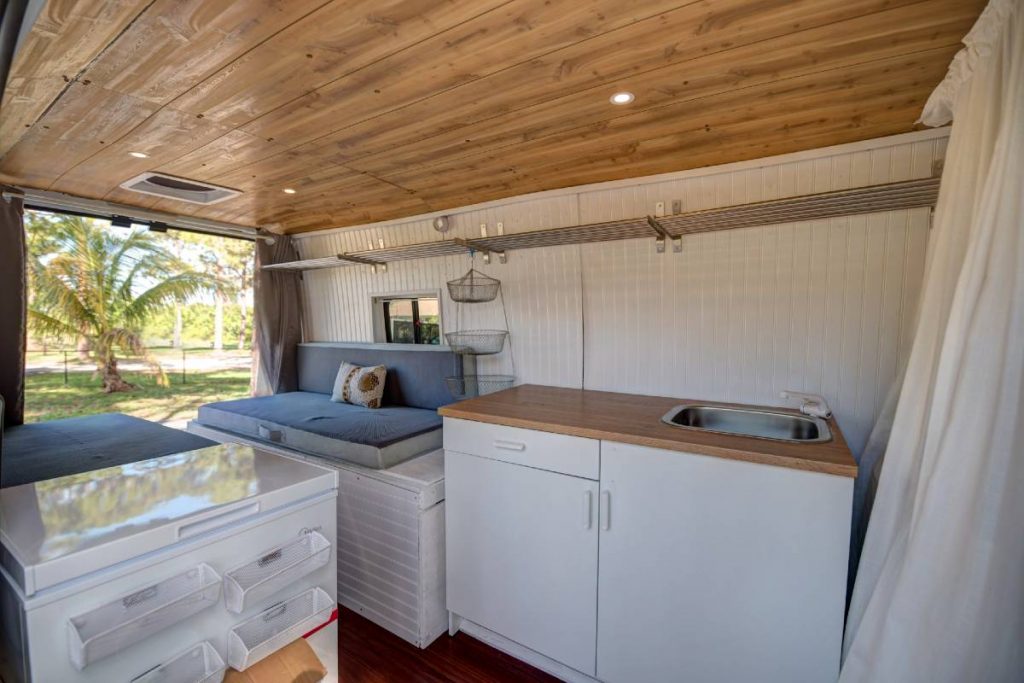 Shoddy Doors and Locks
Since the beginning, we have had trouble with the Promaster doors and locks. We have had to replace the handles and locks on both the sliding door and one of the back doors. The sliding door also required a replacement of the door lock actuator. These replacements cost several hundred dollars each.
The Promaster locking system is designed so that if one of the locks is improperly latched, you can't lock any doors, so you have to fix it immediately if you want to secure your van. And if your handle and locking mechanism are malfunctioning even slightly, it can be very difficult to get the latch to work.
Before we diagnosed the problem, we had to open the back doors before closing the sliding door to let the air escape from the back so we could lock the van. It was a tedious process that sometimes required us to slam the doors repeatedly to get them to latch properly, which is not very stealthy.
Not all Ram Dealerships are Created Equal
When taking your van to a dealer for maintenance, be sure the shop is approved to work on Promasters. Many are not, but they'll happily take your money without telling you. We had to find out the hard way when we took it to a dealership that failed to tell us they weren't trained to work on Promasters.
Interior Shape Makes Building Difficult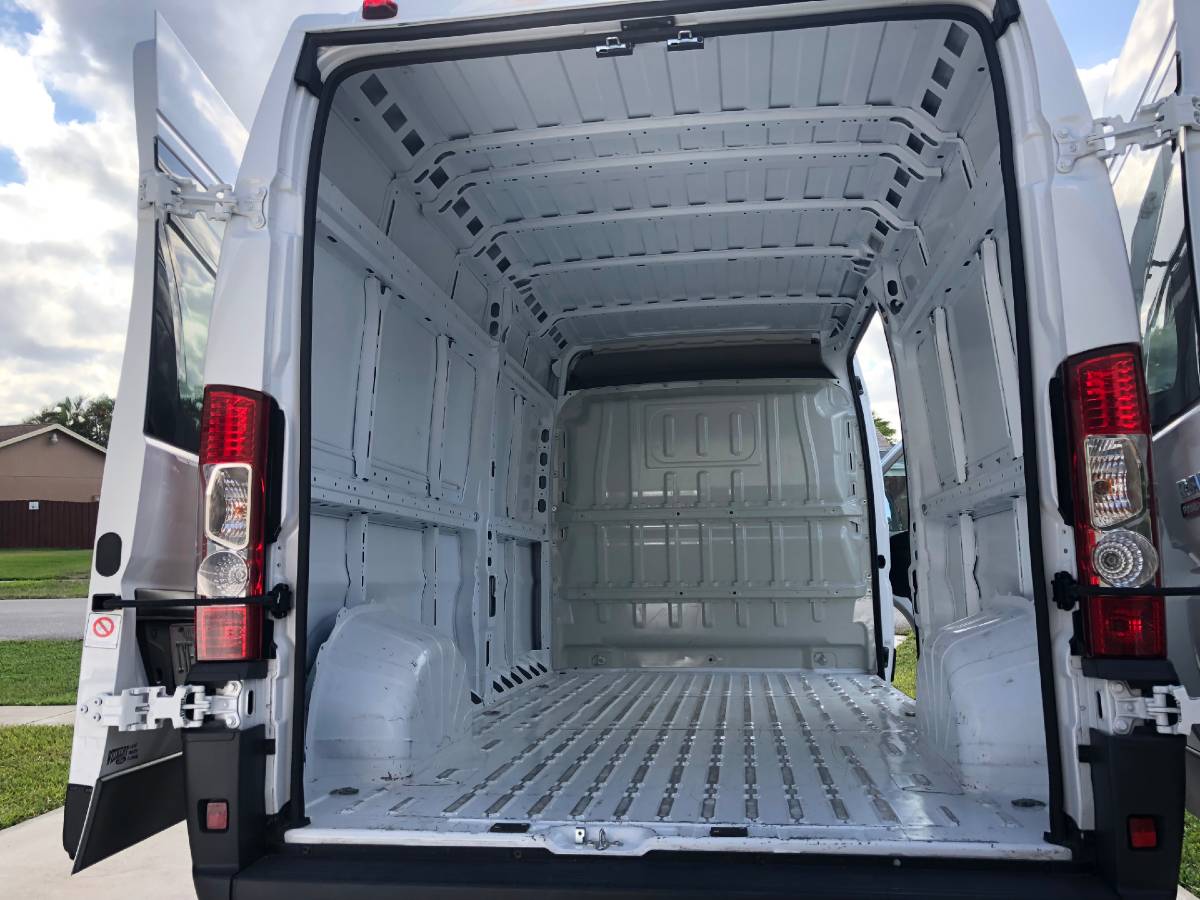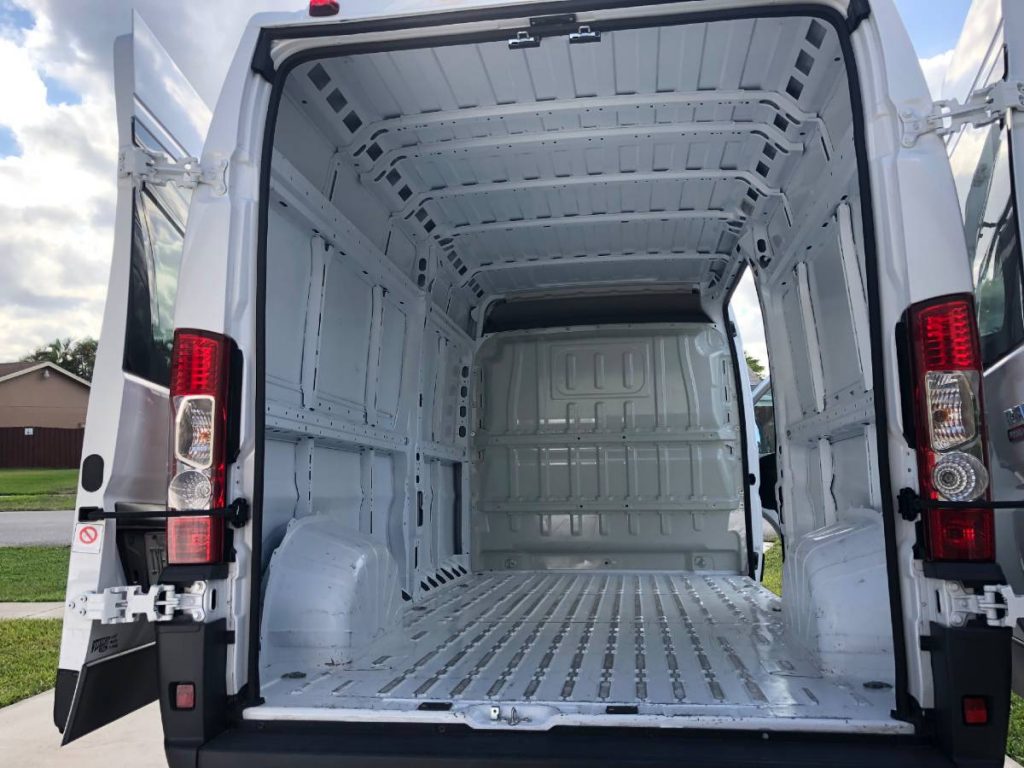 The vans are curved towards the top, not square like the Nissan NV, so prepare to get creative when putting in your insulation, walls and ceilings. You'll find lots of curves and bumps to build around, which is also true of the other vans on our list. This isn't insurmountable, but plan to think outside the box.
Shortest of the High Top Vans
While the high top ProMaster is tall enough for us coming in at just about six foot three, both the Sprinter and the Transit are taller, giving you more headroom and storage space up high.
Basic Model Doesn't Have Some Creature Comforts
We bought the most basic model of the Ram Promaster 2500, which does not include cruise control or a back-up camera. The radio is just a AM/FM radio and it does not have bluetooth— To listen to our phones we use a portable Bluetooth speaker. The cup holders are awkwardly placed and less than ideal.
Gently Used Vehicles Can Be Hard to Find
While searching for a used Promaster, dealerships that sold them used told us that they sell incredibly quickly. Companies often buy them up, and sometimes in bulk. So make sure to know what you're looking for when buying so you'll be ready to snatch up a deal when you see it. Like we mentioned earlier, try to find a rental company that may be offloading them.
Conclusion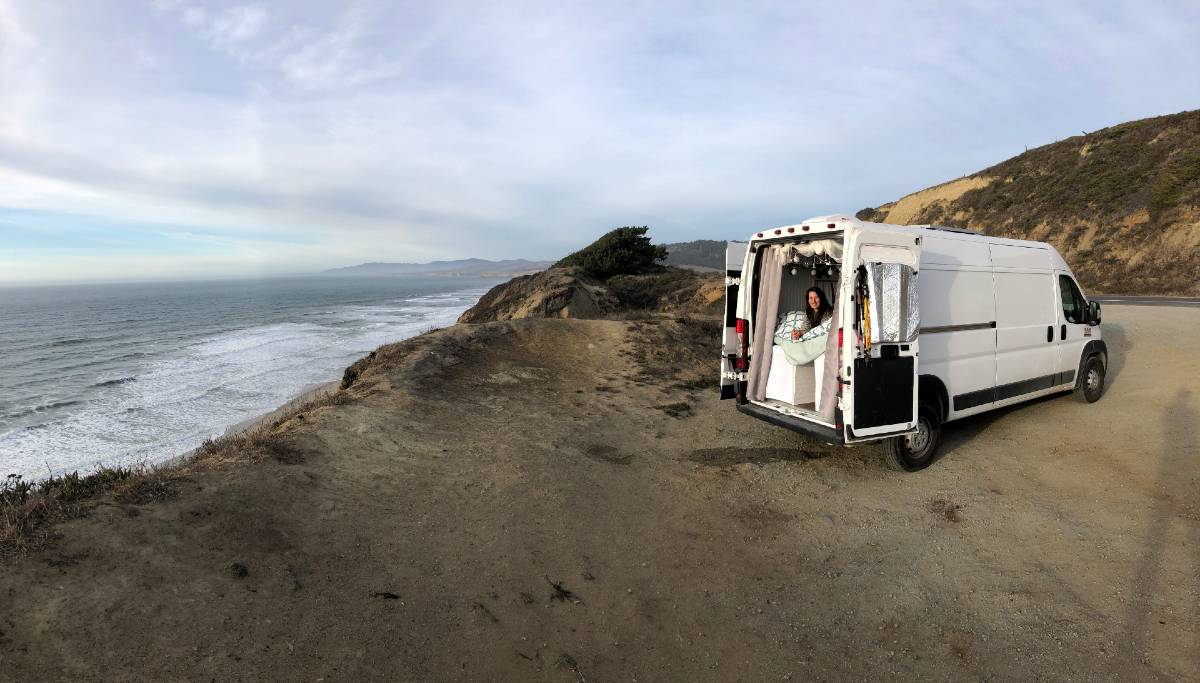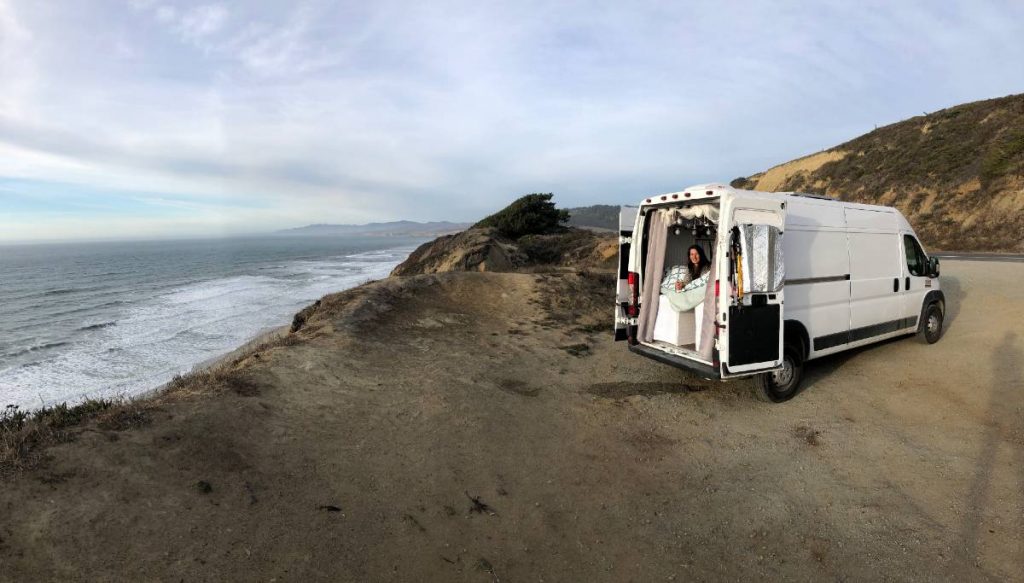 We have found the Promaster 2500 to be a great option for full-time van dwelling, especially for two people. The cargo area comes out to a little over 12 feet by six feet by six feet, which we have found is enough space for us.
For those looking for a newer vehicle that won't break the bank, a Ram Promaster is a great place to start. The Promaster tends to be less expensive than the Transit and the Sprinter. The gently used vans sell around $20,000-$27,000, and our build cost around $5,000-$6,000 total. You can buy a new one for about $35,000.
Apart from the frustrating situation with the door locks and some regular maintenance, we have not had any other issues with our Promaster. We highly recommend the Promaster for a van buildout and full-time living. Home is what you make it and our Promaster has been a wonderful home.
Read more in the "Why I Chose My Van" series…