If you are considering using a minivan for your small camper conversion, the Dodge Caravan is probably on your shortlist. There are many reasons why this vehicle is so prevalent in the van life community. From its spacious interior to its stealthy outward appearance, the Dodge Caravan is an excellent option for people who want a camper that doubles as a daily driver or vice versa.
The Dodge Caravan offers better fuel efficiency and easier maneuvering than a larger vehicle, but it comes with a few downsides as well. Chrysler has discontinued manufacturing the Caravan, so if you want to buy a new model, you are out of luck. Parts and services for maintaining this minivan may be more difficult to acquire over time.
Overall, the Dodge Caravan can be a fantastic choice for a DIY camper conversion, with many ways to convert it and comfortable styles for an interior layout. In this article, we round up some of the coolest DIY builds and conversion kits to help inspire your mini-van life adventure.
Build Your Van
The Ultimate Van Build Guide
Planning a van build? Read our free guide. We cover just about everything you need to know – from planning, to insulation, to solar and electrical, to picking appliances, to essential tools. Get started today so you can get out there on the road!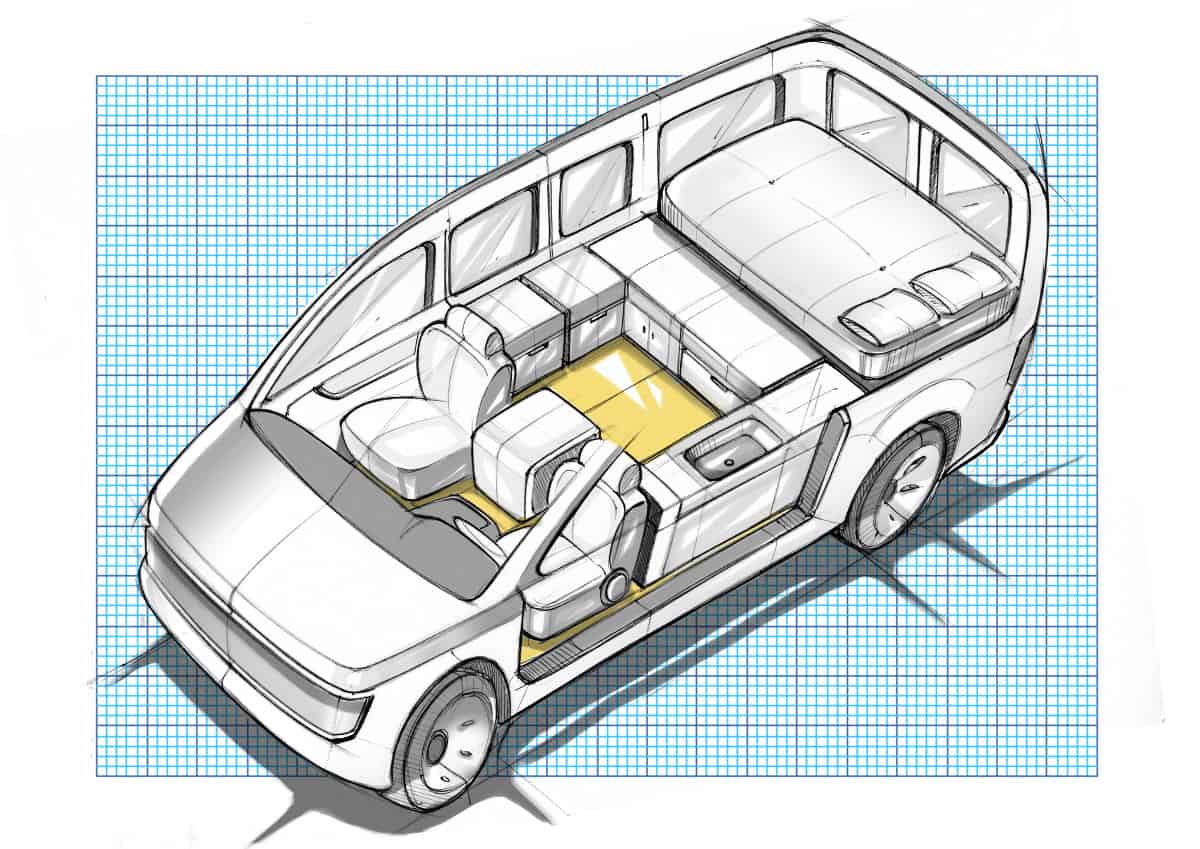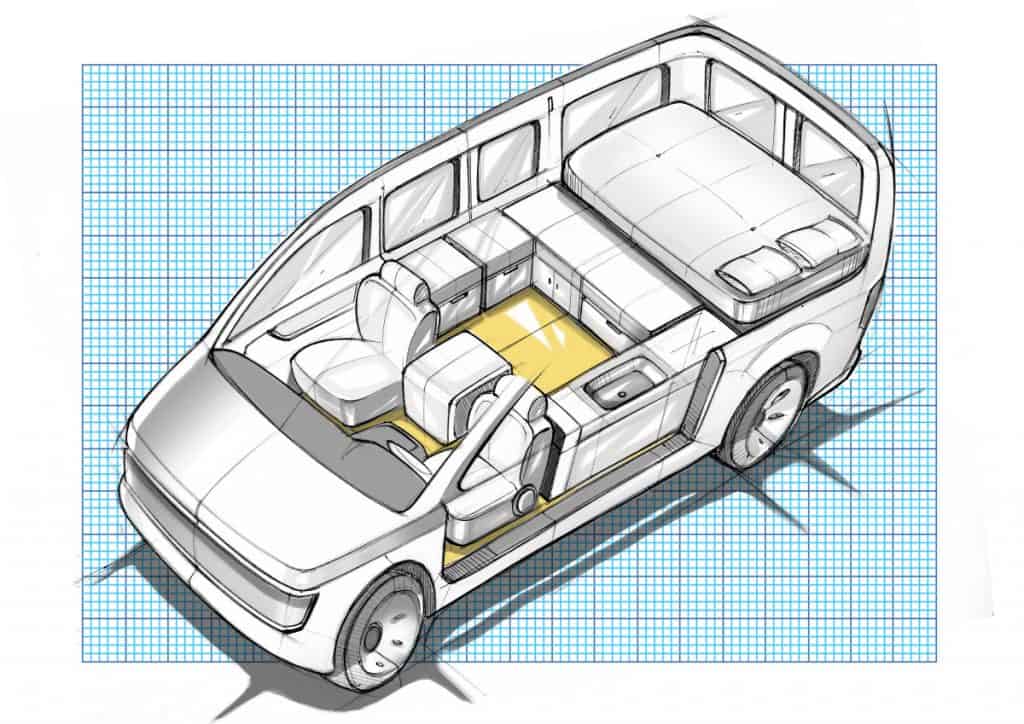 What is the Dodge Caravan?
The Dodge Caravan is a minivan manufactured by Chrysler from 1984 through 2020. During this time, they also manufactured the Dodge Grand Caravan – a longer-wheelbase version of the Dodge Caravan.
Chrysler discontinued the Dodge Caravan in 2007 but kept the Grand Caravan in production until 2020. Today, the Chrysler Pacifica is the comparable alternative.
Over its 36 years in production, the Dodge Caravan has been recognized for its reliability and affordability. Originally marketed as an alternative to the Plymouth Voyager, the Dodge Caravan became known as an affordable option compared to the Chrysler Town & Country and Chrysler Pacifica minivans.
The Dodge Caravan and Grand Caravan have a robust used market, meaning you can likely find either vehicle at a price and condition that works with your budget.
Pros and Cons of Dodge Caravan Campers for Van Life
The Caravan has many advantages that make it great for van life, road trips, and an adventurous life. But it also has some disadvantages.
Pros
Spacious interior. The Dodge Caravan is a minivan with three rows of seating accommodating up to 7 passengers. The regular wheelbase Caravan has approximately 155 cubic feet of passenger space, and the Grand Caravan has a spacious 168 cubic feet of passenger space, making either option great for a camper conversion.
Long-wheel base option. See 'Spacious interior.' The Dodge Caravan is a unique minivan because you have two wheelbase choices to consider for your build.
Stow 'N Go seats. More recent years of the Dodge Grand Caravan feature Stow N' Go seats, a nifty and quick way to store second and third-row seating directly in the floor. If you remove the seats entirely, you get another great pro: lots of deep storage beneath the floor of your van.
Stealthy. Because the Dodge Caravan is a minivan (and a common one), it is much easier to stealth camp in it versus larger vans, making it a good choice if you want to do some city camping.
Daily driver. The Dodge Caravan is a great daily driver, so if you are shopping for a vehicle that can be your everyday transportation and a weekend camper van, this might be the van for you.
All-wheel drive options. Not all minivans come in all-wheel drive, but select models of the Dodge Grand Caravan do. This feature can be a big pro for anyone that wants a camper they can take down rugged backroads.
Cons
Discontinued vehicle. As previously mentioned, the Dodge Caravan was discontinued in 2007, and the Dodge Grand Caravan was discontinued in 2020. While there are good alternatives, if you have your heart set on a Dodge Caravan, you will be shopping on the used market.
Subpar fuel efficiency. The 2020 Dodge Grand Caravan's estimated miles per gallon is 17 city / 25 highway, which isn't the best compared to other minivans on the market, like the Honda Odyssey and the hybrid Toyota Sienna – both of which have better fuel economy.
Dodge Caravan Alternatives
If you're considering a minivan for your van life experience, there are some alternatives to look at as well:
Toyota Sienna. This stellar minivan from Toyota is available in All-Wheel Drive, meaning you can get to those backwoods campsites (you can even get lift kits for these).
Honda Odyssey. Reliable and awesome, the Odyssey is a great all-around minivan.
Kia Sedona. Affordable minivan standby from Kia.
Ford Transit Connect. Not technically a minivan, but still a great base for a microcamper.
While these alternatives may have some advantages, only the Caravan has stow-n-go seating, which is especially useful if you're doing part time van life or camping road trips.
DIY Dodge Caravan Camper Conversions
1. This Dodge Grand Caravan van build with tons of storage from @whatsup.onearth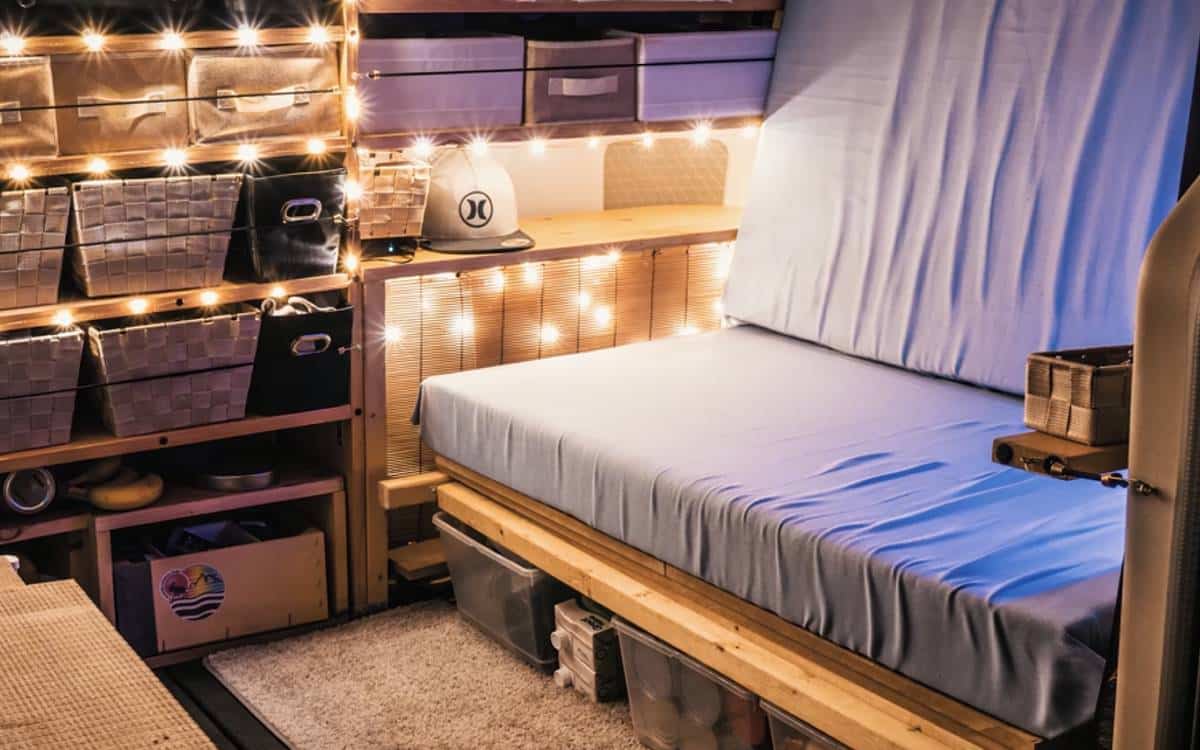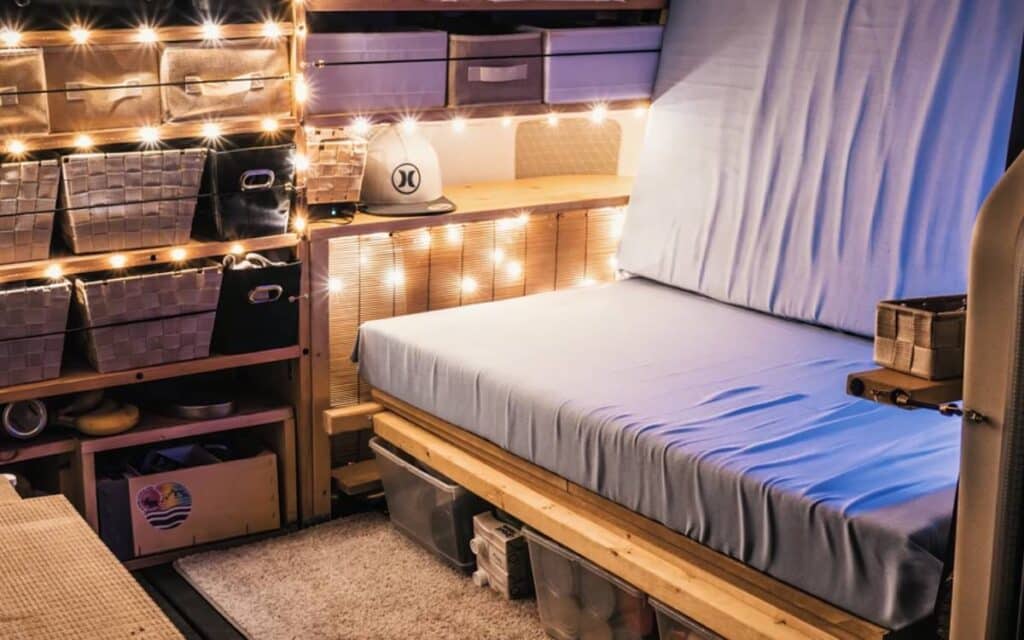 Elian converted his 2008 Dodge Grand Caravan into a minivan camper to live and travel in. His build includes DIY shelving and a bed frame that allow for tons of storage without taking up too much of the van's living space.
On the passenger side of his minivan camper conversion, Elian built a wall of open shelving that provides plenty of storage. The shelving utilizes the van's vertical space, so there is still enough room for his bed/couch combo without feeling crowded.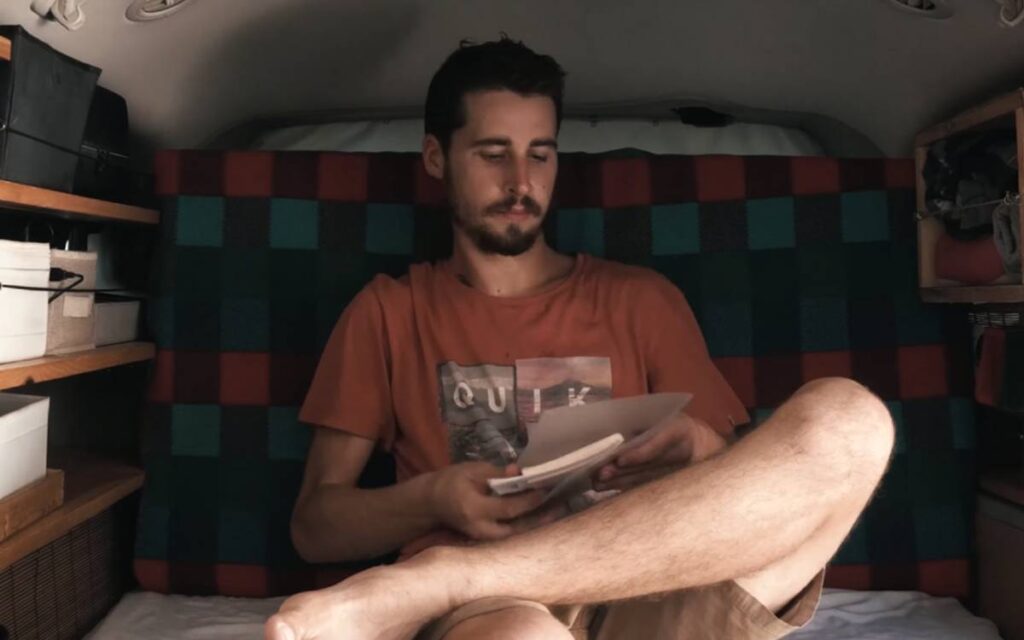 The bed is divided into three pieces, with a frame that provides storage underneath it. It folds up into a couch during the day, and at night Elian rearranges a few things so that the back of the frame can drop down and turn into a bed that runs lengthwise in the living space.
The daytime couch partitions the trunk into a kitchen area, which Elian accesses from outside through the rear hatch. Elian also has a rooftop storage box where he keeps his camping gear.
For the van life electrical setup, there is a deep cycle battery connected to the car battery, which recharges when the car is running.
2. This Dodge Grand Caravan campervan conversion with an easy bed setup from @nickandmaela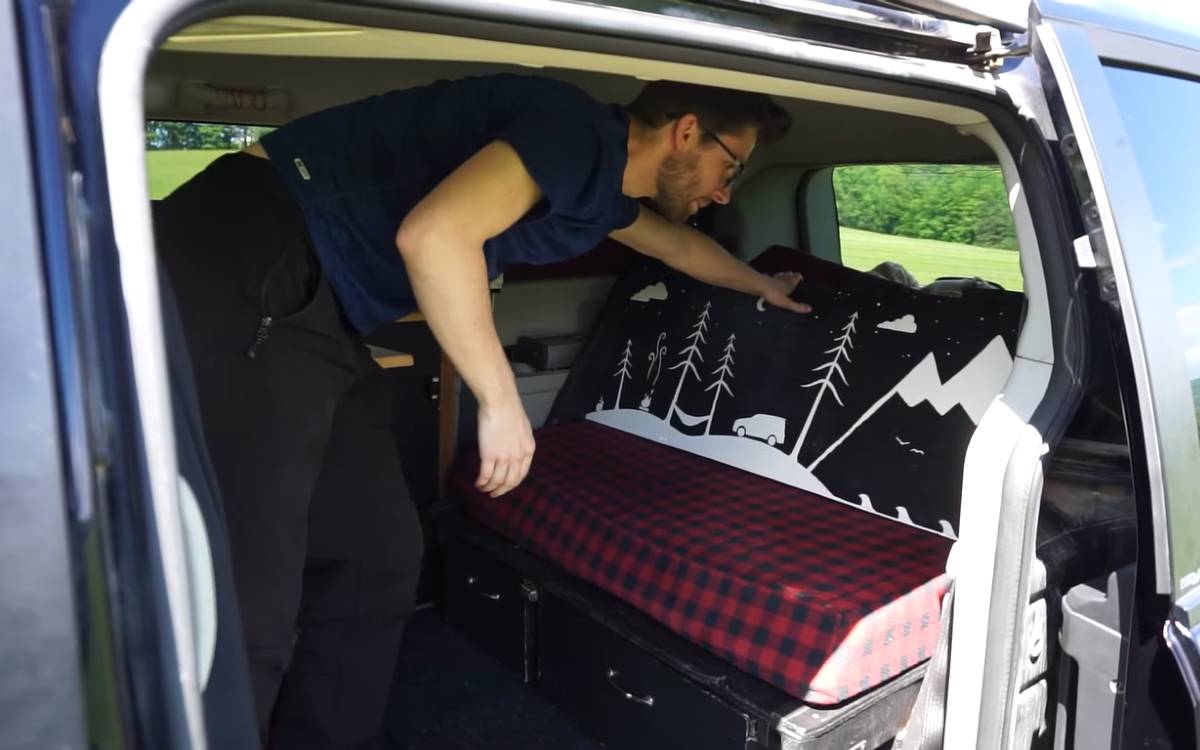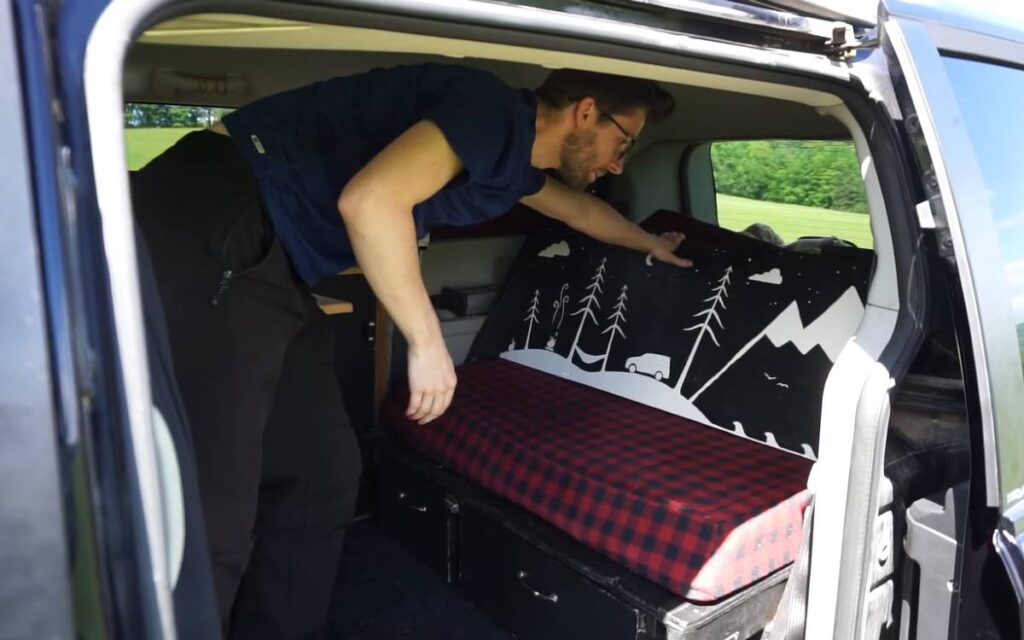 Nick converted a Dodge Grand Caravan into a camper to travel the US and Canada over nine months. He used his knowledge as an engineer to build an innovative and efficient living space.
We especially love the easy couch-to-bed conversion for this build. During the day, the setup is in couch mode, running widthwise near the back of the Grand Caravan. The back of the couch has an incredible mural that Nick painted himself – doubling as fabulous décor for the interior. The couch has a couple of storage drawers beneath it to hold clothes, toiletries, and other items.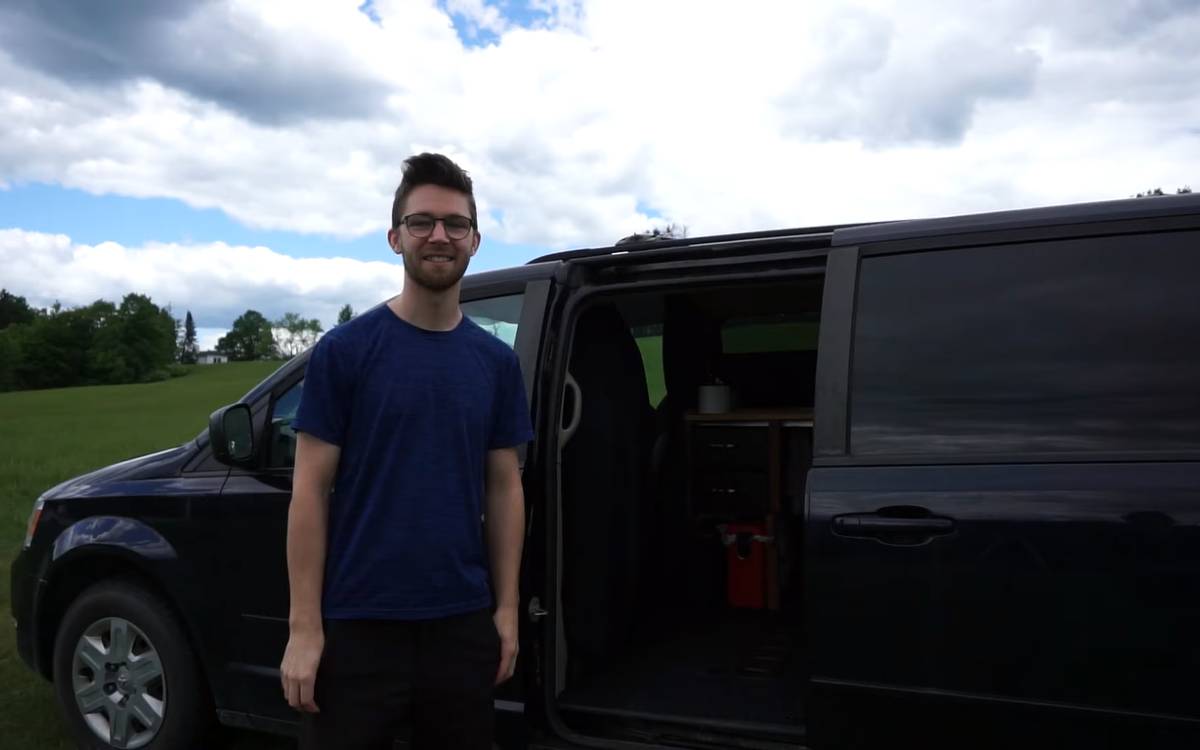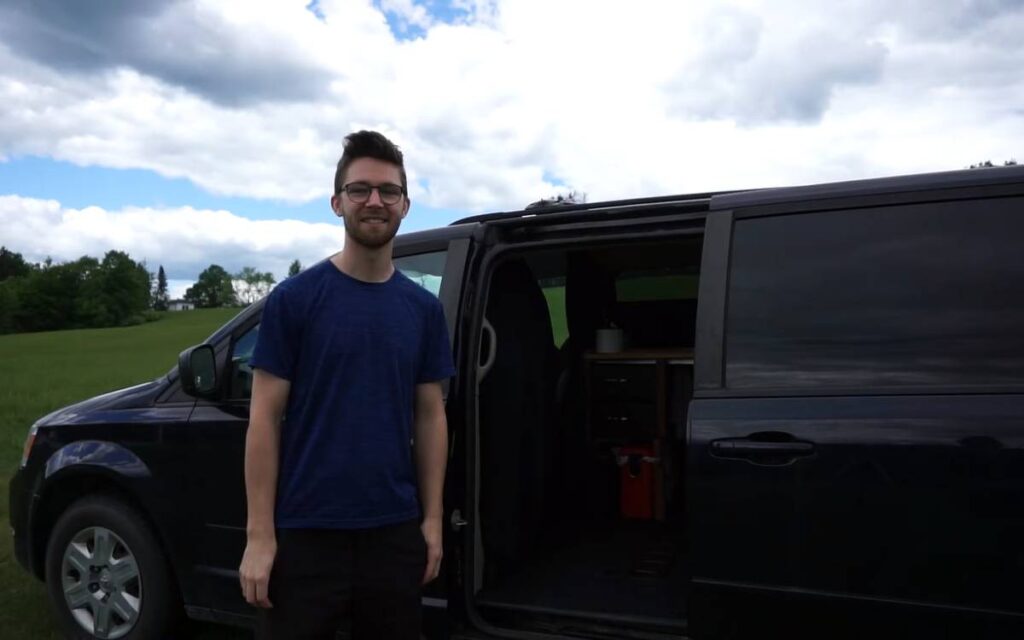 At night, the back support of the couch flips down to act as support for bed mode. A long cushion stored in the back is placed on top of the support to create a bed about the size of a full bed. It is just as easy to transition back to couch mode.
3. This Dodge minivan camper conversion with tons of storage space from Abiyah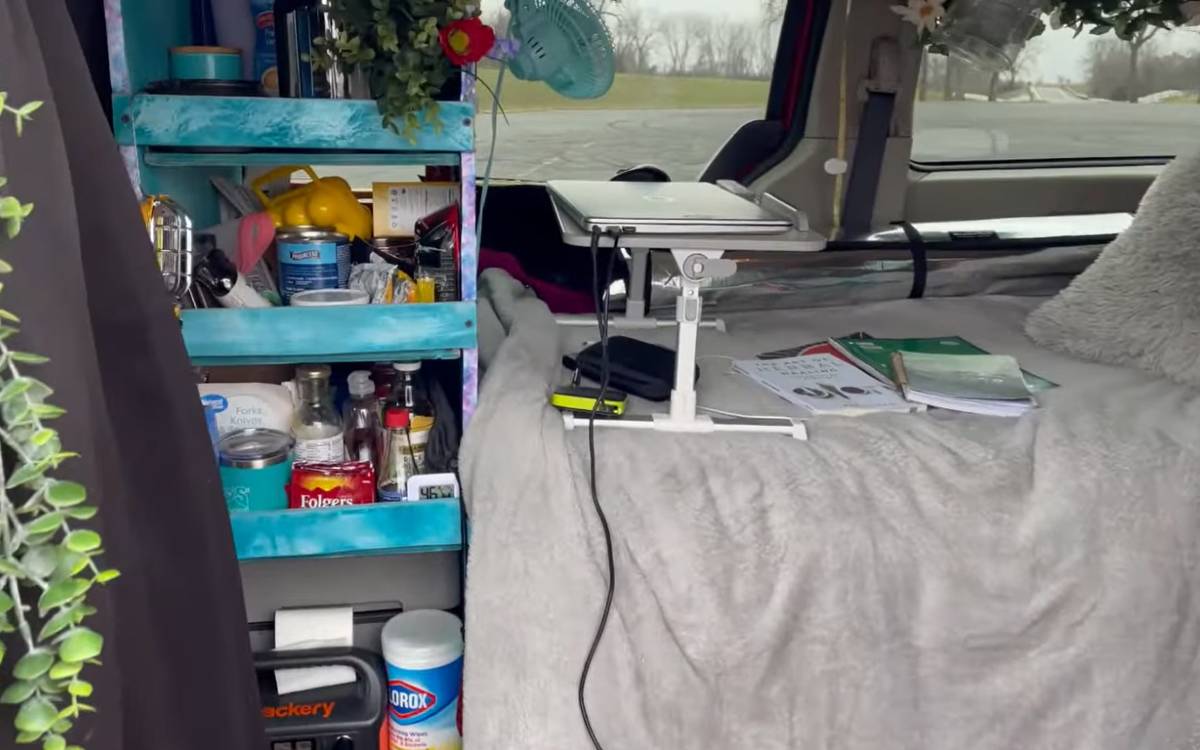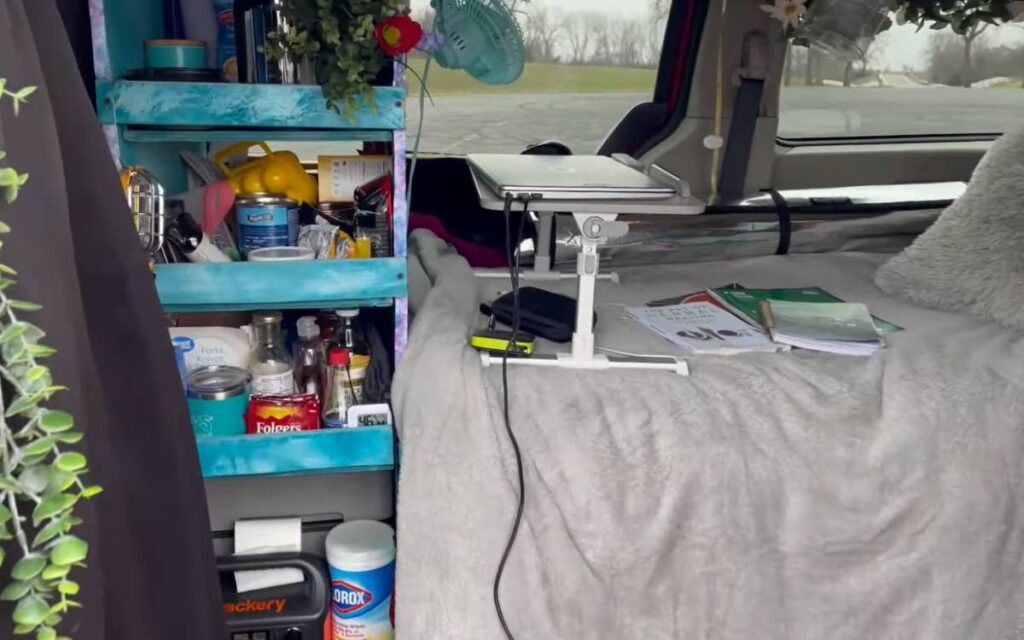 Abiyah lives full-time in her 2015 Dodge Grand Caravan camper. She utilizes gyms and truck stops for showering. Everything else she needs is right in her minivan, including a bathroom, kitchen, and a comfortable place to work while on the road.
She has a really simple outdoor setup for when the van is parked that includes a small rug, a folding table, and an ottoman that doubles as a small table or seat.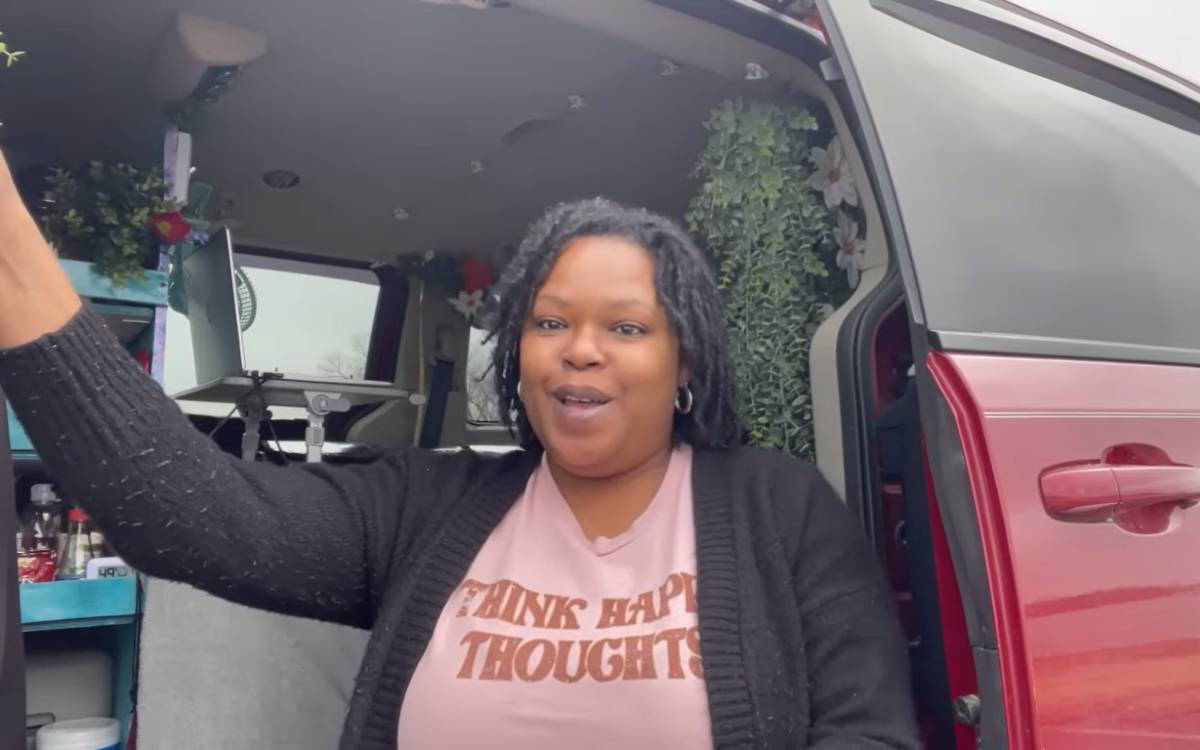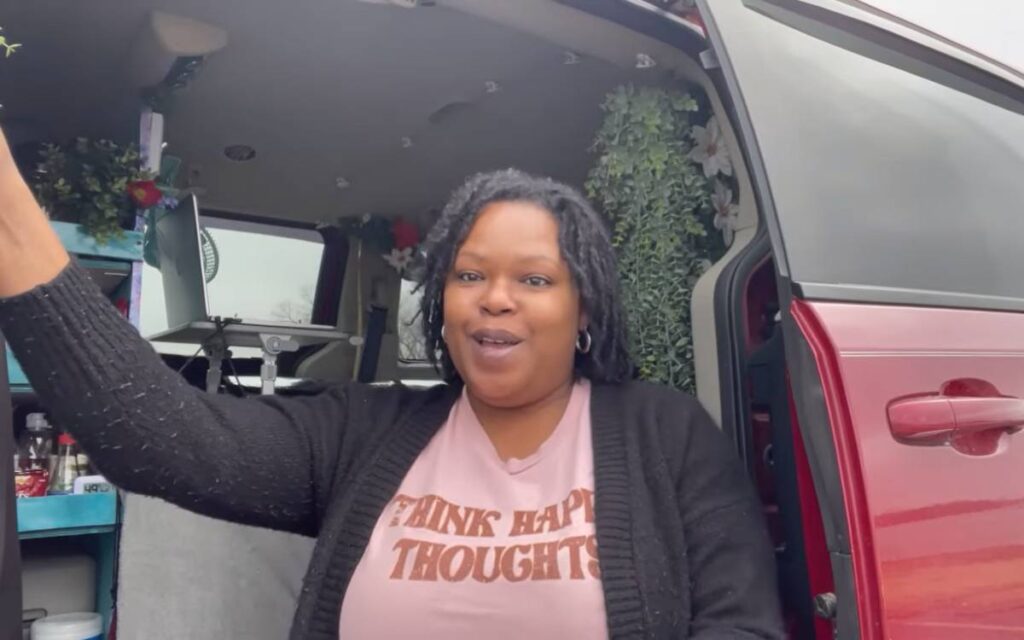 Nothing in the living space is permanently attached, meaning Abiyah can rearrange things as needed. The bed is on a small cot fixed lengthwise behind the passenger's seat.
There are plenty of storage solutions throughout the van, including under the bed, in plastic dresser drawers, storage ottomans, and a handmade bookshelf that is accessible from inside and outside of the Grand Caravan.
4. This no-build Dodge Grand Caravan tiny home from @elaine.lombardi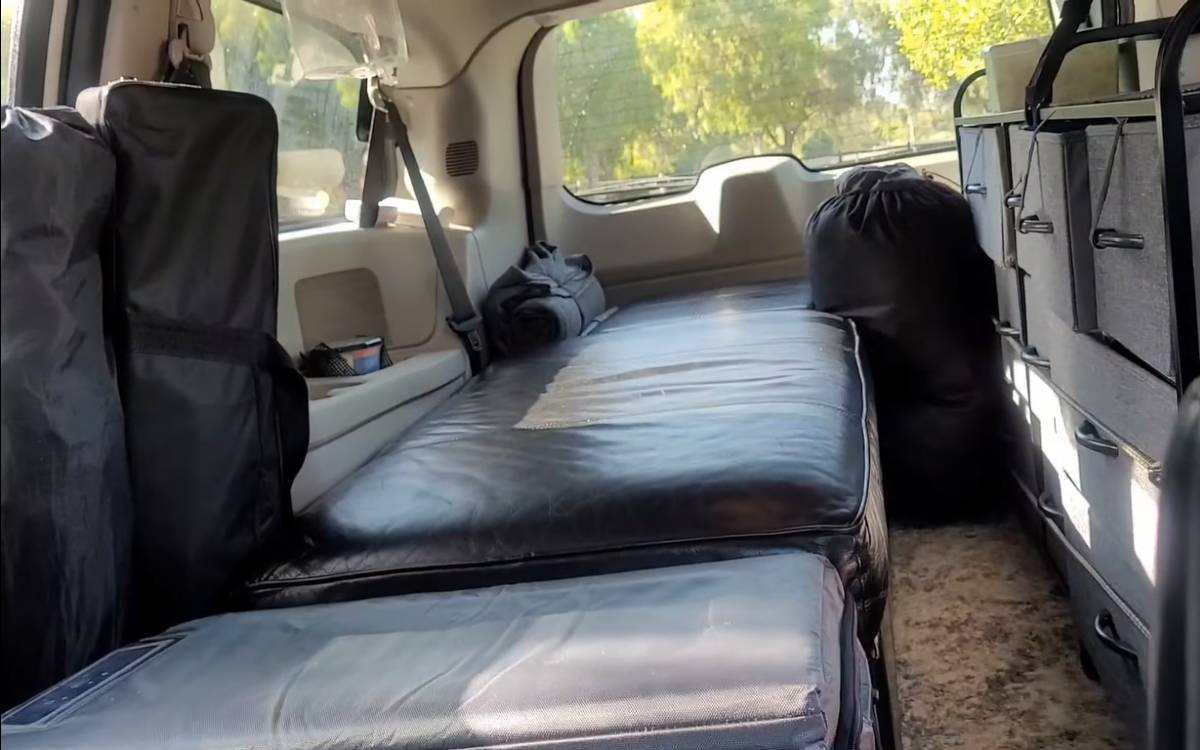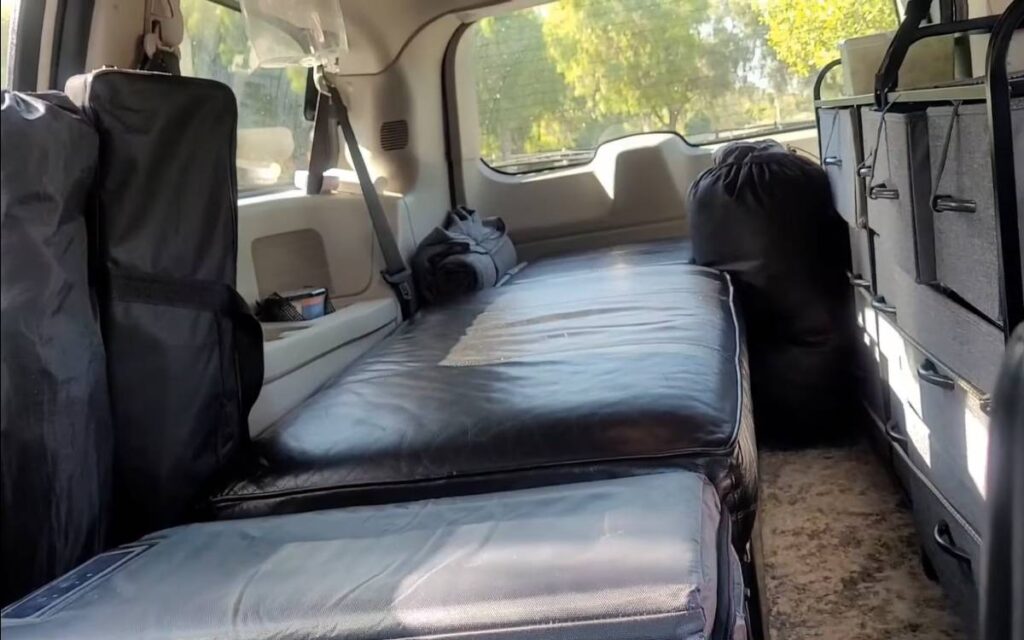 Elaine converted her 2018 Dodge Grand Caravan for solo travel adventures. She has the SE model of the minivan, which doesn't have a console between the driver and passenger seats. This means she can go from the driver's seat to the living space without getting out of the vehicle.
Everything in this build is entirely removable for an easy transition from a regular minivan to a camper and vice versa. The camper has a bed, a fridge, storage drawers, and other items for everyday living.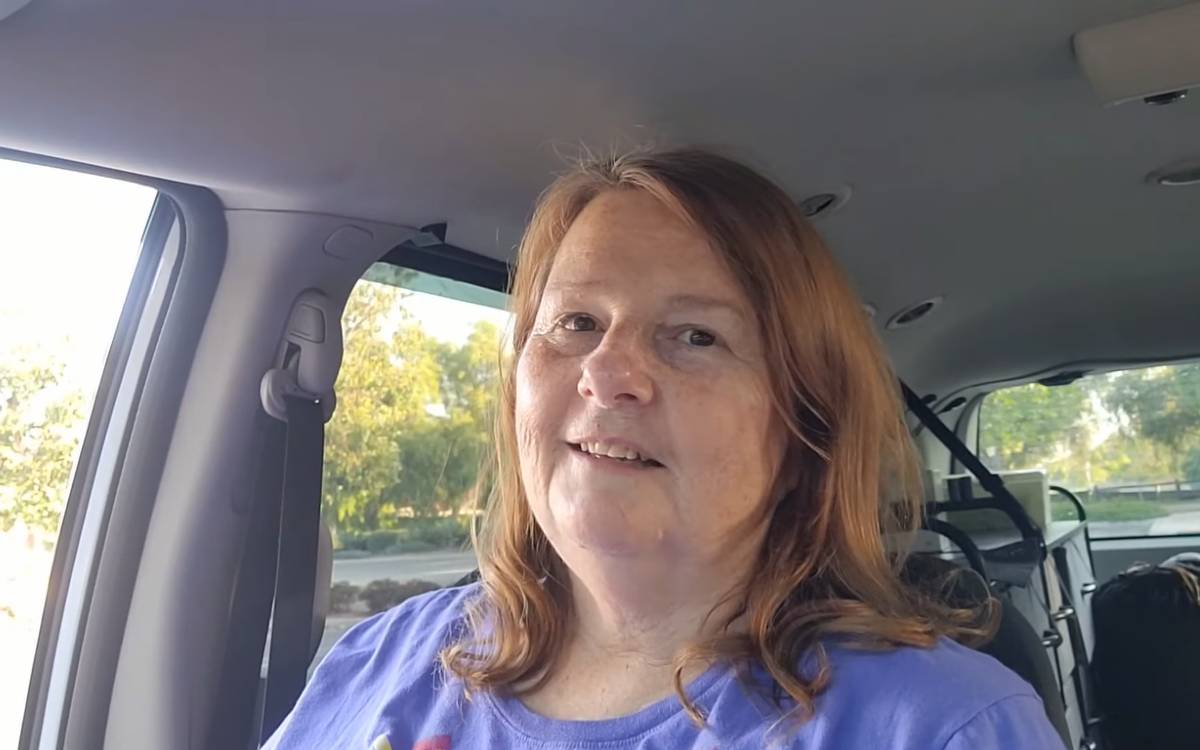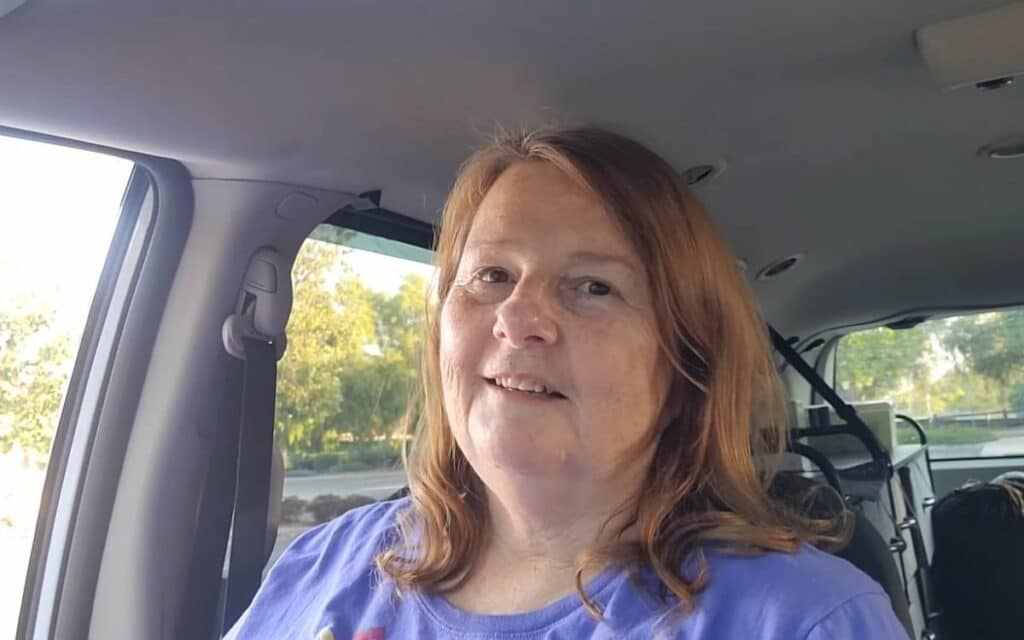 Elaine made her bed from a couple of large ottomans. Elaine uses the fridge as a footrest because all three items are of the same height. Since she has a significant amount of floor space left over, she can comfortably set up her keyboard piano to practice and play in the minivan.
She has a Jackery 1000-watt power station with easy-to-store solar panels for a power solution that maintains stealth on the road.
5. This bike touring Dodge minivan camper conversion from @bicycletouringpro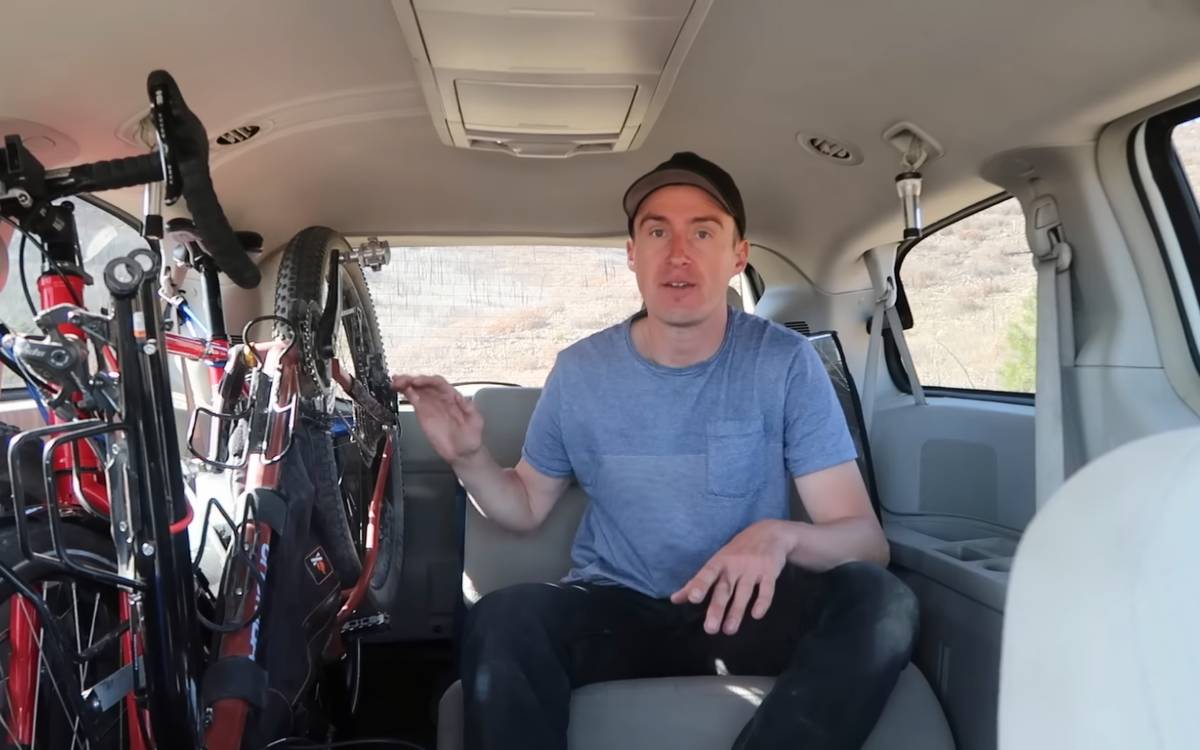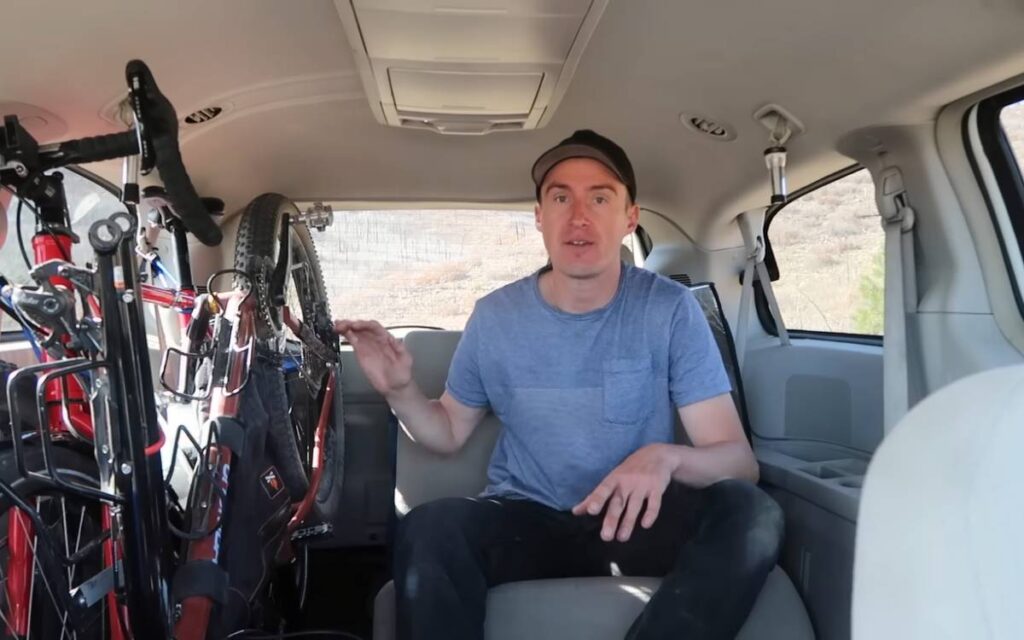 Darren converted a Dodge Caravan into a camper van for bicycle touring around the country. He wanted something fuel-efficient and stealthy with enough space to live out of while storing two of his bikes inside it.
The Dodge Caravan has back seats that fold flat into the floor. Darren opted to remove the seats and use the space as hidden storage. Both his bikes are usually stored and secured inside the van on the passenger side.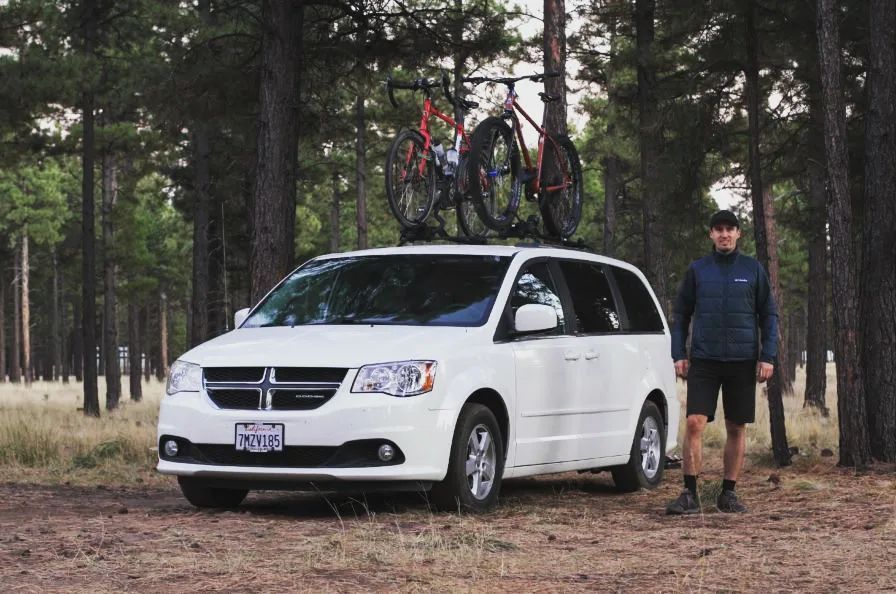 He utilizes the backs of the driver and passenger seats to hang Igloo cooler bags that hold his food supply. Between the seats is where Darren keeps a 7-gallon water tank.
On the roof, he has two bike racks that allow him to transport his bikes outside the minivan, and a 100-watt solar panel that charges a 100-amp-hour deep cycle battery.
6. This family Grand Caravan camper build from @fullnester9456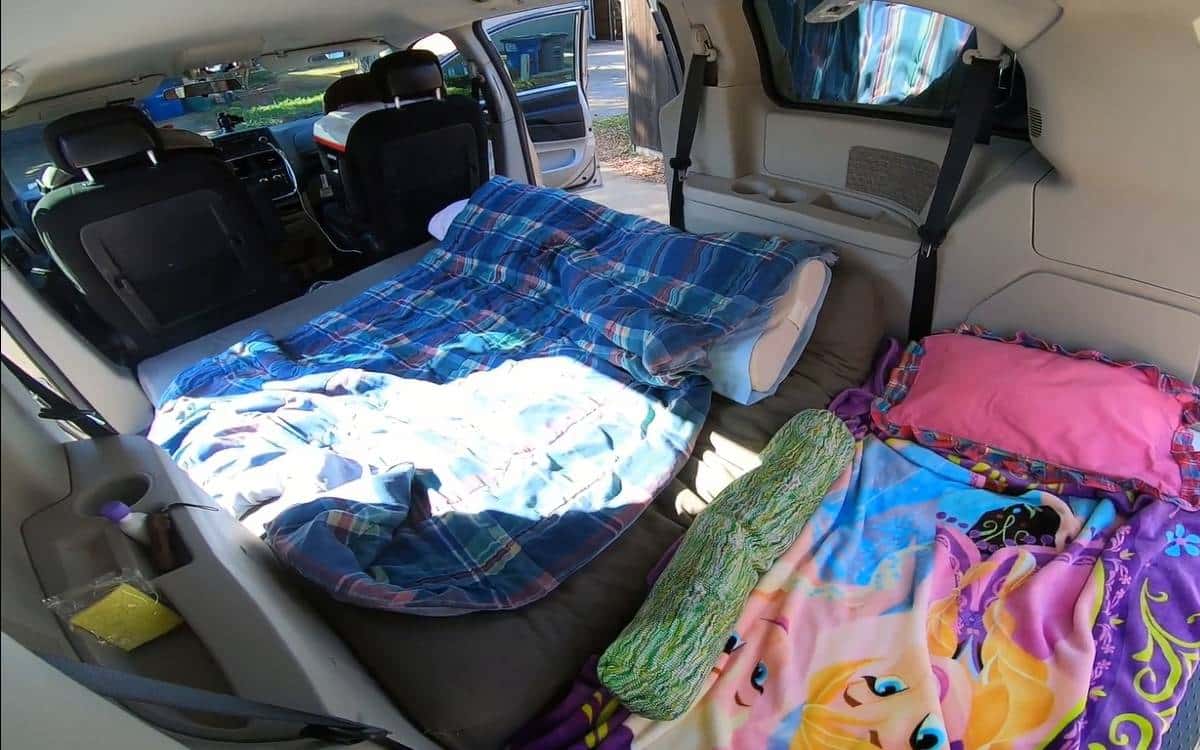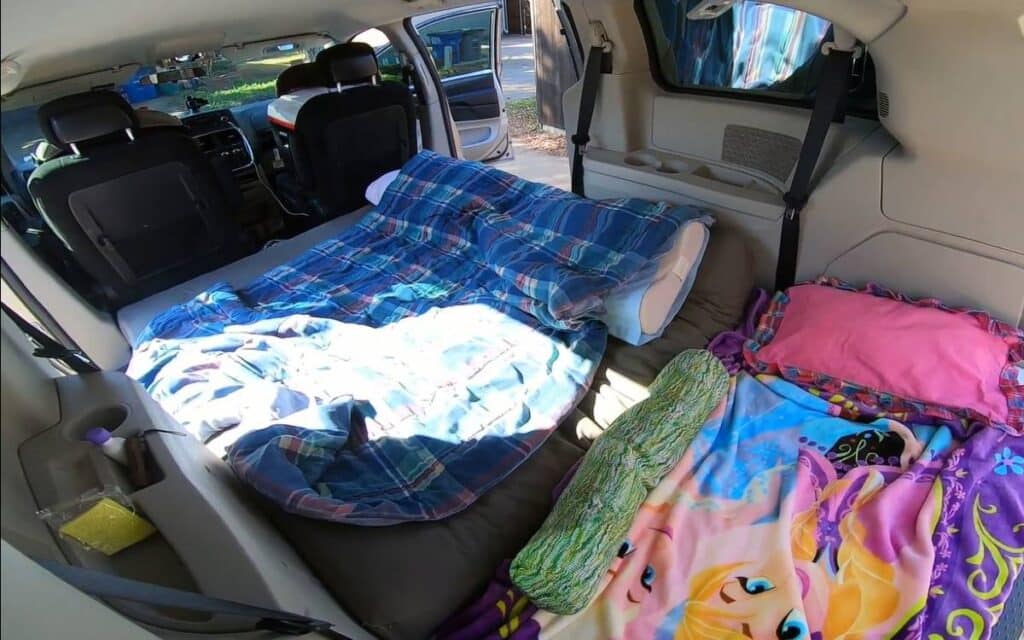 This family converted their Dodge Grand Caravan for camping trips. Outside their camping trips, the Caravan is a daily driver, meaning that this build needed to be easy to convert back and forth.
They remove the second-row Stow 'N Go bench seats before camping and use the ample storage beneath the floor. The third-row seats remain in place while driving, so the kids have seating.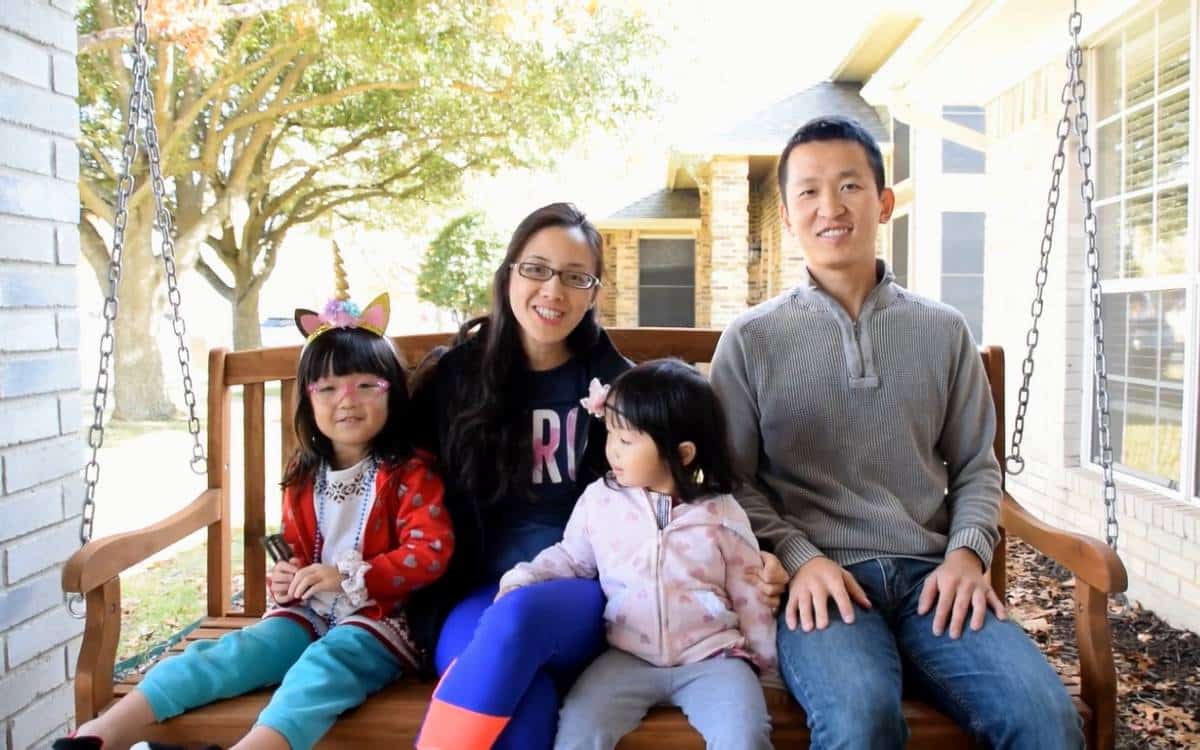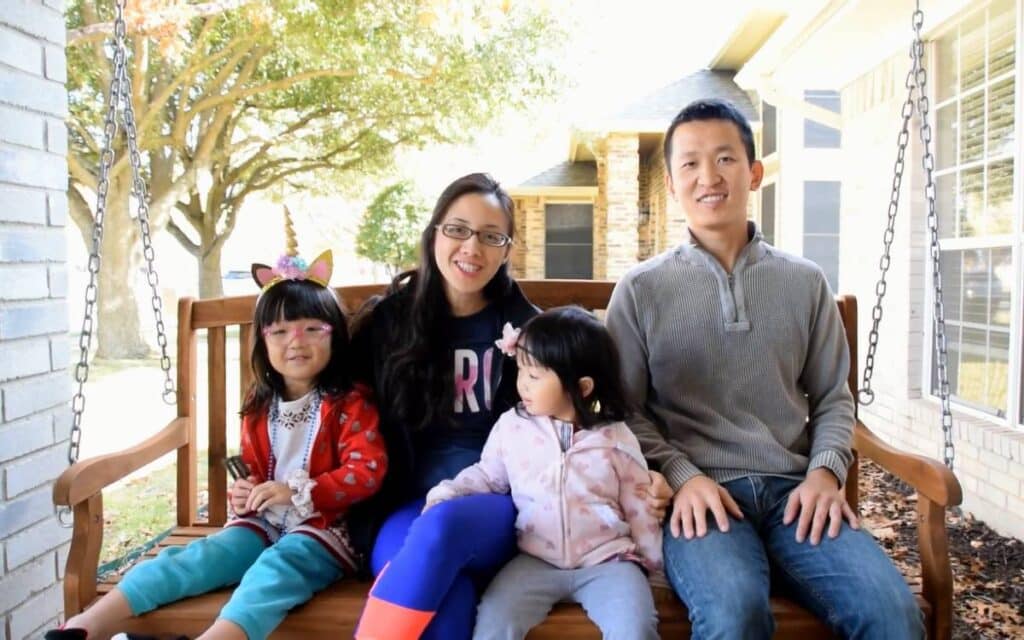 They stow the third-row seats within the flooring at night to make room for the sleeping setup. They simply move their cooler and camping gear to the front two seats at night and lay down two mattresses. The family of four can sleep widthwise across the living space.
7. This minimal budget Grand Caravan conversion from @divinezeal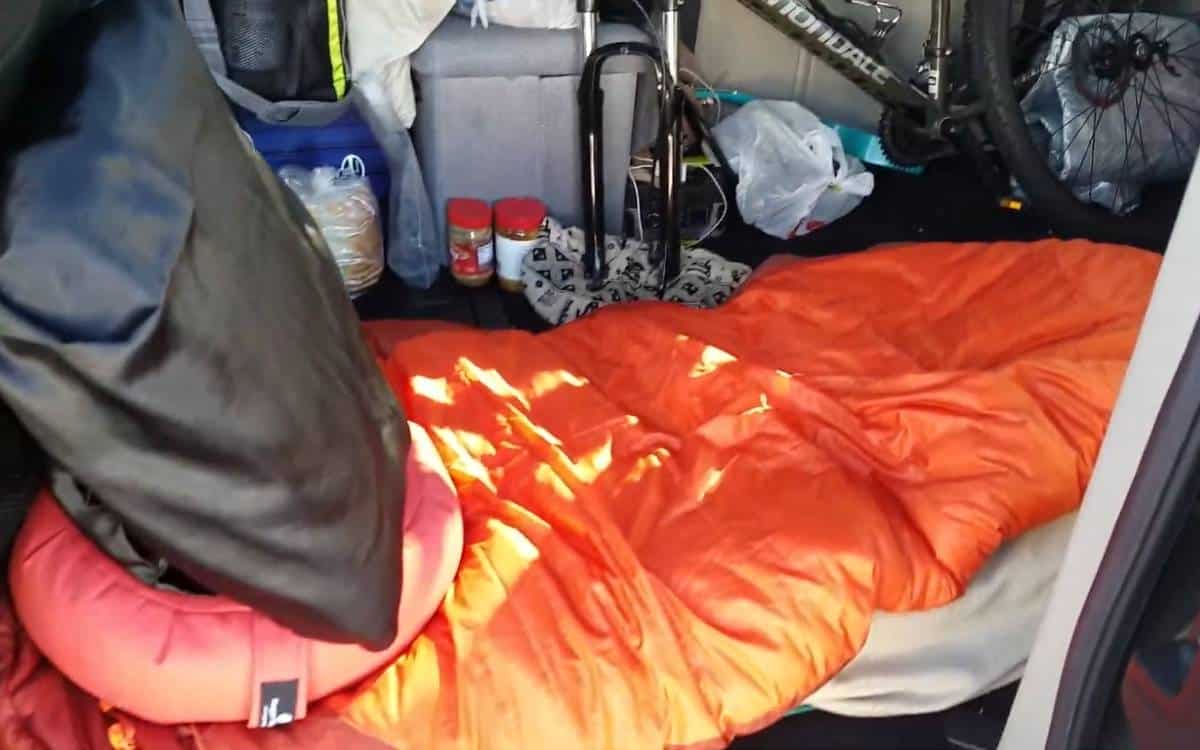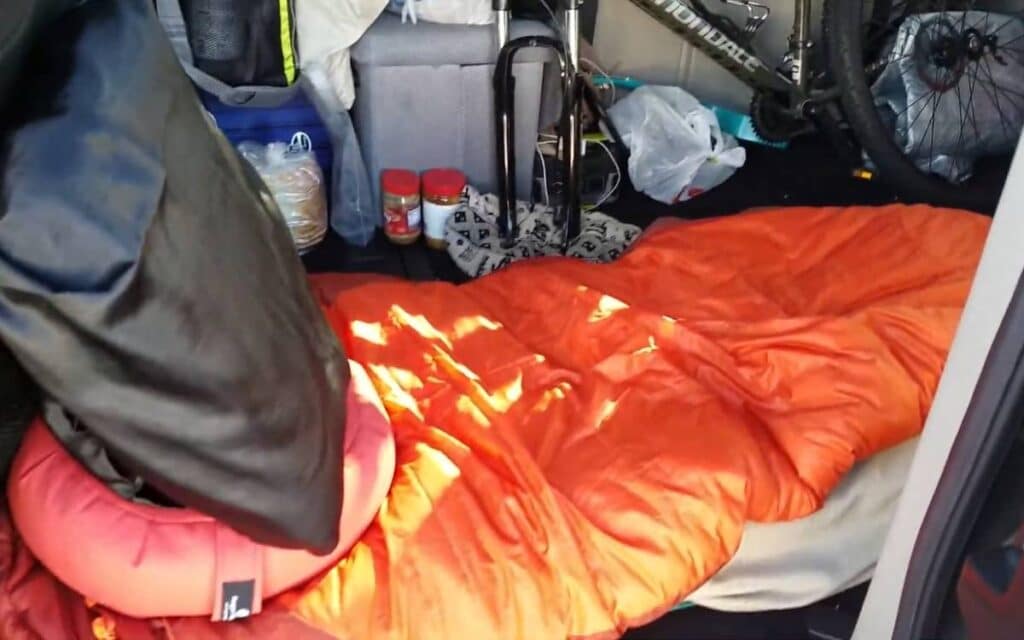 Nobi converted a 2015 Dodge Grand Caravan for full-time van life travel while enjoying nature. He did this conversion on a budget, creating a minimalist, affordable build with all the essentials.
Nobi likes to travel to places with colder weather, so his bedding solution is a Marmot 0-degree trestle sleeping bag. He layered a Therm-a-Rest, yoga mat, and memory foam mattress on the floor, creating a comfy base to lay the trestle on.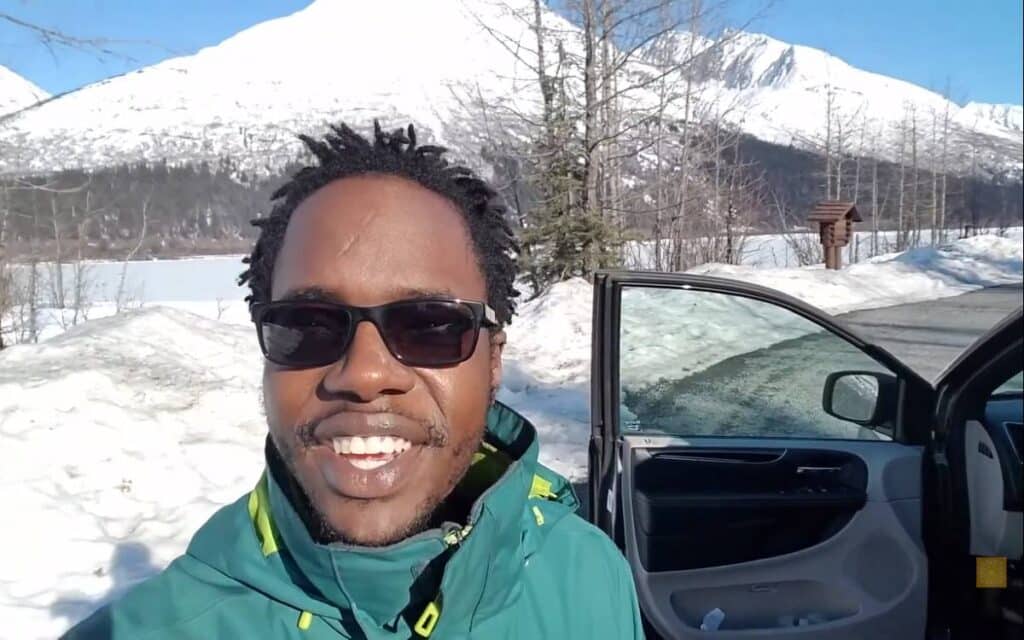 Because he doesn't have any furniture in his Dodge Grand Caravan camper, there is enough floor space to accommodate his bike, cooler, water, and storage ottoman. For power, there is a Yeti 150 Goal Zero power station.
In the back, Nobi created a makeshift trunk/garage space by using bungee cords to keep everything secure and separated from the rest of the living space.
8. This dog-friendly Dodge Grand Caravan build from @adventuringwithamanda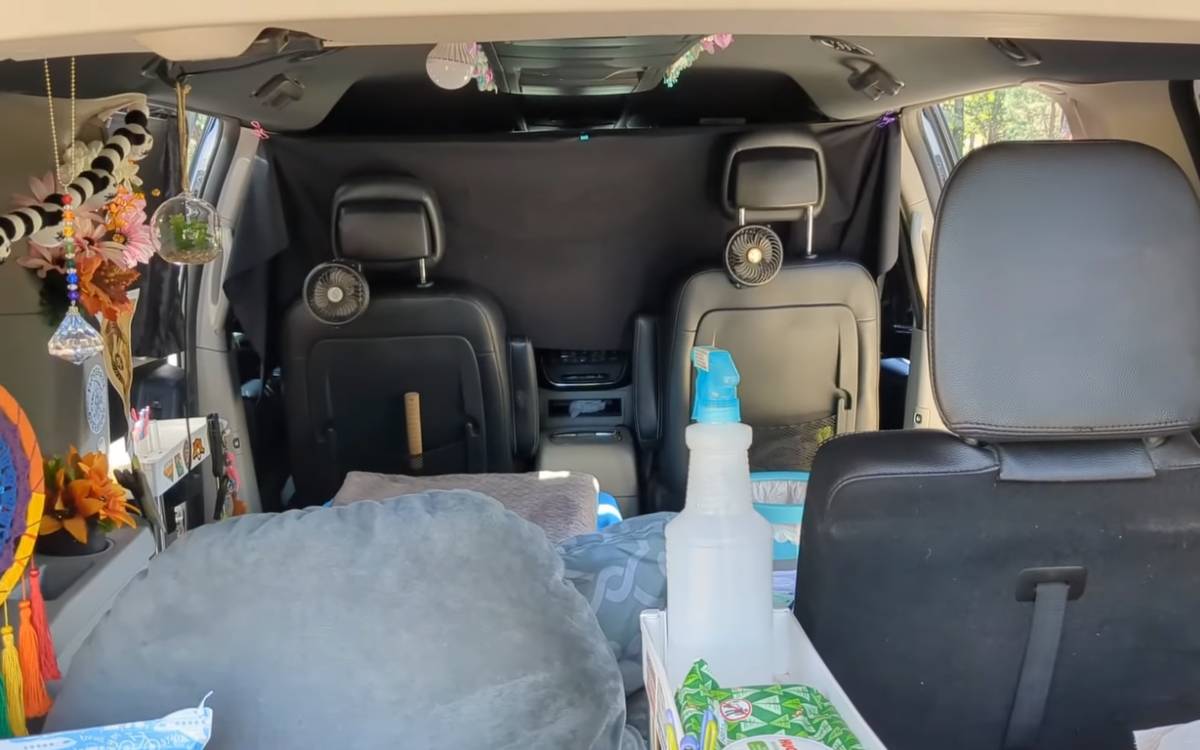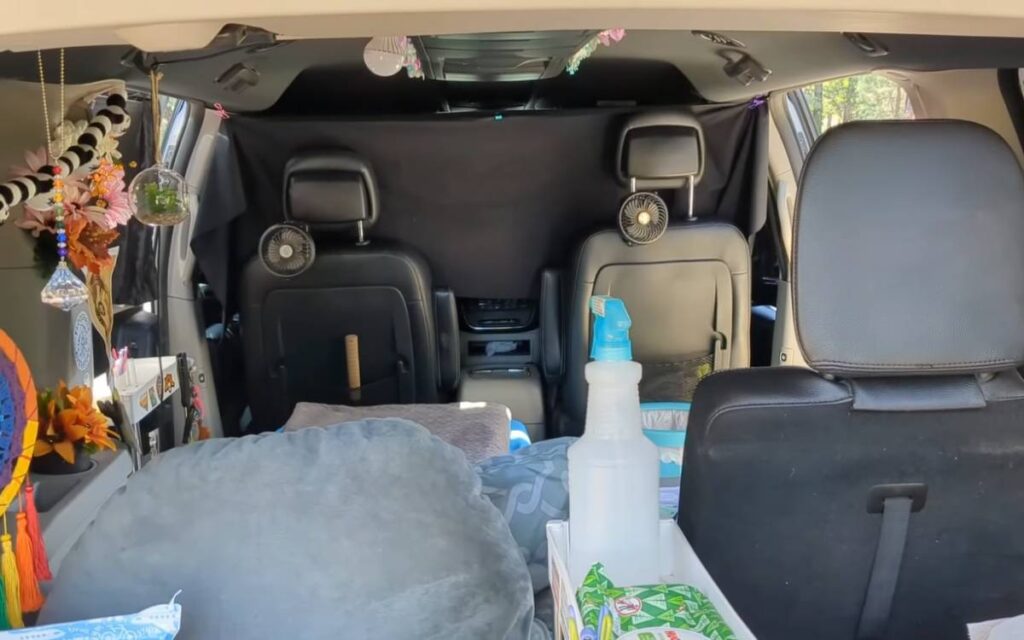 Amanda converted her 2018 Dodge Grand Caravan into a dog-friendly, no-build camper. She has used her minivan as a camper for over two years, so everything in her setup is attuned to her lifestyle with her dog, Winston.
On the passenger side, she has a top-load vanlife fridge powered by her power station. For her toilet solution, Amanda uses a collapsible toilet. She uses clips to secure a black curtain across the driver and passenger seats for stealth and privacy when parked.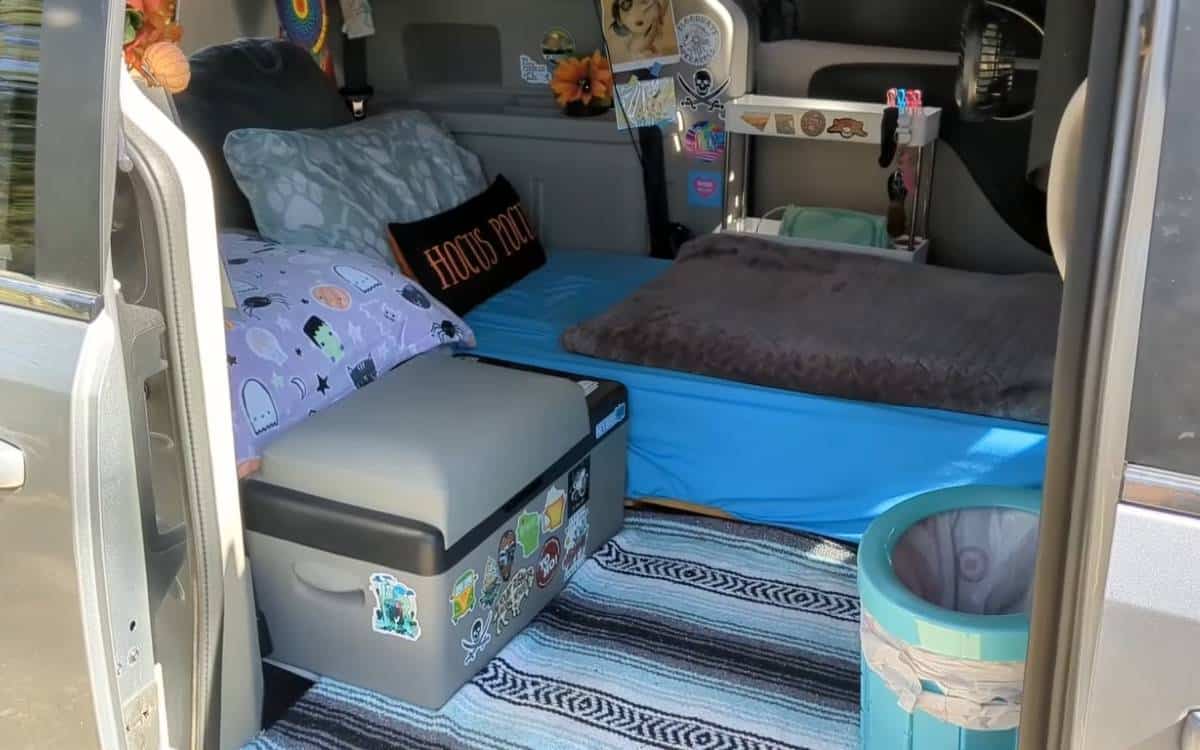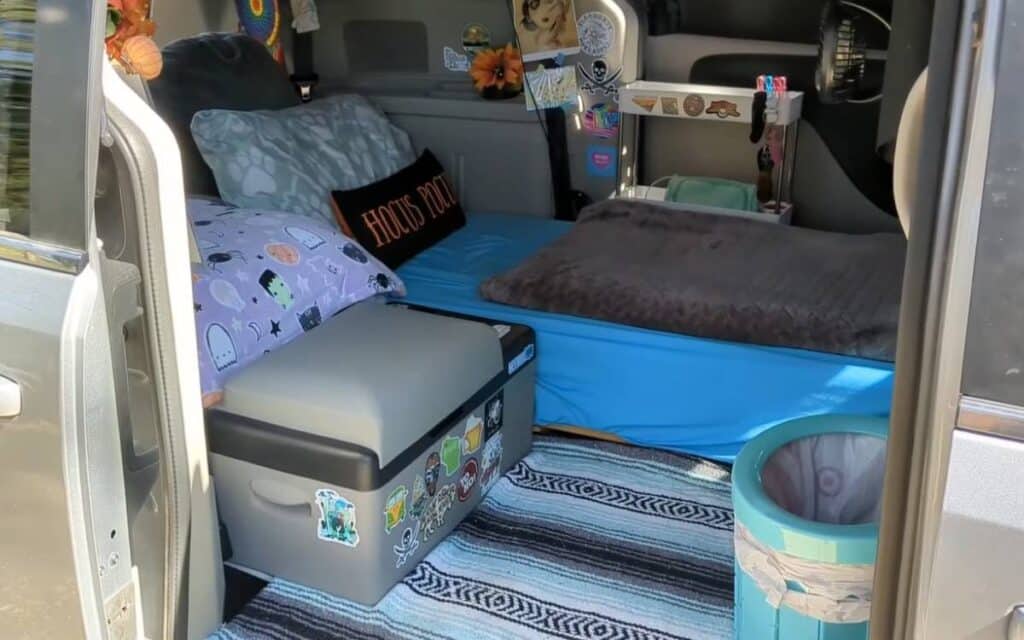 Her bed is a tri-fold memory foam mattress positioned lengthwise behind the driver's seat. Amanda opted to keep her third-row seats in place for her dog, Winston, so he has a place to sit and sleep while she is driving.
Water, tools, and cat litter for the toilet are all stored in the passenger seat of the Caravan, giving the back living space a roomy feel for Amanda and Winston.
9. This Dodge Grand Caravan conversion with a built-in sink from Christine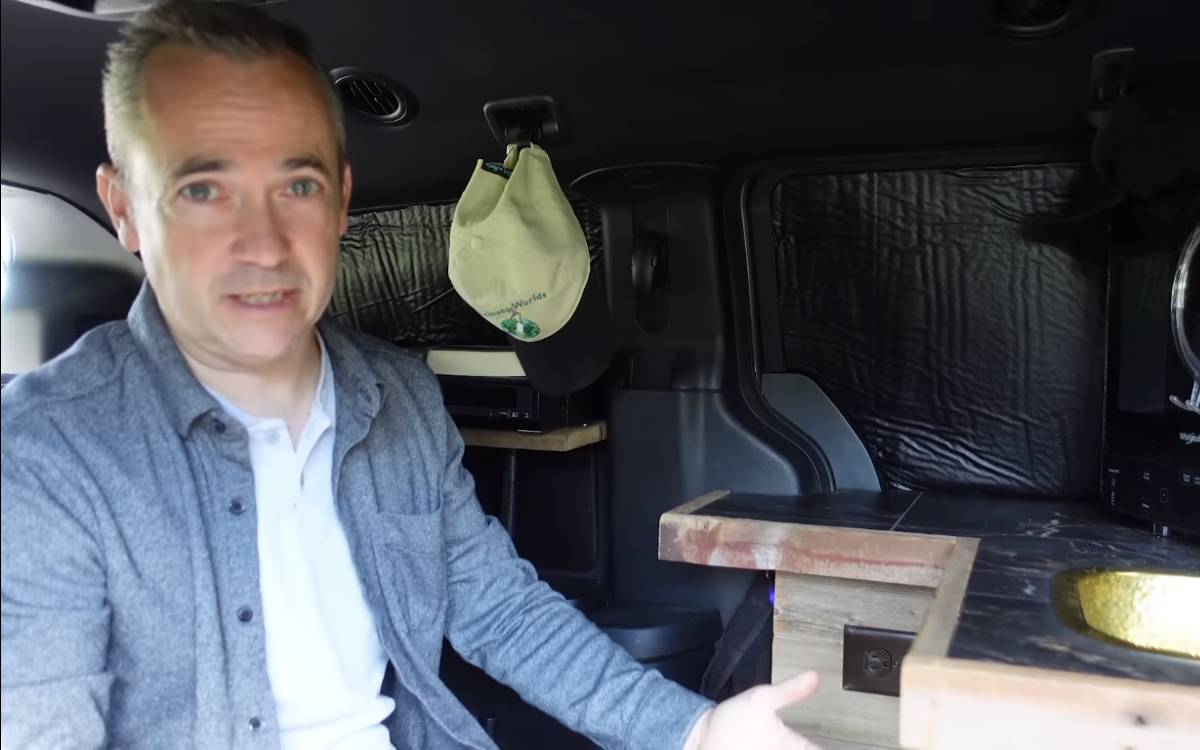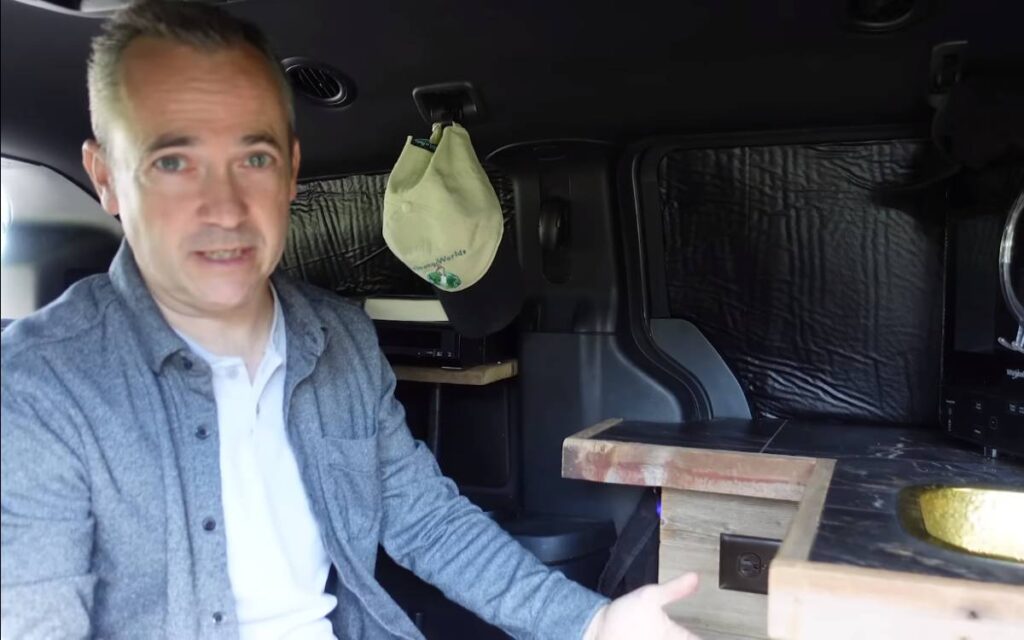 Christine's husband converted a 2012 Dodge Grand Caravan into a camper for traveling and short-term camping.
They built a shelf behind the passenger seat that holds a fridge/freezer combo. The shelf is on a slider so that they can move the passenger seat backward. It is the perfect height to provide storage for shoes and has enough clearance to open the Caravan's Stow 'N Go storage compartment beneath the flooring.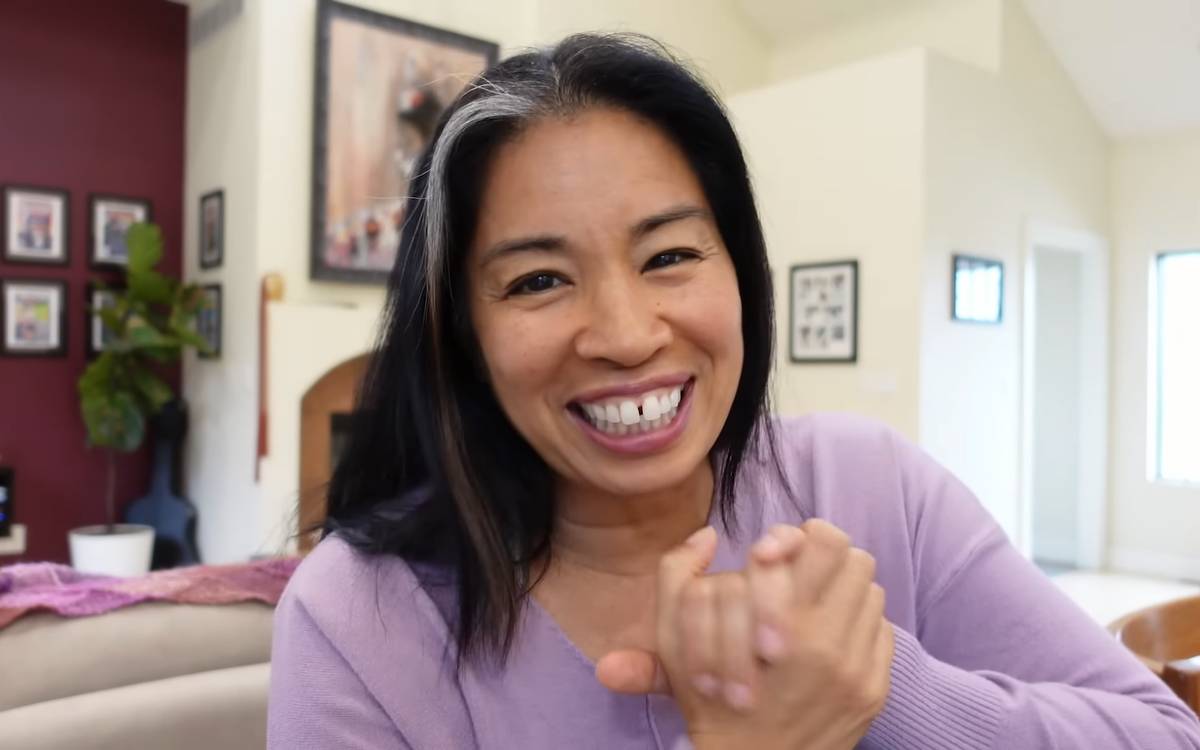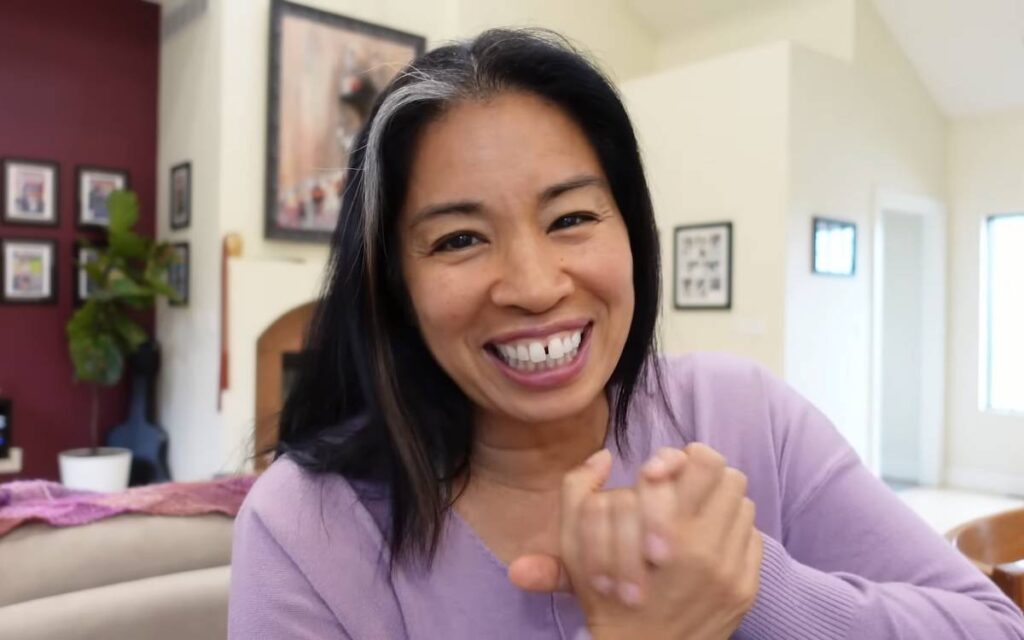 The conversion includes a built-in sink with running water controlled by a switch-activated water pump. The nozzle has an extendable hose that allows the couple to wash their hair inside the van.
For the bed, they constructed a frame that creates a two-sided couch that faces out the back on one side and the living space on the other. At night, it slides down into a bed that comfortably sleeps two people.
10. This $200 weekender Dodge Caravan camping conversion from @kruisinkevin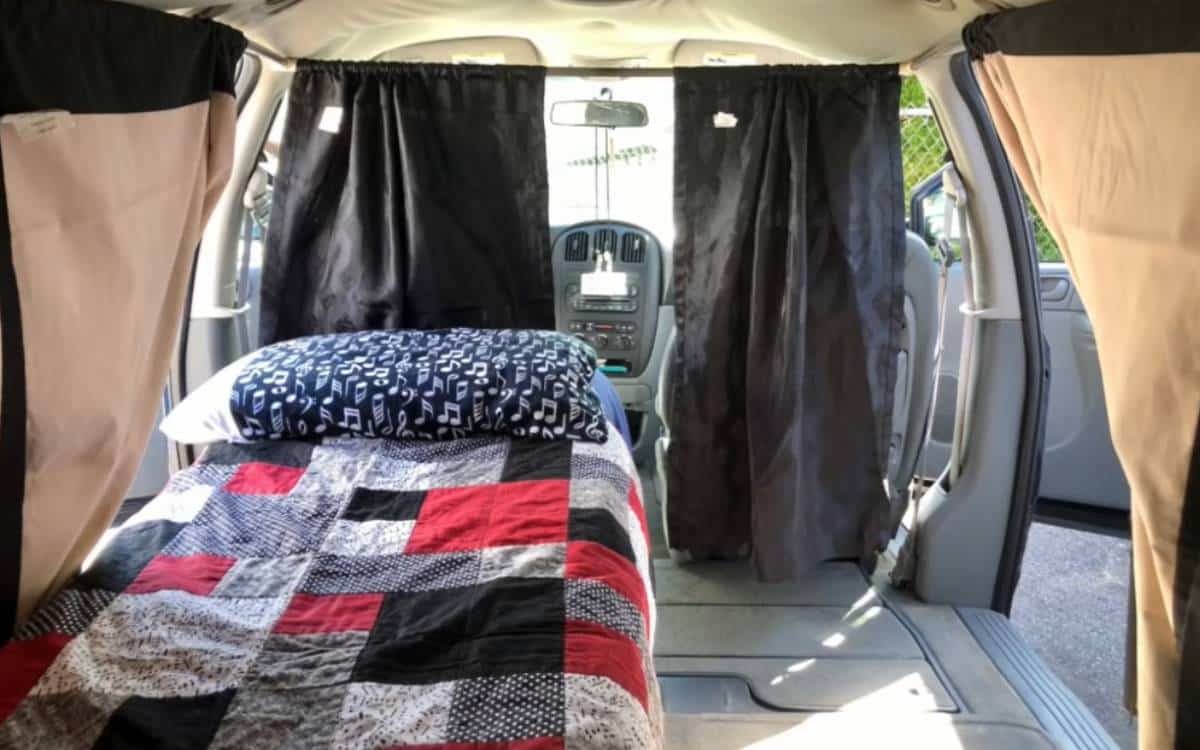 Kevin turns his 2006 Dodge Caravan into a camper for weekend trips. The minivan is his daily driver, so the conversion process is quick, easy, and doesn't include any permanent modifications – and he built it for under $200!
When he is ready to turn the Caravan into a camper, Kevin stows the third-row seats in the Stow 'N Go storage compartment and removes the second-row seats. He places a long table lengthwise behind the driver's seat that serves as the foundation of his bed.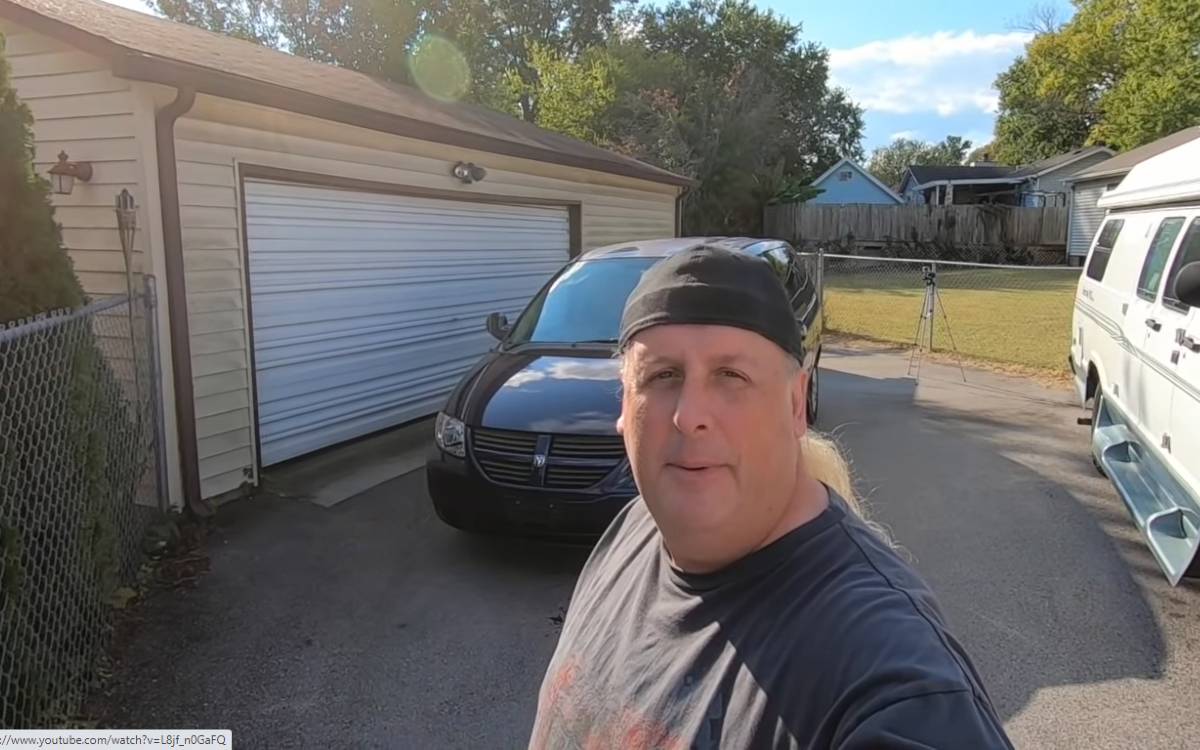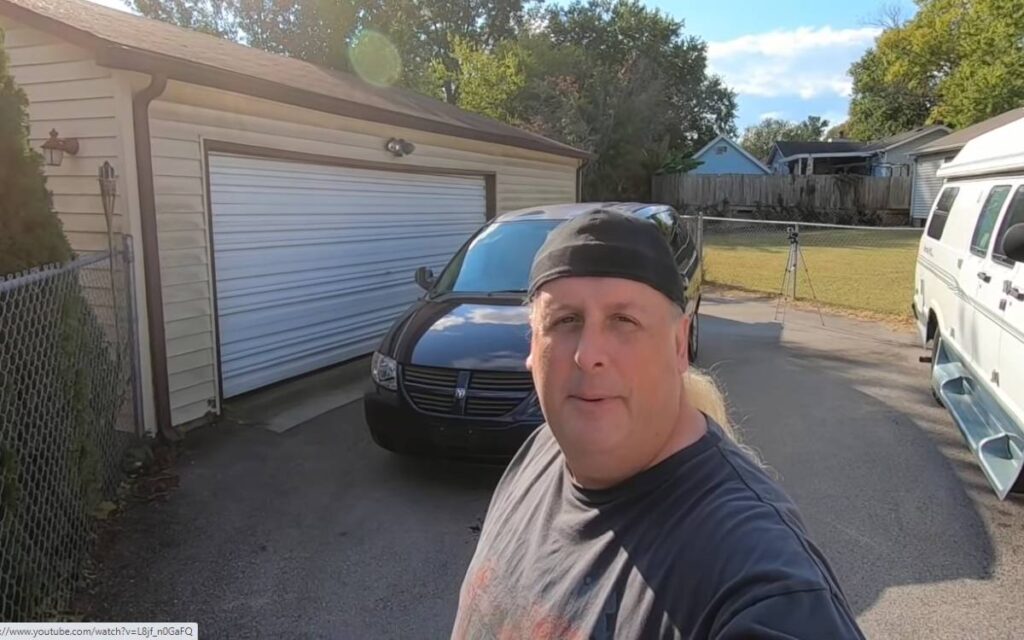 Behind the bed, Kevin puts a cabinet that he found at a yard sale to face out of the back of the van, acting as a kitchen space. He has a fridge that he plugs into the van's DC power. He also has a power station to charge his devices.
11. This IKEA build from @rootless_wanderer73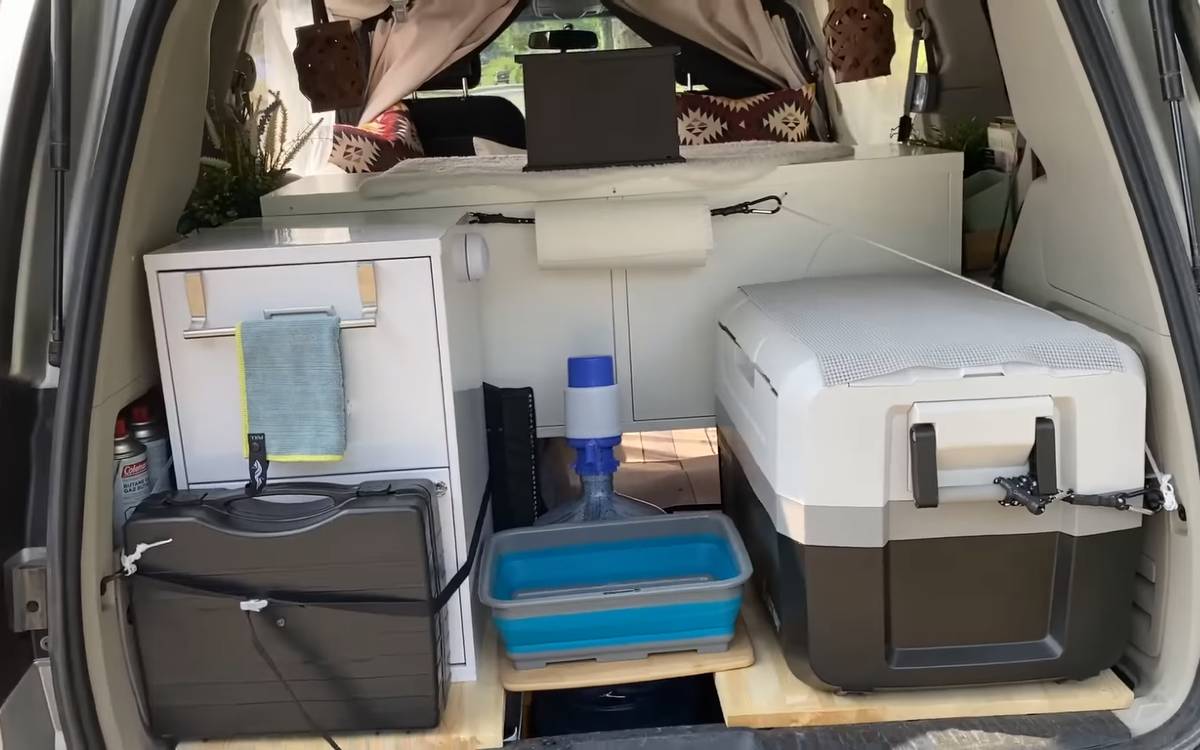 April converted her 2011 Dodge Grand Caravan into a camper for full-time living. Much of her build includes IKEA furniture and accessories, making this build easy to put together without carpentry skills.
Her living space has an IKEA futon running widthwise behind the driver and passenger seats of the Caravan for a simple bed/couch solution. She opted to remove the back of the futon and can use the backs of either of the front seats for back support while sitting on the futon.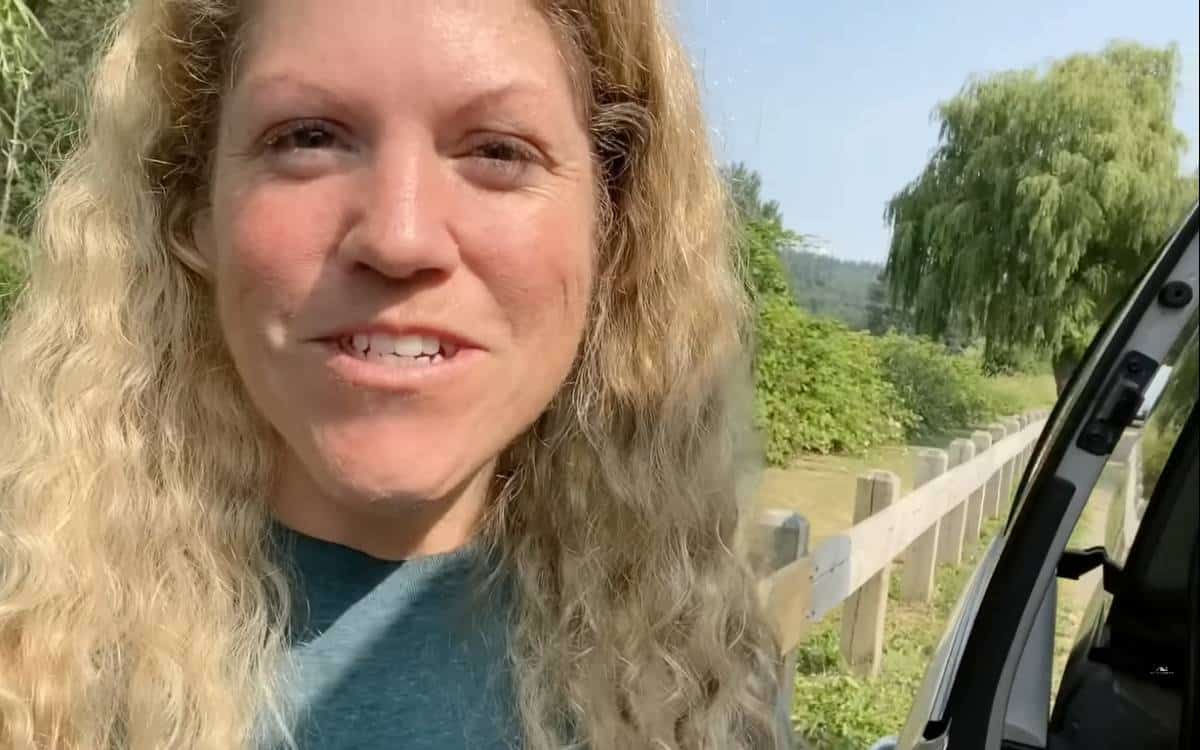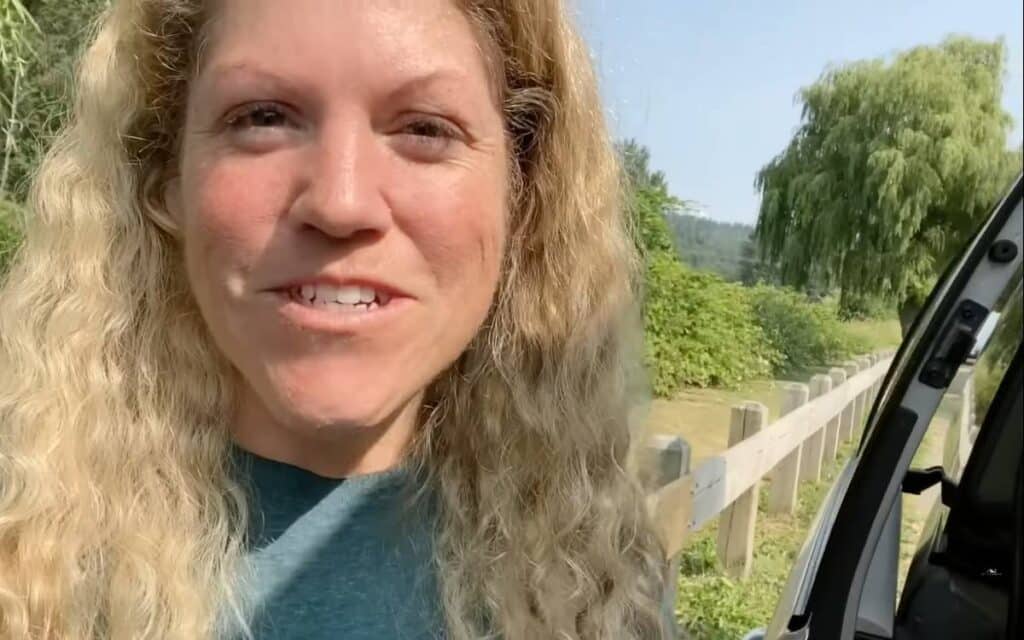 In the back of the van, April removed the third-row seats and used the empty space to hold kitchen supplies and miscellaneous things in bins from IKEA. She also has her fridge and camp stove secured in the back, creating a kitchen space.
Dodge Caravan Camper Conversion Kits
1. This conversion kit that takes 5 minutes to install from ROADLOFT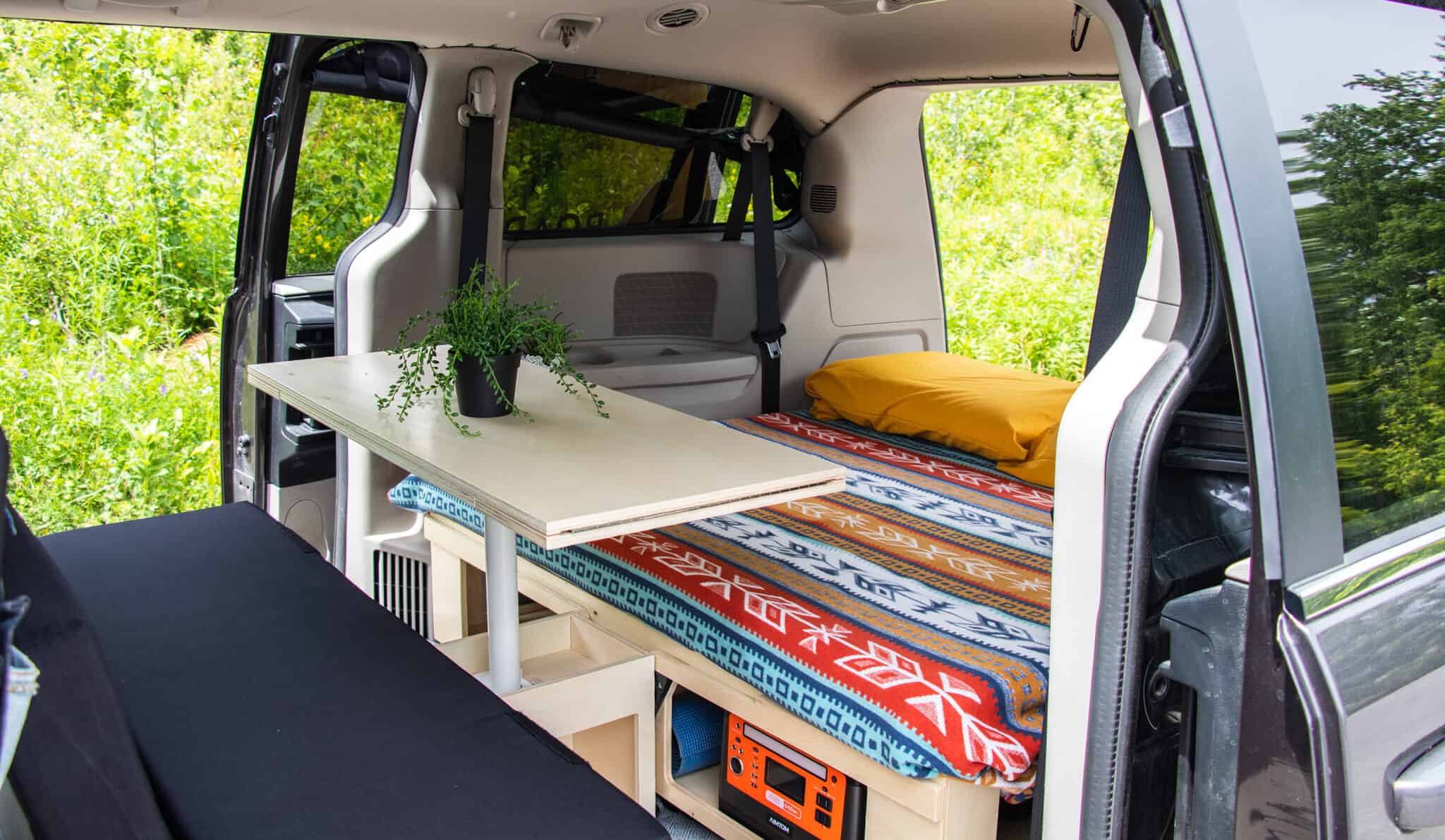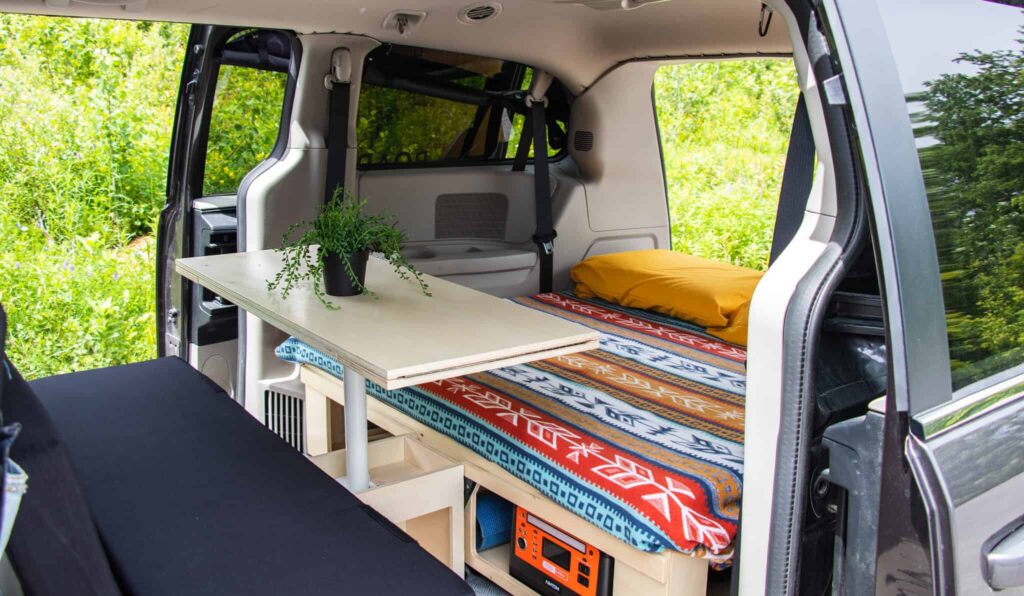 ROADLOFT has a conversion kit compatible with 2008-2020 Dodge Grand Caravan minivans. The kit takes only 5 minutes to install, requiring only a flathead screwdriver – making it an excellent choice for people who want to be able to hit the road fast!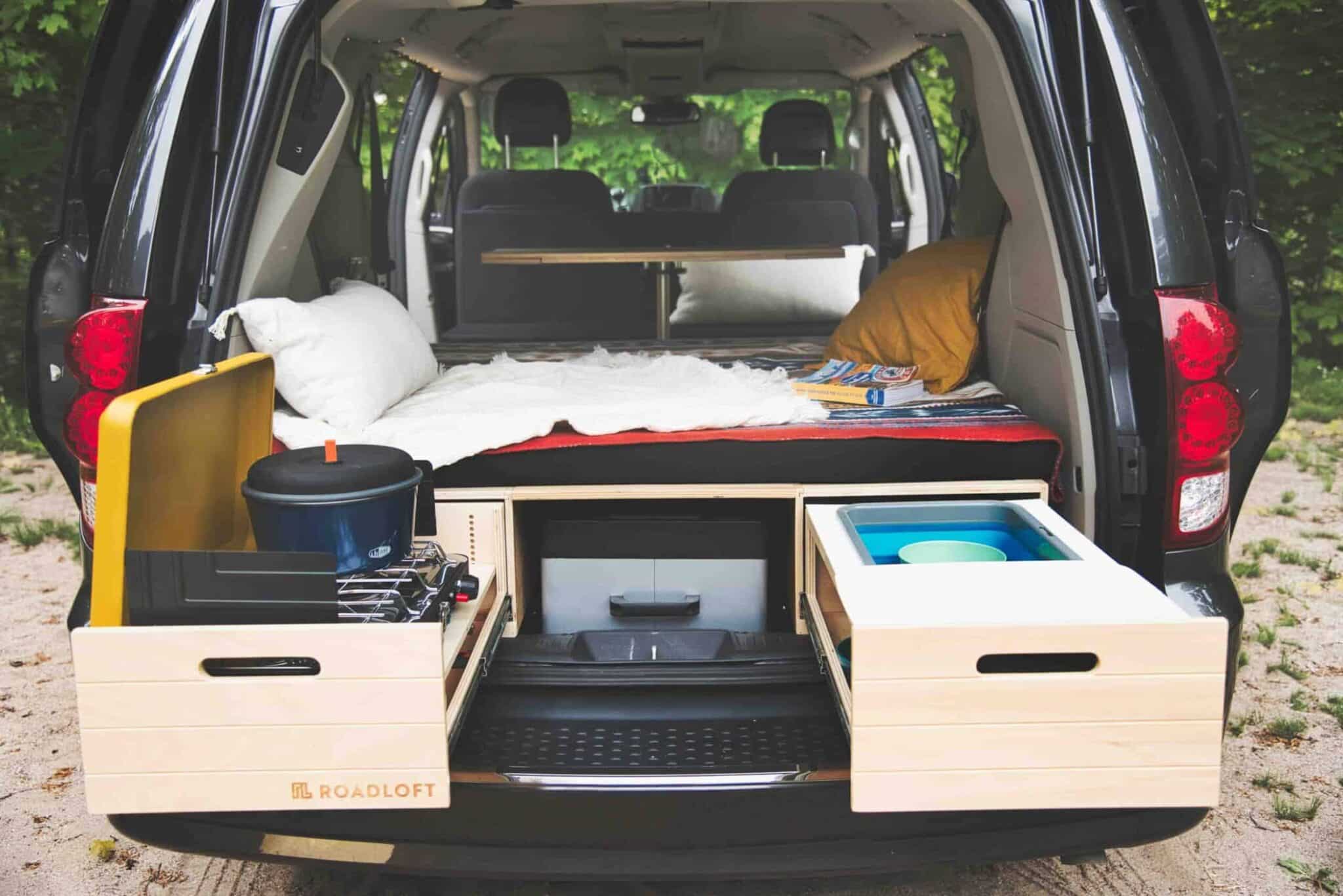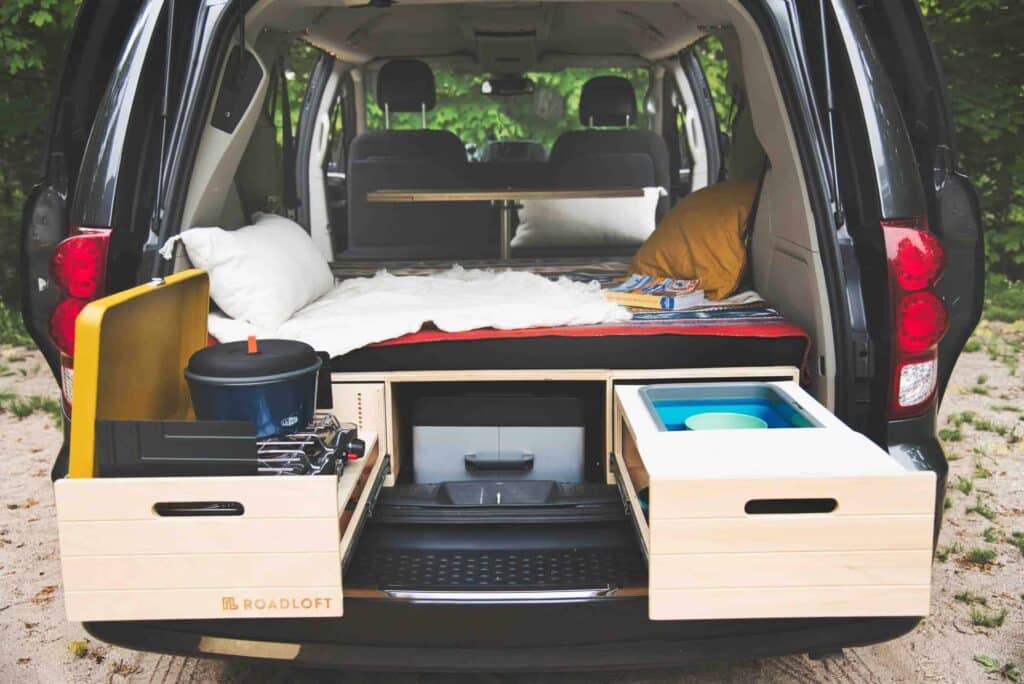 The kit is made out of sustainably managed wood. It includes a mattress, bed frame, and table that convert into a dinette setup, and deep storage drawers that create an outdoor kitchen out of the back of the Grand Caravan. The kitchen has a drawer, an integrated cutting board, a collapsible sink, and space for a camp stove and fridge.
You will need to remove the second-row seats to install this kit. Removing the third-row seats is optional.
2. This plug-and-play conversion kit from Freeway Camper Kit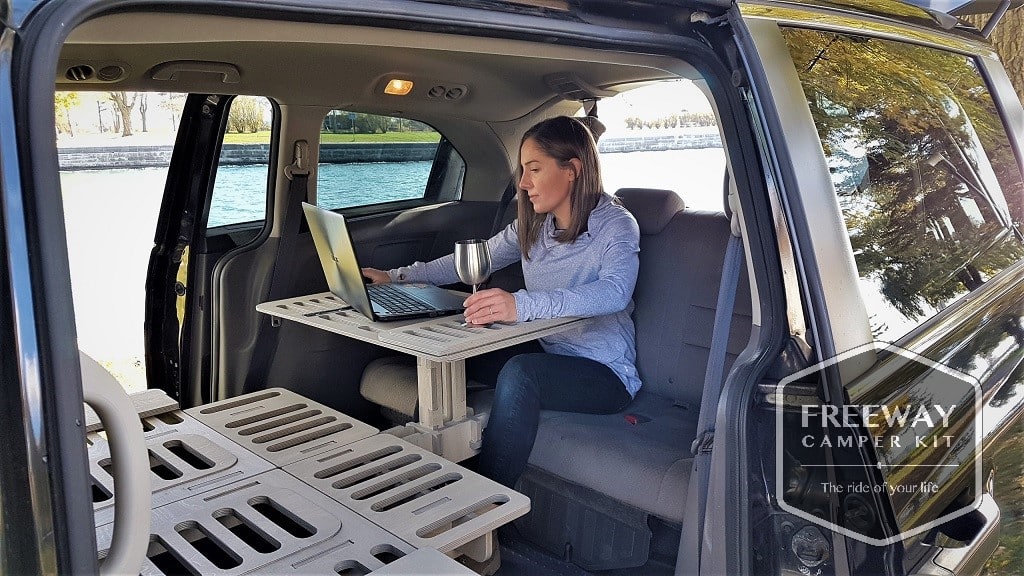 Freeway Camper Kit has a camper kit known as the Grand Caravan, specifically designed for the Dodge Grand Caravan and the Chrysler Town & Country minivans. The kit is compatible with the 2008 to 2020 models of these vans.
The second-row seats need to come out for installation, but the third row can remain in place, meaning your van can transport up to 5 people during camping trips.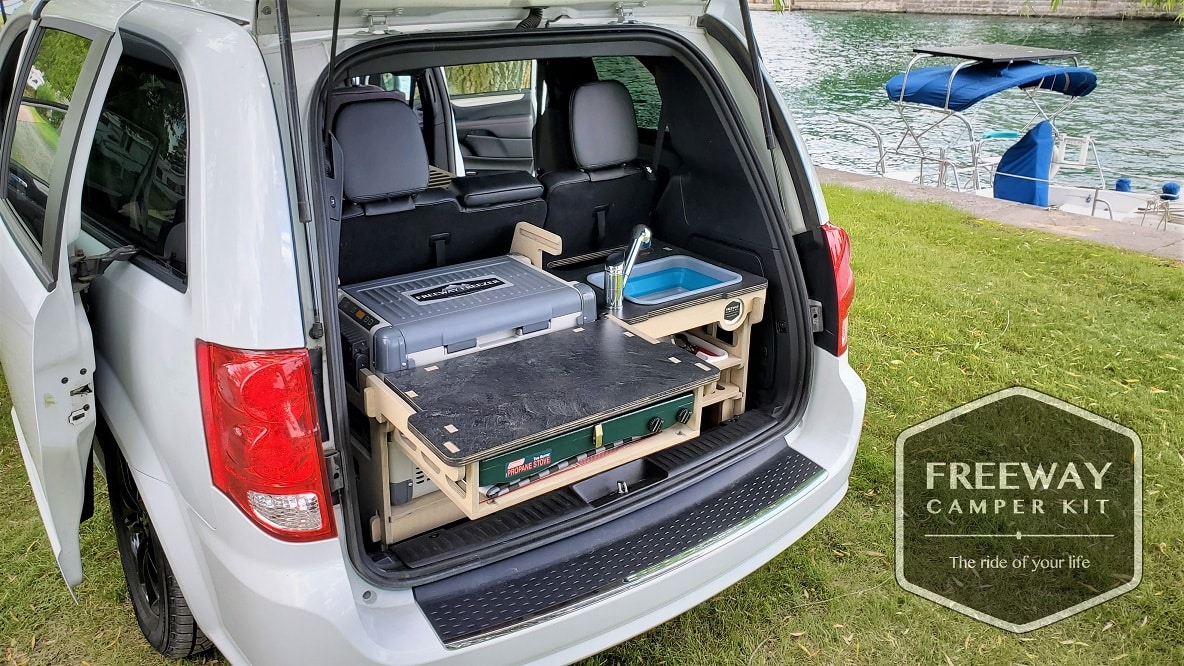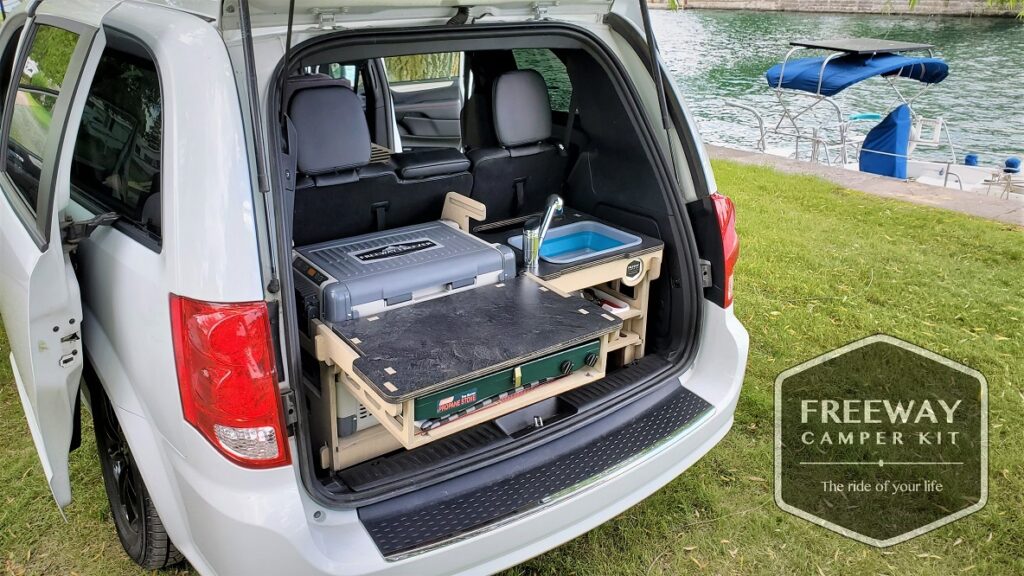 The kit includes a bed that can sleep two adults and one child, an interior table for working and eating in the minivan, and a kitchen located in the back of the van with a fridge, sink with running water, and storage space for a camp stove.
This camper kit is plug-and-play and easy to install. It uses existing anchors to secure various pieces to your Grand Caravan, making it an excellent option if you're using your minivan for weekend camping trips.
3. This conversion kit with single and double bed options from Vanpackers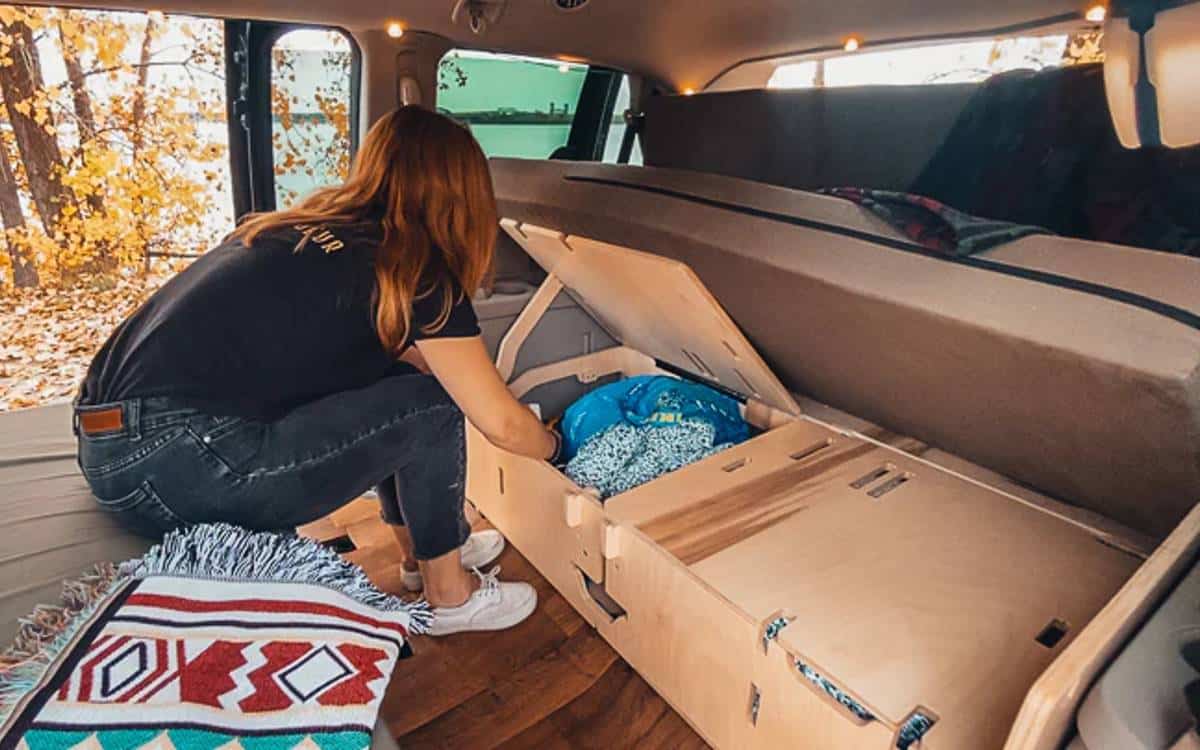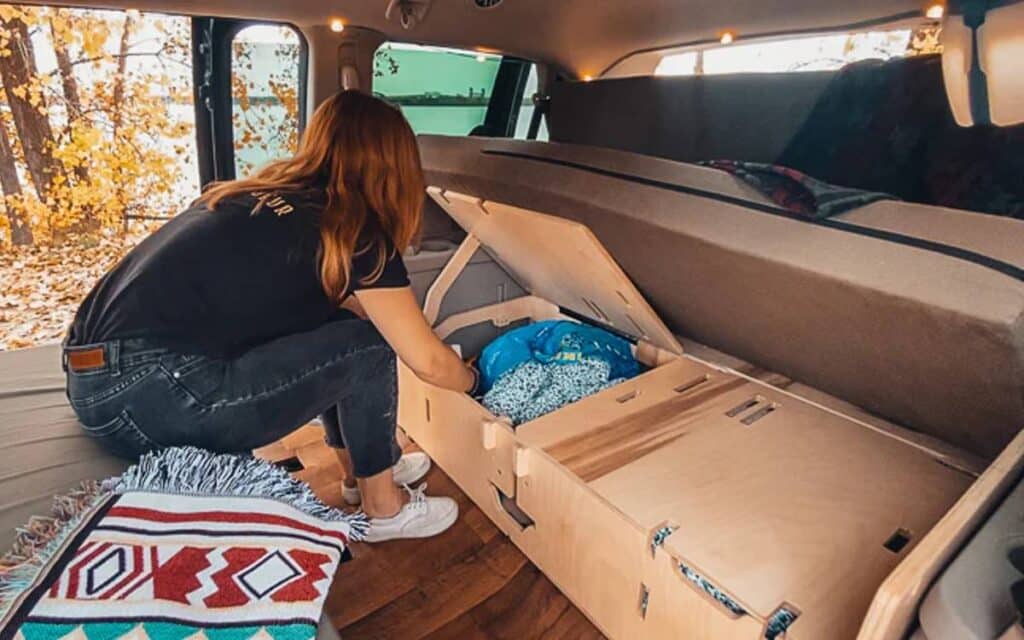 Vanpackers minivan conversion kit is compatible with the 2008-2020 Dodge Grand Caravan minivans. We love that this kit can have either a single or double bed. It's perfect for people who may be camping solo sometimes and would prefer the option of more interior space without eliminating the option of accommodating an additional person on other trips.
The bed platform pieces come with deep storage space. The kit includes a mattress, water tank, retractable sink, camp stove space, and interior table. Optional add-ons and upgrades are available, such as a thicker mattress, a cooler, a camp stove, and Weathertech curtains, making this a one-stop shop for your camper conversion needs.
Build Your Van
The Ultimate Van Build Guide
Planning a van build? Read our free guide. We cover just about everything you need to know – from planning, to insulation, to solar and electrical, to picking appliances, to essential tools. Get started today so you can get out there on the road!