The Subaru Forester is an excellent option for a DIY camper conversion. Although it's a lot smaller than huge vans like the Sprinter van or Ford Transit, it's an extremely nimble and capable SUV camper with a lot of advantages for life on the road (or weekend car camping). With a little creativity and some elbow grease, you can convert your little daily driver into an off-road adventure vehicle.
The Forester's extremely capable all-wheel-drive system and ground clearance mean it can handle all but the gnarliest of roads. The large cargo area can fit all the amenities, and with the rear seats folded down, have plenty of space inside for sleeping. What's more, the 700lbs of roof rail capacity means you can carry tons of gear in a roof box, and even mount an awning.
All in all, the Forester can be an excellent choice if you are considering converting an SUV into a camper. There are many ways to configure the interior, whether you are looking for an easy-to-convert weekend camper or are getting ready to hit the road full-time. In this article, we have gathered some fantastic DIY builds to inspire your next camper conversion.
Build Your Van
The Ultimate Van Build Guide
Planning a van build? Read our free guide. We cover just about everything you need to know – from planning, to insulation, to solar and electrical, to picking appliances, to essential tools. Get started today so you can get out there on the road!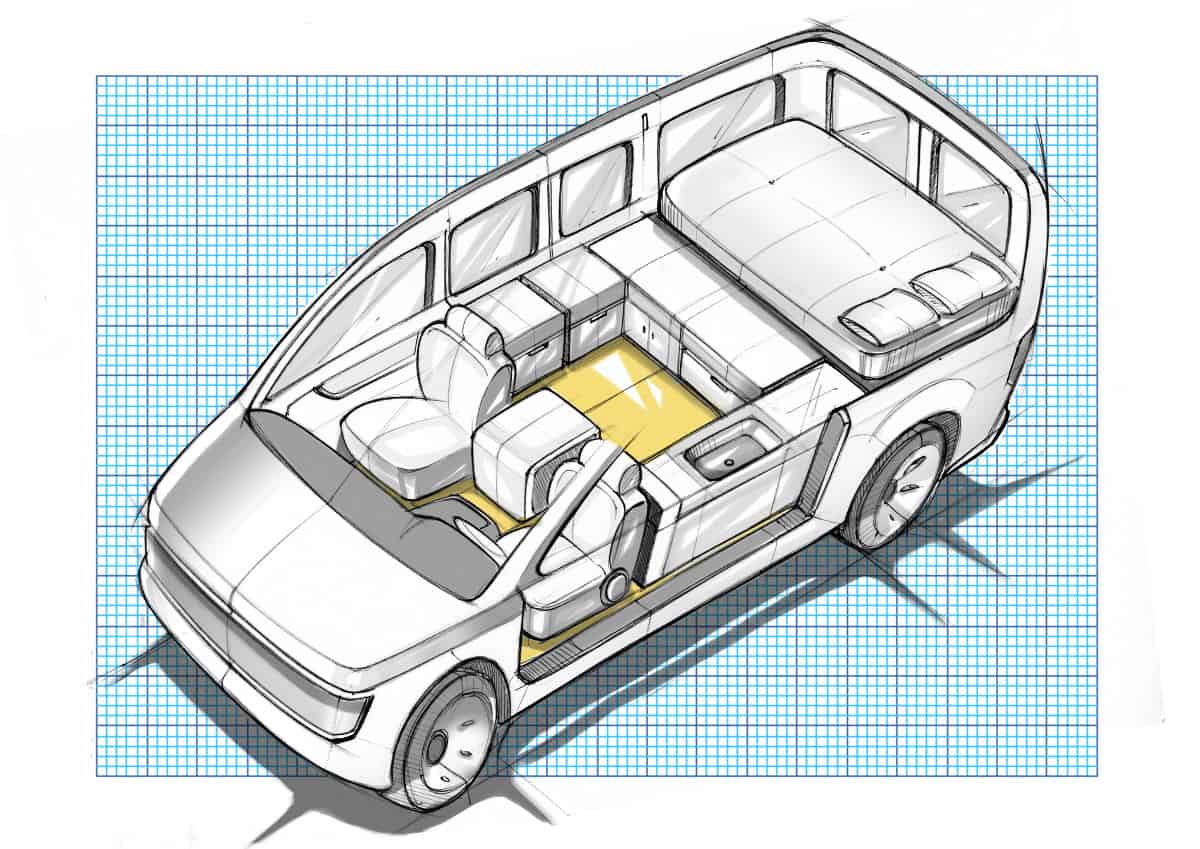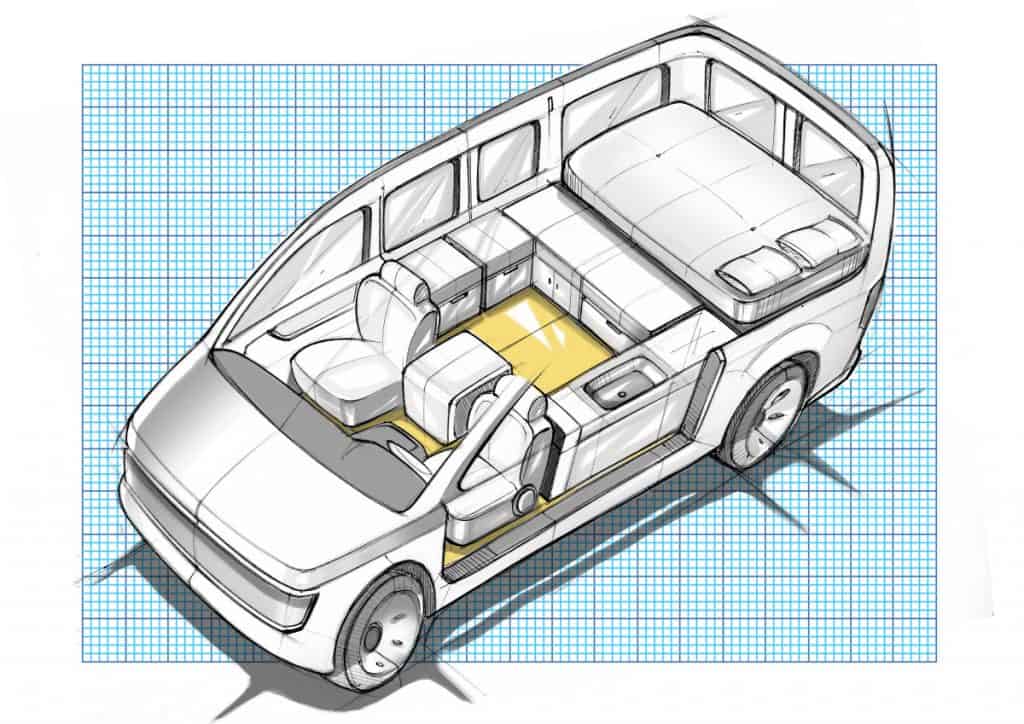 What is the Subaru Forester?
The Subaru Forester is a compact crossover SUV manufactured by Subaru. Initially built with the taller station wagon design of a Subaru Impreza, the Forester eventually became a crossover SUV, competing with the likes of the Honda CR-V and Toyota RAV4.
Like its cousin, the Subaru Outback, the Forester is known for its reliability and high safety standards, as well as the performance of its All Wheel Drive system. Either vehicle is an excellent idea for a camper conversion.
Whether you are considering purchasing a new or used Forester, there are plenty of options, so you can quite possibly find one in a condition and price that works with your budget.
Pros and Cons of Subaru Forester Campers
Pros
All-wheel drive. All-wheel drive is a standard feature on all Foresters, making it a good pick if you want to hit some back roads and unpaved camping spots. The vehicle's standard Symmetrical AWD and high ground clearance mean you can travel into more remote areas without worrying about getting stuck.
Tons of cargo capacity. From the large cargo area to the high-capacity roof rails, the Forester can carry all your gear.
Award-winning safety features. The Forester is a Top Safety Pick+ vehicle with advanced safety features. New models include EyeSight Driver Assist Technology and emergency automatic steering to keep you safe while on the road.
Compact frame. The Forester's compact frame makes for easy maneuvering. Through tight city streets, parking garages, or narrow mountain roads, this vehicle's size will give drivers confidence while traveling through various environments.
Long-lasting vehicle. The Forester is known as a remarkably lost-lasting vehicle. 97% of Foresters sold within the last ten years are still on the road. If you want a reliable SUV, this might be it!
Fuel efficiency. Current models of the Forester average 26 miles per gallon in the city and 33 miles per gallon on the highway. At an estimated 29 miles per gallon combined, you'll be able to save a pretty penny on your cross-country road trips.
Cons
Higher price tag. Given all the pros listed above, it's no surprise that the Forester has a higher price tag than other compact SUVs. The Forester is a long-lasting vehicle that retains more value over time on the used market. You will likely have to save up a bit more for a Forester.
Less living space. Regarding camper conversions, there are more spacious options than the Forester. While it is sizable for its class, the 5-seat compact SUV has an interior volume of approximately 140 cubic feet, so you won't have as much room to work with.
DIY Subaru Forester Camper Conversions
1. This Subaru Forester Camper conversion with practical gear from @allisonanderson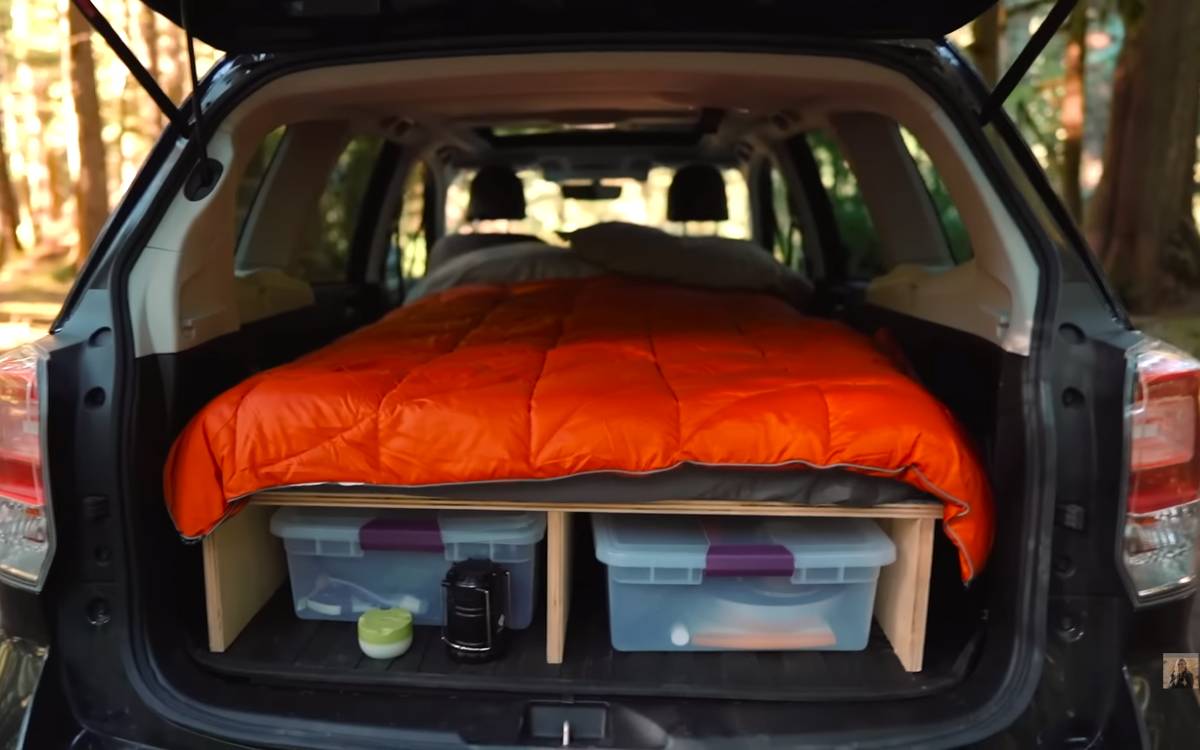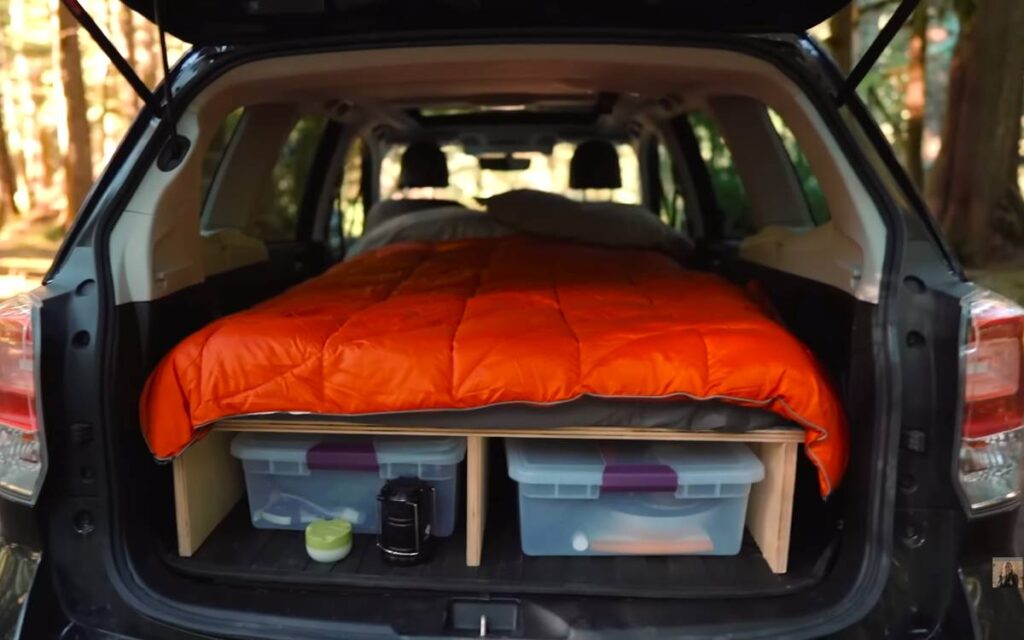 Allison converted her Subaru Forester for car camping trips. Her build includes a lot of helpful and practical gear that makes weekend camping a breeze in the SUV.
The central component of her build is a sleeping platform with storage underneath. The platform supports a twin mattress and is positioned lengthwise in the living space. Plastic bins help organize the storage compartments underneath the platform, where Allison stores her cookware and toiletries.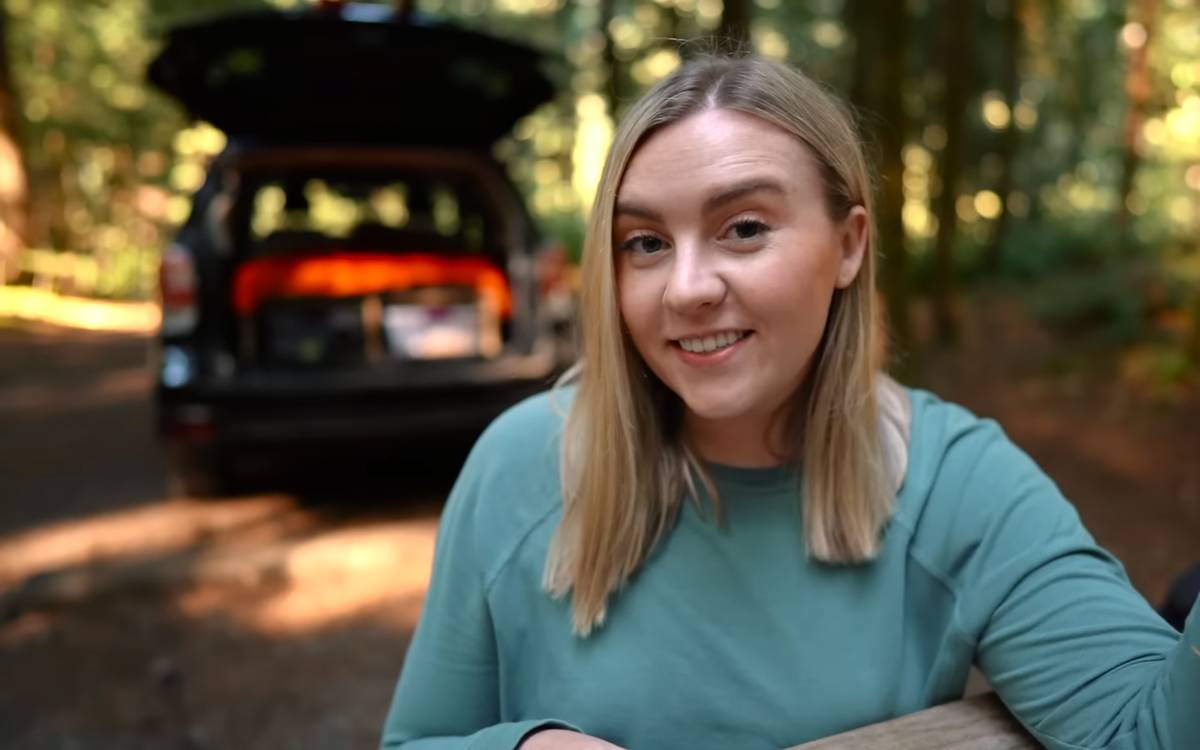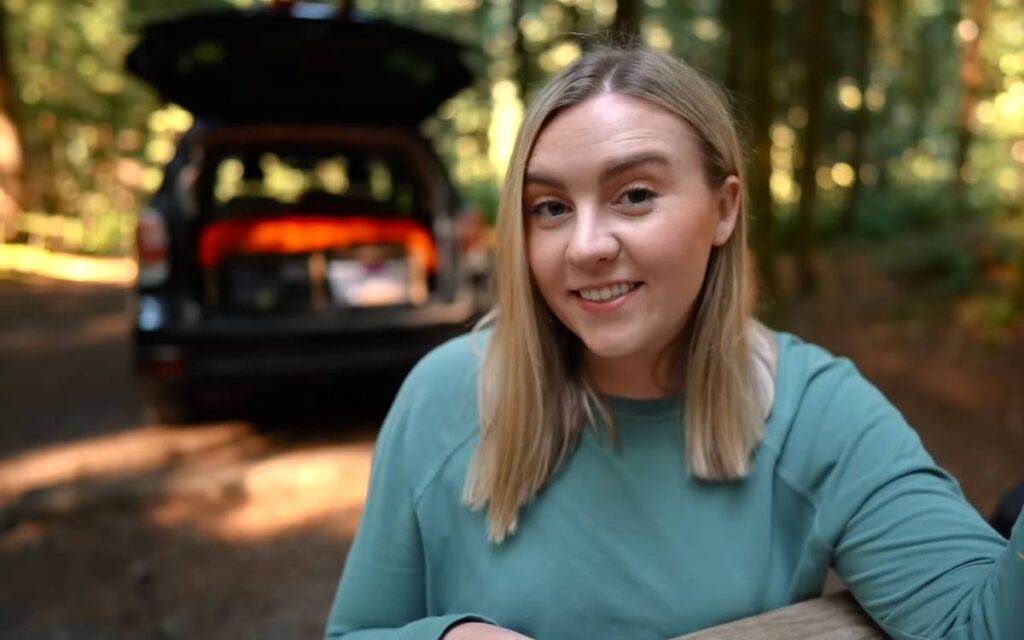 On the driver's side, she installed an awning on the roof rack. The awning provides a covered entrance before entering the vehicle, which is super helpful on rainy days. It is easy for Allison to set up the awning by herself, making it an excellent option for other solo campers. For showering, she uses a portable shower system and a pop-up tent.
Allison uses a Jackery Explorer 1000 power station to charge all her cameras and other devices. Two foldable solar panels charge the power station when camping, or Allison can also charge it from her vehicle while driving or plug it into a wall outlet.
2. This backcountry Subaru Forester car camping build from @softroadingthewest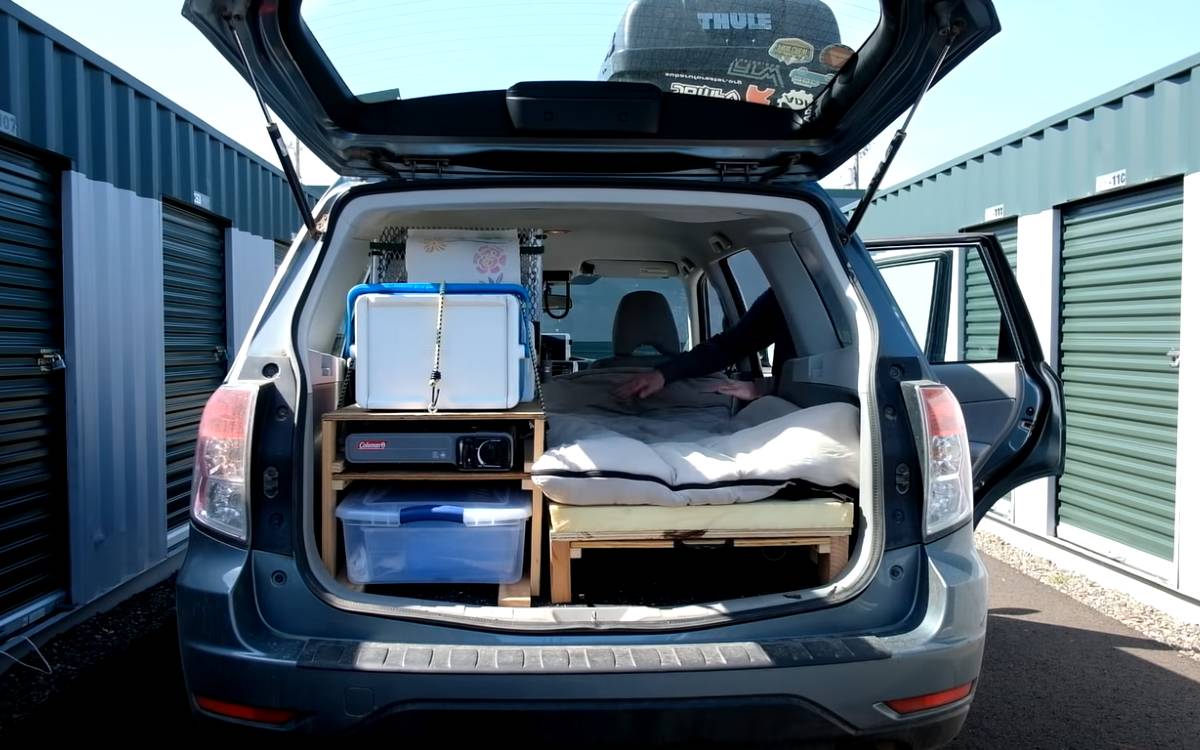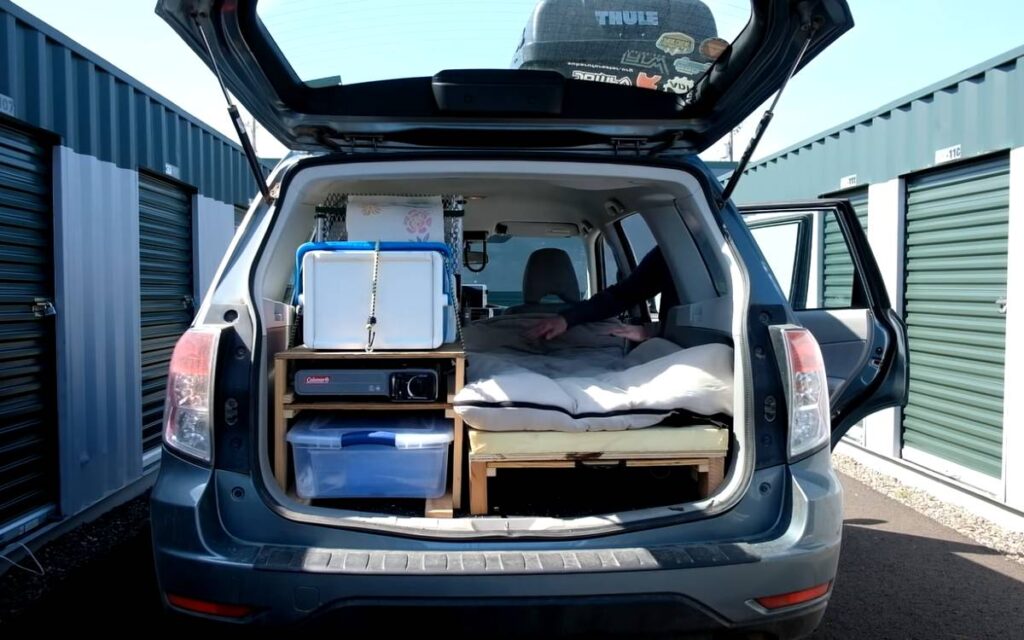 Donald converted his 2012 Subaru Forester for off-road adventures and backcountry camping. He outfitted the SUV with all-terrain wheels and tires and a one-inch lift kit, amongst other updates that help protect the Forester while off-roading.
He installed a light bar and exterior lighting to assist him when driving down unlit paths at night. The light bar also protects the front bumper of the Forester. On the roof, Donald has a Thule storage box, tools, and an awning secured to the roof rack.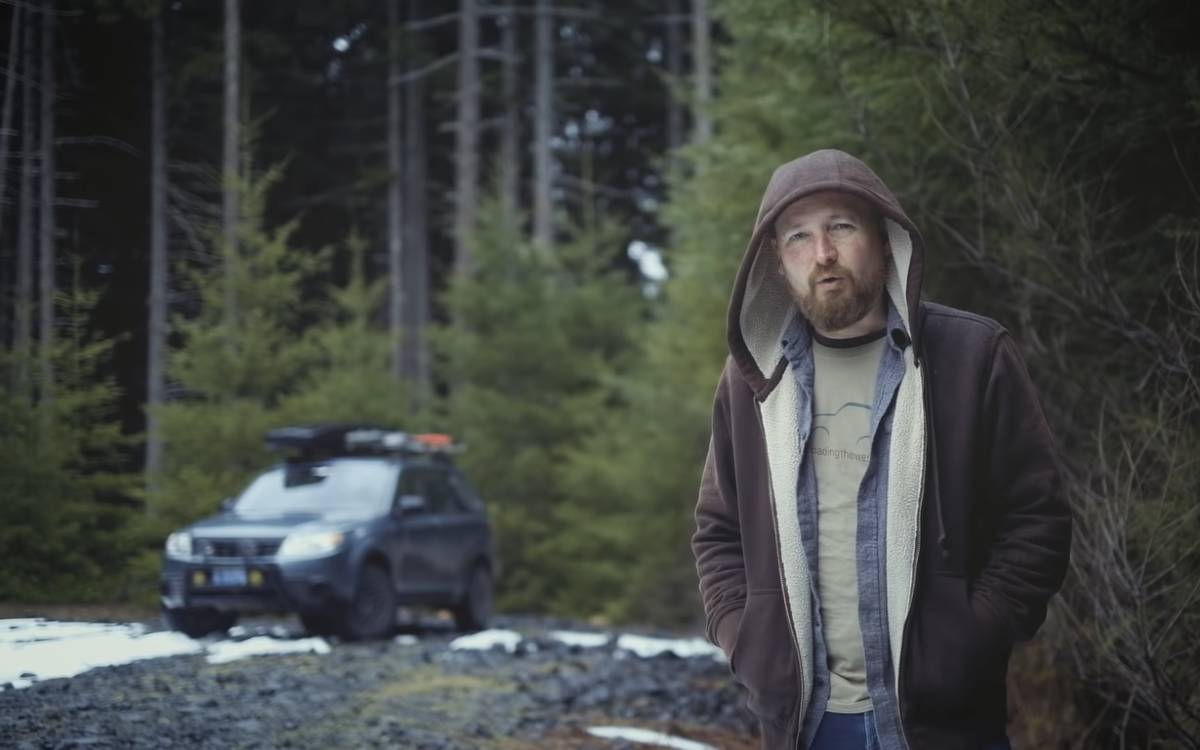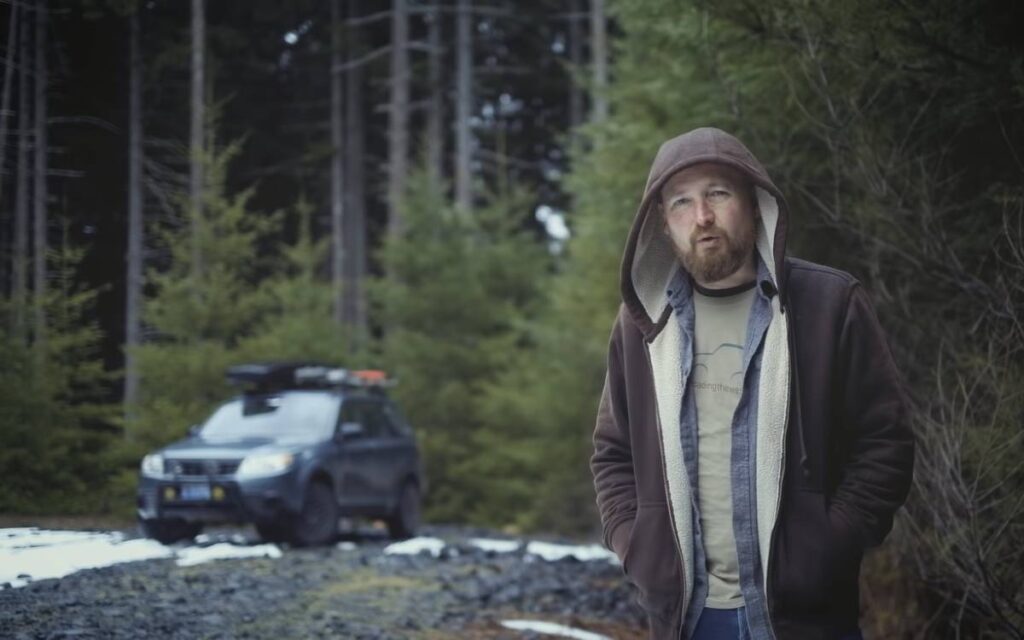 For the interior setup, Donald folds down the back seats, inserts a low platform that provides plenty of headroom, and levels out the base for sleeping lengthwise on the vehicle's passenger side. There is a small amount of storage space beneath it and a homemade slide-out table used for an outdoor kitchen from the back of the Forester.
3. This conversion for full-time travel from @eldantzler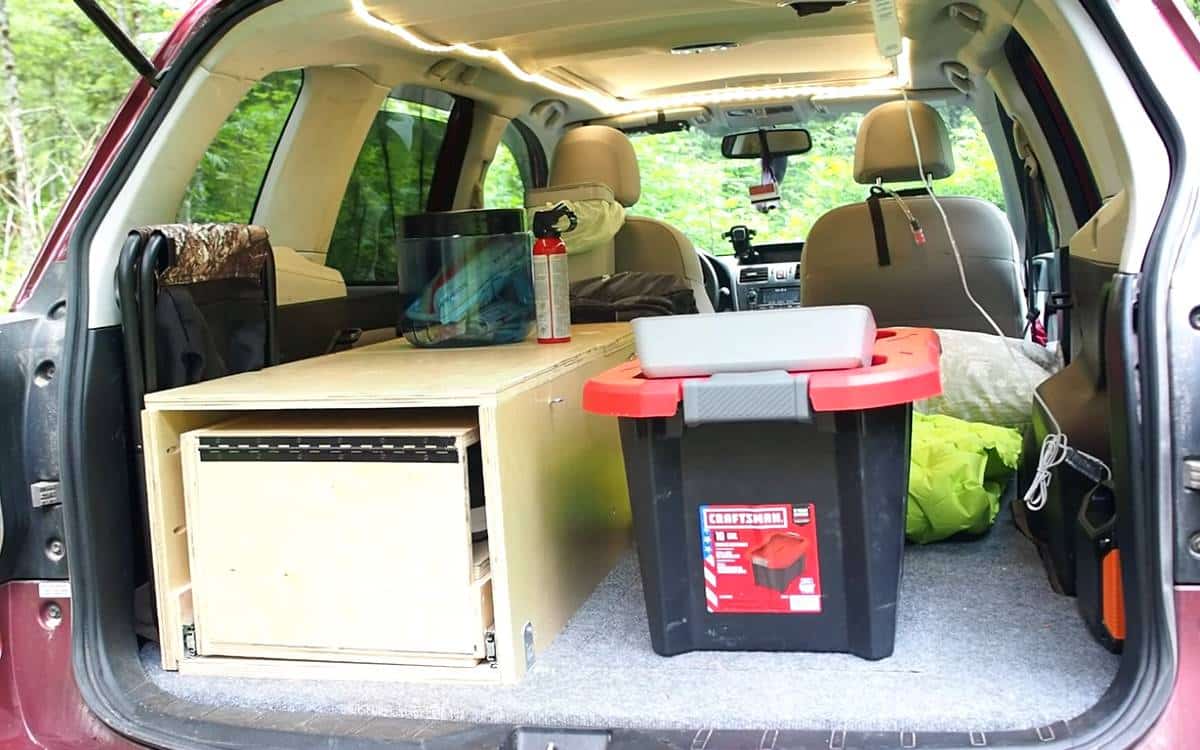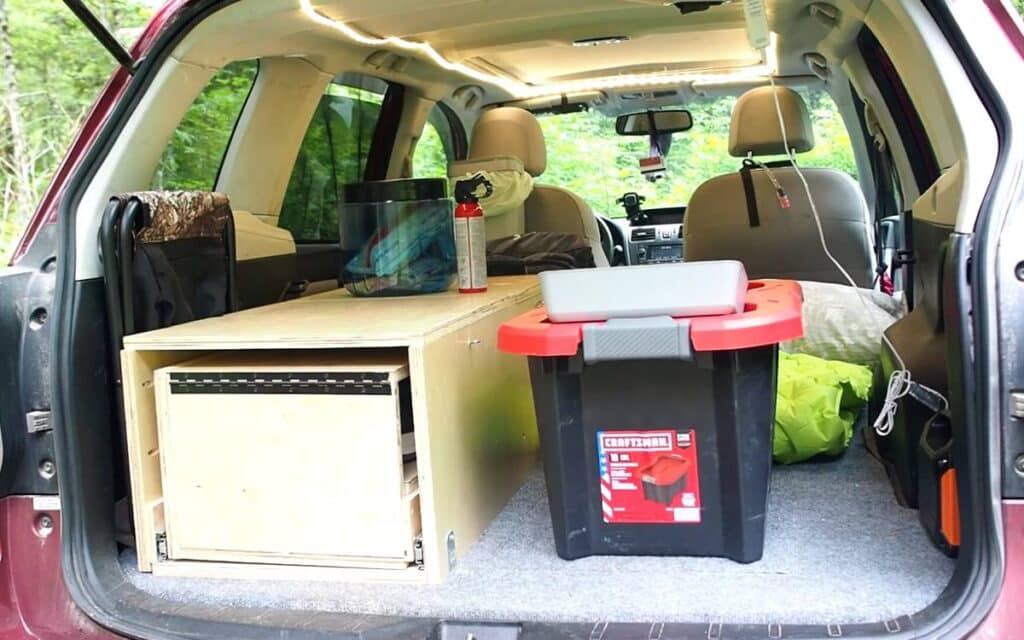 El converted her 2014 Subaru Forester to live in while traveling the US. She had some additions installed for her travels, like a 1-inch lift kit, a roof rack, and all-terrain tires.
Behind the front seat is a cabinet running parallel to the back, which slides out to create an outdoor kitchen. The top of the drawer flips outward for more counter space. The drawer holds spices and cooking gear, and a plastic bin on or beside the cabinet stores food.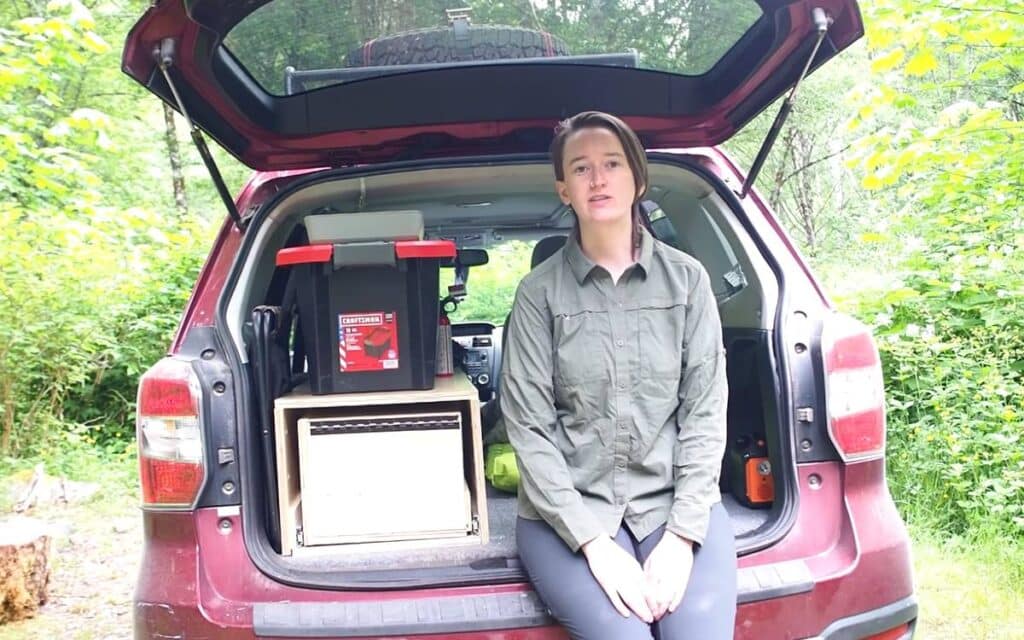 El lays a sleeping pad opposite the cabinet for a simple bed solution that can be stored during the day and leaves tons of clearance inside the Forester.
She opted to use the space where the spare tire used to be in the interior flooring as storage space for clothes, linens, window covers, and a tent. LED strip lights are adhered to the ceiling in the SUV to provide lighting at night. The lights connect to El's power station.
4. This Subaru Forester camper van with a low bed platform from @regan7940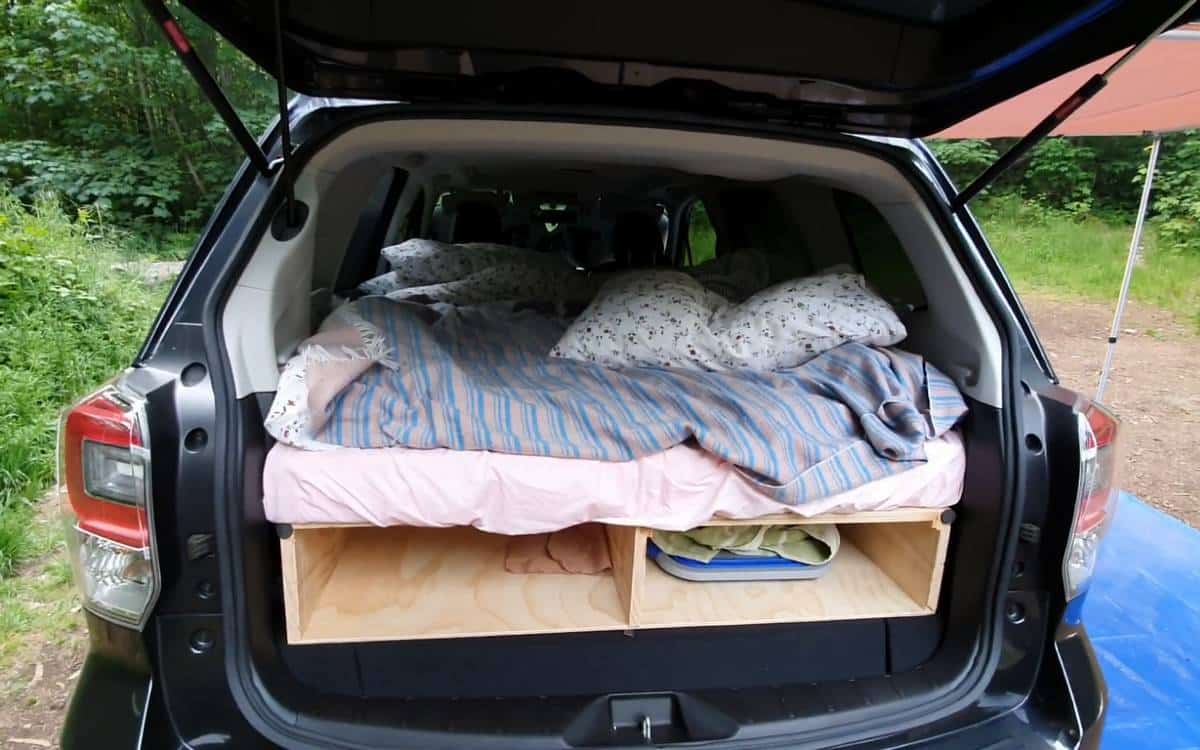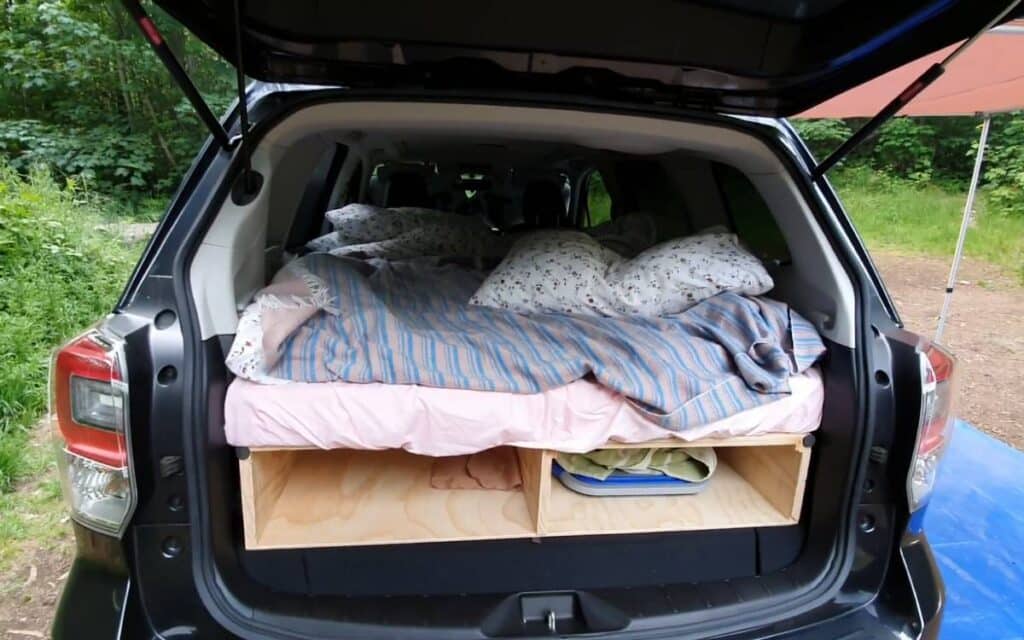 Regan built a setup for his 2017 Subaru Forester so that he could take it on camping trips. The setup includes features that are easy to take in and out of the SUV so it can remain Regan's daily driver.
He installed an awning on the roof rack of the Forester's passenger side, providing plenty of shaded outdoor space.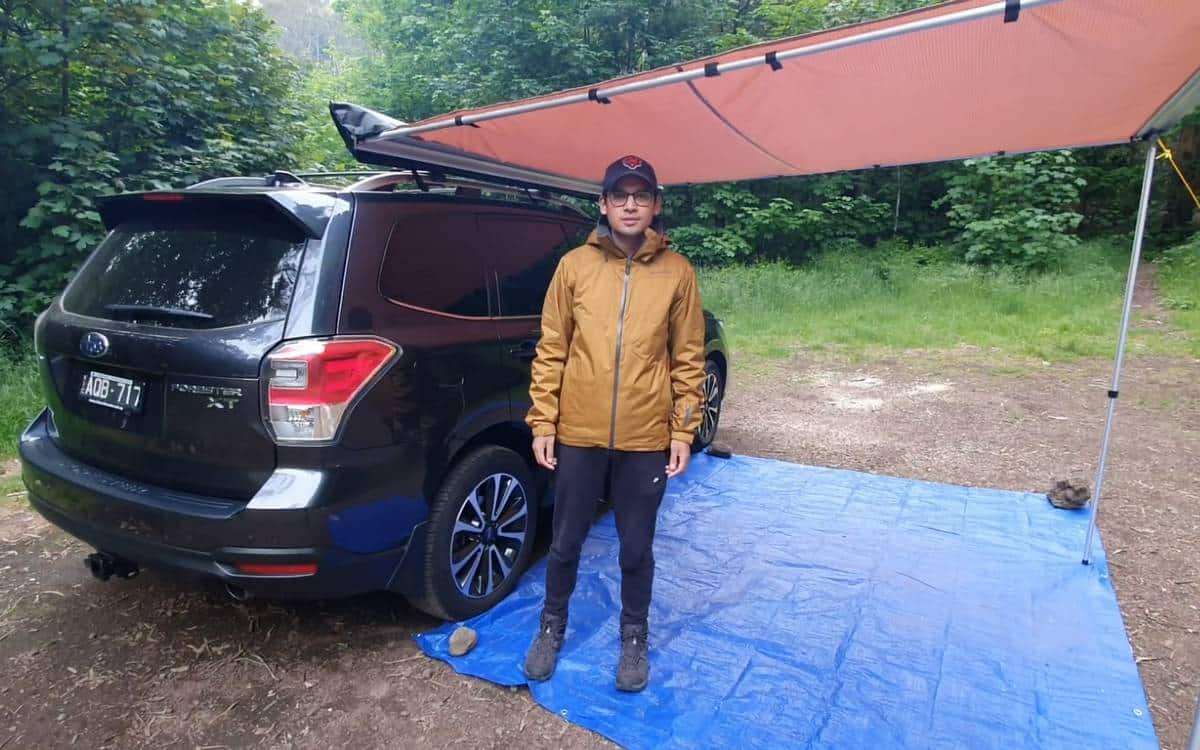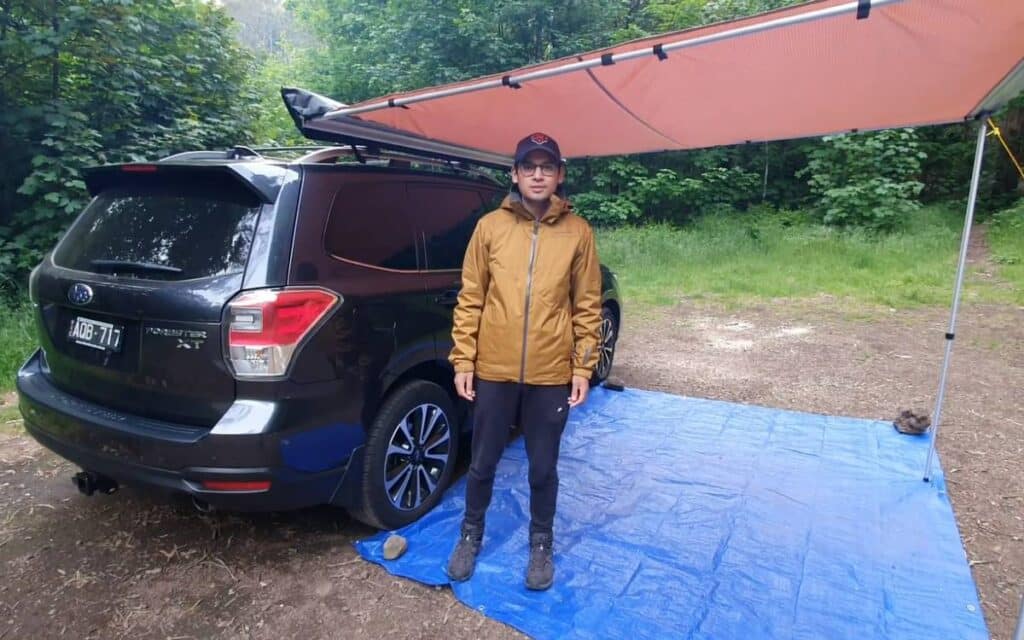 Regan built the van sleeping platform himself using plywood and screws. He opted for a low platform that leaves lots of headroom in the vehicle while still allowing for a decent amount of storage beneath the bed. We love how perfectly the plastic bins fit in this space and keep everything organized. A slide-out counter stored in the platform extends out of the back to act as a cooking space.
The bed space is big enough to accommodate a double mattress and comfortably sleeps two people. The platform has piano hinges, making it easy to store it away when it is not in use.
5. This dog-friendly Subaru Forester camper conversion from @popfizzpaper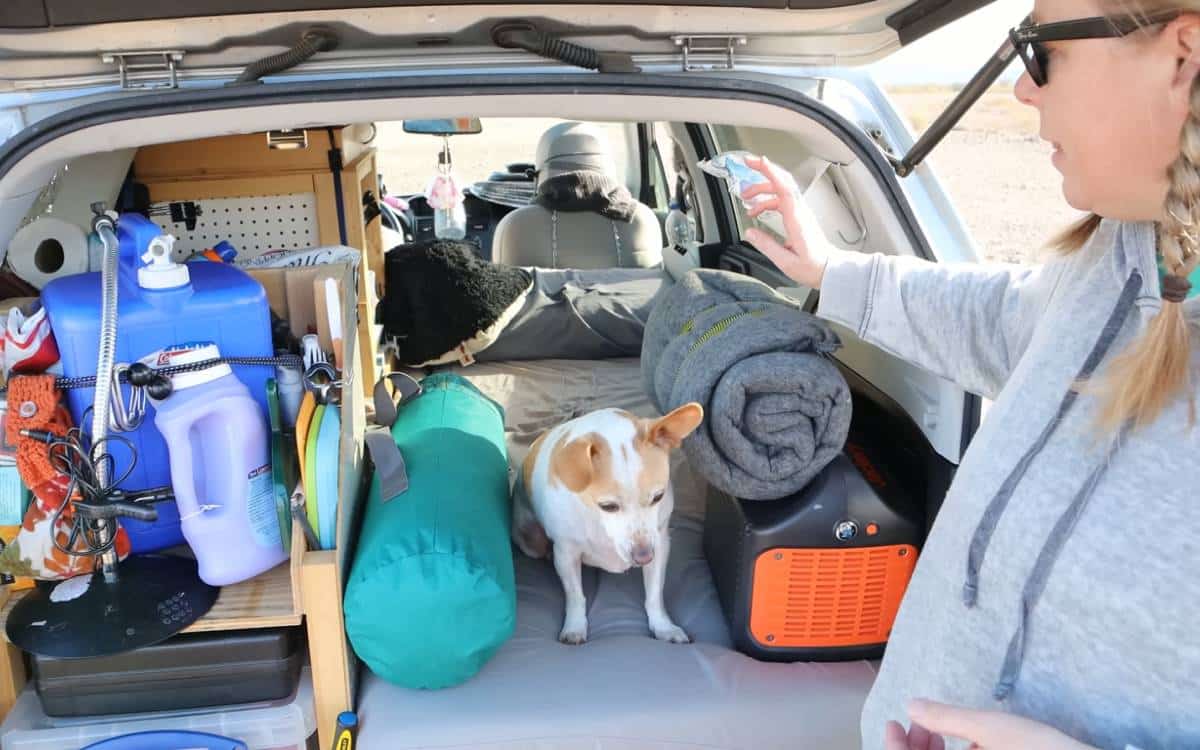 Dani travels full-time in her 2015 Subaru Forester with her dog, Archie. They split their time between campgrounds and stealth camping in towns.
Dani opted to remove the backseats from the Subaru, which helped her create a level bed platform. She bought a 6-inch tri-fold twin mattress from Amazon to go on top of it. She uses two of the three sections for her bed, running lengthwise on the passenger side. The third section is Archie's bed, located on the driver's side.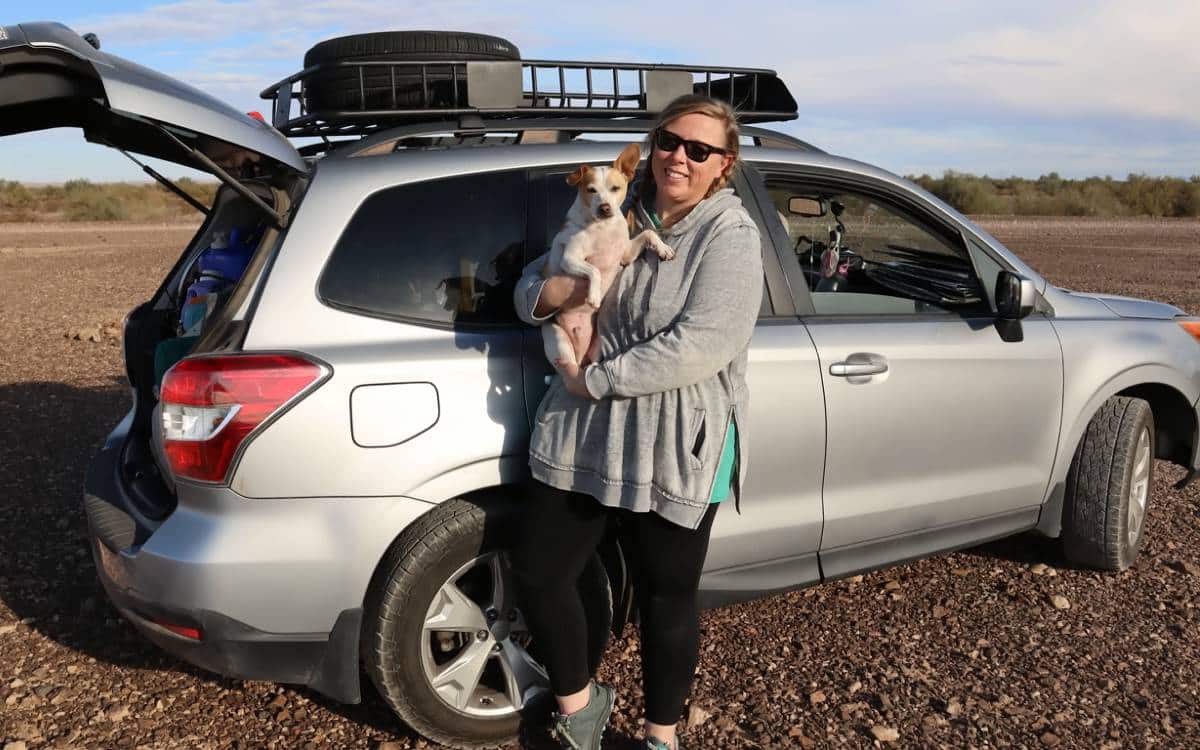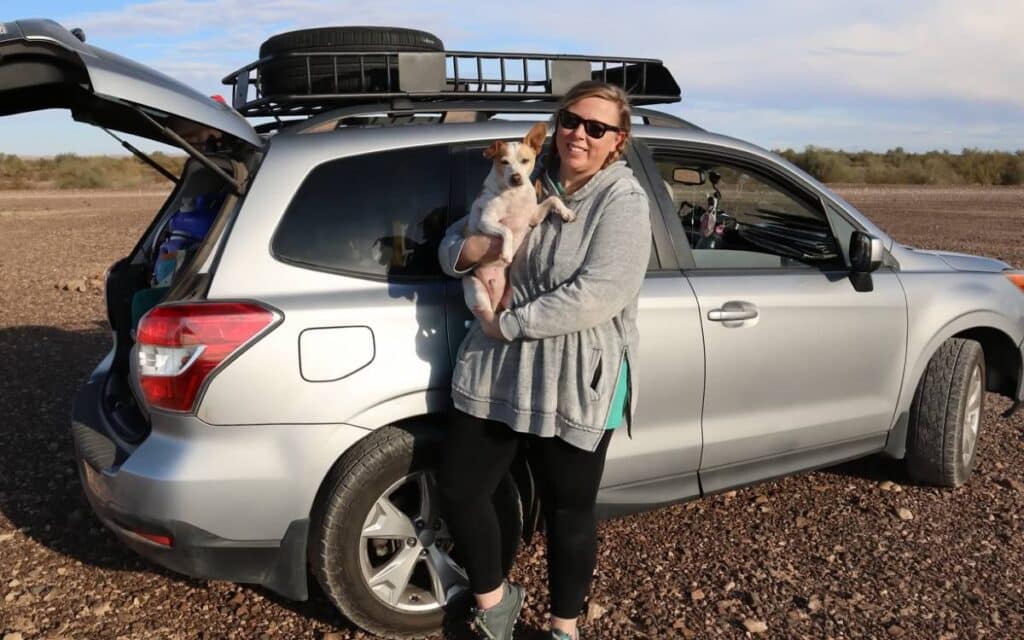 Dani created storage solutions on the driver's side since she doesn't have space under her bed. She made cubbies out of wood and used peg boards and bungee cords to hold items and keep her things secured.
For power, Dani uses a Jackery power station, which powers her USB fan, Archie's heating pad, and her other devices.
6. This no-build stealth Forester build from @rhodyfoody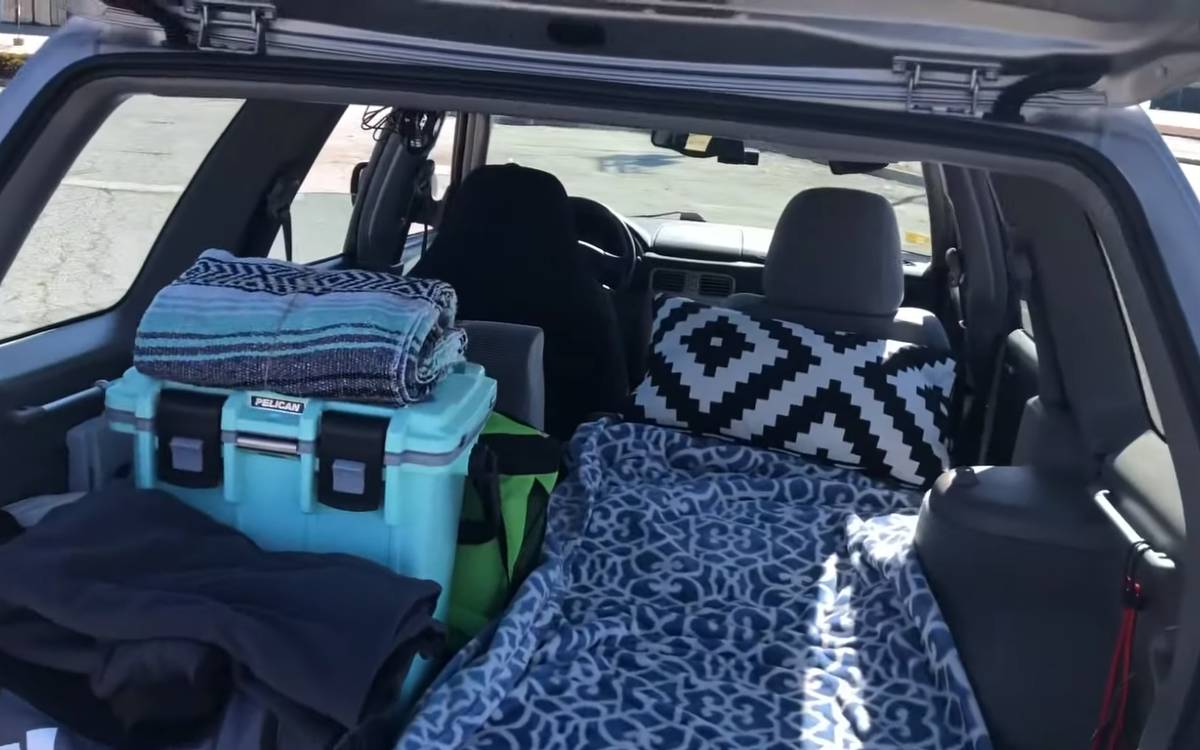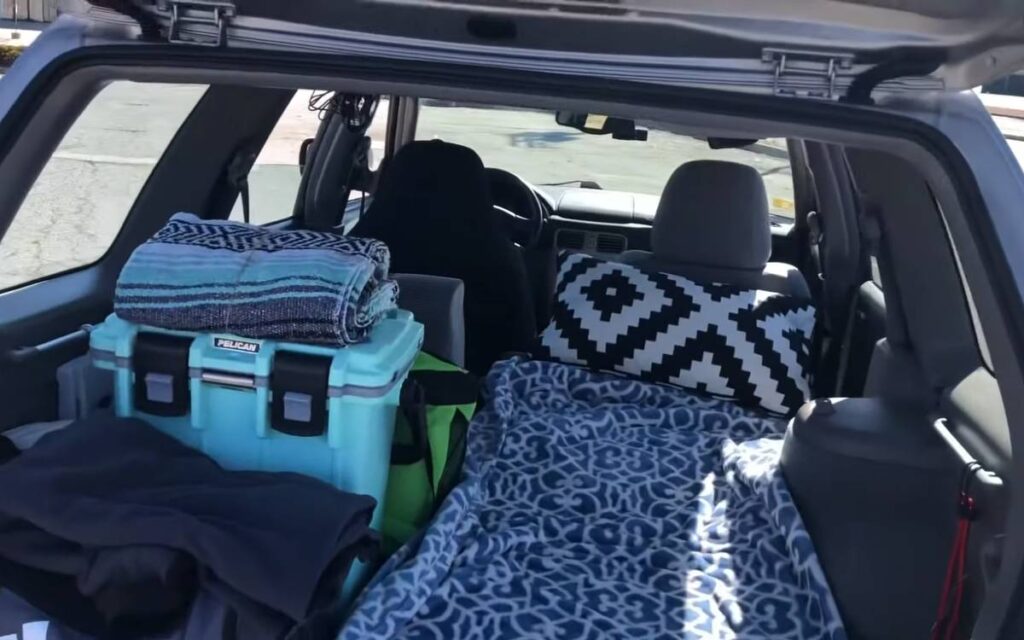 The Rhody Foody wanted to dip his toes into the vanlife lifestyle before investing in a van or an RV, so he took his 2006 Subaru Forester and converted it into a camper. This camper conversion is a budget, no-build build made with stealth camping in mind.
There is a bed running along the passenger side of the SUV, with a foam pad and yoga mat to add some cushioning. He only lays down the seats on the passenger side for sleeping, making it easy to transform the Forester during the day so that it doesn't look like a camper.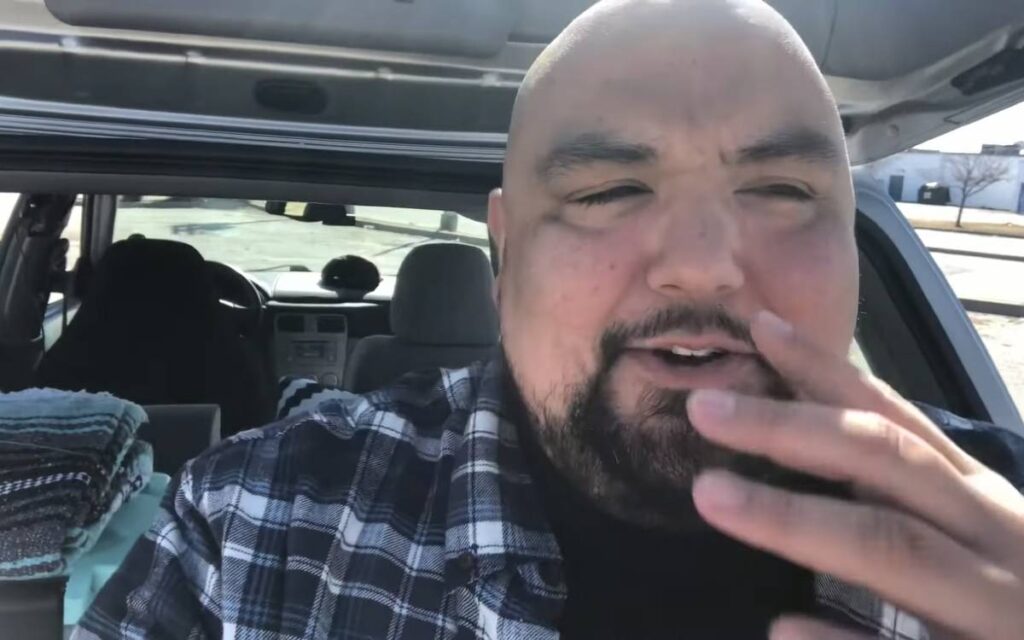 Rhody keeps all his clothes in a duffle bag. For food storage, he uses an insulated food bag and a Pelican cooler, which he keeps near the back of the living space. The Forester has small compartments beneath the flooring in the back that he uses to store a first aid kit and other miscellaneous things.
7. This winter Subaru Forester camping conversion for under $100 from @outdoorgoyo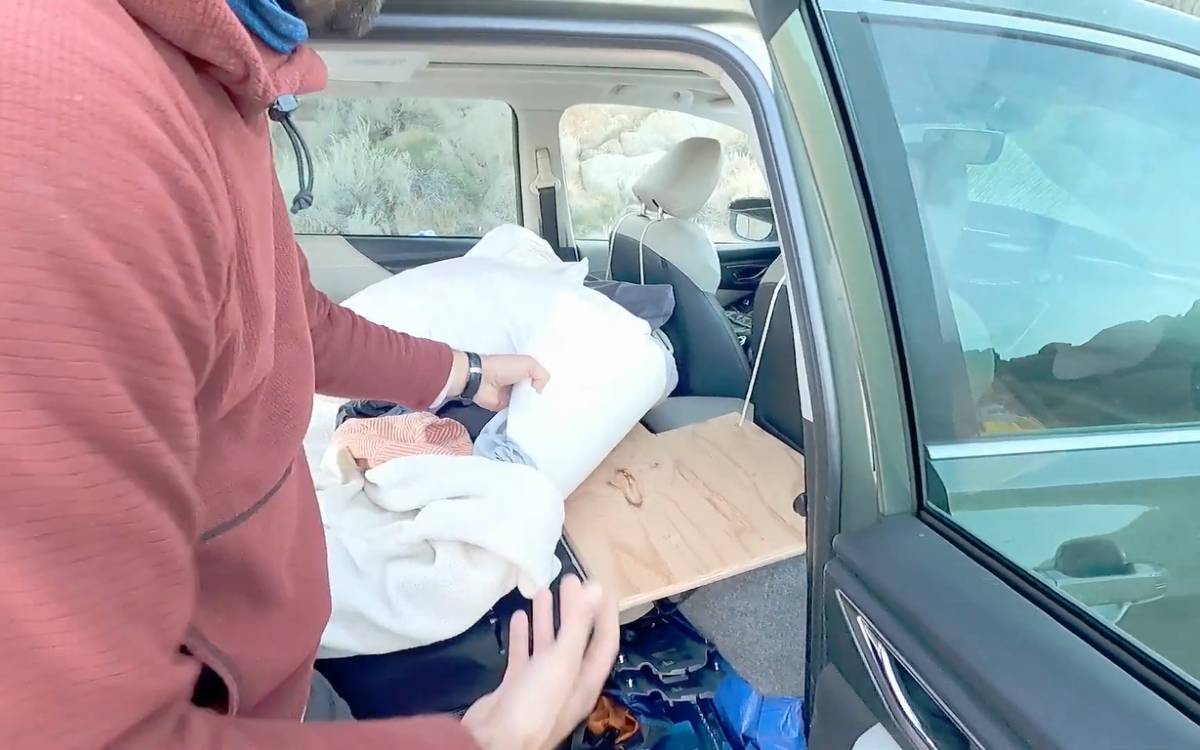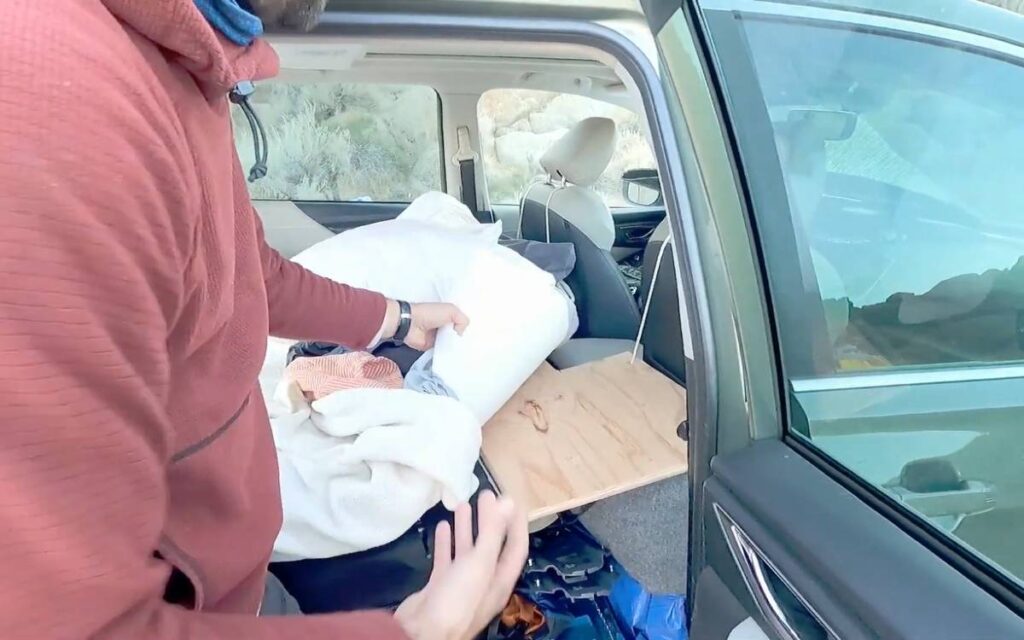 Greg and Hollis converted a Subaru Forester into a camper for under $100. This quick and easy conversion sleeps two people and is perfect for weekend camping. They even made sure their setup worked for winter camping.
They created a wooden platform suspended by rope from the driver and passenger seat headrests. The platform extends the length of the sleeping area to accommodate Greg's 6'2″ frame.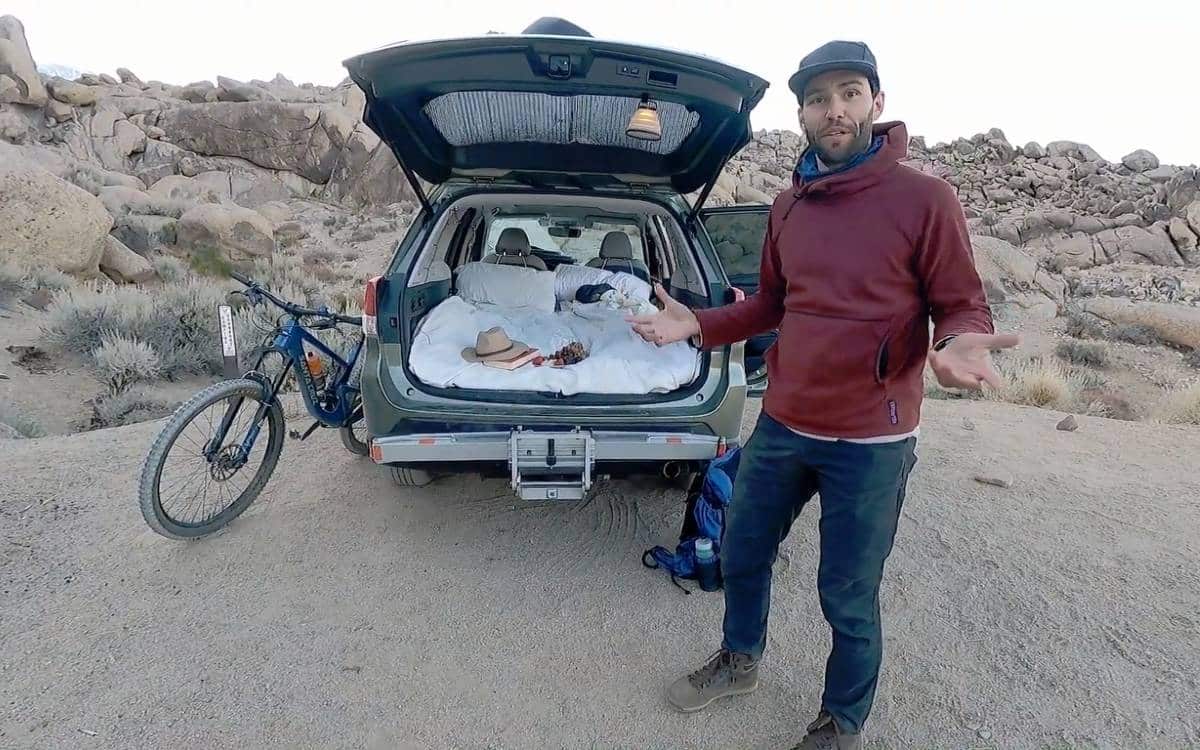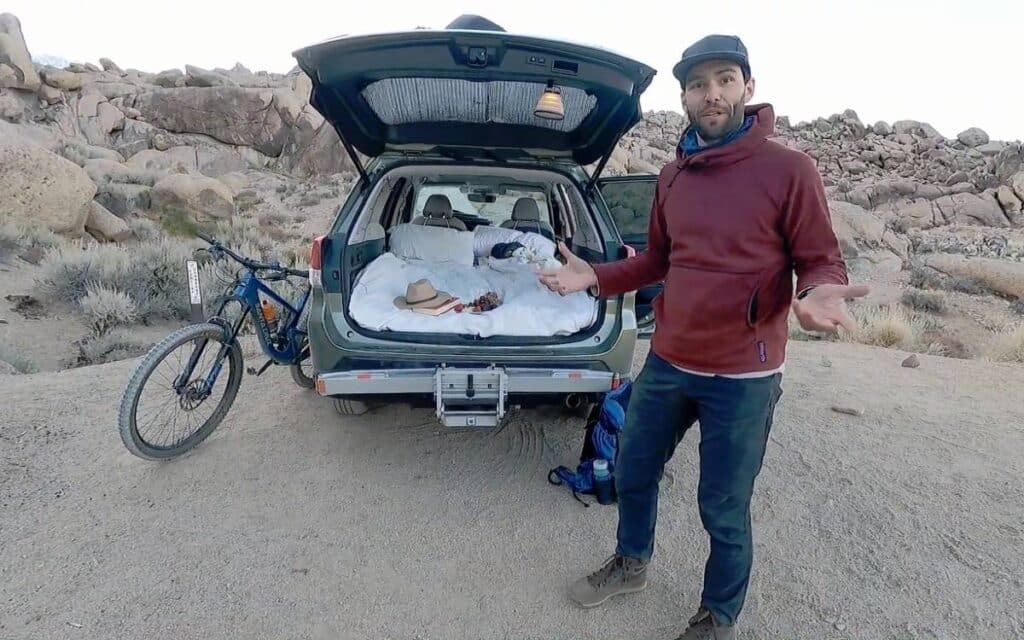 The couple puts two 2-inch mattress pads beside each other over the folded-down back seats to create a comfortable sleeping area and cozy it up with some blankets and a sleeping bag. Reflectix covers the windows to insulate the interior. This setup has allowed them to sleep in 10-degree weather.
8. This Forester build with a rooftop tent from @dogmominthewild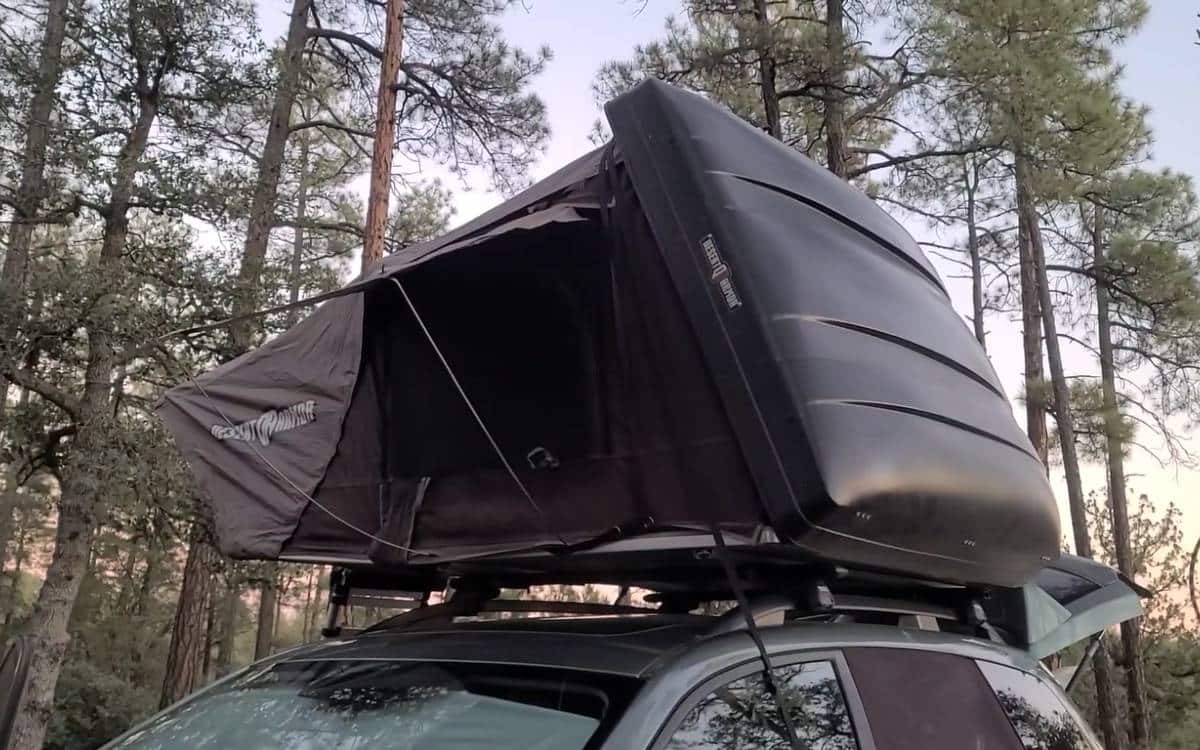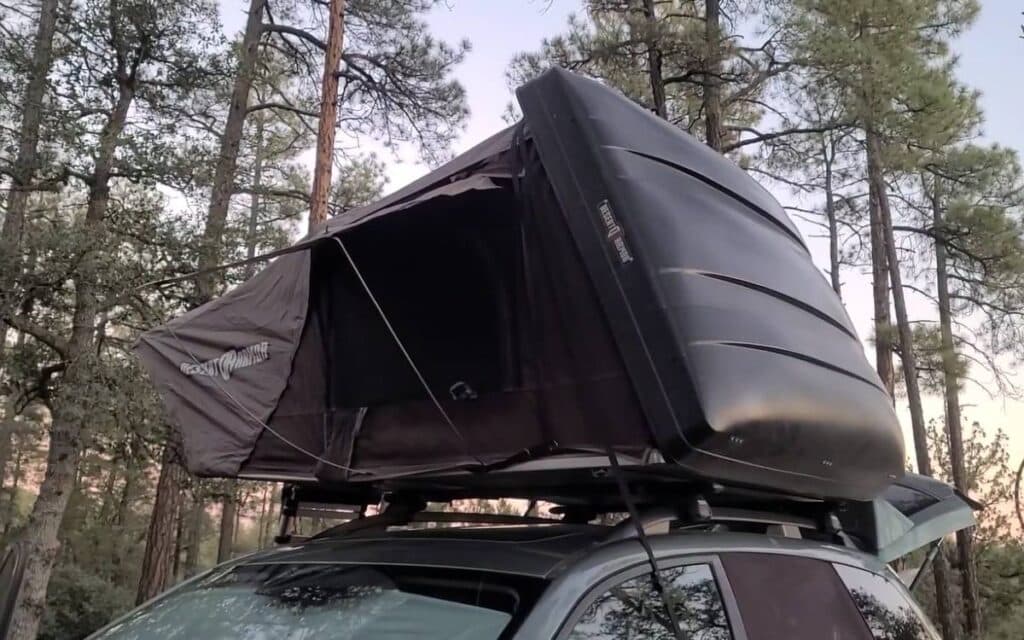 Jolene converted a 2017 Subaru Forester into a camper for full-time living. She utilizes a rooftop tent for her sleeping solution, accommodating her and her dog. Rooftop tents can be a good option for people who want to store their gear in their vehicle and need more space for sleeping.
The rooftop tent is a Desert Armor Warrior tent, which was installed on the roof of Jolene's Subaru by the manufacturer. She uses a special key to undo the latches that keep the tent stored while driving.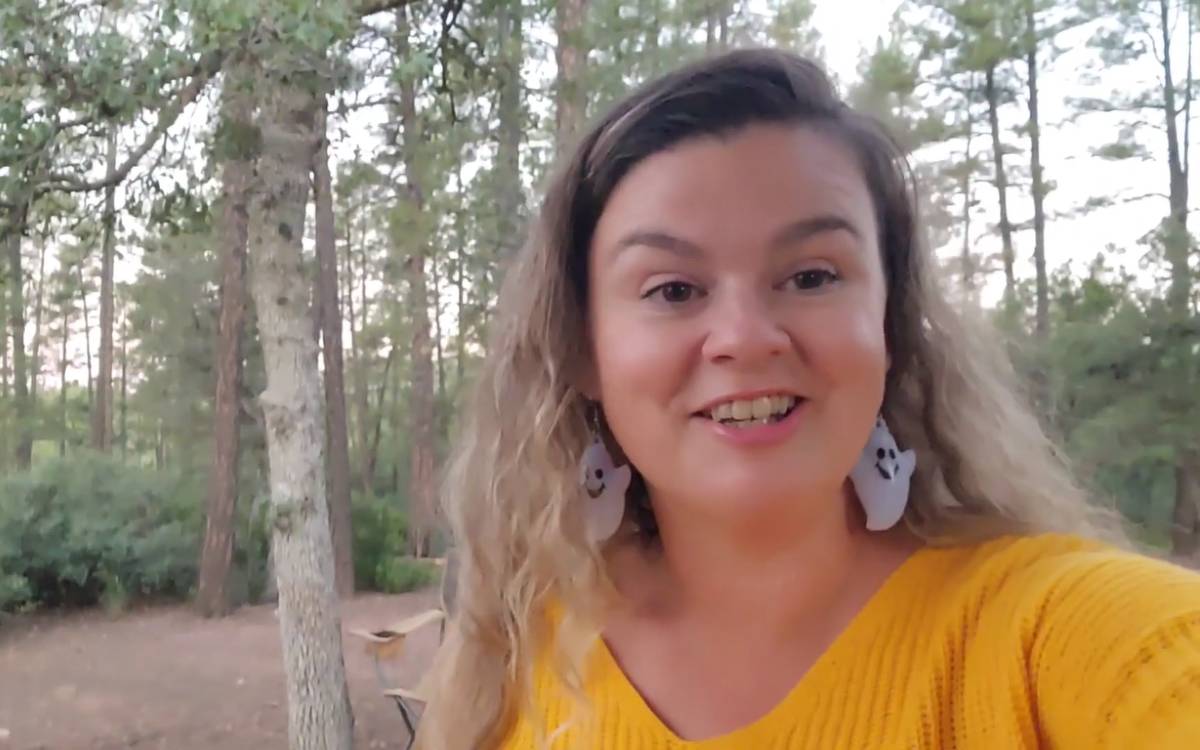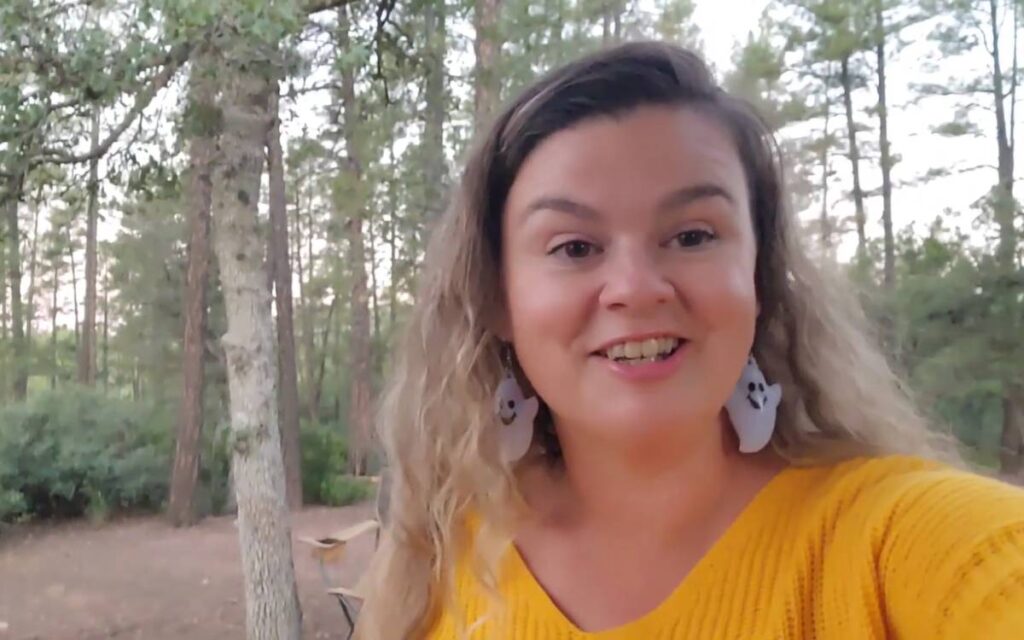 A ladder allows Jolene to climb into the tent and supports the section extending past the Forester's roof. The tent includes a queen-sized mattress, and Jolene layers some pillows, blankets, and quilts inside for a cozy sleeping arrangement. The tent has windows and screens to let in the fresh air.
9. This Subaru Forester camper conversion with tons of storage from @twotravelingladies5786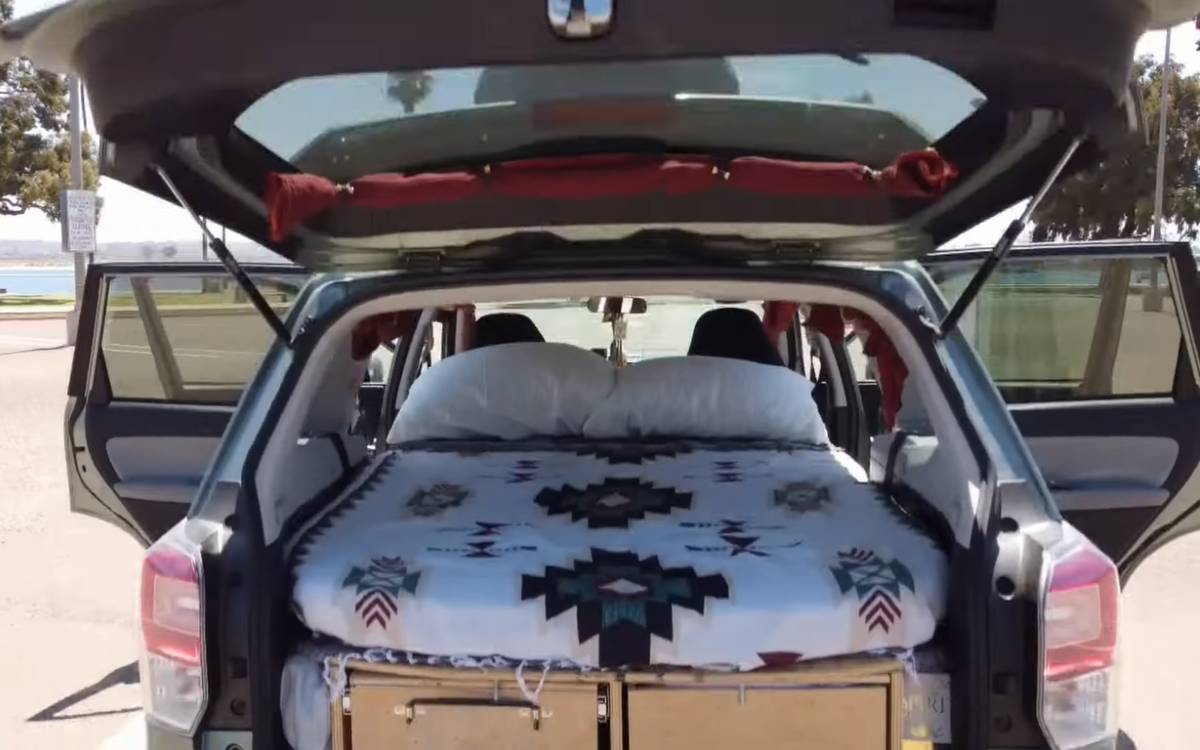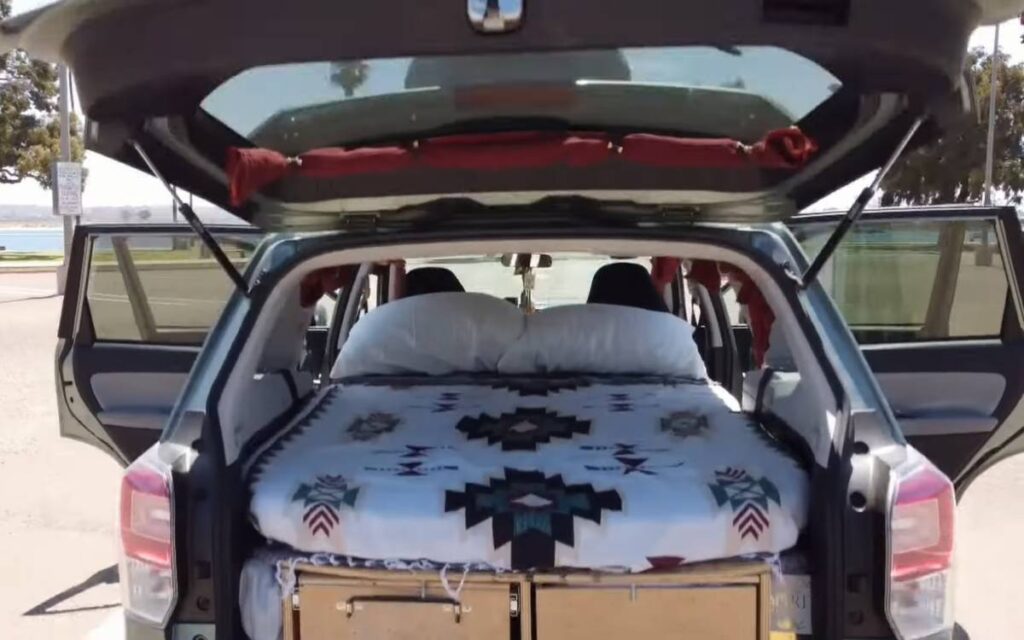 Julia and Michaela converted their 2017 Subaru Forester into a camper for a two-month-long adventure exploring US national parks. Their build includes plenty of storage space, with a platform bed that has storage beneath it and a storage box on the roof.
Big drawers extend out of the back of the Forester. One drawer holds kitchen equipment, and the other holds the couple's clothes. The drawers have wooden covers that double as counter space when they are cooking.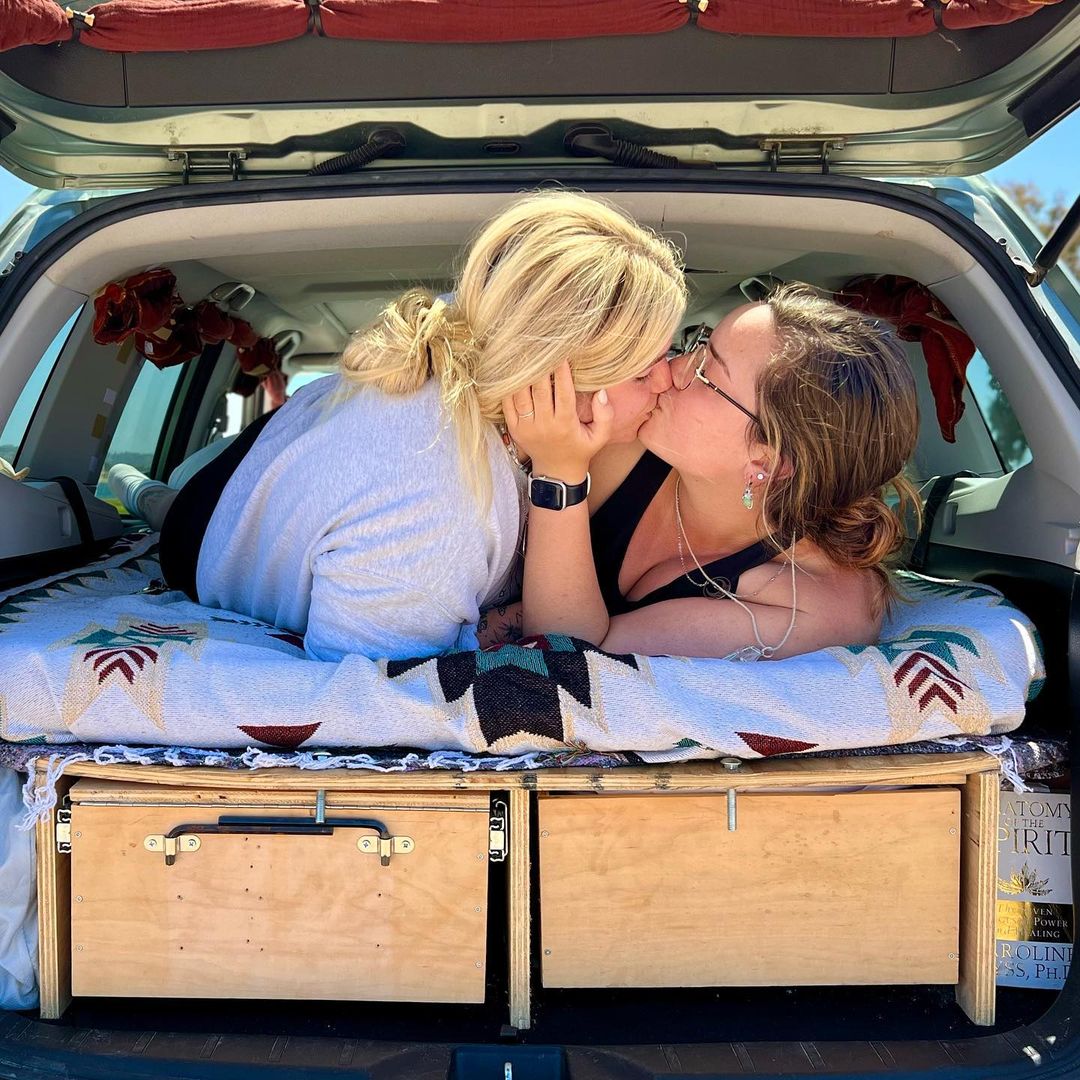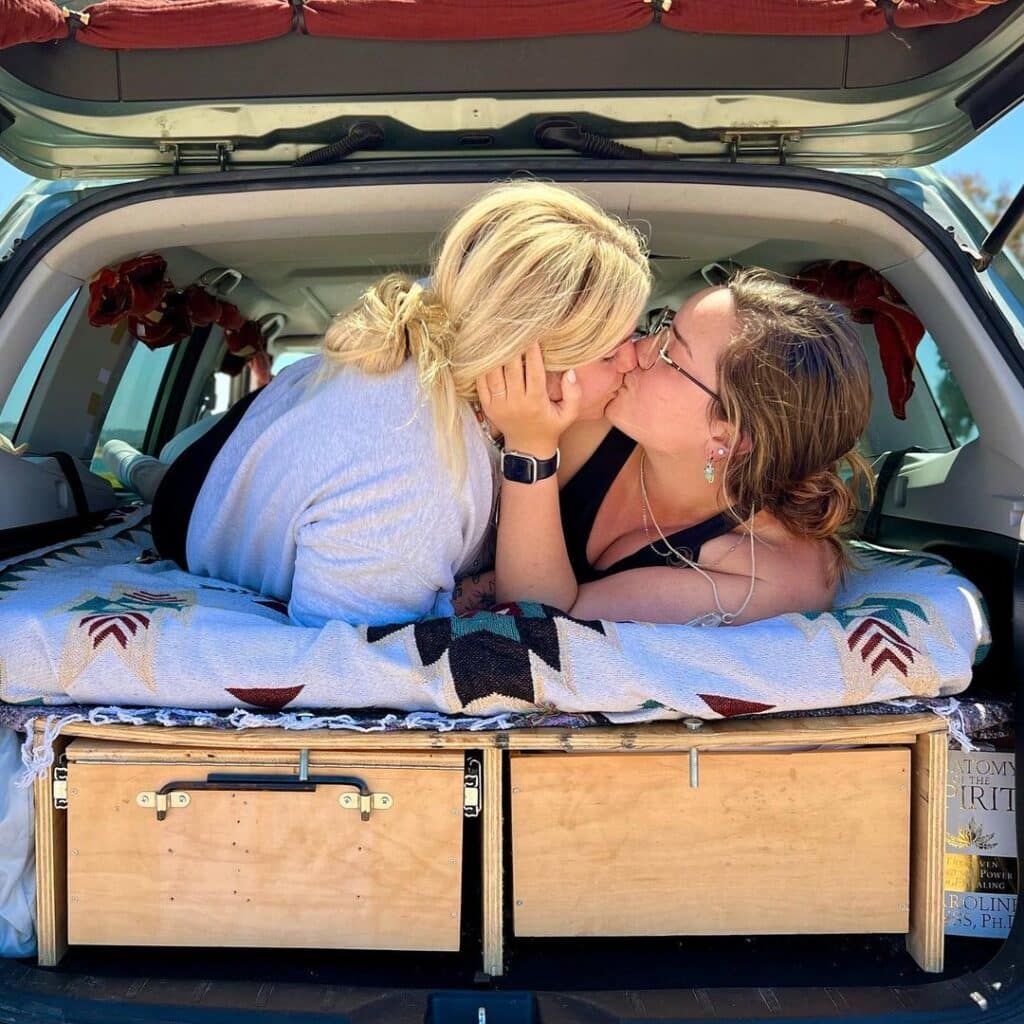 The bed platform hinges upwards to give Julia and Michaela access to their cooler, pantry storage, and water supply on one side. On the other side, they can access toiletries, towels, tech, and the power station. On the roof, their storage box holds tools, camping gear, and other miscellaneous items.
10. This minimalist Subaru Forester van build from @scottapants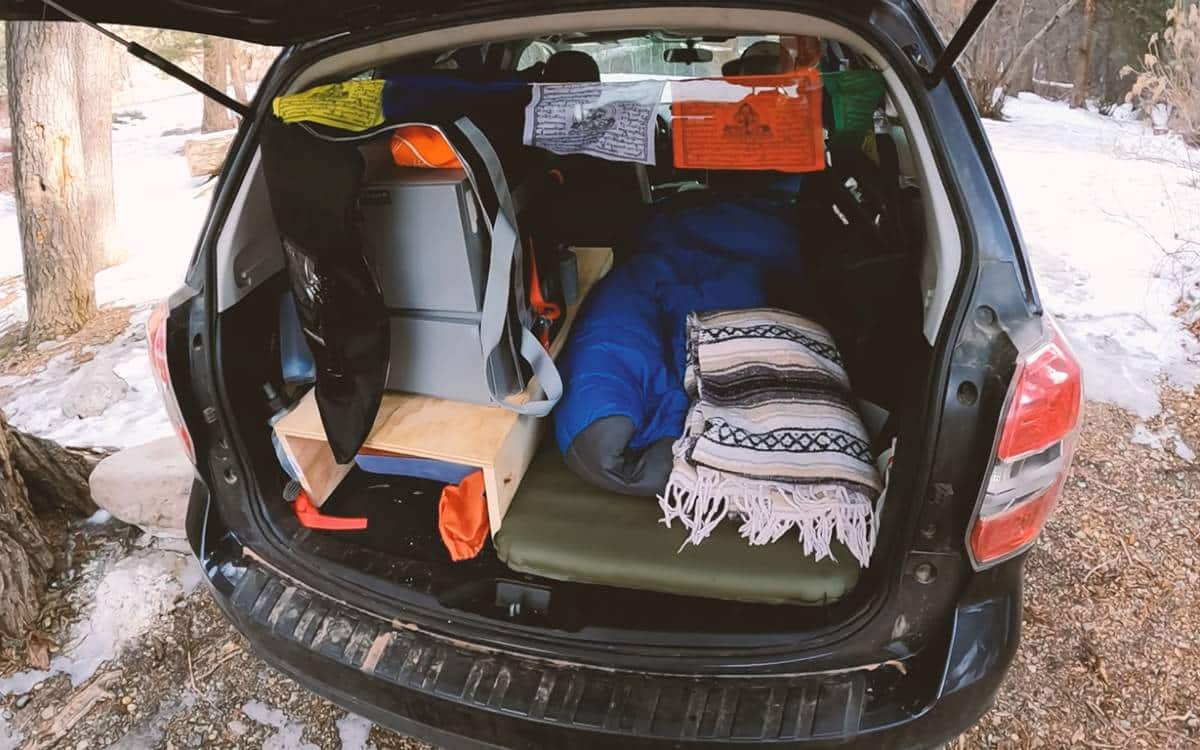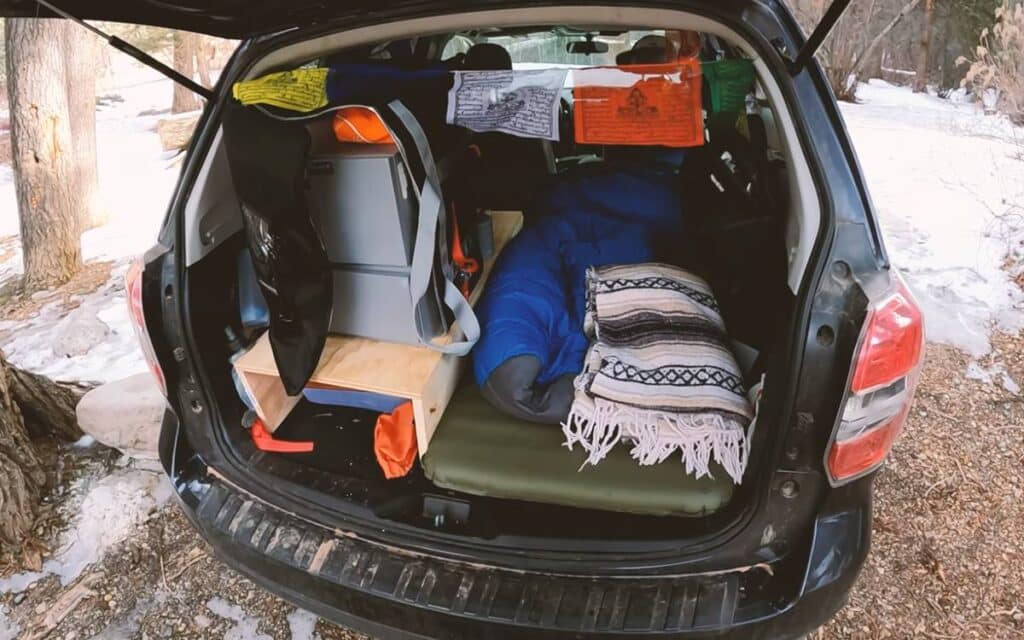 Scott converted his Subaru Forester into a camper to live in while traveling. His build is minimal, consisting of sleeping space and storage for everyday essentials.
For his bed, Scott uses a sleeping pad, which is placed behind the front passenger seat and runs lengthwise to the back of the SUV.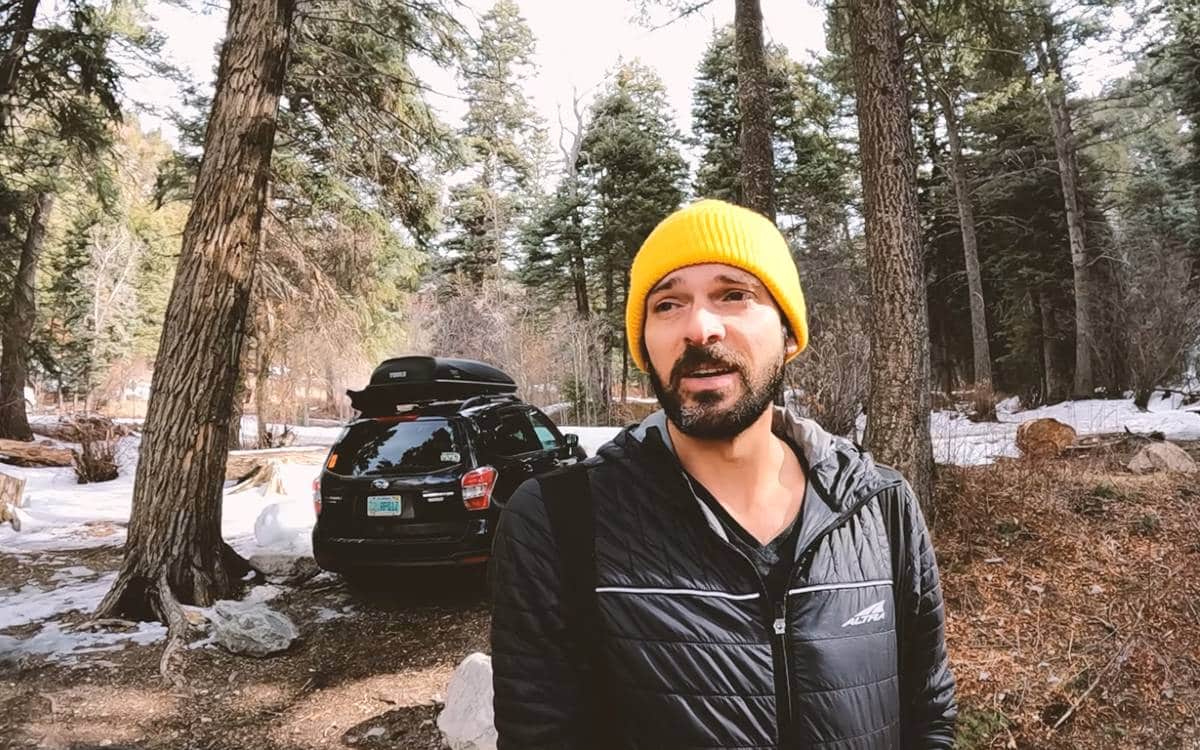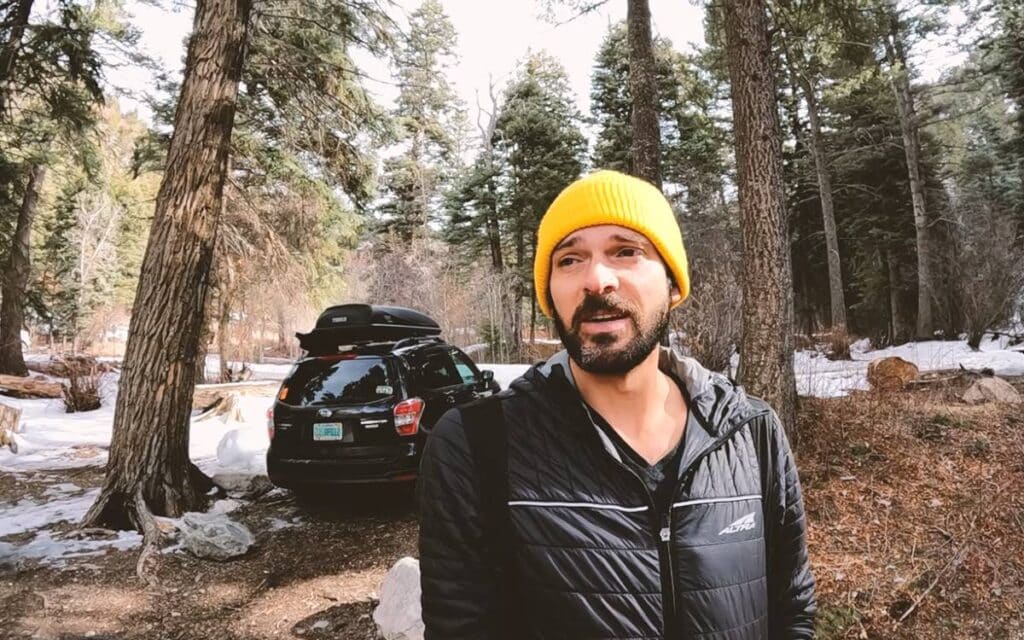 He built a platform out of wood beside the bed space. The platform runs along the driver's side of the interior and provides storage space on and beneath it. Beneath it, a plastic container holds a camp stove and other kitchen items. Above it is Scott's pantry, made up of a collection of plastic drawers that stack and nest into a large bag secured to the platform.
On the roof, a storage box holds firewood, a canopy, and other camping gear. Inside the Forester, Scott has a power station that charges his tech and keeps the portable electric fridge running.
11. This two-week Subaru Forester camper conversion from @thearter12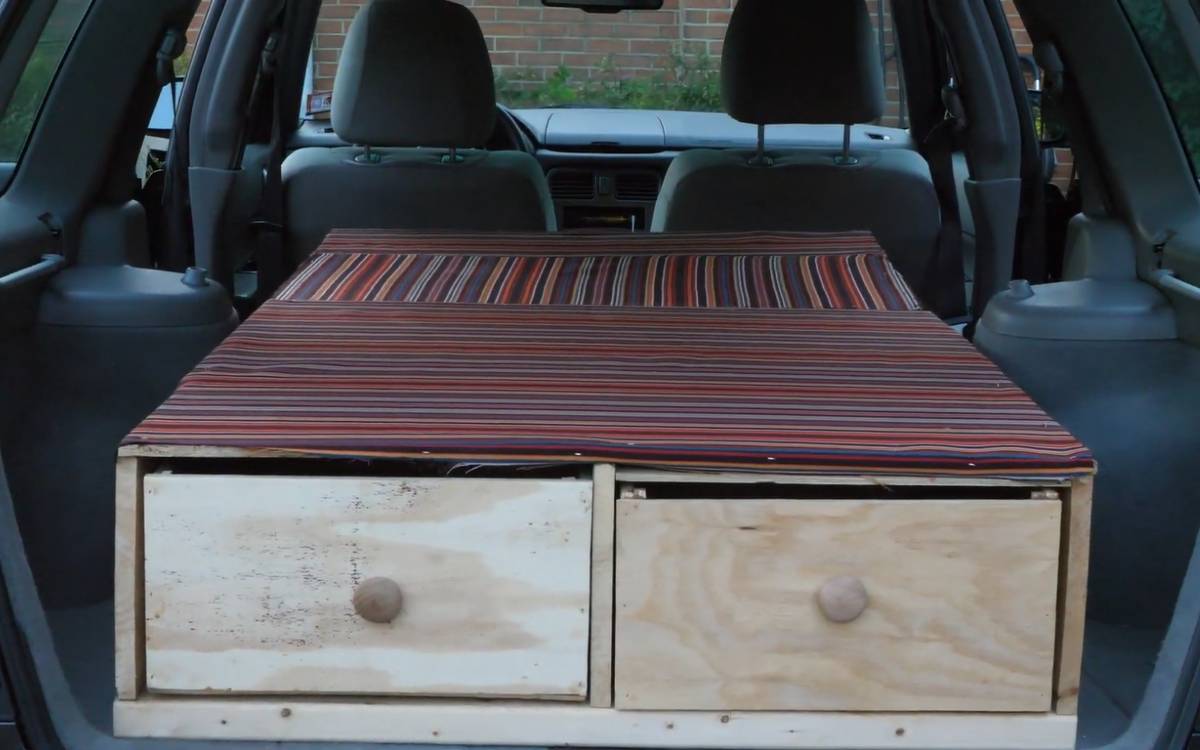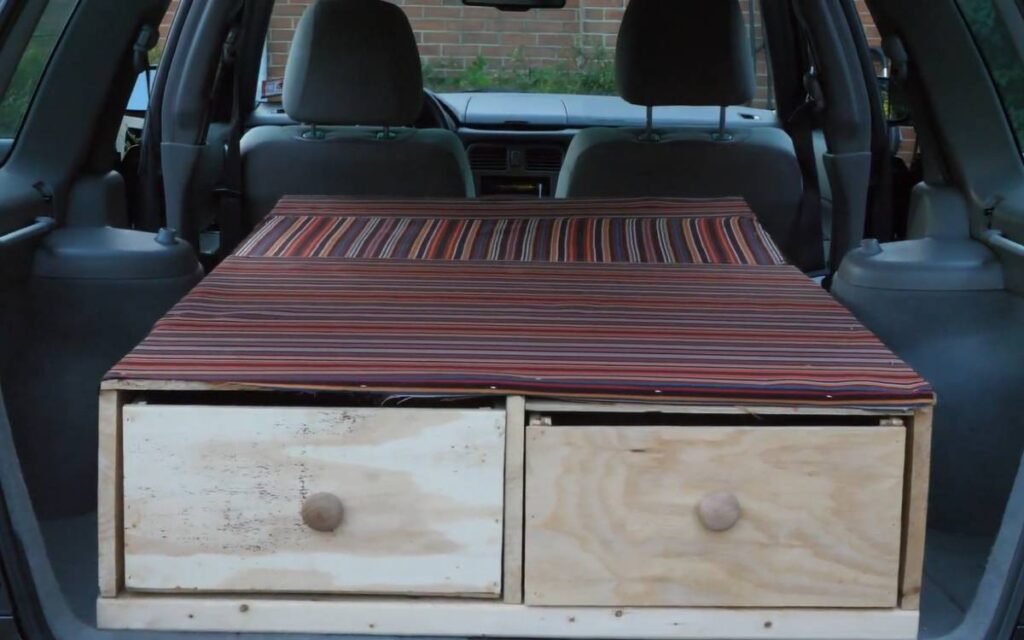 Nicole and Matt converted their 2008 Subaru Forester into a camper for a cross-country road trip. The conversion took two weeks, and they only used basic carpentry skills. The setup includes a bed, storage, water pump, and electric power.
The couple built a two-piece bed platform out of wood. The rear piece includes storage drawers beneath it, while the front piece extends to the front seats. For the bed itself, Nicole and Matt used a foam mattress topper.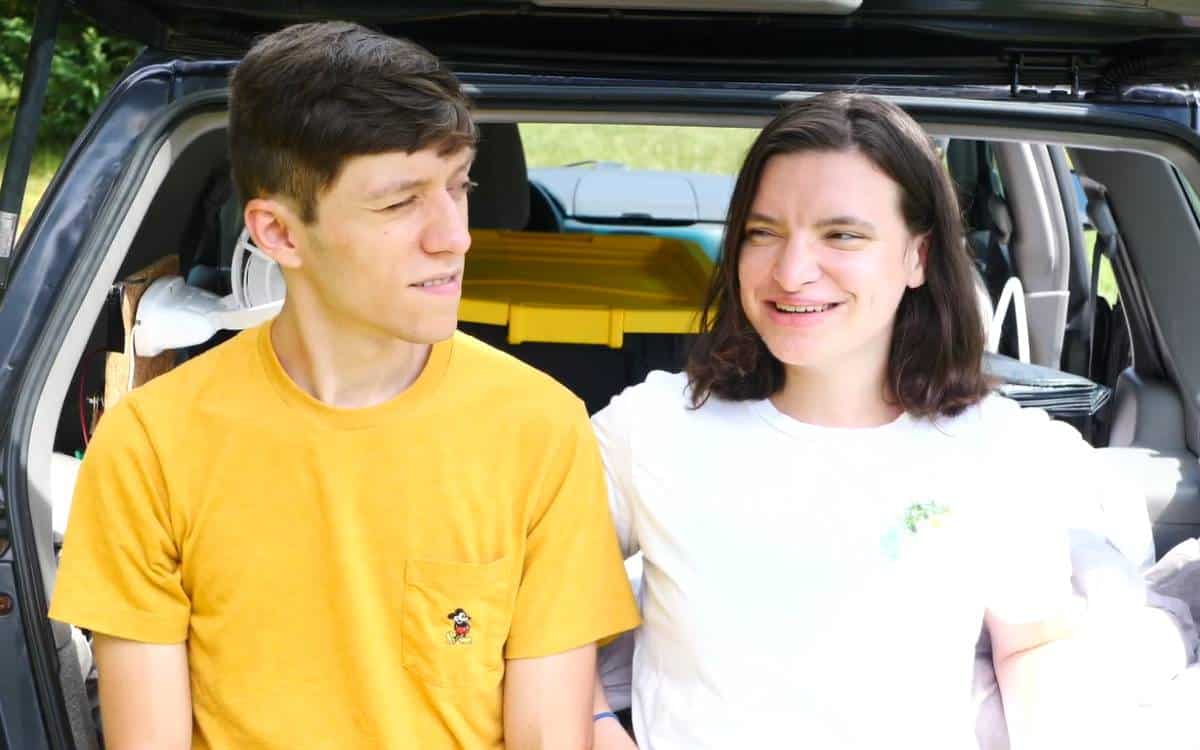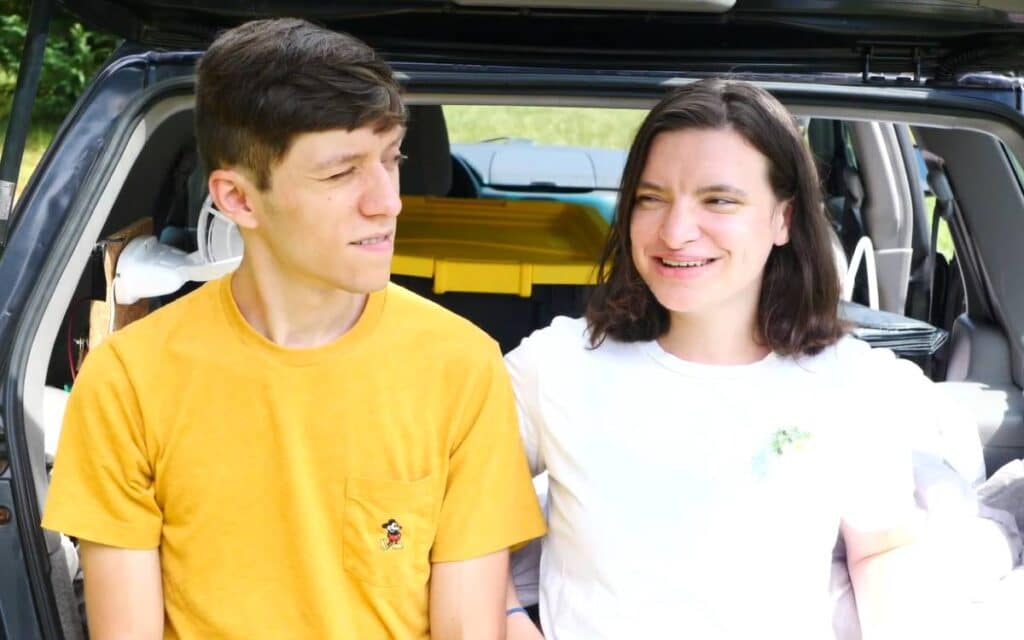 At the back of the Forester, they ran a PVC pipe and tubing to their 6-gallon water jug and used a self-priming diaphragm pump and spigot to create a system with running water.
For their power system, they use two 25-watt solar panels that they store in the SUV when not in use. They also used a 100-amp-hour battery.
12. This road trip Subaru Forester RV build from @llcooljames8235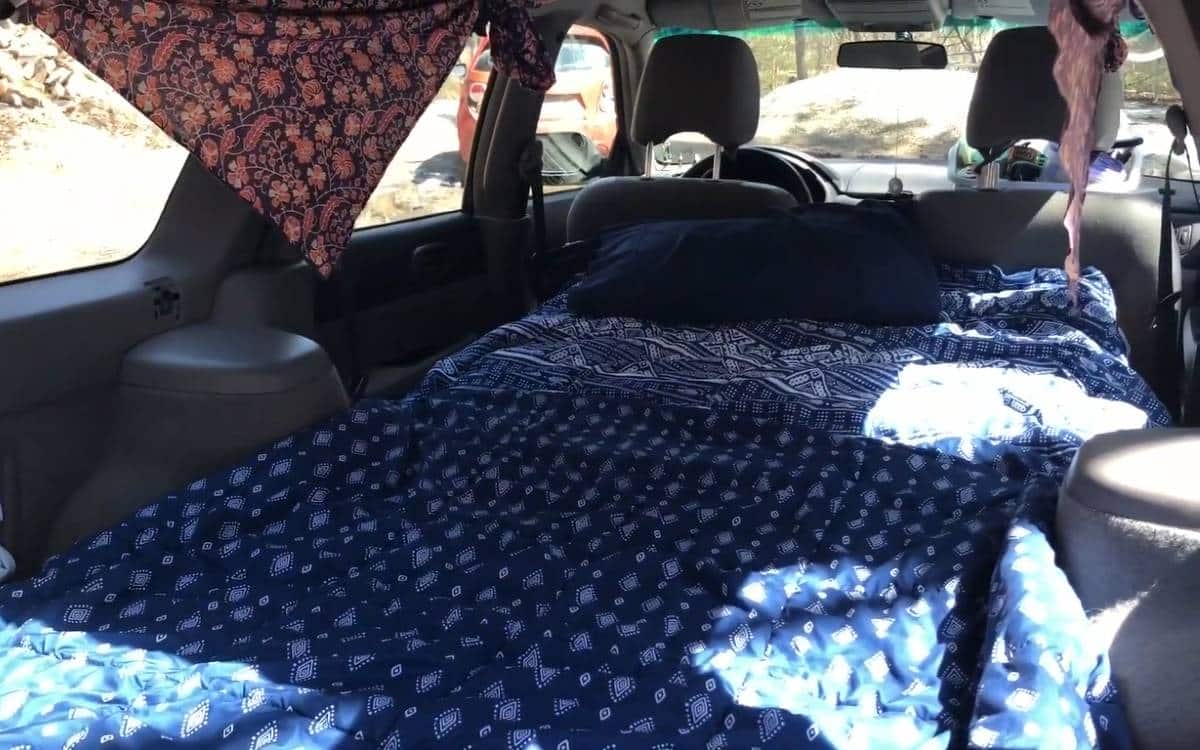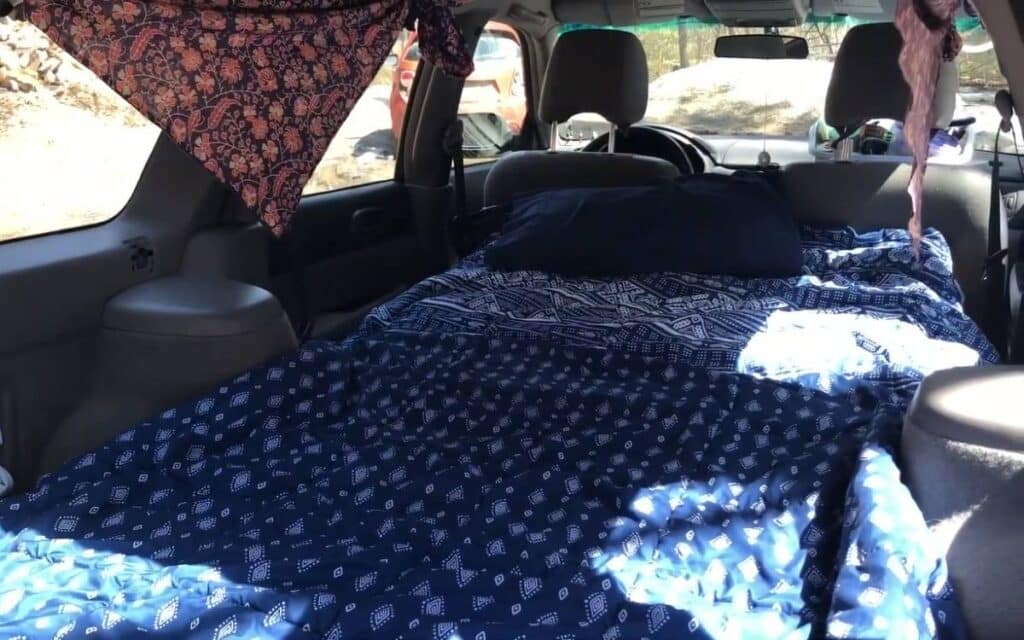 James converted his 2003 Subaru Forester to live in while traveling the country for three months. He prioritized simplicity and affordability with his build.
Since he was traveling solo, James opted to use his passenger seat to store his camp stove, kitchen gear, food, and water supply. For food that needed refrigeration, he used an electric cooler plugged into the Forester that kept things cold while he was driving.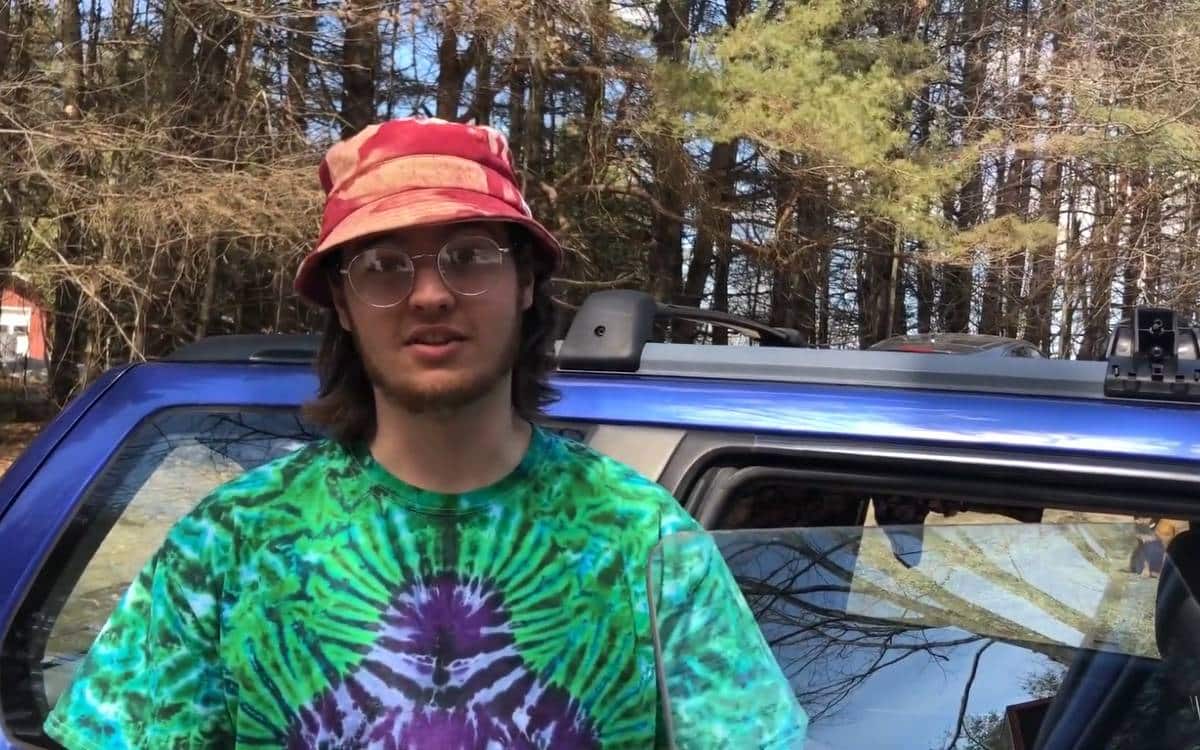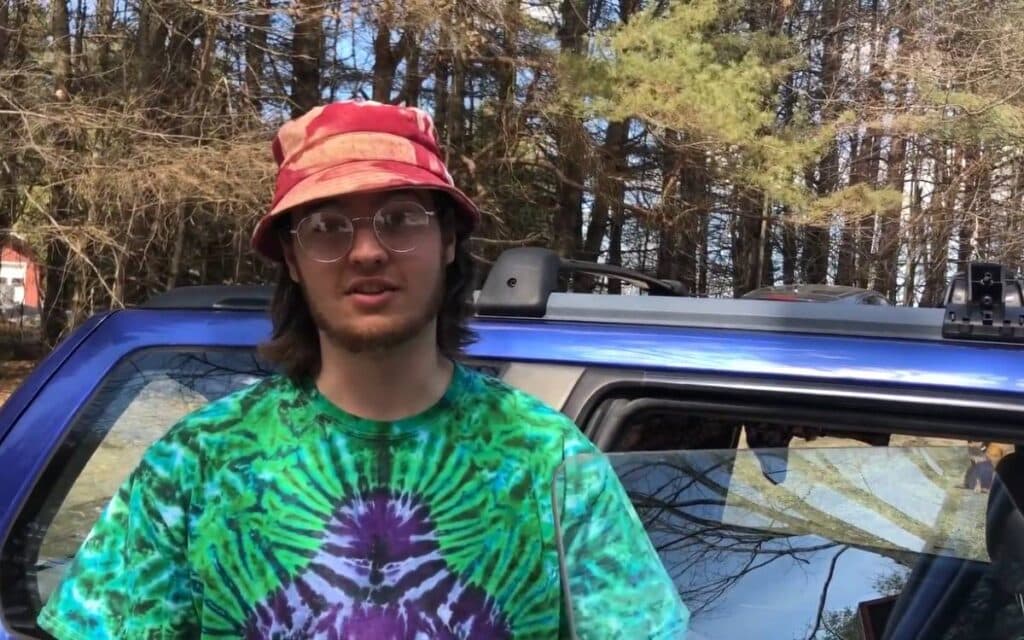 For his bed, James created a wooden platform in two pieces. The front piece stayed folded during the day, and when he set up the bed, he moved the driver and passenger seats forward, laid down the front piece over the back seats, and unfolded his mattress topper. The platform has supports that create a level sleeping environment.
He used a rooftop storage box to store his camping gear. For power, he used a giant portable charger, which he would plug in and charge while driving. When parked, the device charged his phone and Bluetooth speaker.
13. This no-platform Subaru Forester micro-camper conversion from @nomadunknown4766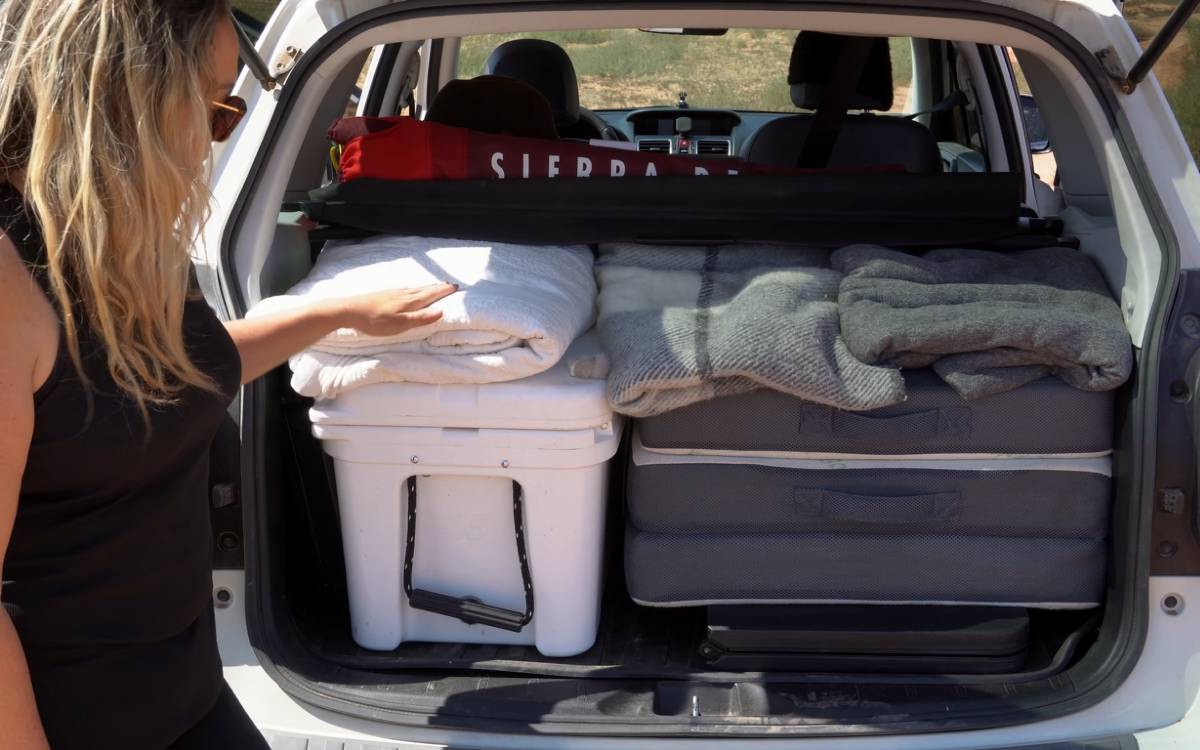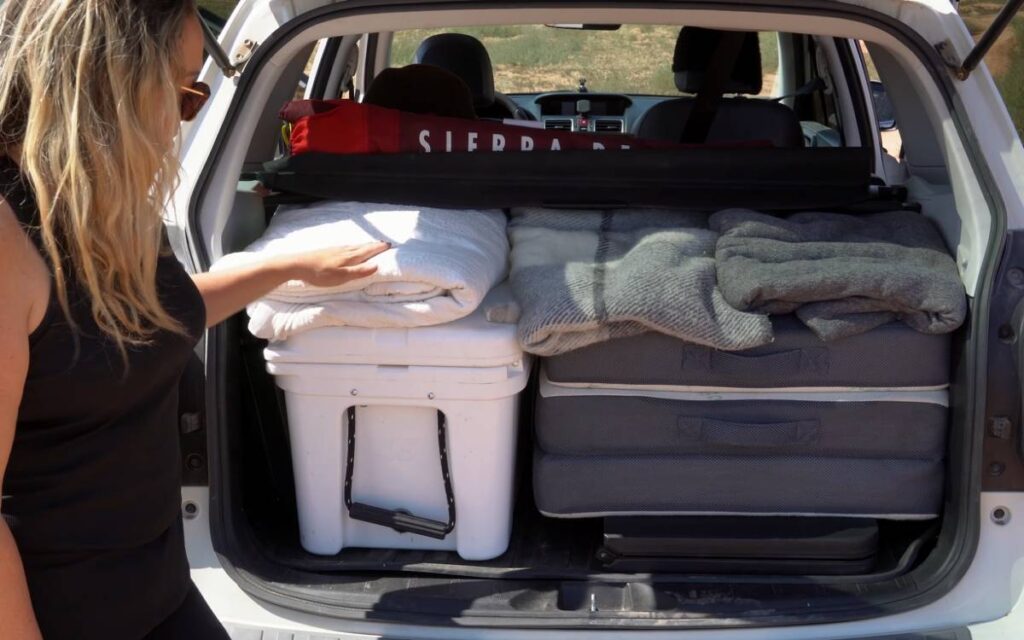 Christine converted her 2017 Subaru Forester to live in full-time for the summer while she traveled the Western US. She opted for a simple, stealthy build that was easy to convert back to a daily driver.
She chose not to build a platform for her bed, prioritizing the need for stealth. Christine didn't want people in parking lots or near trailheads to know that she was living in the SUV, so she made sure her setup packed away discreetly when she wasn't in the vehicle.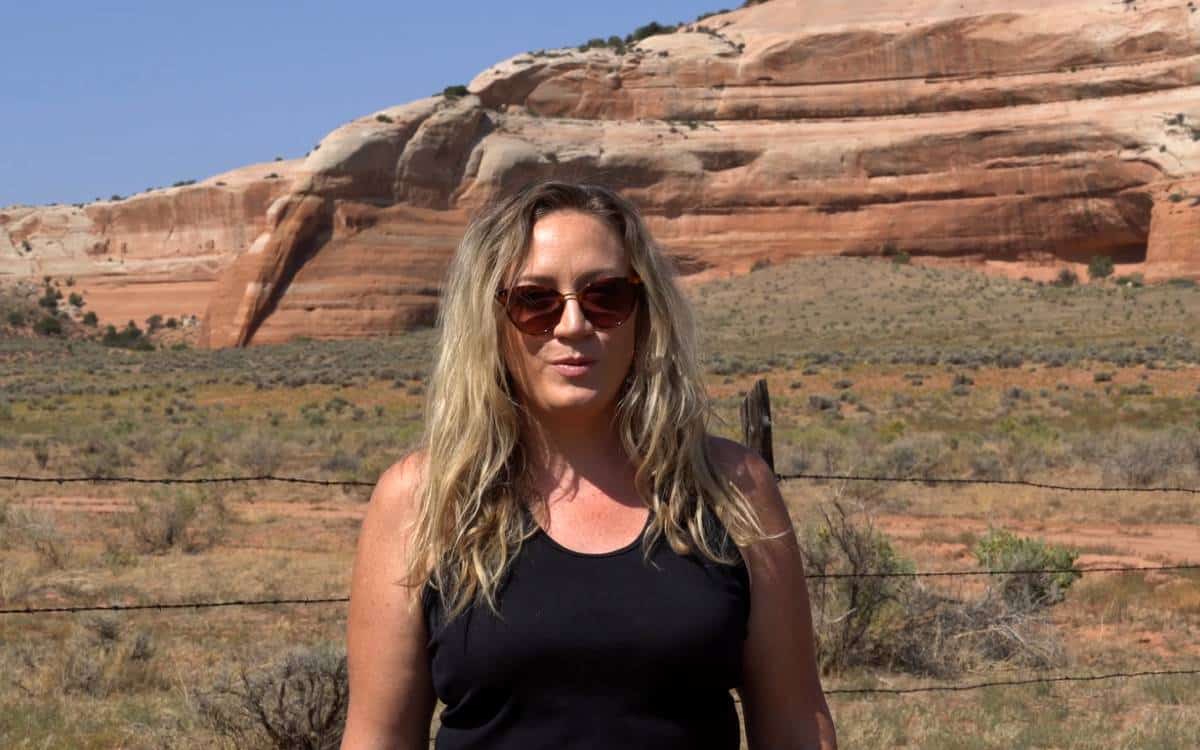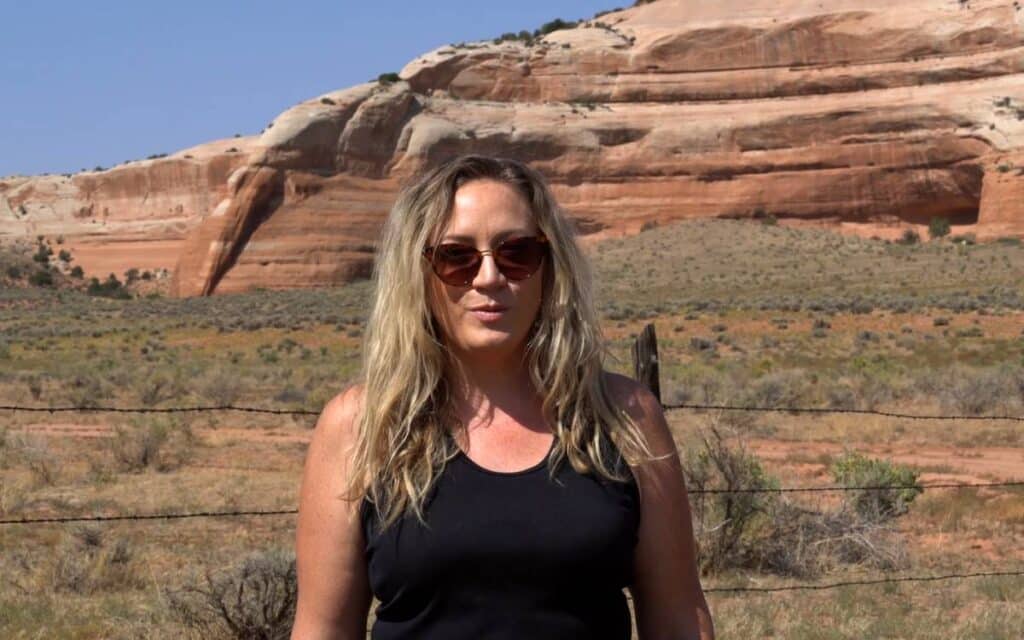 Because Christine didn't build a sleeping platform, she could easily access the storage under the flooring of the Forester. She kept a first aid kit, fire extinguisher, and road safety gear in this storage compartment. She used a rooftop storage box to hold her camping and hiking gear.
To level out her sleeping area, Christine uses a camp table. The table folds in half when not in use and triples as a cooking area and a desk when she is parked. She bought a trifold memory foam mattress that she folds up during the day and fits perfectly in the trunk when the backseats are in place.
Build Your Van
The Ultimate Van Build Guide
Planning a van build? Read our free guide. We cover just about everything you need to know – from planning, to insulation, to solar and electrical, to picking appliances, to essential tools. Get started today so you can get out there on the road!